Fans of art and the works of Vincent Van Gogh have been flocking to Immersive Van Gogh at Crystals near Aria for some time.
The attraction, which is the creation of film producer Massimiliano Siccardi, Creative Director David Korins, composer Luca Longobardi, and Art Director Vittorio Guidotti immerses visitors in the iconic works of the painter.
Immersive Van Gogh calls a cavernous 500,000 cubic foot space with floor-to-ceiling projection screens home. The show, which completely surrounds you, is created by 60+ projectors, bringing the paintings to life and cinematically transitioning between them as opposed to merely showing still images.
The idea behind the exhibit is to place guests into the paintings of Van Gogh, allowing them to see the brush strokes that comprise the images they've long celebrated.
A total of 44 paintings make an appearance in the show, which includes famous ones like "The Potato Eaters", "Starry Night", "The Cafe Terrace at Night", and "Almond Blossoms".
Although I'm not really an "art guy" per se, I thought it would be fun to check Immersive Van Gogh at Crystals off my list and share my experience with you here.
Of course, I took plenty of pictures and even a short video that should help give you a feel for what to expect.
Immersive Van Gogh Cost
First things first: What's this going to cost you?
I purchased tickets at the last minute, in person, and directly with the attraction.
Baseline tickets start at $59, and can be purchased in advance with the box office here, although they commonly offer deals. As I'm writing this, tickets are discounted and start at about $39, depending on the day and time you'd like to visit.
Before buying, I'd also recommend checking Van Gogh pricing on Vegas.com, here, which can sometimes be even cheaper.
In addition to the baseline ticket, there are also "Premium" and "VIP" tickets that entitle you to extras.
Premium tickets include a poster & a seat cushion.
VIP includes a poster, seat cushion, VIP souvenir laminate, and priority access.
My Immersive Van Gogh Experience
Although I didn't purchase tickets in advance, buying in person was quick and painless. I was fortunate to benefit from a deal they were running and paid only a hair over $30 after taxes.
I thought the lobby, which was chock full of unique Van Gogh-inspired photo ops, did a nice job of setting the tone and building excitement.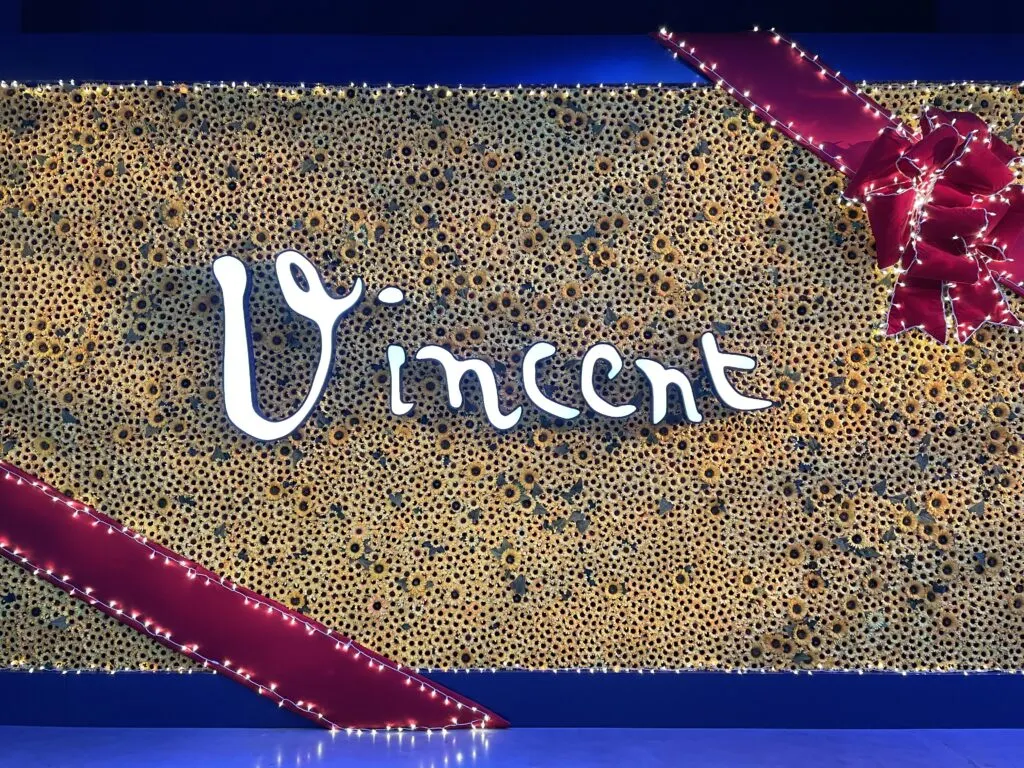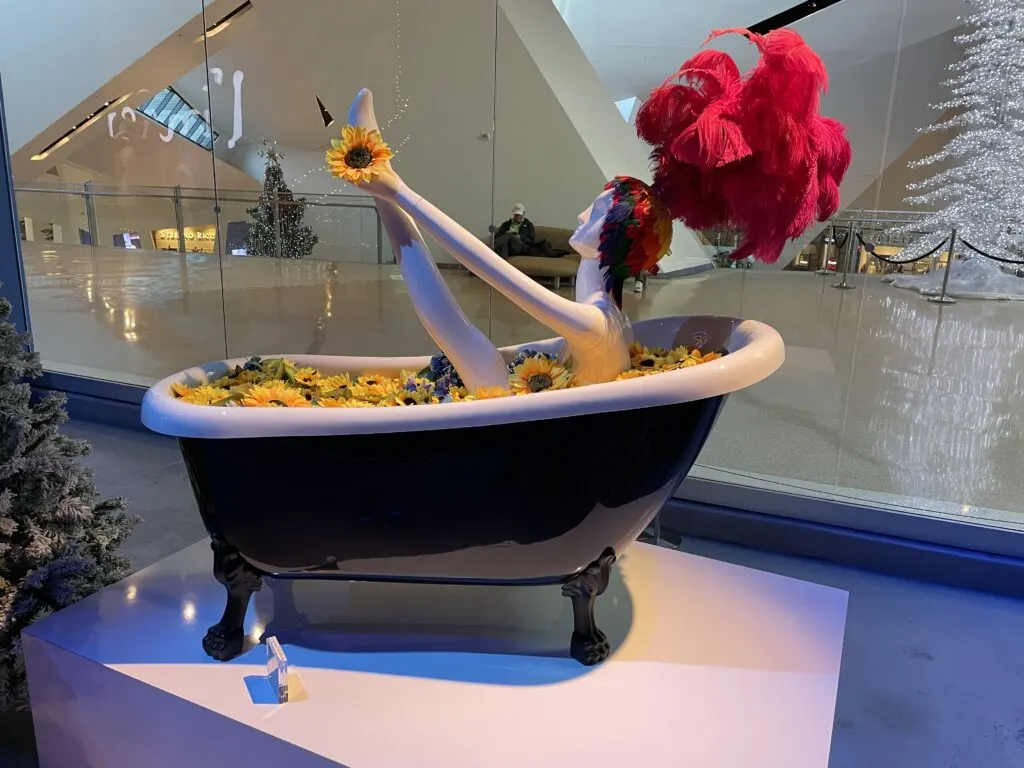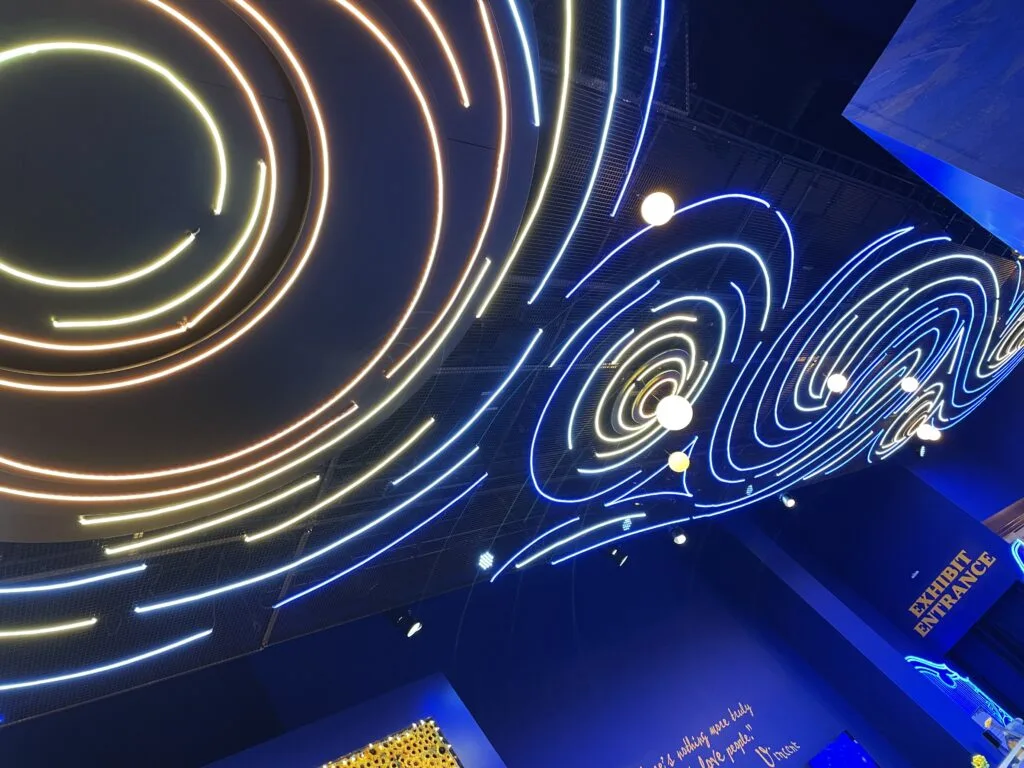 Once I had my ticket in hand, I was shown into the large projection room, a show already in progress. The Van Gogh Experience is a 35-minute production, and I was told that I could stay as long as I wanted.
I posted up in the middle of the room, which had the appearance of a repurposed airplane hangar, and took it all in.
While I'm not necessarily a huge fan of Vincent Van Gogh's work, I was immediately impressed by what I was seeing.
The screens around me transitioned between Van Gogh's many works and were synched up to classical music, which had a calming effect on me, which was needed after losing a quick couple hundred bucks on the slots at Aria.
Impressively, even the floor was projected upon, making it part of the show.
The support beams throughout the room were wrapped in mirrors, and the reflections they produced added to the visual appeal.
I've noted a couple of times now that I'm not an art connoisseur, but there were about 25 other people in the Van Gogh experience that seemed to be very engaged in what they were seeing, pointing out elements of the art on screen, posing for pictures, or just sitting transfixed. They were into it.
While I opted to stand, there are benches scattered around the expansive room to sit.
I stuck around for nearly two showings of the loop and found Immersive Van Gogh to be both soothing and aesthetically appealing.
On a complete side note, Immersive Van Gogh even offers yoga classes on Saturdays – A fun opportunity for those into both art and fitness.
What's Not To Like?
Information & Education
I would've benefited from a little more context around what paintings were being displayed during the show and their backstory, although I realize that I was likely part of the uneducated minority.
My suggestion would be to offer a handout detailing each of the 44 paintings displayed, or scatter a few tablets around the room explaining what is being shown along with some background info about the scene depicted. It would be a great learning opportunity, even for die-hard fans.
The fact I was craving more information and background speaks to the effectiveness of the presentation.
Steep Price Point
At the full price of $59, a ticket to Immersive Van Gogh is a tough pill to swallow for many, and it likely prices out the "casual" visitor, or those that aren't extremely passionate about the works of Van Gogh.
My assumption is that there's almost always a "deal" running, but I'd be hard-pressed to part with $59 for this particular attraction, even though I found it to be an enjoyable offering.
People Can Be Gross
There was also a disgusting aspect of my visit that I feel I need to get off my chest, although it had nothing to do with the attraction itself.
There was another guest standing in my near vicinity that would suffer from a coughing attack every 5 minutes or so.
After her fit of coughing had concluded, she'd walk across the entire room to a garbage can, do that grunting thing that Owen does in the movie "Trains, Planes and Automobiles" (if you know you know), and spit a glob of snot into the can.
She would then migrate back over near me and repeat the process after the next coughing fit.
The sound of her summoning her snot to spit into the garbage can really carried through the room, as it was silent and there was nothing to absorb the sound.
I feel better now. Thanks for listening.
Here are a number of pictures I snapped of the experience: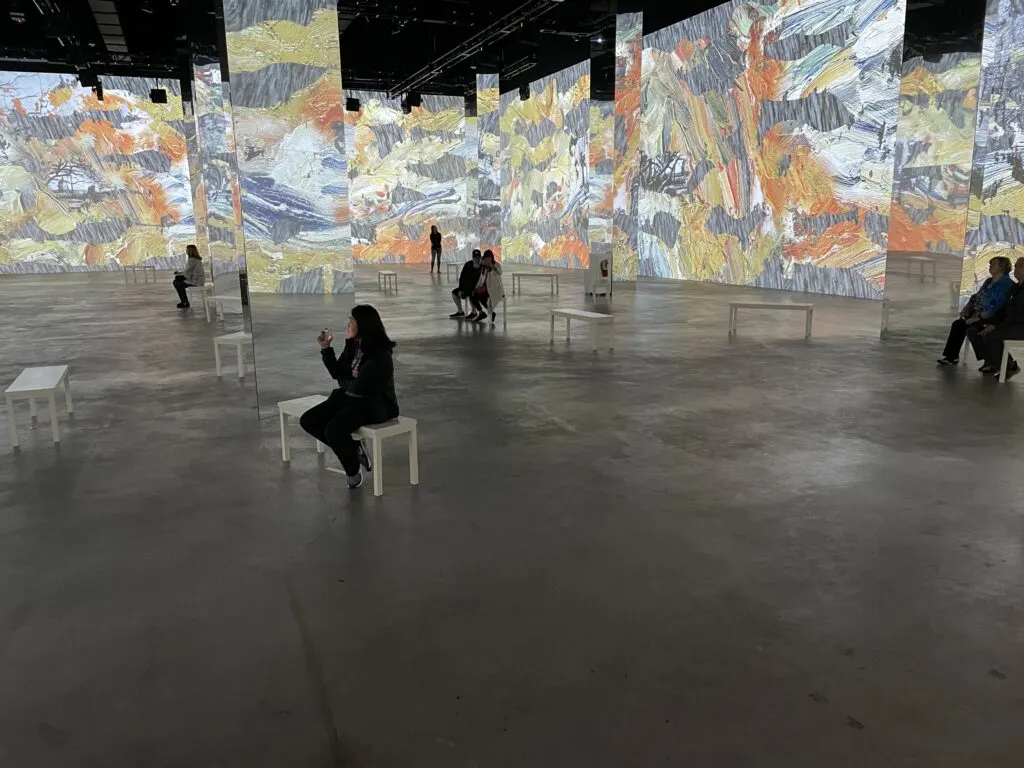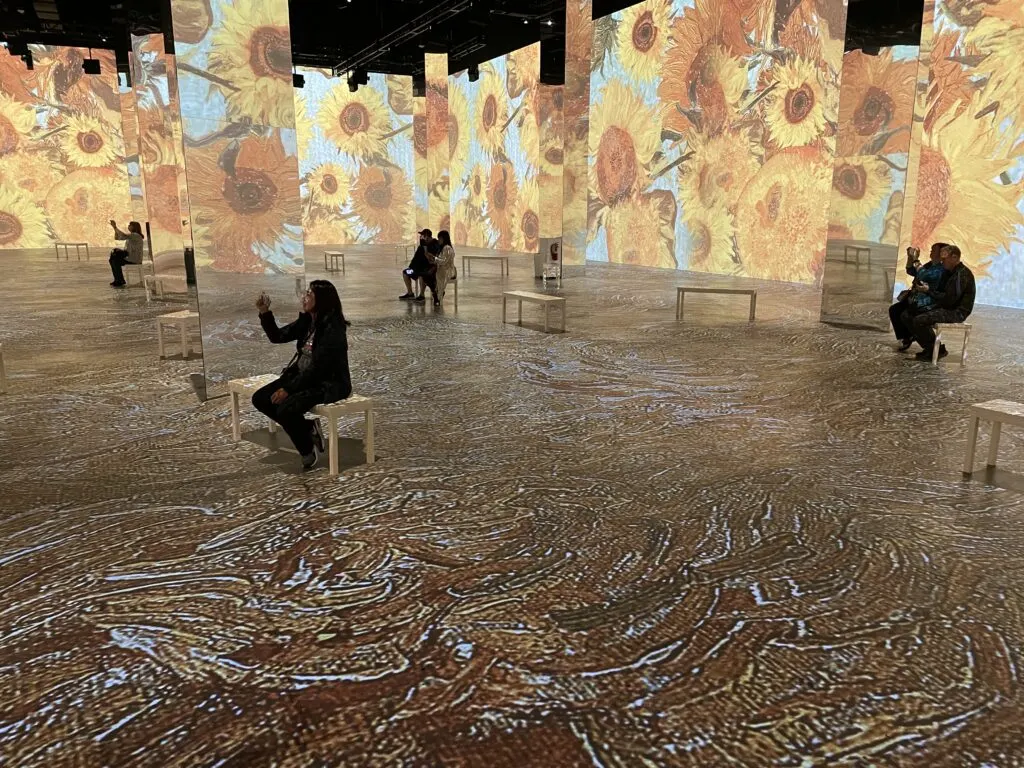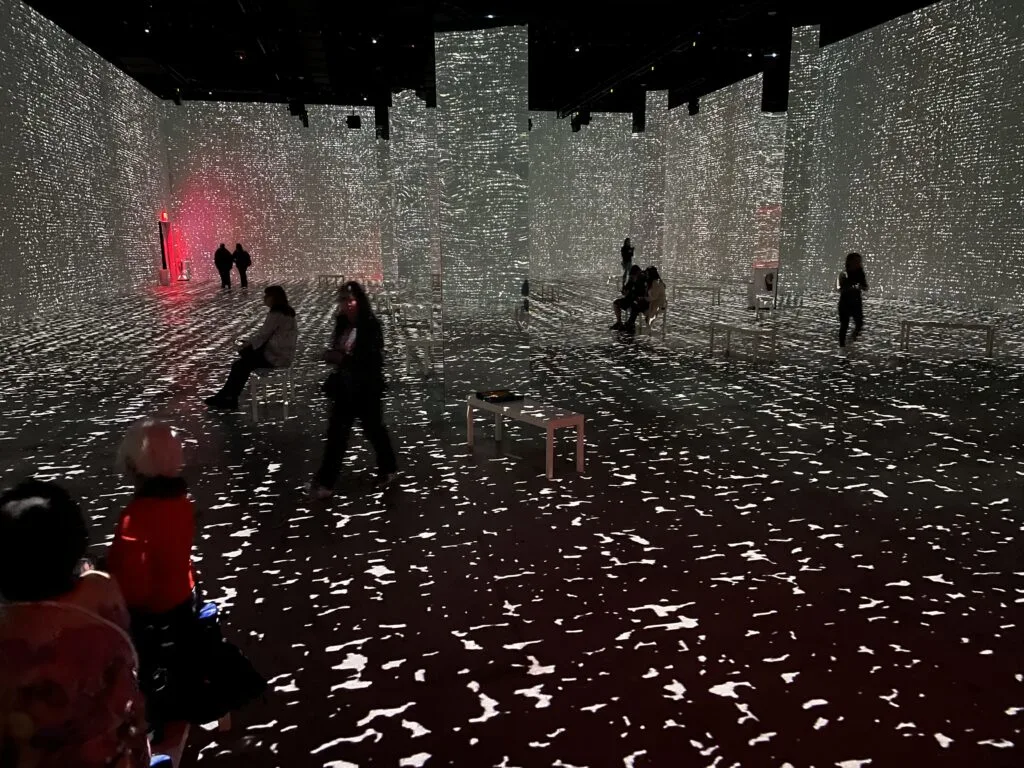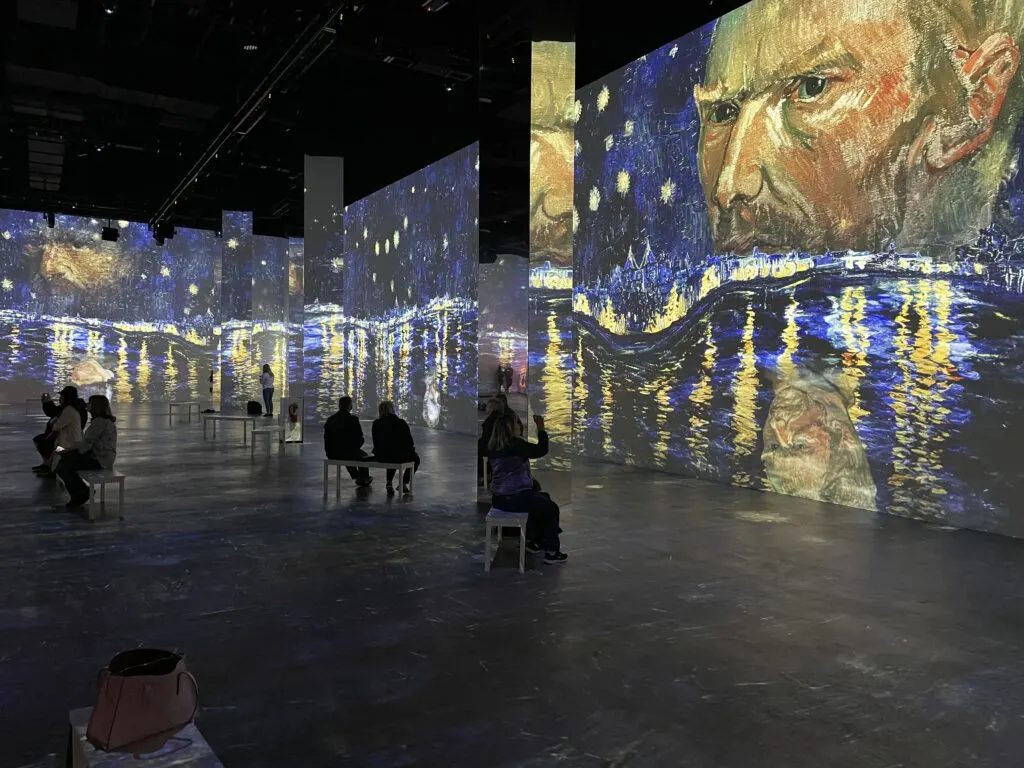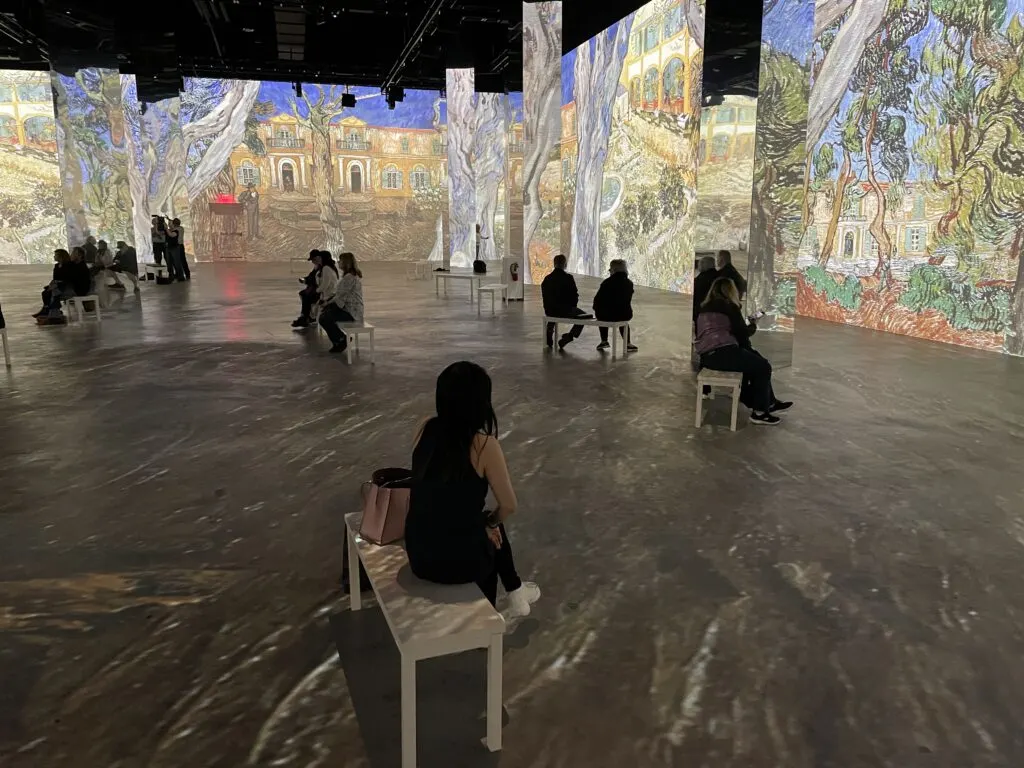 Is the Immersive Van Gogh Experience Worth the Money?
Although I'm personally unlikely to visit the Immersive Van Gogh Experience again, I could tell that the other folks around me really enjoyed it.
If you're not big on art, or Vincent Van Gogh's work in general, you're probably going to want to skip this.
On the flip side, those of you who celebrate the arts and enjoy Van Gogh's work should feel confident pulling the trigger and adding it to your itinerary. This is certainly a niche activity, and I think you'll personally know if it's something you'll have an interest in.
Even as a non-artsy guy, I found the Immersive Van Gogh Experience at Crystals to be a visual delight. In a city that calls everything "immersive", this truly was.
It's a cool show – But those of you that are more cultured than I will get more out of it.
Hopefully, my review of the Van Gogh Experience in Las Vegas was able to help you determine if it's an itinerary-worthy attraction! If you check it out, ensure you stop back and share your experience in the comments!
Check out these related articles:
I'm a former software salesman turned Vegas aficionado. While the craps table is my preferred habitat, I pull myself away to explore new attractions, shows, restaurants, and outdoor activities around Las Vegas with the intent of sharing my experiences.
Ultimately, I just want to help folks plan a better trip and save a few bucks in the process.