Key Points:
Shark Reef gives visitors the ability to "walk the seafloor", touch sea life, and explore an indoor zoo.
The aquarium's visual appeal alone makes it worth the cost of admission – It's sincerely beautiful.
The experience is relatively short if you jump from tank to tank quickly – Ensure you take your time to observe and read up on each species.
An ocean oasis in the middle of the desert, Mandalay Bay's Shark Reef Aquarium is a popular draw for those looking for things to do in Vegas with kids.
Inside, over 2,000 total animals call the 1.6 million gallon aquarium home, which includes 100+ different species and 12 unique varieties of shark.
Since it has been over a decade since I last stopped in, I thought it would be fun to visit the Shark Reef Aquarium at Mandalay Bay to re-experience the attraction, take a bunch of pictures, and share the experience with you.
Let's dive in, shall we? (Get it? "Dive in"? Haha.).
Shark Reef Aquarium Cost
Adult entry to the Shark Reef Aquarium is $29 (kids cost $24), which includes access to the aquarium and the Undersea Explorer VR experience.
Before buying, I'd recommend pricing out your options to get the best deal:
If you're buying in advance on Shark Reef's website, "timed entry" tickets are slightly cheaper than "anytime tickets".
During my recent visit, I walked right up and bought a ticket at the box office and was charged the cheaper "timed entry" rate.
My Experience at the Shark Reef Aquarium
I arrived at the Shark Reef Aquarium 15 minutes prior to opening, at 9:45 am to ensure I was the first person into the attraction, as I wanted to get some people-less pictures.
The doors cracked open at 10:04 sharp, and in I went, with a small crowd on my heels.
The first thing you encounter in the aquarium is an indoor zoo section fashioned to resemble a jungle environment. It's humid and believable, giving you the impression that you've transported from the Nevada desert to somewhere nearer the equator.
Within the zoo are a collection of fish, reptiles, and amphibians that I had the opportunity to admire in near proximity.
Several animals even have an employee stationed in front of them to answer any questions you may have about the creature in question.
As you can see in the pictures I took below, the zoo portion of the Shark Reef Aquarium is expertly themed, with unique visuals waiting for you around every corner.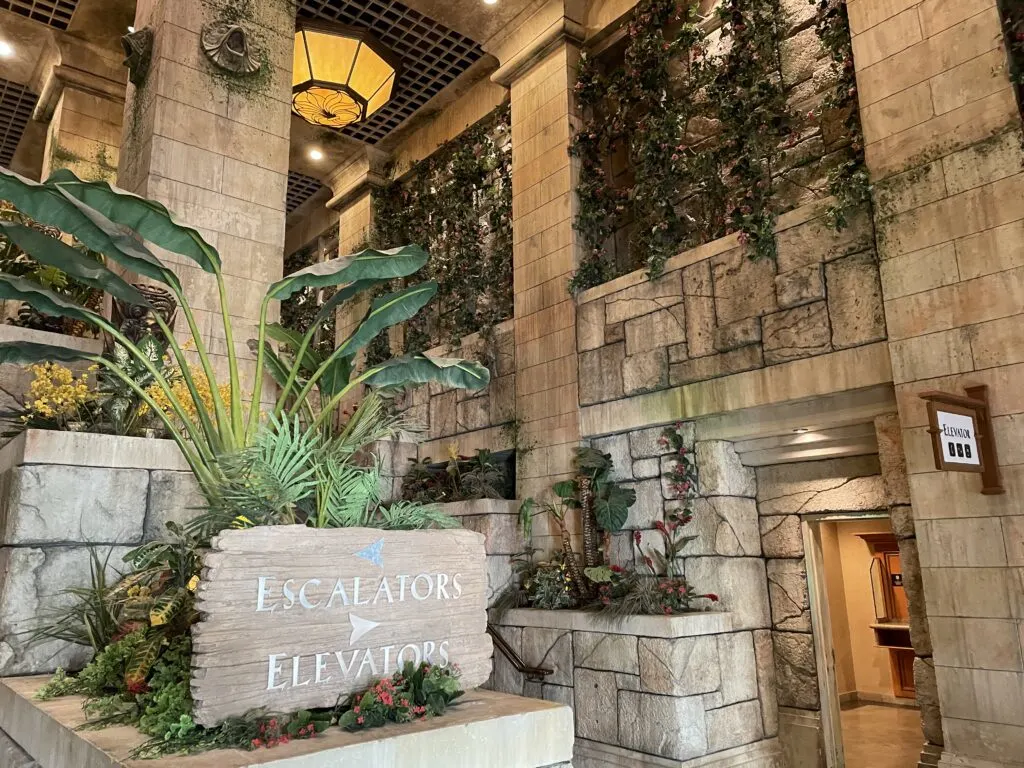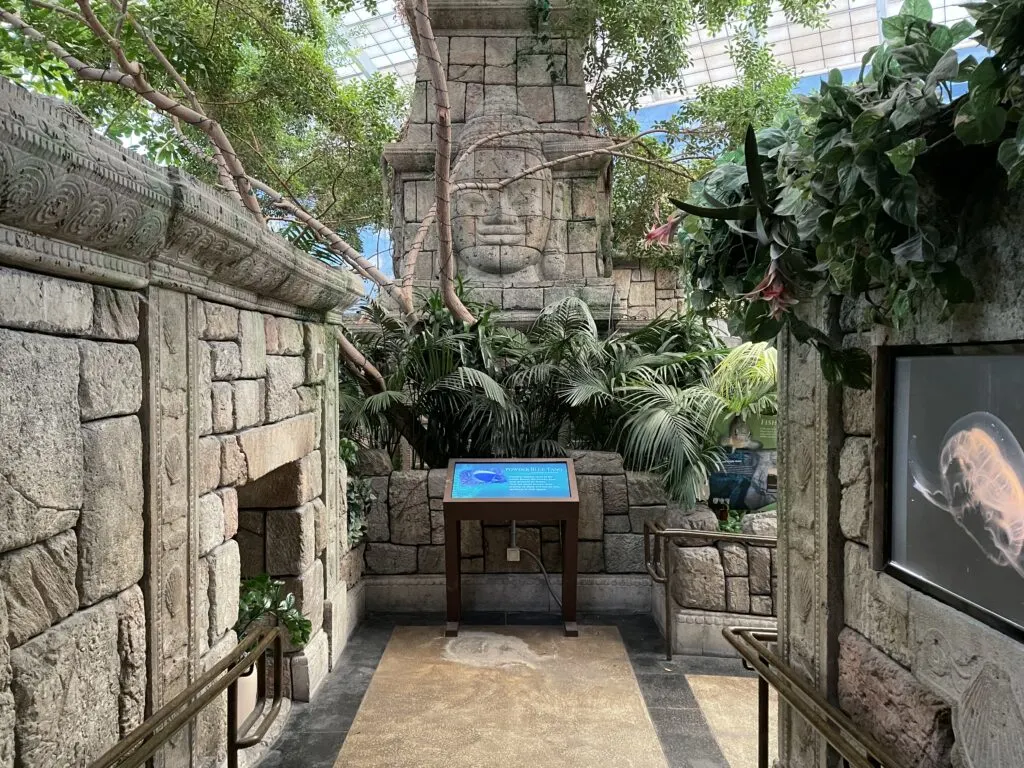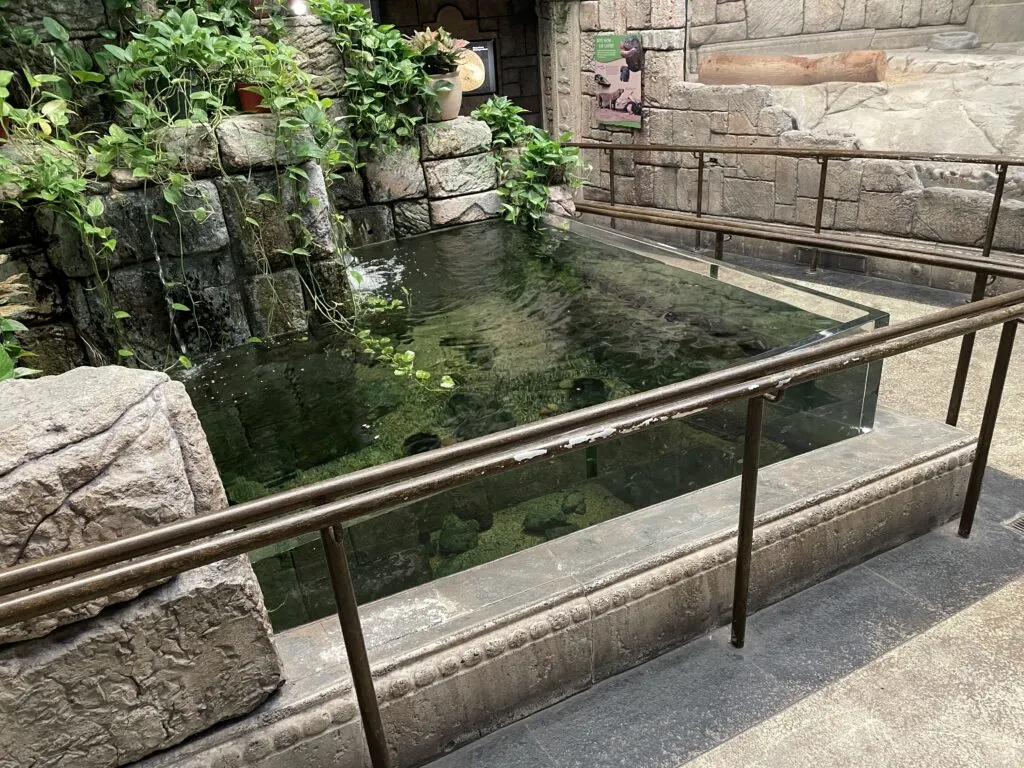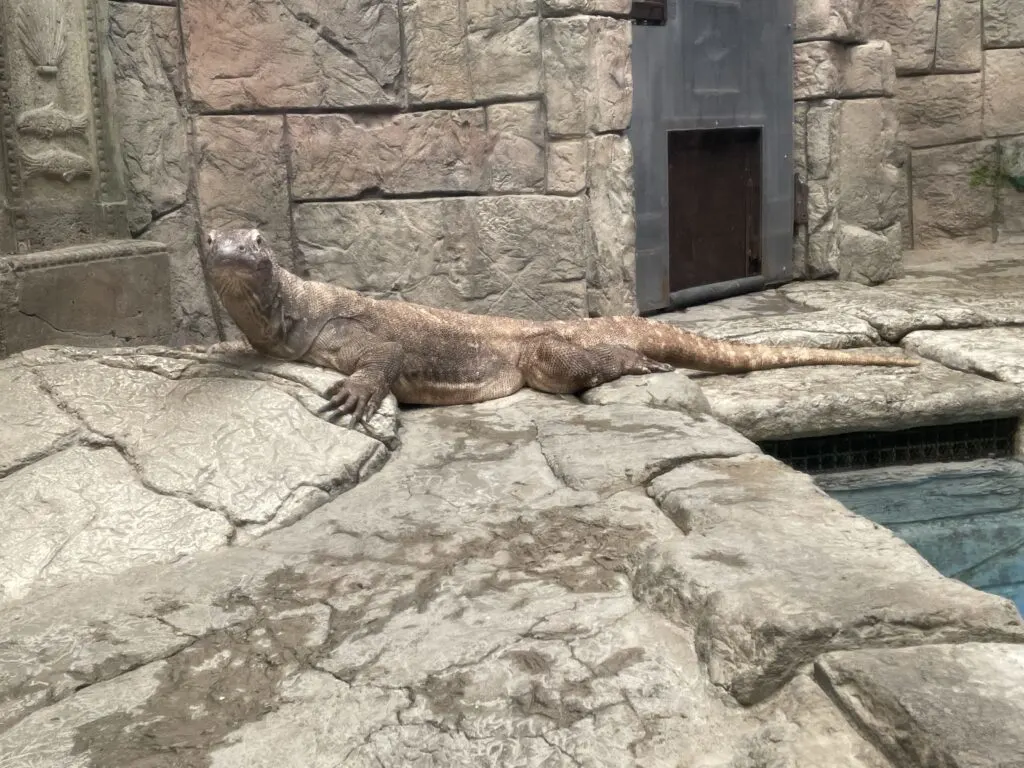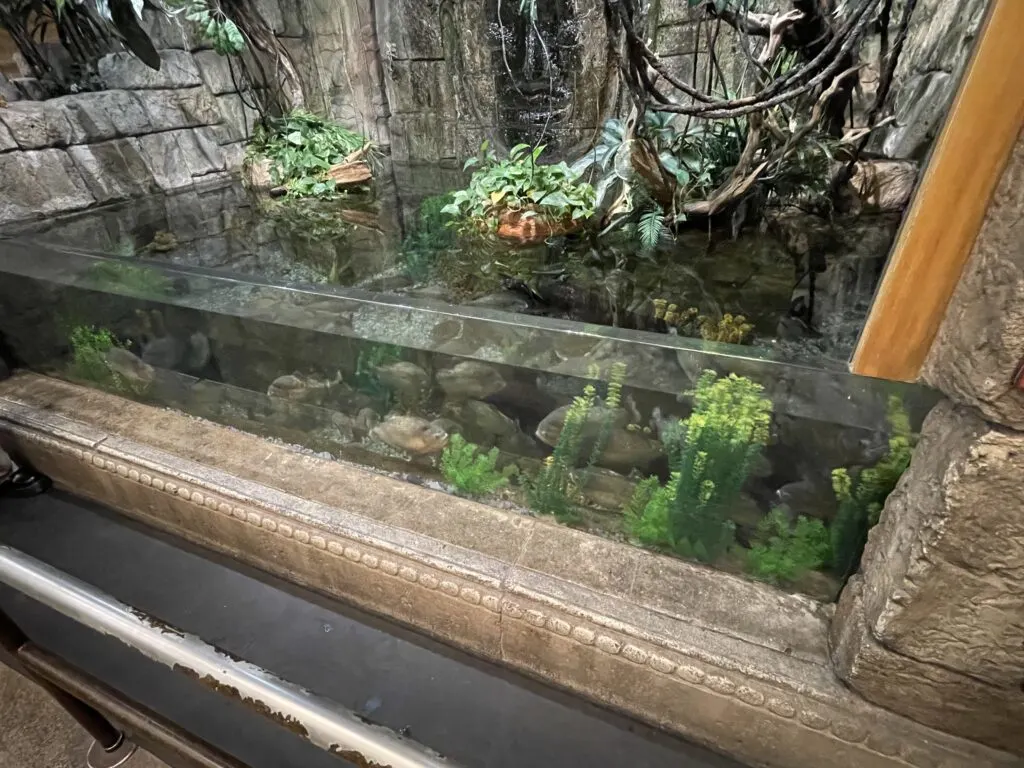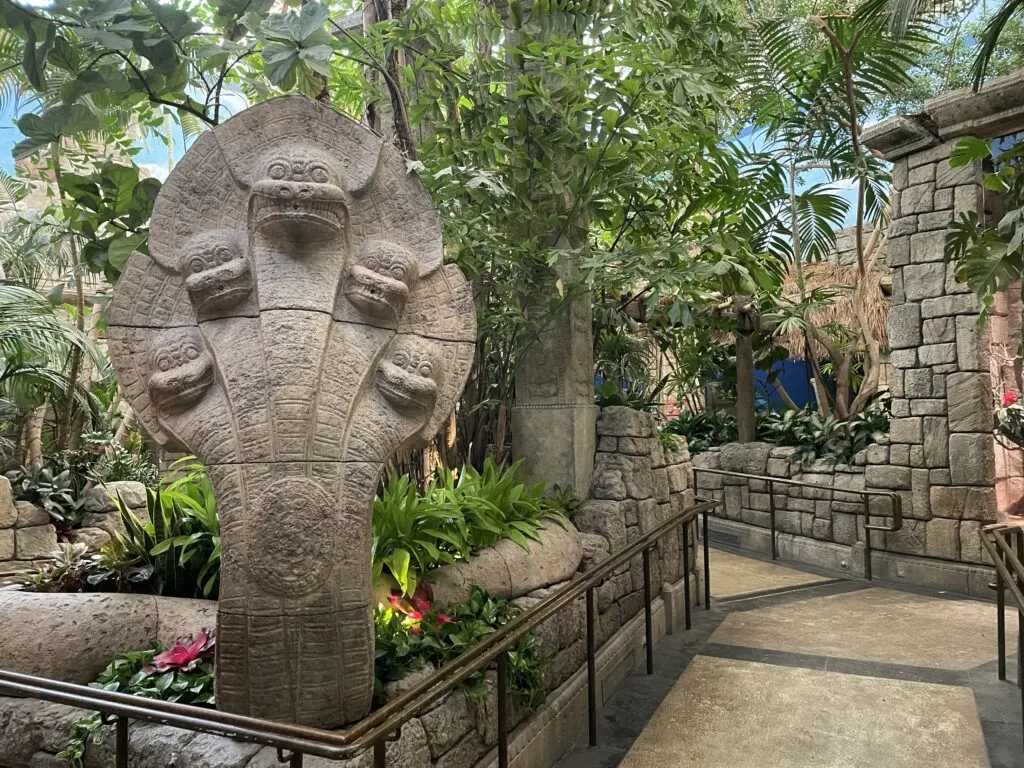 Once you get through the jungle-themed zoo, you get to the star of the show: The first of two glass tunnels that allow you to "walk the seafloor" amongst, and below, the aquatic life that calls the aquarium home.
Of course, I was excited to snag some stunning people-less pictures of these glass tunnels, but as I turned the corner into the first one, I was disappointed to find a field trip full of 2nd graders were clogging my glass tubes like a menacing blood clot in a plaque lined artery.
Fortunately, I was able to wait them out, and they were out of my hair in no time. Here's the first of two seafloor tunnels:
Although I've experienced similar attractions, walking through a glass tube that cuts underneath an aquatic habitat never gets old.
Sharks, colorful fish, and even a mammoth sea turtle were swimming around me and overhead.
While I tried to snap some great sea life pictures, a good photo was tough to come by as the aquarium is a low-light environment, and the creatures were in a constant state of movement.
Here are a couple that are decent: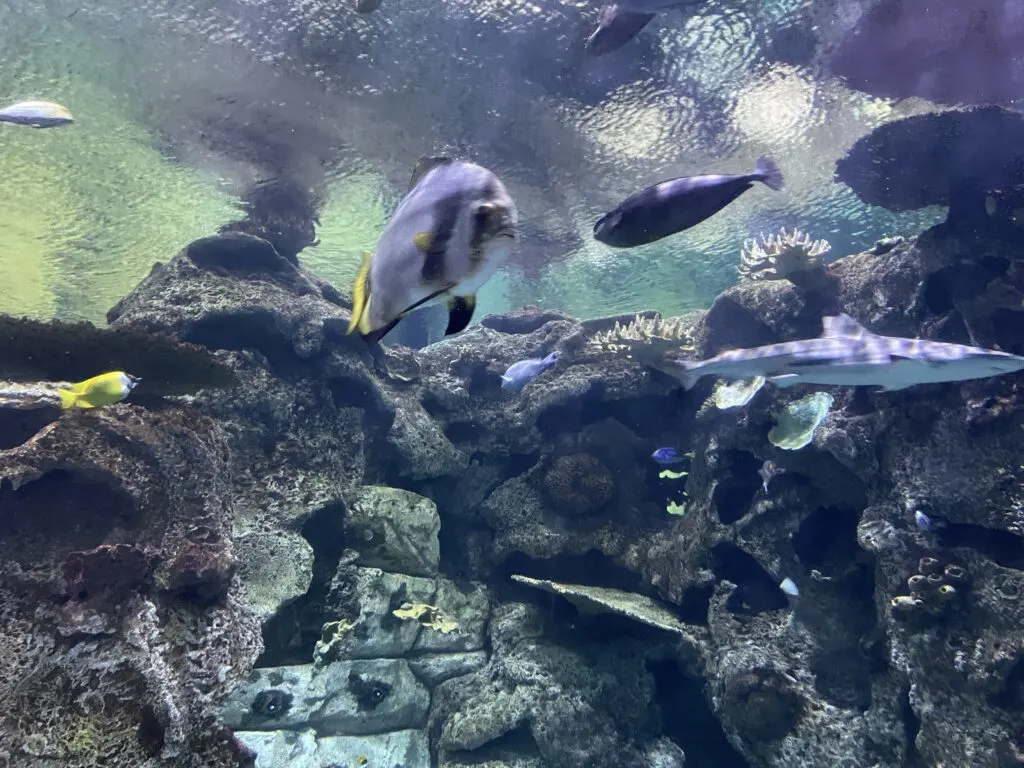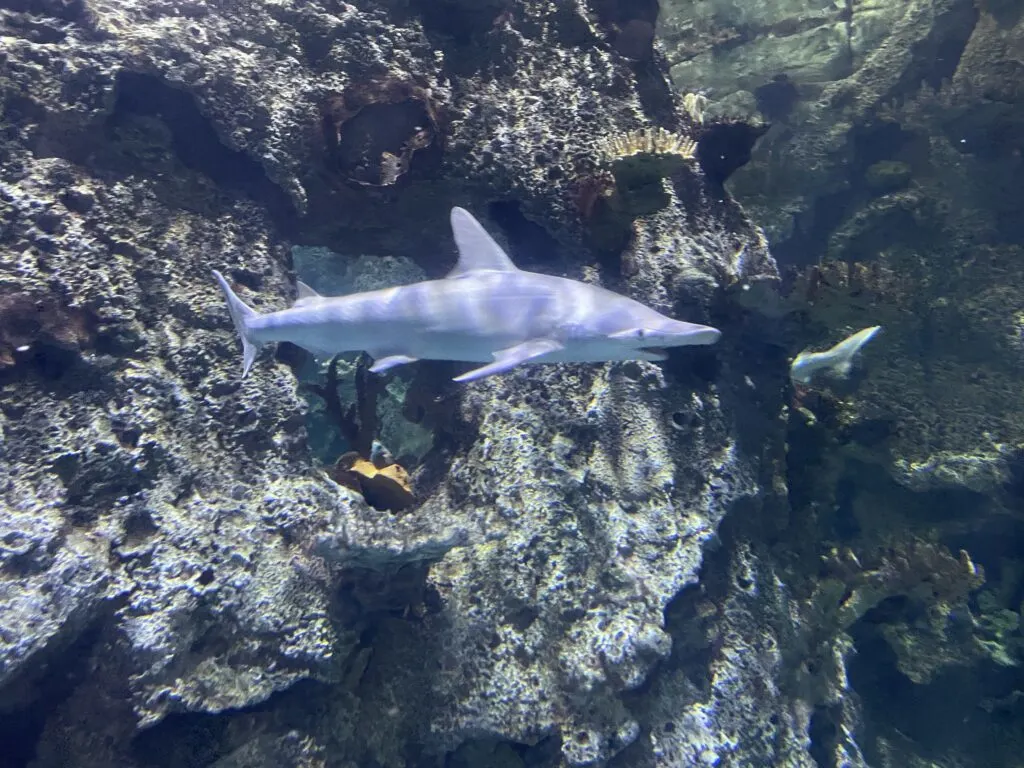 Once you emerge from the first undersea tube, you have the opportunity to pet a collection of stingrays and horseshoe crabs in Shark Reef's petting pond.
There's an attendant there to help, and they explain that you need to use a single finger to interact with the wildlife. This poor guy had his hands FULL with the second graders.
There is also a sink nearby to wash your hands after your encounter.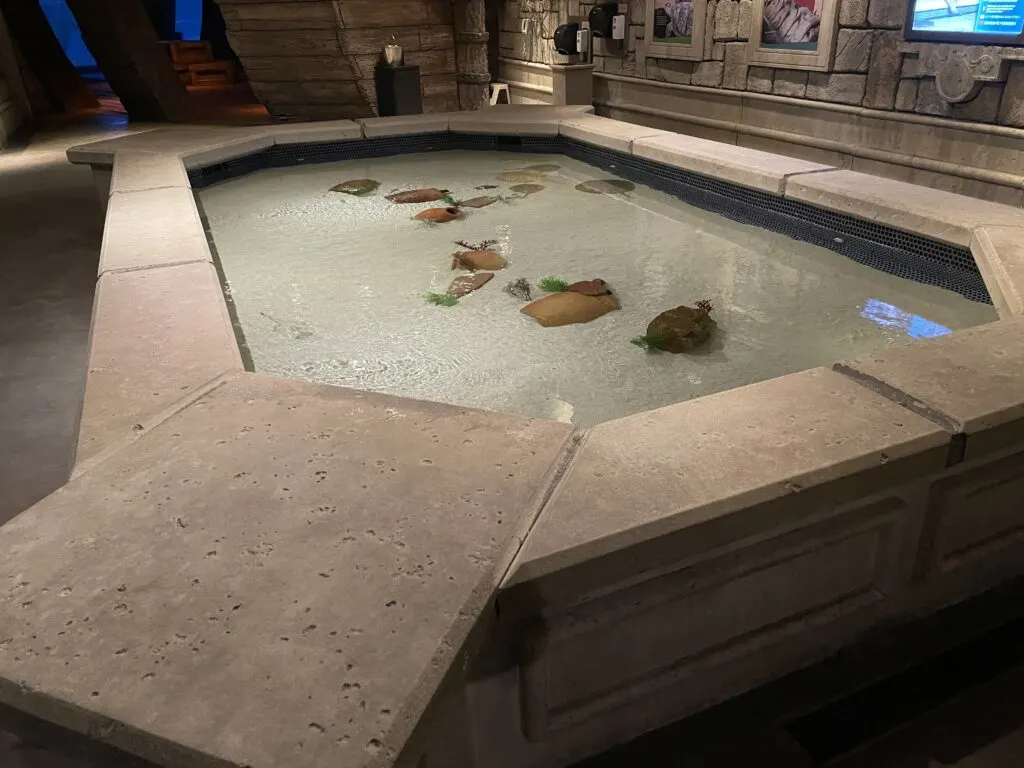 When I looked up from the petting pool, I realized that this was one of the more aesthetically pleasing rooms in the aquarium, complete with a lionfish aquarium, and a stunning, mesmerizing jellyfish display.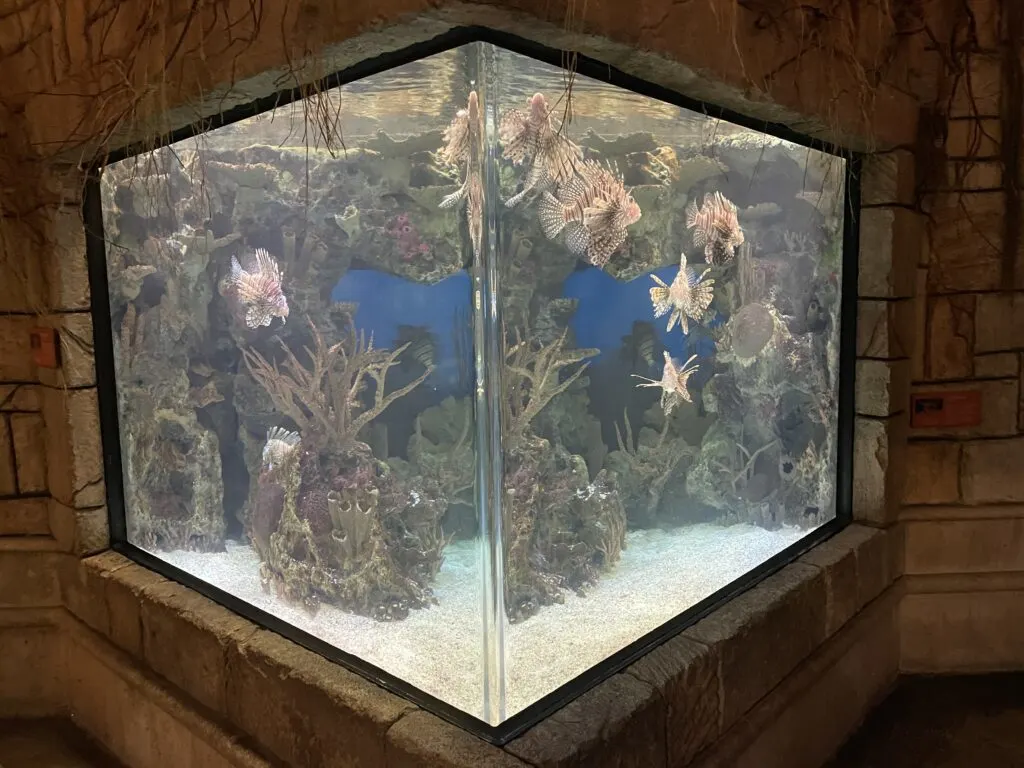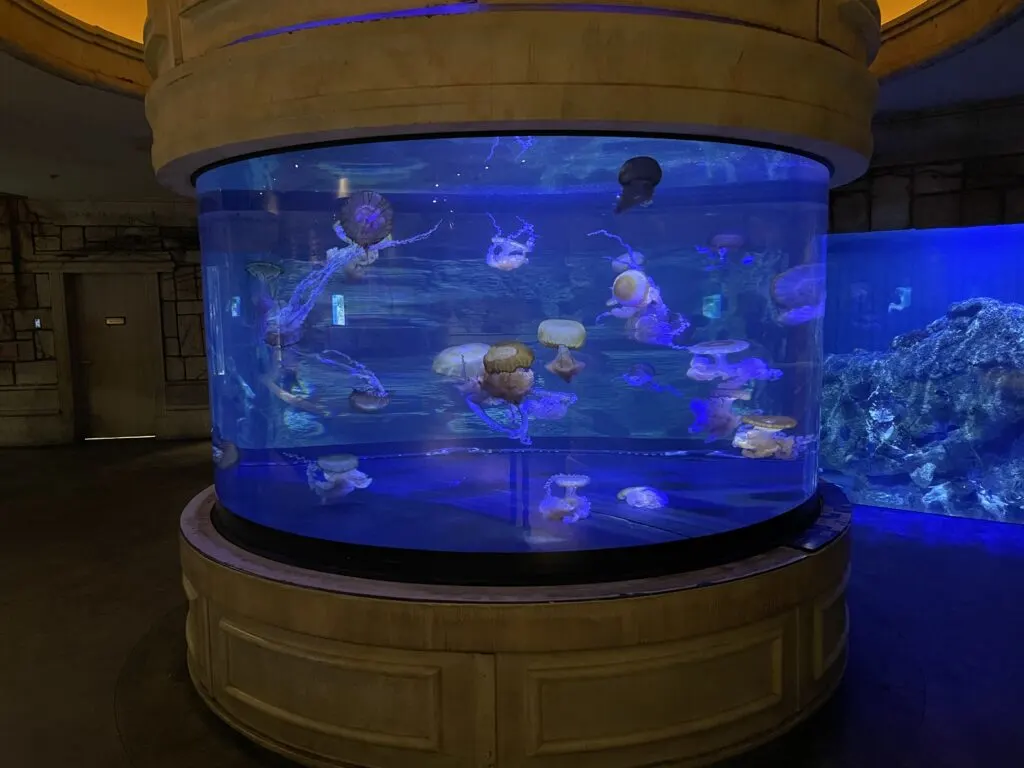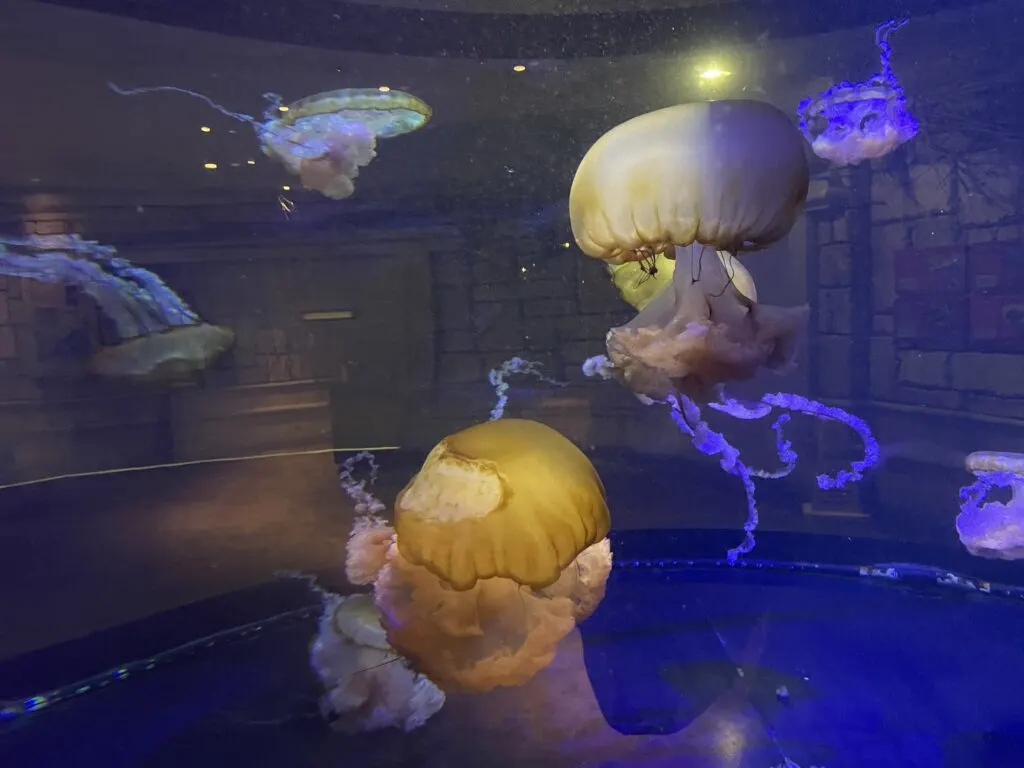 After staring at the jellyfish for longer than I'm proud of, I moved on to the next exhibit, which gives the illusion of walking into a sunken ship.
There, you're surrounded by windows that peer into a large tank, home to a large number of sharks that are milling about, around, and under you.
There were glass panels built into the floor to provide a view of the seafloor and anything that may be hanging out down there.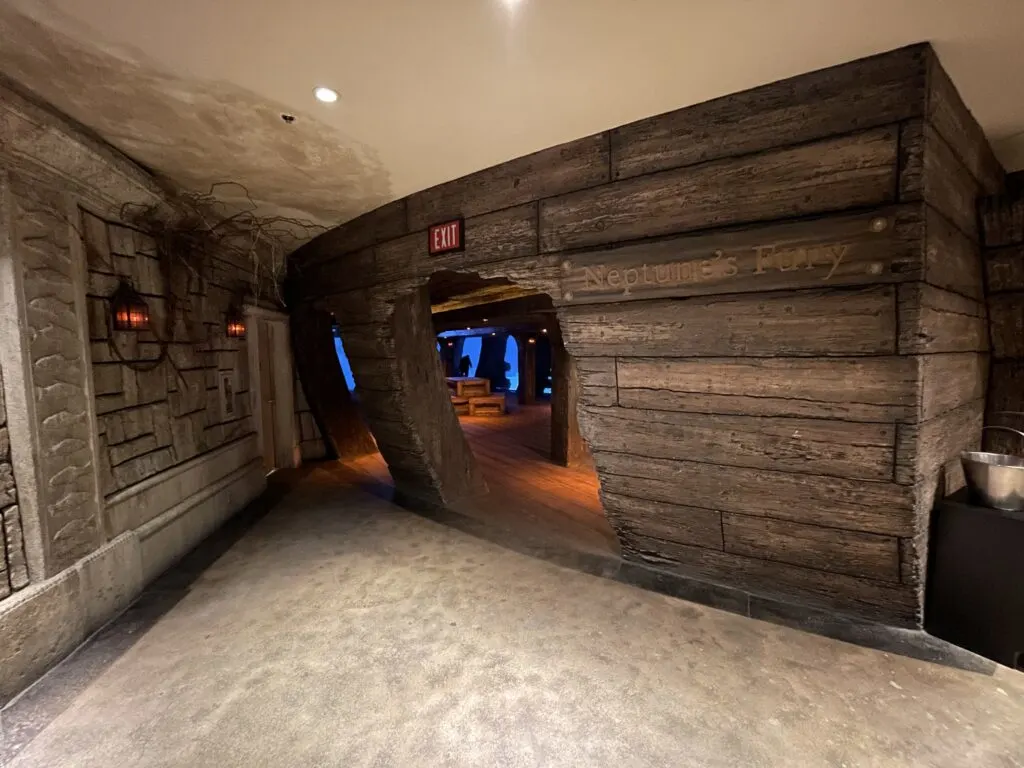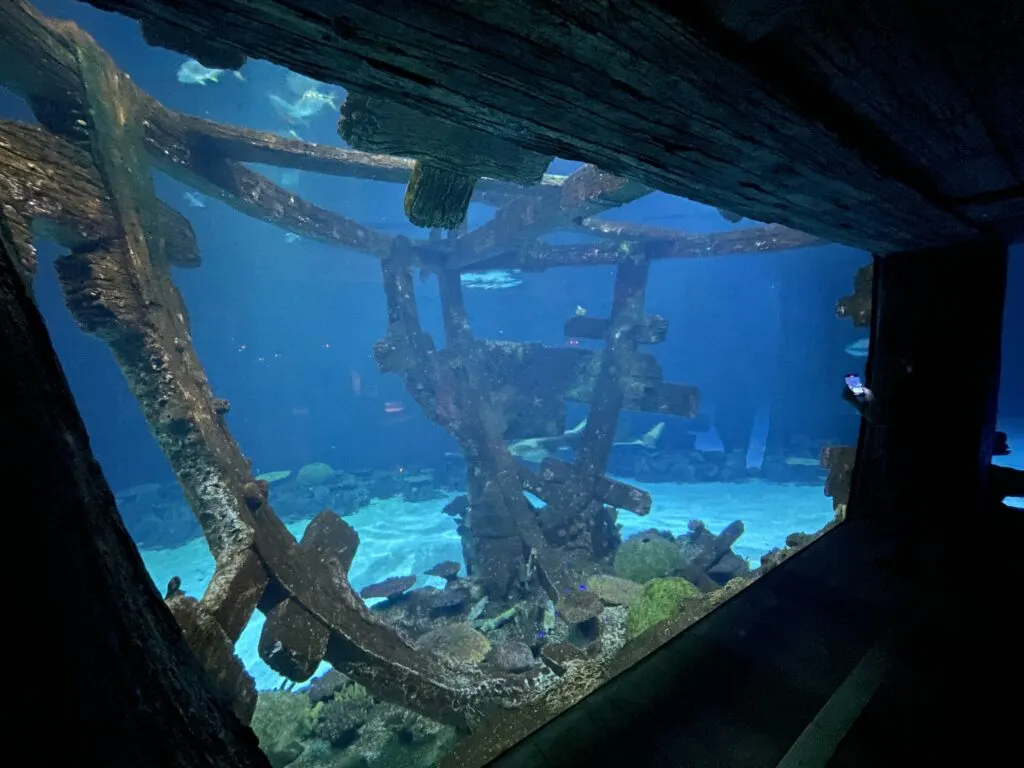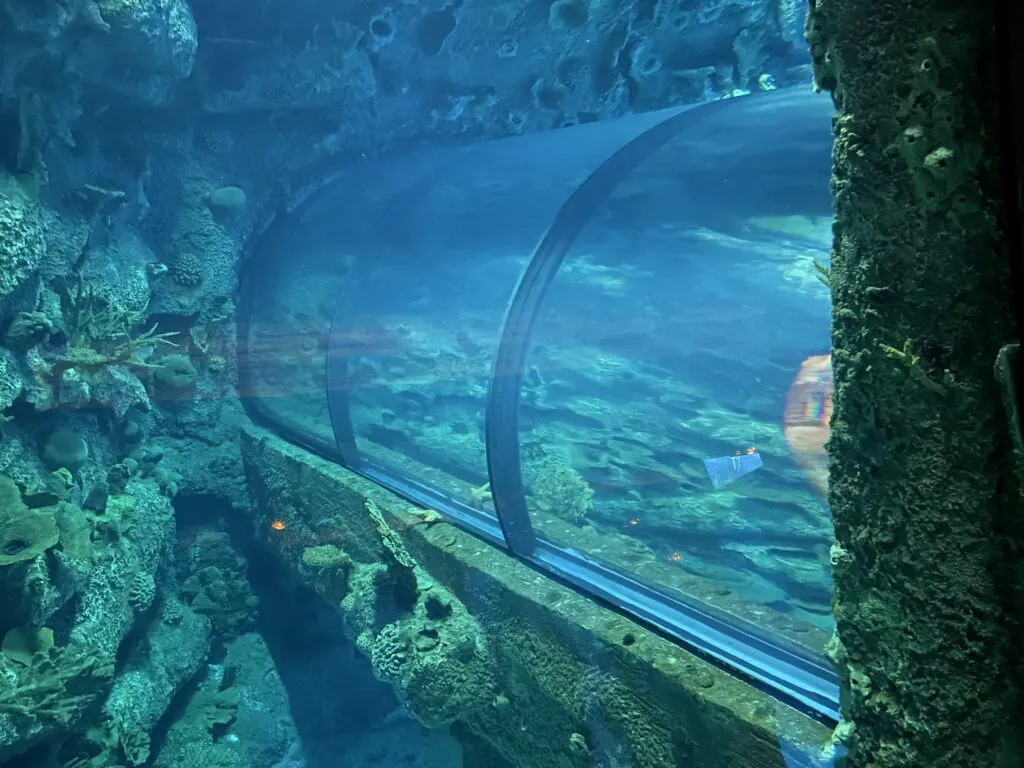 Once wrapped up in the ship, I made my way through the second, and final glass tube towards the Shark Reef exit.
Unlike the first tube, this one was fitted with a glass floor similar to the sunken ship.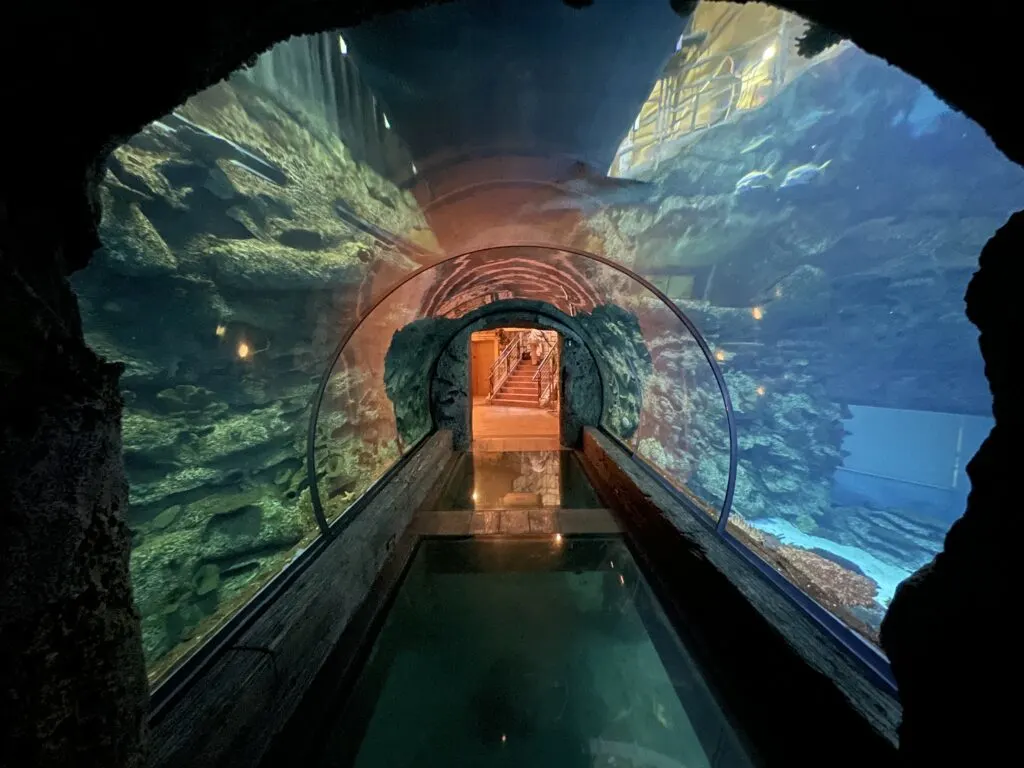 Is the Shark Reef Aquarium Worth The Money?
If you're into this type of attraction (and you should know after seeing the pictures above), then Shark Reef is certainly worth the cost of admission.
The zoo, aquarium tanks, tunnels, and touch pond provide a variety of experiences in one attraction. In its entirety, Shark Reef takes about an hour to tackle, and there's a lot of information to absorb.
What struck me was how visually appealing everything was. The glass tunnels and certain aquariums (like the jellyfish) were simply beautiful. I used the word "mesmerizing" and it works. Some of these displays just make you want to stop and stare.
Although customers have awarded Shark Reef a solid 4 out of 5 stars on TripAdvisor after 4,300+ reviews, a common negative review theme centered around the attraction being a mix of small/short and expensive, and I kind of get it.
Especially if you have kids that are quickly jumping from tank to tank, Shark Reef may only take around 20-30 minutes, making the $25 – $30 per person seem steep.
Ensure you give the kids a pep talk beforehand and encourage them to take their time, read the placards, partake in the interactive activities, talk to the employees, and simply stand still and observe.
Although visiting the aquarium can be a spendy proposition for families, Shark Reef is comparable in price to other attractions in Las Vegas. If I were brave enough to bring my kids to town, I'd confidently add it to our family's itinerary.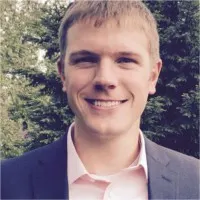 I'm a former software salesman turned Vegas aficionado. While the craps table is my preferred habitat, I pull myself away to explore new attractions, shows, restaurants, and outdoor activities around Las Vegas with the intent of sharing my experiences.
Ultimately, I just want to help folks plan a better trip and save a few bucks in the process.