History, and exploring historic sites, intrigues me.
I'm the kind of guy that spent his time as a kid buried in books about WWII, watching The History Channel, and begging my parents to take me to museums. What I'm trying to articulate is, I'm a nerd.
In my ever-expanding hunt for things to do outdoors in Las Vegas, making the drive out to the St. Thomas ghost town was a no-brainer.
According to the National Parks Service, St. Thomas was founded in 1865 by a group of Morman settlers. The area was appealing due to its proximity to the Muddy and Virgin Rivers, which made life and farming possible.
At its peak, the town's population reached approximately 500 inhabitants, all of which were sent packing when the Hoover Dam was constructed, and Lake Mead started to rise behind it in 1935.
Left behind to be engulfed by the newly formed reservoir were homes, businesses, a school, and life as the residents of St. Thomas knew it.
St. Thomas has been covered by up to 70 feet of water at times but has emerged from the lake on several occasions throughout the years.
During those times, former residents have come back for reunions and to celebrate their connection to the site.
Current day, historic drought has gripped the western United States and has negatively affected Lake Mead's water levels, re-exposing St. Thomas, which is accessible by a "maintained" road and a short hike. More on why I used quotation marks around the word maintained below.
Below, I'll share my experience at St. Thomas and share a ton of photos to help you determine if the ghost town near Las Vegas should be included in your itinerary.
Specific facts and information that I reference are sourced either from the National Parks Service page about St. Thomas or from the numerous informational placards scattered around the ruins.
Getting To St. Thomas From Las Vegas
The St. Thomas Ghost Town is located along the Overton Arm of Lake Mead, which is about 1.5 hours from Las Vegas.
There are two common routes that Apple and Google maps will use to get you there from Las Vegas, and I used them both on this visit.
The prescribed route to St. Thomas will likely depend on where in Las Vegas you are. If you're further south, or at the airport, your app is likely to select the first option:
Route 1 to St. Thomas
Heading out to St. Thomas from Vegas, I took I-215 and NV-564 through Henderson toward Lake Mead.
You'll enter the Lake Mead Recreational Area ($25 per car charge) and stay on the winding, scenic, Northshore Road for 45 miles before turning onto Old St. Thomas Rd.
Route 2 to St. Thomas
The second route will send you north on I-15 to Valley of Fire Drive, which is absurdly beautiful, but costs $10 per carload… even if you're just driving through the park.
After you exit Valley of Fire State Park, you need to enter the Lake Mead Recreational Area which will cause you to incur an additional $25 charge per car.
Both routes are beautiful in their own way, but you'll want to opt for route 1 if you want to save $10, and not pay to drive through Valley of Fire.
Here's how the two routes differ via Google Maps:
Route 1 through the Lake Mead Recreation Area is highlighted in Blue
Route 2 through Valley of Fire State Park in Gray
Caution Advised on Old St. Thomas Rd.
No matter which route you take, you'll have to make the challenging 3.3-mile drive down Old St. Thomas Rd. to reach the parking area for the ghost town.
I chuckle about it now, but for the life of me, I couldn't figure out why my phone was saying I was 10 miles away from the ghost town, but also saying it was going to take an hour to get there. How could it take an hour to cover 10 miles?!
I found out the moment I turned onto Old St. Thomas Rd.
While the dirt road is "maintained", it wasn't in good enough condition to do more than idle at about 5 mph. Granted, I was driving a little Nissan Altima, but this road was ROUGH, getting progressively worse as I got further from civilization.
Challenges along the road included large fist-sized rocks, deep ruts (I heard the front of my car scrape the ground a few times), washouts from rain, and soft sand. At times, I was driving on a bed of bumpy, solid stone with rocks scattered about it.
It was a bumpy ride, to say the least.
The combination of spotty cell service and being by myself had me worried I'd blow a tire on a sharp rock, get stuck, or damage my car in some other way.
I was white-knuckling the whole way, desperately surveying the road ahead to ensure I avoided any rock that looked pointy. Honestly, not sure if I blinked my eyes once.
There were a few occasions I actually considered scrapping my plans and turning back, not wanting to risk being stranded.
Look, I made it, but I'd recommend tackling that drive with a larger truck or SUV.
I only snapped photos of the easier stretches along Old St. Thomas Rd, because the rougher parts were too stressful to be multitasking. They don't do how challenging it was justice, but here they are.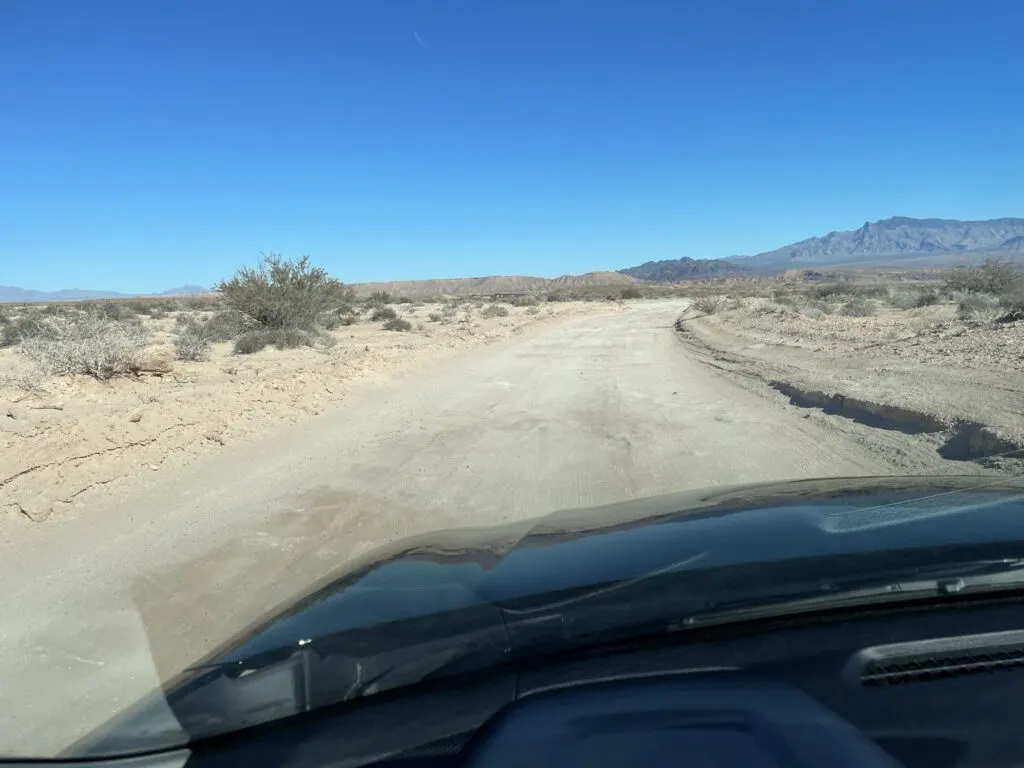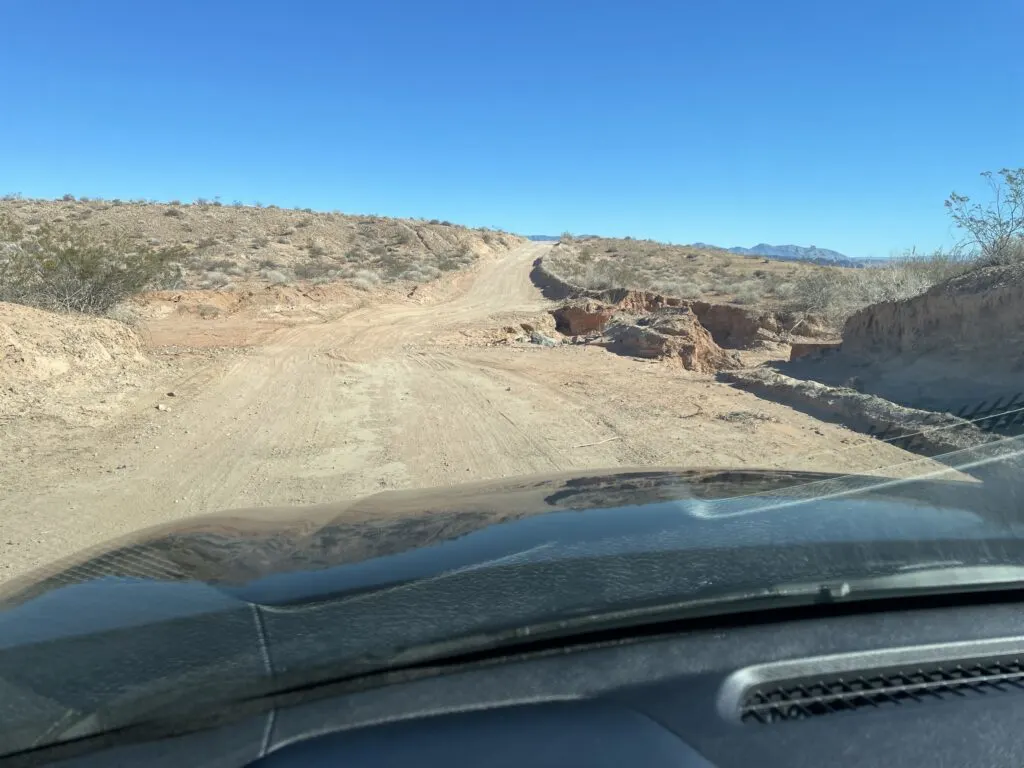 My Experience at the St. Thomas Ghost Town
The Hike into St. Thomas
I finally, after a nerve-wracking 40-minute, 3-mile drive, exhaled loudly as I parked my car in the lot.
There were 2 other cars present, which provided some comfort as I wasn't alone. That sense of relief quickly vanished as both parties left just after I arrived.
While the remnants of St. Thomas are visible from the parking lot, it's a good hike to get to the ghost town.
The trail is "not maintained" but I found it to be easy to follow, and not overly challenging. Here are a few pictures of what you'll encounter as you make your way to the ghost town site.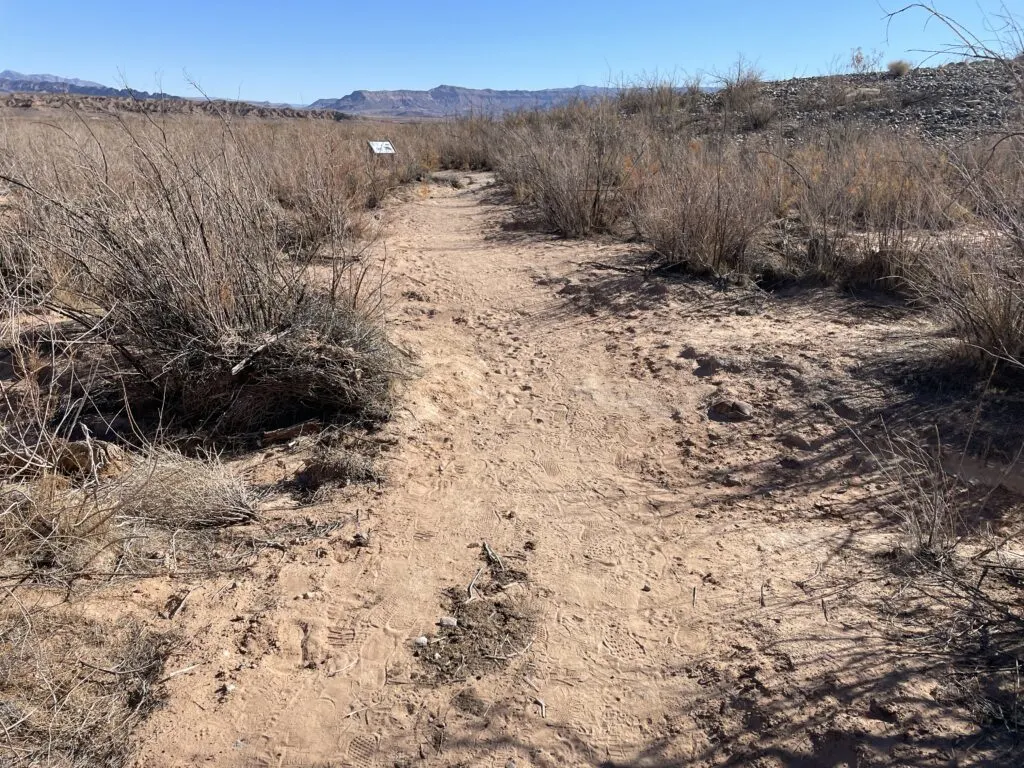 When you reach the town, there are some helpful informational placards that describe the town's history, where specific landmarks are/were, and explain how the construction of the Hoover Dam, and the subsequent creation of Lake Mead affected the town.
Here are a couple that provide additional background about St. Thomas and what happened to it: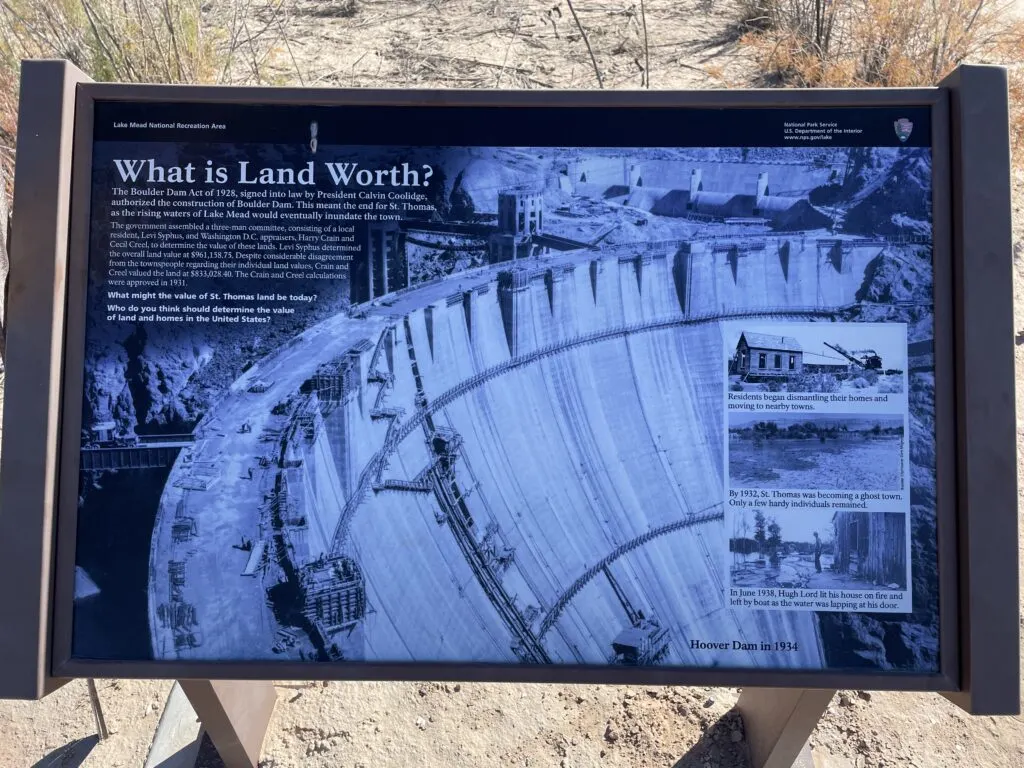 As I hiked into St. Thomas from the parking lot, I saw a LOT of animal feces… from large creatures. I assume the culprit is bighorn sheep, but never actually saw one. I did, however, hear plenty of animal noises in the distance.
I have to admit, it made me a tad nervous as I was alone at the site.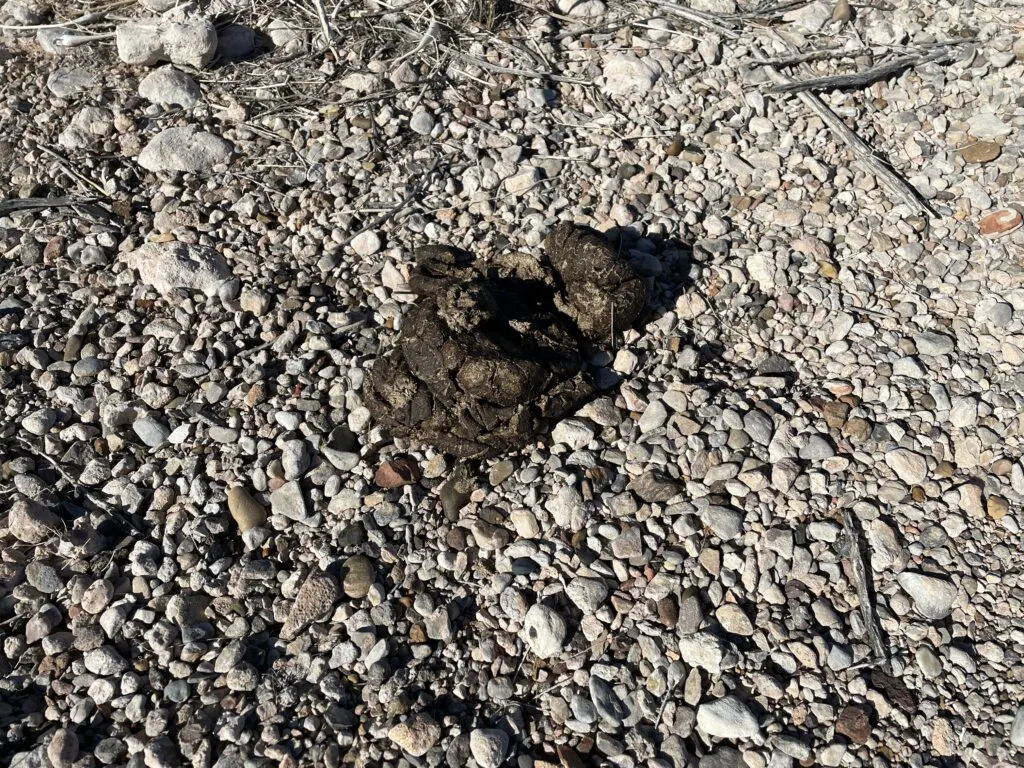 Also scattered about the ground were millions of seashells, which looked out of place, but made sense as the area has been under the water of Lake Mead for an extended period of time.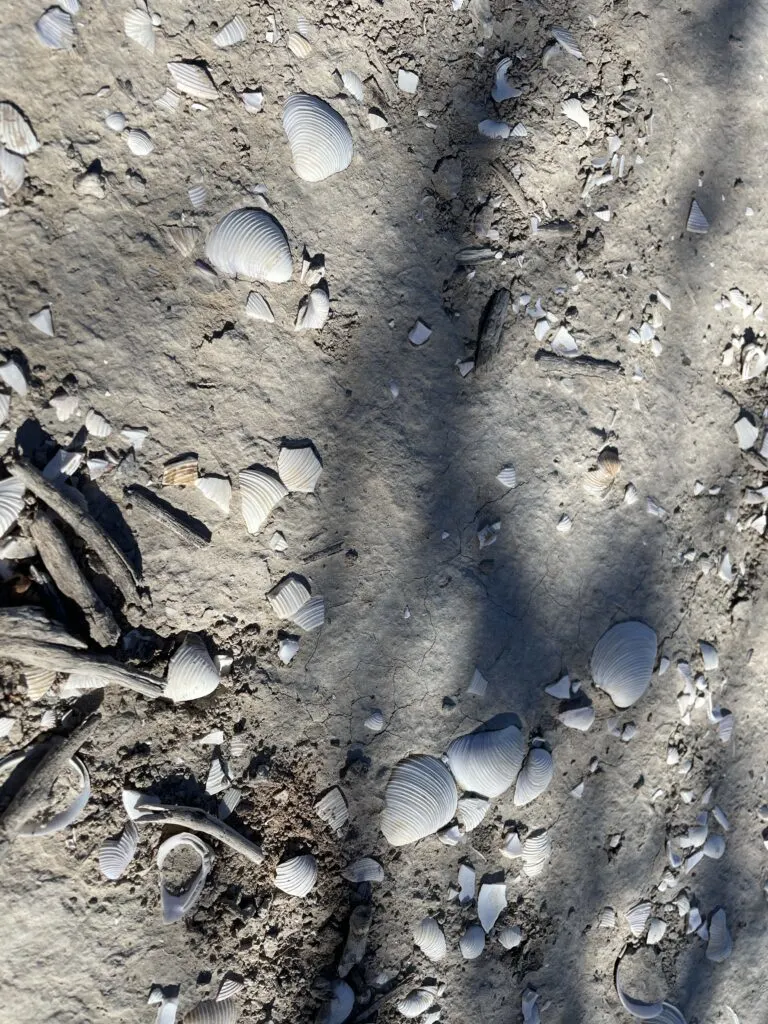 Inside the St. Thomas Ghost Town
A lot of thoughts and emotions kind of hit me once I made it into the vacant foundations and structures that make up St. Thomas. Eerie, creepy, sad, and nostalgic were all thoughts that were top of mind, but I also couldn't shake how cool it was to be there.
I stood next to the first foundation, looked up, and imagined 70 feet of water overhead, as there had been for years and years. I felt fortunate to have had a chance to explore.
Here are a few of the most interesting finds I made as I wandered St. Thomas, some of which had informational placards nearby to provide background:
Various Foundations Along The Path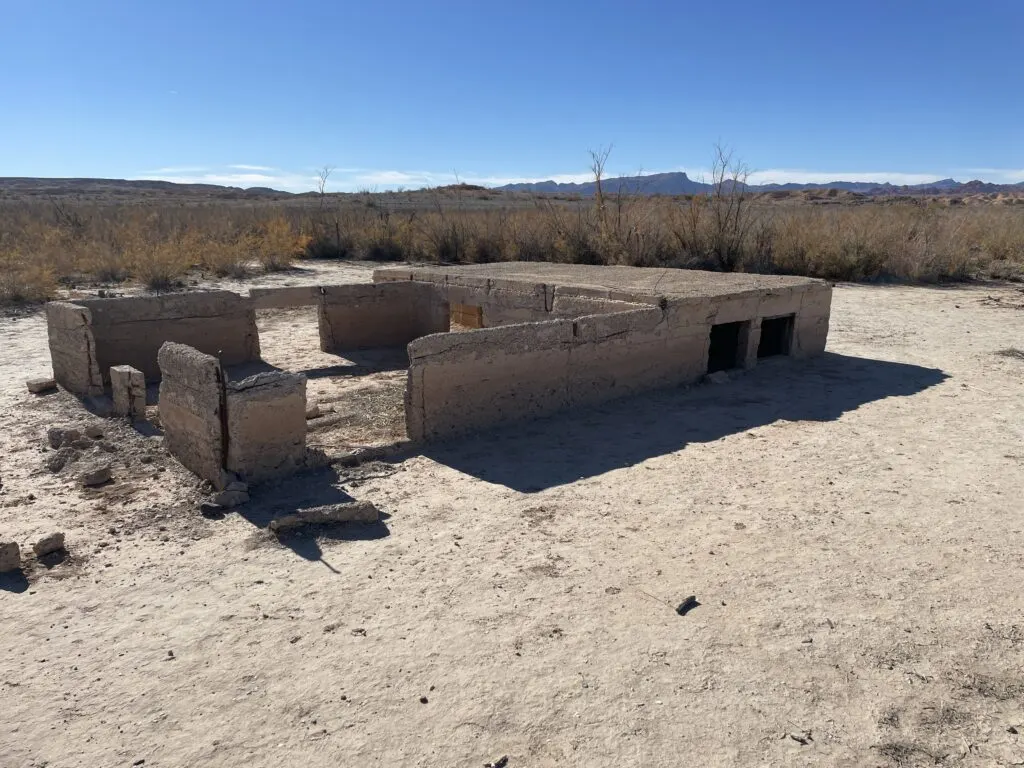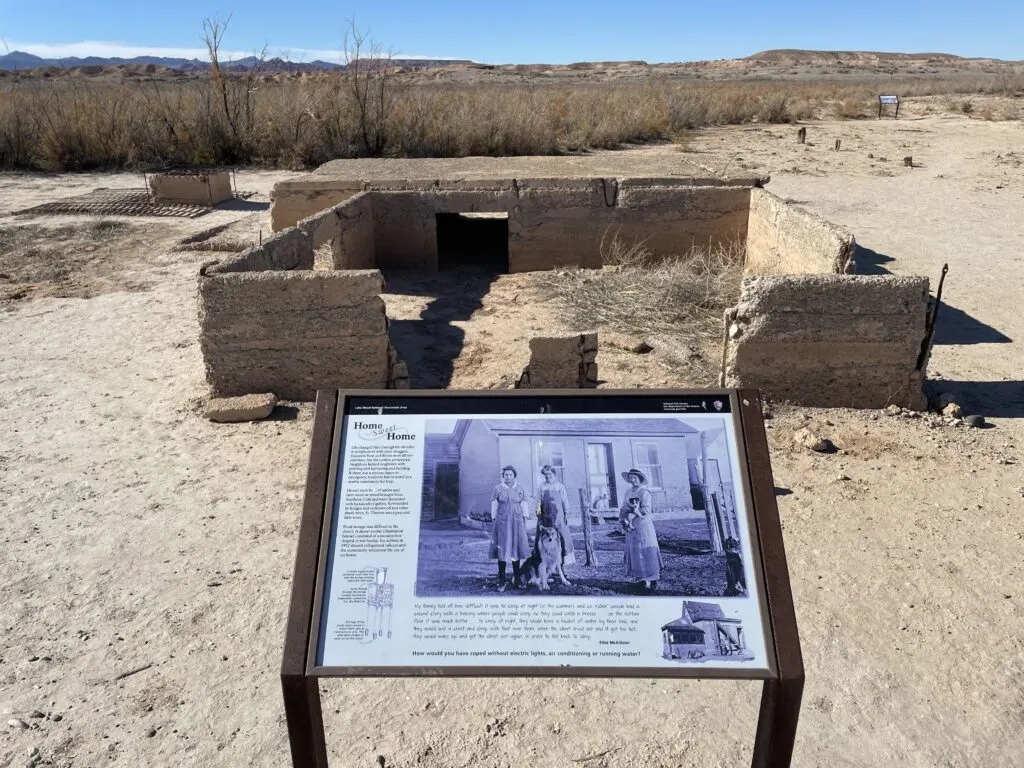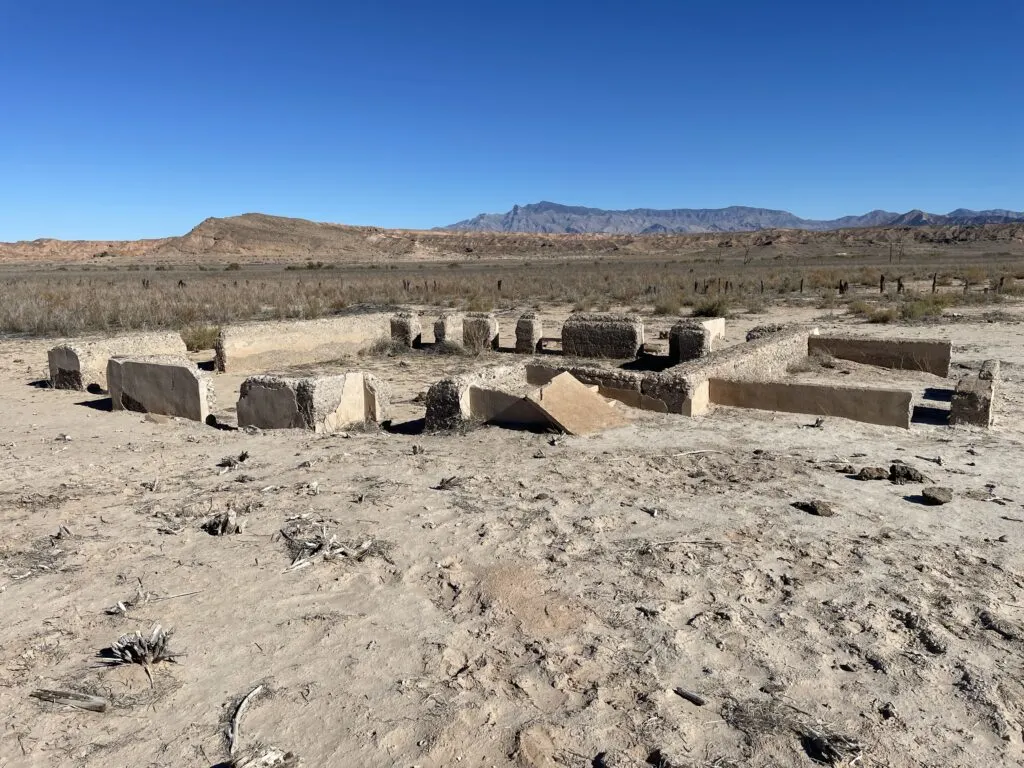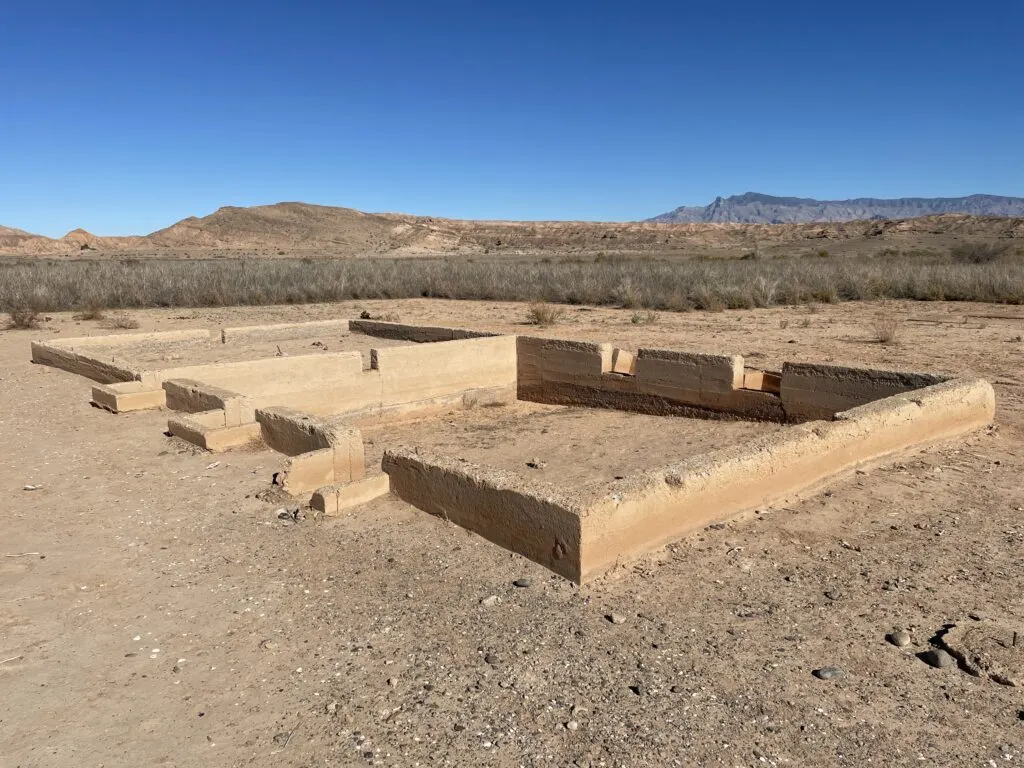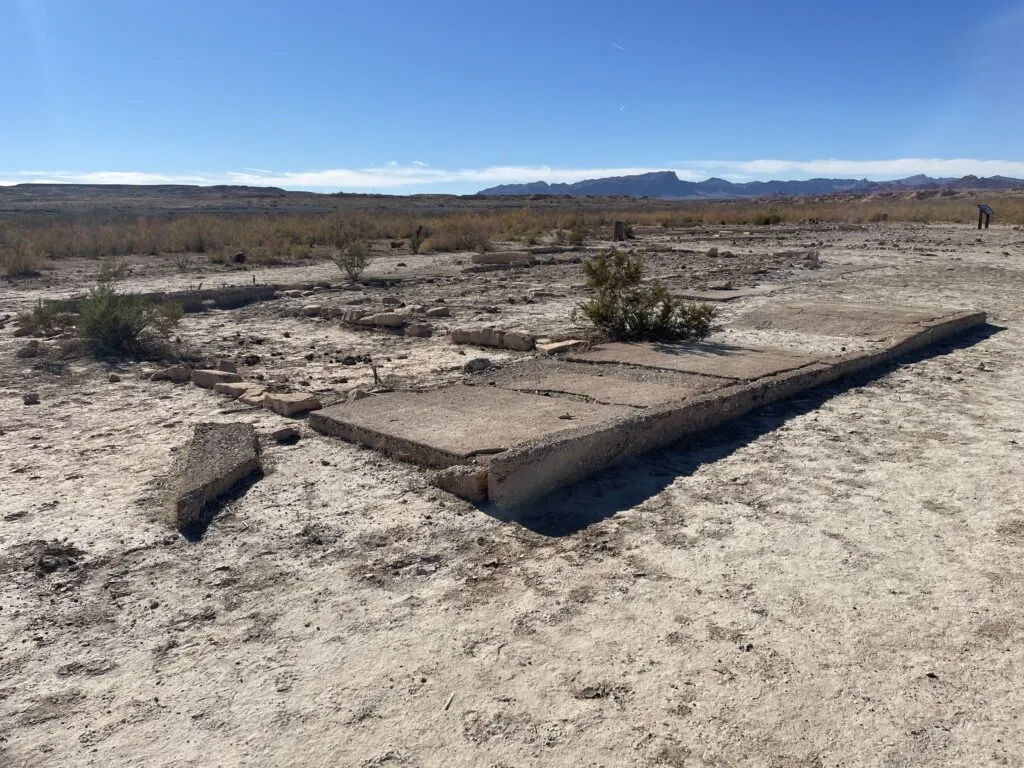 Hanning Store
The Hanning Store doubled as both a home for the family, and a business that sold ice cream, soda, groceries, and gas. Easily ranking as one of the most intact and eerie ruins at St. Thomas, the Hanning Store is tough to miss.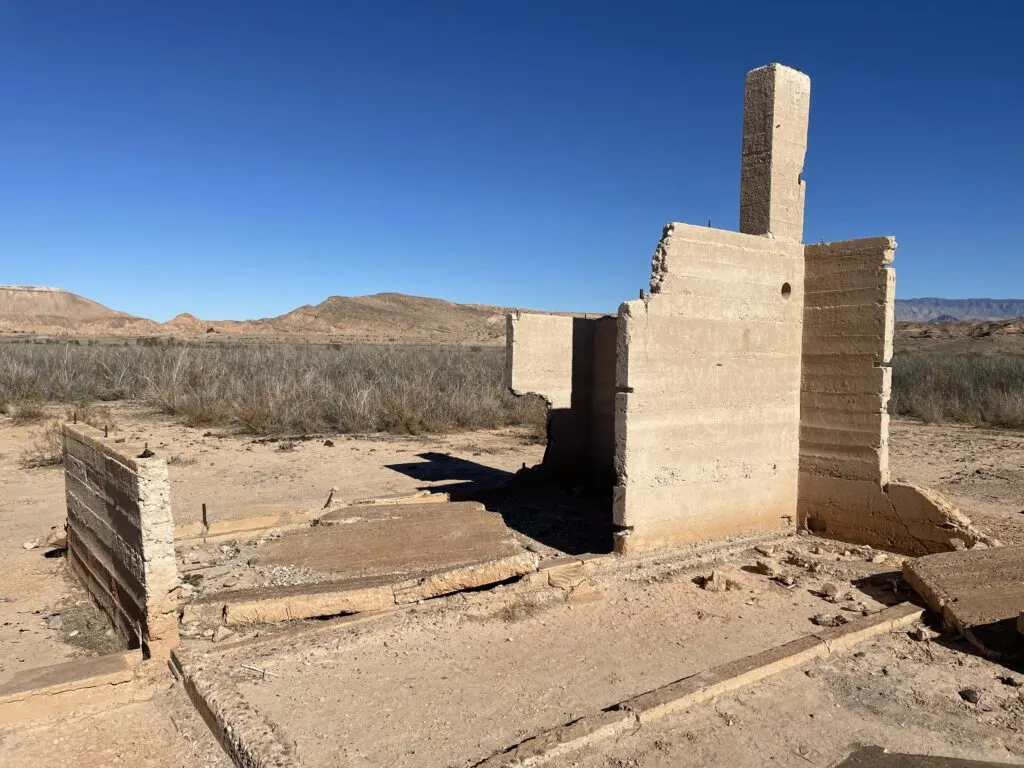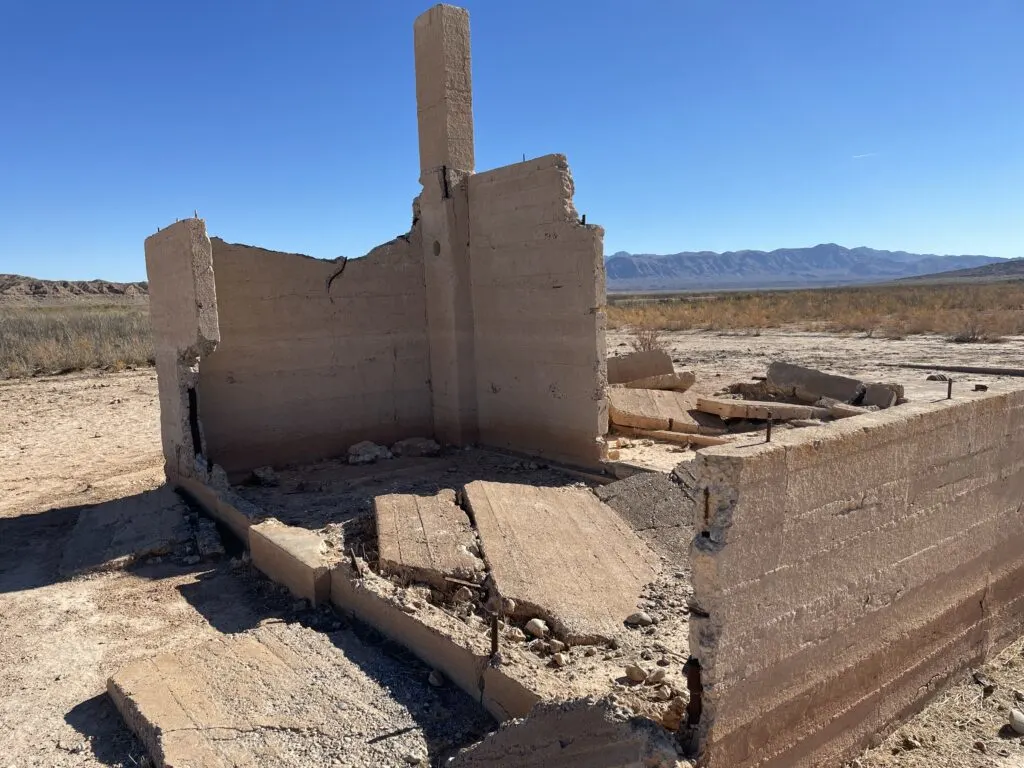 St. Thomas School House
Below is what's left of what used to be a 2-story school, which was built in 1915 and served its purpose until 1932. It's wild to compare the busted-up structure to what once was, depicted in the informational placard.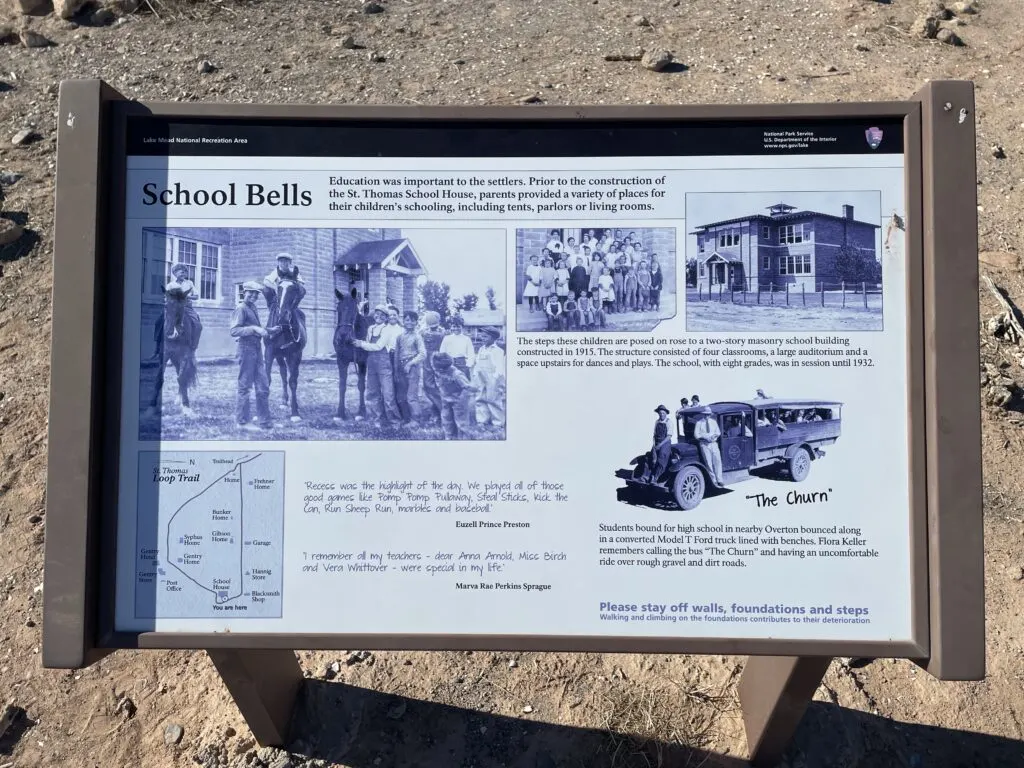 Gentry Family Hotel
According to the placard pictured below, the 14-room brick hotel reportedly called a number of notable politicians, including President Calvin Coolidge as customers.
Today, the hotel is nothing more than a collection of bricks scattered around a foundation.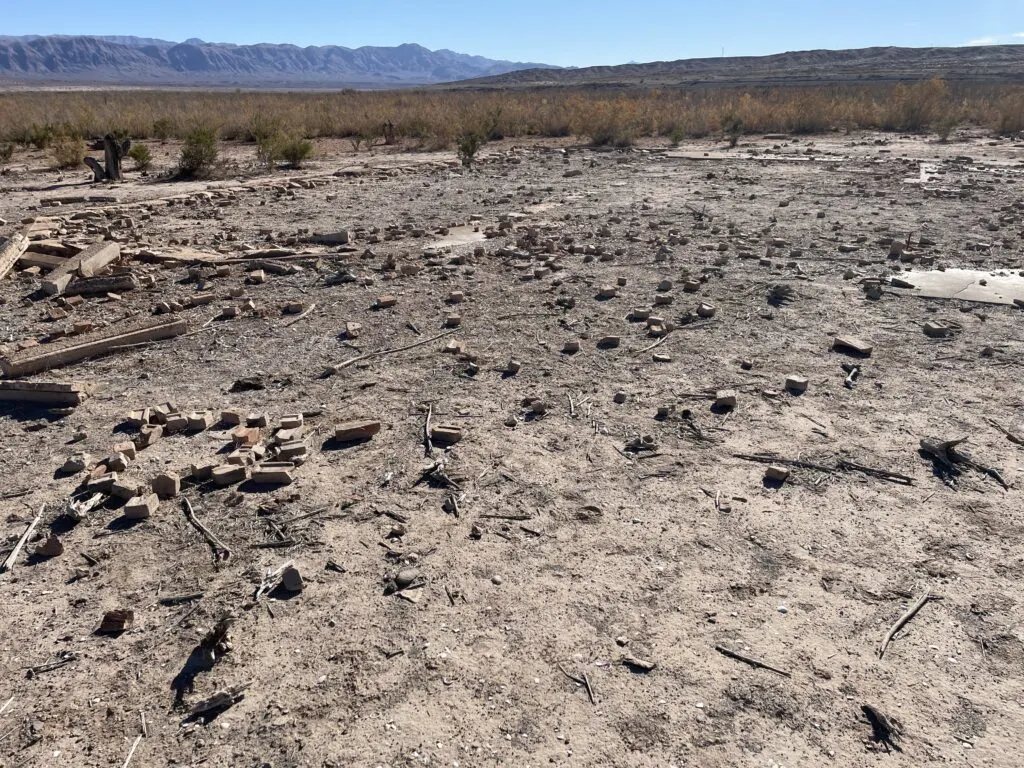 Other Notable Finds at St. Thomas
One thing that I found really cool was that there are still steel parts, wheels, etc scattered about the town. One has to wonder what other treasures lay beneath the dirt.
Here are a few artifacts I stumbled across: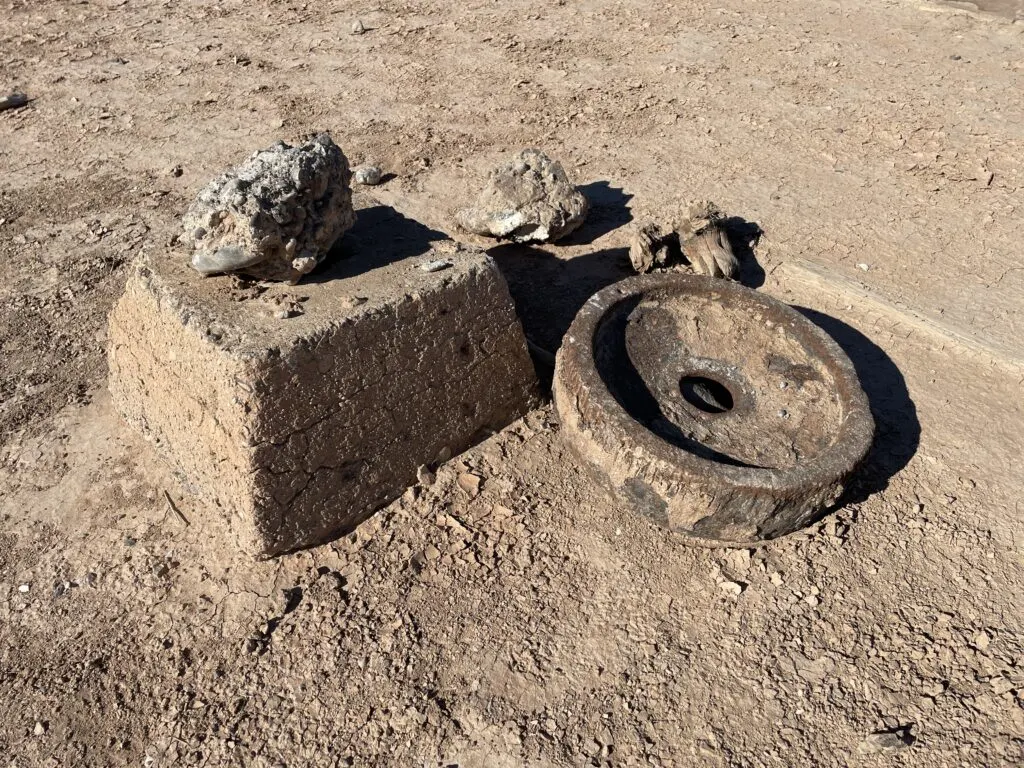 Sitting next to many of the foundations were cisterns, which stored water for daily use. Some of them are 18 feet deep, and so the Parks Service has installed bars over them to prevent injury or urban exploration.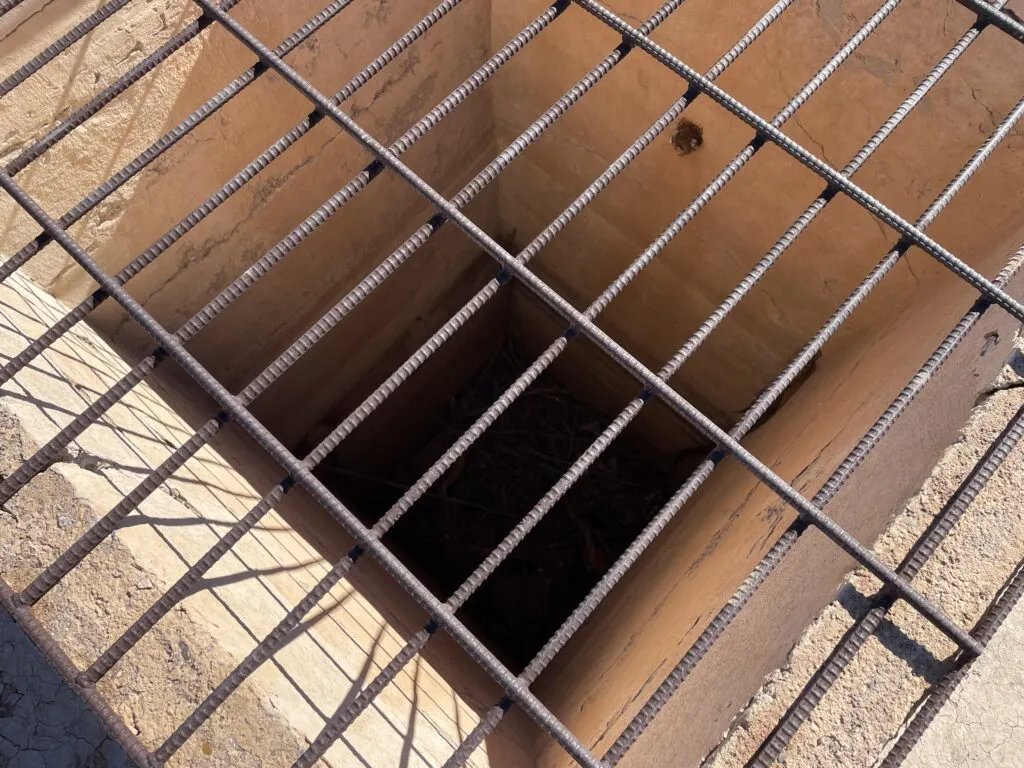 Another thing that struck me were these rows of logs protruding from the ground, which I assume were used as fence posts.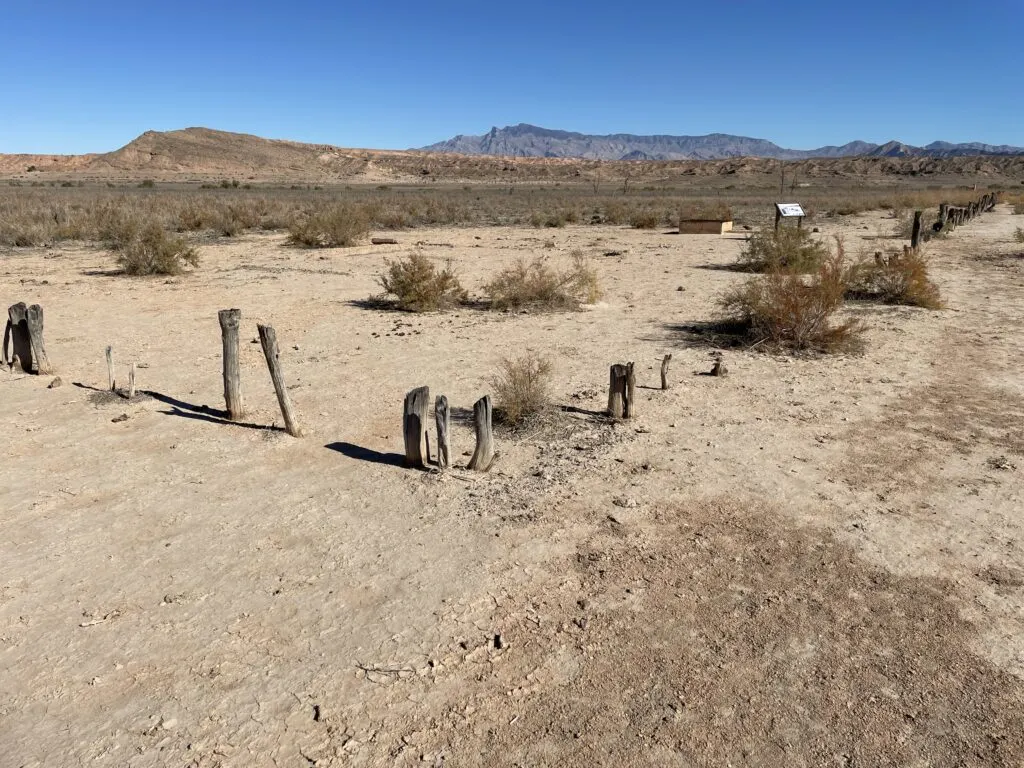 For me, the eeriest part of St. Thomas was the numerous sets of stairs that once led into homes, the schoolhouse, etc.
I couldn't help but envision the scenes of kids playing on them, parents climbing them after a long day at work, etc.
Not sure why, but the stairs, which tended to be the part of the structure in the best condition, made me feel nostalgic for the past.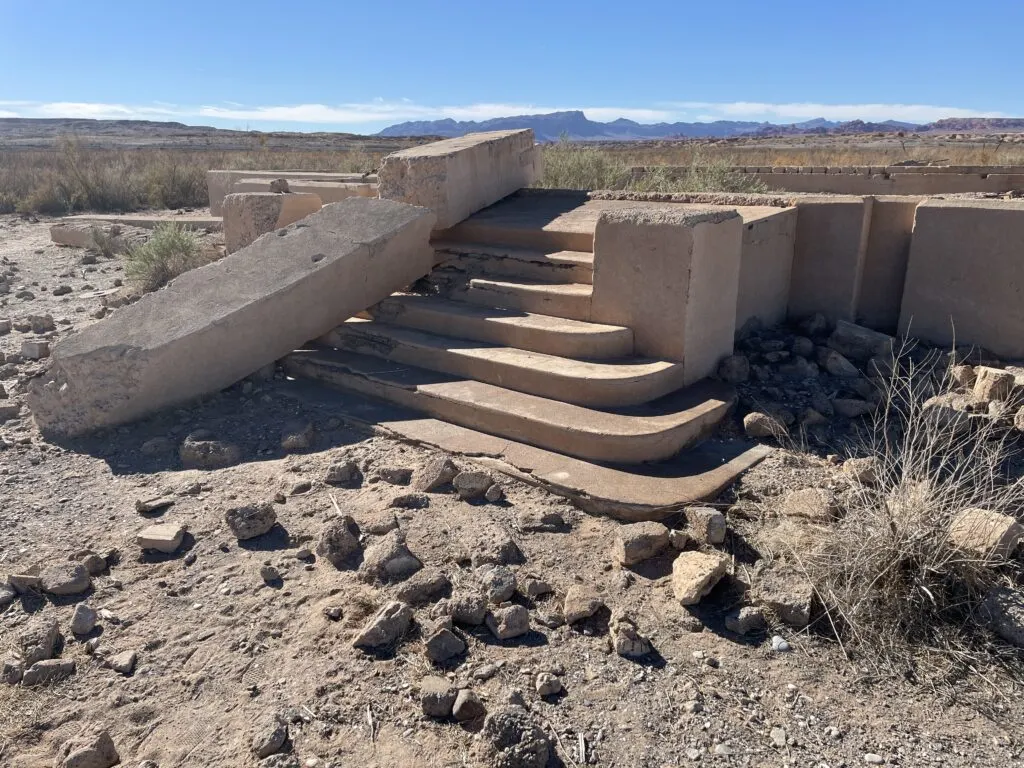 I tried, but can't find any information regarding the last unique find I made at St. Thomas.
On the otherwise unnotable slab of concrete pictured below were what appeared to be shoeprints and words/symbols etched into it.
Now, it's possible that these were recent additions (I doubt it)… but it looked almost like somebody had intentionally marked it before it dried.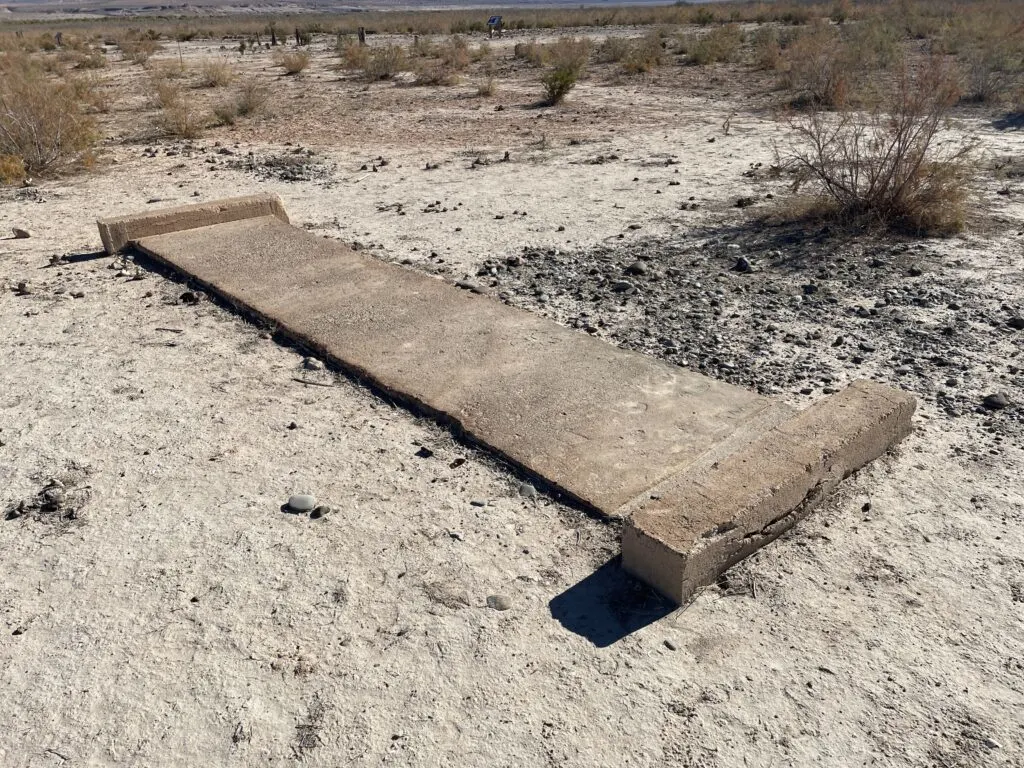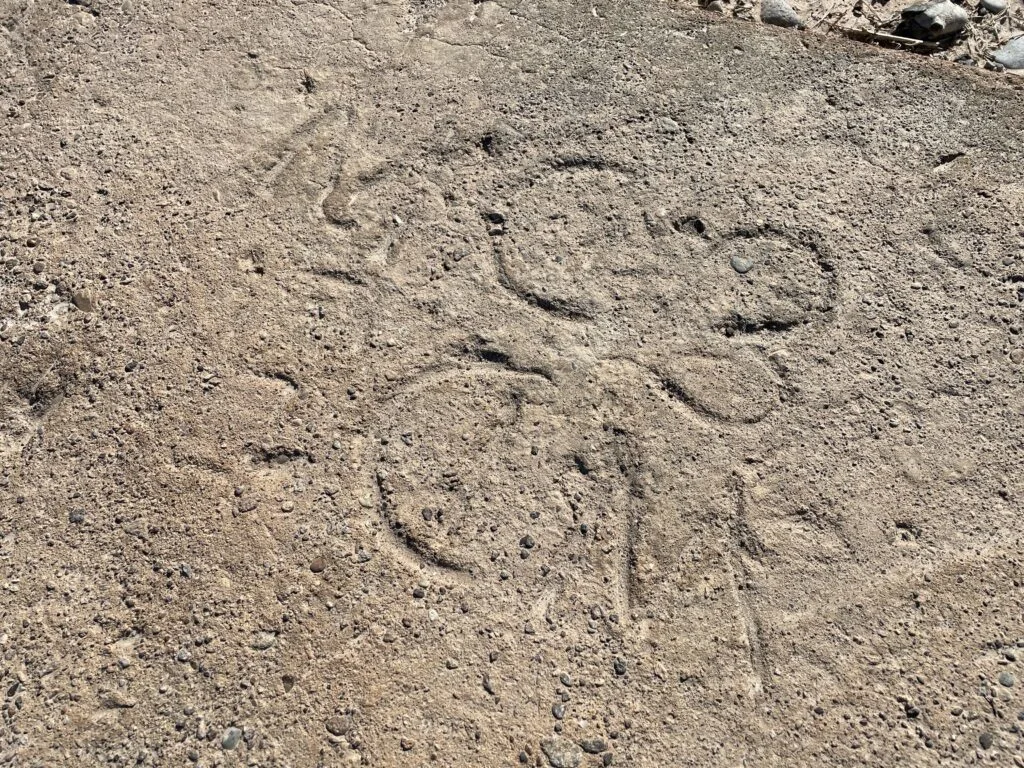 Is the St. Thomas Ghost Town Worth Visting from Vegas?
It's a haul, but if you're remotely into hiking and/or history, it's a pretty surreal scene.
A 3-hour round-trip drive is no joke, and I even considered kicking the can down the road and making the trip another day, but I'm glad I did it.
The ruins are eerie and being in their presence elicits some unique emotions. The fact these scattered foundations were once a bustling 500-person community is pretty wild.
As you can tell from my photos, the National Parks Service has done a great job placing educational placards that help visitors understand why St. Thomas came to be, what life was like in there, and what ultimately happened.
The coolest placards were placed near specific buildings that told their story and showed images of what they once looked like.
While I'd recommend a vehicle slightly more rugged than a Nissan Sentra, I think you'll find this gem in the middle of the open desert to be well worth your time.
For most of us, exploring a ghost town that spent decades beneath 70 feet of water only to re-emerge is a rare opportunity.
If you're on the fence, I'd encourage you to check it out. Give yourself a break from the crowds and noise in Las Vegas, get out to the open desert, and explore historic St. Thomas, Nevada.
Related Outdoor Activities in Las Vegas:
I'm a former software salesman turned Vegas aficionado. While the craps table is my preferred habitat, I pull myself away to explore new attractions, shows, restaurants, and outdoor activities around Las Vegas with the intent of sharing my experiences.
Ultimately, I just want to help folks plan a better trip and save a few bucks in the process.