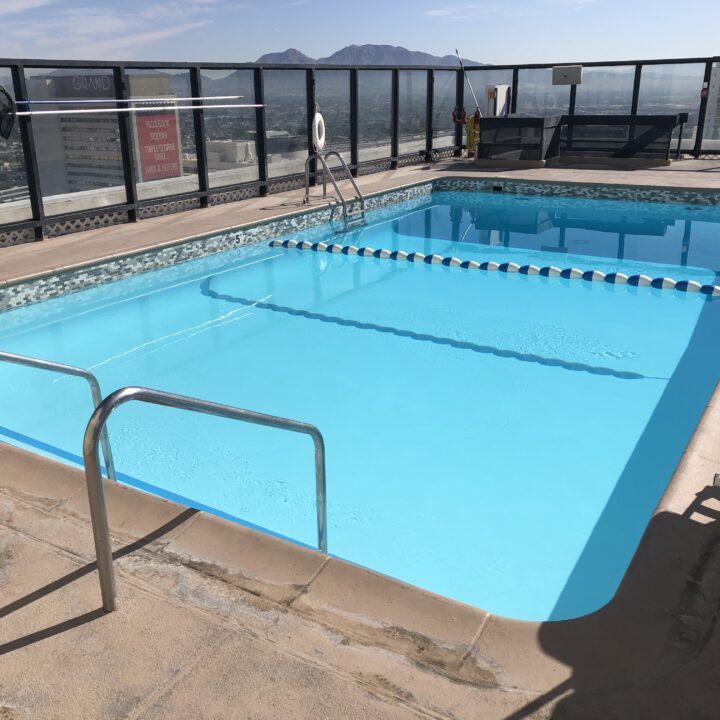 Pools in Las Vegas are known for their size and oppulance. Sprawling complexes are havens for sunbathers and partiers looking to relax, take in a few drinks, and recover from the decisions they made the previous night. Simply stated, Pools in Vegas have just about every amenity visitors can imagine… except one… a deep end.
While most visitors don't mind the absence of the deep end, many long for the days of historic Vegas where most pools offered deep water and a diving board as essential aspects of the experience. Just look at any historic collection of Las Vegas resort photos and you'll see beautiful women posed on diving boards at resorts like Sands, Riviera, and, Sahara. Unfortunately, almost every single pool in Las Vegas tops out at about 3.5 feet of depth.
While no Las Vegas resorts offer a diving board at their pool, there are a couple that still have a deep end.
See also: Las Vegas resorts that keep their pools open year round.
Bally's Blu Pool: The only Strip resort pool with a deep end, Bally's olympic sized Blu Pool gets as deep as 12 feet, making it the deepest of all found at Las Vegas hotels. Bally's Blu Pool is surrounded by foliage and palm trees giving it a tropical vibe and is also near tennis courts and the sportsbook.
Binion's: A pool offering a fantastic view of downtown Las Vegas, Binion's pool is perched atop the old Mint hotel tower. Nothing fancy, the pool is a simple rectangle but offers a deep end of 8 feet. The pool deck at Binion's catches sun all day and is rarely crowded. Guests staying at both Binion's and sister property 4 Queens have access to use the pool.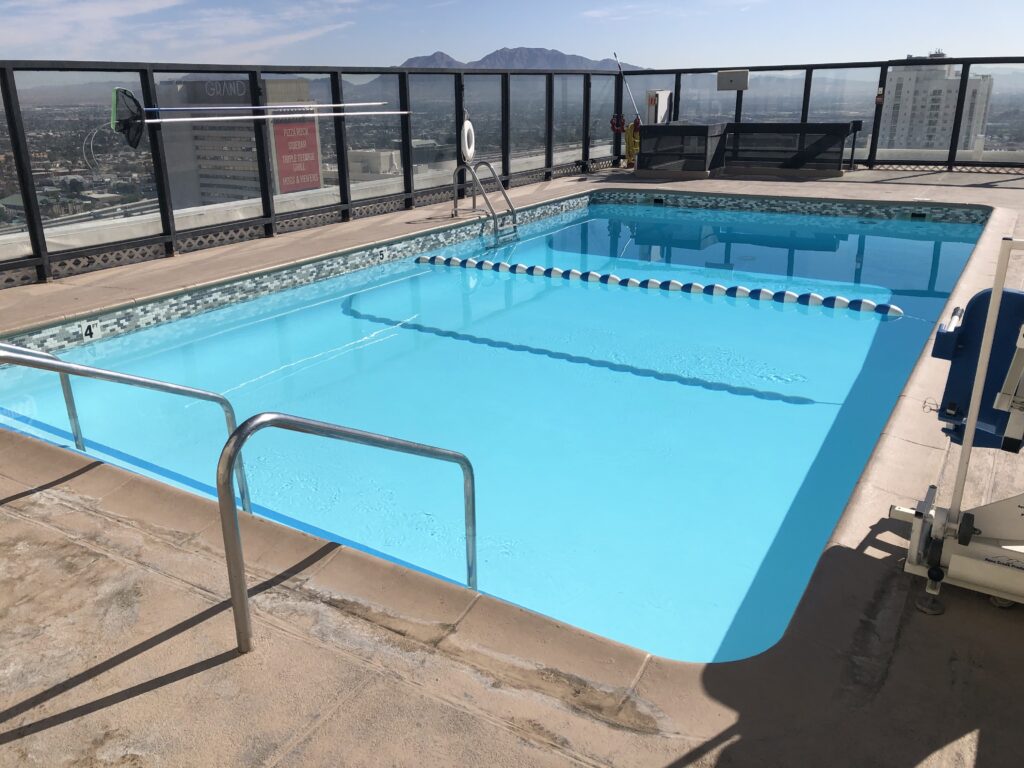 Alternative Deep Water Pool Options in Vegas
Although likely too inconvenient for most visitors, options for those looking for deep pools with a diving board in Vegas include using municpal pools. Pool access at any of Las Vegas' pools can be had for $3 if aged 18-49 or $2 if over 50 years old.
For instance, the following municipal pool options are a reletively short drive from the resort corridor and offer both deep water and diving boards:
Municpal Pool at 431 E. Bonanza Road offers two 1-Meter diving boards in addition to a 3-Meter diving board near downtown Las Vegas.
Baker Pool at 1020 E st. Louis Ave offers two 1-Meter diving boards a short drive from Strat.
View all Las Vegas municipal pool options with a diving board/deep end here.
If you are looking for a deep pool in Vegas, hopefully, we were able to point you in the direction of wone that will fit the bill. Even if stuck at a resort with a typical shallow pool, we feel you will still be able to make the most of your Vegas pool experience.
Related: Las Vegas pools that locals and non-hotel guests can access for free or for a small fee.