The pool scene in Las Vegas is among the most awe-inspiring in the world, with many complexes boasting amenities like waterfalls, wave pools, lazy rivers, real sand beaches, and unmatched luxury. Options range from relaxing and low-key, to raucous day party environments. Although Las Vegas is home to numerous top-tier pools, there are a number of options that leave guests wanting… more.
It got us to thinking – Are you able to use a Las Vegas pool even if you aren't staying at the resort?
It depends. Typically, the answer is no and a room key is needed to gain access to the pool complex. There are exceptions, however, both for visitors staying off property and locals.
Below, we'll break down which pools you are able to access (for free or for a fee) even if you aren't staying at the property.
UPDATE: Although this post has been updated for the 2021 pool season, pool access in Las Vegas is fluid and can change quickly due to the ongoing public health situation and capacity restrictions. As always, we recommend calling the hotel front desk to confirm their current policy before making the trip!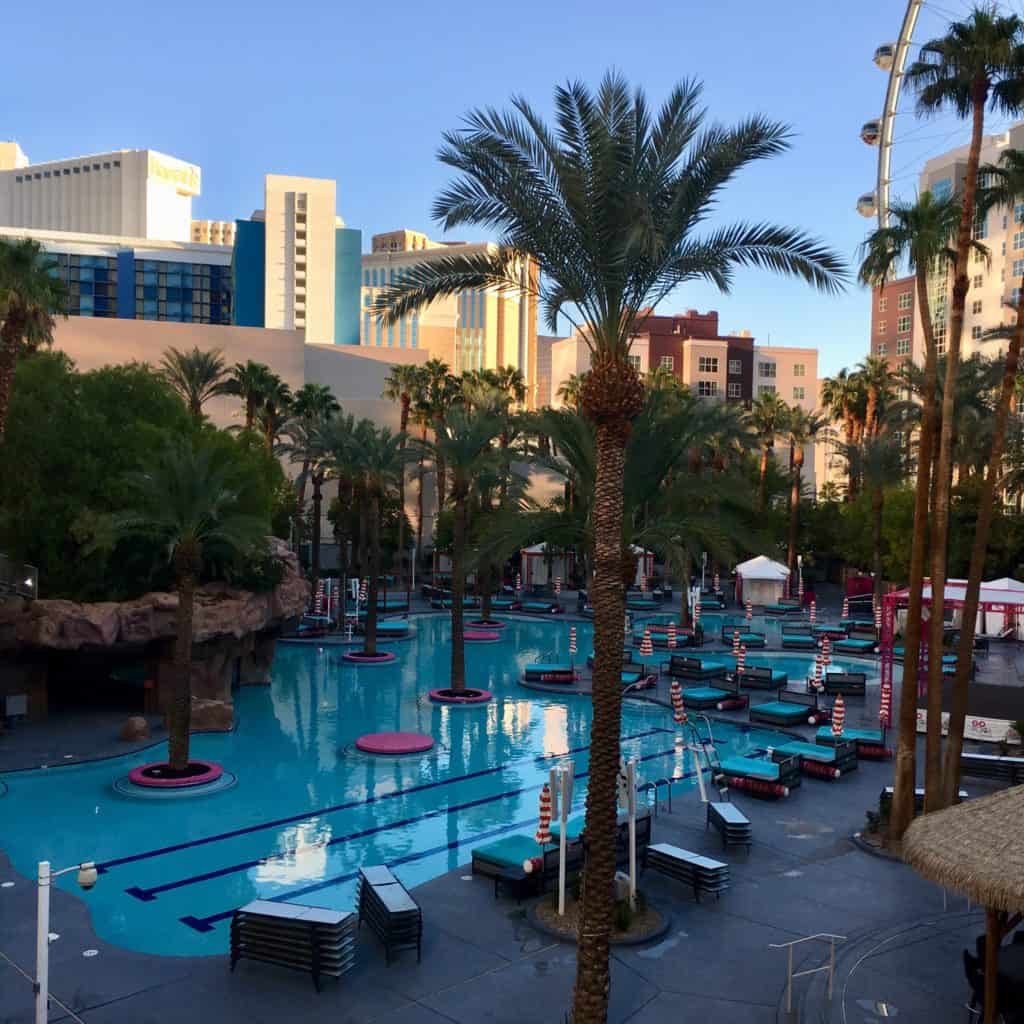 Elation Pool at STRAT: Non-Guests are able to access STRAT's Elation Pool deck via this Groupon deal that pairs a daybed for 2 people, and 2 complimentary drinks for $99.
M Resort: Non-hotel guests can access M Resort's pool for a cover charge of $10 Monday – Thursday, $20 Friday – Sunday, and $25 on holiday weekends. Kids are always $5.
Additional Pools We're Watching: In addition to the ones listed above, the pools at Mandalay Bay and MGM Grand are typically available to non-hotel guests for a cover charge, however are only allowing hotel guests at this time. This may change as capacity restrictions ease. We will be sure to update this post, but checking with these properties to gauge entry policies could be a good idea.
Palazzo Aquatic Club: The elegance and quality of Las Vegas Sands sister properties are on display at the Aquatic Club. In addition to signature cocktails, the Aquatic Club also offers "boozy ice pops" and "spiked ice cream bars".
Mirage Bare: The dayclub's tropical theme is a perfect continuation of the ambiance of the resort as a whole. The club itself is intimate – only 14,000 square feet offering an impressive assortment of specialty drinks.
Aria Liquid: "Energetic DJ's" keep the music flowing at Liquid which also features a 30 seat bar/restaurant. Admission typically starts at $10 for women and $20 for men.
Cromwell Drai's: This 35,000 square foot beachclub perched on the roof of Cromwell offers breathtaking views of the Las Vegas Strip. Caesars Entertainment hotel patrons can gain free entry to the beachclub prior to noon and tickets will need to be purchased by non Caesars guests.
Mandalay Bay Daylight: Featuring a 4,400 square foot pool, Daylight offers a jam packed summer calendar with a cover charge starting at $20 for women and $30 for men.
Marquee Dayclub at Cosmopolitan: A beach club by day and an extension of the nightclub in the evening. Marquee boasts 8 cabanas with their own private infinity plunge pool. Located on the second level of the Chelsea Tower, cover fees start at $30 for men and $20 for women.
Wet Republic at MGM Grand: A sprawling 54,000 square foot complex, Wet Republic showcases some of the hottest DJ talent available.
Las Vegas Pool season typically starts coming to life in early March and is made better by the fact that there are breathtaking pool complexes that allow for non-guest access or Nevada locals access for free or for a small fee. Enjoy the desert sun and kick back after the past year which has been challenging for all of us.