Key Points:
Hash House a Go Go has locations at LINQ and Plaza and is known for outlandish & "Instagrammable" portion sizes.
I've enjoyed my meals there and recommend you try one of their "Scramblers" which combines eggs (with extras mixed in), breakfast potatoes, and a biscuit.
Breakfast in Las Vegas is, for many, the most important meal of the day. After all, a hearty meal after a late night out on the town, or before a day of consumption is always a good idea.
While there's an abundance of quality breakfast spots to choose from, the oversize portions doled out at Hash House A Go Go get a lot of love on social media. With options that range from a literal chicken & waffle tower to saucer-sized pancakes, Hash House's cuisine certainly qualifies as being "Instagrammable".
I recently stayed downtown with my dad and brother and decided to swing by Hash House's Plaza location for breakfast and figured it would be fun to share our experience.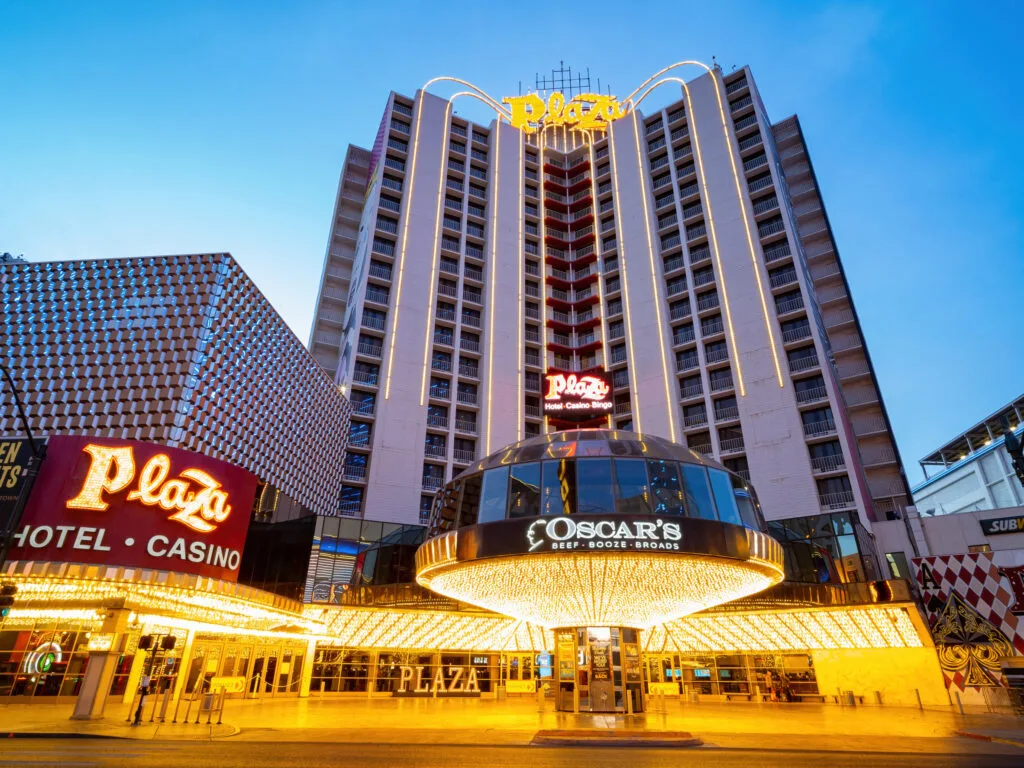 Hash House a Go Go Locations in Las Vegas
First, some housekeeping – Hash House a Go Go offers locations both on the Strip and Fremont Street.
Their Strip location can be found within LINQ.
Downtown, you'll find Hash House a Go Go within Plaza.
Wait Times & Reservations
No matter which location you visit, a wait is to be expected. Hash House a Go Go has developed quite a following and tends to be popular.
They do take reservations (via OpenTable) and we'd recommend making one in advance to limit your wait time.
Fortunately, we stopped by early on a Wednesday morning and were able to be seated immediately.
Hash House Menu and Pricing
Most items on Hash House a Go Go's breakfast menu land in the $16 – $20 range, making it a pretty affordable option. While the menu isn't expansive, it has something for just about all tastes.
Options include "Farmhouse Egg Scramblers" that combine 2 eggs with your preferred ingredients.
"Hashes" are served in a cast-iron skillet and include 2 eggs, fried potatoes, a biscuit, and fruit with your choice of meat.
Items on their "Farm Favorites" portion of the menu include biscuits & sausage gravy, chilaquiles, ham steak & eggs, and even meatloaf & eggs.
They also serve the basics, including traditional breakfasts, eggs benedict, pancakes (which are massive), waffles, and french toast.
If you follow any Vegas groups on social media, you have likely also seen "Andy's World Famous Fried Chicken and Waffles" which costs $26.99 and is an impressive sight.
Related: Check out Tacos El Gordo, located across the street from Resorts World.
Our Meals at Hash House a Go Go
As for our meals, I ordered the ham, spinach, & cheddar farmhouse egg scrambler which I'd describe as being extremely cheesy, and thus delicious.
The biscuit was buttery, flaky, and filling and the cubed potatoes were on point, seasoned to perfection.
There was no shortage of taste.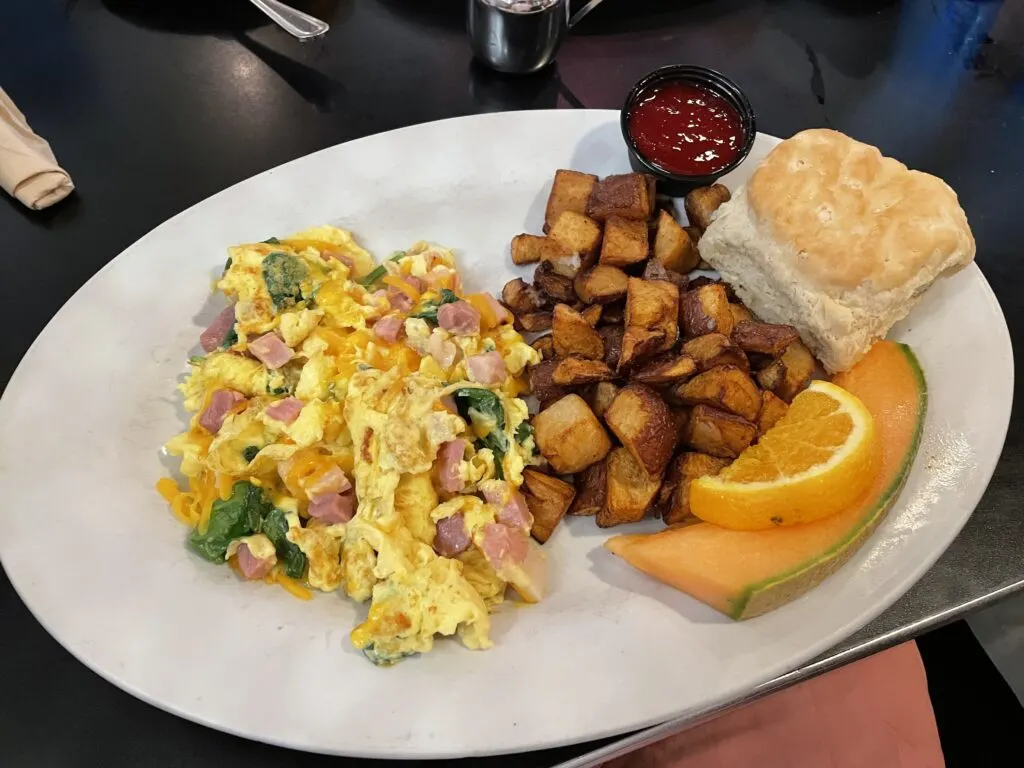 My Dad ordered the Classic Buttermilk Flapjack "Tractor Driver Combo" which comes with 2 eggs and your choice of sausage links, turkey patties, breakfast potatoes, or bacon.
He was unfamiliar with Hash House's pancake size and was blown away when it arrived at the table.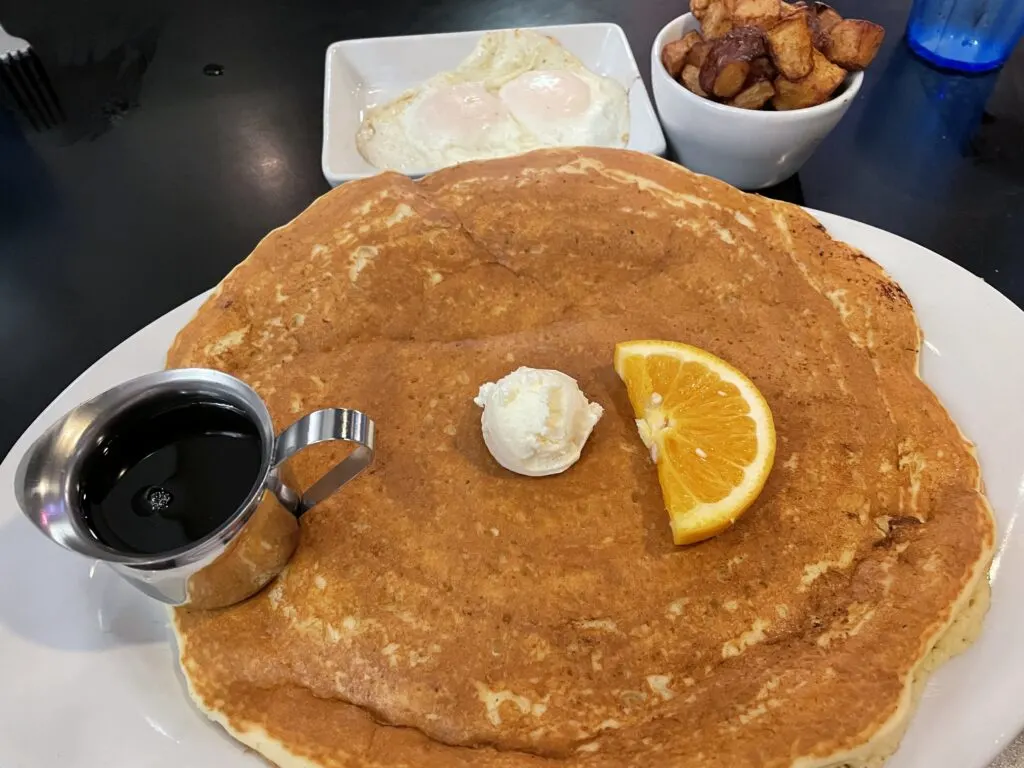 My brother also snagged a "Tractor Driver Combo", but opted for a "Twisted Flapjack" which comes in a variety of unique flavors and is also served with your choice of meat and 2 eggs.
He opted for a Snickers-flavored flapjack and said that while it was tasty, it was almost too rich.
Those with a sweet tooth will love it.
Service at Hash House a Go Go
My gauge of quality service at a restaurant boils down to how friendly the staff is and how full my cup of coffee stays throughout the meal.
On the coffee front, Hash House hit the mark. Admittedly, the amount of attention we received could have been in part because the restaurant as a whole wasn't overly busy, but I'll take it.
Friendliness was also unmatched. Our waitress even offered to take a few pictures of our group with our meals, which was appreciated.
Every interaction we had at Hash House a Go Go was positive.
The Verdict – Is Hash House A Go Go Worth Visiting?
From a taste and value perspective, Hash House a Go Go is a winner.
Boasting locations both on the Strip and Downtown, Hash House is never much of a trek. Although it can get busy, the ability to snag reservations on Opentable negates that downside.
The menu is impressive, offering some of the most popular items in Vegas, at a cost that won't bankrupt you. With most breakfast items costing less than $20, and some below $15, Hash House a Go Go easily qualifies as one of the cheapest sit-down breakfast restaurants in Las Vegas.
The three of us enjoyed our meals, and will certainly be back. We left stuffed, full of caffeine, and with plenty of cash left over to drop at the craps table.
The masses tend to agree, as Hash House a Go Go has earned an impressive 4.5/5 stars on TripAdvisor after over 6,675 customer reviews.
If you're looking for a lot of calories for your money and outsized taste, you'll have a tough time going wrong with Hash House a Go Go.
Related: Where to find All Day Breakfast in Las Vegas.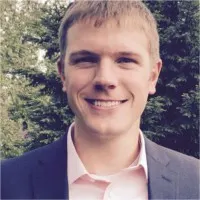 I'm a former software salesman turned Vegas aficionado. While the craps table is my preferred habitat, I pull myself away to explore new attractions, shows, restaurants, and outdoor activities around Las Vegas with the intent of sharing my experiences.
Ultimately, I just want to help folks plan a better trip and save a few bucks in the process.