Breakfast in Las Vegas is, for many, the most important meal of the day. After all, a hearty meal after a late night out on the town, or before a day of consumption is always a good idea. While there's an abundance of quality breakfast spots to choose from, two seem to attract the majority of fanfare on social media – Hash House a Go Go and Peppermill.
Below, we'll compare and contrast your options and mix in some pictures of recent meals purchased at both to help you decide where to eat. To be honest, it's tough to go wrong.
Related: Pastries in Las Vegas – Where to find 'em on the Strip.
Hash House & Peppermill Locations
Hash House a Go Go offers a few locations in Las Vegas. The ones most commonly frequented by tourists are at LINQ on the Strip, and within Plaza on Fremont Street.
Peppermill is located across the street from Resorts World and is a 10-minute walk north of Wynn and Encore. While Peppermill's location isn't the most convenient, plenty of people find the trip to be worthwhile.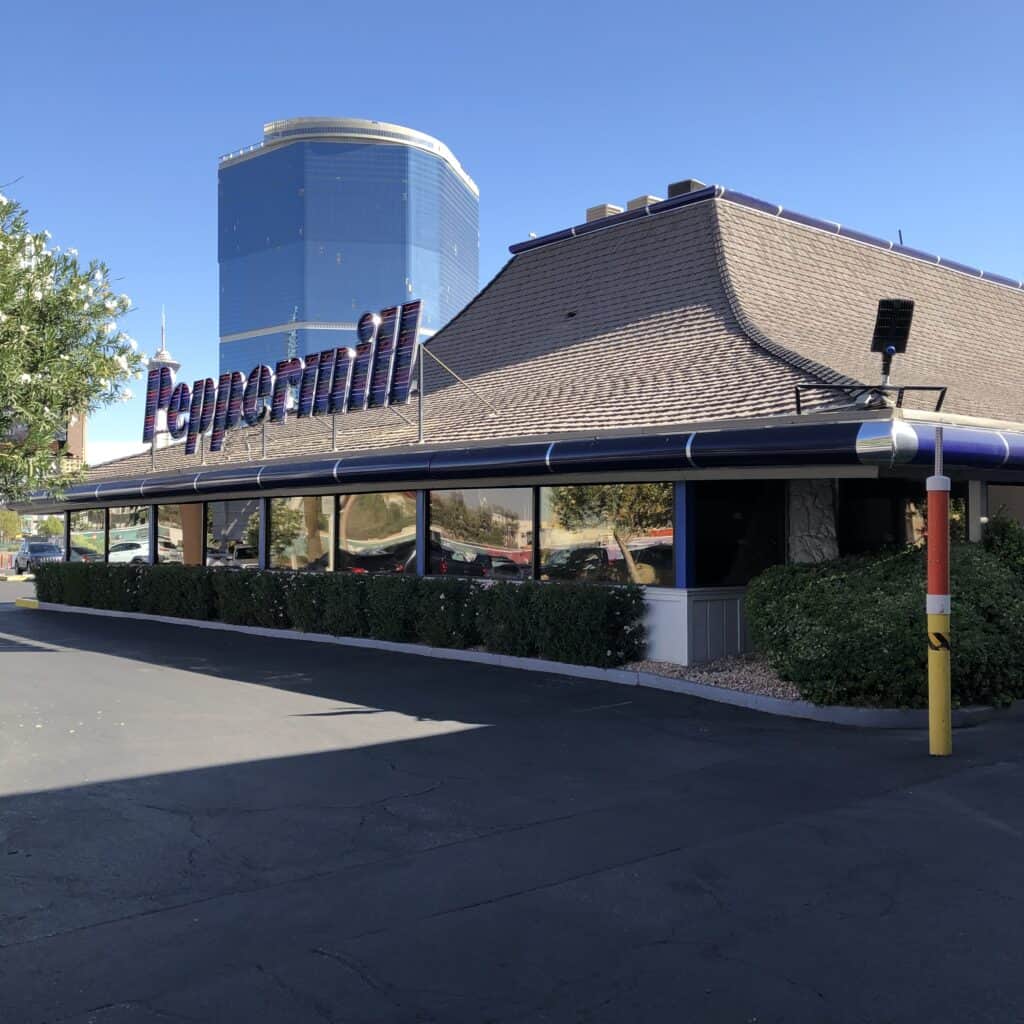 Wait Times & Reservations
No matter which option you choose, you'll want to note that both restaurants are extremely popular. Waits are to be expected.
Hash House a Go Go is currently taking reservations (via OpenTable) and we'd recommend making one in advance to limit your wait time.
Peppermill isn't currently taking reservations and is only accepting walk-up customers. Be warned that wait times can exceed an hour during peak times.
Menu and Pricing
Both Hash House and Peppermill offer a breakfast menu with an average entree price point that hovers in the $16 – $20 range.
Hash House a Go Go
Hash House a Go Go's menu isn't expansive but has something for everyone. Options include "Farmhouse Egg Scramblers" that combine 2 eggs with your preferred ingredients.
"Hashes" are served in a cast-iron skillet and include 2 eggs, fried potatoes, a biscuit, and fruit with your choice of meat.
They also serve the basics like egg breakfasts, pancakes (which are massive), and french toast.
Most meals on Hash House's menu cost under $20, making it an affordable option. If you follow any Vegas groups on social media, you have likely also seen "Andy's World Famous Fried Chicken and Waffles" which costs $25.99 and is an impressive sight.
Peppermill
Peppermill, also celebrated for their portion sizes, serves a selection of Club Breakfast options that include New York Steak and Eggs, Southern Fried Steak and Eggs, Ham and Eggs, and even Turkey Sausage and Eggs among other selections.
Other notable breakfast favorites on the menu include Eggs Benedict, Biscuits and Gravy, and Crab Cake Bene.
Of course, Peppermill also serves a wide variety of pancakes, waffles, and french toast. Notably, their Fruit Fantasia Waffle comes piled with a hearty portion of fresh fruit.
Omelet lovers need not fret, as Peppermill also offers 10 different omelet options to include their Maserati Omlet that comes filled with sausage, cheese, mushrooms, and parmesan.
You can see the full Peppermill menu here, but most breakfast entrees will do about $20 in damage to your wallet.
Related: Check out Tacos El Gordo, located a block from Peppermill.
Taste – Peppermill vs. Hash House a Go Go
While many claim that one or the other is overrated, I thoroughly enjoy them both. Below, is a photo of the Denver Omelet at Peppermill that I recently devoured. It was enormous, providing me zero opportunity to finish it.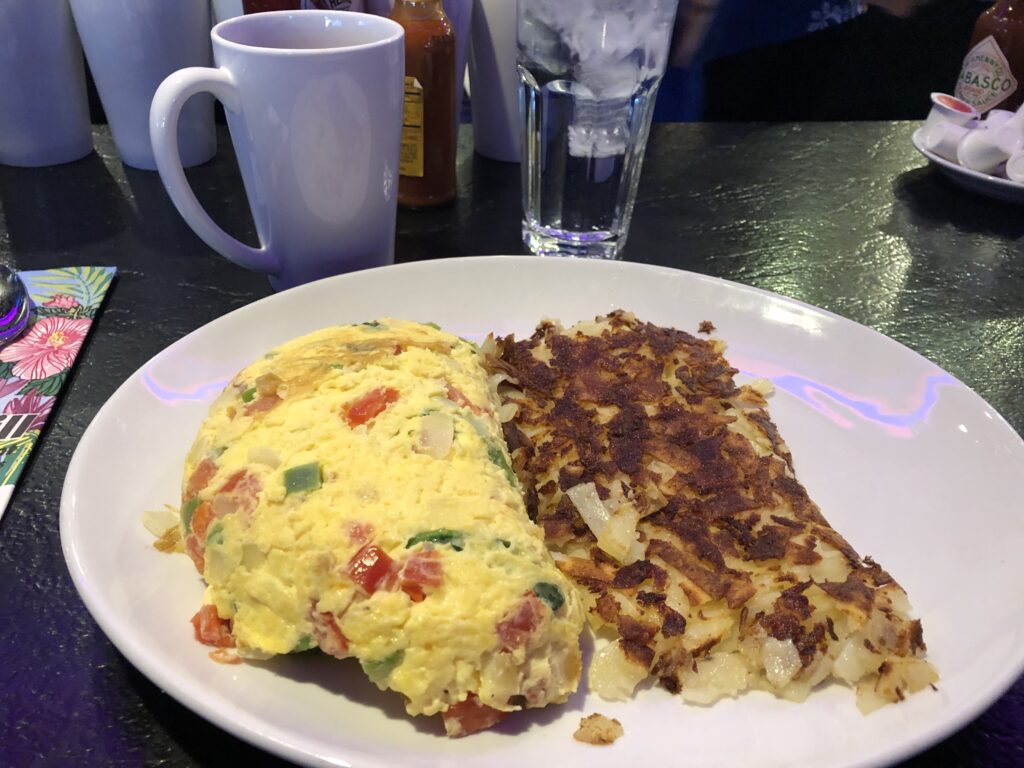 At Hash House a Go Go, I recently ordered the Ham, Spinach, & Cheddar Farmhouse Egg Scrambler which I would describe as being extremely cheesy, and thus delicious. The biscuit was buttery, flaky, and filling and the cubed potatoes were on point. If I am comparing the Denver Omelet at Peppermill (pictured above) to the Farmhouse Scrambler at Hash House (pictured below) the taste winner is Hash House by a hair.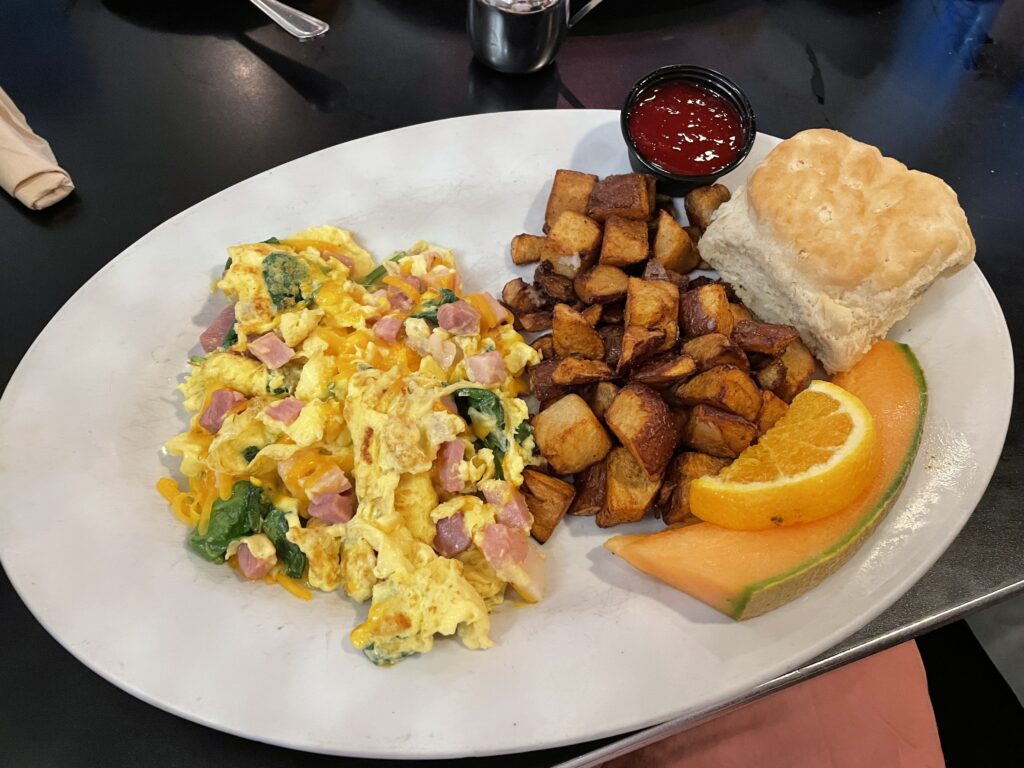 My Dad ordered the Classic Buttermilk Flapjack which comes with 2 eggs and your choice of sausage or bacon. He was unfamiliar with Hash House's pancake size and was blown away when it arrived at the table.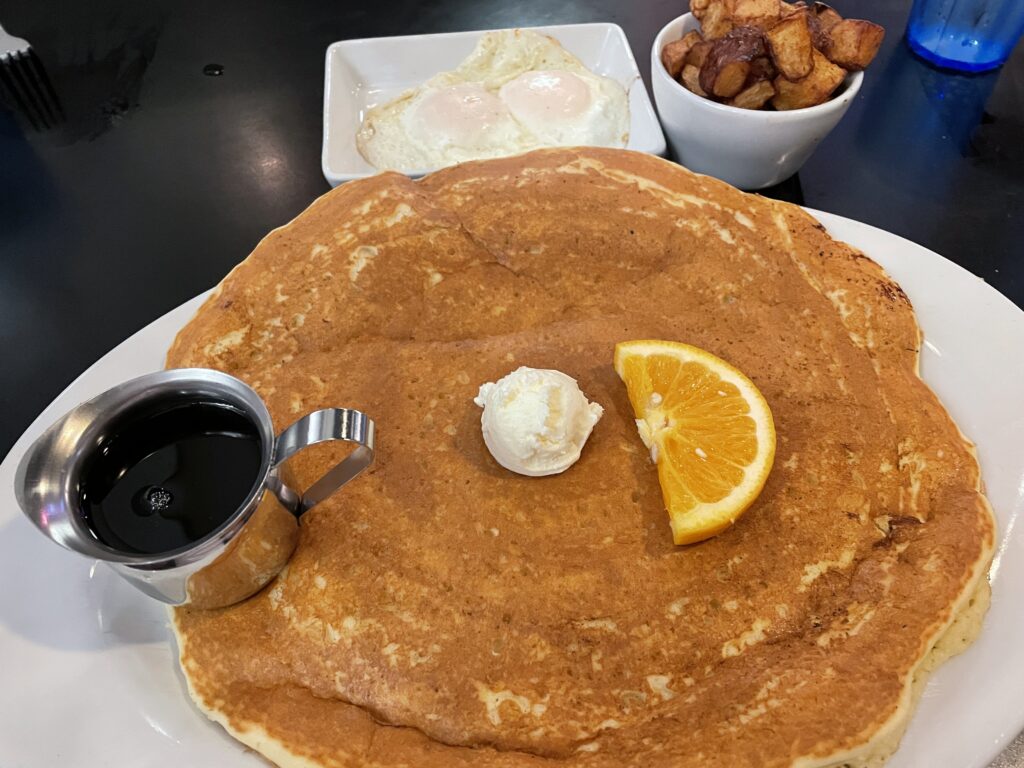 My brother snagged a "Twisted Flapjack" which comes in a variety of unique flavors and is also served with your choice of meat and 2 eggs. He opted for a Snickers flavored flapjack and said it was tasty, but almost too rich.
Ambiance – Hash House vs. Peppermill
While both restaurants offer an adequate setting to enjoy breakfast, Peppermill's ambiance is a step above Hash House due to their vintage neon decor. Seriously, the front door is almost a portal to the 1970s. The Fireside Lounge at Peppermill, which was featured in the movie "Casino" takes that neon flair up a notch and qualifies as a must-see attraction.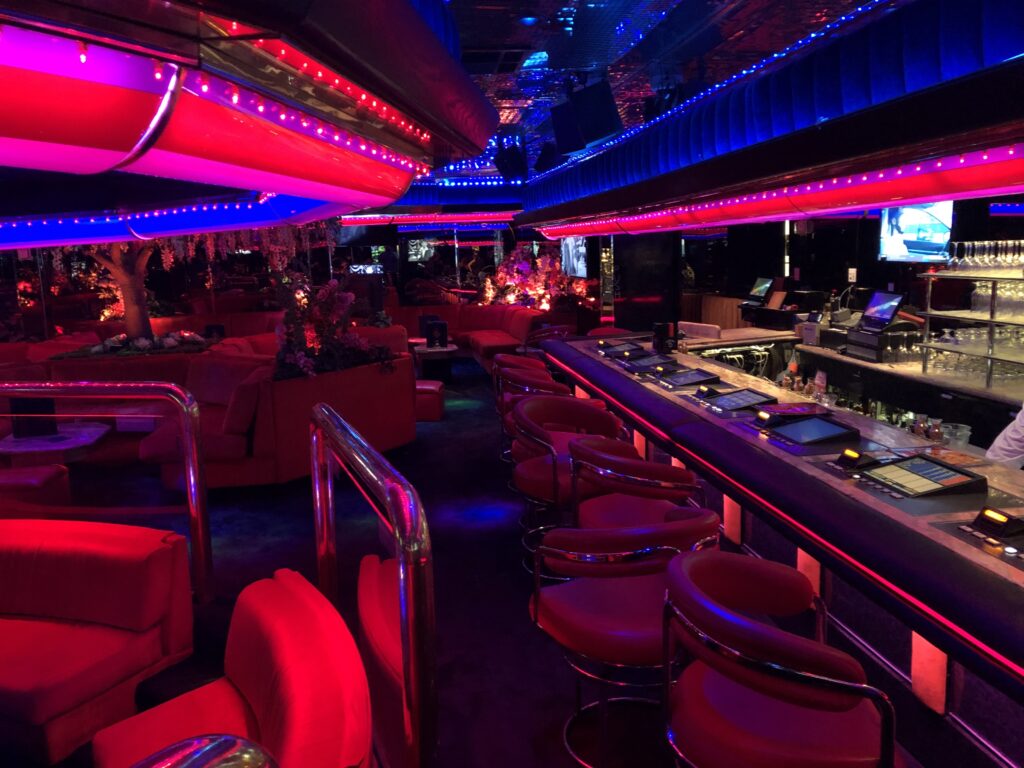 The Verdit – Hash House a Go Go vs. Peppermill
From a taste and value perspective, both restaurants are a win. For many, the deciding factor between the two boils down to location and time commitment. For those that want to grab something nearby, Hash House is often the more convenient option with locations both on the Strip and Downtown. Additionally, the ability to make reservations at Hash House ensures your wait time will be limited, while customers commonly wait over an hour at Peppermill.
If vintage Las Vegas is what you seek though, and a wait doesn't bother you, check out Peppermill. Especially if you're staying on the north end of the Strip, the walk isn't bad, and you're sure to leave satisfied. Sure, there's a wait, but people are waiting for a reason.
Ultimately, it's difficult to go wrong. In fact, we would recommend you experience both during your next trip to Las Vegas.
Related: Where to find All Day Breakfast in Las Vegas.
I'm a former software salesman turned Vegas aficionado. While the craps table is my preferred habitat, I pull myself away to explore new attractions, shows, restaurants, and outdoor activities around Las Vegas with the intent of sharing my experiences.
Ultimately, I just want to help folks plan a better trip and save a few bucks in the process.