For years I've heard visitor after visitor rave about Tacos El Gordo in Las Vegas but had yet to experience it myself. It's always been on the "to-do" list, but the restaurant's location on the north end of the Strip left it on an island with few attractions nearby.
Besides Tacos El Gordo and Peppermill, there hasn't historically been much of a reason to visit the portion of the Strip between Encore and Circus Circus.
The landscape dramatically changed with the grand opening of Resorts World across the street from Tacos El Gordo and I figured it was time for my inaugural visit after checking out the new resort.
My first impressions upon entering Tacos El Gordo were:
Holy sh*t that smells good, followed by:
Holy Sh*t I am confused about how to order.
The restaurant was jam-packed with customers and on the surface, there appeared to be minimal structure to the madness.
I'm ashamed to admit that my social anxiety took over at one point, causing me to abort the taco mission and explore the possibility of eating at Peppermill instead. The 2-hour wait at Peppermill forced me to face my fears, and figure out how to order at Tacos El Gordo.
Given the time it took me to figure things out, I thought it would be helpful to share my experience as Tacos El Gordo is worth the chaos and wait.
How To Order at Tacos El Gordo Las Vegas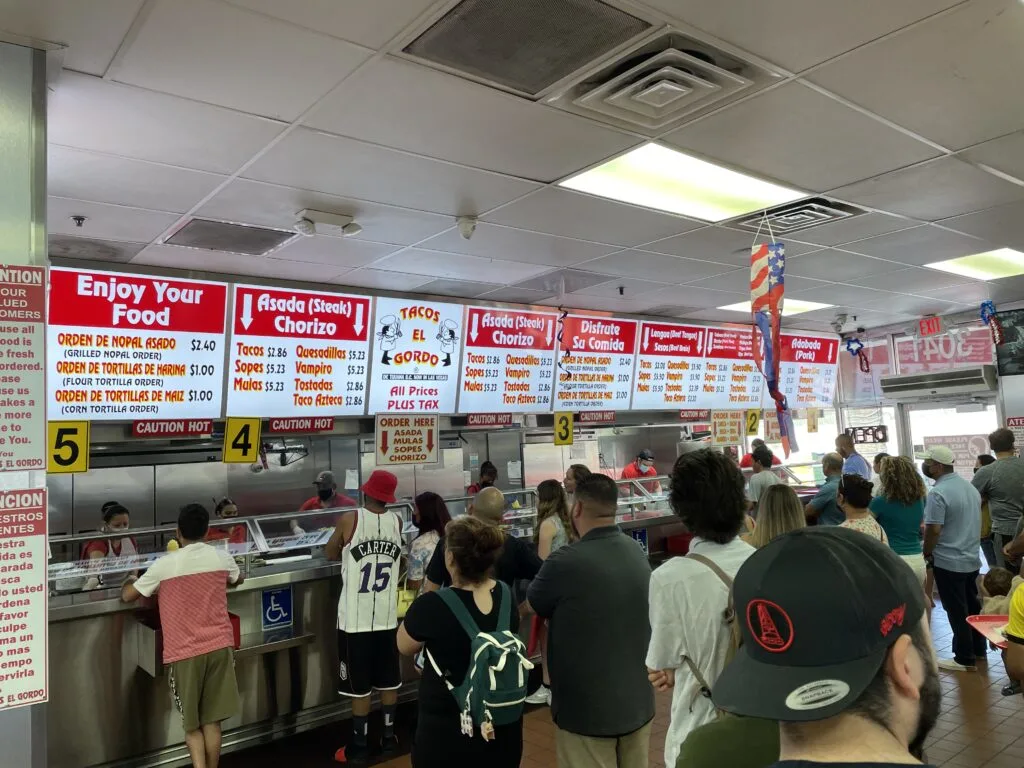 It helps to get a view of the menu board (pictured above). What appears to be a crowd of people in the image are actually in lines behind the type of meat they want.
Adobada (spicy pork), Asada (steak), and Chorizo are the main options, but lines also exist for more exotic proteins like beef tongue, beef brain, pork stomach, etc. Within your desired meat line, you can order Tacos, Quesadillas, Sopes, Mulas, and more.
Tacos El Gordo's Adobada, or pork, typically attracts the most fanfare. When I was there, they had 2 lines open for that specific meat and the majority of people were waiting for it. I opted for the quicker steak line.
One bummer about the system at Tacos El Gordo is that you can't get multiple types of meat without waiting in multiple lines.
Since the lines don't move quickly, the food you've already ordered is likely to get cold. I'd recommend sticking to one meat, or, if visiting with a group, divvying up your order so that different people can order for the whole group in their assigned meat line.
When you reach the front of the line, you'll place your order with the employee behind the counter. They will then prepare your desired items fresh, right in front of you. As they get to cooking, grab a red tray from the counter in front of you so they can place your food on it.
You then take your tray of food to the cash registers at the back of the main lobby to pay. There, you will be given the option to add drinks to your order.
In hindsight, ordering at Tacos El Gordo isn't overly complicated. It just appears that way to a first-timer. Don't let the chaotic first impression scare you away. The food is worth the wait.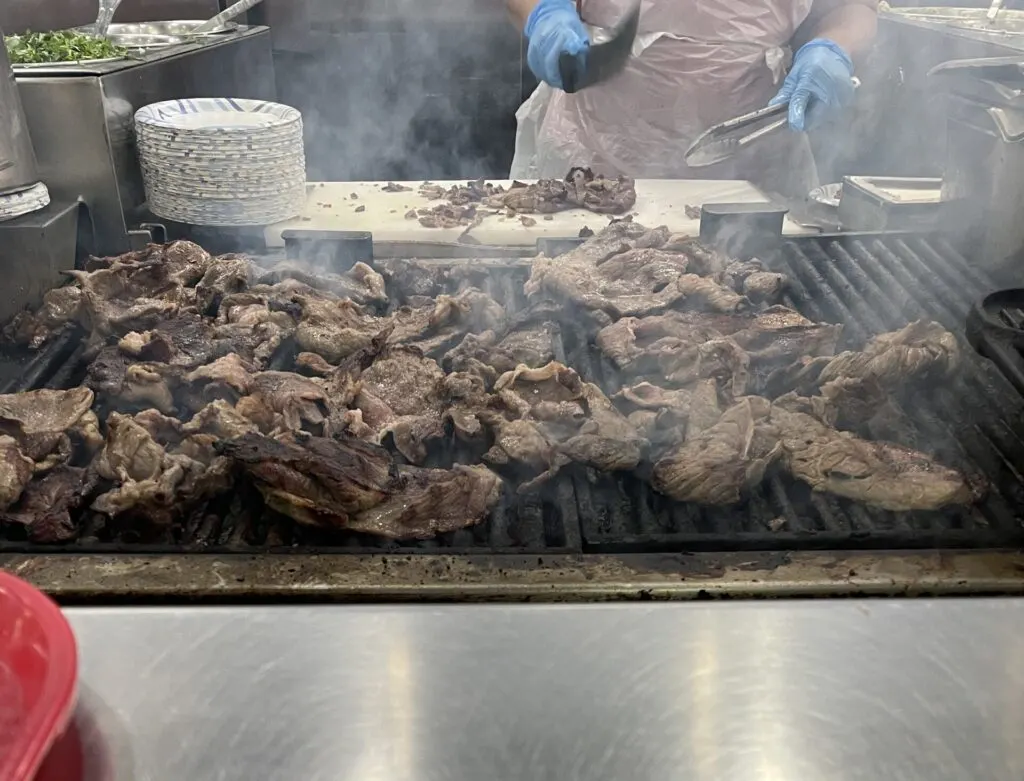 Tacos El Gordo Cost
Regardless of your preferred meat, Tacos currently cost between $3 and $4 each.
Prior to the explosion of inflation, I was able to order 5 of them (which was plenty filling) for $14.30 before tax. I also added a can of coke for $2.30. Other items are comparable in cost and deliver a strong value in my opinion.
Here's a link to Tacos El Gordo's full menu.
Tacos El Gordo immediately ranked among my favorite spots to grab a cheap lunch or dinner on the Strip.
Take a Peek at the Tacos at Tacos El Gordo
As mentioned above, the food is made after you place your order and right in front of you. Even the tortillas started as balls of dough and were flattened & fried immediately before being served.
Below, is one of the 5 steak tacos I ordered, and an adobada taco I ordered during a different visit.
Yes, it tasted as good as it looks.
After tasting both, I'd declare the steak taco my favorite in the steak vs. adobada battle, but both were fantastic.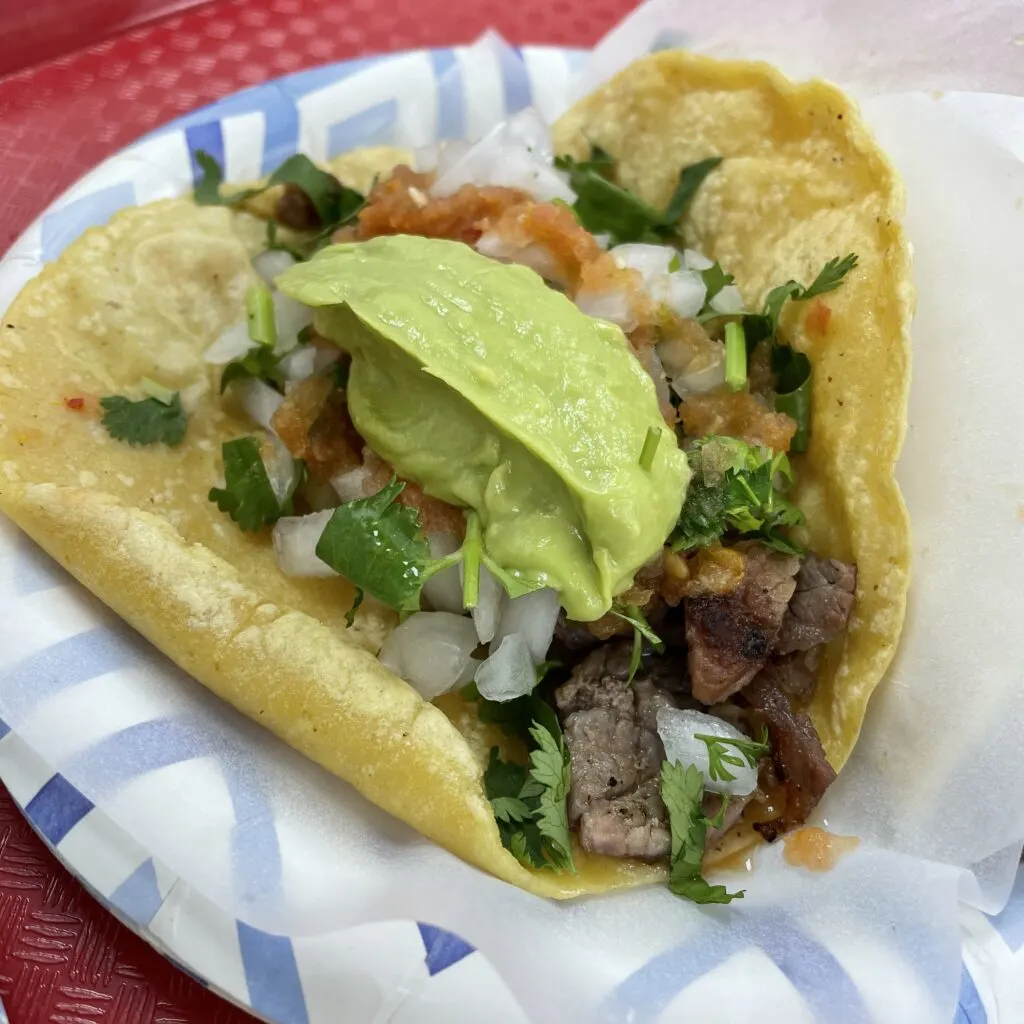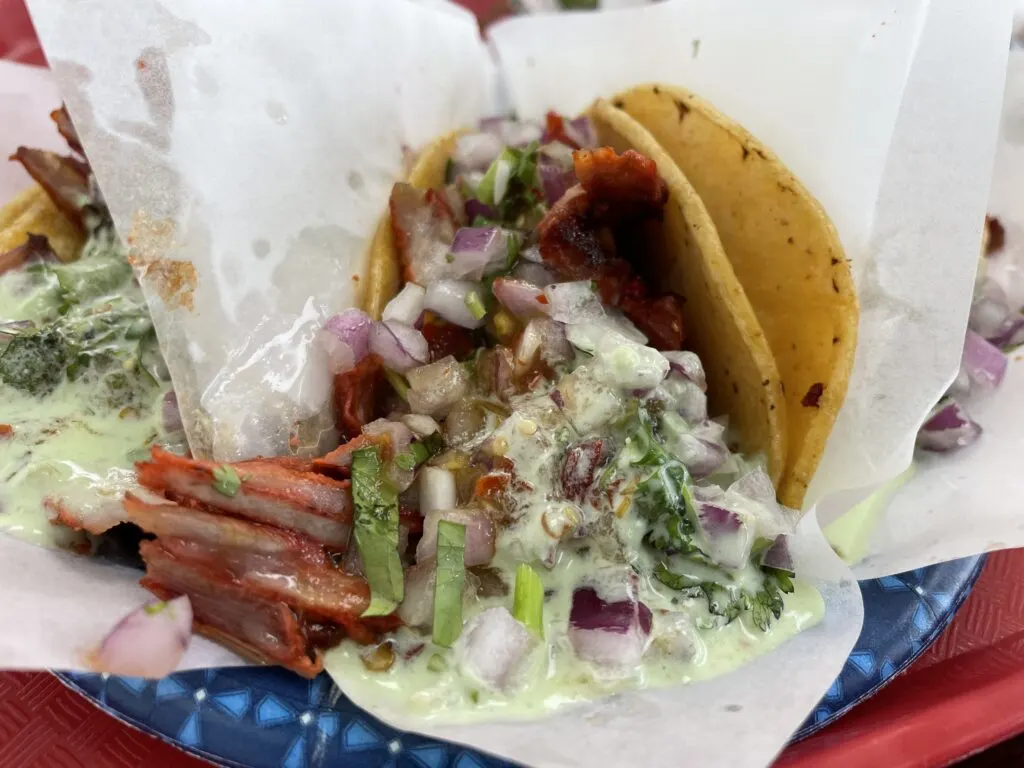 The Verdict: Tacos El Gordo is cheap, fresh, and tasty as hell. If you don't mind an above-average wait for food in an environment that feels chaotic, you'll be pleased with what you get for your money. Now that you know how to order at Tacos El Gordo on the Strip, I suggest stopping in on your next visit!
Related: Where to find cheap Mexican food in Las Vegas.
I'm a former software salesman turned Vegas aficionado. While the craps table is my preferred habitat, I pull myself away to explore new attractions, shows, restaurants, and outdoor activities around Las Vegas with the intent of sharing my experiences.
Ultimately, I just want to help folks plan a better trip and save a few bucks in the process.