BrewDog is perched atop the Showcase Mall on the south end of the Strip and serves an impressive 95+ tap beer options as well as stunning views.
In addition to a wide array of cocktails, BrewDog offers a full menu that includes items like wings, pizza, steak, tacos, and burgers.
Ever since the new rooftop bar's grand opening, it's been slotted near the top of my list of things to do in Vegas.
I finally had the opportunity to swing in for dinner and thought it would be fun to share my experience, opinions, and pictures so you know what to expect!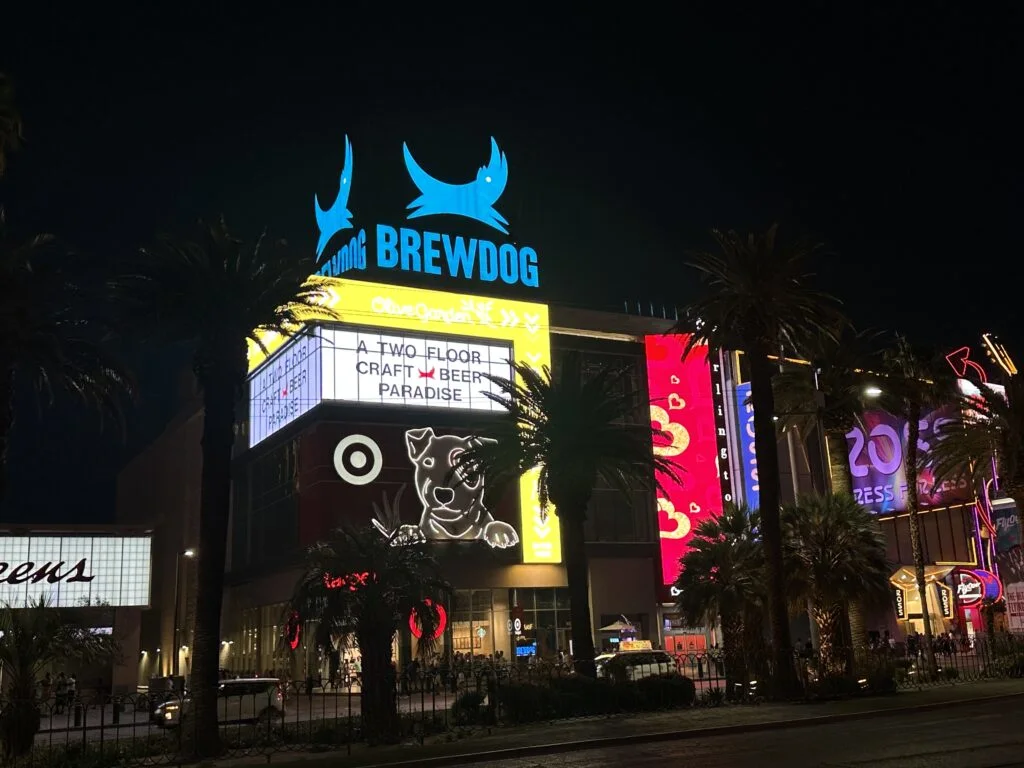 My BrewDog Las Vegas Experience
My visit to BrewDog came together on a whim when I was in desperate need of late-night calories.
I had jetted off to Vegas on a last-minute trip and coincidentally was in town at the exact same time as my brother and his wife.
It was 8 pm and the 3 of us were starving, but all the restaurants we had interest in nearby were booked solid.
Since we were in the neighborhood and BrewDog has been on my list of things to tackle for a while, I pulled up their website and booked a table on their outdoor rooftop terrace for 9 pm.
Seating
We headed up to the restaurant and checked in with the hostess at around 8:40 pm. She let us know that since we were early for our reservation, we had the option to either wait 20 minutes for an outdoor table or take an immediate seat at a table indoors.
We opted for the immediate seat as hunger pangs were raging and there was little appetite to sit around twiddling our thumbs for 20 minutes.
While I had been excited about the view an outdoor rooftop seat would've provided, I completely understood that arriving early could disqualify us from seats that I assumed were in high demand… that is… until I ventured out there.
Although we were seated inside on the upper level, I stepped outside (where I had hoped to sit) to snap a few pictures of the view (which is amazing), only to see that only about 2/3 of the tables were empty. There was plenty of room to squeeze us in.
Now, I'm sure there was only one server working the outdoor area, and that's why we needed to sit in another zone, but man, when you have those views, why aren't you devoting all of your resources to getting guests out there to the best seats in the house?!
Leverage that prime real estate, baby!
Just look at the view: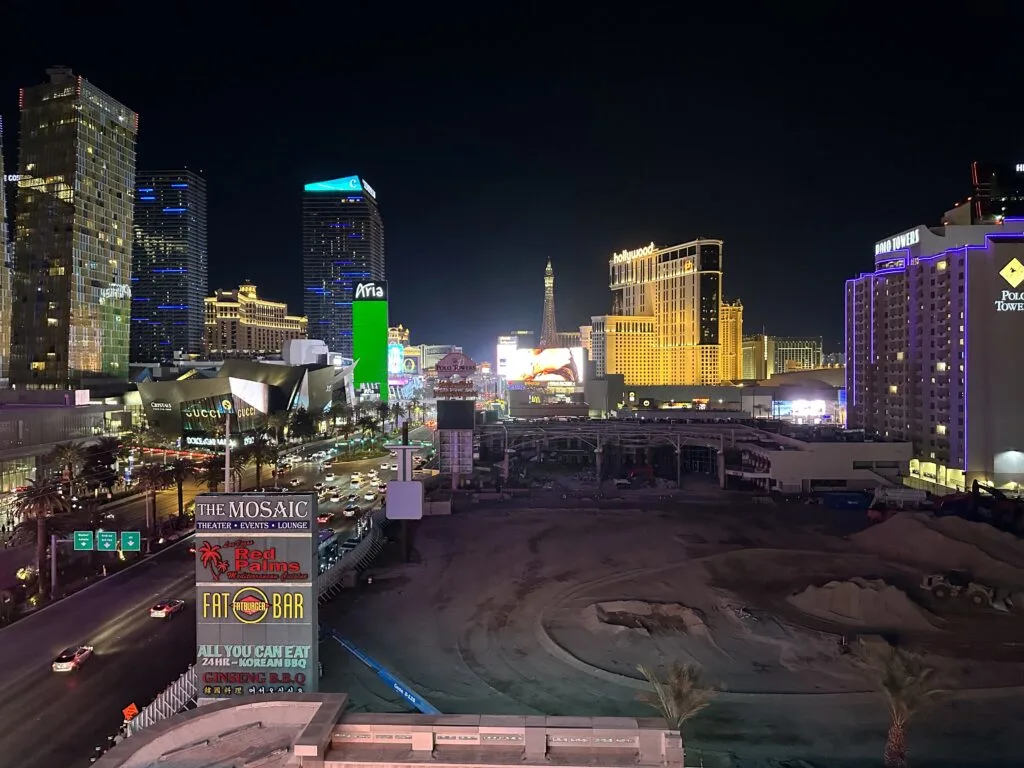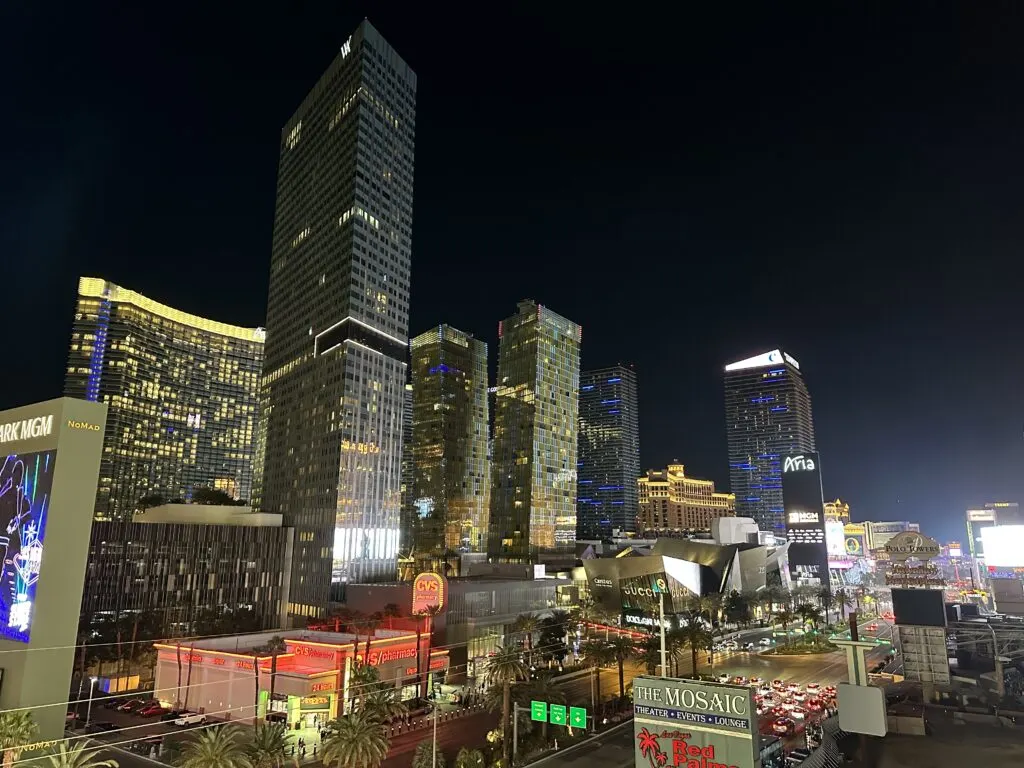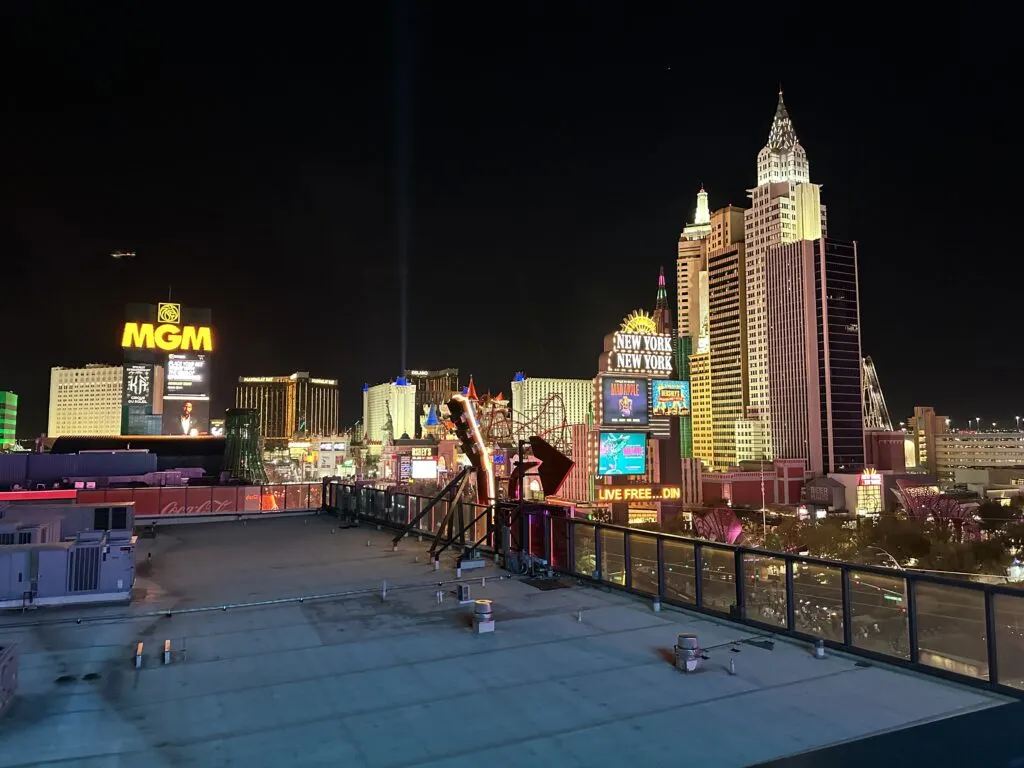 No biggie though. I got the pictures I wanted, took a seat inside, and started to peruse the menu.
My recommendation: Make a reservation in advance for outdoor seating at BrewDog. Get there at the right time. Enjoy. This. View.
Food & Drink at BrewDog
At first glance, I found the menu at BrewDog to be reasonably priced by Vegas standards, with most entrees landing in the $20-$30 range. Tap beer landed in the $10-$15 range per pint.
All 3 of us ordered a burger variety, including a Bacon Deluxe Cheeseburger, Patriot Burger, and the Buffalo Chicken Sandwich.
Check 'em out: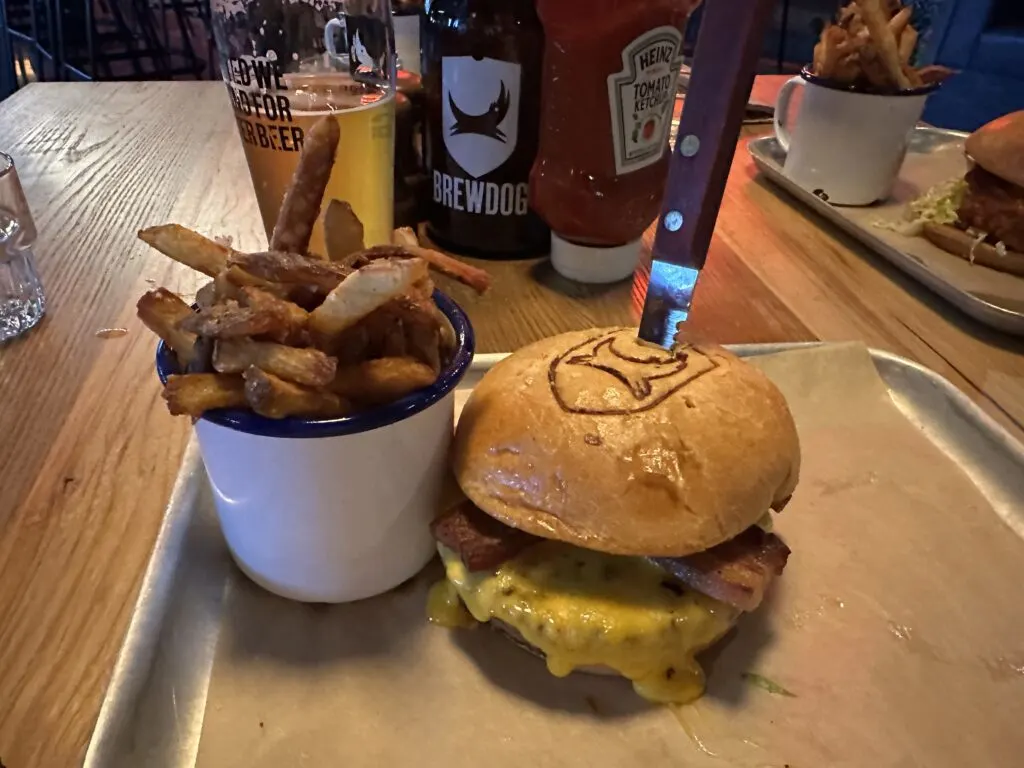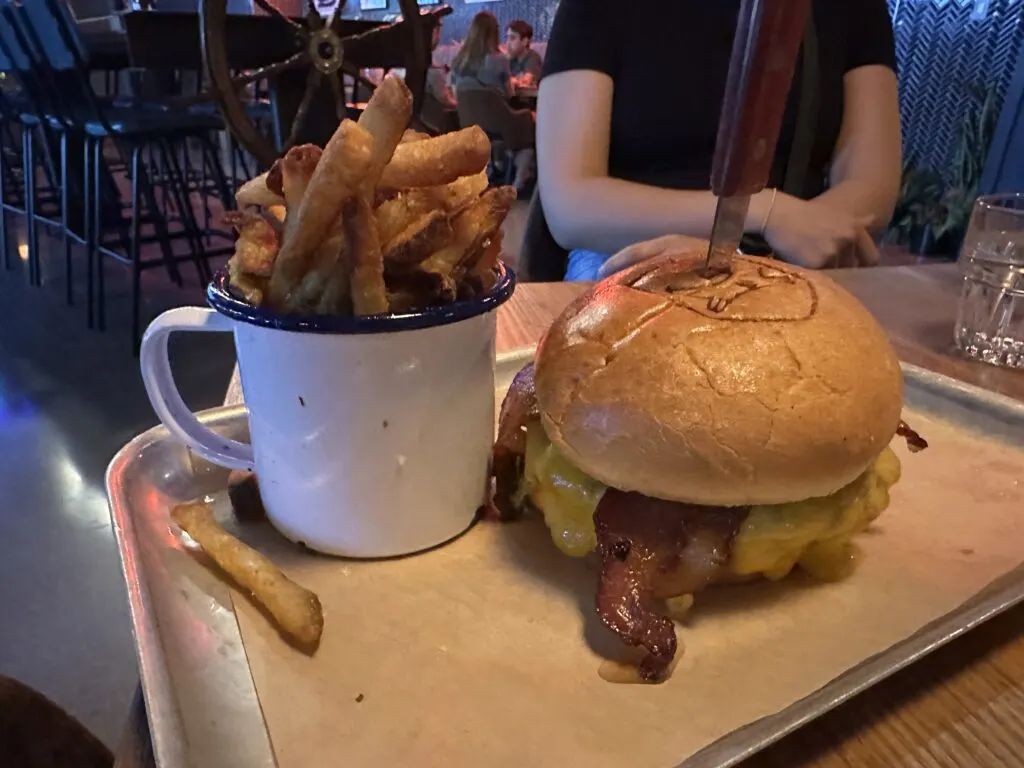 The food itself was great. I personally consumed the Bacon Deluxe Cheeseburger which boasted THICK slabs of bacon.
While the burger was both hearty and tasty, the fries being served in a little coffee mug was a tad disappointing. Although they were legitimately delicious, I was left wanting more after eating all 12 of them (I kid, I kid… kind of).
I thought a mostly empty tray was an odd way to present a $25 burger and fries, but what do I know?
To sum up my thoughts on the meal – The food was fantastic, but I'd suggest ditching the cute little coffee cup and instead, piling some fries on the tray. Fill that bad boy up a bit.
BrewDog Service
The service at BrewDog was a bit of a head-scratcher.
Once seated, our server took our drink order, delivered the goods, and then immediately took our food order. Food came, was devoured, and was delicious.
I'd been out of beer for a while, so I started scanning the room, keeping an eye out for her to re-appear so that I could order another, however, the minutes ticked by, and there was no sign of her.
At this point, my long travel day is starting to catch up with me. I'm gassed. While a second beer was of interest, I'm now ready to settle up so that I can head back to my room at Aria and relax.
While I had yet to see our waitress and no tab had been presented to the table, I set my credit card out so that she could run it the next time she swung by.
We had to have sat there for 30 minutes with my Visa card on the table before my brother, also ready to relax after wandering the Strip all day, snapped up my card and headed to the nearest bar to pay for our meal. The bartender said it needed to be ran with the server, who had been missing in action since our food arrived.
To be honest, we didn't really know how to proceed at this point.
Finally, we spotted her at another table, sitting, and chatting with customers there. She must have been 2 tables away chatting the whole time? Who knows.
I awkwardly walked up, interrupted their jovial conversation, handed her my card, and asked if we could be rung up. "No problem!".
Finally, we were on our way.
The odd thing was that the venue was nearly deserted, so it wasn't a workload thing. I think we were a total afterthought.
The experience we had at the table combined with the fact BrewDog wouldn't seat us on the mostly empty outdoor patio overlooking the Strip left something to be desired.
Keep in mind, this is purely anecdotal. A single experience. This could've simply been an "off night" on the service front.
Other BrewDog Highlights
Obviously, the views from the outdoor patio area are fantastic, but the entire 2-level venue is pretty awesome in and of itself. It's a visually appealing setting no matter where you're sitting.
There are 3 separate bars throughout the venue and TVs are scattered around the space, allowing folks to catch the game they just bet on.
Here are a few pictures I took inside BrewDog: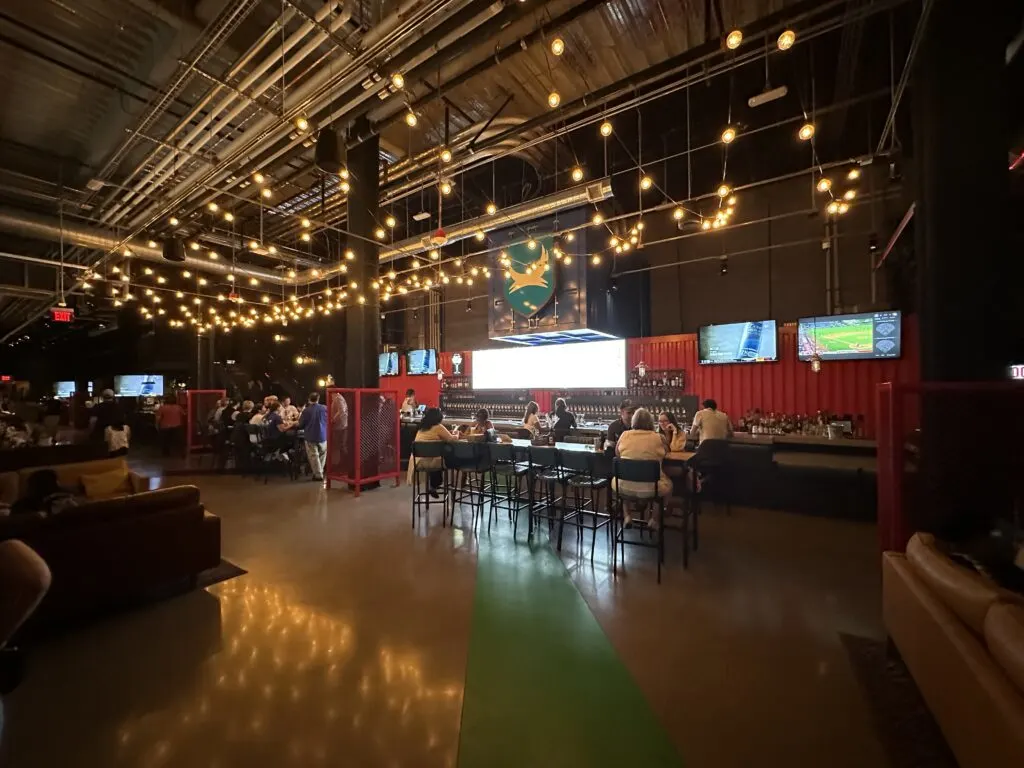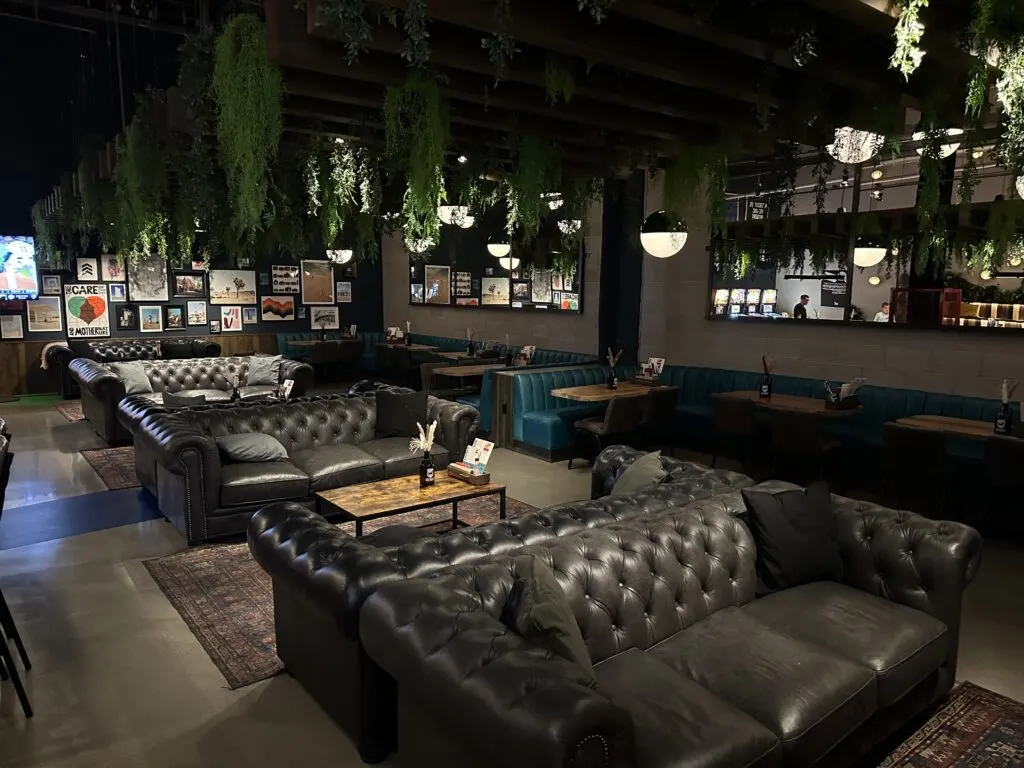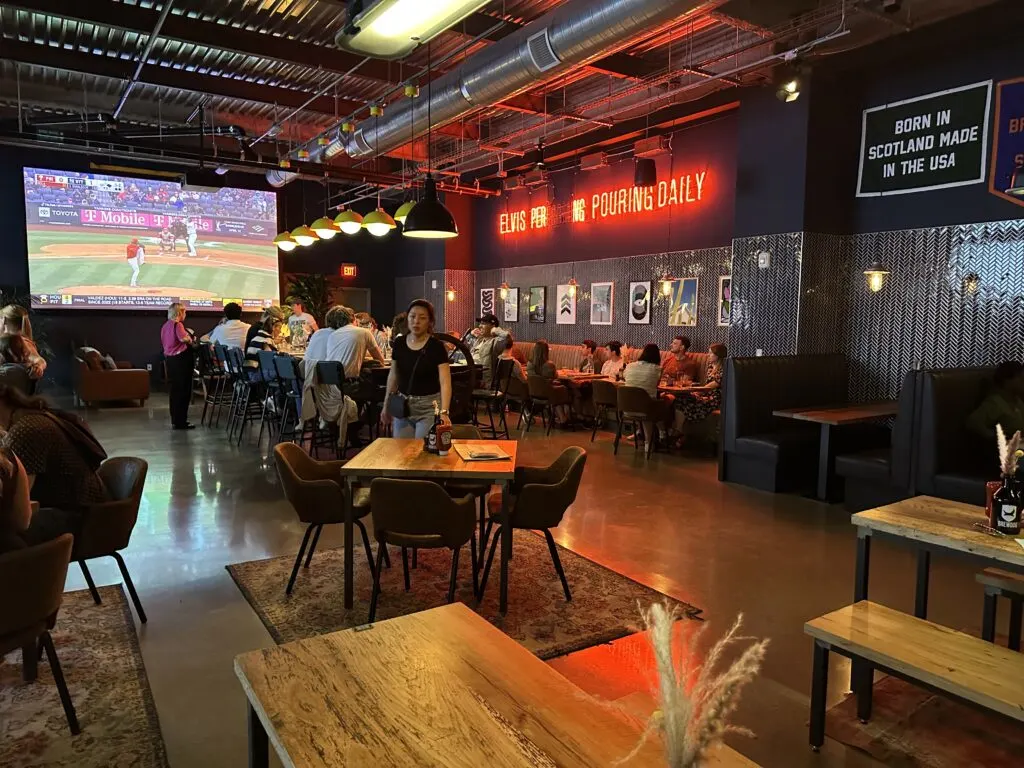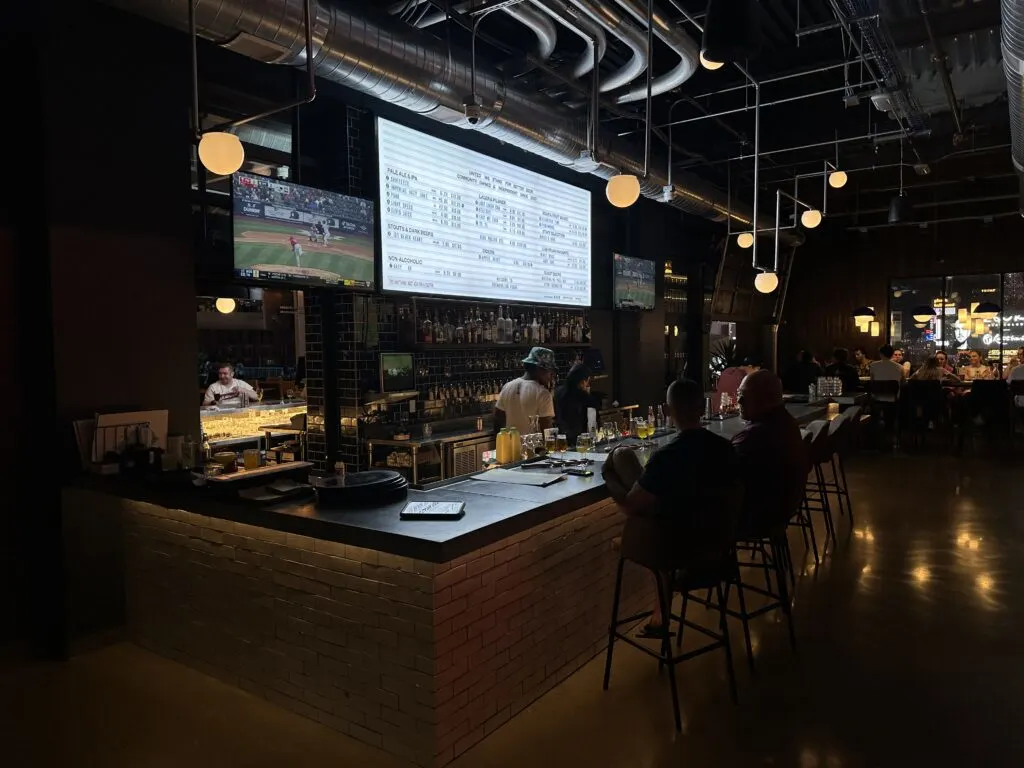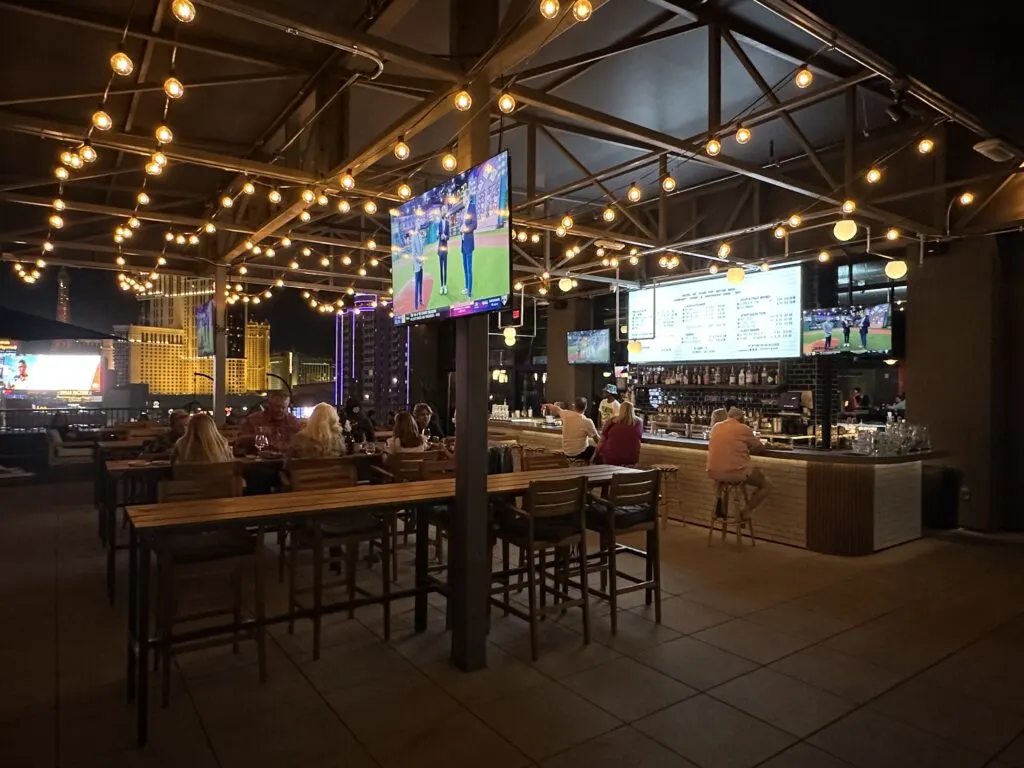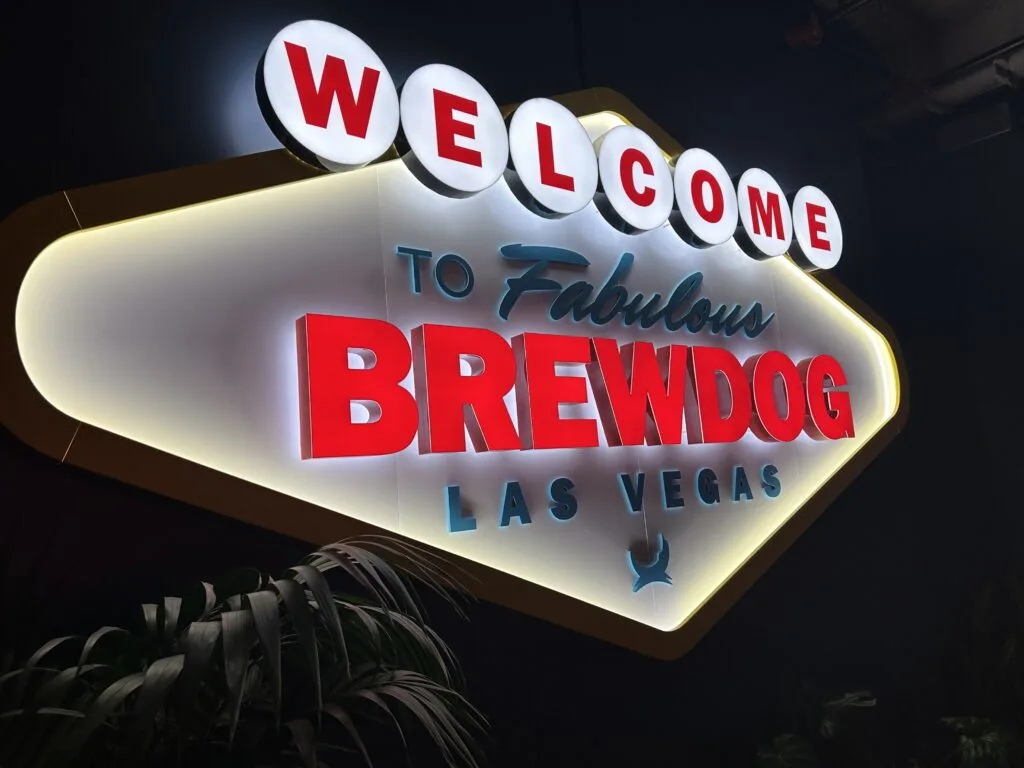 While the majority of BrewDog's beer is brewed in Ohio, they have a small microbrewery on site that will brew a rotating selection of small batches exclusive to Las Vegas.
They also offer a selection of beer from local craft breweries.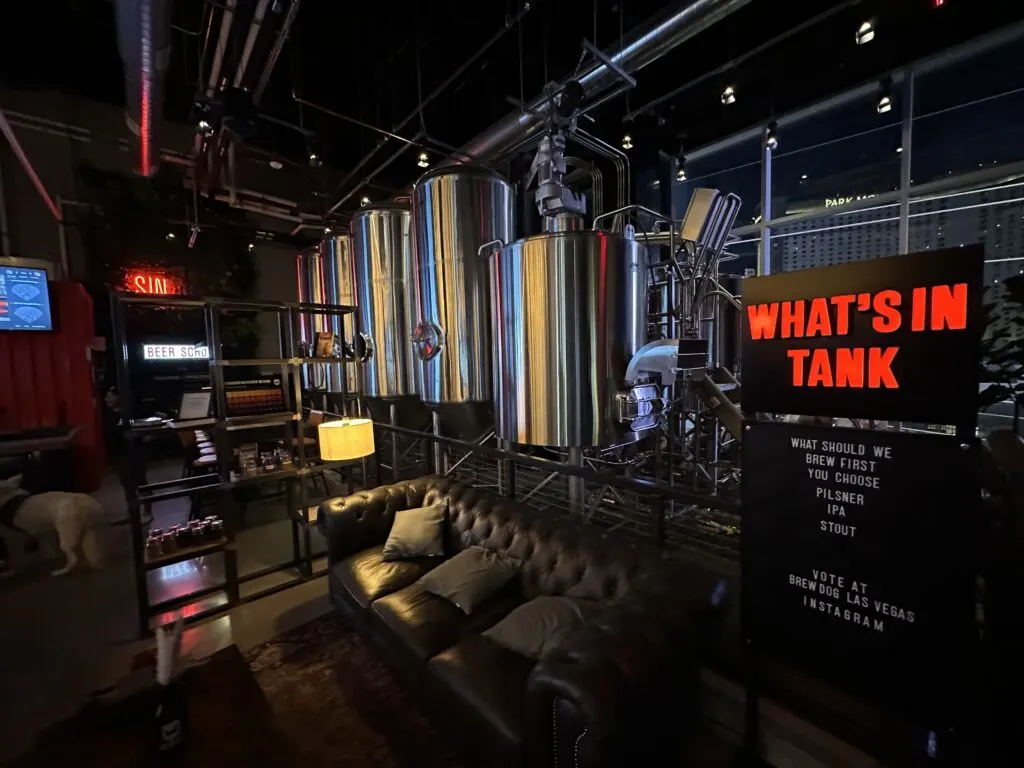 Beers to go are sold in the gift shop area near the hostess stand and are available as a single can/bottle or in a larger case to take back to your hotel room.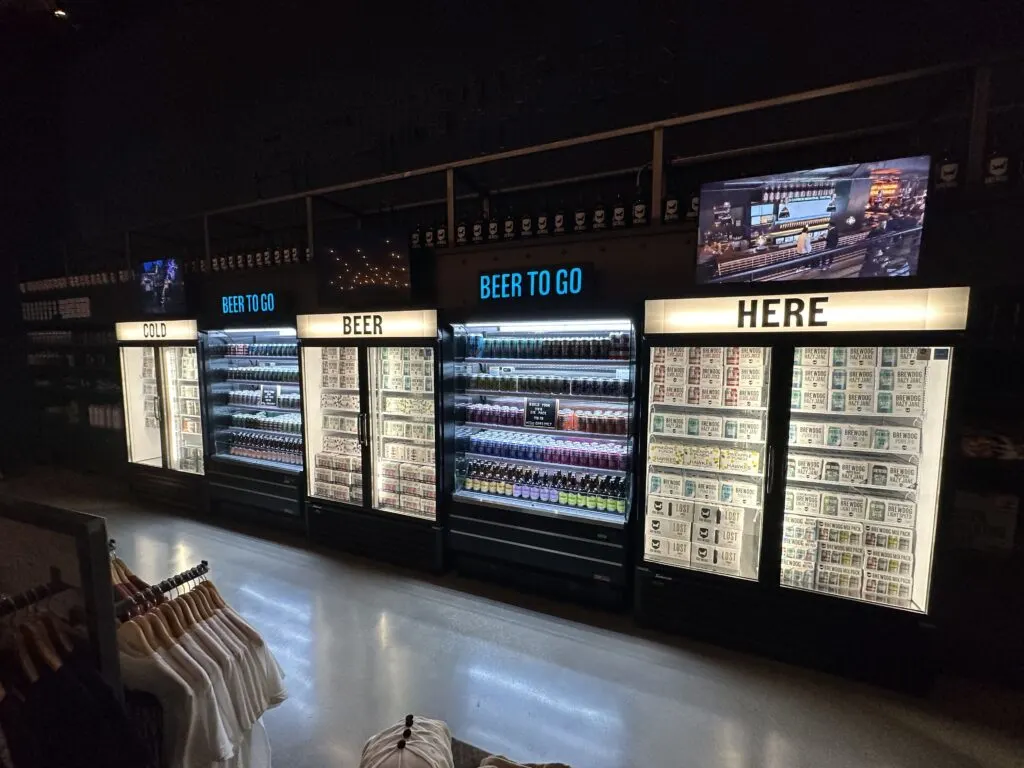 On the main level are games like Shuffleboard, which is free to play, and a bank of pinball machines, which are not free.
The Verdict: Is BrewDog Las Vegas Worth Visiting?
This is a venue that has a lot going for it – It's gorgeous, serves a wide selection of craft beer, has quality food, makes free shuffleboard tables available, and boasts some of the best views of the Las Vegas Strip around.
The service I received during my visit was lackadaisical at best and my group certainly felt like an afterthought for the majority of our visit. Given the small sample size of one visit, I'm willing to write that off as a one-time flukey occurrence.
I think BrewDog is a compelling value provided you reserve a seat with a view in advance. It's not the cheapest burger and fries you'll eat in Vegas, but the view is worth it.
While I wasn't enamored with every aspect of my visit, I look forward to stopping back with my wife to take in that view over dinner and about 5 beers.
It's a cool spot that's worth experiencing.
I'm a former software salesman turned Vegas aficionado. While the craps table is my preferred habitat, I pull myself away to explore new attractions, shows, restaurants, and outdoor activities around Las Vegas with the intent of sharing my experiences.
Ultimately, I just want to help folks plan a better trip and save a few bucks in the process.