The National Atomic Testing Museum is a short drive from resorts along the Strip (10 minutes) and aims to educate the public on the history of nuclear testing in the United States and the technology's effect on everyday life.
As a self-described history junkie, my interest was piqued by exhibits that cover things like nuclear bomb usage in WW2, the Cold War, waste disposal, and the history of nuclear testing in Nevada.
Boasting over 8,000 square feet of exhibit space, the Atomic Museum is operated by a non-profit, the Nevada Test Site Historical Foundation (NTSHF), a Smithsonian affiliate organization.
As a sucker for museum attractions in Las Vegas, I was excited to finally make it over to explore with the intent of sharing my experience with you.
Atomic Museum Cost
Tickets to the Atomic Testing Museum can be purchased in advance on their website and cost:
$29 for Adults
$15 for Kids
Kids under 6 are Free
Discounts are available for Nevada residents, seniors, members of the military, and first responders.
Notably, ample parking is available at the Atomic Museum, and EV chargers are also present.
My Experience at the Atomic Testing Museum
Typically, in reviews like this, I think it's most valuable to split up my thoughts between what I enjoyed vs. what was lacking.
Of course, I'll illustrate the points I make with plenty of images captured during my visit.
Let's start with the good, shall we?
What I Liked
A general theme throughout the Atomic Museum that I appreciated was how they presented information, expertly leveraging multiple forms of media to convey information and appeal to all learning types.
It seemed as though there was something fresh and compelling around every corner and no two exhibits were exactly the same.
A couple examples of this include mockups of the "Gadget" (a test device), and Fat Man (a nuclear device that was detonated over Nagasaki in 1945).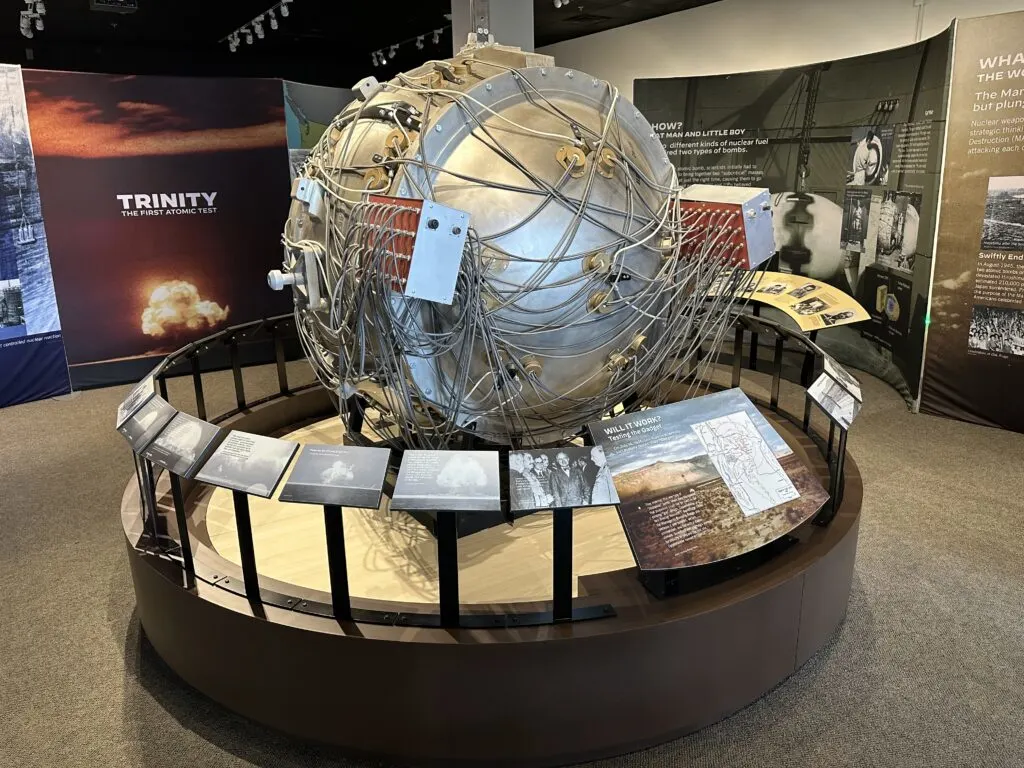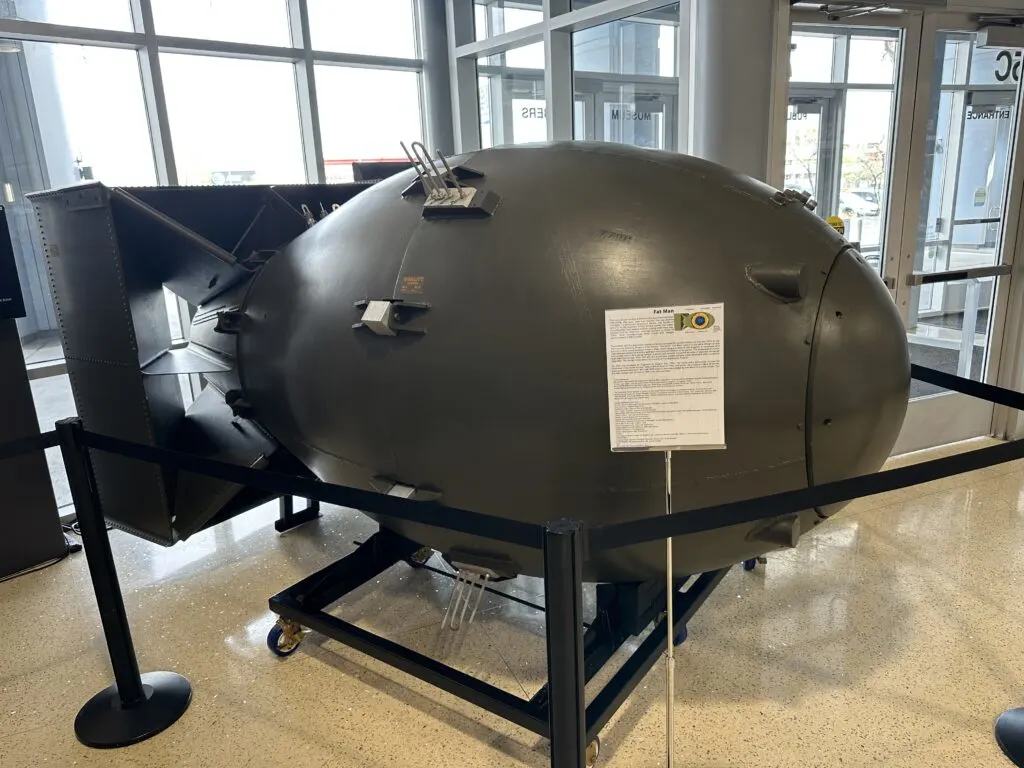 Another small-scale re-creation that I found fascinating was this rig, which was used to drill 3′-10′ wide vertical shafts hundreds, or sometimes thousands of feet into the ground for subterranean nuclear tests.
According to the placard, 95% of nuclear tests that took place in Nevada were conducted underground.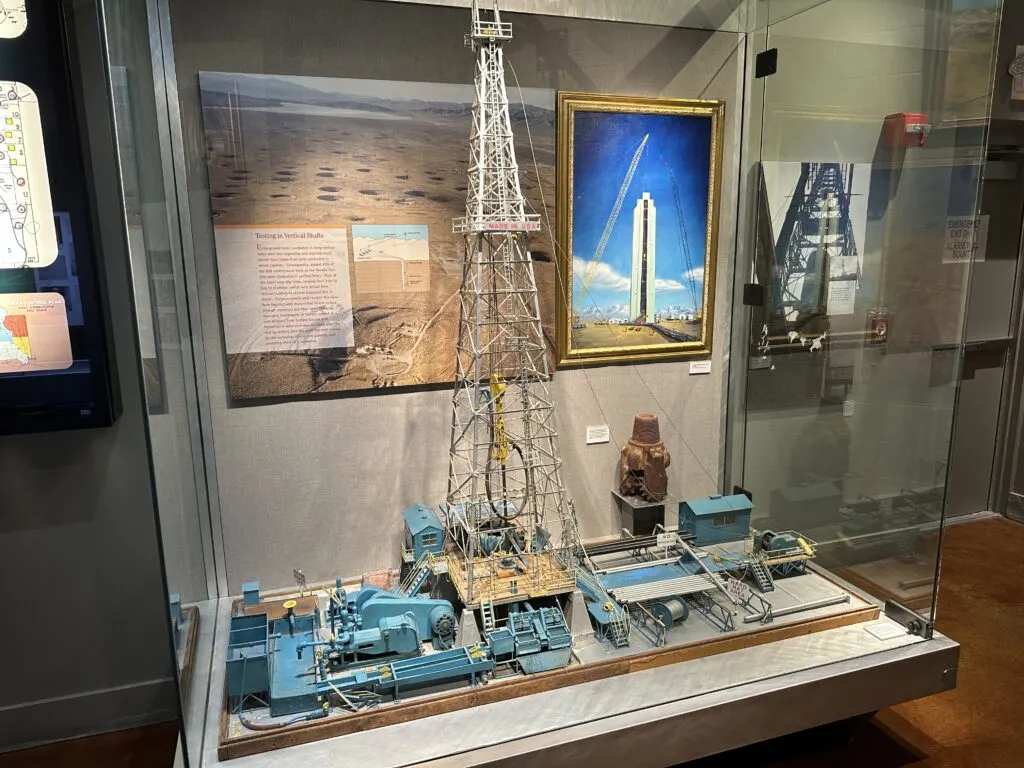 In addition to recreations of devices, the museum leveraged historic video content to communicate how nuclear technology was created, tested, and further developed. Uniquely, you can view most of the videos shown at the museum on the Atomic Museum's YouTube channel.
As a real history nut, I appreciated the incorporation of many real-world artifacts into the exhibits. Among my favorites was a casing that was once part of a B-53 Thermonuclear Weapon, designed as a high-yield bunker buster.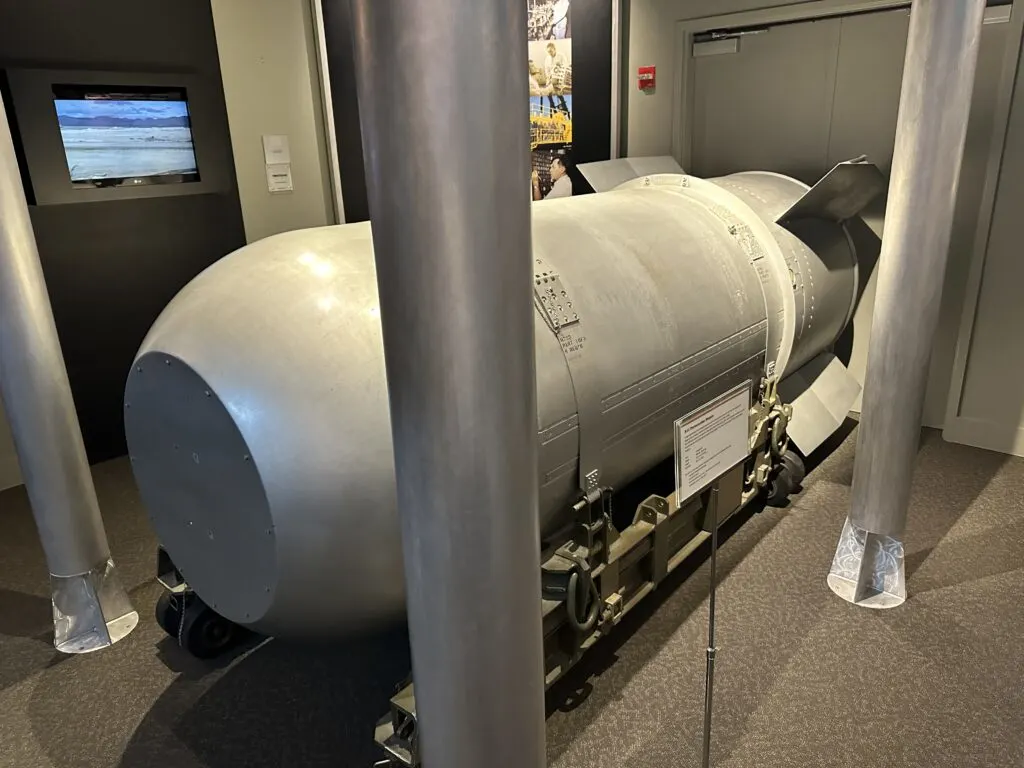 There was also an entire case dedicated to devices used to detect radioactivity.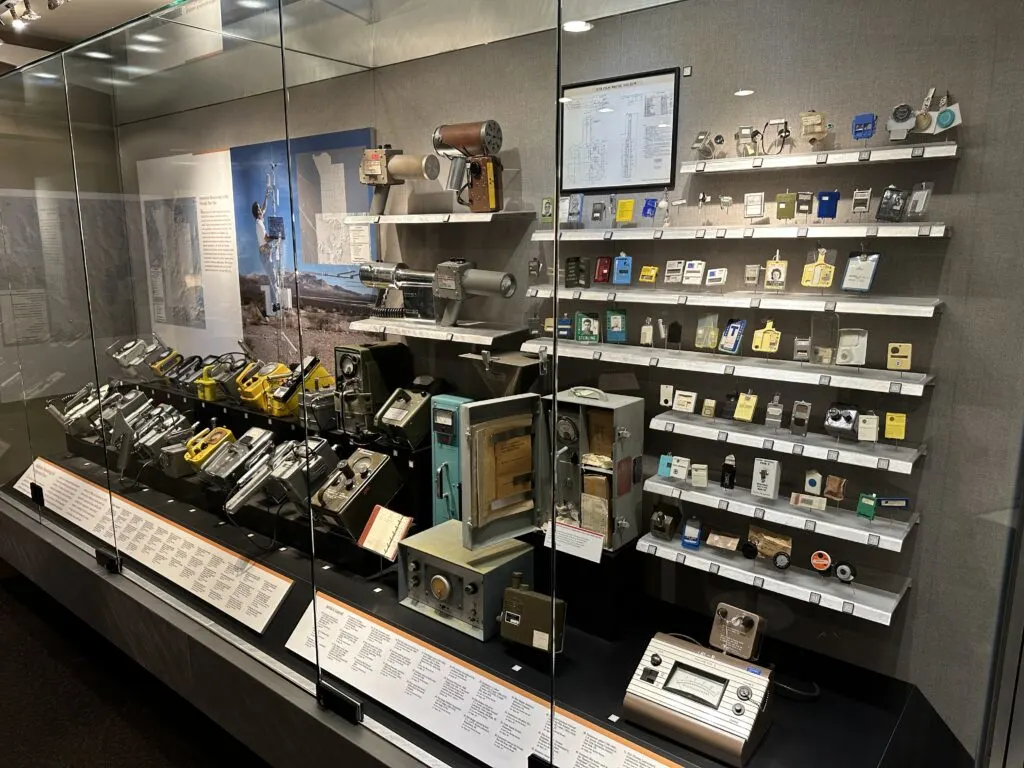 For someone who isn't totally up to speed on the history of nuclear testing in the United States, I really appreciated the timeline content that was found throughout the museum which ranged from the 1940s to today.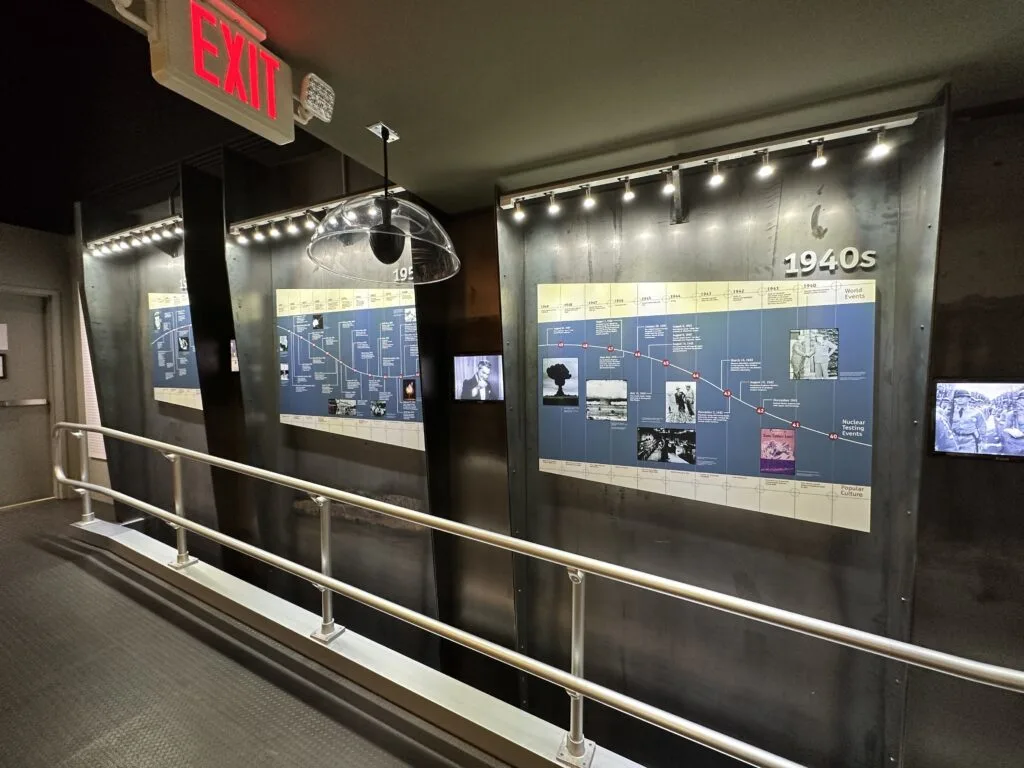 One of the most intriguing displays demonstrated how nuclear technology made its way into pop culture. Artifacts that demonstrated this included cereal boxes, toys, publications, and even cocktail mixes.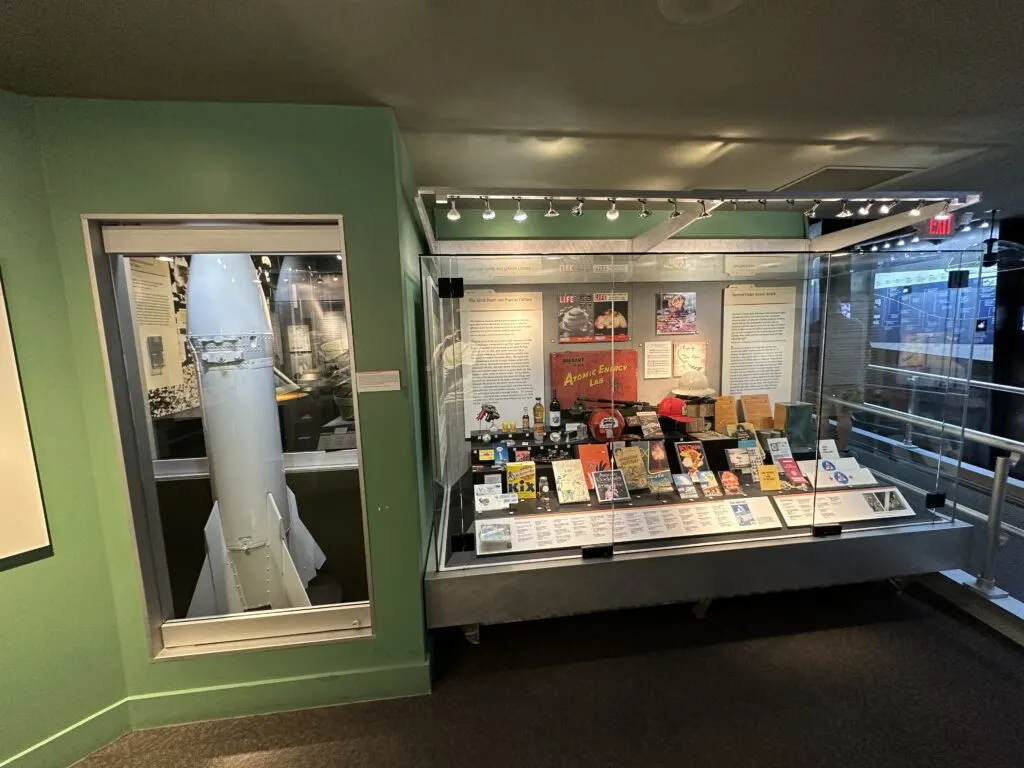 It's also amazing to me how families, schools, etc. once had to plan for the possibility of nuclear war breaking out at any minute.
There was a good amount of information about how nuclear tests looked to gauge how homes, mannequins, military equipment, infrastructure, etc. were affected by blasts, and how people prepared for the worst.
Horrifyingly, many US servicemembers were also exposed to the harmful effects of nuclear tests over the years, oftentimes positioned just a mile or two from the blast.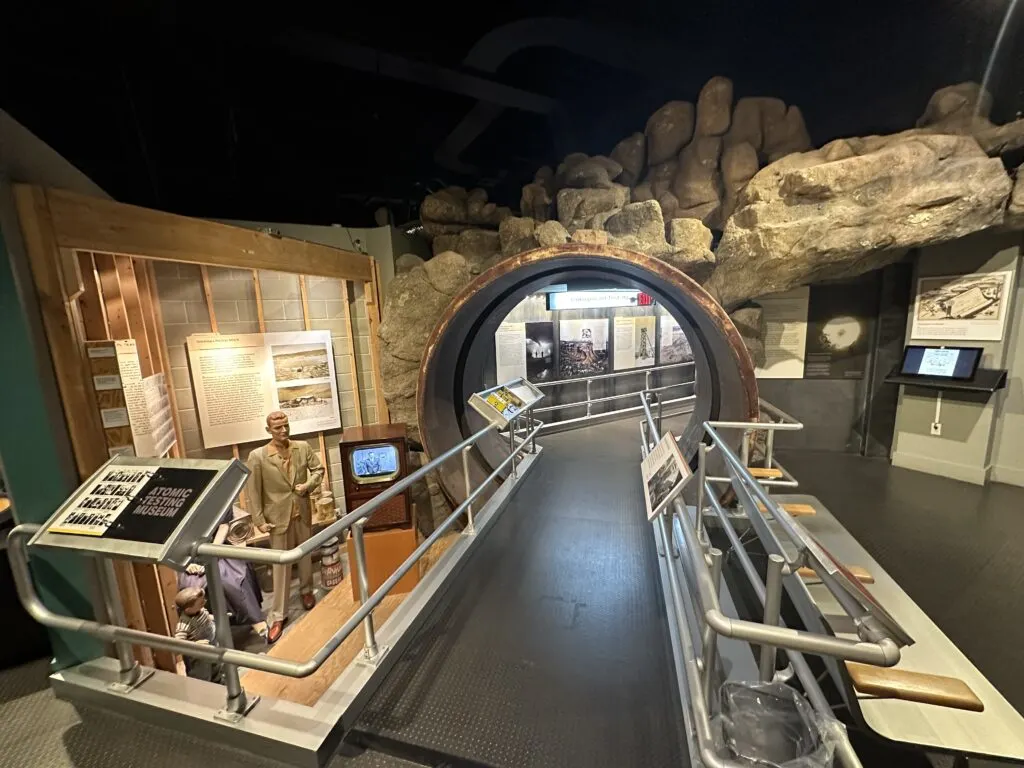 Those even loosely familiar with nuclear testing know that the Nevada Test Site served as the setting of hundreds of detonations. Famously, many of the atmospheric tests were visible from casinos in Las Vegas and were a tourist draw in and of themselves.
The Atomic Museum did a great job of explaining the history of the Nevada Test Site, which included its Paiute and Western Shoshone roots, mining/ranching history, nuclear tests conducted, the environmental impact of testing, ongoing cleanup efforts, and radioactive waste disposal.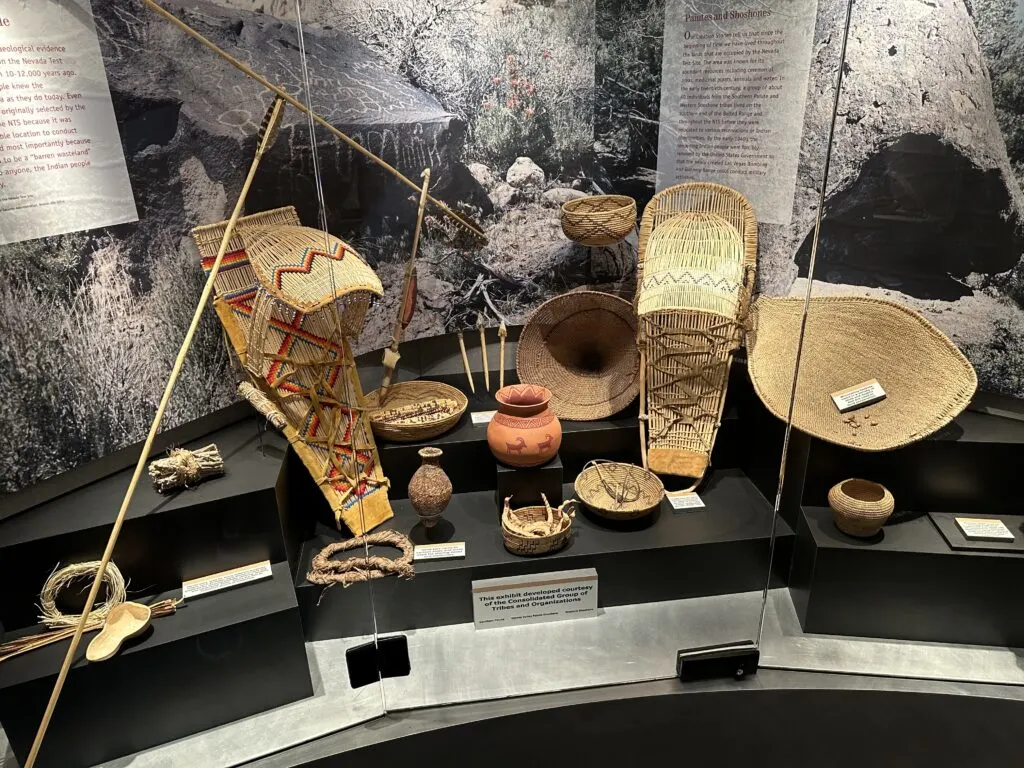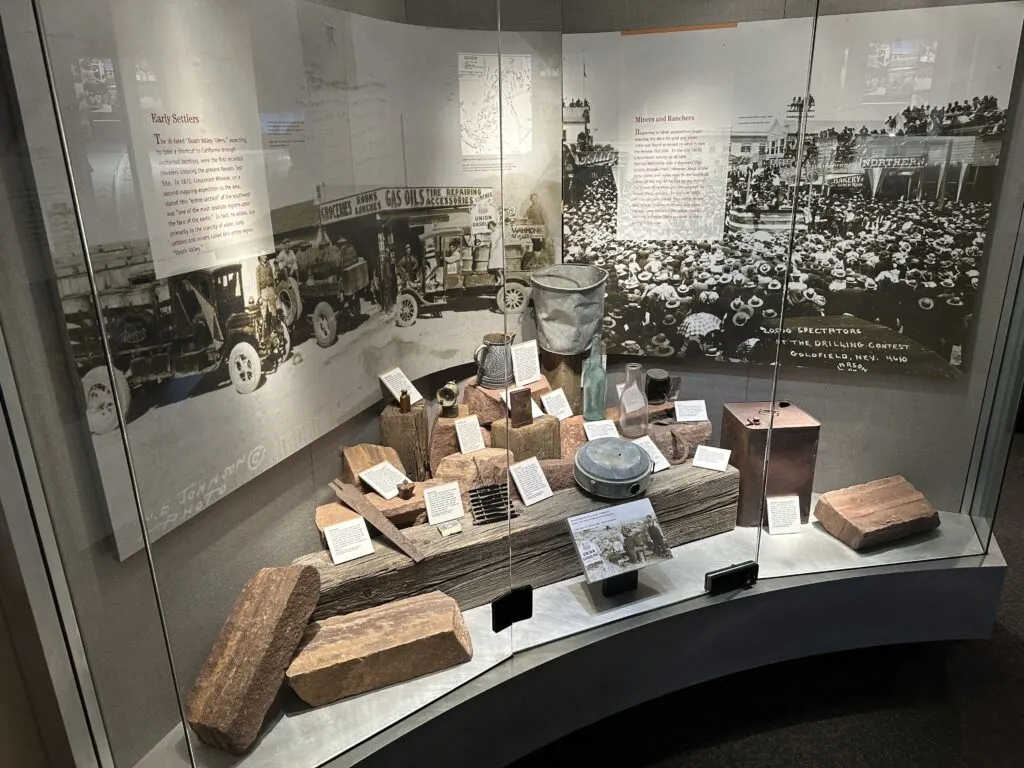 Admittedly, I had always envisioned radioactive waste as being a green toxic ooze of some sort. The Atomic Museum dispelled that myth, demonstrating examples of what types of low-level waste are entombed at the Nevada Test Site.
Commonly, disposal barrels are filled with clothing, tools, or cleaning supplies that are exposed to low levels of radiation at hospitals, nuclear power plants, and government facilities among other sources.
What's Not to Like?
Some Exhibits Went Over My Head: Look, I'm a simple man with limited scientific knowledge. While the vast majority of the museum was engaging and easy to understand, there were some placards I'd read and immediately think "I have no idea what I just read".
More of a knock on me than the museum, but don't feel bad if you aren't able to comprehend a display or two.
The Verdict: Is the National Atomic Testing Museum in Las Vegas Worth Visiting?
I thought the Atomic Testing Museum was awesome.
Like all good museums, the Atomic Museum used various forms of media to educate on the history of nuclear testing in America, the employment of nuclear technology (for both military and civilian purposes), and where we stand today.
While I knew that there were a number of nuclear tests in Nevada, I really enjoyed the deep dive into the Nevada Test Site's history and how the site is still used today.
If you're at all interested in the history of nuclear technology in the united states and the benefits & consequences of its employment, then I'd suggest slotting the Atomic Testing Museum into your Las Vegas itinerary – It's one heck of an education.
I'm a former software salesman turned Vegas aficionado. While the craps table is my preferred habitat, I pull myself away to explore new attractions, shows, restaurants, and outdoor activities around Las Vegas with the intent of sharing my experiences.
Ultimately, I just want to help folks plan a better trip and save a few bucks in the process.