Las Vegas is intended to be seen. While an ice-cold beer tastes great anywhere, we promise that the experience will be more memorable if paired with a great view. It is our strong suggestion you take advantage of the rooftop, elevated, and perfectly positioned bars across Las Vegas during your stay.
Our list of bars with a great view of Vegas focuses on just that, bars. We're choosing to steer away from nightclubs that often boast a desirable rooftop location like Drai's at Cromwell, Omnia at Caesars, Chateau at Paris, and Troy Bar at Golden Nugget. If a nightclub scene is what you seek, check the aforementioned options out, but we're seeking a low-key drink.
Not all of our bars boast great elevation, but all offer great sightlines of resorts on the Strip or downtown.
Las Vegas Bars With a View
Strat's 108 Drinks is nestled in the resort's SkyPod on the… you guessed it… 108th floor. With breathtaking views of the Las Vegas Strip, this bar with a view is tough to beat. As part of STRAT's observation deck, paid admission of $20 per person is needed to get there, but both the bar and the observation deck are worth visiting.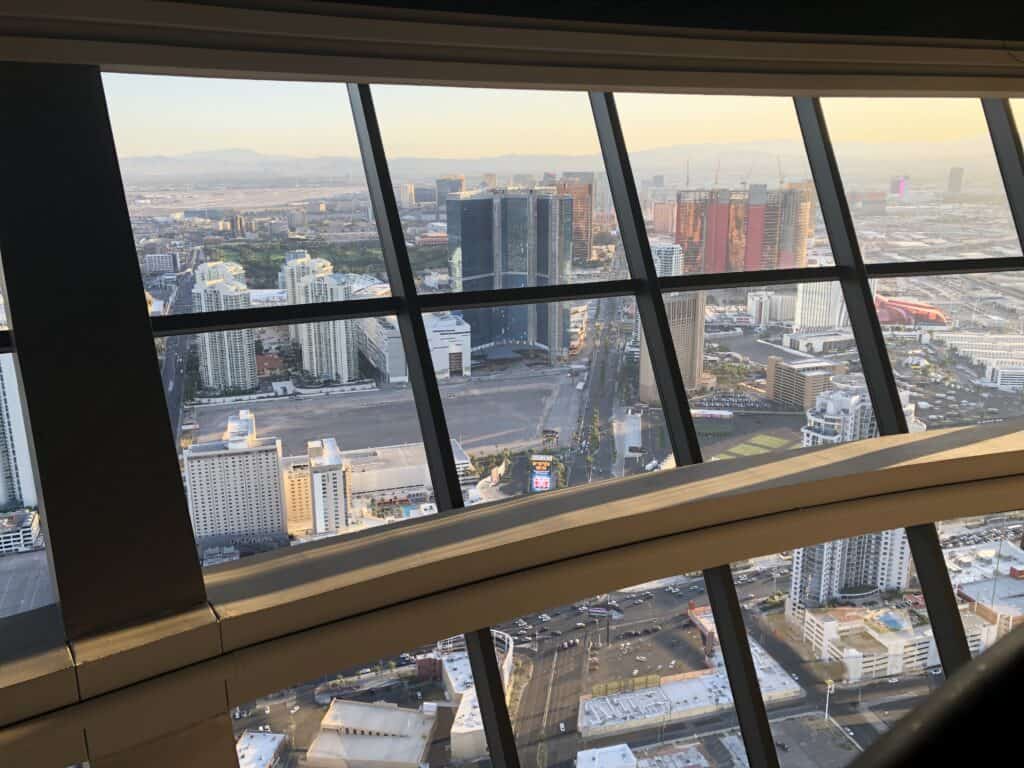 Ghostbar at Palms: Following a nearly 2-year hiatus, Palms has re-opened under new management. Ghostbar, the popular rooftop bar is also back with a vengeance, offering views of the Las Vegas Strip from the resort's 55th floor that are sure to impress.
SkyBar at Waldorf Astoria (formerly Mandarin Oriental) offers stunning a panorama mid-Strip perched on the 23rd floor. The upscale cocktail lounge is open from 4 pm-1 am on weeknights and 12 pm-2 am on weekends. You can expect to pay around $20 for a cocktail and bottled beer pricing starts at $8. If a great view and experience is what you seek, SkyBar is worth the price point.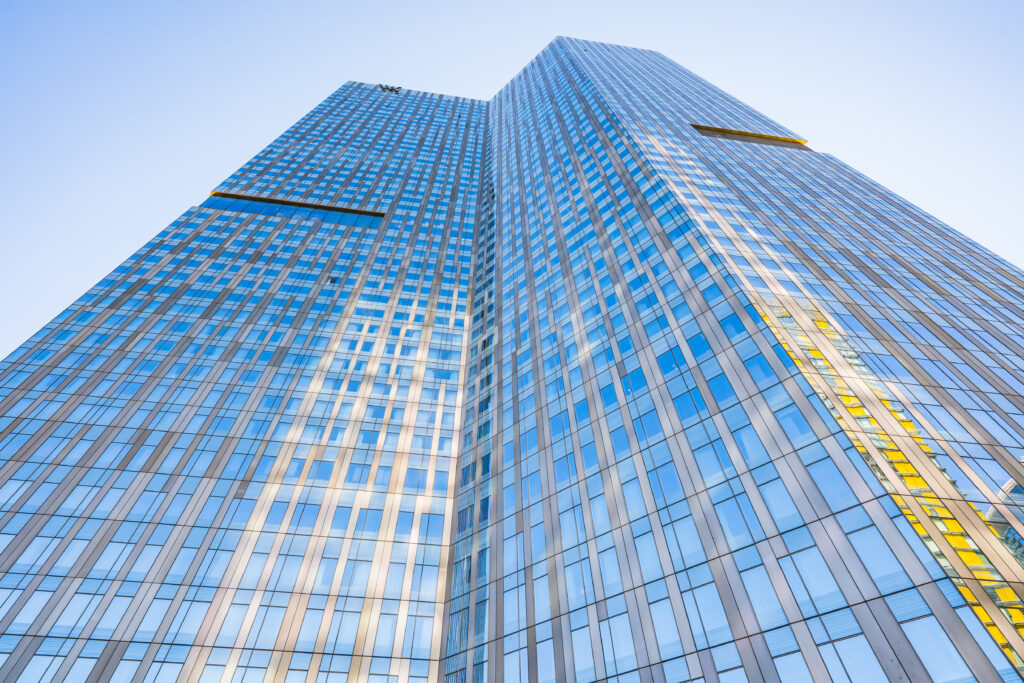 Beer Park at Paris, located on the rooftop of Paris mid-Strip overlooks the Bellagio Fountains. The bar is perfectly positioned for taking in the city of Las Vegas while slowly slipping into a state of inebriation.
One caveat to our love of Beer Park's location and view is that they also charge a despised Concession and Franchise Fee (CNF) which adds 4.7% to your bill… for nothing. The good news is there is typically a Groupon offer to take advantage of that lessens the blow. Ask them to take the 4.7% charge off, they will likely remove it.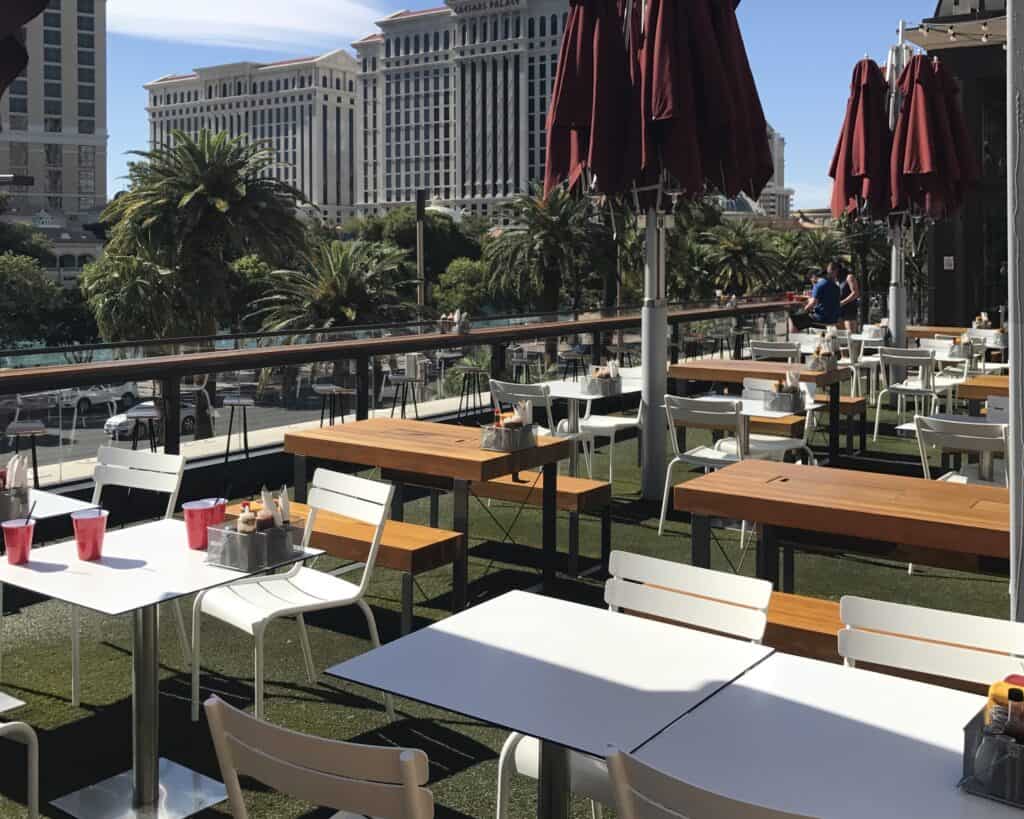 Legacy Club at Circa ranks among our favorite Las Vegas bars with a view. Perched atop the new Fremont Street resort, Legacy Club offers awe-inspiring views of both downtown and the Las Vegas Strip. We recommend starting your evening on the town right and grabbing a cocktail or two as the sun sets. Ensure to check the dress code at Legacy Club to ensure you're wardrobe is up to snuff as this is a classy spot.
Foundation Room at Mandalay Bay provides stunning views of the Strip from the 63rd floor. The bar opens at 6 pm and offers a weeknight happy hour Sunday – Thursday from 5-8 pm with discounted food and drink items.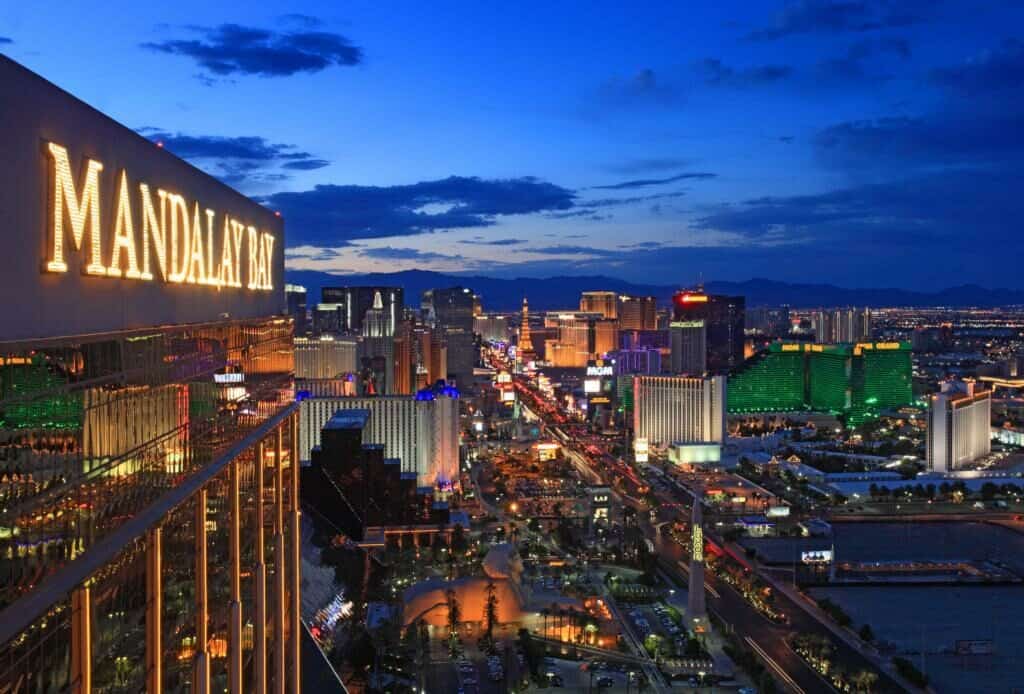 Skyfall Lounge at Delano is perched on the 64th floor and sports a stunning view of the entire Strip from the south. A more upscale experience than some others on the list, nightlife attire is required and the lounge opens at 5 pm daily.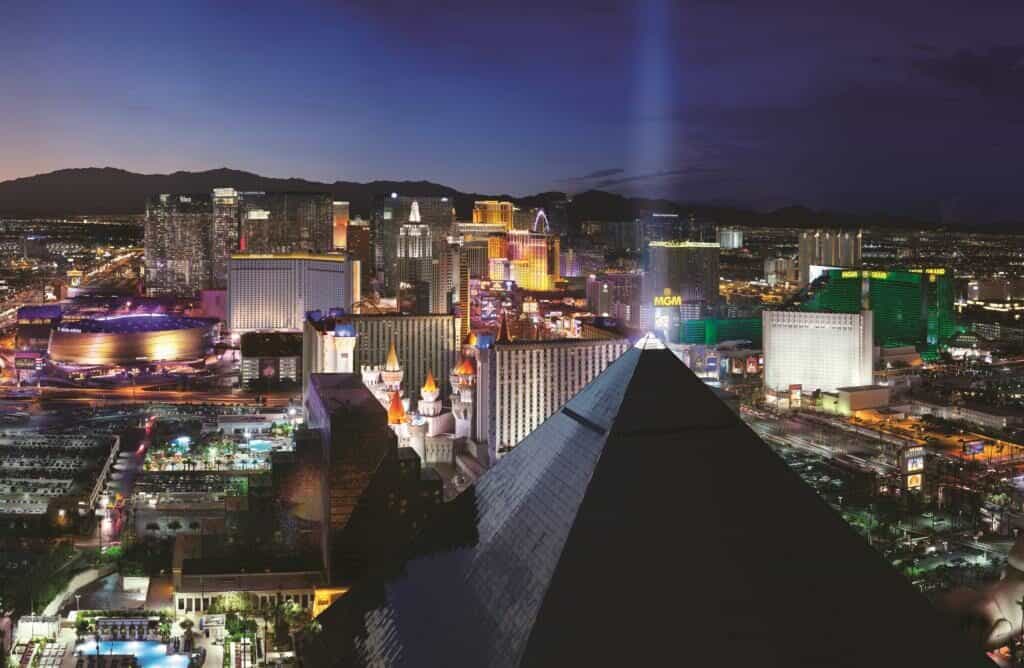 Alle Lounge on 66 calls Resorts World, home and offers stunning views of the entire Las Vegas Strip to the south. While the average cocktail will set you back around $20, we think you'll agree the view is worth the expense.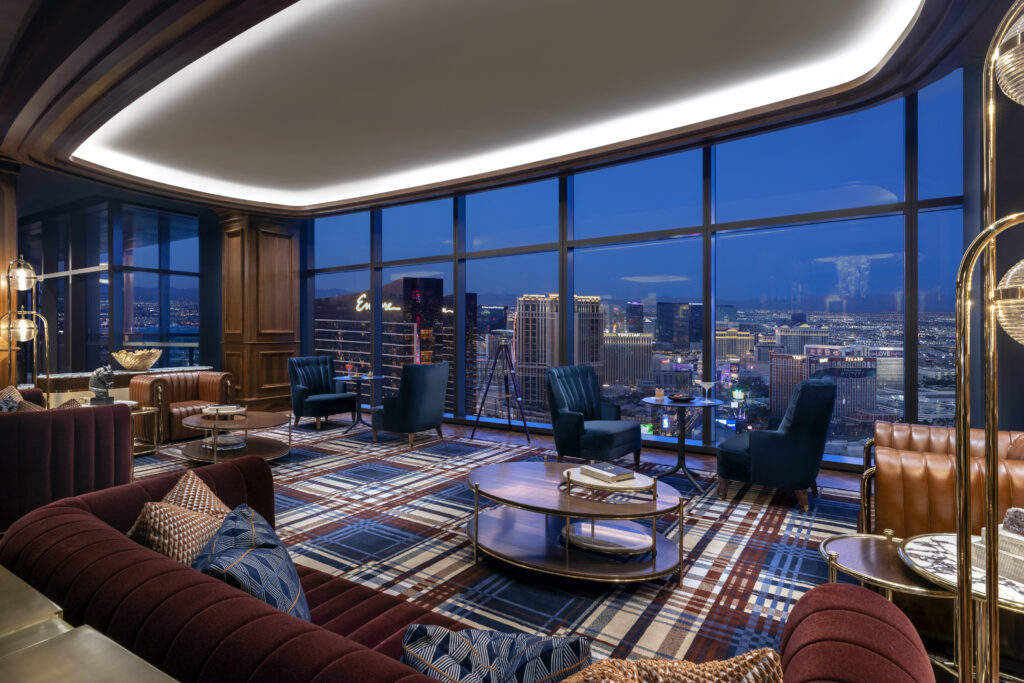 Legacy Club at Circa sits atop the newest, and most glamorous resort on Fremont Street, offering views of both downtown, and Strip resorts in the distance. In a nod to the city's history, Legacy Club displays the busts of prominent Las Vegas innovators like Steve Wynn, Bob Stupak, and Jay Sarno among others.
Don't forget to snap a photo with the 1,000 oz. of gold also on display in the rooftop lounge.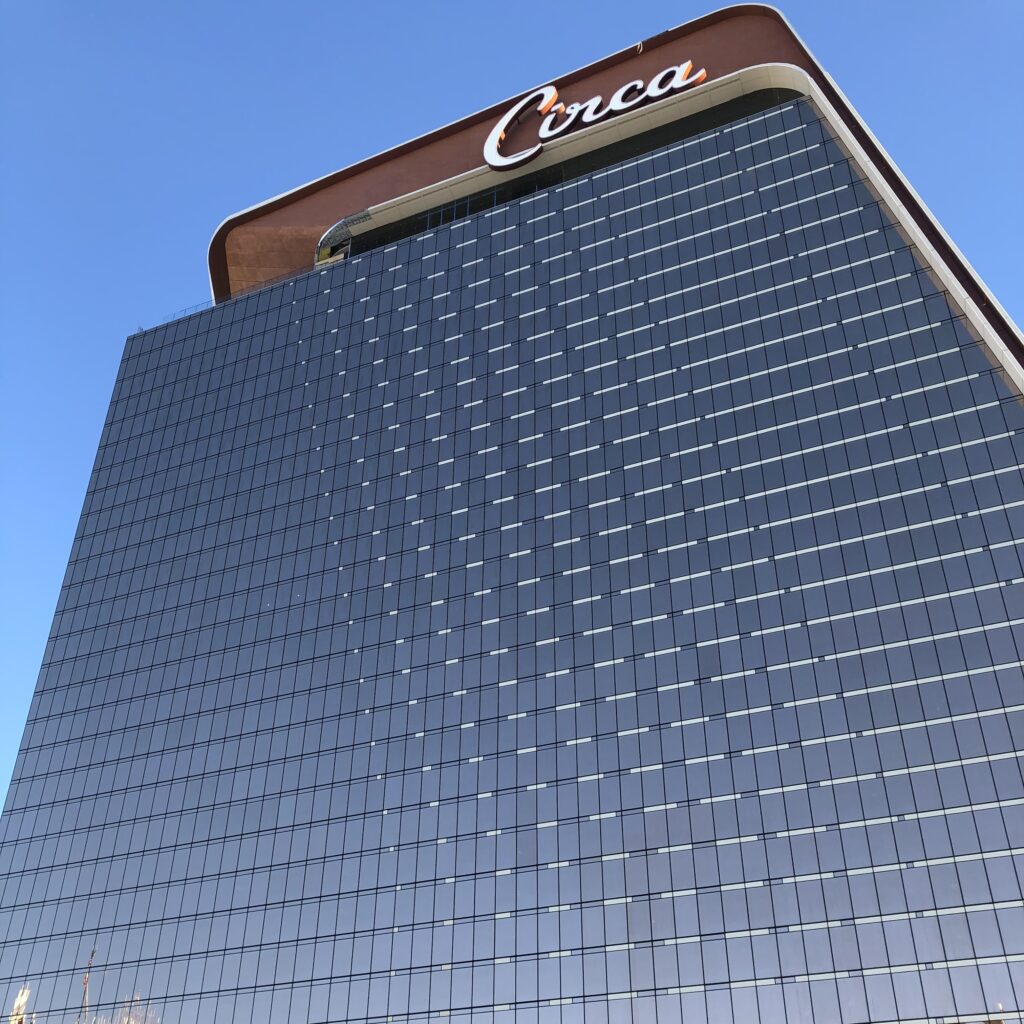 Honorable Mentions
Whiskey Liquor Up which recently opened at Binion's doesn't boast great elevation or rooftop positioning. What it does bring to the table is a rotating circular bar that juts out of the second level of Binion's under the canopy of the Fremont Street Experience. If old-school, vintage neon is your thing, there is no better spot to grab a drink.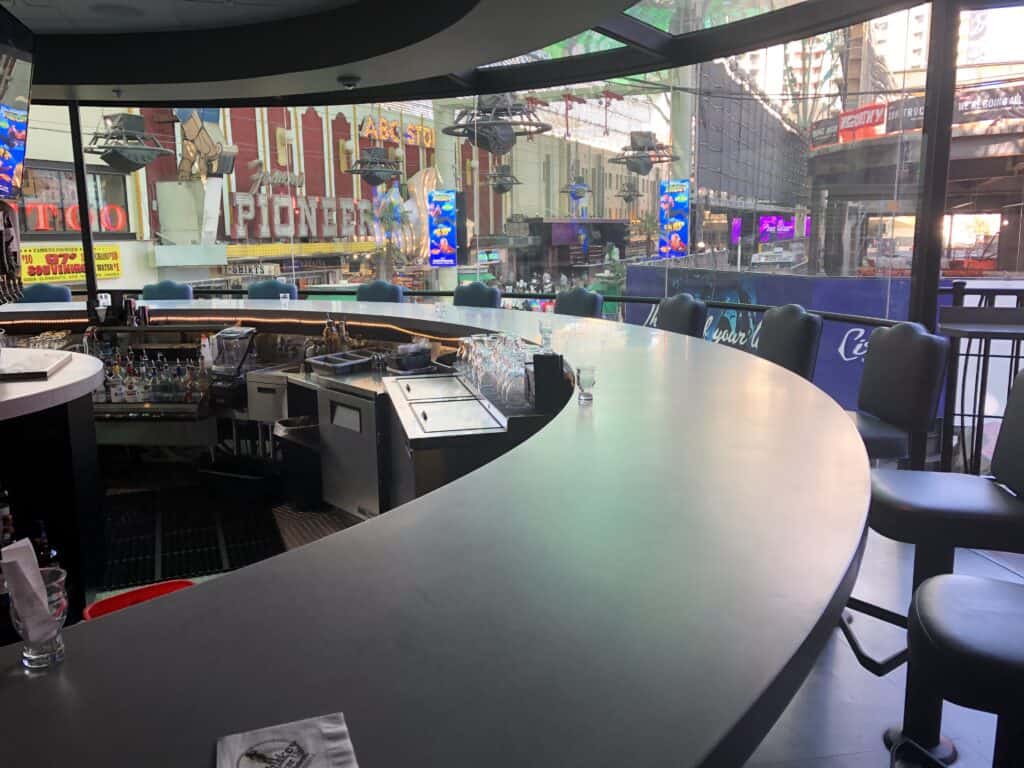 Topgolf is tucked behind MGM grand and actually gives a nice panorama view of the Las Vegas Strip, especially at night. Our advice is to pay up for a 3rd-floor hitting bay and take in Las Vegas. While not a traditional bar or cocktail lounge, Topgolf does a nice job of incorporating fun, drinks, and a great view.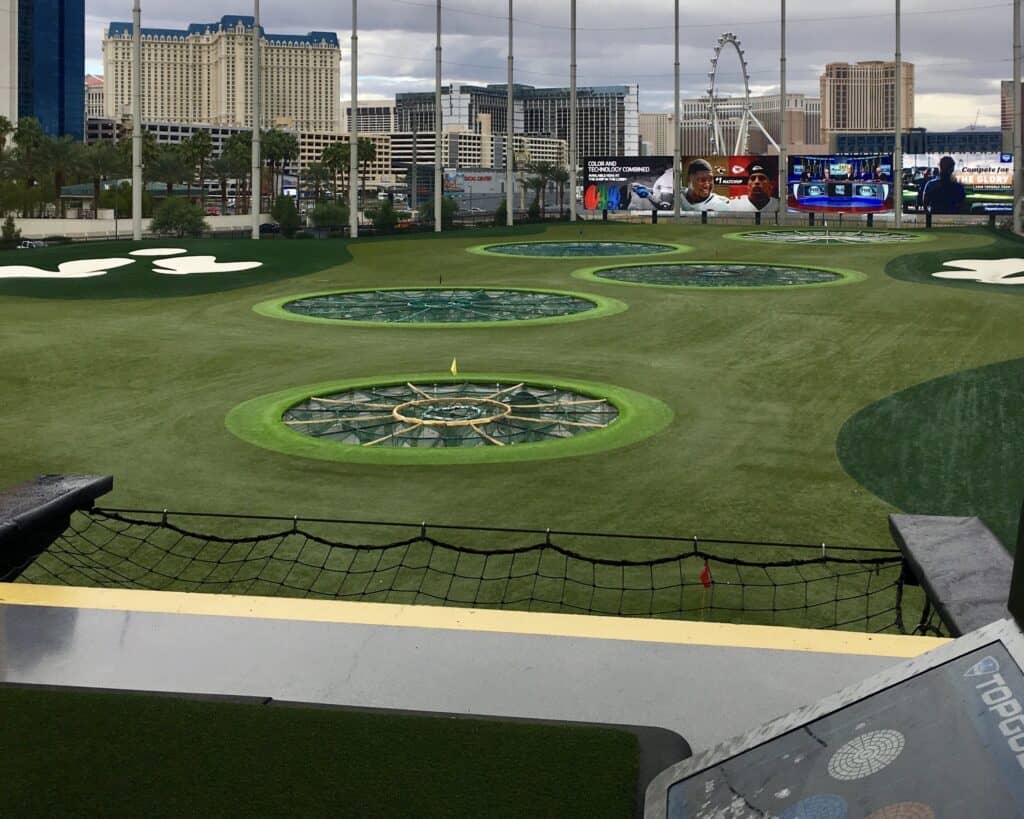 You shouldn't settle for a drink anywhere, instead, choose one of these Las Vegas bars with a view! If finding a cheaper beverage regardless of scenery is important to you, we also have listed our favorite drink deals on both the Strip and Fremont Street.
I'm a former software salesman turned Vegas aficionado. While the craps table is my preferred habitat, I pull myself away to explore new attractions, shows, restaurants, and outdoor activities around Las Vegas with the intent of sharing my experiences.
Ultimately, I just want to help folks plan a better trip and save a few bucks in the process.