Las Vegas is intended to be seen.
While a craft cocktail tastes great anywhere, I promise that the experience will be more memorable if paired with a great view. Whether you're looking to spice up date night or impress a client, a rooftop bar in Las Vegas is sure to hit the mark.
I figured it would be fun to detail your options to help you find something that'll work for your group.
Keep in mind, rooftop cocktail lounges and bars with a view in Vegas typically require guests to adhere to a specific dress code. Ensure you understand what type of attire is needed before making the trip.
I'd also strongly recommend making a reservation when possible, as some of these options can fill up quickly!
Let's get on with it, shall we?
Las Vegas Bars With a View
108 Drinks at STRAT: Nestled in STRAT's SkyPod on the… you guessed it… 108th floor, 108 Drinks serves up breathtaking views of the Las Vegas Strip alongside a cocktail.
As part of STRAT's observation deck, paid admission of $20 per person is needed to get there, but both the bar and the observation deck are worth visiting.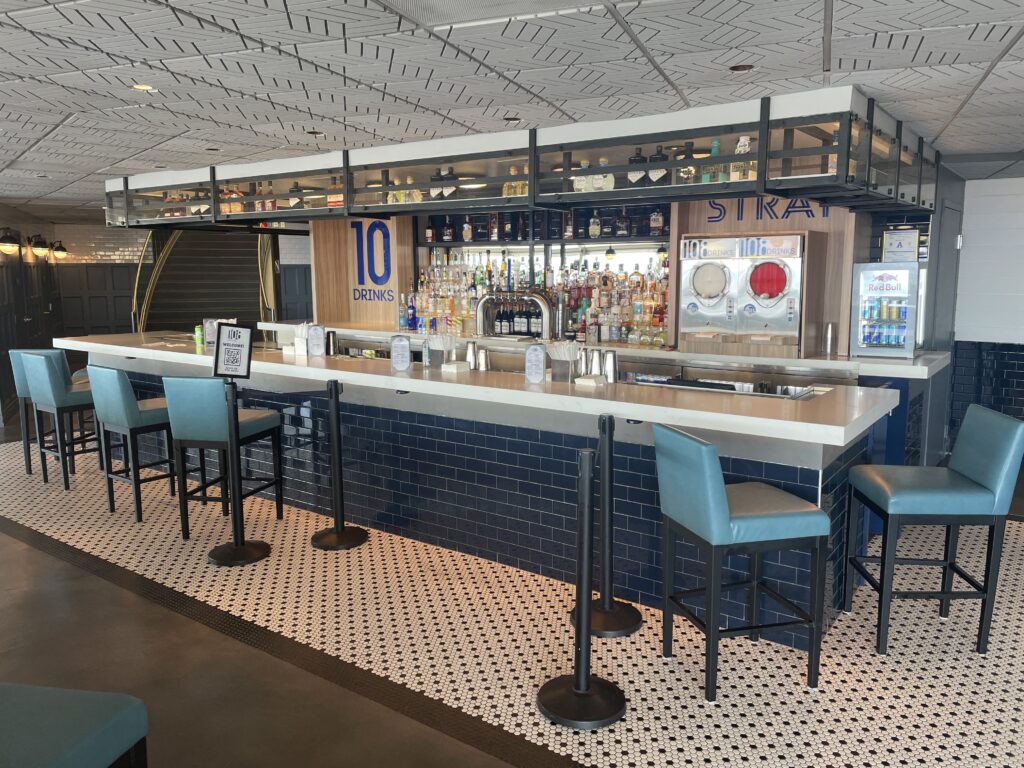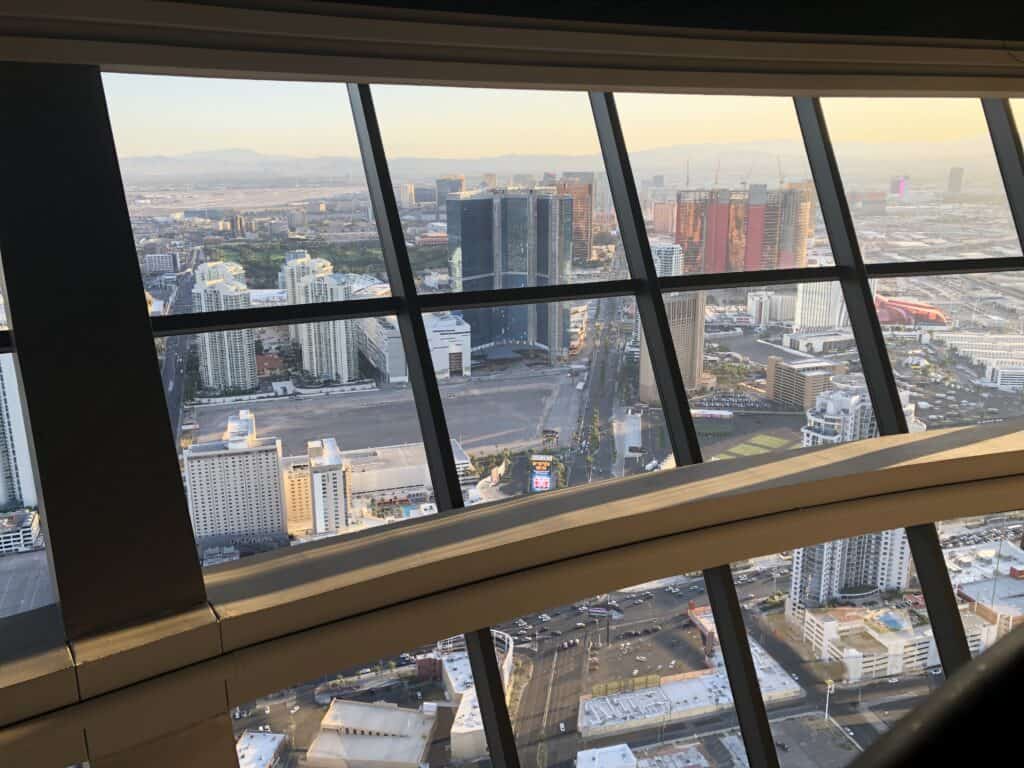 BrewDog: Perched atop the Showcase Mall (across the street from Park MGM), BrewDog offers stunning views of the Las Vegas Strip in addition to 96 beers on tap. In addition to a wide assortment of beverages, BrewDog also offers a diverse food menu that includes options like pizza, burgers, steak, and even lobster mac & cheese.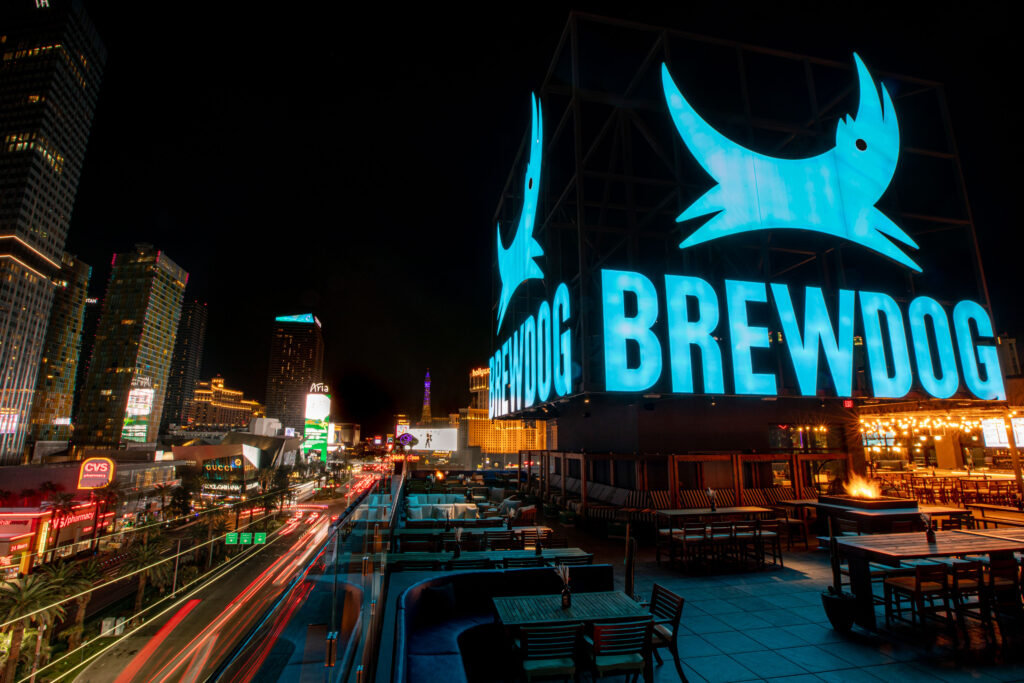 Ghostbar at Palms: Following a nearly 2-year hiatus, Palms has re-opened under new management. Ghostbar, the popular rooftop bar is also back with a vengeance, offering views of the Las Vegas Strip from the resort's 55th floor that are sure to impress.
SkyBar at Waldorf Astoria: An upscale cocktail lounge, SkyBar offers stunning a panorama of the Las Vegas Strip from Waldorf Astoria's 23rd floor.
You can expect to pay around $20 for a cocktail and unique tasting experiences are also offered that feature rare and unique spirits.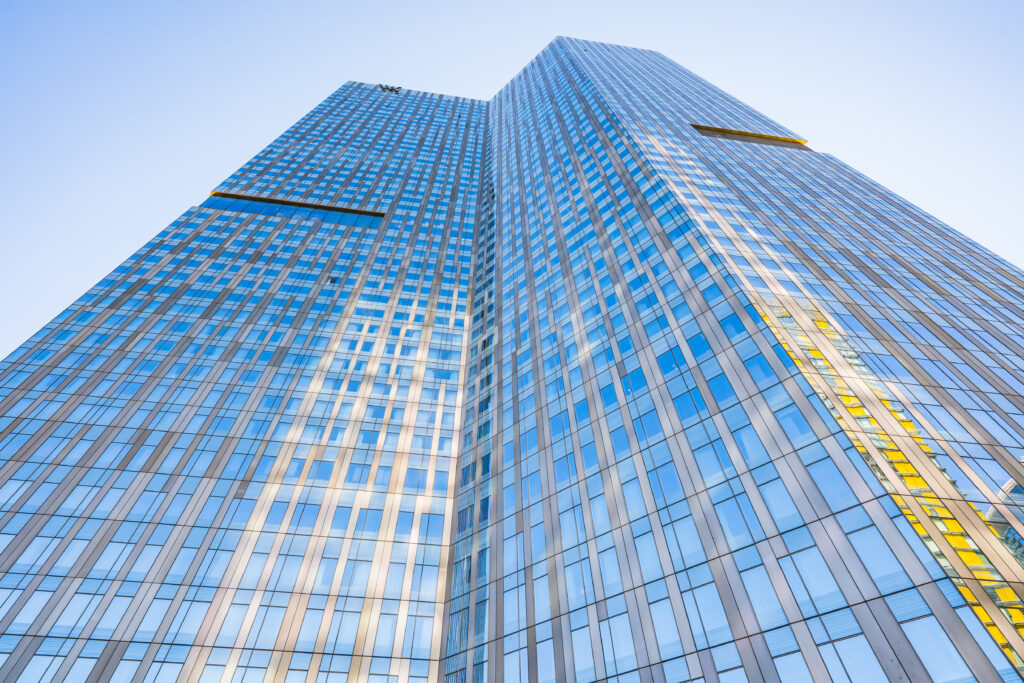 Beer Park at Paris: Located right above the Strip on Paris' rooftop, Beer Park is a great spot to watch the Fountains of Bellagio. Additionally, if you snag a seat on the railing, Beer Park serves as a great spot to people-watch.
One caveat to our love of Beer Park's location and the view is that they charge a "Concession and Franchise Fee" (CNF) which adds 4.7% to your bill… for nothing. Ask them to take the 4.7% charge off, they will likely remove it.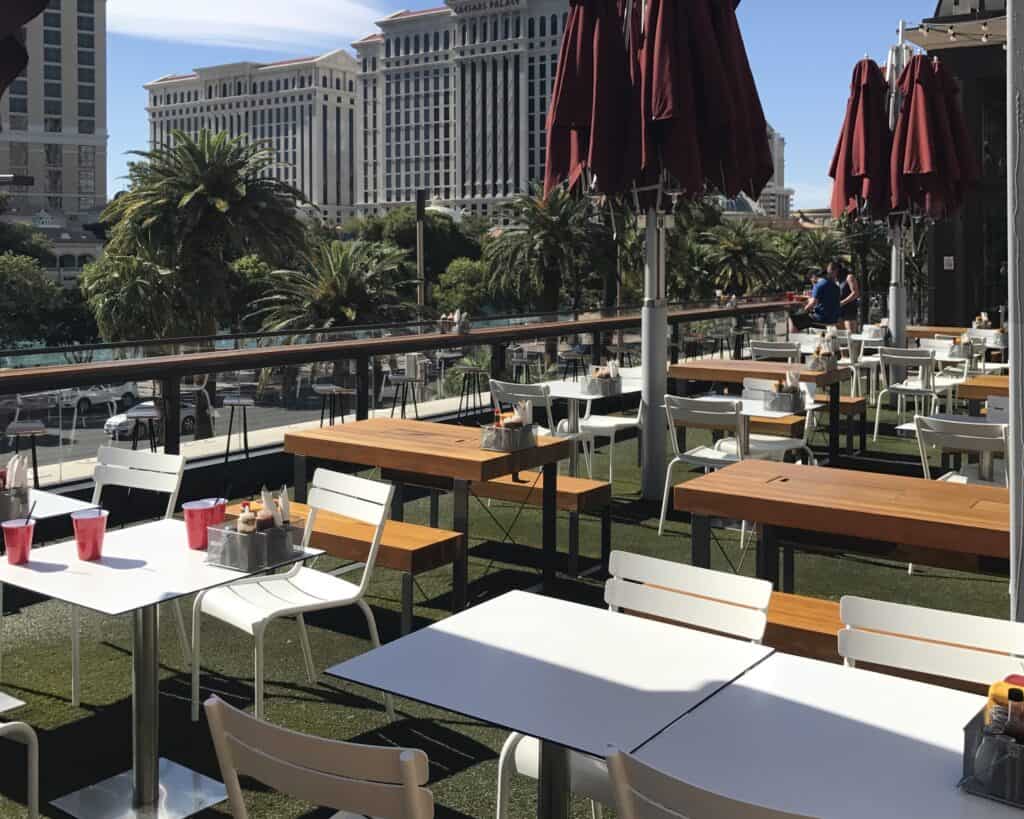 Legacy Club at Circa: Perched atop Circa, the newest resort on Fremont Street, Legacy Club offers awe-inspiring views of the Las Vegas valley. I'd recommend researching when the sun will be setting, snagging a reservation for that time, and enjoying a scenic cocktail before your night out.
Check the dress code at Legacy Club to ensure you're wardrobe is up to snuff as this is a classy spot.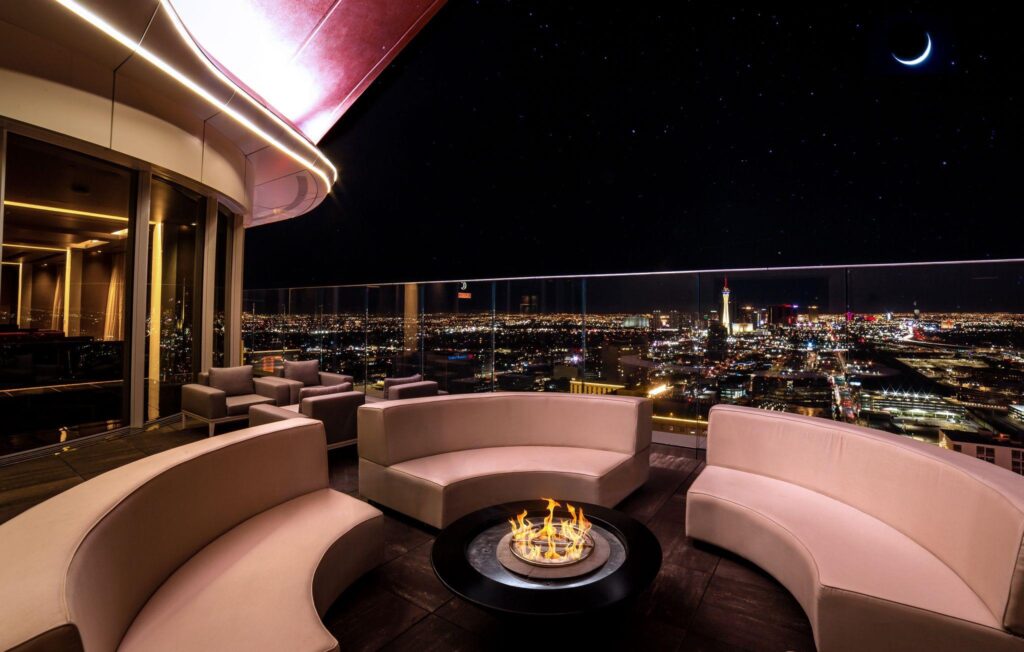 Foundation Room at Mandalay Bay: The views don't get much better than from Mandalay Bay's 63rd floor. As Mandalay is the southernmost resort on the Strip, the entirety of the Las Vegas Strip is visible from this upscale rooftop bar.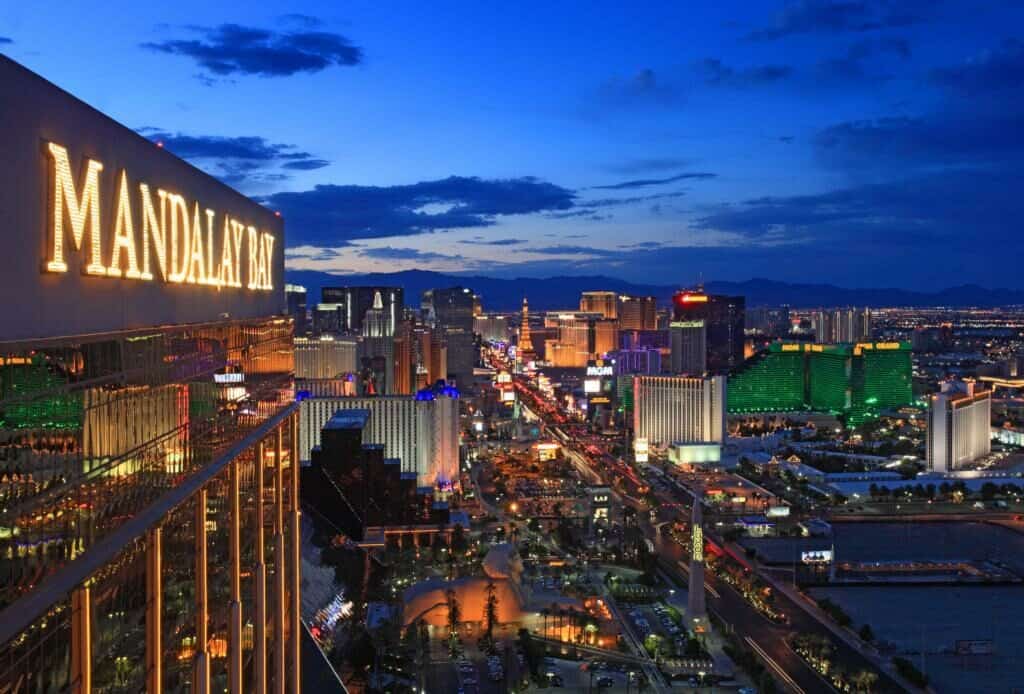 Skyfall Lounge at Delano: Delano's Skyfall Lounge is perched on the 64th floor and like the Foundation Room boasts a stunning view of the entire Strip looking north.
A more upscale experience than some others on the list, nightlife attire is required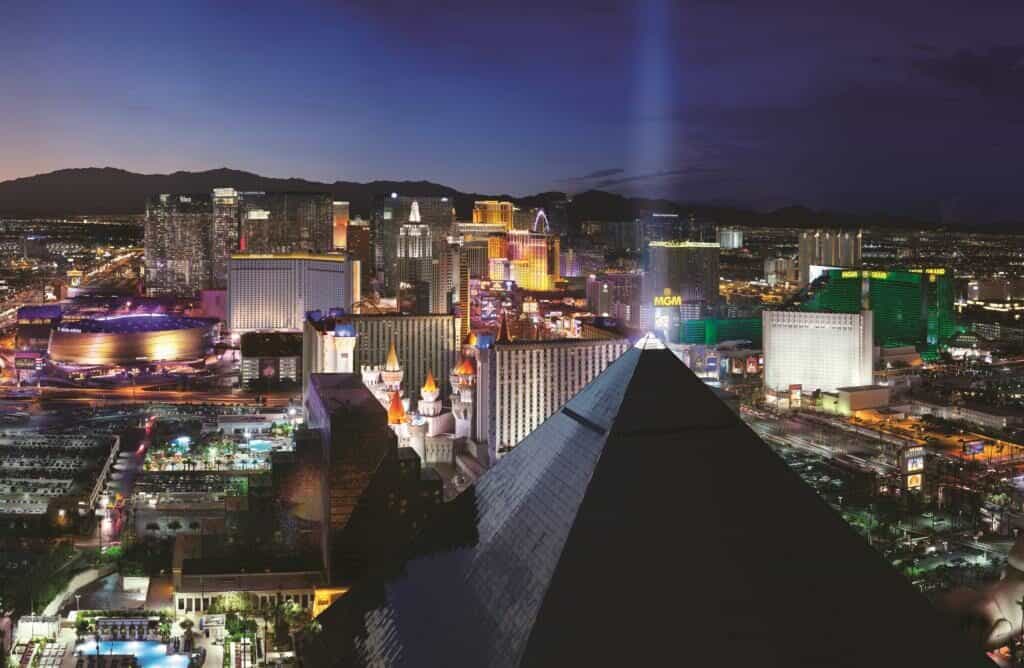 Alle Lounge on 66 at Resorts World: Calling the newest resort on the Strip home, Alle Lounge is on the 66th floor and offers stunning views of the entire Las Vegas Strip to the south. While the average cocktail will set you back $20 – $30, I think you'll agree the view is worth the expense.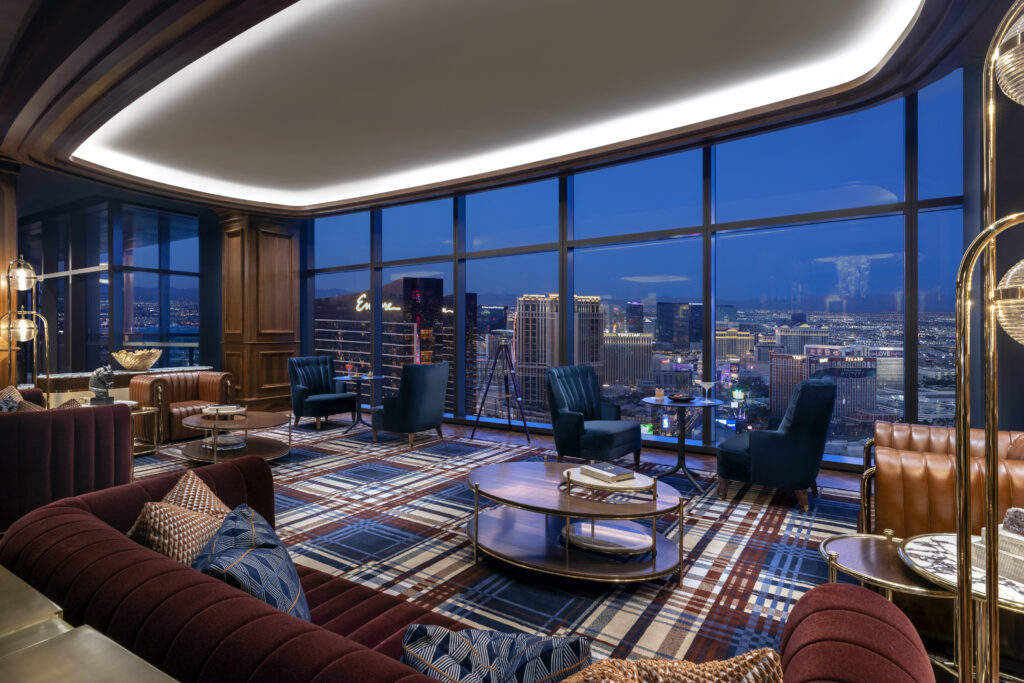 Honorable Mentions
Whiskey Licker Up at Binion's: Although Whiskey Licker Up isn't a rooftop bar, it does offer awesome views of Fremont Street from a circular bar with a (slowly) rotating floor. Post up here after the lights of Fremont Street come on and you won't be disappointed.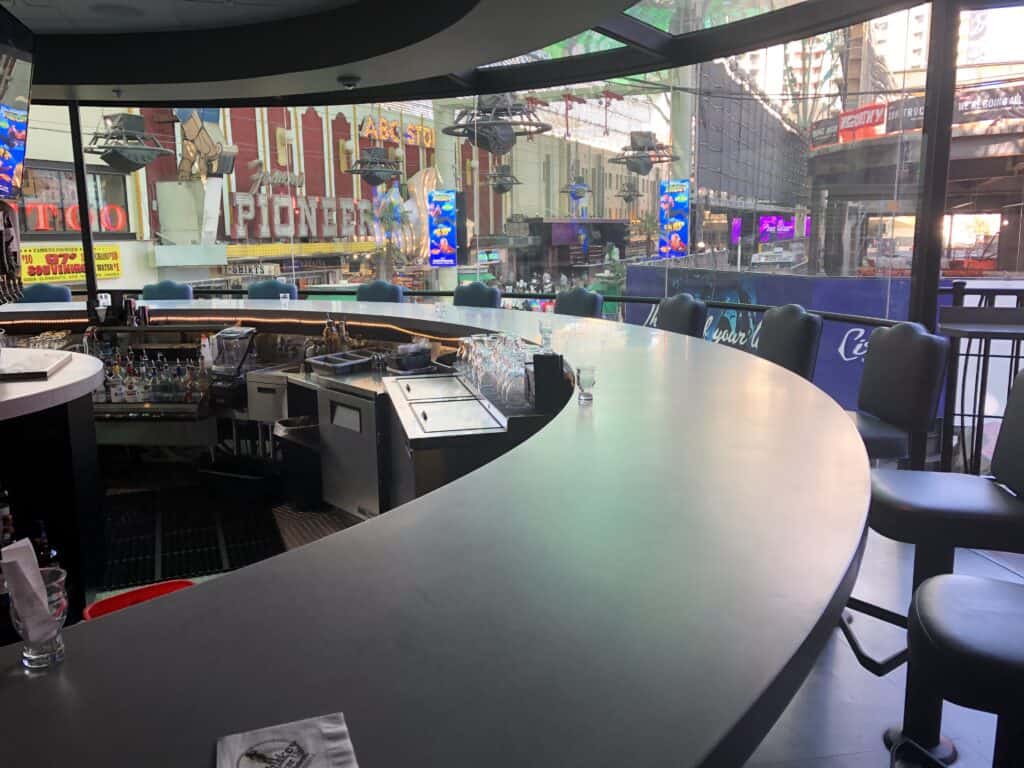 Topgolf: The driving range on steroids is tucked behind MGM grand and actually gives a nice panorama view of the Las Vegas Strip, especially at night.
My advice is to pay up for a 3rd-floor hitting bay and take in the lights of the Strip from afar. While not a traditional bar or cocktail lounge, Topgolf does a nice job of incorporating fun, drinks, and a great view.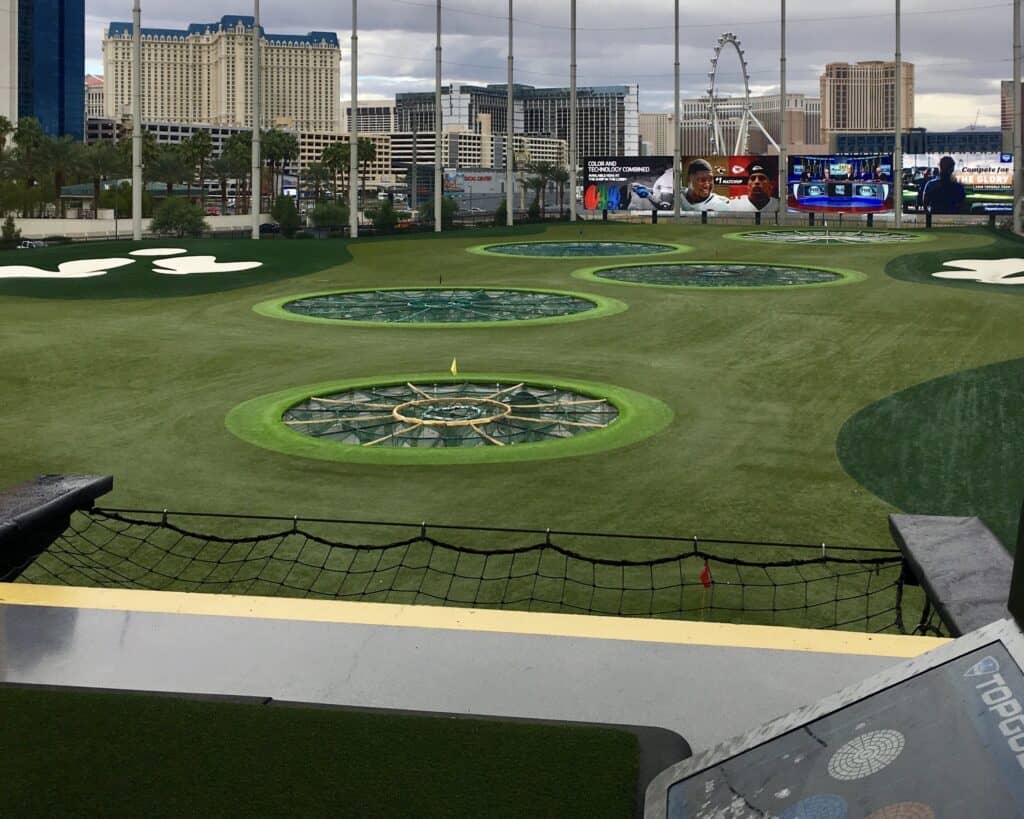 You shouldn't settle for a drink anywhere, instead, choose to opt for a rooftop bar in Las Vegas with a view!
Related: Are cheap drinks more important than a view? If so, check out my breakdown of:
I'm a former software salesman turned Vegas aficionado. While the craps table is my preferred habitat, I pull myself away to explore new attractions, shows, restaurants, and outdoor activities around Las Vegas with the intent of sharing my experiences.
Ultimately, I just want to help folks plan a better trip and save a few bucks in the process.