Zak Bagans, the host of "Ghost Adventures" has accumulated a collection of "oddities" and cursed items at his Haunted Museum, located just off of the beaten path in downtown Las Vegas.
Fittingly, the Haunted Museum calls the 11,000-square-foot Wengert Mansion home, which was built in 1938. The residence is said to be haunted by people that have died there, and there are claims that "dark rituals" were previously performed in the basement.
Inside the home are 30+ themed rooms that contain artifacts from around the world that are said to be haunted or are just downright morbid.
While I'll dive deeper into the Haunted Museum's rooms below, artifacts you'll encounter range from serial killer memorabilia to movie costumes, and objects said to be infected by a demonic presence.
Below, I'll give you an idea of what you'll experience inside Zak Bagans' Haunted Museum, and weigh in on what I liked & didn't like in an effort to inform your decision to visit or not.
While my reviews typically incorporate images, the museum doesn't allow any photography.
I'll do my best to leverage my mediocre writing ability to articulate what you'll find inside the Haunted Museum, based on my experience.
First, some housekeeping on ticketing and costs.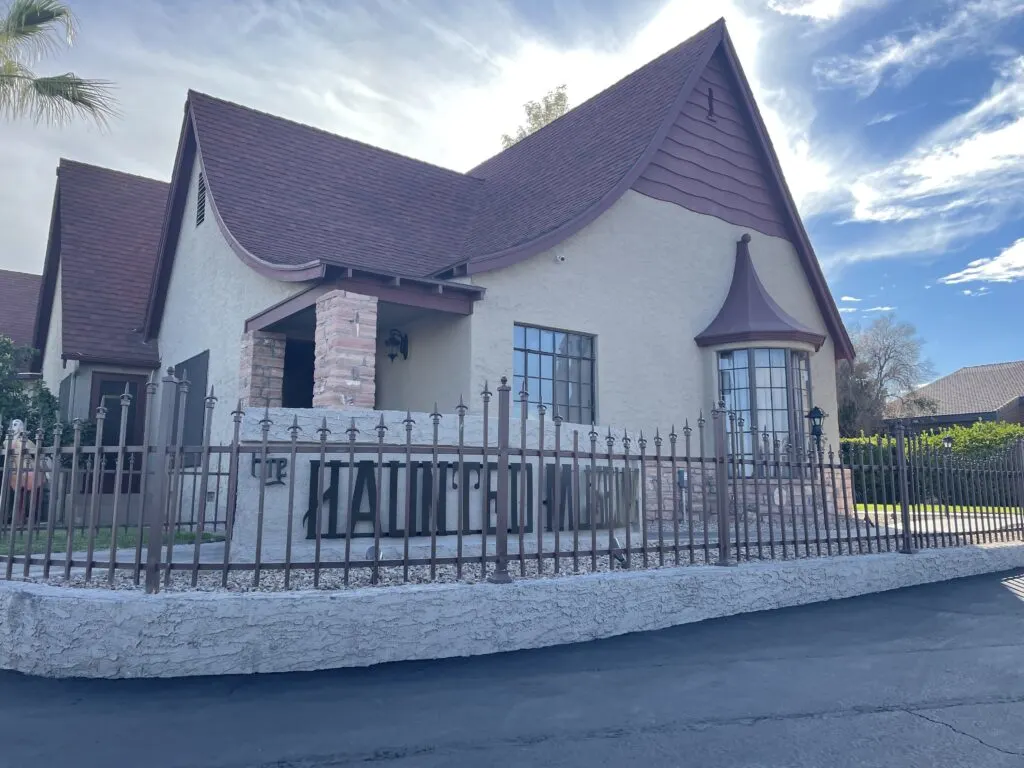 Zak Bagans Haunted Museum Cost & Admission
TIP: Reserve a ticket online in advance. I made the mistake of not doing so, assuming tickets would be available at the door.
Nope. I had to stand in a standby line for a half hour waiting for a cancellation or no-show. I got in, but an advance ticket purchase is recommended.
There's also an age limit to attend. Only individuals aged 14+ are allowed but need an adult with them to enter.
General admission tickets cost $48, and there is an upgraded "RIP All Access" pass that costs $79 (more on that below).
Flashlight tours are also offered for $199.
Current ticket prices and availability can be found directly with the museum box office, here.
Haunted Museum Tour Length
I was surprised to learn that the guided tour takes 2.5 hours to complete.
You certainly get your money's worth from a time perspective.
Haunted Museum Waiver
Interestingly, a waiver is required before entering the Haunted Museum that absolves the Haunted Museum from "Any loss, liability, damage, cost or expense which they may occur as the result of my death or any injury or property damage that I may sustain while participating…".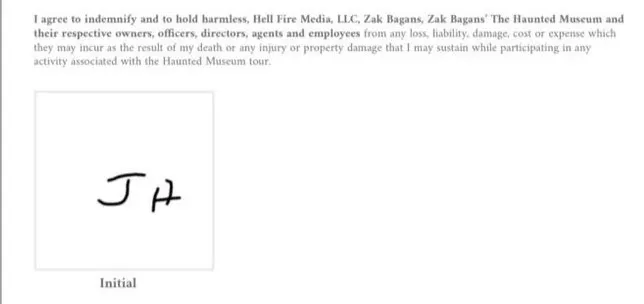 While waiting to enter the museum, there are videos on a loop demonstrating occasions when people had negative reactions inside the house. Those reactions included uncontrollable sobbing, fainting, and health issues that required paramedics.
I'm not sure if those occurrences are random, staged, or trumped up to build excitement, but there were definitely visitors in my tour group that were nervous about what was to come.
One lady, who had already paid for the premium "RIP Experience" even dropped out of the tour group right before entering out of fear. She waited nearly 3 hours for her husband to complete the tour in the car. I'm not kidding.
While I don't necessarily hold strong beliefs about the supernatural, it was clear to me that others do, and adverse reactions are entirely possible.
Zak Bagans Haunted Museum Rooms and Tour
Before departing the ticketing lobby for our tour, our group was instructed to recite the pledge below together, absolving management from any "Actions by these unseen forces".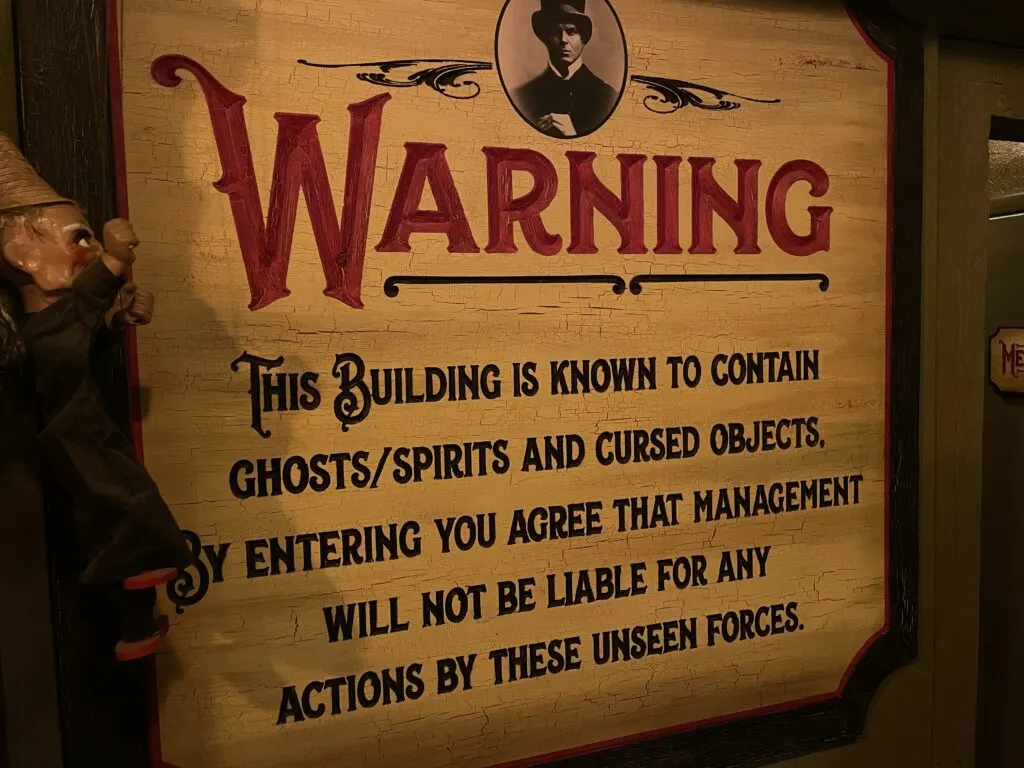 Here are a few shots from the ticketing lobby before we were told to shut our phones off: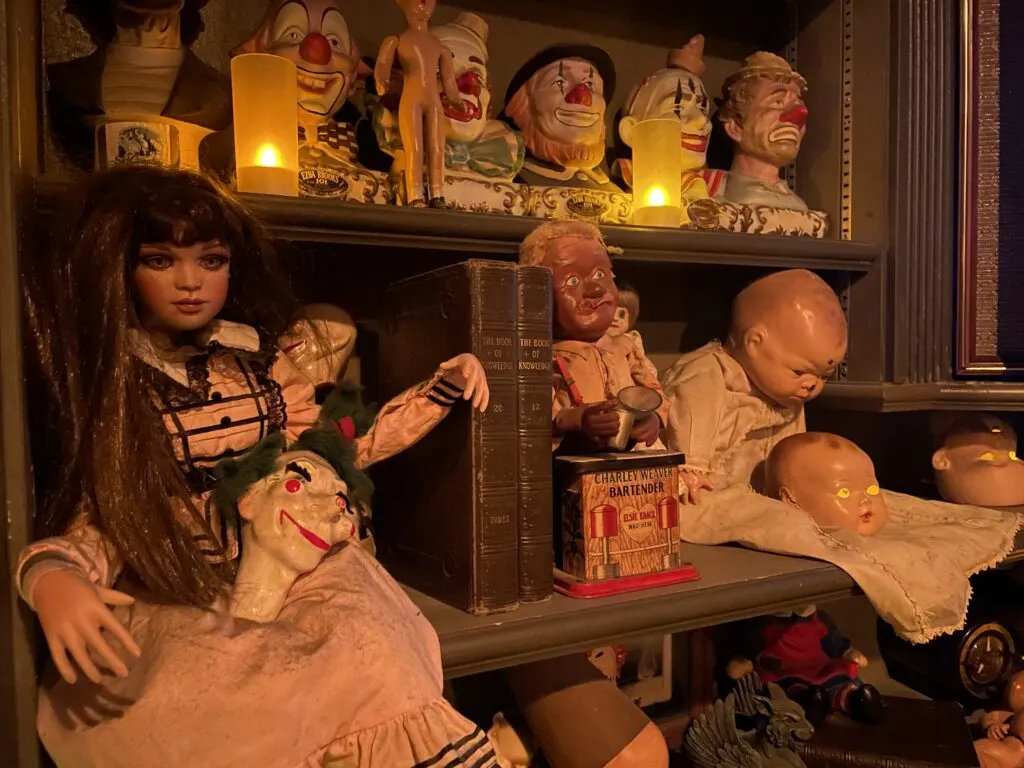 From here, tour guides bring you from room to room in the Haunted Museum, each of which has its own unique theme or subject matter. Inside each room, your guide provides some background on what you're about to see.
A short video of Zak Bagans is also commonly played to provide additional background on each room's contents and how they came to be in the museum.
Here were some notable rooms in the Haunted Museum, and the contents found within them:
Dr. Death: Dr. Jack Kevorkian was a proponent of euthanasia and assisted in approx. 130 assisted deaths. Inside the room are artifacts from his time as a doctor, including the "Death Van", which was the spot numerous people took their last breaths.
Ed Gein's Cauldron: In a room dedicated to serial killer Ed Gein is the cauldron used to cook human body parts. Around the room are other artifacts from Gein's reign of terror including a portrait containing real human skin.
Serial Killer Room: Other serial killer memorabilia is on display in the museum that includes Ted Bundy's murder kit, and even cremated bone fragments from Charles Manson. On the walls are sickening quotes from notable serial killers on why they kill. The room is packed with artifacts with placards explaining their meaning and takes some time to digest.
Peggy the Doll: Among the more anticipated items on display was Peggy the Doll. In the intro video, Zak points out that even seeing images of Peggy on the internet can cause nightmares and health issues. Our guide instructed us to greet Peggy upon entering the room to show respect, and say goodbye when exiting to end our contact. About half of my tour group opted to stay outside the room out of fear.
The Dybbuk Box: Described by Zak as being one of the most haunted items in existence, the Dybbuk Box is housed under a glass seal within the Museum. Before entering the room, a video describes an incident where Zak was compelled to touch the box while hanging out at the museum with rapper Post Malone. Zak was overcome with a feeling of dread, and Post Malone suffered from bad luck and troubling experiences for weeks.
Celebrity Memorabilia: Celebrity memorabilia on display included Truman Capote's outfit he was wearing when he died, images of him snorting a white substance, Robin Williams' costume from the movie "What Dreams May Come", Patrick Swayze's tooth, and the transaxle from James Dean's cursed Porche 550 Spyder.
Demon House Basement: Zak purchased a home in Gary, Indiana where a number of family members had become possessed. After investigating the strange happenings and producing a documentary, Zak had the house destroyed. Before doing so though, he removed stairs leading to the basement and a large amount of dirt that made up the basement floor for his museum in Las Vegas, where the basement was re-created.
Devil's Rocking Chair: Associated with the exorcism of a boy named David Glatzel, an evil figure referred to as "The Beast" has been seen sitting in the chair. Additionally, people who have sat in the chair have experienced severe back pain. At one point, Zak elected to shutter the display because visitors were experiencing spells of uncontrollable crying in its presence. The display has since reopened, and the chair is now encased behind glass.
Dennis Hof's Deathbed: Morbidly, the bed that Dennis Hof passed away in at the Bunny Ranch brothel is on display. The bed was also the scene of Lamar Odom's overdose in 2015. In addition to the bed are two mirrors that hung above the bed at the ranch. The mirrors are notable because a demonic figure is visible in one of the mirrors in a photo that was taken at the ranch, which is also on display.
Circus Act Room: After walking through a number of rooms and hallways with clowns of various sizes and animatronic abilities, you get to a room where a man performs a circus act, sticking a 6-inch drill bit up his nostril. Definitely cool, albeit somewhat disgusting. Not something I thought I would see at a haunted museum.
Of course, there are many more rooms, most of which I found to be interesting.
I think it's important to point out that this isn't a "haunted house" attraction, but rather a museum of artifacts.
While there are 2 or 3 occasions where you may be startled (I'm not going to spoil those surprises :), this isn't an attraction that will leave most people terrified.
Is the RIP Upgrade Worth Buying?
While I personally didn't opt for the RIP package, a member of my group did, so I have an idea as to whether or not the package is worthwhile.
Essentially, the RIP package offers you a few opportunities to explore additional areas of the Haunted Museum that others don't have access to. Notably, there were a few "passageways" that the RIP pass holder was able to explore on their own.
The coolest, most enviable extra privilege offered by the RIP pass was the ability to venture down into the basement, which is not part of the baseline tour.
RIP members also were given a free T-shirt at the end of the tour.
It's not an upgrade I'd opt for, but fans of Zak's shows or folks that are passionate about this subject are likely to enjoy the extra opportunities offered throughout the tour.
I will say that our sole RIP Experience pass holder seemed uncomfortable with the fact that we were all standing there watching and waiting for him to finish exploring something on his own. Be ready to be the center of attention a few times if you upgrade.
What's not to like?
The Pre-Tour Wait is Substantial
The wait to get in is no joke.
When you show up for your reserved time (assuming you pre-purchased tickets), you'll be instructed to line up along the side of the building to wait for your turn to enter. This line was significant, slow-moving, and the staff could only take a new group of 13 people every 15-20 minutes. My group waited 45 minutes for our turn to advance to the pre-tour briefing.
The pre-tour briefing took an additional 20 minutes, most of which was spent standing outdoors in silence waiting for the group before us to exit the ticketing room, so that we could enter.
The ticketing process took another 15 minutes to work through.
All in all, I'd plan for 30 – 60 minutes of standing around before getting underway, depending on how lucky you get.
The wait will be longer if you don't buy tickets in advance.
Exploitation of Agony
There's a room that focuses on the torture victims of The Kansas City Butcher. Inside, are actual images of victims being tortured. The fact that these images of people in extreme pain were being used to make money and for entertainment was unsettling. It just felt wrong.
Rooms are small
Most rooms are very small, and you'll be packed in like sardines. Something to consider if you're not a fan of tight spaces.
The Tour is Long
While you certainly get your money's worth on a 2.5-hour tour, it felt long.
I even noticed a few members of my tour group get a little "yawny" near the end. While I found the museum interesting, I was certainly ready for things to be wrapped up at the end.
While everyone was encouraged to use the restroom before the tour, and there was a water break about halfway through, I could see how some would struggle being on their feet that long.
In fact, it made me question how authentic all their "fainting guest" video clips are.
From my time in the Army, I know how quickly people can pass out from locking their knees while standing in formation. It happens all the time. Grown men and women fainting, from standing.
I assume the dramatic fainting clips have more to do with guests standing, locking their knees, and cutting their blood flow than it has to do with demons, ghosts, and ghouls.
Some Artifacts Seemed Overhyped
Perhaps this is because I'm not a huge "ghosts and spirits" believer, but some haunted artifacts had a "this is an interesting item because we say it is" vibe.
If you're inclined to believe the stories behind haunted items like the Dybbuk Box and Peggy the doll, then you'll get a kick out of seeing them, but certain haunted items may miss the mark with skeptics.
If you're not inclined to believe the stories behind certain items, you're not going to be in amazement at a doll behind glass, or a wooden box under lock and key. You'll be underwhelmed.
With that being said, there are plenty of macabre museum-quality items and artifacts that are unique and worth the price of admission on their own, even if you're not into ghosts and demons.
Specifically, I found the artifacts related to prominent serial killers to be educational, interesting, and creepy as heck.
I think it's important to note that this review is from the perspective of someone (me) that isn't overly enthralled with hauntings and ghosts in general. I'm neither a disbeliever nor a strong believer.
Those that are drawn to that type of subject matter, and fans of Zak Bagans' "Ghost Adventures" will likely be more excited to see the haunted items than I was.
Too Unfocused to be Called a Haunted Museum?
I walked into this museum experience with few expectations. I was in the area and figured I'd check it out. Although being called The Haunted Museum, many of the items on display weren't haunted, but rather were morbid, macabre, unique artifacts from serial killers, evidence from crimes, movie props, etc.
Now, I'm not complaining. The museum pieces that didn't come with a claim of being haunted were what I found to be most interesting, but those looking for a purely spiritual experience may be disappointed.
Are the items creepy? Absolutely. Would I want them stored in my house? Hell no. Just know, it's not all demons and spirits.
The Verdict: Is Zak Bagans' Haunted Museum Worth Visiting?
Even as a person that isn't necessarily in touch with my supernatural side, I found the museum to be interesting, unique, and well put together. While I didn't love every aspect, there was enough meat on the bone that I deem visiting worth my time and money.
The museum-type items associated with serial killers, the Bunny Ranch, human remains, etc. were among the things I found most intriguing, albeit disturbing.
I found the room with real photographs of torture victims to be in poor taste. Call me old-fashioned, but I'm not keen on the idea of profiting off of images of someone in extreme pain. It just seemed disrespectful.
While I personally wasn't as into the haunted items, I thought that the backstories and how they were displayed made them interesting enough. As I mentioned previously, skeptics among us may get a "This item is an attraction because we say it is" vibe.
With that being said, I could tell that other people in my group were not only into it, but legitimately scared of what they were seeing. Some group members even opted out of entering certain haunted item rooms.
The museum itself is expertly presented, and each room has a unique theme and vibe. The house just feels creepy, and there are interesting "oddities" to see on every wall and around every corner.
Ultimately, there's something for all tastes in Zak Bagans' Haunted Museum, and the attraction serves as a differentiated thing to do in Las Vegas for those that want a break from gambling and casinos.
The decision to visit or not really depends on where your interests lie. If you're even remotely interested in the supernatural, true crime artifacts, or have enjoyed Zak's show "Ghost Adventures", then give it a go. I think you'll enjoy your experience.
Skeptics, however, may find themselves rolling their eyes from time to time.
See Also: Gain more itinerary inspiration with both these Weird, and Educational Things To Do in Las Vegas.
I'm a former software salesman turned Vegas aficionado. While the craps table is my preferred habitat, I pull myself away to explore new attractions, shows, restaurants, and outdoor activities around Las Vegas with the intent of sharing my experiences.
Ultimately, I just want to help folks plan a better trip and save a few bucks in the process.