Let me guess. You've seen every article out there detailing "things to do in Vegas" and they left you wanting something more… unique? While I enjoy the "typical" Las Vegas activities, there is something to be said about branching out and finding something straight-up weird to do.
Fortunately, Las Vegas has some really unique, out-of-the-ordinary activities that you should consider taking advantage of.
Below, I'll cover some weird things to do in Vegas that will help you branch out from the ordinary.
Related: High Roller Happy Half Hour – Are unlimited drinks worth the upgrade?
Weird Things To Do in Las Vegas
Erotic Heritage Museum: Ranking as one of the weirdest things to check out in Vegas, the Erotic Heritage Museum showcases 24,000 square feet of exhibits that explore the artistic expression of love from around the world.
From unique sculptures to depictions of the human body and pleasurable activities, there may not be a more unique way to set the mood in Vegas.
Jump off a Building: STRAT provides thrill seekers the opportunity to leap from the 108th floor of their SkyPod tower. Jumpers reach speeds of 40 mph during the 829-foot controlled free fall.
A popular attraction, I'd recommend booking a ticket in advance. Price out your leap directly with STRAT, here, or with Vegas.com which is commonly a few bucks cheaper.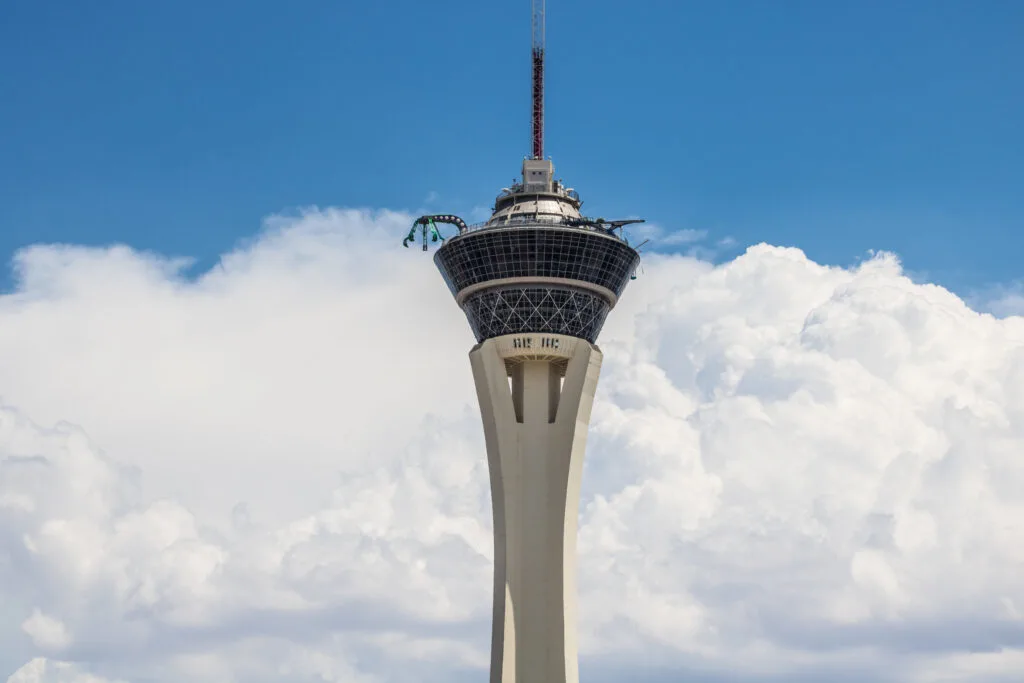 Throw Axes and Break Stuff: Stop by Axehole in downtown Las Vegas and you'll have the opportunity to throw deadly items like axes, ninja stars, and spears at wooden targets.
Better yet, you can drink beer while doing it. What could go wrong? Additionally, Axehole gives guests the opportunity to de-stress in their "Smash Room" where you'll be able to destroy fragile, and other electronics items. The perfect way to recover from gambling losses.
Get Hypnotized: Kevin Lepine's show at Binion's allows guests to volunteer to be hypnotized, resulting in some serious gut-busting laughter. Because of the audience participation element, the show is always fresh and has earned a 4.5/5 star rating on TripAdvisor after 780+ reviews.
Getting hypnotized, or watching someone else make a fool out of themselves while in a trance, is among our favorite "weird things to do in Vegas".
Tickets can be purchased in advance here, at Vegas.com where you can typically save a few bucks.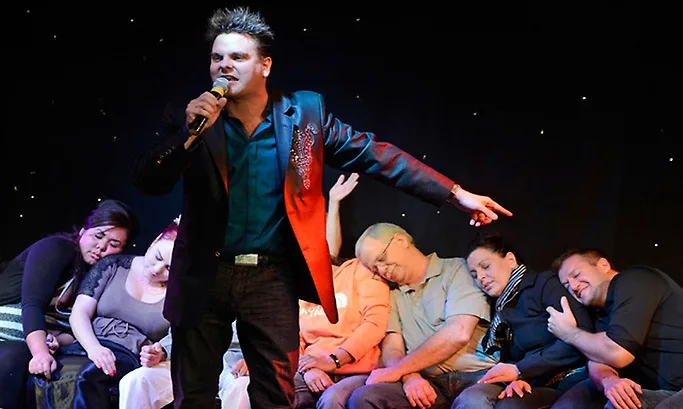 See Dead Bodies: Go to Sin City and…. see dead bodies? It doesn't get crazier than that!
You can check out 13 whole-body specimens and over 260 partial specimens preserved to educate on the inner workings of the human body at Luxor's "Bodies The Exhibition".
Tickets to Bodies can be purchased here.
I recently swung by – See my Luxor Bodies Exhibit Review!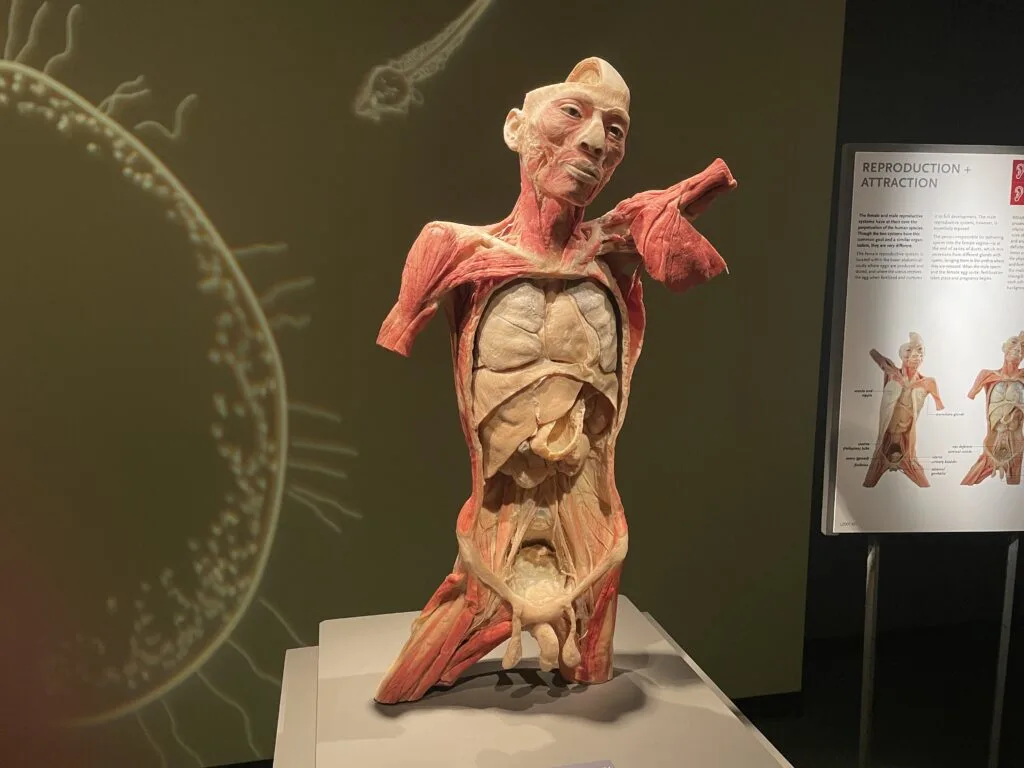 Area15: Free to enter, Area15 is a short Uber ride from the Strip, and certainly qualifies as an "out of the ordinary" thing to do in Vegas.
Immediately upon entry, guests are greeted by an enormous skull brought to life with projection technology.
The entire venue can be described as "trippy" and would be a haven for those that partake in psychedelic narcotics. While I'm not a narcotics person per se, I thoroughly enjoyed the visual sensations.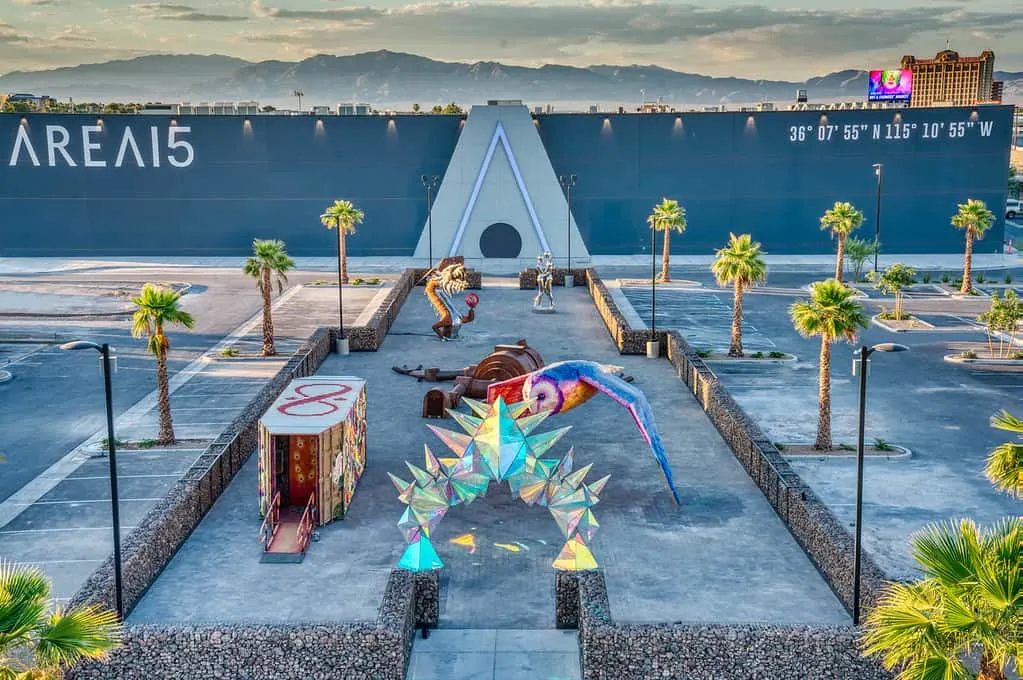 I suggest grabbing a drink at Oddwood, a bar beneath a tree with illuminated leaves choreographed to the ambient music. Numerous other add-on activities are available which include thrill rides, and shows that are sure to stimulate your senses.
Related: Learn more about Area15 in Las Vegas.
Omega Mart at Area15: On the topic of Area15, I'd be remiss if I didn't dedicate a separate bullet point to Omega Mart by Meow Wolf.
While the attraction appears to be a simple supermarket, there is more than meets the eye. Specifically, there are a number of "portals" that transport visitors to another world complete with giant slides, stunning art, visual effects, and even a mystery to be solved.
While not a huge "art person" myself, I spent hours at Omega Mart and deem it worthy of a visit.
Related: Review of Omega Mart with plenty of pictures!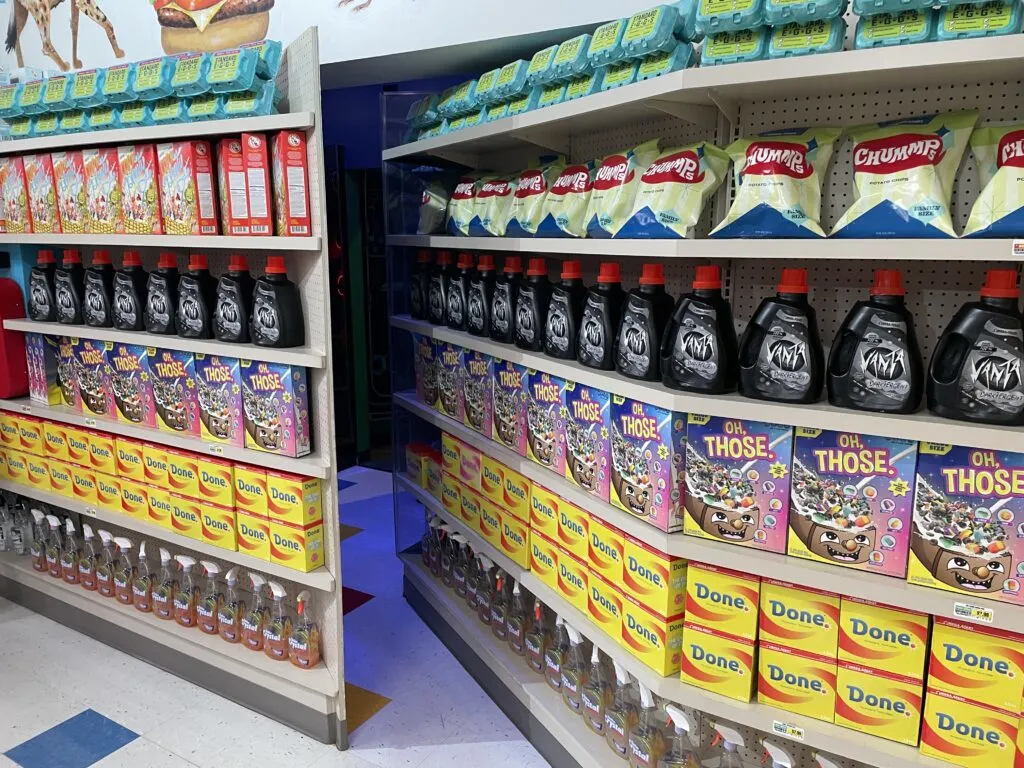 Pole Dancing Classes: Earn a "Vegas Stripper License" by participating in the Stripper 101 course at Planet Hollywood, where you and your crew will learn the ins and outs of pole dancing and stripteasing.
Don't stress, the equipment is sanitized after each group.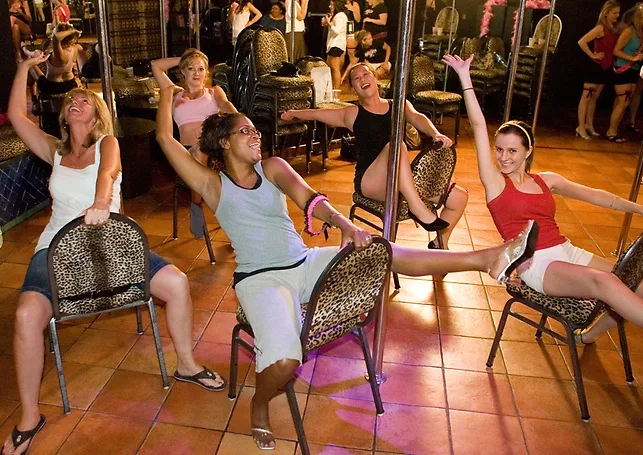 Blackout Dining in the Dark: While enjoying a multi-course meal in Vegas isn't exactly weird, or unique, eating it in complete darkness is. While the wait staff has the luxury of night vision goggles, guests will enjoy 7 courses surrounded by sheer blackness.
The idea behind dining in the dark is that inhibiting the sense of sight enhances the other senses, creating an elevated dining experience.
In my opinion, dining in complete darkness could be one of the more unique group activities in Las Vegas that's sure to be discussed for years to come.
Zak Bagans' Haunted Museum: Nothing weirder than coming to Vegas to gamble and rabble rouse, only to end up checking out haunted and macabre artifacts at a Haunted Museum.
The Haunted Museum itself was constructed in 1938 and is said to be haunted by past occupants that died on-site as well as spirits attached to the artifacts on display. Among artifacts on display are bone fragments from Charles Manson, and Dr. Jack Kavorkian's "Death Van".
I recently stopped in and wrote a Review of Zak Bagans' Haunted Museum.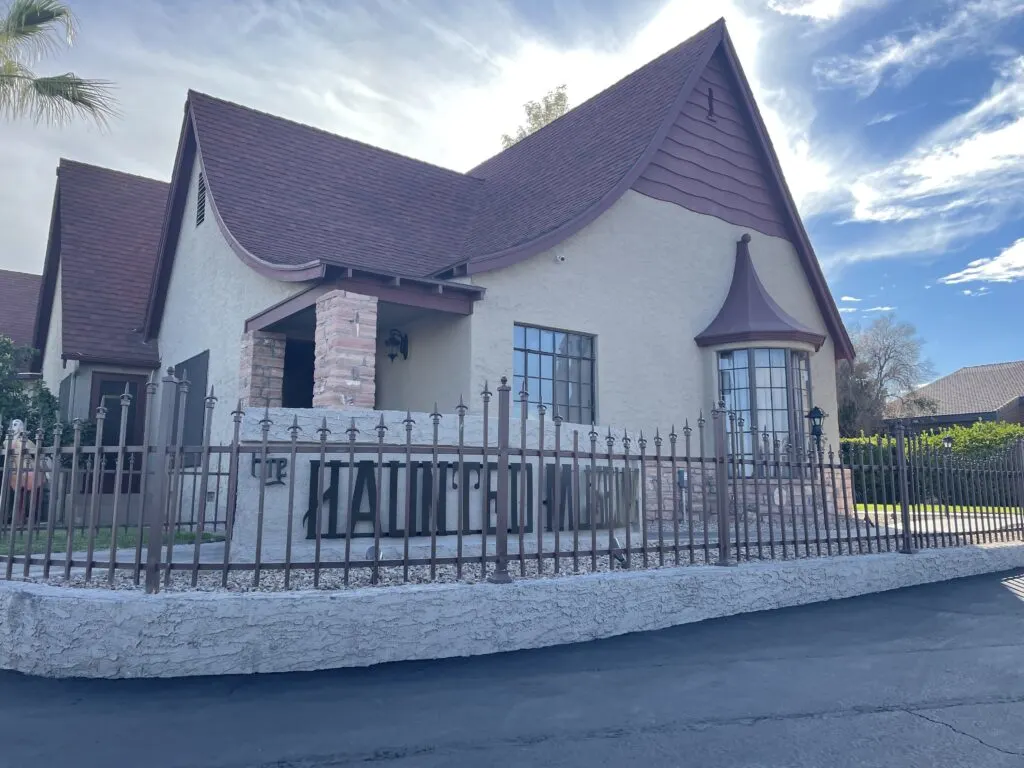 See a Ballgame: An activity that few consider as a possibility, going out to the ballgame certainly qualifies as an "out of the ordinary thing to do in Vegas". Check out the new Las Vegas Ballpark, home of the Las Vegas Aviators, a AAA affiliate of the Oakland A's.
Ranked among the best minor league ballparks in the country, the stadium itself is almost a bigger reason to go than the on-field product. Enjoy the game from the Desert Ford Oasis Pool located just over the centerfield fence, and conveniently located next to a bar.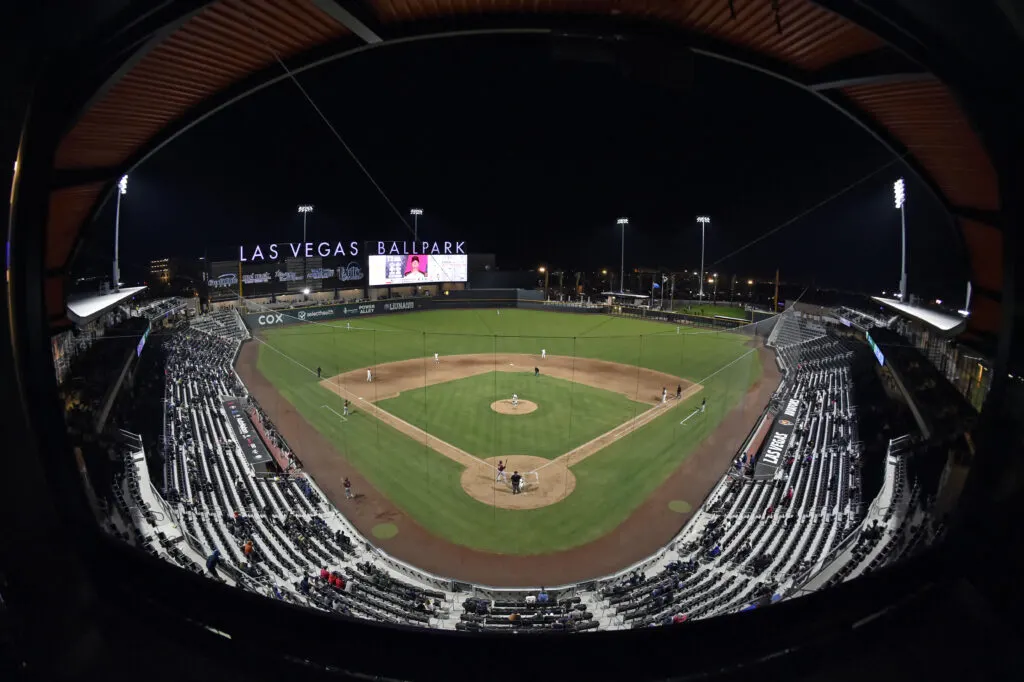 Operate Heavy Machinery: Dig This, located off the Strip, allows you to operate bulldozers and excavators typically found on a construction site. This out-of-the-ordinary thing to do in Vegas will have you stacking tires, rolling boulders, and digging trenches. Dig This packages start in the $20 range.
Hot Air Balloon Rides: Las Vegas and hot air balloons are rarely used in the same sentence, however, it turns out that several operators near Las Vegas offer the breathtaking experience. Ballon baskets hold up to 16 people and travel to an altitude of nearly 10,000 feet providing stunning views throughout the 45-minute ride.
Check out Vegas Balloon Rides' website for more information!
Take a Simulated Flight: FlyOver Las Vegas can be found in the Showcase Mall next to MGM Grand and offers guests the ability to fly over Iceland, the Canadian Rockies, or the western United States.
Riders are suspended over and in front of a massive spherical screen, and the row of seats moves with the action taking place on the screen which surrounds you. All of your senses are stimulated by unique aromas, mist, and even wind, making this a pretty realistic feeling "flight".
I recently visited FlyOver Las Vegas and can confirm, it's one of the more unique things to do on the Strip.
While a single ride costs $36 on their website, you can usually save a few bucks by booking on Vegas.com, here.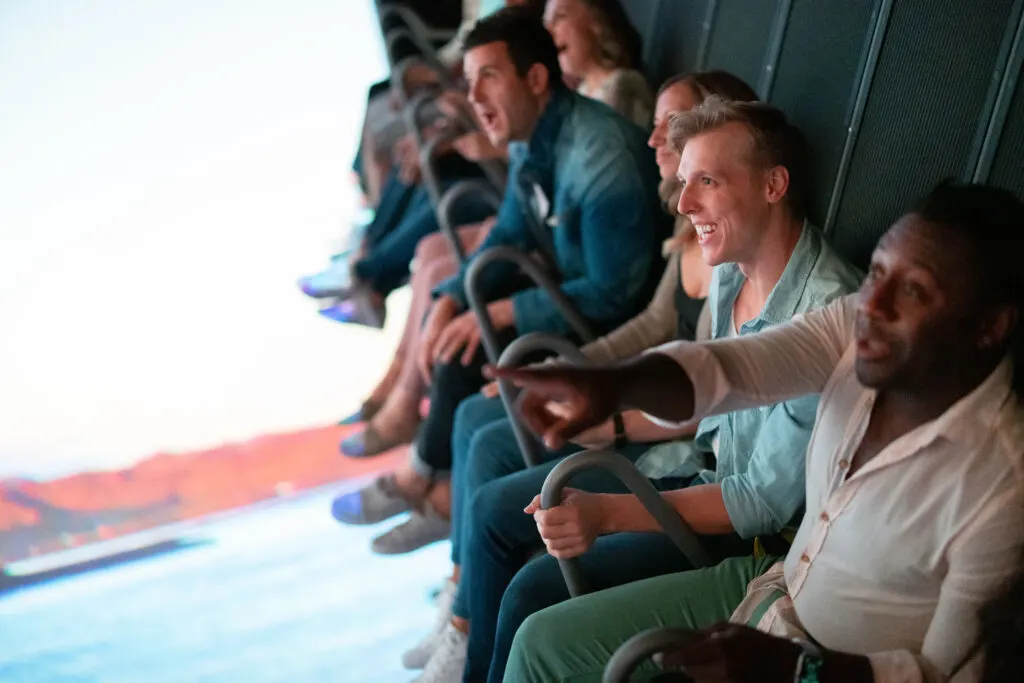 Ghost Tours: Vegas has a rich history of violence and tragedy dating back to the days the mob ran the town. Those tragedies are said to have perpetuated hauntings at a number of properties on the Strip. Vegas Ghosts operates walking tours that take guests to haunted sites while also sharing stories of tragic events and the resulting hauntings.
See a Ghost Town: On the topic of spirits, there are numerous ghost towns surrounding Las Vegas that are within an hour drive. If you feel the need to escape the constant dinging of casinos on the Strip, put some of these abandoned towns on the top of your list of out-of-the-ordinary things to do in Vegas!
I recently visited the St. Thomas Ghost Town from Las Vegas, and would highly recommend it to anyone who enjoys the outdoors and history.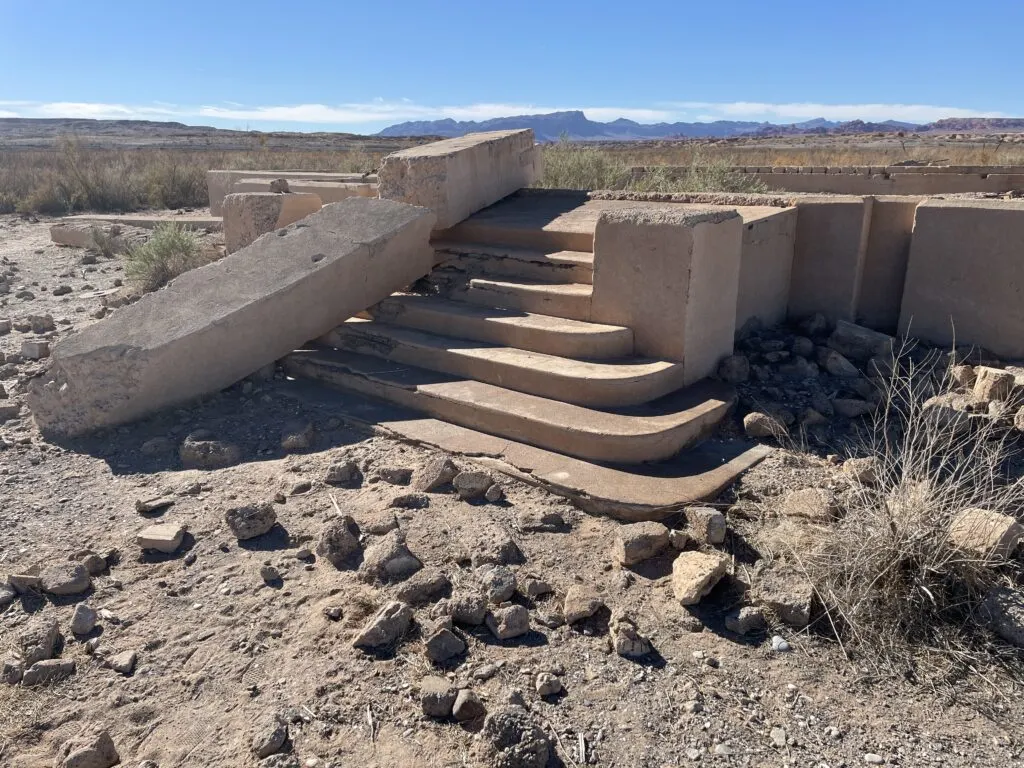 Hopefully, my ideas for "crazy things to do in Vegas" was able to point you in the direction of an out-of-the-ordinary activity option that fits your needs!
Of course, if you need some conventional activities to fill your calendar, you are welcome to check out my ideal 3-day Las Vegas itinerary.
Related: 95+ completely free things to do, see, and experience in Vegas!
I'm a former software salesman turned Vegas aficionado. While the craps table is my preferred habitat, I pull myself away to explore new attractions, shows, restaurants, and outdoor activities around Las Vegas with the intent of sharing my experiences.
Ultimately, I just want to help folks plan a better trip and save a few bucks in the process.