Speakeasies are popping up all over Las Vegas, and with a handful of options, Cosmopolitan easily takes the title of being the "speakeasy capital" of the Strip.
While Ghost Donkey and The Barbershop have been open for some time, Cosmopolitan recently added a new speakeasy to their lineup – The Ski Lodge.
Uniquely, The Ski Lodge is connected to the restaurant Superfrico, which specializes in "Italian American Psychedelic" fare, and is a product of the folks at Spiegelworld who are also responsible for the hit shows "Absinthe" and "OPM".
If you know anything about those two shows or Spiegelworld in general, you know that we're going to be in for a good time.
I thought it would be fun to point out how to find The Ski Lodge, detail how to get in, and share my recent experience.
How to Find The Ski Lodge at Cosmopolitan
Once you're on the casino floor, work your way toward the hotel lobby & lobby bar.
When you arrive there, you'll see an escalator that you'll take up to the second floor of Cosmopolitan's Chelsea Tower.
On the second floor, walk down the hallway that leads toward the Wicked Spoon Buffet, OPM Theater, and Superfrico – You'll see a pair of large purple doors at the end of the hall.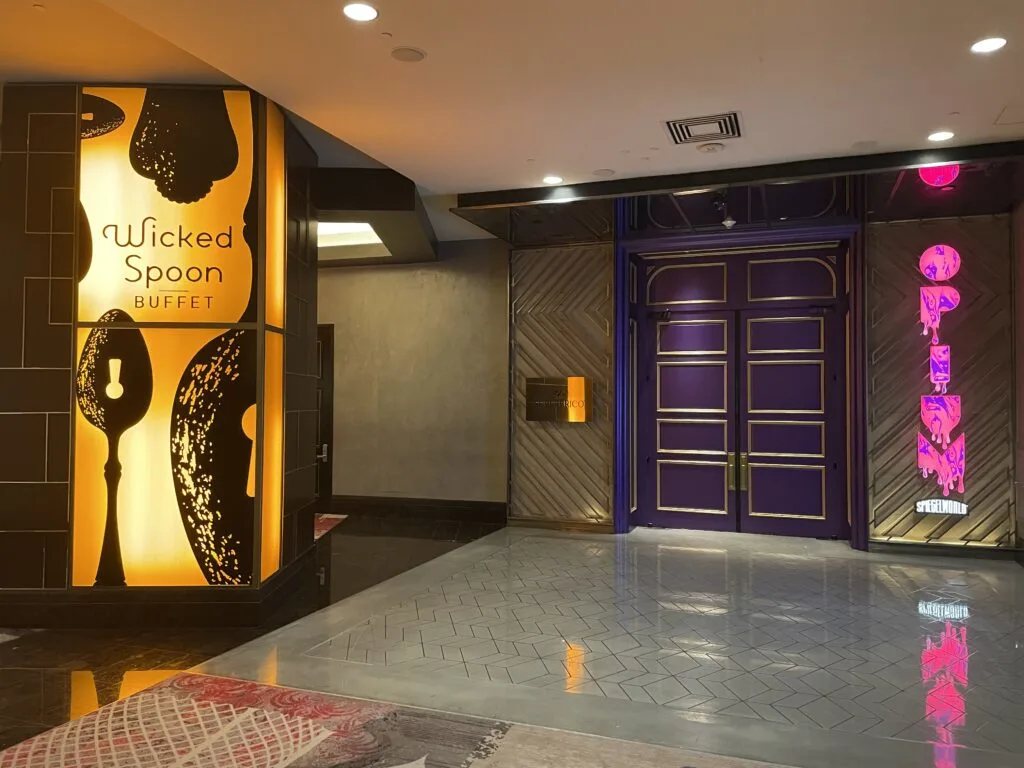 When you reach the end of the hall, locate the nondescript door with the skier pictured below on it. It's to the left of the purple doors.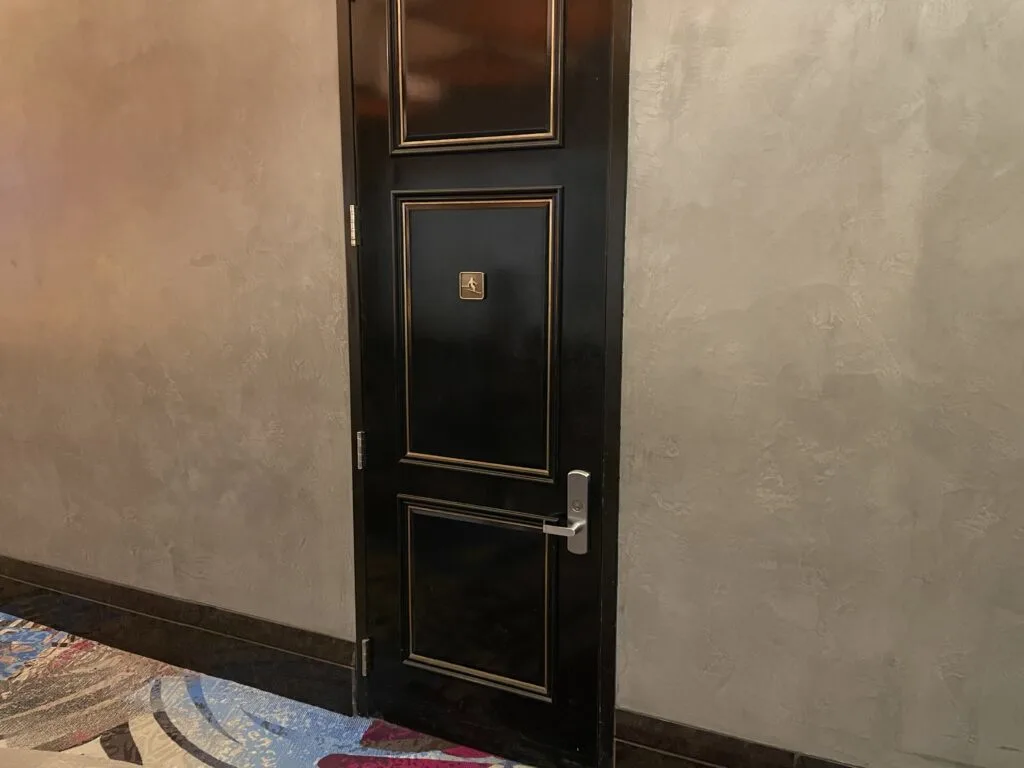 How to Get Into The Ski Lodge at Cosmopolitan
Once you identify the Ski Lodge's door, you can simply open it up and walk right in. There's no password, secret dance, or protocol you need to adhere to.
It's important to note that reservations are not accepted – Just show up and grab a seat.
A Look Inside The Ski Lodge
As is the case with most speakeasies in Las Vegas, walking through the door immediately transports you to an entirely different place.
As the name would suggest, The Ski Lodge is made to feel like… a ski lodge…
What immediately catches your eye upon entering is the LED screens behind the bar, intended to mimic windows overlooking a snowy landscape.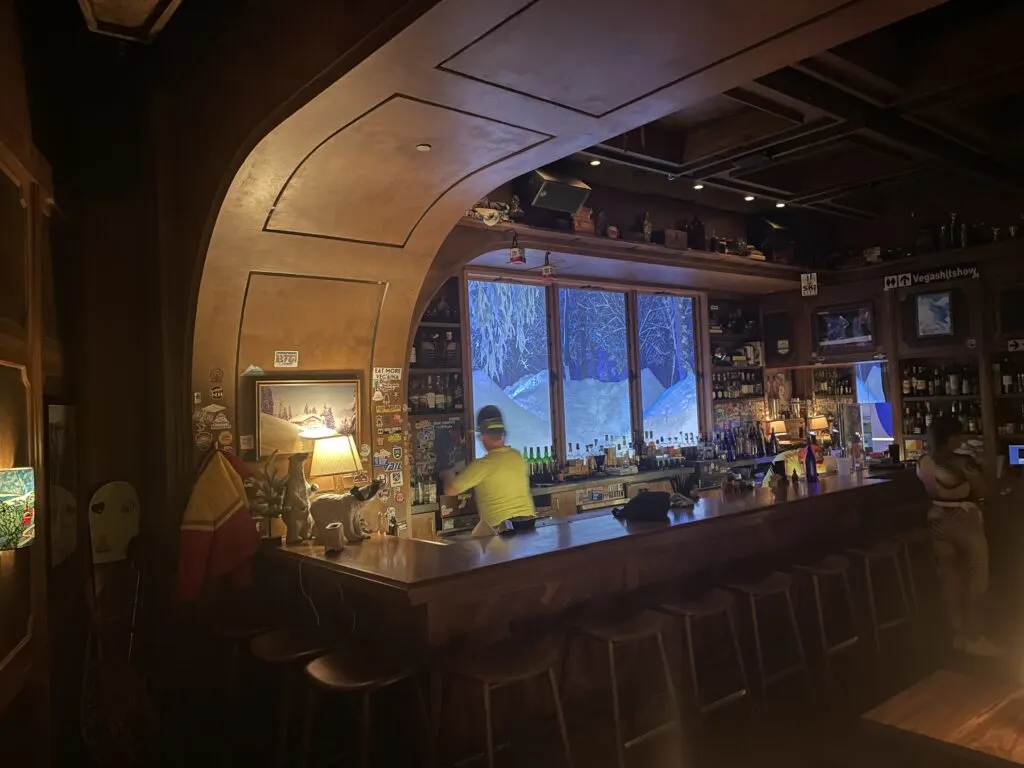 Behind the bar, the bartenders are dressed as if they work at a ski resort. My bartender, Jason, was rocking a neon green shirt and even an unbuckled ski helmet.
The room is small, with seating available for about 20-30 people.
The decor around the room is exactly what you'd expect to find at an unpretentious bar at a skiing resort.
There's a fireplace that's flanked by books and board games, stickers on the wall, a polar bear wearing ski goggles, and odd knick-knacks scattered about.
Here's a look around: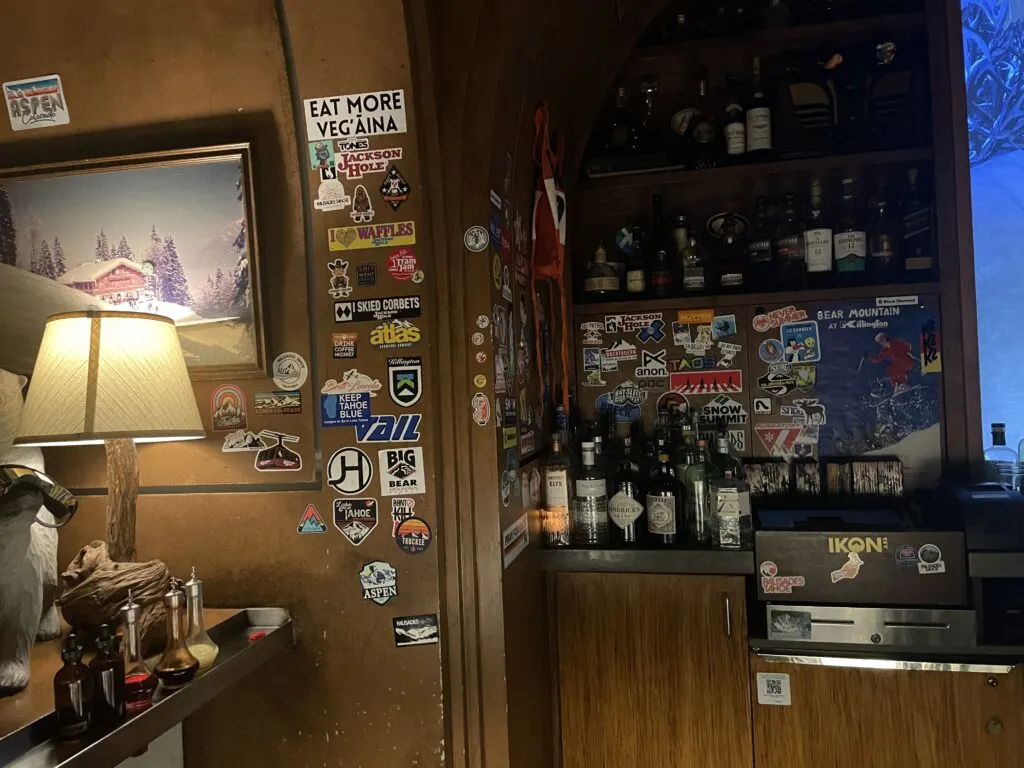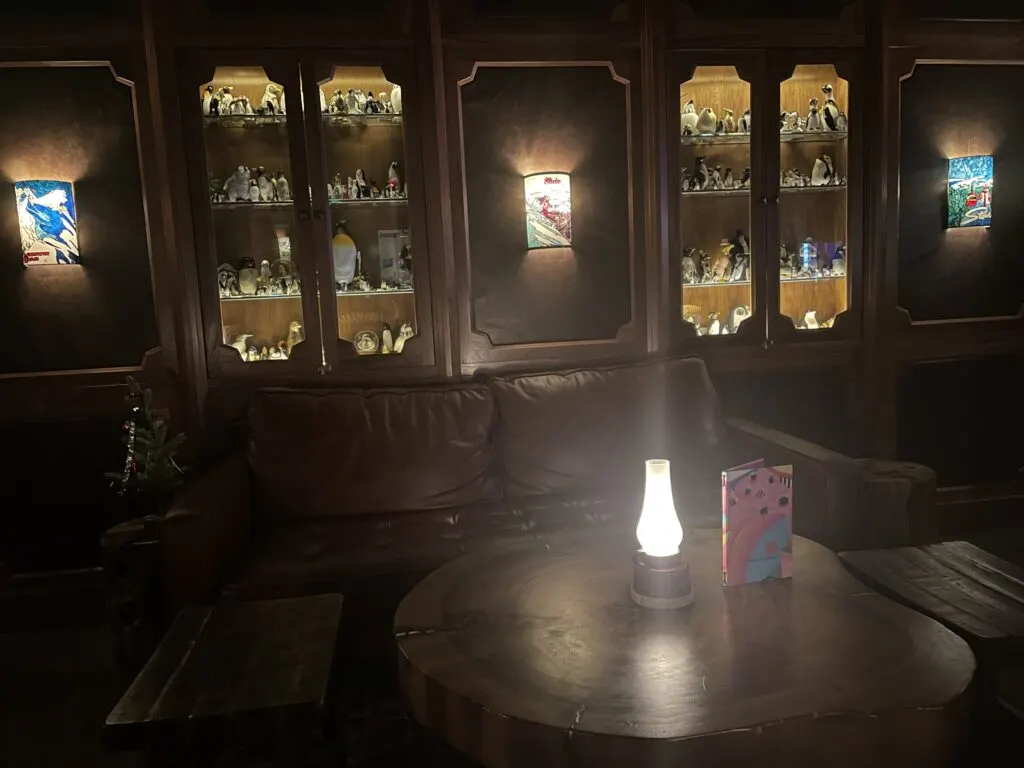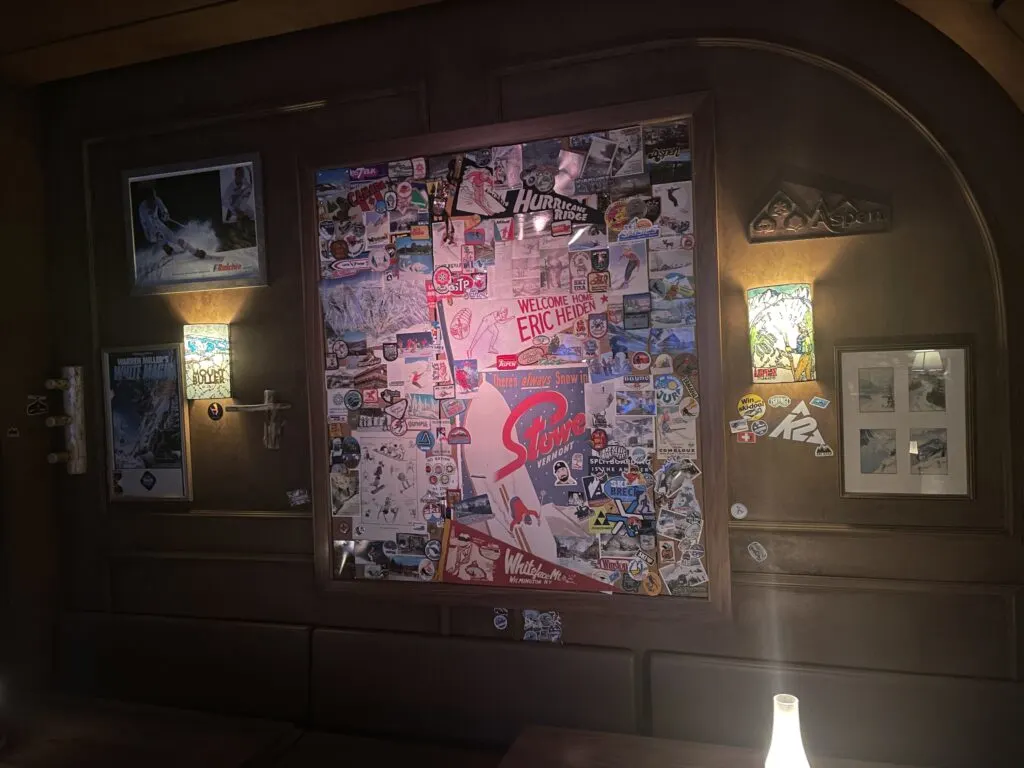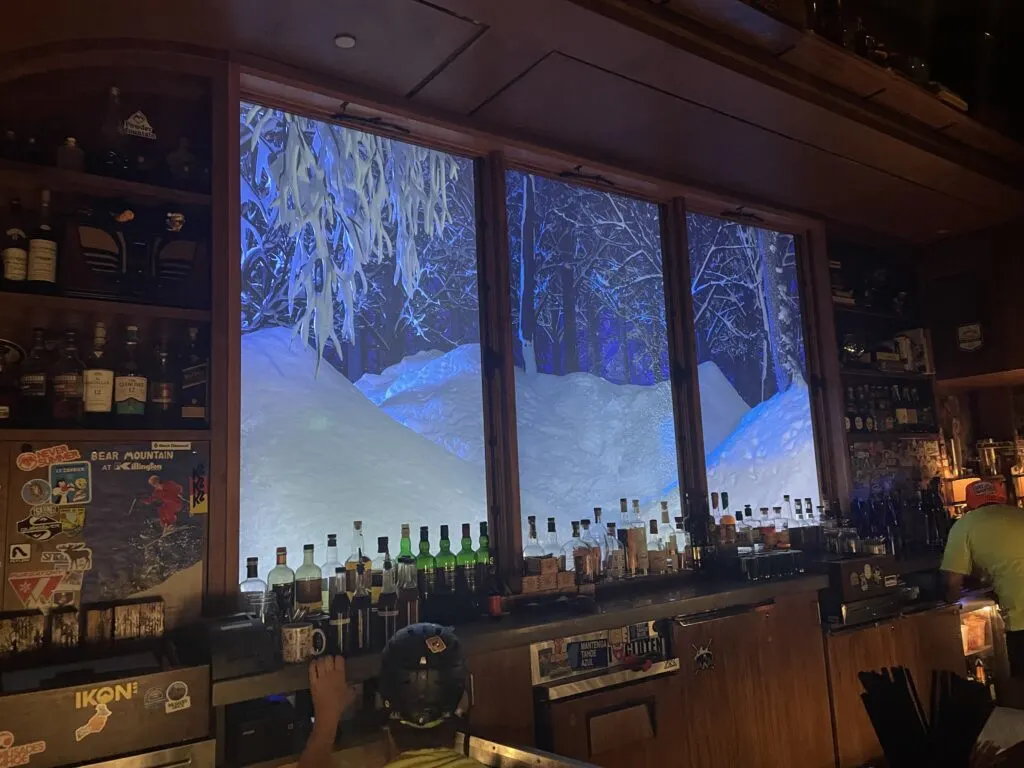 The Ski Lodge Experience
Jason, my bartender, was fantastic. I showed up right when they opened at 5 pm, walked in, and was greeted with a boisterous "Are you ready to F*ck sh*t up?!".
Obviously, the answer was yes.
I ordered up an old-fashioned, which was spectacular, and enjoyed it over conversation with Jason, who seemed genuinely interested in ensuring I was having a good time. The dude was wild.
I tabbed out after one drink, and it was $20 pre-tip which is certainly more than I typically pay for a cocktail, but on par for what you'd expect to pay at a speakeasy.
The experience was well worth the cost in my opinion and The Ski Lodge would make a great destination for a pre-dinner cocktail, or date night in Vegas.
Hopefully, my guide detailing how to find The Ski Lodge at Cosmopolitan was helpful! I was impressed with the experience, cocktail, and service.
The surroundings and decor hit the mark, and the speakeasy does a marvelous job of immediately "transporting" you to a different place as you walk through the door.
I know that speakeasies in Vegas are now numerous and a little cliche at this point, but there's still something cool about waltzing into a bar that most casual visitors are oblivious to.
See Also: Find other Vegas speakeasies:
I'm a former software salesman turned Vegas aficionado. While the craps table is my preferred habitat, I pull myself away to explore new attractions, shows, restaurants, and outdoor activities around Las Vegas with the intent of sharing my experiences.
Ultimately, I just want to help folks plan a better trip and save a few bucks in the process.