Key Points:
The Las Vegas version of Topgolf is a flagship location with unique amenities that make it worth visiting, even if you're not a golfer.
Uniquely, there's a 2-level swimming pool that's free for adults 21+ to use.
Topgolf also boasts bartop gaming, yard games, and screens everywhere to catch the game.
After a morning craps session at MGM Grand that emptied my wallet all too quickly, I had time to kill and nothing planned.
I stepped away from the table, peeked around, and saw signage for Topgolf. As an avid, albeit terrible golfer myself, I figured it would be the perfect little diversion to forget my misfortune.
Of course, I also thought it'd be helpful to share the experience with you as Topgolf Las Vegas isn't your run-of-the-mill driving range… For that matter, it isn't even your run-of-the-mill Topgolf.
My Experience at Topgolf Las Vegas
For those unfamiliar with the concept, Topgolf has targets built into the range that allow groups of golfers and novices alike to play games that are social and competitive in nature.
Balls are tracked via a microchip and you can choose between 9 different game options.
The most common game option is "Topgolf" where players rack up points by hitting targets on the range that carry a different point value based on size and distance.
Whether you golf much or not, pairing this game with a few beers, food, and good company is an absolute blast.
At Topgolf, it's so much less about the golf and much more about the conversation, cocktails, food, and socializing.
While Topgolf could be an ideal spot to straighten out your driver, I also think it's worthy of consideration for a double date, work outing, bachelor party, or bachelorette party.
The venue will always have the big game (or games) showing on one of their 500 total screens.
The Yard area (pictured below) offers sports wagering, cornhole, and seating in front of a massive set of screens.
Topgolf even hosts watch parties for popular events like the Super Bowl and March Madness.
Topgolf Las Vegas Pricing
Hourly pricing for golf varies by time of day and what floor of the driving range you want to launch balls from.
Bay rates (up to 6 people) range from $50 to $80 per hour on floors 1 and 2, and from $65 to $95 per hour on the 3rd and 4th floors.
Weekdays and early time slots are less expensive than the more busy nights and weekends.
First-time visitors will be charged a $5 registration fee.
A great deal, Las Vegas locals can also hit unlimited balls on weekdays from open – noon for $20.
If you don't make a reservation and show up at a peak time, you'll most likely wait 30-60 minutes for a hitting bay to open up. Grab a beer and relax.
If, however, obtaining a bay quickly is a priority, a $50 reservation fee will move you to the top of the list. This is a fee in addition to the hourly bay rate.
Each golf bay is climate-controlled and has servers stopping by with the intent of connecting you with your preferred food and drink.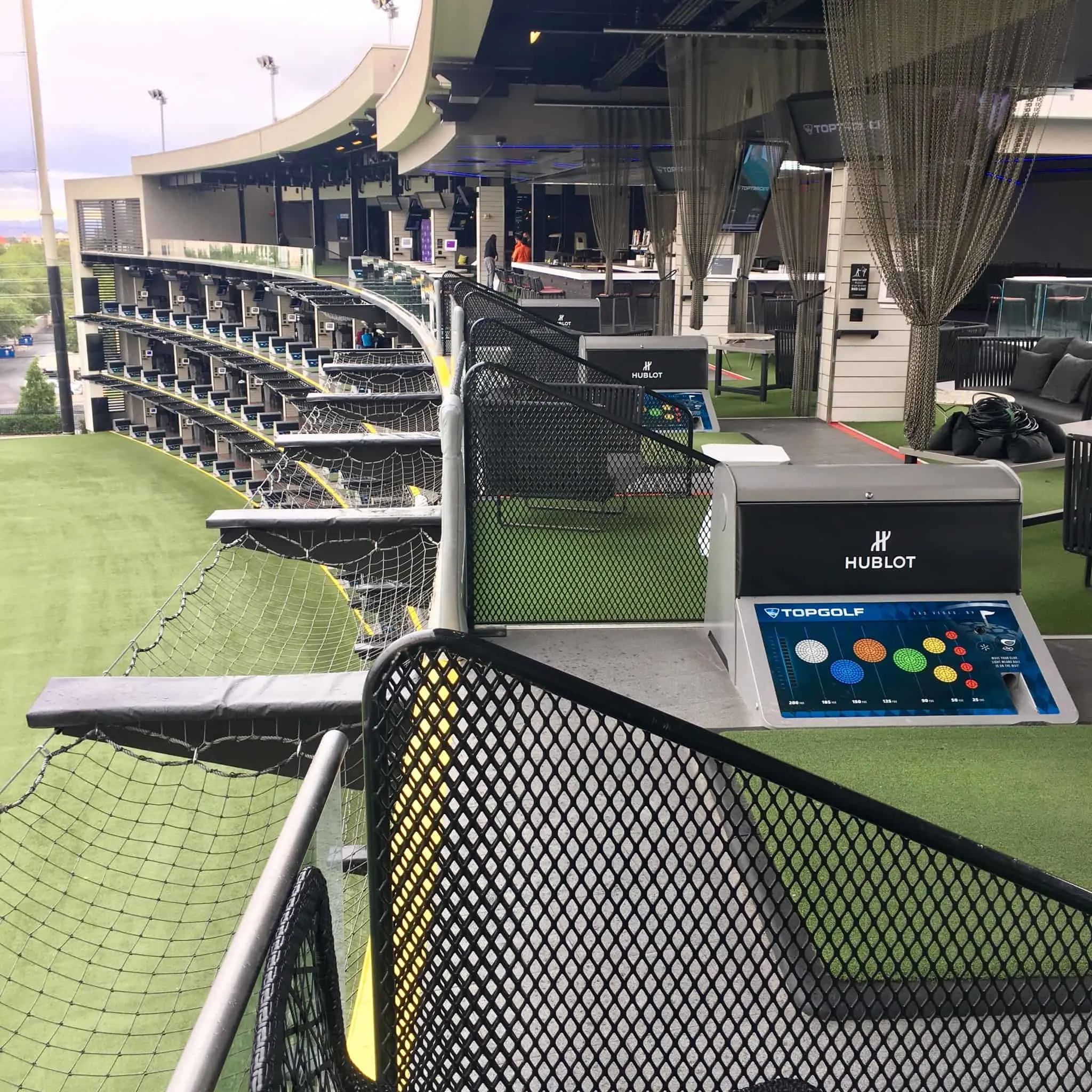 Topgolf Las Vegas Menu
The "Tee Line Menu" at Topgolf includes sharable appetizers like chips and queso, loaded sheet pan nachos, buffalo chicken dip, crispy chicken strips, and even steak or shrimp sticks.
An assortment of burgers, flatbread pizzas, and sides are also offered. Brunch is available daily starting at 2 pm and offers guests the chance to shake their hangover with a breakfast burrito, breakfast sandwich, and of course a traditional eggs and bacon/sausage plate.
Most apps and entrees land in the $15 – $20 range.
You can view the full Topgolf Las Vegas menu here.
In addition to food, Topgolf serves an impressive selection of beers, seltzers, and cocktails. Notably, beer is served in pint, pitcher, or beer tower form. If you're not opting for the tower, are you really doing Vegas right?
Much More to do Besides Golf
The golf gameplay was fun, but what blew my mind about Topgolf's Las Vegas location was the abundance of things to do besides golf.
There are 5 total bars (some with bartop video poker), 2 beautiful swimming pools with their own bar, yard games, shuffleboard, hundreds of HD TVs, VIP Cabanas, and one heck of a Las Vegas Strip view.
The two-level pool is accessible to guests regardless of whether you are golfing or not and there's no cover charge.
The Verdict: Is Topgolf Las Vegas Worth Visiting?
100% Yes.
While Topgolf isn't exactly unique to Las Vegas, their Las Vegas location is certainly unique when compared to the chain's other locations around the country.
I think you likely already know whether or not the golf aspect of Topgolf is up your alley, but let me reassure you – Even if you're a novice, the gameplay is casual and you're expected to eat, converse, and drink in between turns. It's social. This ain't the Masters.
Even if you opt out of playing, you can still hang with your group in the hitting bay and sip cocktails, eat well, lounge in the 2-level pool, or peck away at a video poker machine at one of the venue's numerous bars.
I'm not a "Kids in Vegas" person, but if you're one of those brave souls that attempts to pull it off, Topgolf is a good spot for all ages and certainly a good entertainment option if you want to get away from the casinos for a bit.
You're going to have a blast.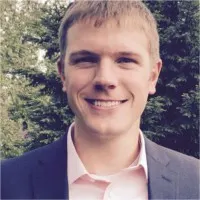 I'm a former software salesman turned Vegas aficionado. While the craps table is my preferred habitat, I pull myself away to explore new attractions, shows, restaurants, and outdoor activities around Las Vegas with the intent of sharing my experiences.
Ultimately, I just want to help folks plan a better trip and save a few bucks in the process.