The pool deck is the perfect place to recover and recharge after a late night out in Las Vegas. A key amenity at mega-resorts, Vegas pools run the gambit from run of the mill, to spectacular. As the pool is a priority for many visitors, we thought it would be fun to put together a list of tips and tricks to make the most of your Las Vegas pool experience.
See Also: What is the $20 trick, and is it worth trying at check in in Vegas?
Bring a Waterproof Phone Case: I was mid-air, about to land in the pool at TI when I realized my cell phone was in my pocket. Learning the hard way and being phone-less for the remainder of my trip was a tough way to learn that a cheap, effective, waterproof phone case (like this option on Amazon) is invaluable. Ultimately, you want your phone at the pool to scroll the time away, but you don't want to leave it behind to be stolen when you go in the water. Likewise, you don't want to bring it in the water unprotected. A waterproof phone case solves this problem for a few bucks.
You Can Access Other Resort Pools: Stuck at a hotel with a boring pool? A handful of resorts with top tier pool complexes like MGM Grand, Mandalay Bay, Caesars Palace, Flamingo, and more allow non-guests to access their pools for a fee. Check out this link for a full list of pools you can access for free/for a fee in Vegas. Given the number of amazing pools that are accessible, this is one of our favorite tips to share.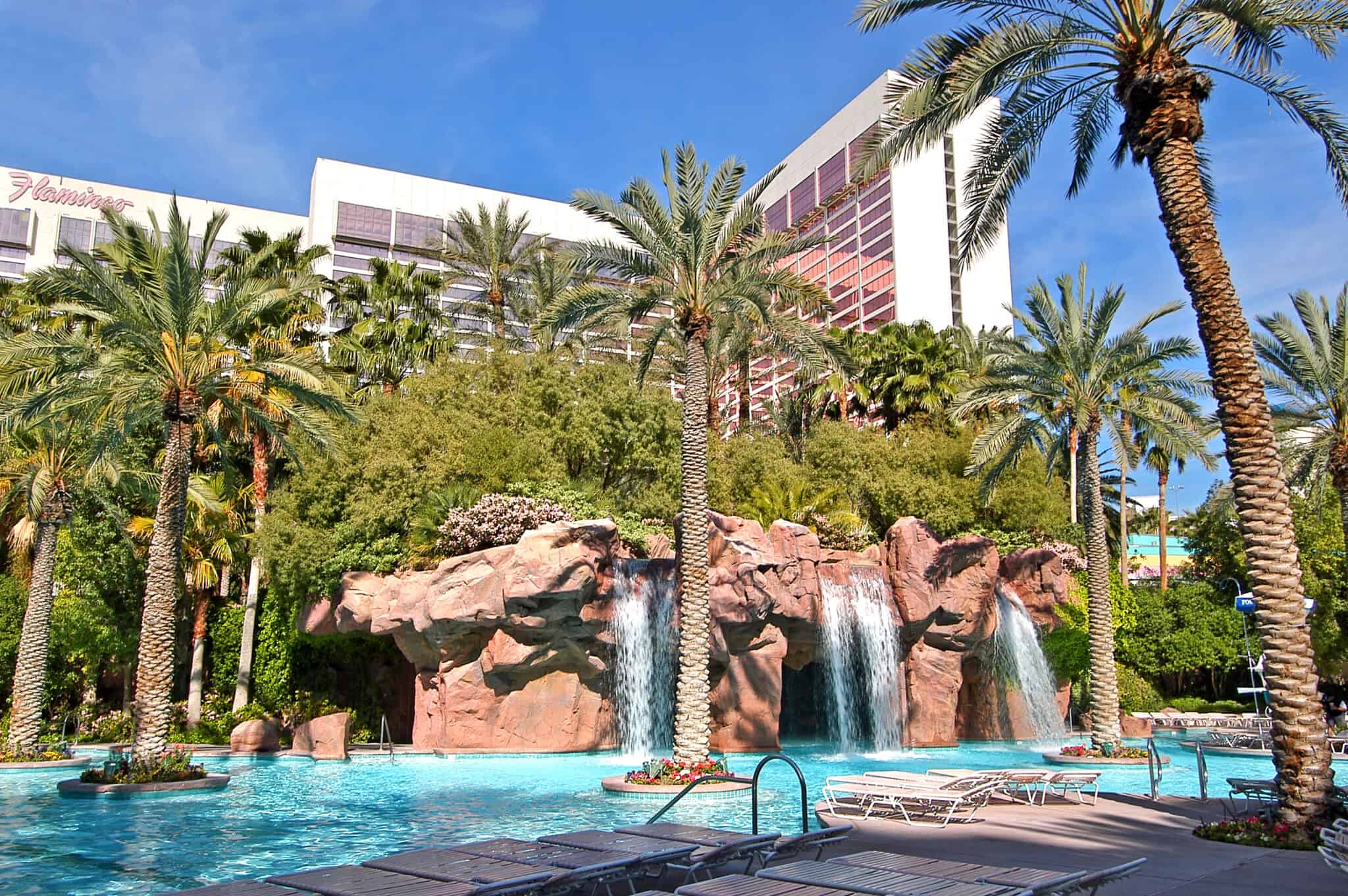 Pre-Game to Save Some Money on Drinks: Pool-side drinks in Vegas are delicious and refreshing, but also some of the more expensive money can buy. If you are hoping to gain and maintain a buzz, mix yourself a couple of drinks in the room before you come down. Then use the spendier poolside cocktails to maintain.
You Won't Be Able to Sneak in Drinks: Think you'll save a few bucks by filling a few Dasani bottles up with clear booze? Save yourself the embarrassment. It won't work. Most pools do not allow outside food or drink, including bottled water, to be brought into the pool complex.
Take Advantage of Refill Deals: Many poolside bars offer a discount on cocktail refills of around 20%-25% when you bring back your original cup. Don't throw your cup away at the end of the day either, rather bring it back to the pool every day of your trip to maximize your savings.
Get There Early: If you'll be visiting a popular pool with hopes of scoring a free lounge chair, we would suggest staking your claim early, before the crowds arrive.
Going With a Group? Spring for the Cabana: For a $200-$500 flat rate or food & beverage minimum, depending on the resort, you'll get a shady spot to relax with shade, guaranteed seating, a safe, a fridge stocked with bottled water, and a TV you have control over. Few things bring me more joy than placing sports bets and taking in the game poolside.
See Also: More on renting Las Vegas pool cabanas here!
Don't Forget Your Room Key: Most hotel pools require you to show or swipe your room key to gain entry. Nothing worse than walking the half-mile from your room to the pool, only to be denied entry because you forgot your key is in your wife's purse.
Sunscreen: That desert sun isn't what you are used to in Omaha. Bring sunscreen and don't be shy with it. Don't get cute and snag the 4 SPF "tanning lotion" either thinking you'll improve your tan. You won't. You'll just be in pain for the rest of the trip.
Hopefully you were able to take away some helpful tips for your trip to the Pool in Las Vegas! Have a great time, kick back, and relax!
See Also: Buy the exact fragrances Las Vegas Casinos use for home use!