Key Points:
The Vegas Loop is a growing network of subterranean tunnels that aims to connect 90+ points of interest.
Human-operated Tesla EVs ferry passengers from point to point, although the vision is for the system to be autonomous.
There are 5 Loop stations currently operating that connect the LVCC campus and Resorts World. Stations at Westgate & Encore are under construction and will come online soon.
Currently, there isn't a mass transit option aside from bus service that connects major destinations like the airport, Strip, Fremont Street, Allegiant Stadium, and the Las Vegas Convention Center.
In a city with 40+ million visitors annually, the fact that cabs and rideshare services are the only options to get somewhere quickly (depending on traffic) is a bit absurd.
The Solution: The Boring Company's Loop transportation system, which is currently being constructed on a piece-by-piece basis underneath Las Vegas.
Vegas Loop Cost
Rides within the Las Vegas Convention Center campus are free for convention attendees. Simply show up at a stop, and hop in.
As the system expands, costs to ride the Vegas Loop should be comparable to taking the bus according to The Boring Company.
Current Vegas Loop Stations
Vegas Loop Stops that are currently operating include:
Las Vegas Convention Center West
Las Vegas Convention Center Riviera (Outside the West Hall)
Las Vegas Convention Center Central
Las Vegas Convention Center East
Resorts World
Vegas Loop Stops that are currently under construction include:
Westgate (coming soon – tunneling now)
Encore (coming soon – tunneling now)
STRAT (coming soon – in permitting)
How To Ride The Vegas Loop
If you're looking for a ride within the Convention Center complex, simply head to a Loop station, let your driver know where you're headed, and you're on your way. You don't need to buy a ticket, however, you should be prepared to show your convention badge.
If you're not riding within the convention center complex, you'll need to buy a ticket to ride.
A day pass can be purchased here for $4.50 and can be paid for with traditional currency or dogecoin.
Once your ticket is purchased, you can make your way to your stop during operating hours to catch a ride.
Excitedly, The Boring Company has already secured some key approvals for expansion.
The City of Las Vegas unanimously approved the network's expansion to downtown, with 5 stops planned at STRAT, Circa, Plaza, Slotzilla, and another along the Fremont Street Experience.
Clark County, which has jurisdiction over the Strip has also approved the expansion of the system beyond its current footprint.
The map below shows currently constructed tunnels in yellow, and proposed routes in blue.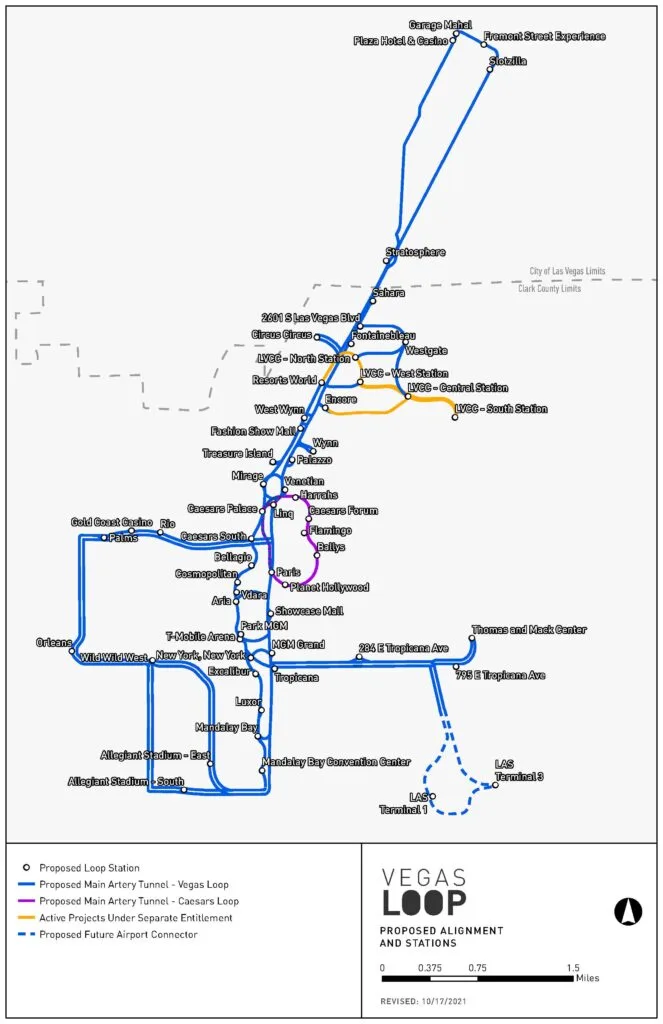 Future sample fares provided on The Boring Company's website include:
Airport to the Convention Center: $10
Allegiant Stadium to the Convention Center: $6
Downtown Las Vegas to the Convention Center: $5
How would a city-wide underground Loop system work?
Take a look a the map above. The blue lines that run from the airport, up the Strip, and downtown would act as an "artery".
Think of arteries as a freeway where vehicles could move at high speeds and then exit the artery onto "spurs" to reach a minimally invasive station at the desired property or attraction.
After dropping off, the tram would then merge back into the artery and continue to its next destination.
Unlike a bus, train, or subway, the Loop vehicle won't need to stop at every single station, rather, only the ones relevant to the passengers on board.
The Vegas Loop is more comparable to an underground interstate system than a subway.
While Tesla vehicles with human drivers are used today, the system eventually plans to use autonomous Tesla EVs or even a custom-designed 16-passenger shuttle.
Boring's Loop system can operate at speeds of up to 155 mph, however, due to the short nature of the tunnels currently constructed underneath Las Vegas, speeds will be held to 35 mph tops for the foreseeable future.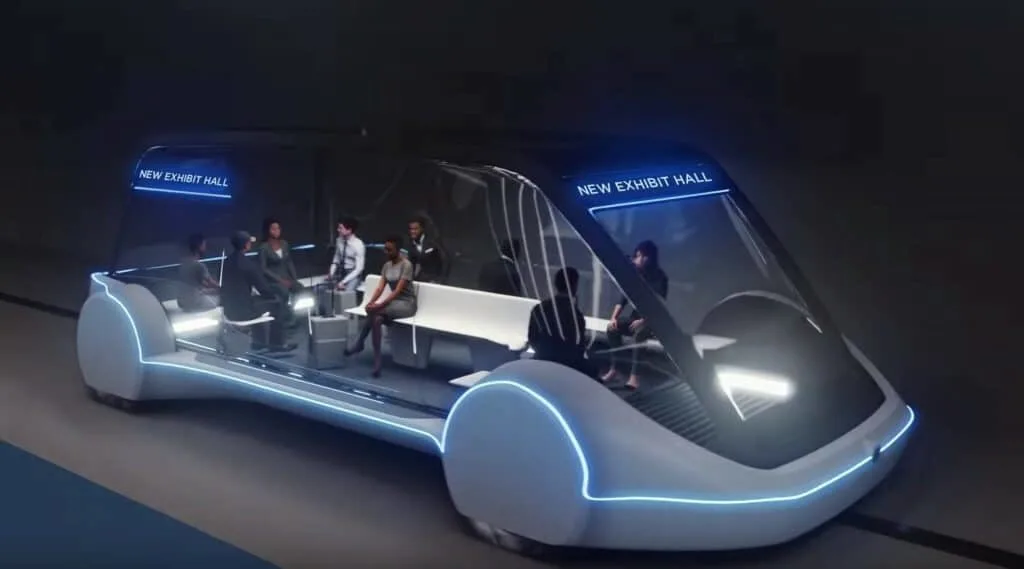 Vision Behind The Boring Company's Loop System
Elon Musk founded The Boring Company specifically to solve the problem of "soul-destroying traffic" through tunneling.
Historically, tunneling has been prohibitively expensive, according to Boring, often running up to $1 billion per mile.
Boring's mission is to reduce the cost of tunneling 10-fold by reducing the diameter of the tunnel and using improved equipment, modern techniques, and investing in research and development.
Safety is always and should be, the main concern with a newer mass transit concept like an underground Loop system.
The tunnel is constructed of non-flammable material and doesn't utilize an electric 3rd rail so the risk of fire is minimal, however, there are emergency exits and the ventilation system will be able to handle smoke in the unlikely event of a fire.
You can read up on the Loop system's safety features here.
Earthquakes also pose minimal risk to the system as Boring points out similar subway systems in California and Mexico City were some of the safest places to be during seismic events with tunnels showing little to no damage after the event.
Las Vegas Loop Expansion Notes
Las Vegas Loop developments are coming in fast and furious. Here, you'll find a running timeline of key milestones, construction progress, and land purchases.
September 2023: The permitting process is underway for a loop station and tunnel at STRAT, which would connect the resort to the broader network.
July 2023: The Boring Company shared images and video of their tunneling machine surfacing outside of both Westgate and Encore. We're getting close to having 2 new stops.
February 2023: The Boring Company intends to purchase a chunk of land on the UNLV campus near the Thomas & Mack Center for the construction of a future Loop station, pending Board of Regent approval. The 1.3-acre plot is located at the intersection of Tropicana and University Center Drive.
At the end of the day, Las Vegas is in desperate need of a mass transit system that can ferry visitors quickly from place to place at a price that won't break the bank.
I think the Vegas Loop could double as both an effective means of transportation, and as a tourist attraction in and of itself.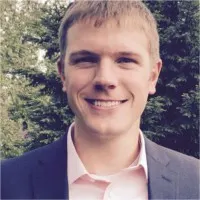 I'm a former software salesman turned Vegas aficionado. While the craps table is my preferred habitat, I pull myself away to explore new attractions, shows, restaurants, and outdoor activities around Las Vegas with the intent of sharing my experiences.
Ultimately, I just want to help folks plan a better trip and save a few bucks in the process.