Key Points:
If you're going to rent an EV in Vegas, make it a Tesla. Charging infrastructure is much more established and convenient.
There are superchargers located both behind LINQ and downtown near Container Park, making topping off quick and easy.
Don't plan on using chargers in hotel ramps, as they're commonly occupied and cars don't move when charged.
Although I'm typically opposed to getting a rental car in Las Vegas, there are certain itineraries that make them a more attractive option.
A recent trip of mine had me running all over town to off-Strip attractions like the Atomic Museum, the Clark County Museum, Ethel M's Chocolate Factory, the Old Mormon Fort, and Area15 among others.
With that in mind, a rental car made sense.
When I logged into the Hertz booking portal, I was surprised to see that the Tesla Model 3 was one of the cheapest options available at a hair over $60/day.
As an admitted Tesla fanboy (I've been a shareholder for a long time), I knew what I had to do. I booked the EV.
Considering fuel in Nevada ranks among the most expensive in the nation, I was also looking forward to skipping the pump.
In addition to fuel savings, Teslas are notorious for their quick acceleration, making them quite a bit of fun to drive. Needless to say, I was excited to get into something a tad sportier than the hail damaged 2018 Nissan Sentra that I drive back home.
My excitement, however, was mixed with a little trepidation. My main concern was the potential "hassle factor" of charging, and hunting down chargers, slowing me down and preventing me from hitting all the stops on my jam-packed list of things to do.
Fortunately for you, I took on the challenge of being the guinea pig to gauge if renting an EV in Las Vegas is hassle-free, or a huge inconvenience.
Pre-Pick Up Education
This experience is specific to Hertz, but I assume most rental car companies do something similar.
Hertz sent me a series of emails educating me on the Tesla Model 3 I'd be driving. These emails covered everything from how to unlock it, to shifting into gear and using driver assist features.
Videos demonstrating each topic were also included.
As it had been some time since I'd driven a Tesla, I found the refresher to be extremely helpful and filed the educational emails away for later use in case I ran into issues.
Picking Up My Tesla Rental Car
As mentioned, my itinerary had me driving all over town and I'd be lying if I said I didn't have a little bit of range anxiety.
I decided to pony up a few extra dollars per day to reserve the long-range version of the Model 3, which is rated at a 358-mile range, vs. the standard range which offers a 260-mile range when fully charged.
Even if the extra range wasn't needed, It would allow me to charge less frequently while giving me some peace of mind.
I love renting with Hertz because I'm usually able to walk to the rental lot, find my name on the rental board, and then make my way to my vehicle without talking to a human.
As I approached on this occasion, however, I noticed my name missing from the board and headed in to talk to an employee. She let me know that another employee would be driving my car up shortly.
45 minutes and 3 inquiries later, I started feeling annoyed, went into the office for the 4th time, and was told that the long-range variant I had ordered was not available on the lot.
I was told that my only option was the standard range Model 3 (that has less range) and that I was free to walk out to, select, and drive the car away. For my inconvenience, I was credited enough Herz rewards points to get a free rental car in the future, but that information would've been helpful nearly an hour ago.
As I drove away, I realized that I had a quick question about the vehicle's regenerative braking settings and flagged down a Hertz employee. When asked, the employee shrugged their shoulders and said "I don't know that much, man. I'd maybe google it?"
It was clear in my numerous interactions with the Hertz employees that they weren't super knowledgeable about EVs, even though they make up a growing percentage of the company's fleet.
If you're unfamiliar with the electric vehicle you're renting, I'd suggest studying up a little bit beforehand.
A couple last pick-up tips: EVs need to be returned to Hertz with a 70% (or higher) rate of charge vs. a full tank of gas on a traditional ICE car.
If you're able to choose your car, jump from EV to EV to gauge which has the most "juice" to start. I almost drove a car away with a 67% state of charge, but caught it, and jumped into a different car that was at 87%.
If you plan to use a non-Tesla charging station, ensure you have the small adapter needed to do so. Usually, that can be found in the trunk, center console, or glove box. I've heard from a few folks that it was nowhere to be found when needed.
Las Vegas Charging Infrastructure – What's the "Hassle Factor"?
Charging on Tesla's infrastructure is painless and not at all confusing with Hertz. There are no apps to download, credit cards to enter, etc.
Just pull up and plug in.
Here is a quick and dirty rundown of your Tesla charging options in Las Vegas:
Supercharging is the fastest way to charge (up to 1,000+ miles per hour) and has a cost. Any charging expenses you rack up are simply charged to your card on file by Hertz after you turn the car in.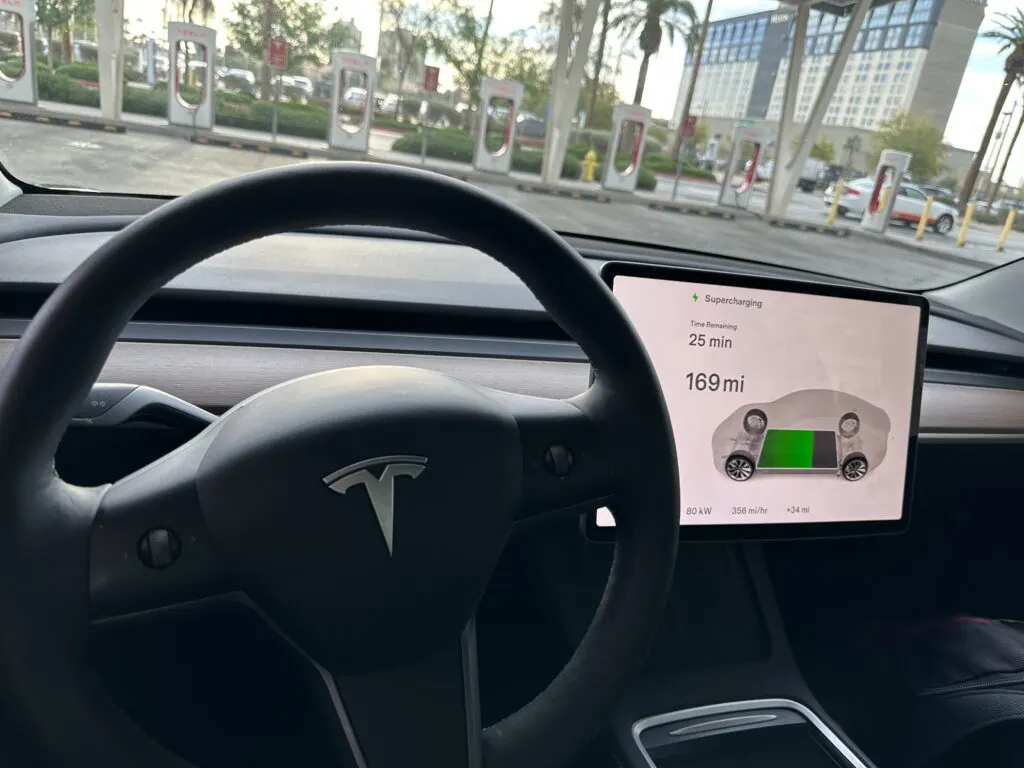 Tesla Destination Chargers offer a slower rate of charge (around 40 miles per hour) and are usually free to use if you can find them.
A number of hotels offer them, but the biggest batch is available at the Tesla Supercharger station behind LINQ.
3rd Party (non-Tesla) chargers are scattered around town and in hotel ramps which include ChargePoint, Volta, etc. Those chargers are pay-as-you-go. There will be a charging adapter in your Tesla vehicle to allow you to charge at these locations.
Below, is a rundown of my charging experience in Las Vegas:
The lot is owned by Caesars Entertainment, so you'll be charged LINQ's parking fee while inside, however, those who have earned Platinum status or higher in the Caesars Rewards loyalty program can park for free.
While the Superchargers in the lot charge for electricity used, the slower Destination Chargers are free. I personally took advantage of this on a day in which I had numerous itinerary items planned on the Strip.
Leveraging the Destination Chargers to top off my battery for free while I explored the Strip felt like a tremendous value.
Supercharging is Painless
I supercharged 2 times during my trip. The first was behind LINQ, and my car reached 90%+ before I could finish my coffee.
The second was at a ramp in downtown Las Vegas near the Container Park. I left my car charging while I enjoyed breakfast at Siegel's 1941 at El Cortez and came back just in time to see the rate of charge tick from 99% to 100%.
Oddly, Hertz never charged me for one of the 2 supercharger sessions – I'll take it!
Hotel Charging is Iffy
Although most Vegas hotels offer EV Charging, they commonly don't have enough stations to meet demand and are frequently all occupied – At least, that was my anecdotal experience.
Instead of battling for limited opportunities to charge in the ramps, I opted to Supercharge/leverage Tesla destination chargers when needed.
Hotel operators, if you're reading this, add EV chargers! Lots of 'em.
Would I Rent a Tesla in Las Vegas Again?
Although a little more trip planning is needed before hitting the road, I will definitely rent a Tesla in Las Vegas again if my itinerary called for a car.
When it comes to Tesla vs. other EV brands, I'd prefer to rent a Tesla given their more robust charging network both downtown and on the Strip. Nobody can compete with the Supercharger network currently, and renting a Tesla allows you to skip the competition for limited charging resources in hotel parking ramps.
Not only is renting an EV an easy way to save on fuel, but you'll be able to take advantage of better performance, acceleration, and technology while not producing point emissions.
EVs are simply more fun to drive.
I also wanted to note that the standard range Model 3 with 260 miles of range (mine actually got up to 272 miles) was plenty for zipping around Las Vegas, which was a relief as I had thought the long-range version would be a better fit. Never once was I concerned about "not making it".
Of course, doing a little trip planning in advance is advised to ensure you have enough juice.
If you think an electric vehicle could be a good fit for your next car, renting one on vacation could also be a great way to get an extended test drive. In this case, my experience helped solidify my desire for a Model Y, which I'm getting dangerously close to pulling the trigger on.
For Those of You Concerned About the "Hassle Factor" of Charging
If you're staying on the Strip
The real question is how often you plan to be near LINQ's massive charging station which is stocked with Superchargers and Destination Chargers.
If you're staying at a nearby hotel, renting a Tesla is a no-brainer as you can charge for free overnight at one of their destination chargers (just pay for parking if you're not Platinum or above).
Even if you'll just be in the area from time to time, stopping in to supercharge for 15-20 minutes can get you a long way!
On the flip side, if you're staying at the far reaches of the north or south end of the Strip with no plans to be near LINQ then renting a Tesla could be less convenient.
If you're staying on Fremont Street
Conveniently, there's a Supercharger station located behind The Container Park and there are a number of restaurants nearby to grab a snack while you top off the battery. There isn't a resort downtown that's more than a 3-minute drive from a Supercharger.
Related Articles: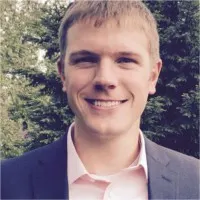 I'm a former software salesman turned Vegas aficionado. While the craps table is my preferred habitat, I pull myself away to explore new attractions, shows, restaurants, and outdoor activities around Las Vegas with the intent of sharing my experiences.
Ultimately, I just want to help folks plan a better trip and save a few bucks in the process.