Shimp cocktails have been a staple dish in Las Vegas for a long time, and historically, have been offered at rock bottom prices. Famously, Du-Par's at Golden Gate served up a delicious, and inexpensive shrimp cocktail for decades before closing in 2017. Since the closure, many have been left asking where a cheap shrimp cocktail can be found in Vegas.
Related: Historic things to check out when you visit Downtown Las Vegas.
We took it upon ourselves recently to sniff out the remaining cheap shrimp cocktail options in Vegas, with one being as low as 99 cents. Here's where to look:
Cheap Shrimp Cocktails on Fremont Street
Fremont Hotel and Casino: The Lanai Express location at Fremont serves a 99 cent shrimp cocktail daily. The location also serves a variety of Asian and American fare making it quite the jack of all trades. Honestly, Lanai's 99 cent shrimp cocktail amounted to what one would expect at the price point. The dish consisted of very small shrimp in what we deemed to be an overwhelming bath of cocktail sauce. The fact the shrimp cocktail was served up in a plastic solo cup with tin foil covering the top didn't add to its appeal.
Was it worth 99 cents? Yes. Would I buy it again? Probably not. If you're looking for some cheap protein, this could be a good option. Personally, I'd rather spend up for a higher quality product.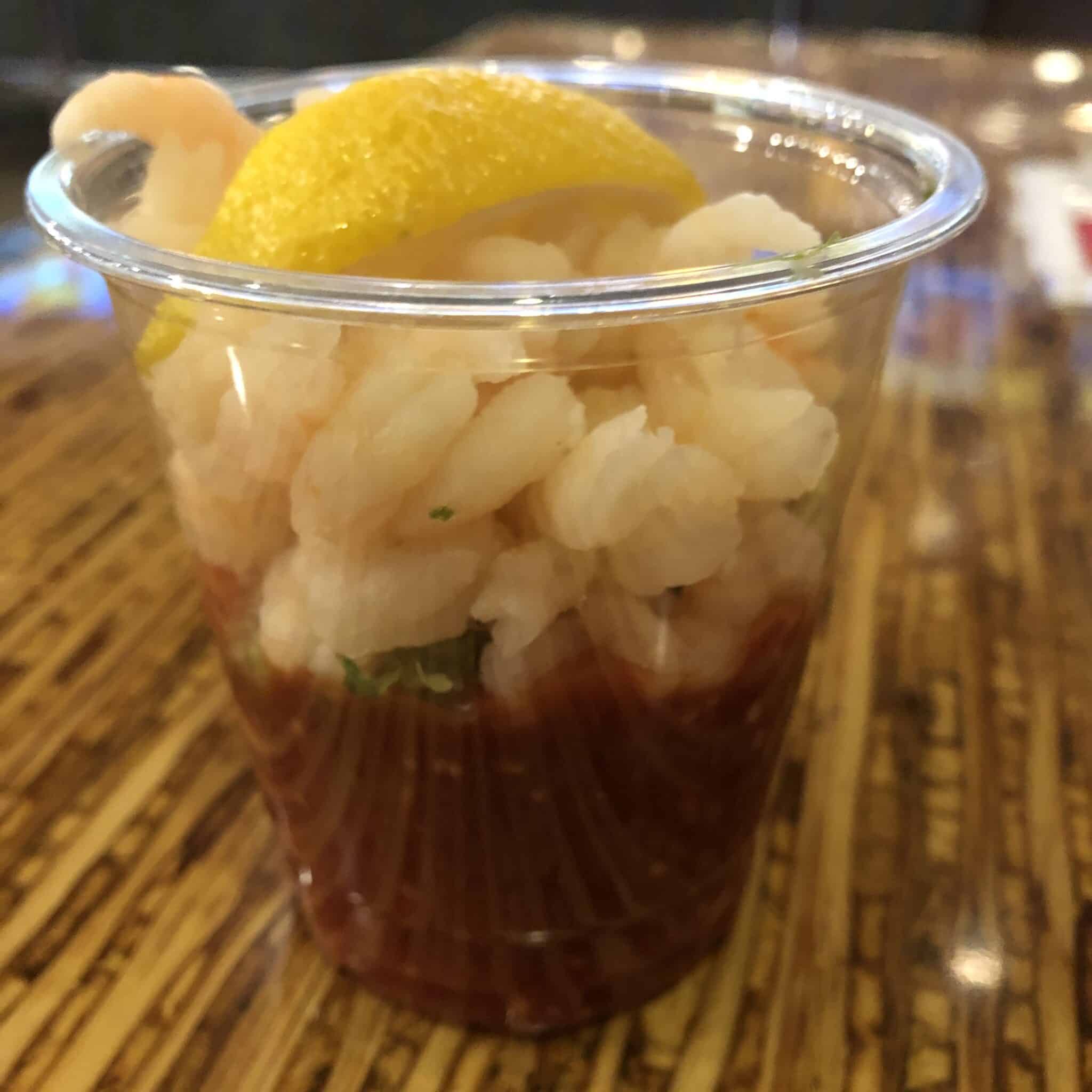 Circa Hotel and Casino: Reviving an old classic, Saginaw's Delicatessen at Circa has brought back the original Du-Par's shrimp cocktail recipe! Typically, the cost is $11, but between the hours of 3 am – 5 am you can score one for a mere 99 cents when you order an entree. The shrimp cocktail was served in a glass dish, the shrimp were much larger than those used at Fremont. What made the dish though was that signature spicy kick in the cocktail sauce. It was honestly fantastic.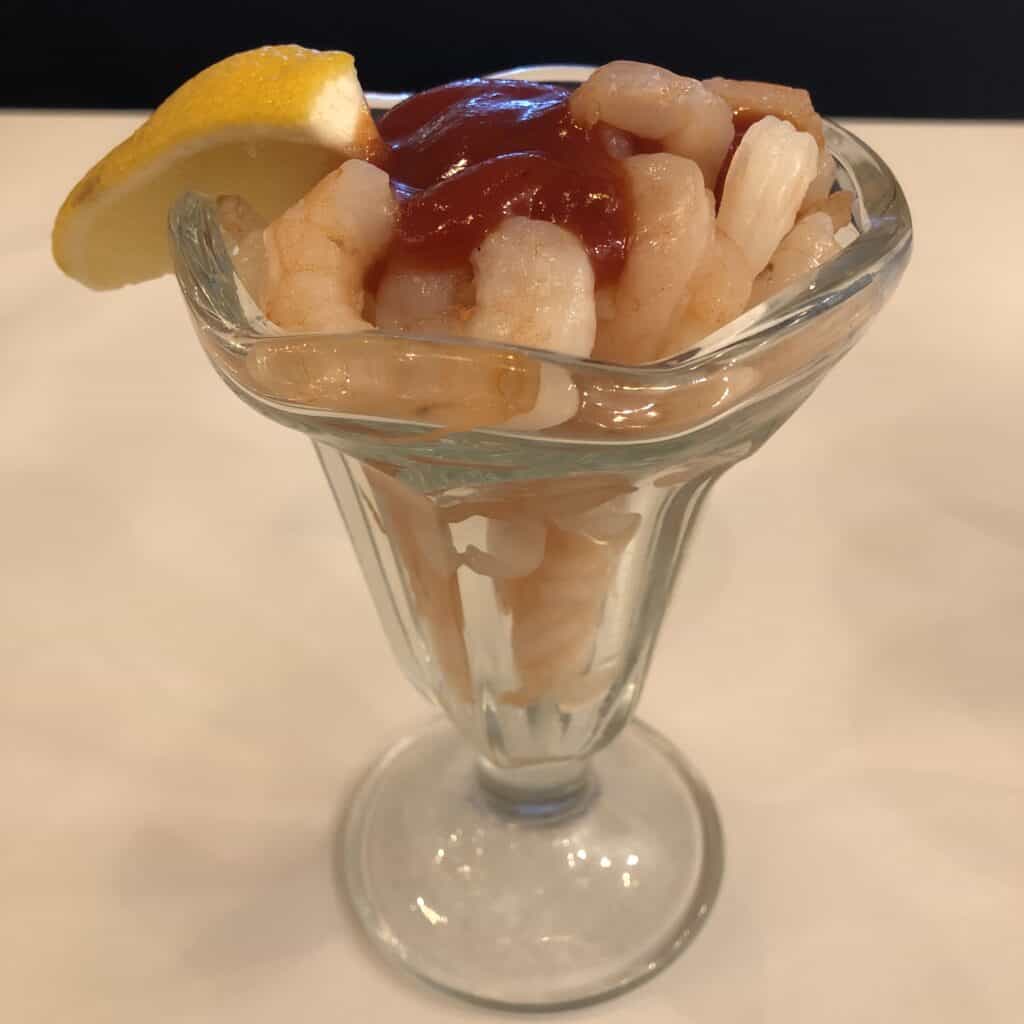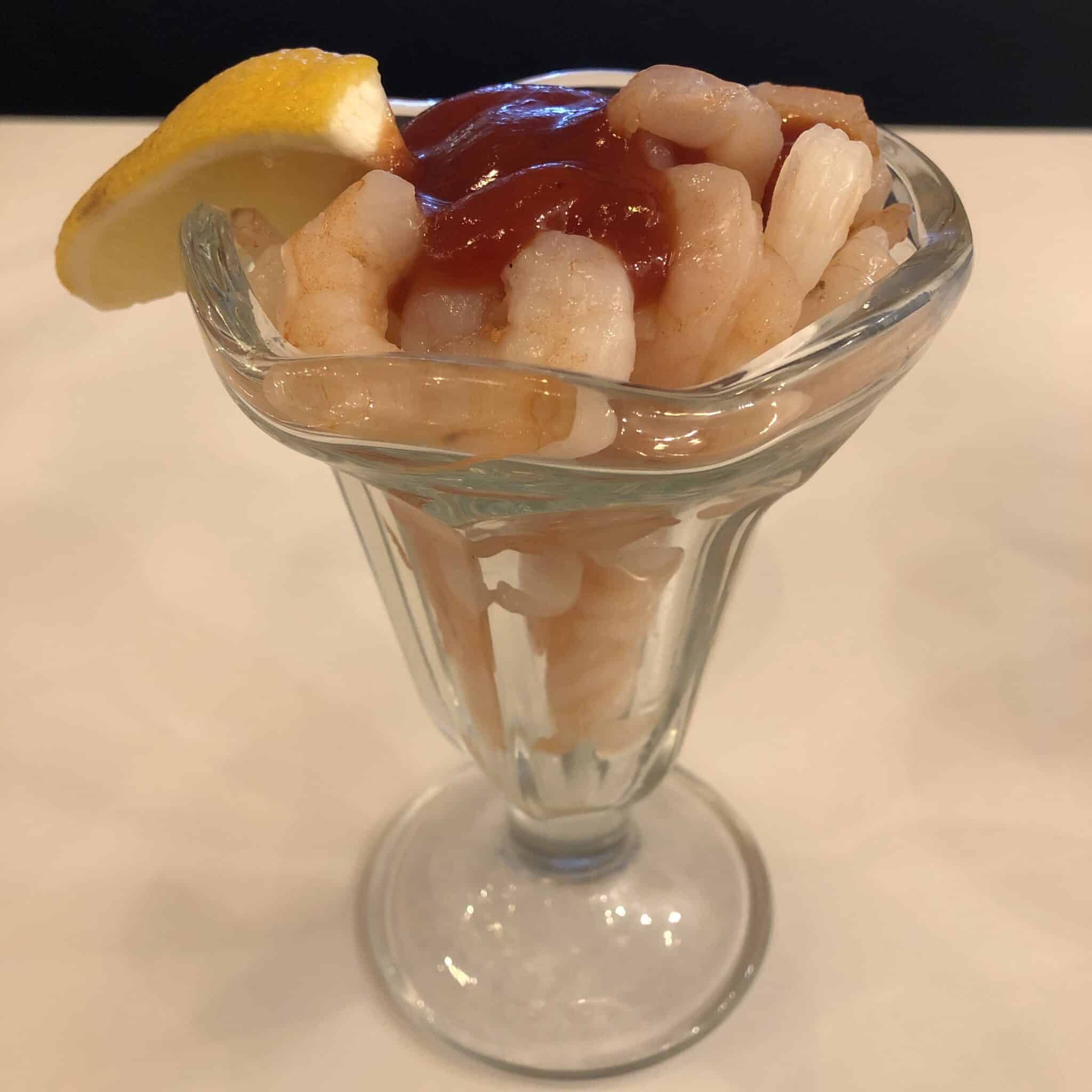 Other restaurants on Fremont Street also offer shrimp cocktails, although at a higher price point. Other options include Oscars Steakhouse $14.99, Andiamo $22, Top of Binion's $14.95, Hugo's Cellar $18, Triple George $16. Trust us though, get the cocktail at Circa though, even if it's not in the less expensive 3 am – 5 am window.
Cheap Shrimp Cocktails Near the Las Vegas Strip
Ellis Island: Located behind Bally's just off the Strip, Ellis Island is a 10-15 minute walk. While we typically choose to visit Ellis Island for cheap craft beer, lower table game limits, or to watch karaoke, they also have a relatively cheap $5.99 shrimp cocktail on the Villiage Pub and Cafe menu that we found to be worth the price. This cocktail mixed larger chopped celery in with chopped shrimp, all topped with a cocktail sauce that was tasty, although lacked the spice we enjoyed at Circa. Although, not celery people, and fully understanding it is being used as a cost-saving filler, we enjoyed it mixed into our bites of shrimp and sauce. If you stop into Ellis, it's worth a try!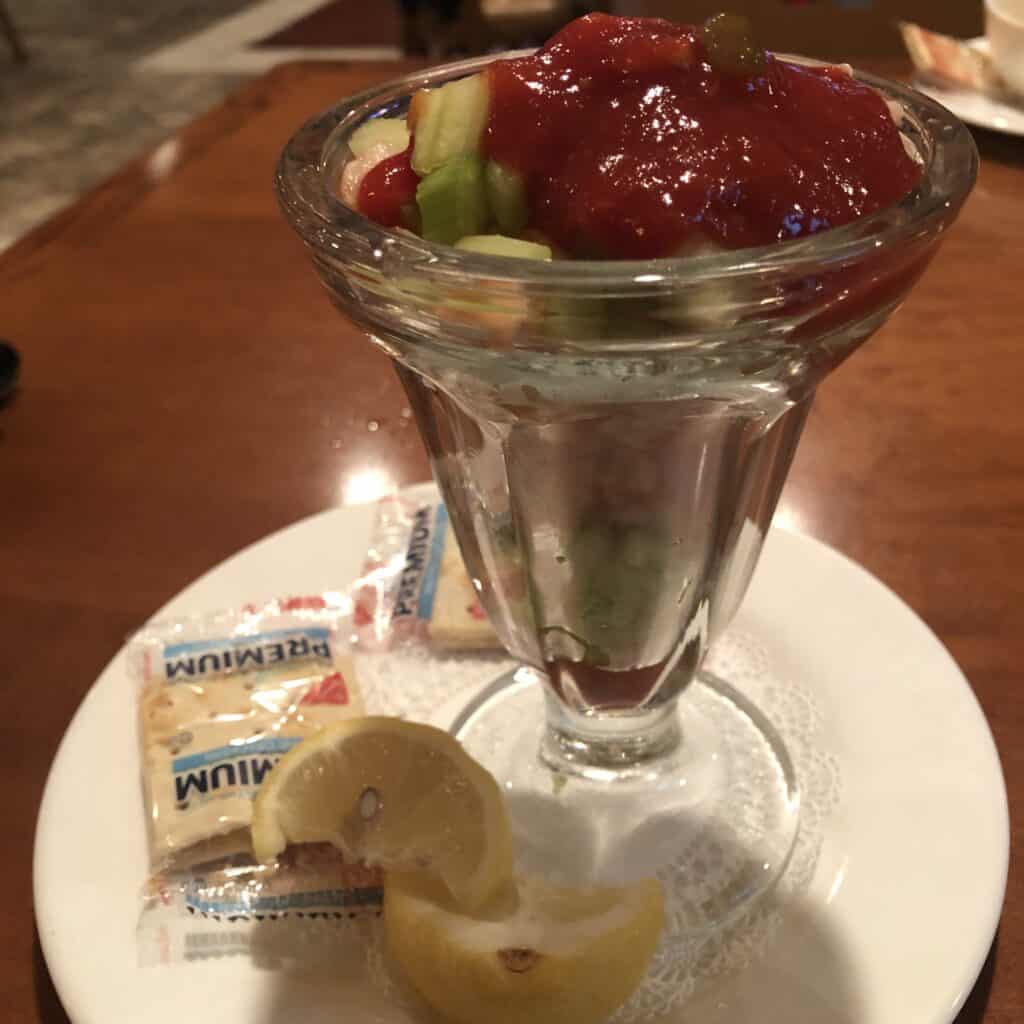 Unfortunately, outside of Ellis Island which is steps away from the Strip, there just aren't any other cheap shrimp cocktail options that we are aware of.
Hopefully, we were able to help point you in the direction of a cheap Shrimp Cocktail in Vegas that will fit your needs! Of the options above, Circa's cocktail which borrows the original Du-Par's recipe served up at Golden Gate for so long takes the crown, even if you have to spend $11 on it.
See Also: Let us help you find the loosest slots in Vegas by leveraging data from the Nevada Gaming Commission.