Downtown Las Vegas is a destination for many visitors due to its vintage neon, Fremont Experience Lightshow, Slotzilla Zipline, and inexpensive gambling when compared to the Strip. One of our favorite aspects of visiting downtown, however, is the history on display in plain sight. Unlike the Strip that seemingly erases its history to rebuild every few decades, downtown Las Vegas boasts enduring, and historic landmarks and artifacts.
Below, we'll dive into notable historic things to see on Fremont Street and downtown Las Vegas.
Related: Staying downtown Las Vegas vs. on the Strip – A comparison.
Things To See on Fremont Street
Golden Gate Casino: The structure itself was built in 1906 when Golden Gate opened as Hotel Nevada. In 1907, the property received Nevada's first telephone. The phone number? 1. Guests can still stay in Golden Gate's "Original 10" rooms which date back to the hotel's opening in 1906. While the rooms have been updated and have modern amenities, they are pretty small when compared to standards today. There are also historic artifacts on display at Golden Gate's hotel registration desk.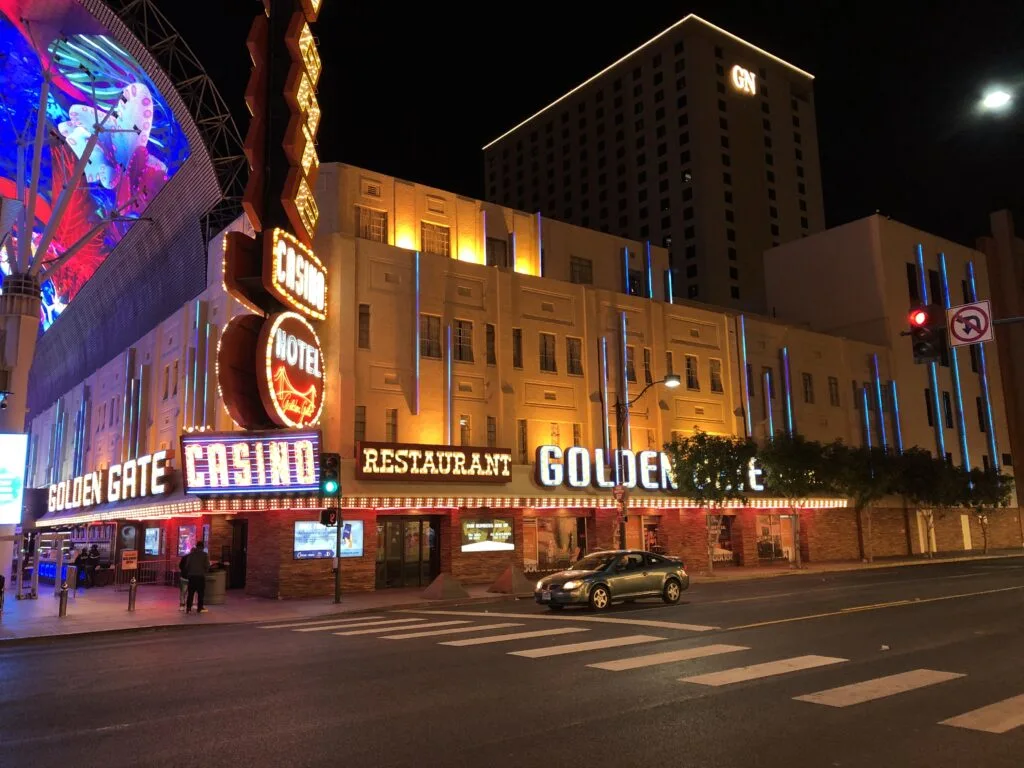 Door to Golden Gate's Original Hotel Wall: While Golden Gate has received several facelifts since originally opening as Hotel Nevada in 1906, there are still traces of her rich history on Fremont Street. Check out the small unmarked door located along the hallway to the high limit room, which opens to reveal part of an original wall of the hotel. If only those walls could recite the stories they have seen over the years.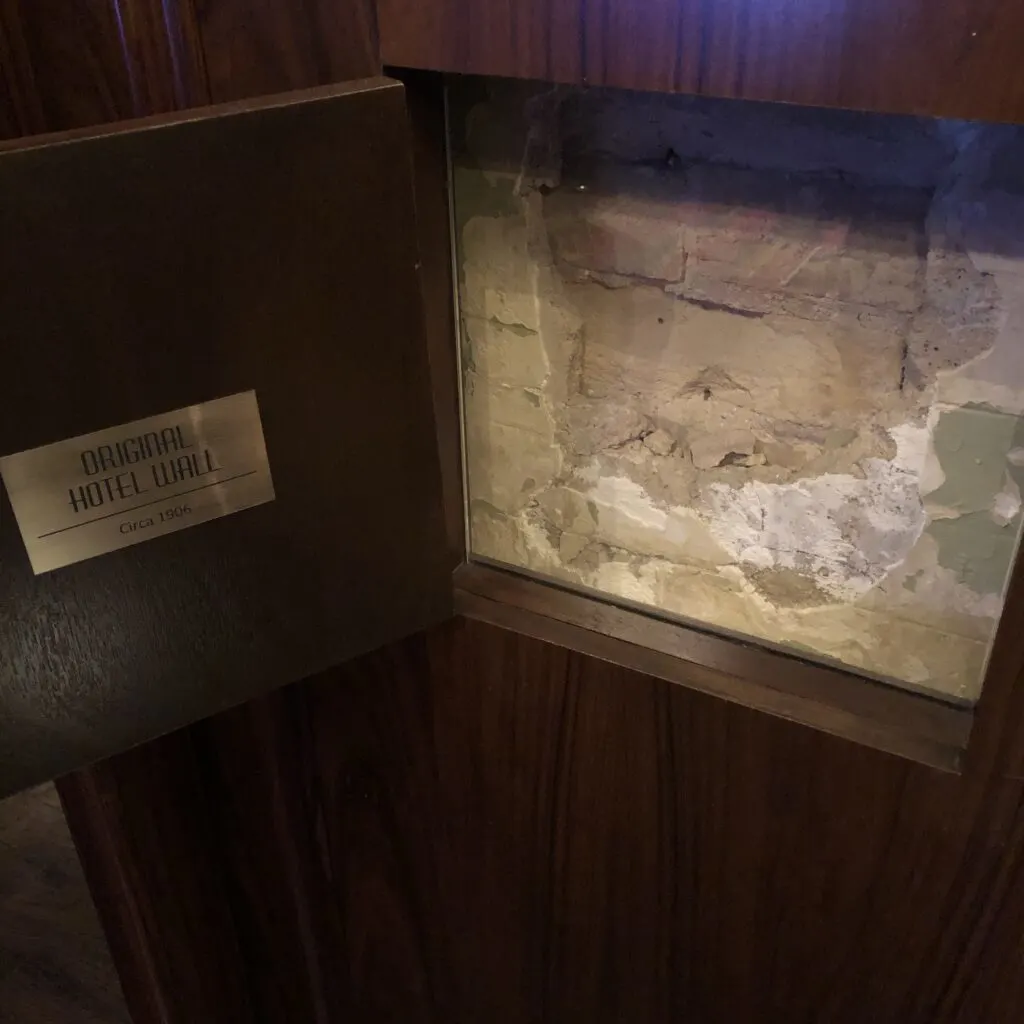 Historic Fountain at Golden Gate: Also located in the high limit room at Golden Gate is a fountain with intricate tile work. Pictured below, the fountain is also a throwback to the early 1900s.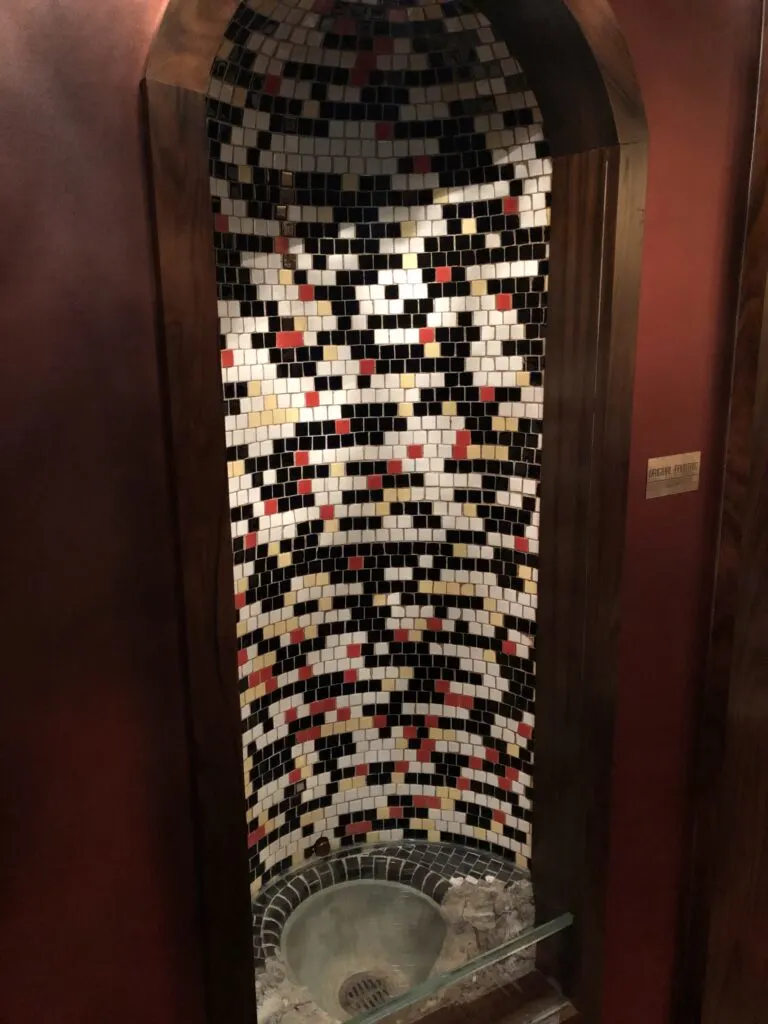 Bar Prohibition! at Golden Gate: Boasting famous patrons like Frank Sinatra, Sammy Davis Jr., and Dean Martin, this historic bar is a must-see when downtown Las Vegas.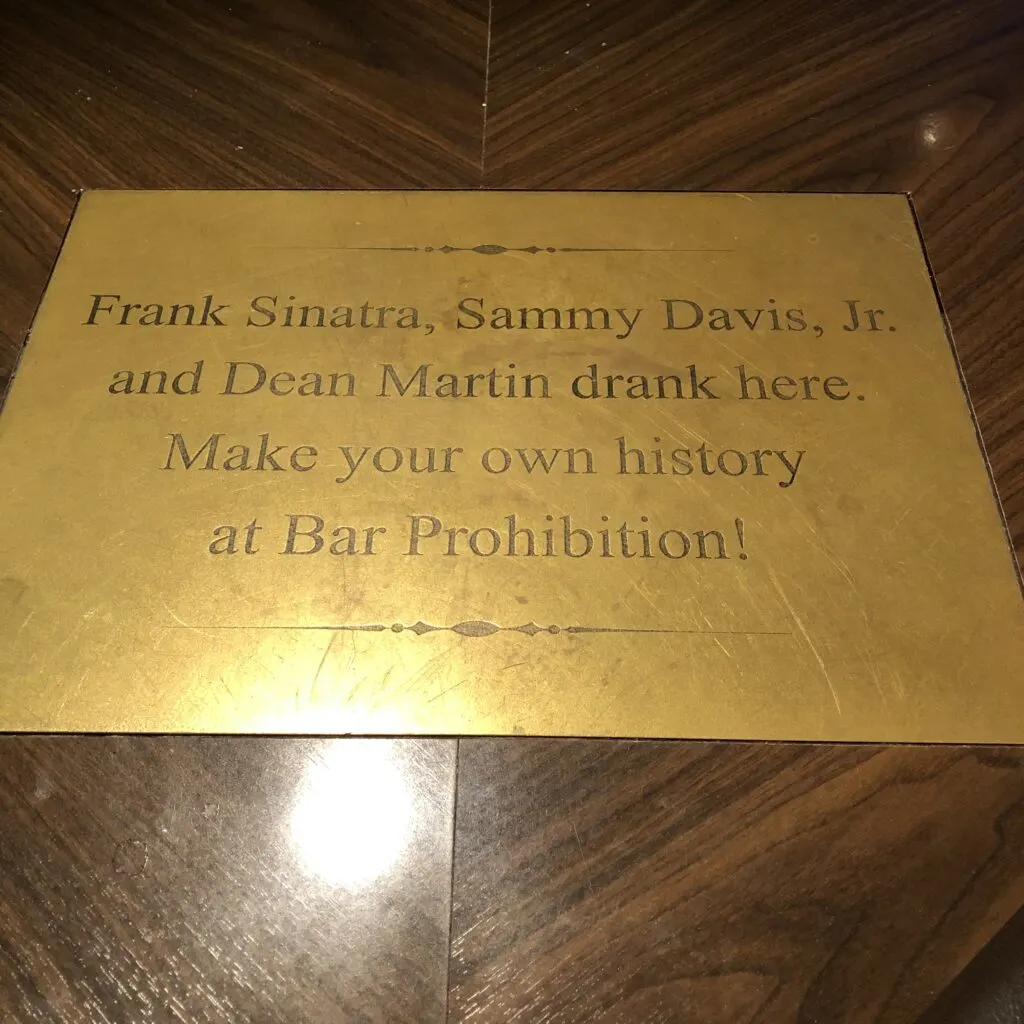 El Cortez: While not quite as old as Golden Gate, El Cortez also has a unique and colorful history. The casino opened in 1941 and spent a stint under the ownership of Bugsy Siegel. El Cortez's neon sign was installed in 1952 and the exterior of the building has looked the same ever since. On display in El Cortez's lobby is a 1941 Lincoln Zephyr Coup, which was manufactured the same year El Cortez opened. The car is a neat tie-back that helps guests visualize the era in history the property debuted. El Cortez is the only casino currently on the National Registrar of Historic Places.
Blarney Stone: Located in the second level of The D is a chunk of the Blarney Stone, which was originally a part of Blarney Castle just outside of Cork, Ireland. Legend says that kissing the stone will grant the "gift of gab", but, being this chunk is on display in Vegas, we recommend not putting your mouth on it and instead suggest touching it for good luck. Seems more sanitary. Considering the Blarney Stone dates back to the 1400s, this artifact is certainly on the list of historic things to see on Fremont Street.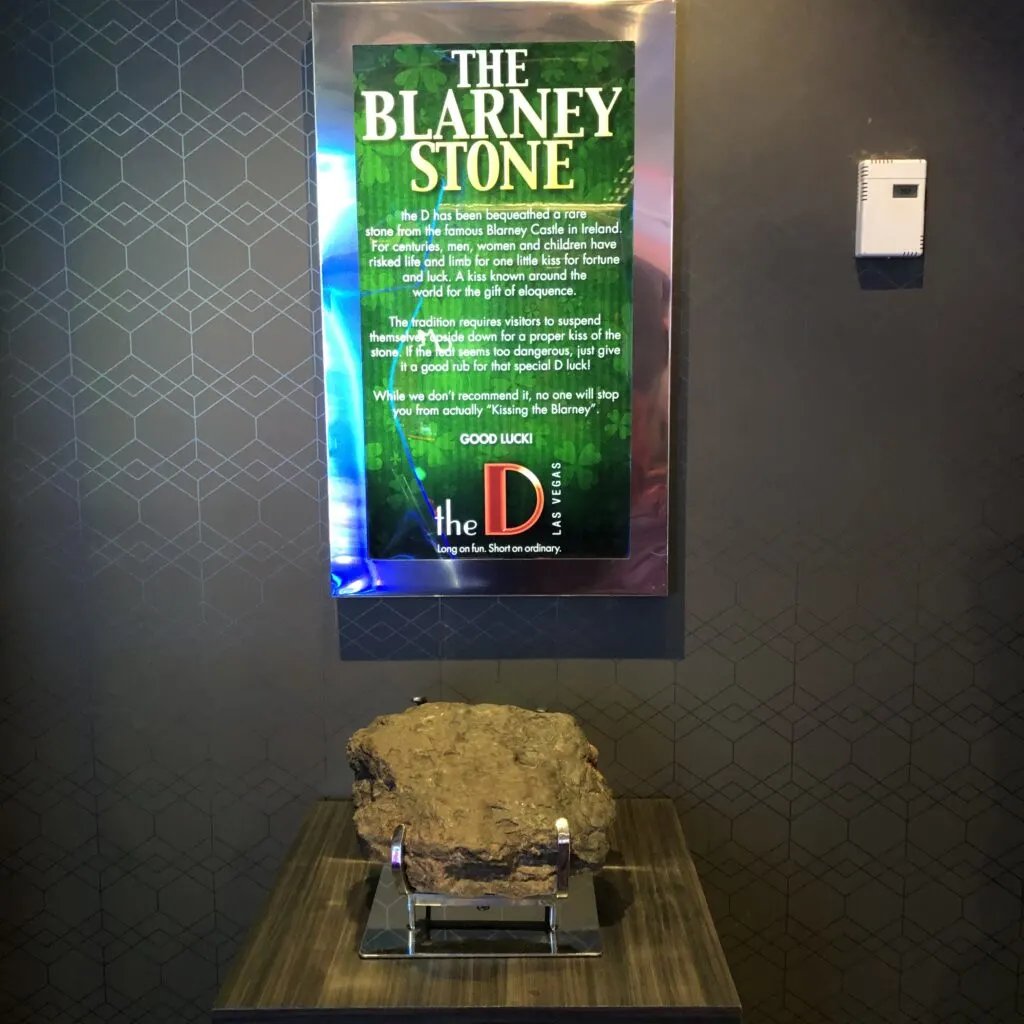 El Portal: A theatre first opening in 1928, El Portal was among the first buildings in Nevada to offer air conditioning. The theatre eventually transitioned into an Indian Arts and Crafts store but retains her original neon sign to this day. Recently, the Indian Arts and Crafts store closed, and the property remains vacant awaiting development and its next purpose.
As of 2017, there were plans to morph the historic El Portal into a "Food Emporium" featuring several quick-serve restaurant concepts, but that has yet to come to fruition. Inside, many original aspects of the historic structure are still visible.
Artifact Collection at Main Street Station: While Main Street Station itself isn't especially historic, the artifact museum it houses certainly is. Some of our favorite historic items on display include a portion of the Berlin Wall in the men's restroom, a facade from the Kuwait Royal Bank, Winston Churchill's snooker table, and Louisa May Alcott's Pullman Railcar.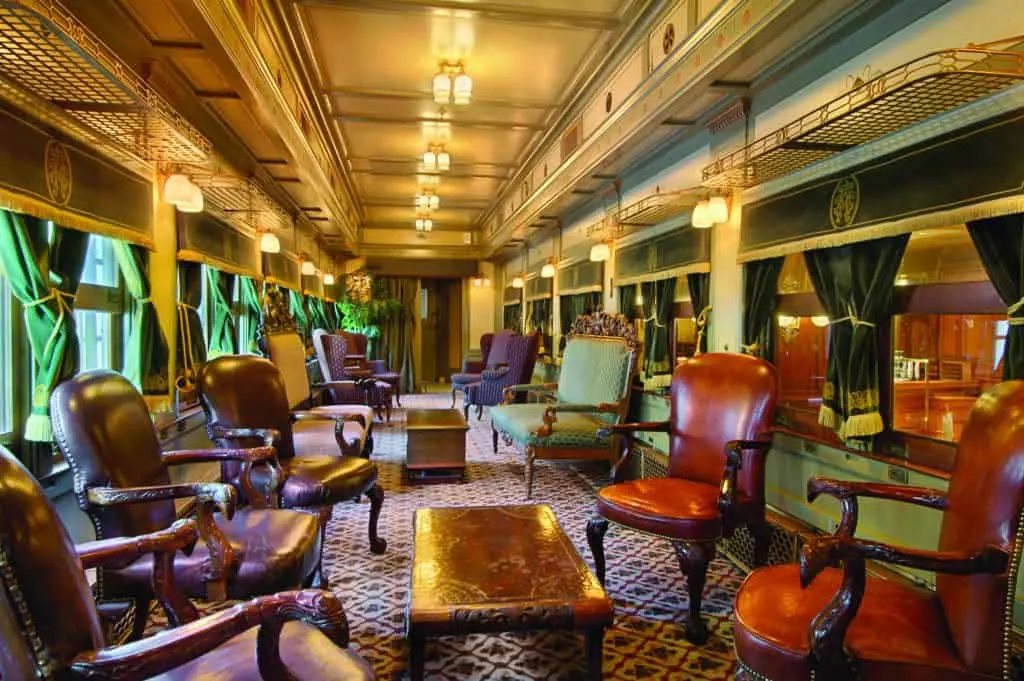 Visit the Mob Museum: Not only is the history of mob involvement in Las Vegas, and around the country discussed, there are a plethora of historic artifacts on display. Included in the collection are weapons, jewelry, and personal possessions of mobsters like Meyer Lansky, Frank Rosenthal, Bugsy Siegel, and Al Capone among others.
Even the building that houses the museum is historic in nature. Serving as both a post office and courthouse, the Mob Museum's structure opened for business in 1933 and served as the arena for the Kefauver hearings in 1950 which was intended to dig into organized crime in America.
See Also: Take a look inside the Mob Museum – My full review!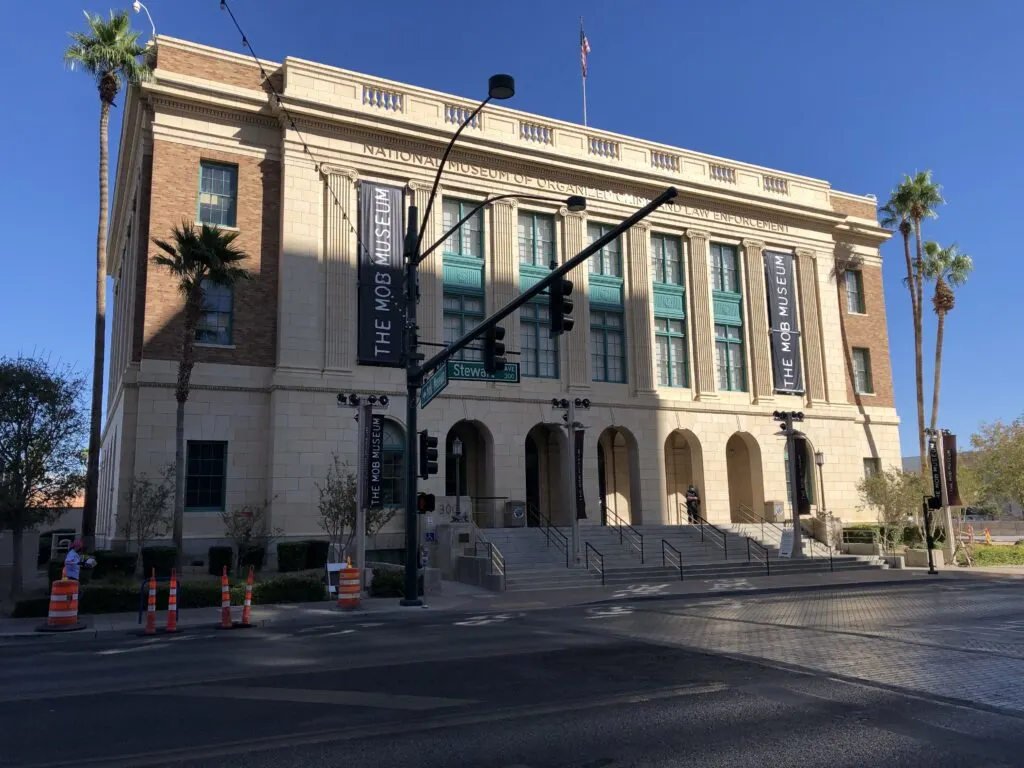 See Also: How to get into the Mob Museum speakeasy, with instructions on where to find the password.
Hotel Apache at Binion's: Binion's recently renovated and reopened 81 hotel rooms that were originally part of the Hotel Apache which opened in 1932 and housed the first electric elevator in Vegas. While the refreshed rooms now have modern amenities you would expect in the 21st century, Binion's maintained that 1930s feel with period decor and design elements. We recently stayed at Binion's renovated hotel and you can read more about our experience at Hotel Apache here. Note that these rooms hide behind Binion's neon facade, and not in the tall hotel tower which used to belong to The Mint.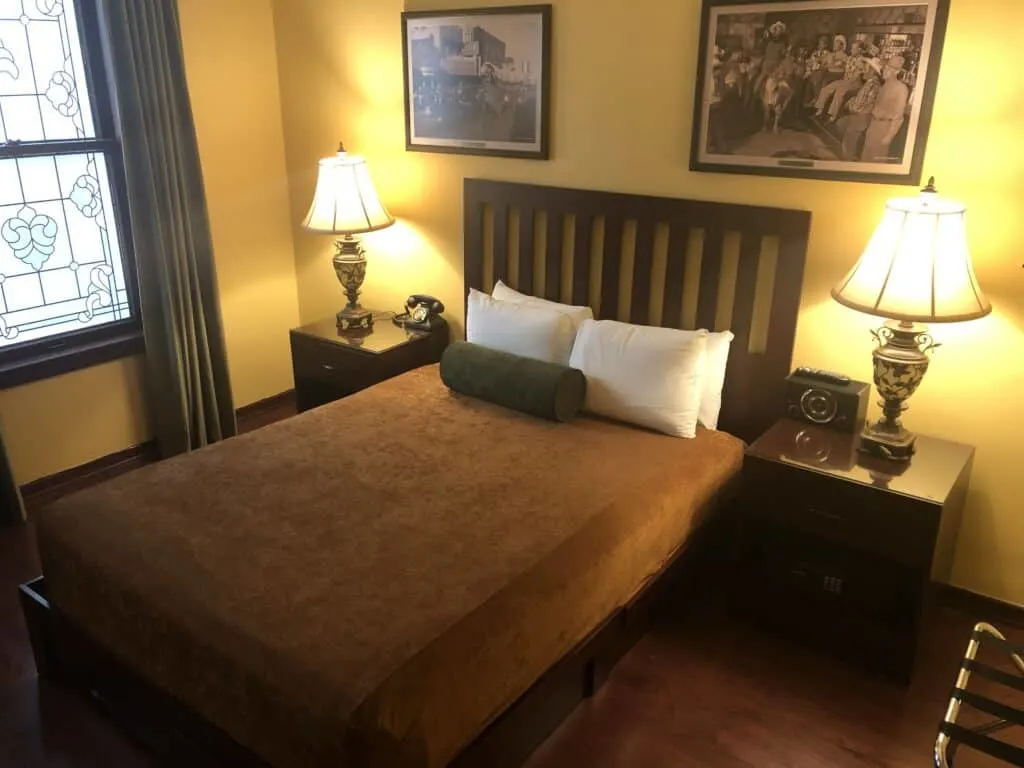 See The Mint: While at Binion's, stop by Whiskey Licker Up where the petrified wood exterior of The Mint, along with some of The Mint's towering sign are still visible. The Mint was absorbed by Binion's in the 1980s, but part of her historic facade lives on!
Old Neon Signage at the Neon Museum: The Neon Museum's 2.25 acres of historic Las Vegas casino signage, some of which restored, will blow you away. While guided tours of the boneyard are available during the day, we recommend booking a night visit to experience The Neon Museum's "Brilliant! Jackpot" display which brings the vintage signage to life via very realistic projector technology.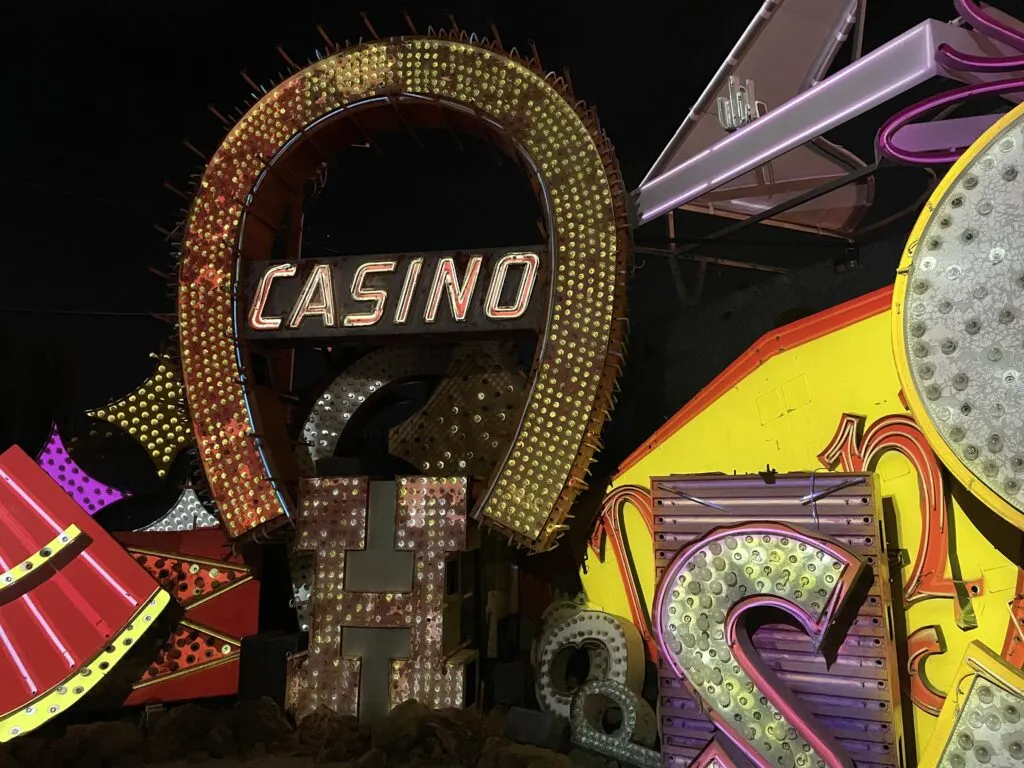 There's an abundance of historic things to see on Fremont Street downtown Las Vegas. Hopefully, we were able to point you in the direction of some artifacts, or sights of historic significance that will be of interest to you!
See also: Things to do on Fremont Street – Casino by Casino breakdown!
I'm a former software salesman turned Vegas aficionado. While the craps table is my preferred habitat, I pull myself away to explore new attractions, shows, restaurants, and outdoor activities around Las Vegas with the intent of sharing my experiences.
Ultimately, I just want to help folks plan a better trip and save a few bucks in the process.