One of the most common questions posed by folks new to Vegas revolves around "comps" or freebies from the casino in the form of rooms, shows, food/beverage, and merchandise.
The key is to obtain a player's card and use it while gambling and spending on the property. A player's card allows the property to get to know you and your gaming habits to determine your worth to their business.
Let's start by defining some key terms you'll undoubtedly come across as you navigate Las Vegas loyalty programs.
Earning Tier Credits and Reward Points
Tier Credits
The two major loyalty programs on the Las Vegas Strip are MGM Rewards (all MGM Resorts properties) and Caesars Rewards (Caesars Entertainment properties).
In both programs, you earn Tier Credits that count toward status upgrades within the respective programs.
Along with status upgrades in each program come additional perks like free parking, resort fee waivers, free early check-in/out, access to lounges, complimentary room upgrades, etc.
Points
In addition to tier credits, members of both loyalty programs also earn a separate set of points that have an associated cash value redeemable for things like meals, shows, free play, merchandise, and rooms at the resort.
This separate point system is referred to as Reward Credits (Caesars) and Rewards Points (MGM).
MGM also has a separate "Slot Dollars" bucket of money that can be used as free play. Slot dollars are slowly accumulated as you play slots at MGM properties.
Below, is a screenshot of the MGM Rewards phone app that shows my current "Rewards Points" and "Slot Dollars" balances. A screenshot of my Caesars phone app would be almost identical, however, only has a Reward Credit balance.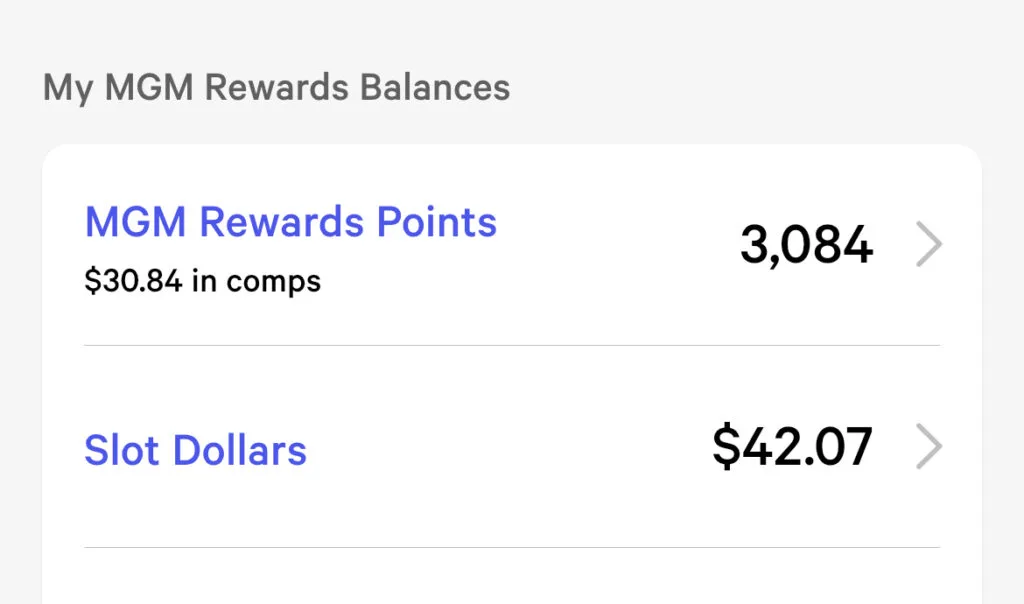 TIP: Don't be shy – Ask for comps before spending your hard-earned points.
Whether you've been grinding a blackjack game for 5 hours or just hit a slot jackpot, simply ask an employee if your current play warrants what you want whether it be a buffet, meal, pack of cigarettes, or show tickets.
Keep in mind that being friendly toward the staff and throwing some tip money around goes a long way in earning freebies.
Earning Free and Discounted Hotel Rooms
Players often receive free and discounted room offers that are based specifically on what they spend at properties within a respective program.
Once you sign up for and use a player's card you'll likely receive email/mail offers for free slot tournaments, free slot play, trips to Laughlin, free rooms, etc.
Additionally, when you log into your program's booking website, hotel pricing is tailored specifically to you and is based on your gaming habits.
Even as a low roller, you can expect discounted rates when booking directly with Caesars and MGM as compared to 3rd party booking websites, and will often receive free room night offers midweek and during slow times. Mid to high-rollers will rarely pay for hotel rooms in Vegas.
Comp offers are based on your theoretical expected loss which is calculated by how much money you typically run through games and what the house edge is on those games.
TIP: Concentrate your play at a single property or group of properties in the same program to inflate your value.
As an example, if you're looking to earn free rooms, etc. in the future, don't spread your play out between 3 or 4 casino chains daily. Instead, spend a day at Caesars properties, a day at MGM properties, etc. Doing this will make you look more lucrative to the property and they'll be more likely to want you back for more.
If your play is significant, a casino host may introduce themselves as your contact going forward to discuss comp offers, etc. You can read up on what a casino host is, and what they can do for you!
I chose to focus on the 2 largest loyalty programs, however, there are others across town that operate similarly. If earning status with a particular property is important to you, always make sure you are signed up for that property's program, know what other casinos are a part of the program, and always use your player's card.
A Word of Warning…
Never play outside your limits to obtain status or comps within a loyalty program. The benefits you obtain typically won't outweigh the money lost that you couldn't afford to begin with. It's a losing proposition.
View the current program benefits for Caesars Rewards and MGM Rewards to become better acquainted with each.
See Also: 90+ free things to do, see, and experience in Las Vegas!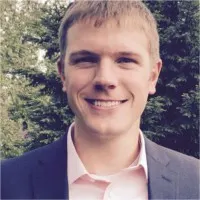 I'm a former software salesman turned Vegas aficionado. While the craps table is my preferred habitat, I pull myself away to explore new attractions, shows, restaurants, and outdoor activities around Las Vegas with the intent of sharing my experiences.
Ultimately, I just want to help folks plan a better trip and save a few bucks in the process.