Food options at Cosmopolitan receive a considerable amount of buzz on social media and for good reason.
With wide-ranging options that include the high-end Wicked Spoon buffet, numerous sit-down restaurants, and the fast-casual Block 16 Urban Food Court, you're assured to find something that fits your tastes and budget.
Although Cosmo's known restaurants and bars are fantastic, their hidden food and drink options tend to drive the greatest amount of excitement.
One of those options, Ghost Donkey, is an unadvertised speakeasy featuring hand-crafted mezcal and tequila cocktails and one hell of a cool atmosphere.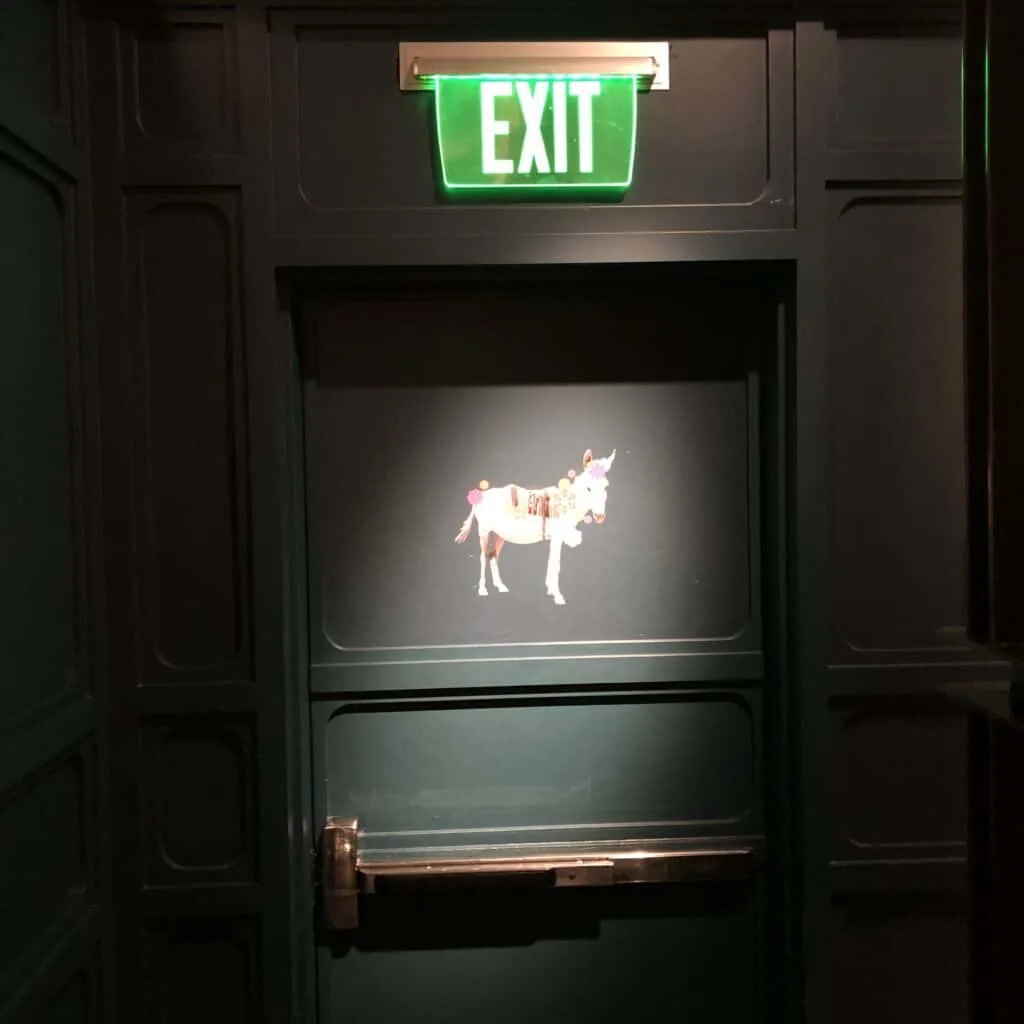 So, Where Is Ghost Donkey at Cosmopolitan?
Ghost Donkey can be found in the Block 16 Urban Food Hall, which is located on Cosmopolitan's second floor near the Chandelier Bar, across the hall from Holsteins.
If you're on the casino floor, follow signs for the Chandelier Bar and take the nearby escalator up one level.
Here's the food court you're looking for:
What sets Ghost Donkey apart from the other tenants in the food court, however, is the lack of signage or storefront to alert the casual passer-by to its existence.
Once you make it to Block 16, make your way toward the back wall of the food court (you'll be surrounded by restaurant seating) and find the green door with the white donkey on it (pictured above).
Open the door, step in and you'll find yourself in the small speakeasy with a distinct New York City vibe.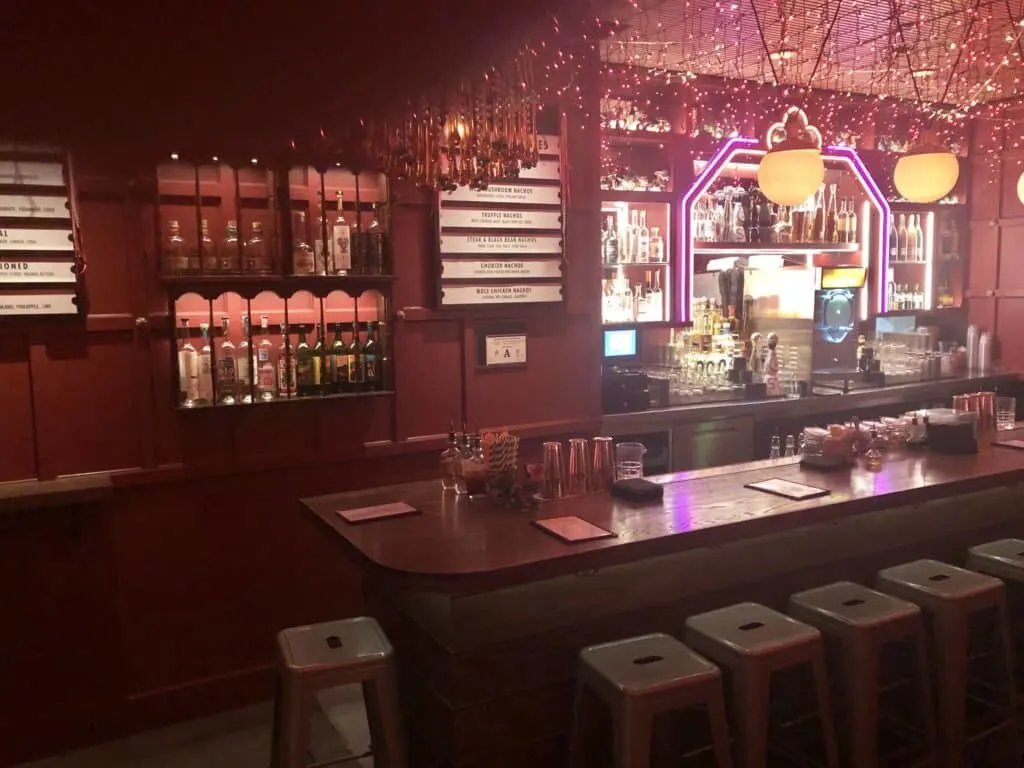 The idea of a speakeasy, or hidden bar, is genius. Although Ghost Donkey's existence is now relatively well known among Vegas regulars, there's still a feeling of "being an insider" sitting at a bar that many are oblivious to. It's just fun.
A concept like Ghost Donkey embodies a spirit of uniqueness that Las Vegas as a whole seems to be moving away from, and I'm all about it.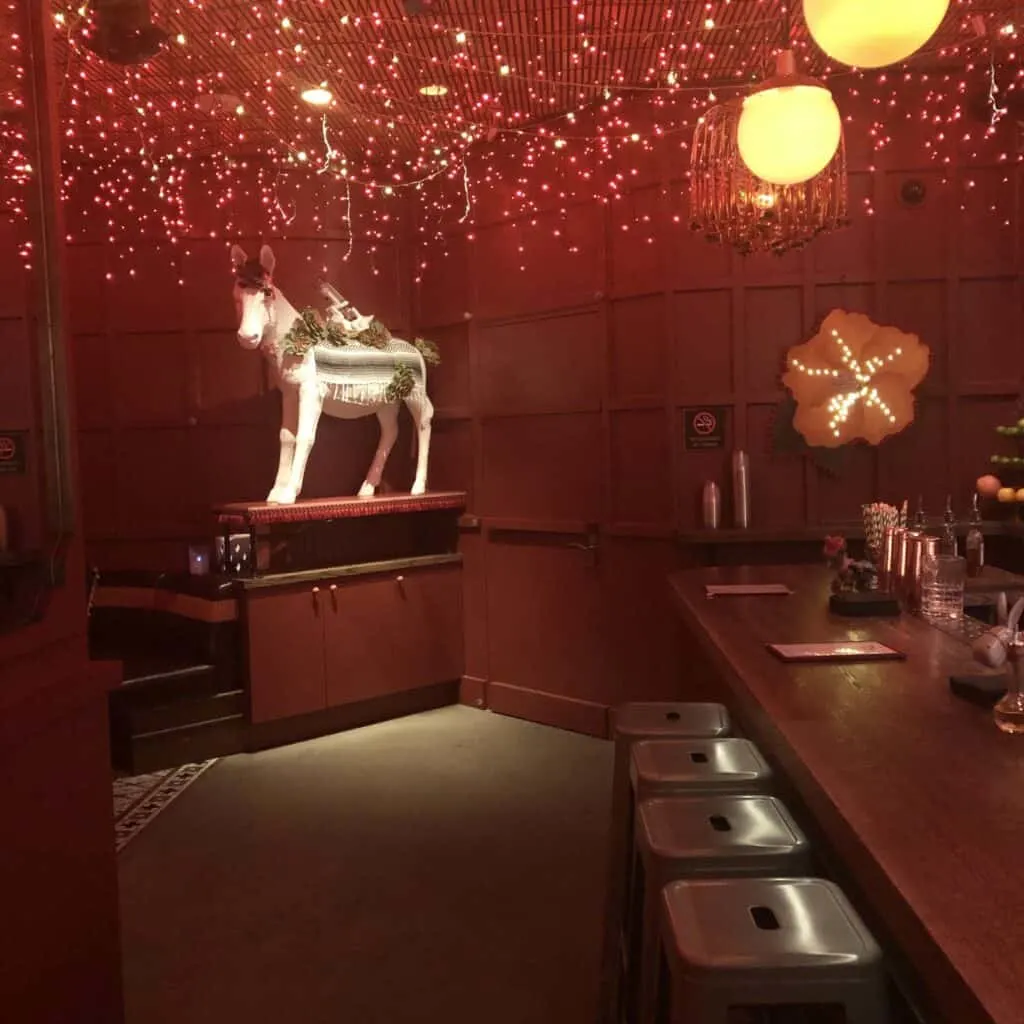 Ghost Donkey also has an intimate vibe hard to find at a mega-resort which adds to its allure. With only 10 stools at the bar and seating for 10-15 more throughout the room, the entire space isn't much larger than a typical hotel room.
In my opinion, there's so much more to this bar than the novelty of it being hidden. Ghost Donkey's service, cocktails, and food options are honestly next-level.
I tend to be a bottled light beer guy, however, found the $18 Pisterolo to be an outstanding change of pace and worth the price tag.
I found the mix of tequila, ancho verde, roasted poblano, pineapple, and lime created a spicy, yet sweet concoction that when mixed with the salt-lined rim was fantastic.
A fancier drink than I'm used to, I fully admit that I'm unable to define what half the ingredients I just mentioned are, but can confirm that they came together nicely.
In addition to specialty cocktails, Ghost Donkey also serves a lineup of specialty nachos including Truffle Nachos with white cheddar sauce, black truffles, and chives.
Ghost Donkey opens daily at 4 pm and the door stays unlocked until midnight. The drinks, food, and service are great. Combine that with the experience that finding a hidden bar like Ghost Donkey provides – Amazing.
Here is a link to Ghost Donkey's full menu.
I'm a former software salesman turned Vegas aficionado. While the craps table is my preferred habitat, I pull myself away to explore new attractions, shows, restaurants, and outdoor activities around Las Vegas with the intent of sharing my experiences.
Ultimately, I just want to help folks plan a better trip and save a few bucks in the process.