Recognizable to people all the world over, the Bellagio Fountains are an image synonymous with Las Vegas. The fountains put on a number of free shows daily that take place in Bellagio's 8.5-acre man-made lake which is located between the resort tower and Las Vegas Blvd. Lurking just below the water's surface are over 1,200 individual sprayers that are capable of shooting water over 460 ft in the air. Three types of sprayers utilized, Minishooters, Extremeshooters, and Supershooters are stationary and fire water vertically, while Bellagio's Oarsmen sprayers move around and do the "dancing".
Although many believe the lake and fountains utilize reclaimed water from the resort, the actual source is an underground well previously used to water the Dunes golf course.
Related: Do you love the way Bellagio smells? Did you know you can buy their exact fragrance used in the casino (along with other Vegas casinos) for home use?
As a Las Vegas landmark, the water show is the scene of countless selfies, marriage proposals, and even weddings. Every once in a while, an "over-served" tourist even jumps in for a quick swim that typically doesn't end well for the perpetrator.
As one of the most popular free activities in Las Vegas, many guests time their visit to catch a show. With that in mind, we thought it would be helpful to detail Bellagio fountain showtimes in 2021 along with what songs are being featured currently.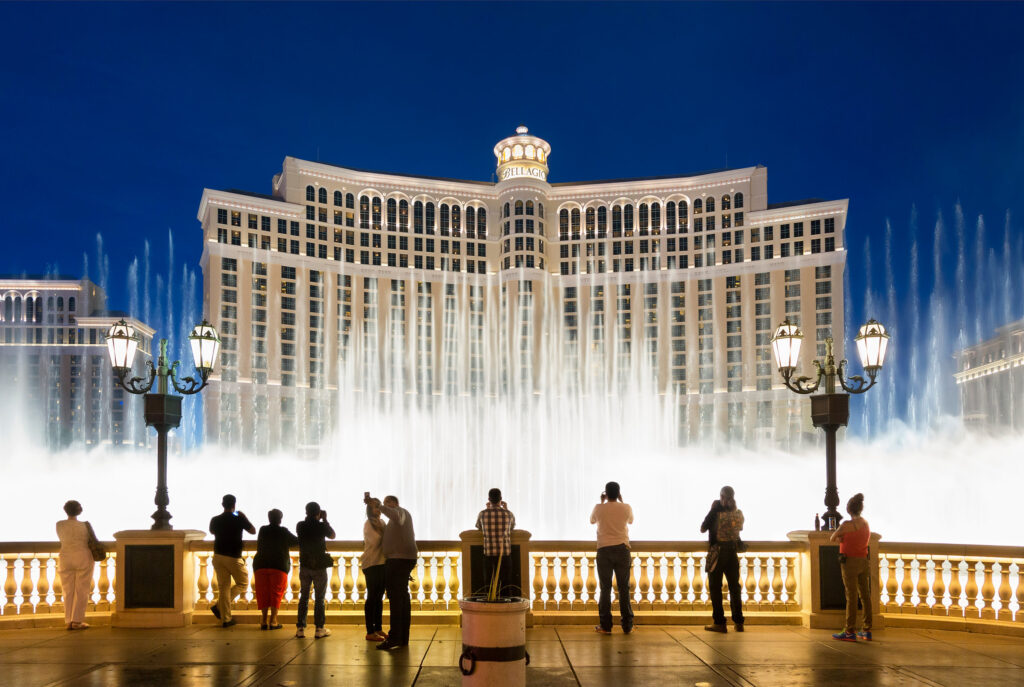 Bellagio Fountain Schedule in 2021
Monday through Friday: The Fountains of Bellagio go off every 30 minutes from 3pm to 8pm and then every 15 minutes from 8pm to midnight.
Saturday, Sunday, and Holidays: Shows are scheduled every 30 minutes from noon to 8pm when the schedule switches over to a show every 15 minutes from 8pm to midnight.
*Note that shows can be canceled due to high winds.
Where to Watch the Bellagio Fountains
Spanning over 1,000 feet in length, there is plenty of space on the sidewalk between the lake and the Strip to take in the show. Daytime shows are typically uncrowded and there will be plenty of real estate for you and your group.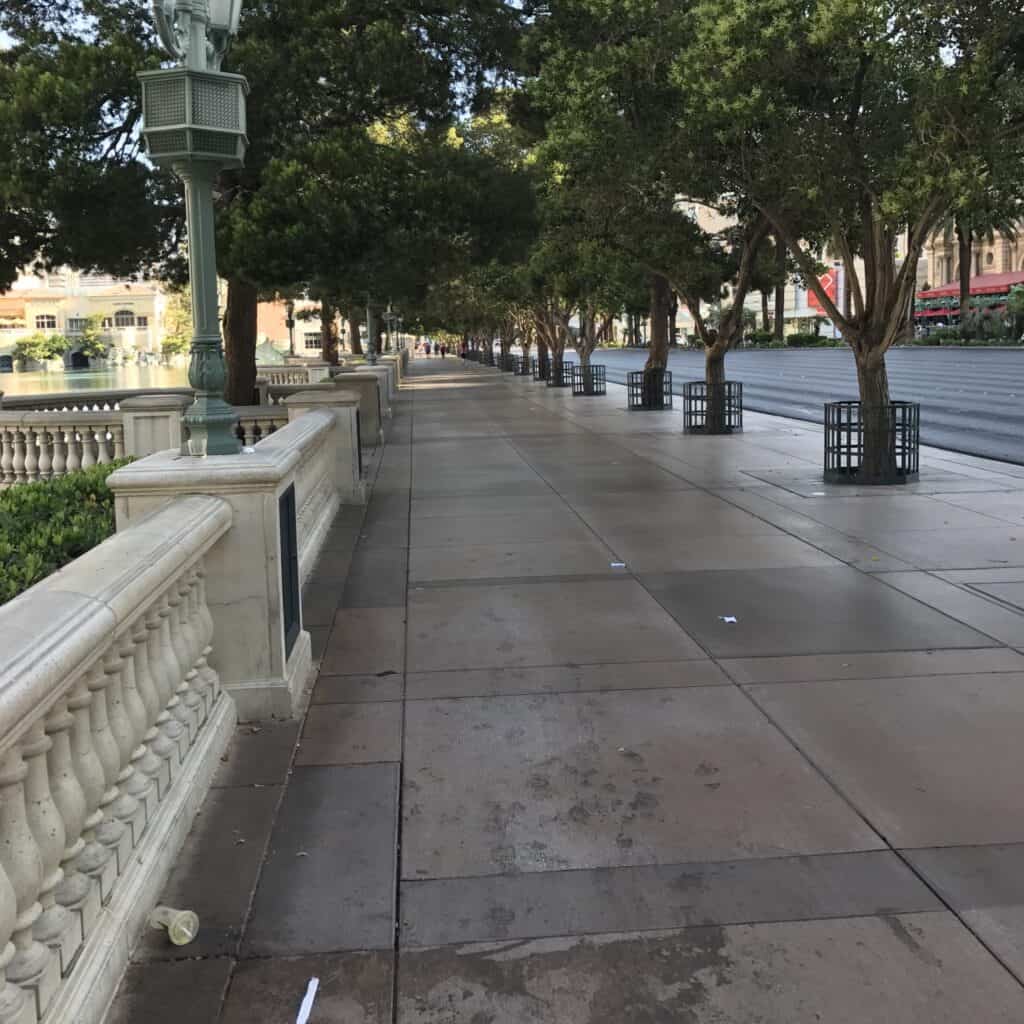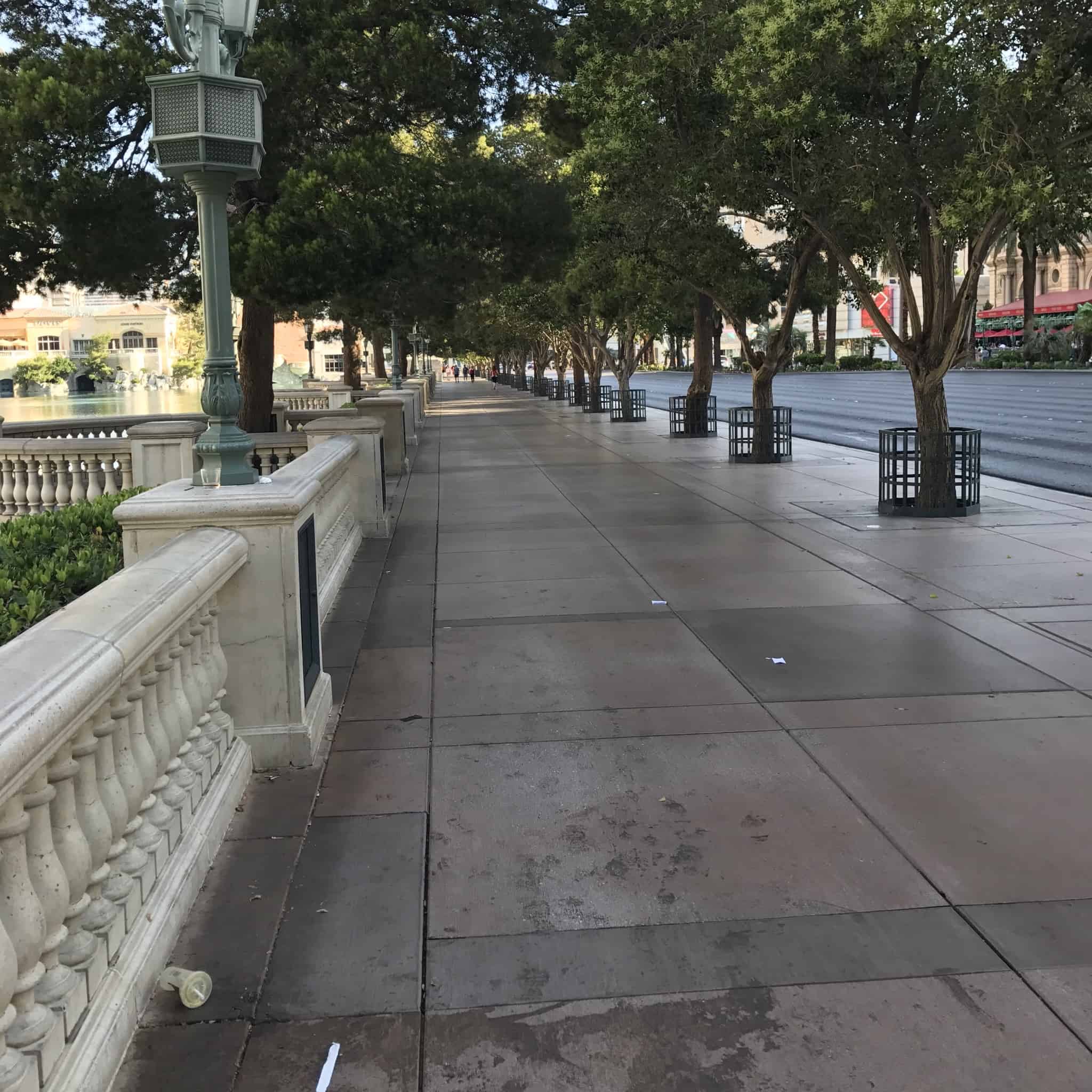 Restaurants at Bellagio such as Lago and Scarpetta offer nice views in addition to your meal. Our favorite spot to catch the fountains is sipping a beer across the street at Paris' Beer Park rooftop bar which overlooks the fountains. Check here for our full rundown of restaurants with a Bellagio Fountain view.
If the crowds are thick, escape by walking up the sidewalk toward Bellagio's Porte Cochere to view the fountains from the resort side with Cromwell, Flamingo, Paris, and Bally's in the background.
Rooms at Bellagio with a view of the Fountains are labeled as "Lakeview", "Fountain View" and "Tower King Deluxe" on booking websites.
Bellagio Fountain Song List in 2021
Offering musical selections for all tastes, the Fountains of Bellagio dance to tunes to include Lady Gaga, Frank Sinatra, and Lee Greenwood. The diversity in genres and energy levels make each fountain show a bit different and worthy of multiple stops during your trip. Below is the current Bellagio water show playlist:
| | | |
| --- | --- | --- |
| Song | Artist | Length |
| Believe | Cher | 4:13 |
| Bad Romance | Lady Gaga | 4:54 |
| My Heart Will Go On | Celine Dion | 5:08 |
| In the Mood | Ralph Charmichael | 3:30 |
| The Ecstacy of Gold | Ennio Morricone | 3:22 |
| UpTown Funk | Bruno Mars | 4:29 |
| Lucy in the Sky with Diamonds | The Beatles | 3:29 |
| Hey, Big Spender | Gwen Verdon | 3:35 |
| God Bless the USA | Lee Greenwood | 3:57 |
| Viva Las Vegas | Elvis Presley | 3:22 |
| Overture/All That Jazz | Catherine Zeta-Jones | 4:34 |
| Pink Panther | Henry Mancini | 2:39 |
| Rhapsody on a Theme of Paganini | Mikhail Rudy | 2:55 |
| Rondine al Nido | Luciano Pavarotti | 3:23 |
| Star Spangled Banner | Whitney Houston | 5:08 |
| Simple Gifts | London Symphony Orchestra | 3:12 |
| Con Te Partiro | Andrea Bocelli | 4:04 |
| One, Singular Sensation | Original Broadway Cast | 4:43 |
| Luck be A Lady | Frank Sinatra | 5:14 |
| Fly Me to the Moon | Frank Sinatra | 2:28 |
| Singin' in the Rain | Gene Kelly | 3:32 |
Bellagio Fountains Playlist
Many also wonder what happens to the coins tossed into the fountains. According to a Review Journal story from 2017, the coins are collected and distributed to local charities.
See Also: Find the loosest slots in Vegas – We dig into the data to point you in the right direction.
Feature Image Credit: ©klotz/123RF.COM