The Fountains of Bellagio are among the most iconic attractions in Las Vegas and are instantly recognizable worldwide. A free attraction, many of Las Vegas' 40+ million annual visitors prioritize stopping by the fountains during their stay. Dancing to a selection of over 20 songs, no performance is identical to the last. Understandably, many also seek to have a meal at one of the numerous restaurants with a view of the Bellagio Fountains.
Below, we dive into both restaurants at Bellagio, and other resorts, that have a fountain view. It may be obvious, but we recommend being proactive with reservations to ensure the best view. Not all seating options are created equal when it comes to seeing the show.
Related: Here are some additional ideas for things to do at Bellagio!
Bellagio Restaurants With a Fountain View
Bellagio expertly leverages its fountains by offering a number of restaurants with stunning views of the water show. Restaurants that provide a fountain view at Bellagio offer a wide assortment of cuisine with various influences that include Japanese, Chinese, French/Spanish, and traditional American fare. Price points at Bellagio restaurants with a view of the fountains may shock budget-conscious travelers so we recommend checking the menu (which will be linked) before visiting.
Picasso: Chief Chef Julian Serrano serves up Spanish and French-inspired cuisine while also boasting an impressive European wine collection. As a high-end restaurant, Ladies are encouraged to dress elegantly and men are encouraged to wear a jacket although they are not required. Most importantly, Picasso overlooks the Bellagio Fountains and offers outdoor patio seating.
Jasmine: An upscale Chinese restaurant with a view of the Bellagio Fountains, Jasmine specializes in Nouvelle Hong Kong cuisine.
Le Cirque: A French restaurant that boasts a AAA Five Diamond Award Rating, the experience at Le Cirque is enhanced by a view of the Bellagio Fountains. A 5-course meal will cost $135 per person and wine pairing can be had for an additional $88. A 10-course meal will set you back $350 per person.
Yellowtail Japanese Restaurant & Lounge: Overlooking the Fountains of Bellagio, Yellowtail offers Japanese fare in the form of rolls, sushi, and shared plates. Yellowtail also has an outdoor patio that overlooks the fountains that is worth the wait.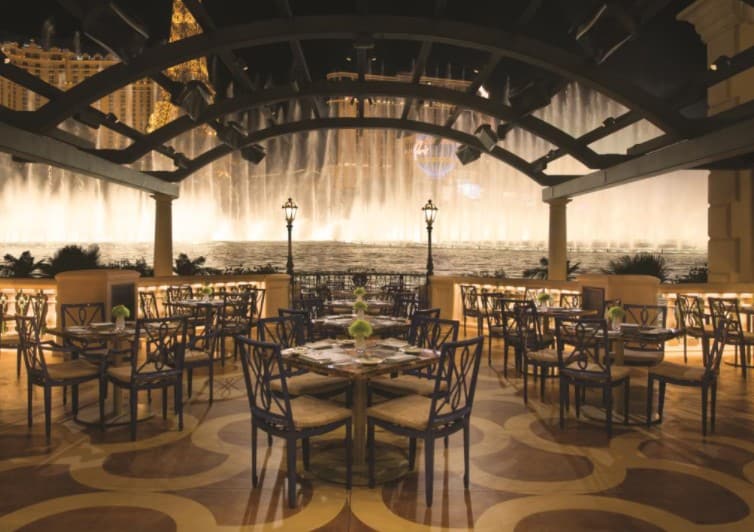 Hexx: Also found at Paris, across the street from Bellagio, seats on the front patio at Hexx offer guests views of the fountains across the street. While there are some trees that obstruct the view slightly, the fountain show will still offer a nice backdrop to your lunch or dinner. Hexx is slightly cheaper than the other restaurants on this list with the typical entree costing between $20 for a burger and just over $50 for the 16 oz Grilled Rib Eye.
Mon Ami Gabi: Situated directly next to Hexx at Paris, Mon Ami Gabi's front patio also offers views of the Bellagio fountains across the street. the average entree at Mon Ami will set you back about $30, and there is a burger and fries offered for under $20. Patio seating with a fountain view is first come first served, so we recommend checking it out at non-peak times to limit your wait.
Scarpetta: An Italian restaurant which can be found at Cosmopolitan has views of the Bellagio Fountains next door, Scarpetta boasts Spaghetti, Creamy Polenta, Veal Chop, and Salted Caramel Budino as their signature dishes. Scarpetta's average entree runs between $30 – $60.
Hopefully, we were able to help you identify a suitable restaurant with a view of the Bellagio Fountains! While most carry a hefty price tag, there are a few budget options. Again, we suggest calling in advance for reservations to ensure you get the view you desire.
See Also: Hotels with a View of the Bellagio Fountains.
Feature Image: ©bloodua/123RF.COM