Key Points:
The Deuce Bus offers service along the Strip and to Fremont Street at a palatable price ($8 for a 24-hour pass).
Although inexpensive, The Deuce is slow due to how many stops it makes and is often quite crowded.
According to survey data from the Las Vegas Convention and Visitor's Authority (LVCVA), 58% of Las Vegas visitors visited downtown in 2022.
The reasons to visit Fremont Street are numerous and include watching the overhead Viva Vision canopy light show, dining at restaurants with that "Vintage Vegas" vibe, and seeing the neon that has been slowly disappearing from the Strip.
For budget-conscious visitors, taking the bus is an effective way to get from the Strip to downtown for less. After all, an Uber, or Taxi cab can cost upwards of $20-$30 one way depending on where you depart from and demand.
How To Get To Fremont Street By Bus
Visitors on the Strip looking to get to Fremont Street by bus will need to leverage the Deuce bus route which runs up and down the Strip and extends to downtown.
You'll want to note that The Deuce stops frequently, and although cheap, isn't exactly the fastest way to get to Fremont Street.
Albeit slow, the Deuce can offer great views of resorts along the Strip. Grab a seat on the top floor of the double-decker bus and enjoy the ride!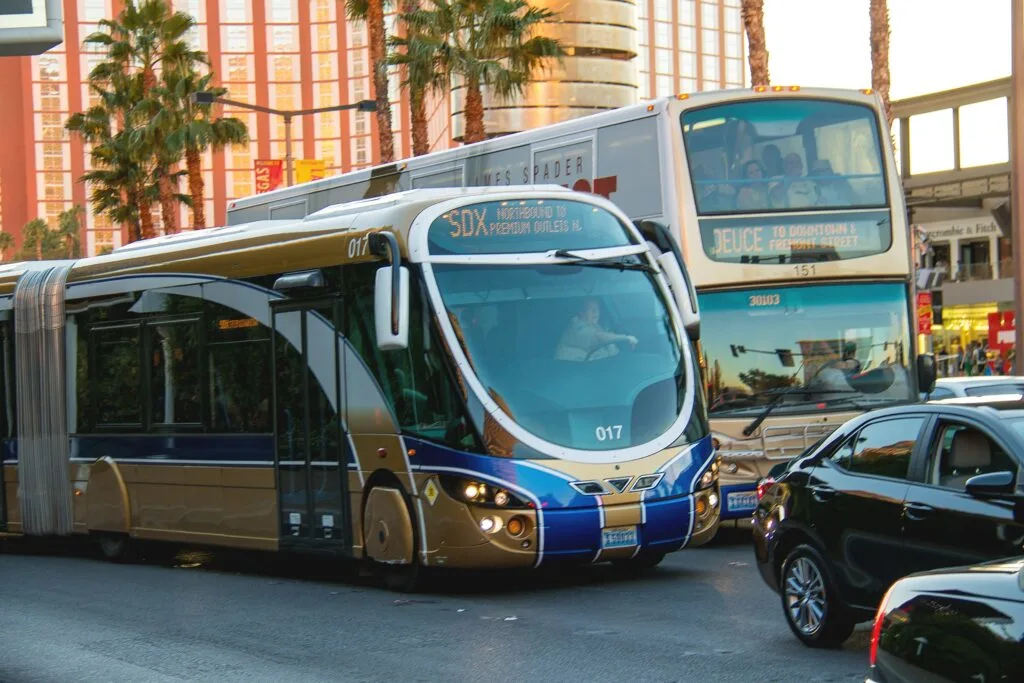 How to Buy Tickets for the Deuce
Bus tickets and passes are offered in 2-hour, 24-hour, and 3-day increments and cost $6, $8, and $20 respectively.
Those options are available for purchase at electronic ticket vending machines which are easy to use and can be found at each Deuce bus stop.
Additionally, guests can pay cash as they enter the bus, but exact change is required.
The quickest and easiest way to buy your ticket, though, is via the RideRTC smartphone app which is available for both IOS and Android devices. Simply purchase your pass and scan the electronic ticket on your phone upon entering the bus.
Related: Pros & Cons of Buying a Bus Pass in Vegas.
What Casinos Does The Deuce Pick Up/Drop Off At?
Duece bus stops are frequent both northbound and southbound and are clearly marked along the Strip. You won't need to walk far to find one.
Northbound Bus Stops (Heading Towards Fremont Street): Mandalay Bay, Tropicana, MGM Grand, Polo Towers, Planet Hollywood, Paris, Harrah's, Venetian, Wynn, Resorts World, Circus Circus, Sahara, STRAT, and the Fremont Street Experience.
Southbound Bus Stops (Heading Towards The Strip): STRAT, Sahara, Circus Circus, TI, Mirage, Caesars Palace, Bellagio/Cosmopolitan, Park MGM, Excalibur, Luxor, Mandalay Bay.
In addition to Fremont Street to the north, The Deuce also makes a stop at the "Welcome to Fabulous Las Vegas" sign on the south end of the Strip.
Here is the full Deuce route map:
Downsides of Taking the Bus To Fremont Street
It can't be all roses, right?
While taking the bus to and from Fremont Street from the strip is easily the cheapest way to get back and forth, there are a couple of downsides to be aware of:

The Deuce will be crowded
During primetime, The Deuce is commonly jam-packed, and you don't always get to choose who'll be in your personal bubble.
Something to consider, especially in a post-pandemic world where some are still wary of crowds.
The Deuce will be slow
Making stops at every resort to drop off & pick up makes this a comparatively slow ride when compared to rideshare or taxis. Be prepared for frequent stops.
Hopefully, my quick guide to taking the bus from the Strip to Fremont Street helped you realize that taking public transportation in Las Vegas is easy, inexpensive, and convenient.
Although there are a few "cons" associated with taking the bus to and from downtown, for many the cheap price tag makes enduring crowds and a slower ride worthwhile.
Enjoy your trip to downtown Las Vegas while saving some money in the process!
See Also: 90+ Free Things to Do and 50+ Ways to Save Money in Vegas.
Feature Image: ©tupungato/123RF.COM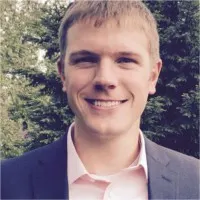 I'm a former software salesman turned Vegas aficionado. While the craps table is my preferred habitat, I pull myself away to explore new attractions, shows, restaurants, and outdoor activities around Las Vegas with the intent of sharing my experiences.
Ultimately, I just want to help folks plan a better trip and save a few bucks in the process.