Over 40 million people visit Las Vegas annually with the intent of partying, seeing the sights, and amassing a small fortune in the casino.
That volume of discretionary income flowing into the city is an invitation for hustlers to concoct ideas to part naive tourists from their money through scams, tourist traps, petty crime, and ripoffs.
Although the tone of this post is cautionary in nature, it's important to note that Las Vegas is a safe destination and no riskier than other major tourist destinations. Security and police presence are omnipresent, and it's rare that people feel unsafe on the Strip or on Fremont Street.
With that being said, it's good to go into a new city prepared for what could happen to aid in avoiding negative situations.
Below, I'll cover some common scams that hustlers and even legitimate businesses use to separate you from your hard-earned money or time.
Related: Is Vegas.com Trustable? – I share my experiences.
Las Vegas Scams To Avoid
Pickpockets
A destination filled with alcohol-infused tourists carrying copious amounts of cash is a haven for petty thieves.
Utilize your hotel room safe to store excess cash you don't need to carry on your person and if you must carry, employ a secure travel wallet.
Long Hauling
A commonly known Las Vegas scam at this point, some disingenuous cab drivers will take unknowing tourists on the longer "scenic route" to drive up their fare.
Skip the stress and leverage rideshare apps like Uber & Lyft. Conveniently, the fare you'll pay is transparently communicated before you even book the ride.
Although taxis recently rolled out flat rates from the airport, rideshare apps are still almost always cheaper.
Be wary though, even rideshare drivers can try to take you for a ride, albeit uncommon. I recently was quoted $15 to get from the airport to Caesars Palace, was picked up, and noticed that the driver deviated from the route suggested by Uber.
When I got dropped off, I was charged nearly $30!
I reported the incident to Uber through their app and was refunded for the entire ride within the hour – Impressive customer service.
Trust, but verify.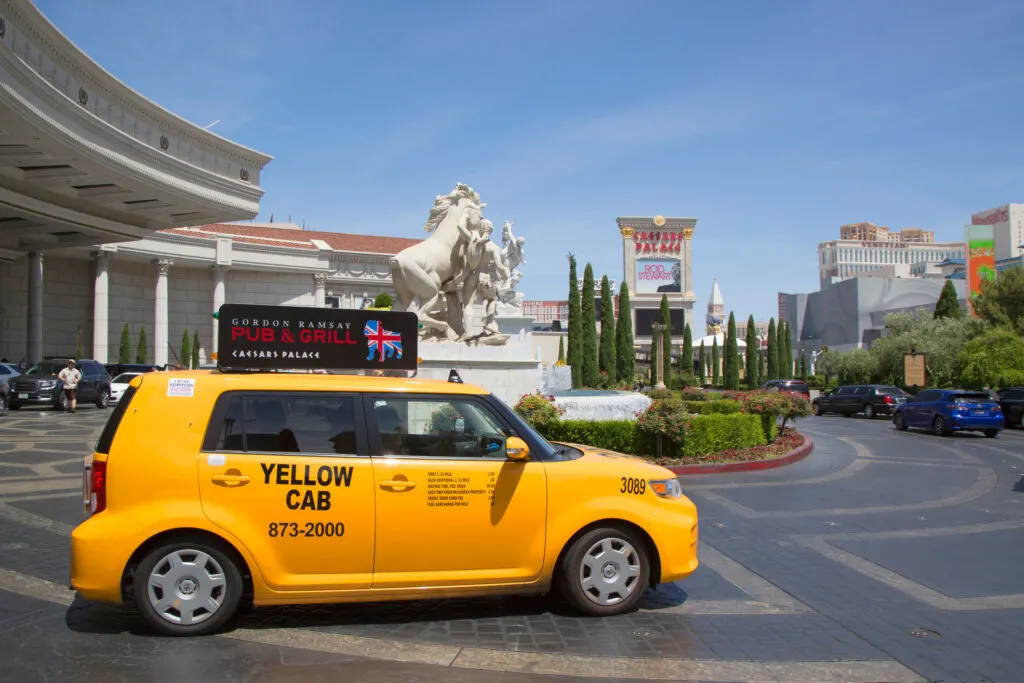 People "In Need of Help"
I recently received an email from a reader that ran into this scam twice while in Las Vegas.
The man was approached in the parking lot by a couple that claimed to have lost all their money in the casino and had no gas to get home.
The scammer offered his "gold" chain and ring as a trade for $200 to fill their gas tank. While this negotiation was taking place, a woman was pleading for help from the car. The target of the scam fortunately declined.
Hilariously, the exact same couple approached the same patron at a different casino the next day, not remembering they already tried to scam him.
This is obviously a scene that had played out tens if not hundreds of times.
Always be wary of someone "needing help" and don't feel pressured by the situation.
Street Performer Photo Shakedowns
Buskers are commonly found along the Strip and Fremont Street showcasing a talent or dressed as popular characters, showgirls, etc.
Performers expect a tip for photos taken with them, but they're legally unable to set a specific price. You're able to tip what you want, although they'll commonly demand an outrageous amount like $20 or $50 per person.
Have a plan going into the engagement. Generally, $5-$10 total (not per person) for a picture is more than sufficient and I recommend discussing compensation before you strike a pose. Lead with something like "I only have a $10 – Will that be enough?".
Don't be pressured into paying more than you are comfortable with – They feed unconfident pushovers.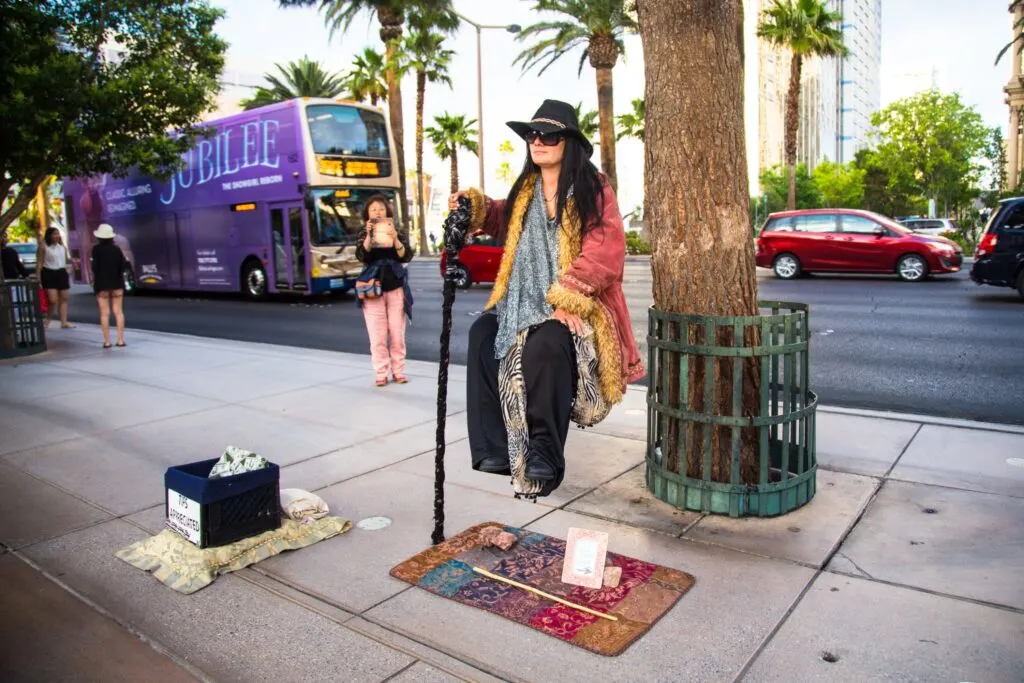 CD Hawkers
Aspiring musicians often look to distribute their music (or blank CDs that supposedly contains their music) on the Strip, hoping to get discovered.
They'll hand you a CD as you pass by, almost as if it's a freebie and you grab it because you're polite. Next thing you know you're being shaken down for cash in exchange for the trash CD you didn't want in the first place.
Don't be afraid to hand it back, it's not worth your money. Better yet, blow them off in the first place.
This scam is not limited to CDs either – If anyone tries to hand you a polished stone, bracelet, or anything really – Just resist the reflex to grab it and walk past.
3 Card Monty (or similar derivatives)
Hustlers will set up shop on pedestrian walkways offering tourists the opportunity to double their money if they're able to identify their chosen card after it is shuffled with 2 others or find a ball placed under 1 of 3 cups.
Here's the answer to the test – it's a scam – they switch out your card or remove the ball. You can't win. If others are winning then they're in on the hustle.
Do your gambling in a regulated casino, not with a few random dudes underneath a pedestrian walkway on the Strip.
Photographers at the "Welcome to Las Vegas" sign
If you visit the iconic "Welcome to Fabulous Las Vegas" sign, you'll likely see photographers ready to snap tourist photos.
Like street performers, they're not official employees, work for tips, and you are not obligated to employ their services. Just ask another visitor to snap a pic for you instead.
While there's commonly a line that forms for the non-official photographer, you can feel comfortable skipping it. Walk right up and take your own pictures.
Oftentimes, showgirls or Elvis impersonators will also be present to take a photo alongside. As mentioned in the scam above, don't feel pressured to overtip.
Time Share Sales Pitches
Often the promise of discounted hotel rates, free shows, or tours is enough to persuade visitors to sit through a timeshare sales pitch. After all, how hard can it be to just say no and walk away with your freebie?
This tourist trap, though not criminal in nature, will often keep you held hostage for longer than promised upfront and will feature a HARD sales pitch.
When you're inevitably approached by a random stranger on the street, or even near your hotel elevators asking "How long are you in town for?" or "Are you two married" reply with "We're locals" and keep walking.
Better yet, don't even respond or make eye contact.
In case you find yourself considering a timeshare purchase – Just google reviews for the timeshare company in question. You'll change your mind real quick. This ripoff is not worth your time.
CNF Fees
A new, sneaky fee is creeping onto Las Vegas restaurant menus at an alarming rate.
The CNF fee or "Concession and Franchise Fee" amounts to 4%-5% fee tacked onto your final bill… for nothing.
Frustratingly, there's barely a mention of the fee as it typically gets buried in the fine print at the bottom of a menu.
Currently, the CNF can be found (and avoided) at Beer Park, Alexxa's, Cabo Wabo, and Chayo Mexicano to name a few spots.
Take a good look at your receipt before paying and ask for the fee to be removed. They'll usually take care of it for you.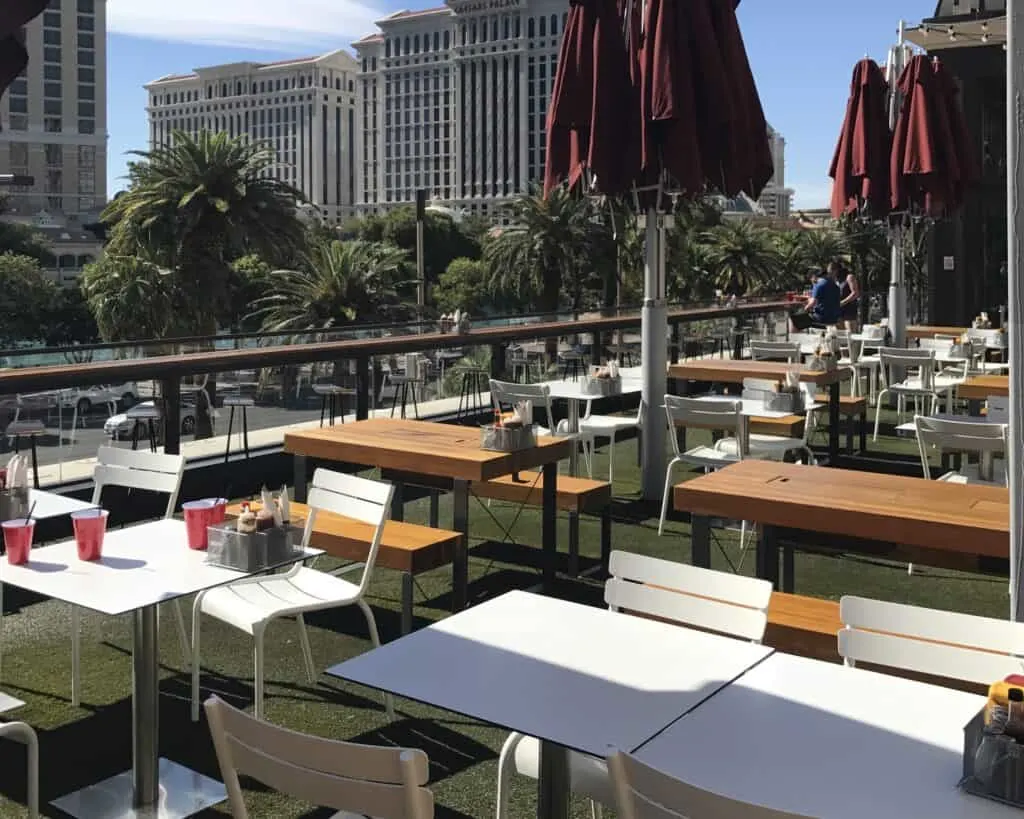 Casinos Keeping the Change
More and more casinos aren't dispensing change at self-service ticket redemption machines. Instead, they give you the cash and print a voucher that you then have to redeem at the cage for your change.
Who's waiting in an 8-person deep line at 3:48 am for 23 cents?! Nobody. Almost always, the vouchers get trashed.
It's a small-scale Vegas scam, but still annoying.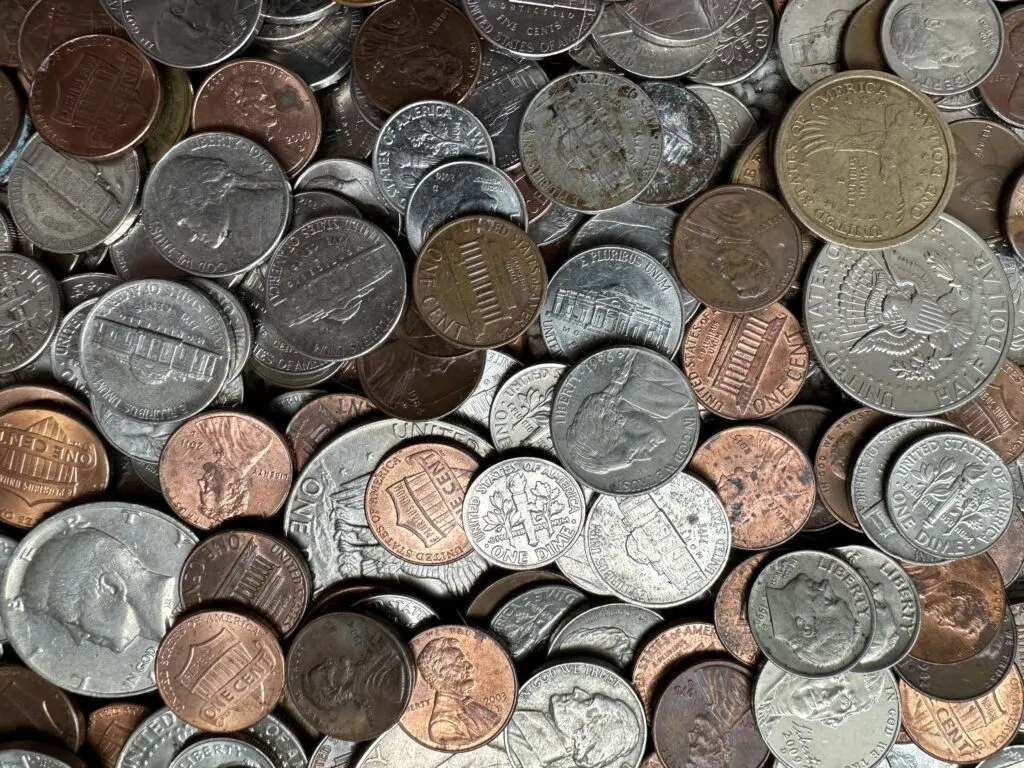 "Nightclub Promoters"
It's best to avoid the "promoters" that are numerous along the Strip and tout great "exclusive" deals.
The deals are almost always exaggerated, non-exclusive, or made up altogether. Trust your instincts and avoid doing business with some random dude on the street corner.
Triple Zero Roulette / 6:5 Blackjack
Casinos, particularly in tourist centers have watered-down odds on certain games to the point I'd consider them to be a scam.
If playing roulette, find a double zero wheel, or better yet seek out a single zero variant (which can be found at Plaza).
Similarly, find a blackjack table that pays the traditional 3:2. That could require playing higher stakes on the Strip or heading off the beaten path to find a game.
If you are staying on the Strip, walk a few blocks behind Horseshoe to Ellis Island where affordable 3:2 blackjack can be found.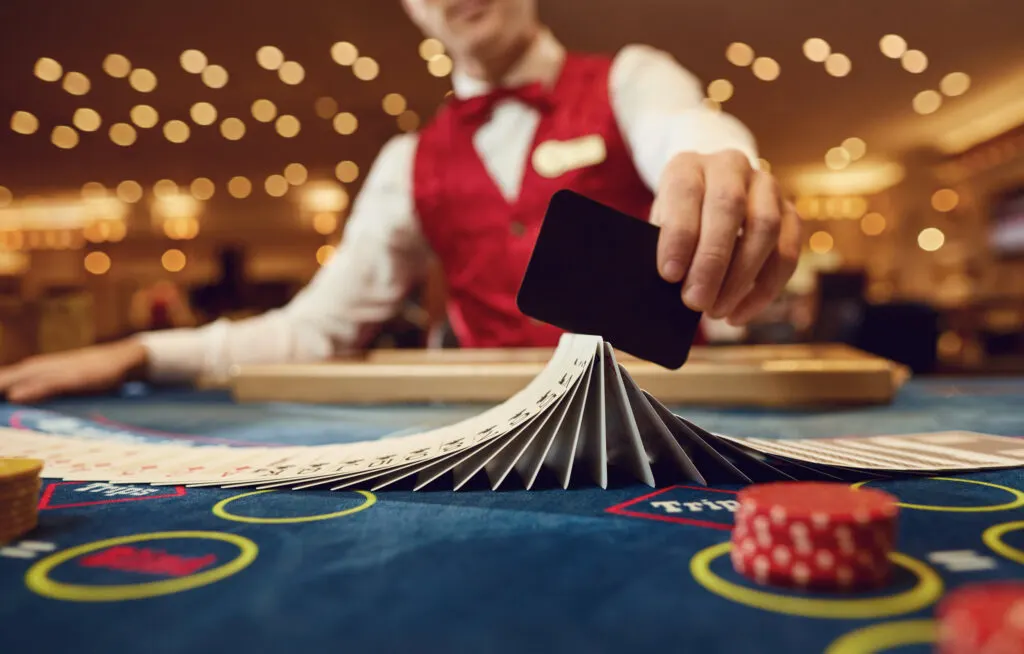 TITO Theifs
Playing slots? Keep possessions like slot Ticket in, Ticket out (TITO) vouchers, wallets, cell phones, etc secured at all times.
Criminals are known to snap items of value up unnoticed as they walk by.
Be aware that these scammers will work in teams. One will distract you while an accomplice scoops up the item of their desire. If it's worth something, keep it in your pocket.
Phone Thefts
More and more slot machines within Las Vegas casinos offer wireless charging capabilities. While super convenient for guests that are low on battery, a phone in the open is a dream for scammers.
Like with TITO slips mentioned previously, watch out for distractions as thieves use them to their advantage.
If a stranger approaches you, the likelihood is high that his or her partner is creeping up from the other direction to snatch your charging, unguarded phone.
Resort Convenience Stores
Convenience stores in popular Strip casinos have moved to a "surge pricing" model in many cases, where inventory pricing can change at a moment's notice based on demand.
As pricing changes frequently, these shops don't even bother with price tags.
Ensure you ask for a price check before whipping out your Visa… Better yet, take a few more steps and stock up on toiletries, snacks, and drinks at one of the numerous CVS or Walgreens locations that now line the Strip – Trust me. You'll save money. A lot of it.
Trick Rolling
You're enjoying a late-night cocktail and are propositioned by someone you assume to be a sex worker.
You happen to be a willing buyer and invite her up to your room. She tells you to hop in the shower to freshen up before the action starts, however, when you come out she's gone, along with anything of value in your room.
Other variations of this crime include luring the John to a hotel room where they're assaulted/drugged and robbed of their cash.
Prostitution is illegal in Las Vegas – Catch a ride out to where it is legal and regulated if you are looking to pay for companionship.
Hopefully, my rundown of Las Vegas scams, tricks, cons, and ripoffs to avoid aids you in steering clear of situations, or at least give you the tools to respond to them appropriately.
Scammers are smart, they look for and go after folks they think will be easy targets such as obvious tourists, people under the influence of alcohol, and those who simply don't look confident enough to put up resistance.
I can't stress the confidence piece enough. So many of these scams can be avoided by simply saying "No", whether you're dealing with a CD hawker, CNF fees, timeshare pitches, or pushy buskers – Don't worry about being rude.
They're looking for a pushover that's looking to avoid confrontation. Don't be their pushover. Stick up for yourself and your interests.
If you stumbled across this article on Las Vegas Scams, you likely have some concerns about your safety or being ripped off – Let me assure you that Las Vegas is incredibly safe, however, like any tourist destination, it's good to travel prepared for what could happen in a worst-case scenario.
Don't allow yourself to leave Vegas with a bitter taste in your mouth because you were made a victim.
Related: How to Stay Safe in Las Vegas – Don't be a victim!
Feature Image Credit: ©olexie/123RF
I'm a former software salesman turned Vegas aficionado. While the craps table is my preferred habitat, I pull myself away to explore new attractions, shows, restaurants, and outdoor activities around Las Vegas with the intent of sharing my experiences.
Ultimately, I just want to help folks plan a better trip and save a few bucks in the process.