We may earn money from the companies and products mentioned in this post.
As one of the premier properties in Vegas, Wynn has been on my "to stay at" list for some time. Unfortunately, my frugal nature typically takes over at booking time and I opt for the comped room at a mid-tier Caesars or MGM property.
Now, I'm not the type to grind out rewards on slot apps. MyVegas was a hobby that came and subsequently faded quickly. I figure paying the $15 bucks for an attraction was easier than earning it via hours of game play. Somehow though, a stay at Wynn seemed worth the potential time investment.
Most importantly, I figured it would be fun to report back to our blog's followers how much work would go into earning a free room and whether or not the effort was worthwhile.
Quick Note on Wynn Slots Game Play
Gold Coins: The currency used to play Wynn Slots. They front you with some seed money, but then its up to you to either buy more (I didn't plan on doing this) or harvest free coins (that's more my speed).
Purple Gems: The currency used to buy free room nights in the app. You earn purple gems based on your slot play. The more gold coins you bet per pull, the faster you accumulate purple gems.
VIP Points: A separate scoring system requiring you to accumulate 10,000 VIP Points to earn "VIP level 2" which unlocks the ability to book a free room. VIP Points are accumulated through event completion, harvesting your gold chest/wheel and in app purchases of coins.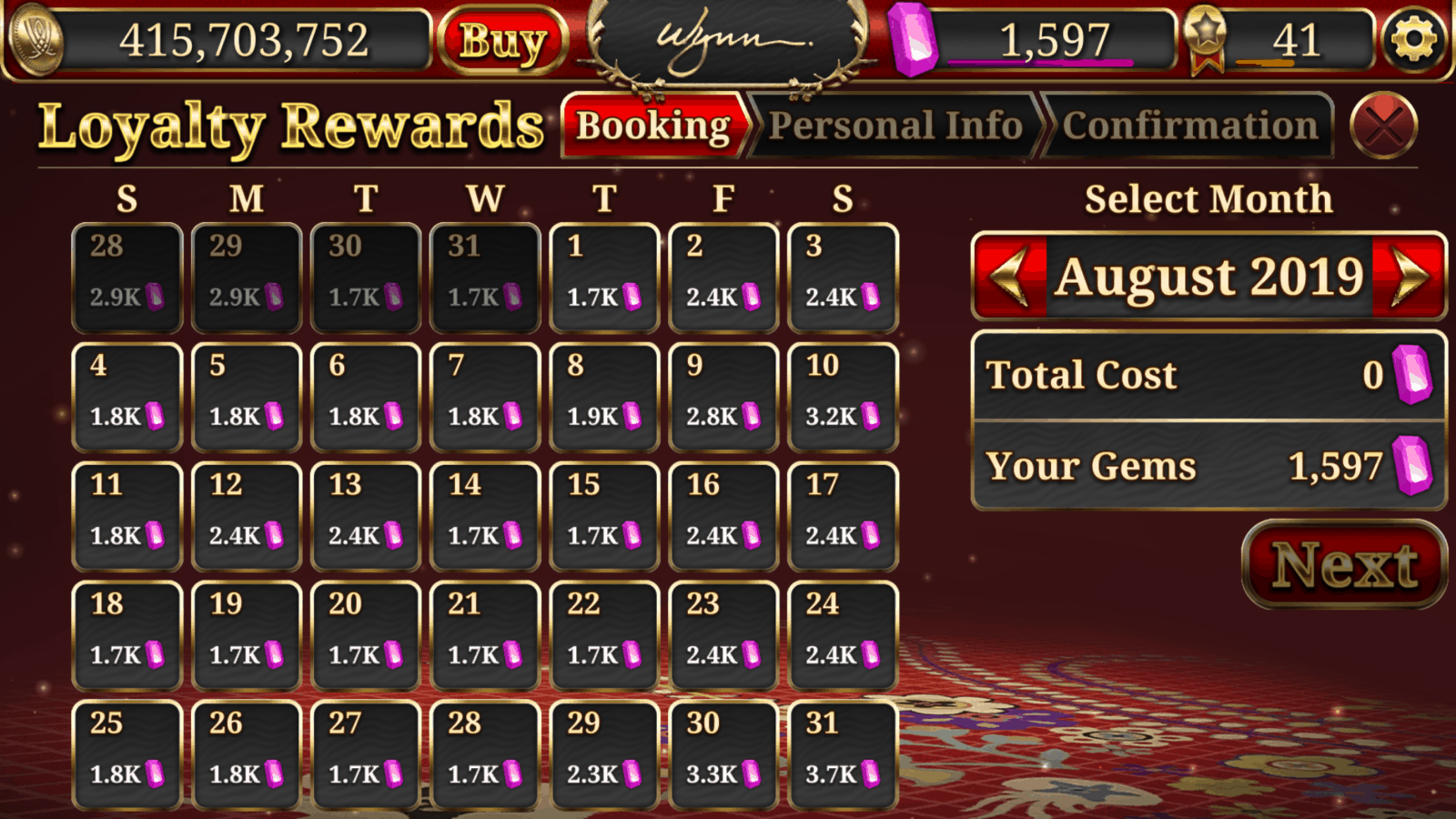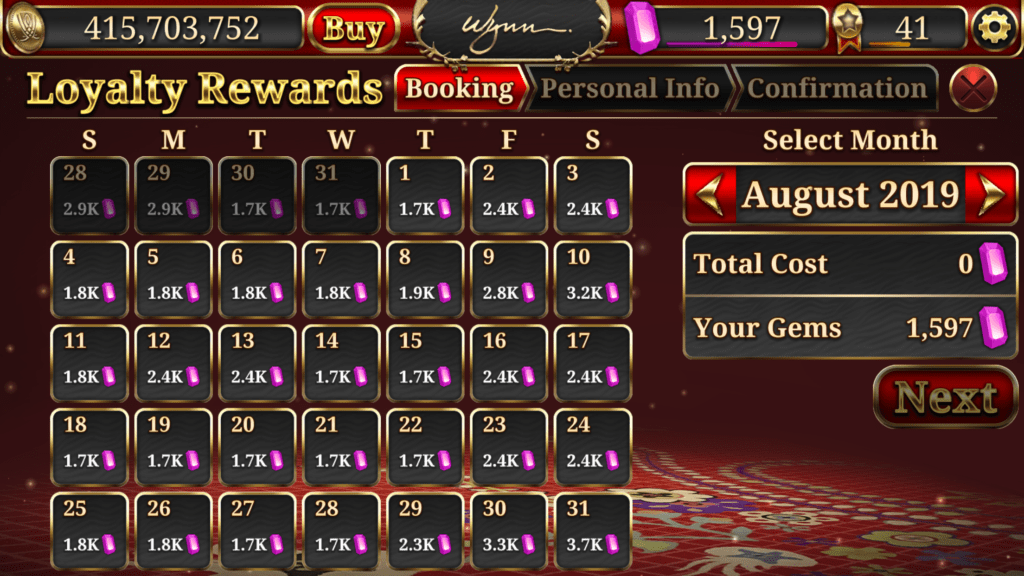 The goal from the beginning was to make no in-app purchases of gold coins. The Wynn Slots app provides free gold coins daily, but the rewards are on a timer. There are 3 timed redemption options for free chips:
Silver Chest: Redeemable every 15 minues, this chest offers the smallest amount of gold coins, albeit frequently available.
Gold Chest: Redeemable every 3 hours, the amount of gold coins harvested is a tad more substantial.
The Wheel: Redeemable every 12 hours, the wheel can grow your bankroll quickly if you manage a lucky spin. Ensure you spin the wheel at least 1x every day. If you do so, you will work your way up to a 3x multiplier for all of the free coin harvesting options listed here.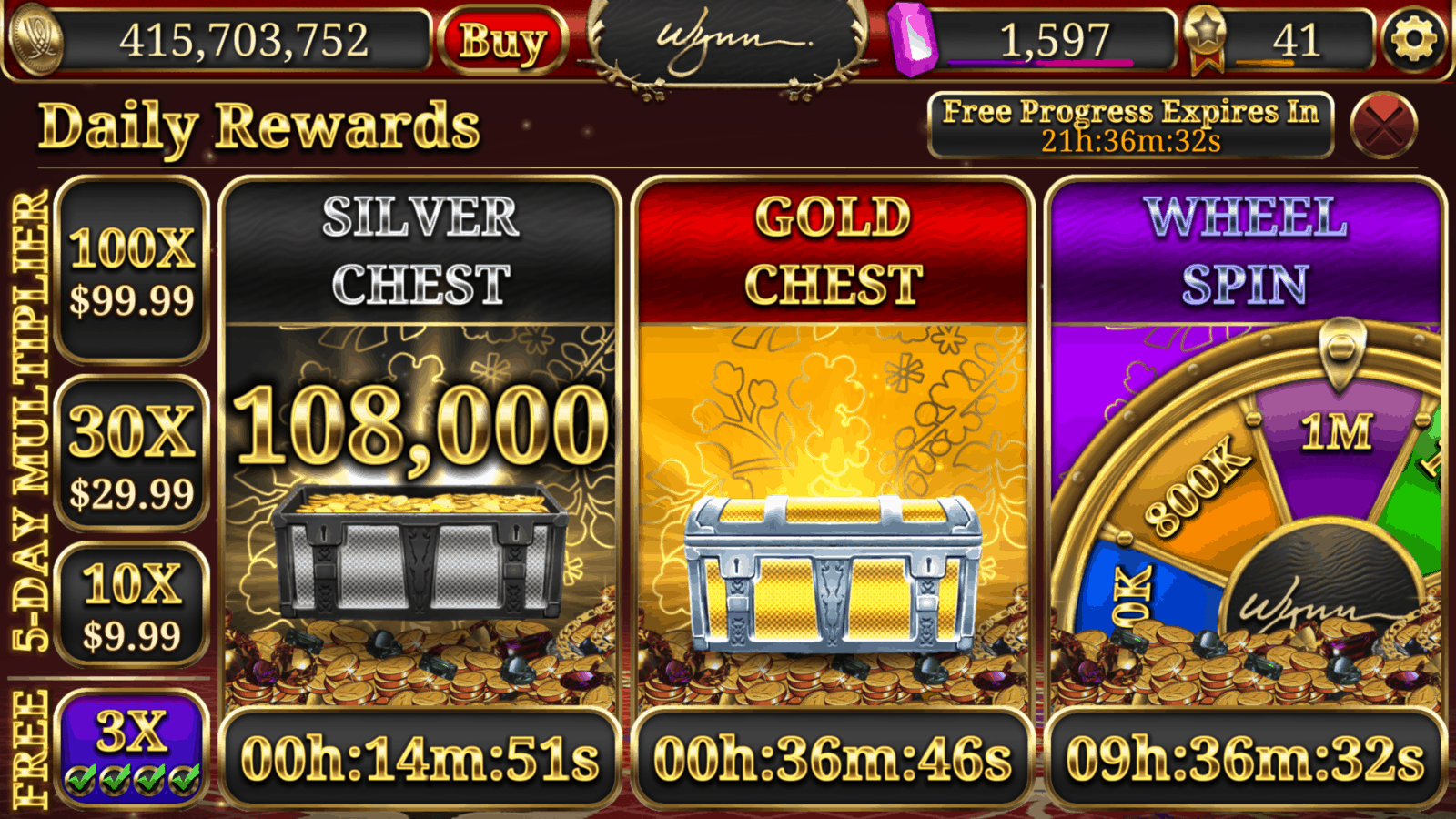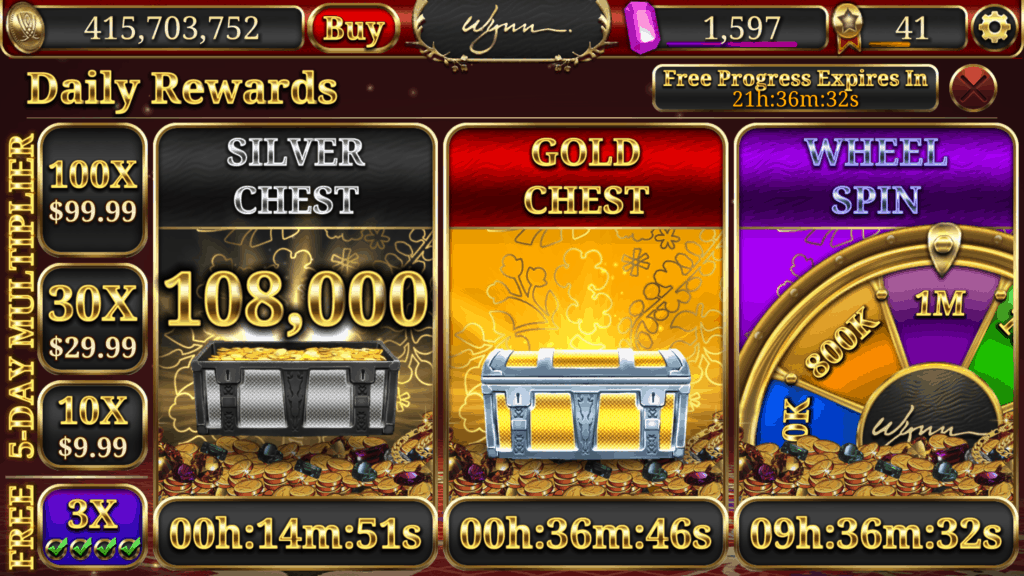 If my gold coins ran low, I would rely exclusively on harvesting my treasure chests/the wheel and never by making an in app purchase.
For those not willing to spend real money for additional gold coins, you quickly realize that this is going to be a grind. Purple gems (used to purchase free room nights) accumulate very slowly. When playing slots at the minimum bet allowed, it takes hundreds of spins to accumulate one additional purple gem. To put that into perspective, you need a minimum of 1,800 gems to purchase one room night. To earn a freebie, you'll need to accumulate a LOT of spins and conserve your gold coin bankroll. As your bankroll grows, however, your per spin wager can be increased to accumulate purple gems at a faster clip.
As you play slots on the app, you'll notice that your "level" increases the more you play. Every new level achieved awards you with a gold coin bonus. Exciting right? Not exactly. As you climb the levels, you need to run more and more coins through the slots to earn purple gems. While your first room night may be easy to earn, subsequent room nights will be more challenging.
In addition to earning purple gems, which are used to redeem rooms and coins that are used for slot game play, a recent update to the application requires you to earn VIP Points that are needed to unlock the ability to book a room. You have 90 days to earn enough VIP Points (10,000) to get to "VIP level 2" which is needed if you want to have the ability to spend your gems on a free room. VIP Points are earned by completing events, harvesting your gold treasure chest /wheel and buying chips in the app. Accumulating VIP Points is a tedious process, however, in app purchases accelerate that process greatly.
After each 90 day period, VIP Points are reset to zero and you again have 90 days to earn the next level.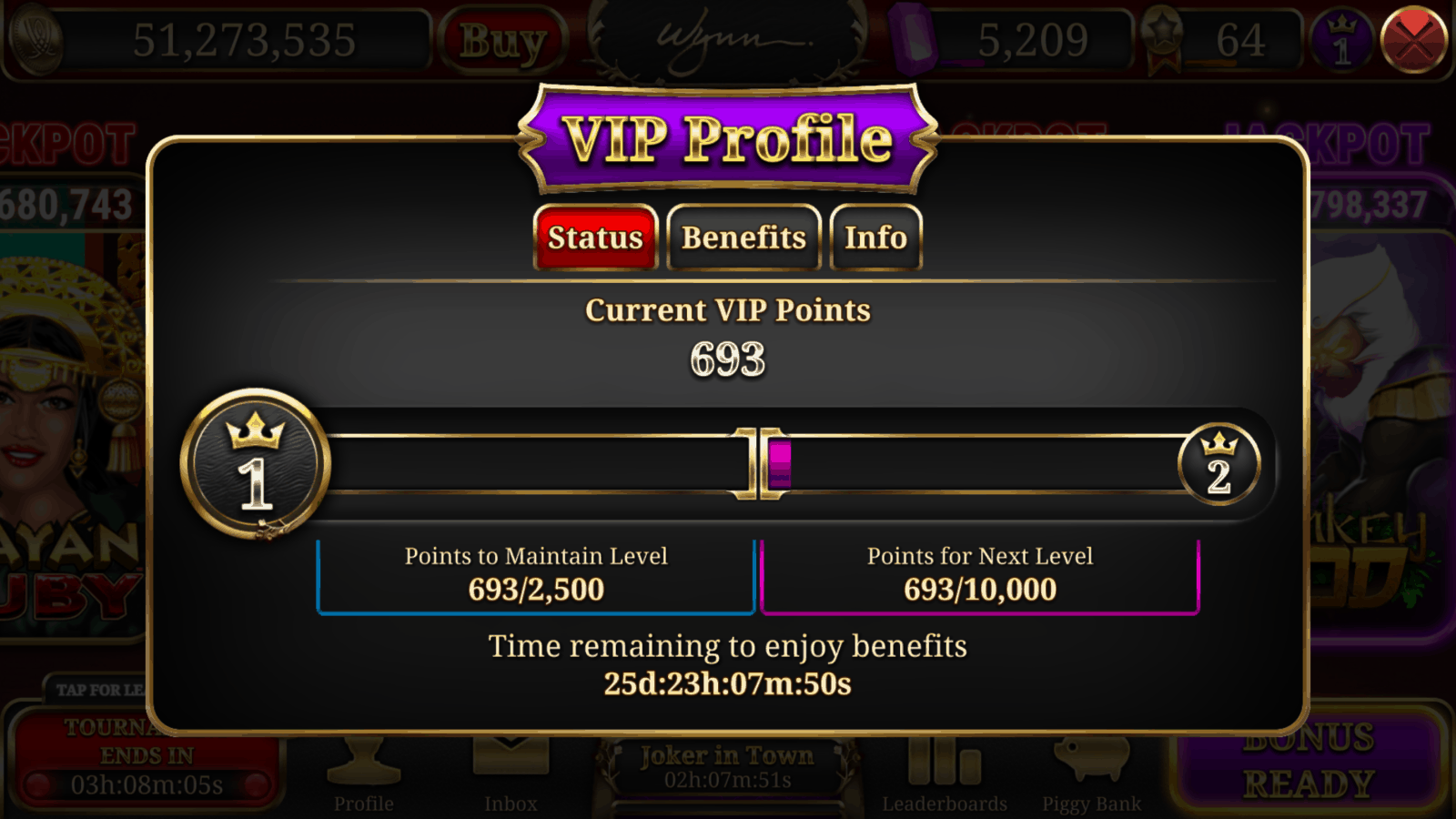 In order to earn the 10,000 VIP Points needed in 90 days to get yourself to VIP level 2, you will need to be hyper vigilant about harvesting your chest/wheel as well as completing events aggressively. This new requirement makes earning a free room without and in app purchase nearly impossible.
Another note on VIP Points is that they reset to zero every 90 days. If you earned a level during the previous 90 days, you'll maintain it, however, you'll be starting from zero to both maintain your current level and earn the next during your next 90 day period. The image below is a good example: I have earned enough VIP Points this 90 day period to maintain level 1 for the next 90 days (that is what the +90 represents), but am not quite to level 2. The Wynn Slots app says i have 45 days + 90 days to "enjoy my benefits". Essentially, I have 45 days until my VIP Points are reset to zero while still maintaining level 1. If I don't get to level 2 in the next 45 days then VIP Points will reset to zero but I'll have another shot at it.
Think of the VIP Points system as your casino loyalty card. If you earn a status with a casino, you keep it for the next year, however, on January 1 your points reset and you start from zero working to maintain or upgrade your status.
Wynn Slots Strategy
The strategy I employed to earn my first free room is very straightforward. Vigilance was key to harvest as many free gold coins that I could daily. Once I accumulated 2-3,000,000 gold coins, I would play exclusively when events were running. Events are posted in the bottom middle of your screen when logged into the app. Events reward you for reaching specific milestones achieved as a result of your slot play with scratch tickets. Scratch tickets earned for achieving milestones award gold coins to assist in building your bankroll. For instance, an event would award things like 400 total spins, winning 50 million total gold coins on slots, earning 5 free spins, etc. Once all the milestones are completed by you as a player and you scratched your tickets to earn your free gold coins for each, you are given one additional scratch ticket for completing all of the milestones in the event.
I found it important to ONLY play as part of an event where additional gold coins could be earned by completing the milestones. I NEVER played slots outside of an event as there wasn't as much upside. Using this strategy, I was able to slowly grow my gold coin bankroll, which allowed me to slowly increase my per spin wager which resulted in quicker accumulation of valuable purple gems.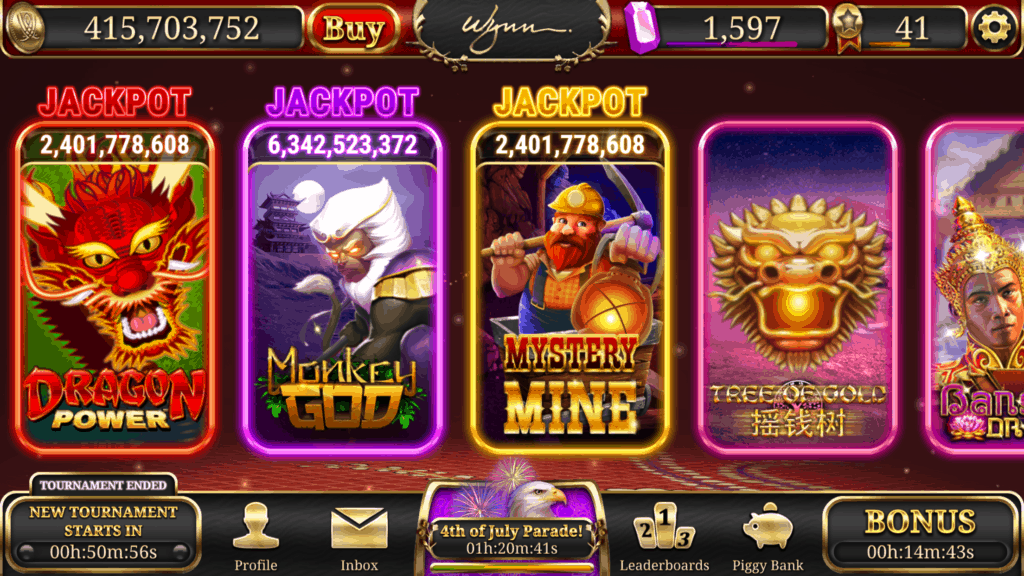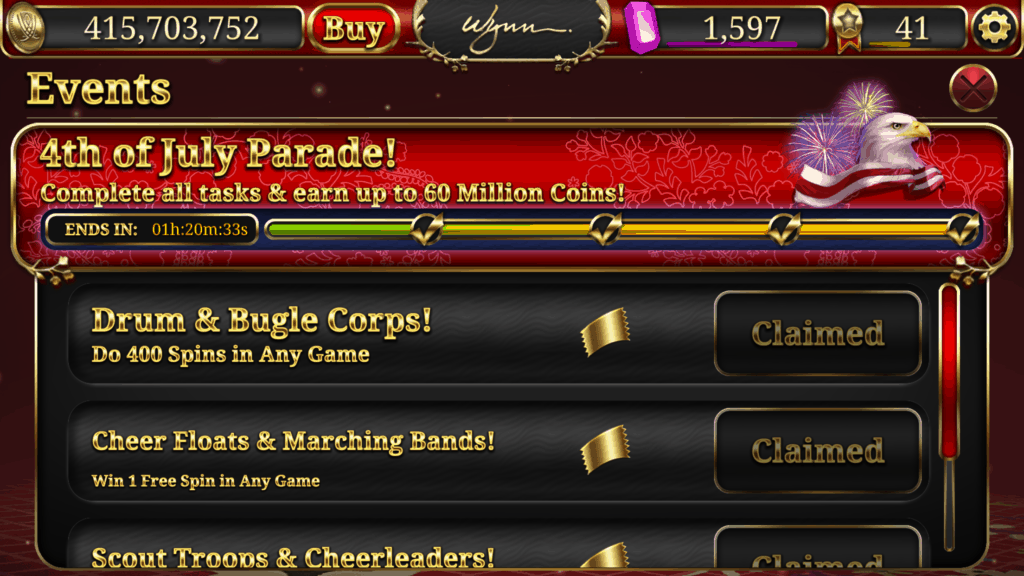 Look, I'll be upfront with you. This was a grind involving thousands and thousands of spins. I would typically set the app to autospin 500 times while I walked away and did other things, or just turned my phone over while the app churned out purple gems slowly so that it wouldn't consume my life. If you watch every spin needed to earn a comp, you'll be investing more time than the freebie is worth.
The Verdict: Can you earn free rooms via the Wynn Slots app without making an in-app purchase?
While I earned my first free room in about 15 days of rigorous game play, the recent update requiring you to also earn VIP Points in addition to purple gems has made it more difficult, if not impossible, to redeem a free room without making an in app purchase of coins. Even though earning a room at Wynn without spending a dollar is less likely now, you can still earn a room night at a steep discount vs. what you would pay if booking directly with Wynn.
Personally, I'll likely play enough to cash out my remaining purple gems for room nights and then retire from the Wynn Slots app. The value just isn't there anymore vs. the time investment needed.
As for the app game play itself, the design is quite impressive, the graphics are captivating and the game play is just as you would expect on a real life slot machine. Bonus games/free spins that are awarded are honestly fun to watch and large progressive jackpots keep you chasing the dream of unlimited gold coins. Variety of game type is another win for the App which features various themes, formats and free play/bonus options – there is a game for every type of slot player.
While room nights are a great perk to work toward, we would like to see Wynn expand the selection of items you can purchase with purple gems to restaurant/bar credit and experiences.
Overall, we found the Wynn Slots app to be engaging, impressive graphically, and pretty damn entertaining. If you have some spare time, or don't mind letting your phone run the app for a couple hours a day, free nights can be earned without purchase… Honestly though, we may just pay the sticker price next time to avoid the grind 🙂