Although real money gambling gets most of the attention, families visiting with kids, or even adults wishing the channel their inner kid commonly seek out arcades in Las Vegas.
While the majority of casinos don't offer an arcade, there are a few that still do.
Below, I'll cover where you can still find arcades in Las Vegas, both on the Strip and nearby.
Arcades on the Strip
Big Apple Arcade at New York New York: Complete with classic arcade games like air hockey, pop-a-shot, skee ball, and more, the Big Apple Arcade at New York New York is among the top arcades on the Strip.
Better yet, the Arcade shares space with New York New York's Big Apple Rollercoaster which is a thrilling rooftop ride providing great views of the Strip.
Arcade credits are sold at a rate of $1 per 10 credits, and most games hover around a price of 10 credits. Package deals that combine arcade credits, food, and a ride on the Big Apple Coaster are also available.
I recently stopped in – See my Big Apple Arcade Review!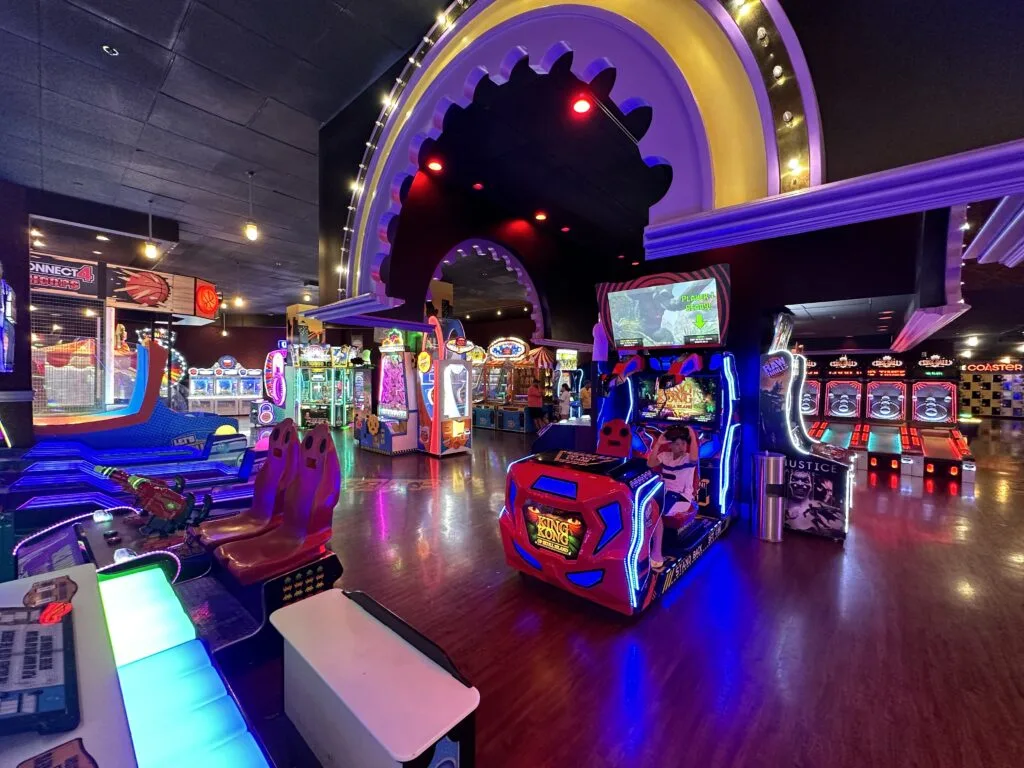 Fun Dungeon at Excalibur: Recognized as one of the few kid-friendly resorts in Las Vegas, Excalibur also offers an expansive arcade.
With over 200 games, options include classic arcade games, pinball, miniature bowling, and midway games like ring toss. Notably, the Fun Dungeon also boasts the world's largest Pac-Man game.
I recently stopped in – See my Fun Dungeon Review!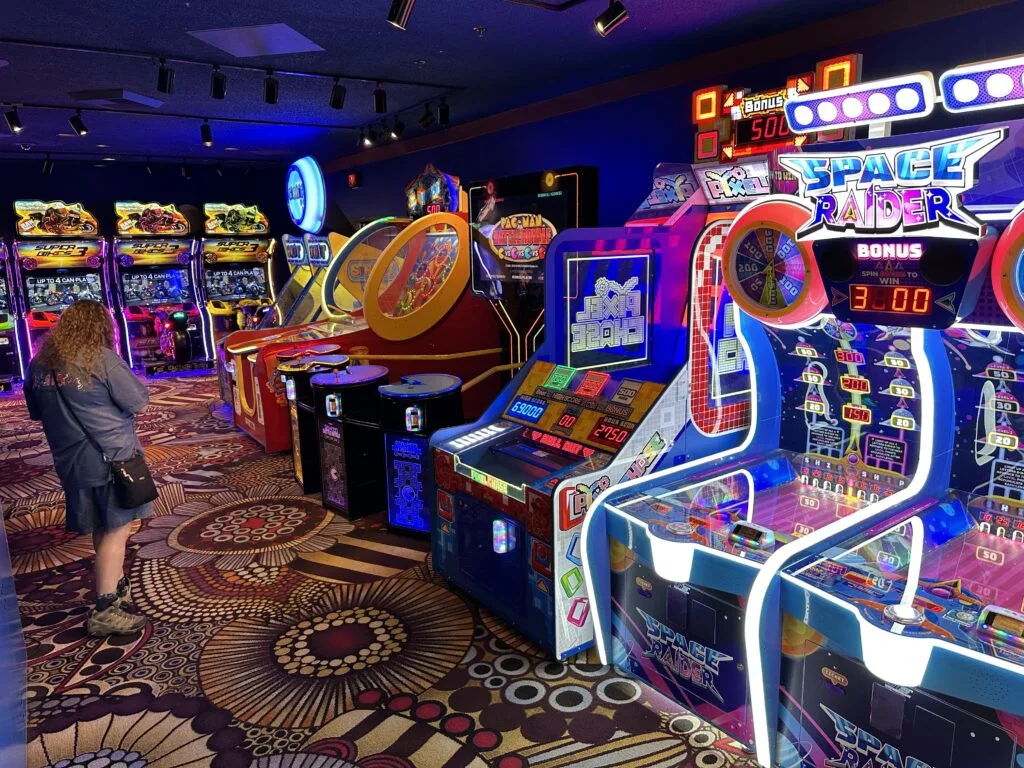 Need something else to do after visiting Excalibur's arcade?
Check out the Ultimate 4D Experience which incorporates 3D projection and other sensory elements into 4 short films that play back to back like wind, scents, and spraying water for just $12.
See what shows are currently being screened, here.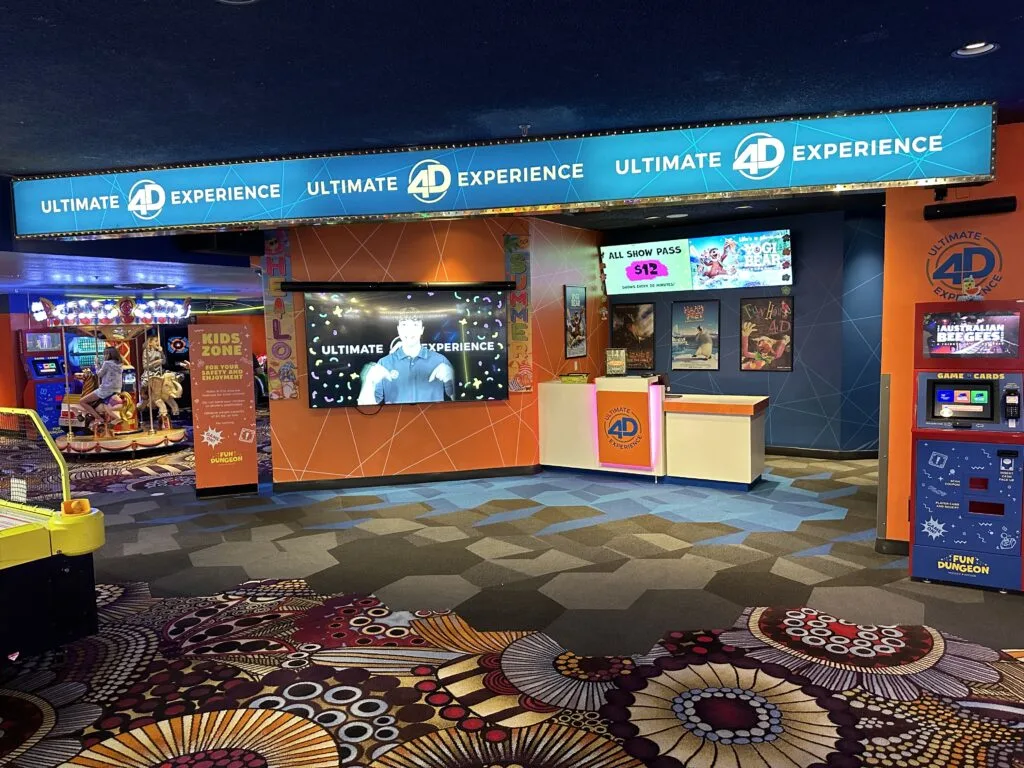 Midway at Circus Circus: When it comes to arcades in Las Vegas, few properties come to mind faster than Circus Circus.
Widely regarded as the most child-friendly resort on the Strip, Circus Circus' Midway offers over 200 current and classic arcade games.
In addition to electronic games, the Midway also has a collection of traditional fair games. After hitting the arcade, check out their free circus acts which are offered daily.
I recently stopped in – See my Review of the Arcade at Circus Circus!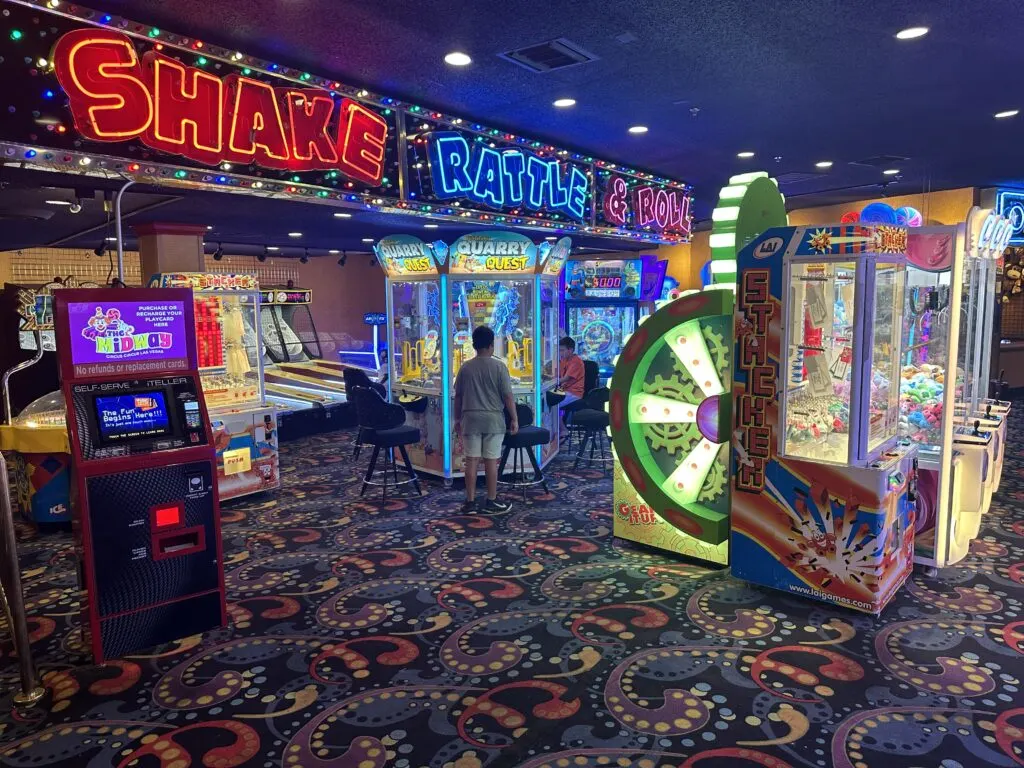 Level Up at MGM Grand: Designed to appeal to a younger millennial crowd, Level Up at MGM Grand offers an assortment of arcade and bar games including Pac-Man, bubble hockey, pop-a-shot, air hockey, shuffleboard, and more.
The area is designed around a bar with plenty of screens, making it an ideal spot to watch a game.
In addition to arcade games, Level Up offers guests the opportunity to compete in a 2,000-square-foot virtual reality arena. A 30-minute session costs $50, and players are able to choose from a selection of games.
Twilight Zone by Monster Mini Golf at Horseshoe: Although the Twilight Zone-themed mini-golf course is the main attraction, the venue also offers a small number of arcade games.
It's not a destination arcade, but one to stop at if you're in the area.
I recently played the mini golf course and found it to be a worthwhile visit, if only for the visuals.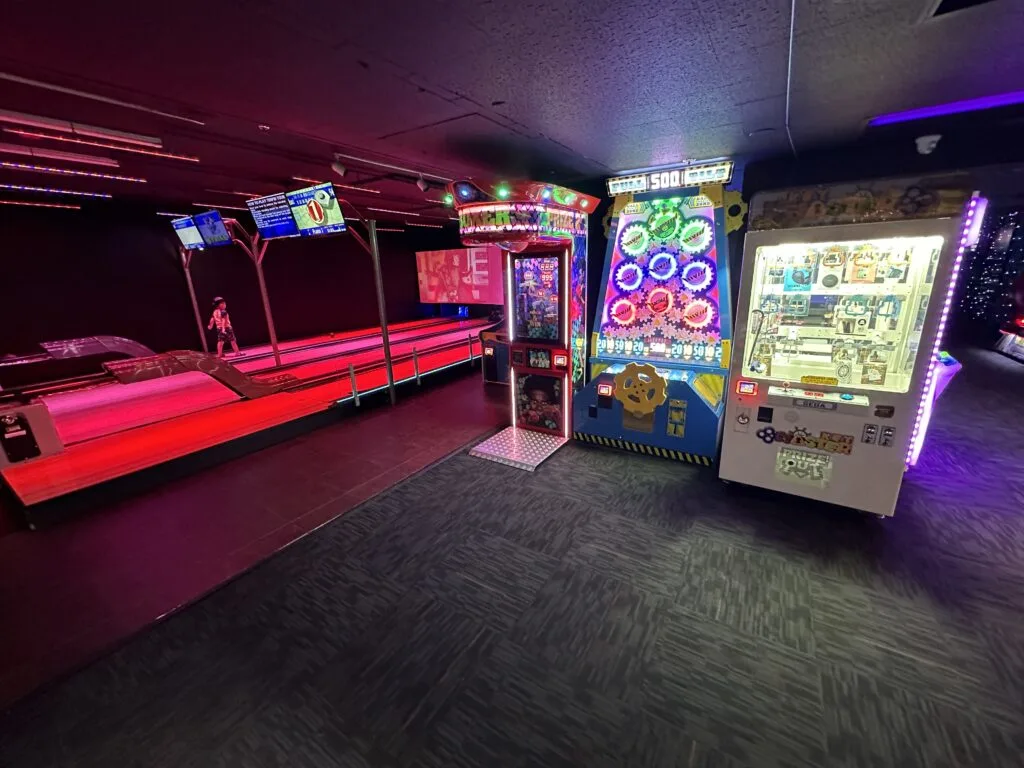 ARCADE at Horseshoe: Horseshoe's former sportsbook space has transformed into an arcade that has 80 total games that range from recent hits to the classics.
The arcade, aptly named "ARCADE", will be family-friendly, but also offer a bar.
I recently stopped in – Take a look inside the ARCADE at Horseshoe!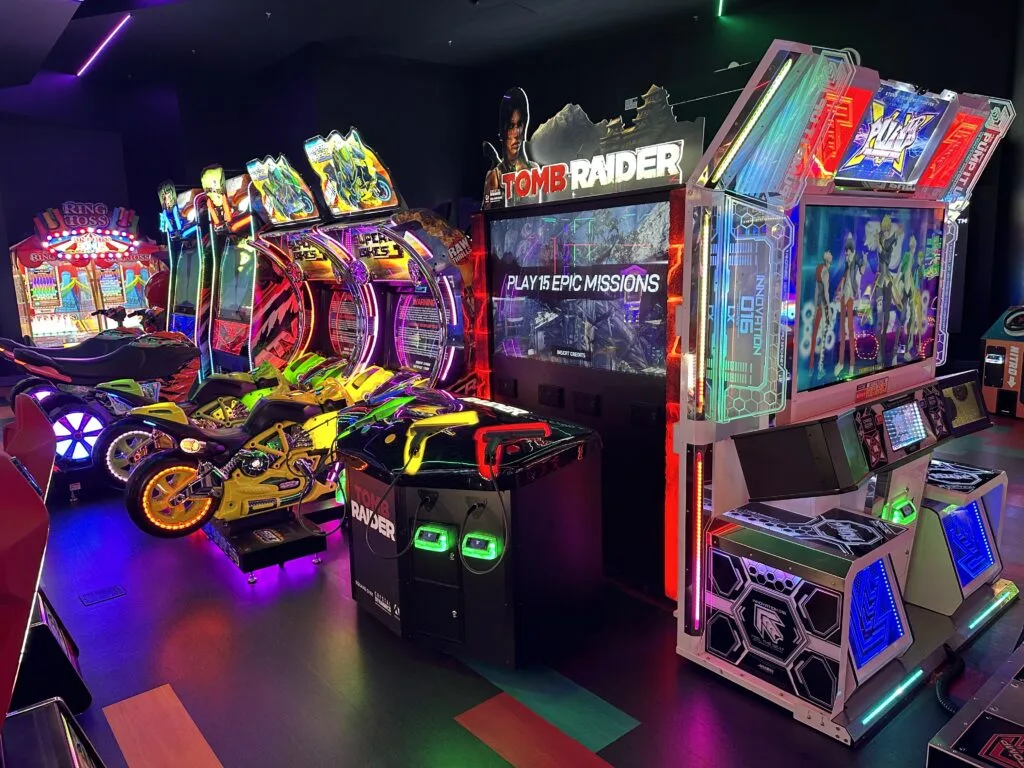 Honorable Mention – HyperX Esports Arena at Luxor: While not a traditional arcade per se, Luxor's Esports Arena will allow your kids, or your inner kid, to play video games for an hourly rate. One hour costs $15, and a day pass costs $50, although options also exist in between.
Honorable Mention – Pinball Hall of Fame: If pinball is your game, it's hard to beat the Pinball Hall of Fame.
Located just south of Mandalay Bay on the Strip, this shrine to the game of pinball features 25,000 square feet of games that span decades. Entry is free, just bring plenty of quarters!
Arcades on Fremont Street
The Cal: While small in stature, California offers a small arcade as an amenity. If you're downtown, it's one of your only options.
Arcades in Las Vegas – Near The Strip
KISS by Monster Mini Golf at Rio: As is the case with the minigolf course at Horseshoe, KISS by Monster Mini Golf offers a small selection of arcade games just outside the course.
I recently stopped in – See my experience at the KISS mini golf course!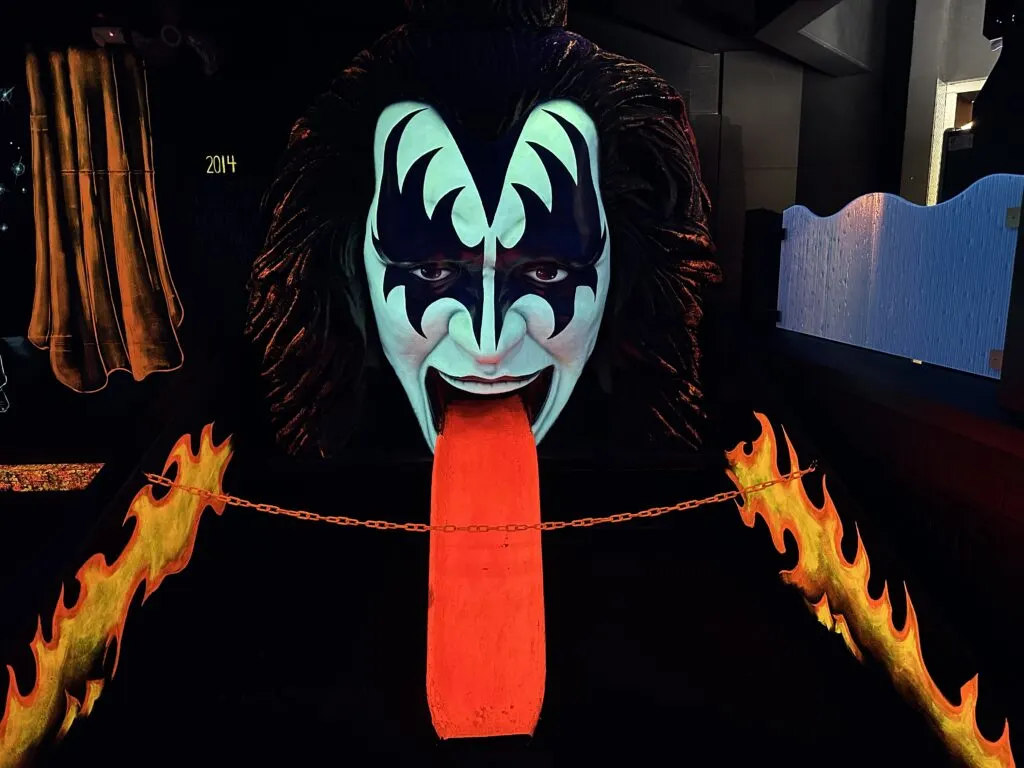 Game Nest: Located just off the north end of the Strip across I-15, Game Nest is a cheap ride from the main tourist thoroughfare via Uber or Lyft. There, you will find an impressive collection of arcade games that are paid for by the hour. While the first hour is $10, additional hours can be added for just $5. In addition to arcade games, Game Nest offers access to video game consoles like Xbox One, PlayStation 4, and Nintendo Switch.
Emporium at Area15: A 21+ arcade, Emporium is part of the vast Area15 entertainment complex just off the Strip. Inside, you'll find pinball, modern arcade games, skee ball, and several pool tables. Making this one of the more compelling arcades in Las Vegas for us is the presence of a craft beer and cocktail bar.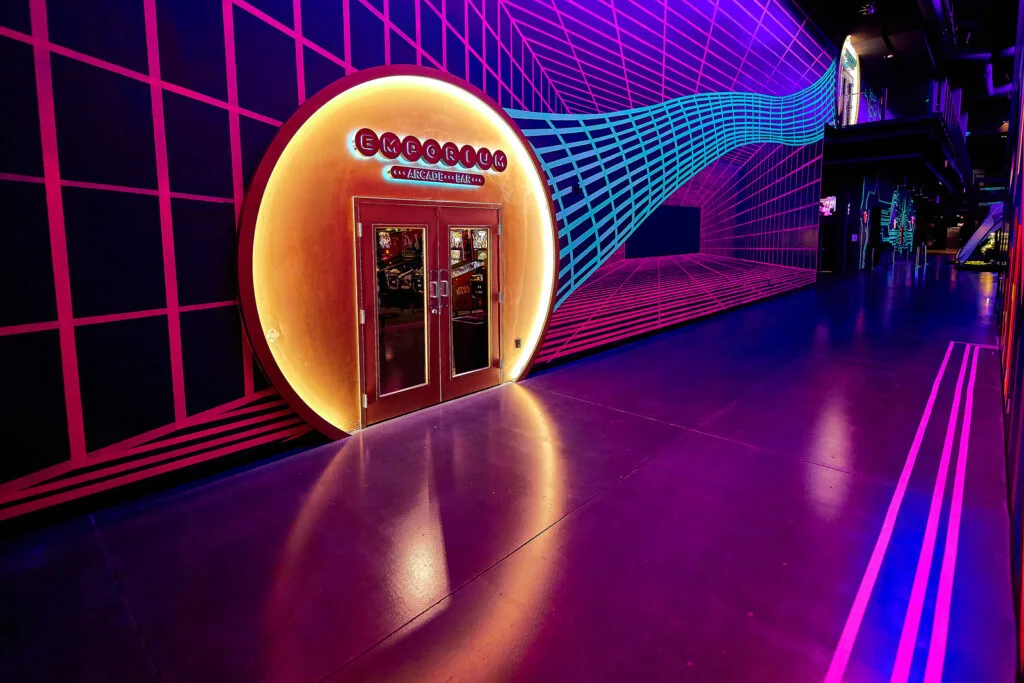 Although Sin City is known to be an adult playground, there are a surprising number of arcades in Las Vegas right on the Strip.
Hopefully, my rundown of arcades on the Strip was helpful in helping you locate one that will work for you and your group!
See also: Las Vegas bars with Beer Pong.
Feature Image: ©atmosphere1/123RF.COM
I'm a former software salesman turned Vegas aficionado. While the craps table is my preferred habitat, I pull myself away to explore new attractions, shows, restaurants, and outdoor activities around Las Vegas with the intent of sharing my experiences.
Ultimately, I just want to help folks plan a better trip and save a few bucks in the process.