Key Points:
FlyLINQ was exhilarating (and a bit terrifying), reaching heights of over 100 feet albeit less scenic than the SlotZilla zipline on Fremont Street.
My check-in process was seamless and there was no line to speak of – The staff was professional and inspired confidence.
At about 1/2 the price of SlotZilla, I found FlyLINQ to be a solid value.
The only zipline on the Strip, FlyLINQ launches riders from a 114-foot tall tower that sits right along Las Vegas Boulevard.
From there, riders fly 1,120+ feet over the LINQ Promenade below towards the iconic High Roller Observation Wheel.
The ride takes an average of 35 – 45 seconds, and participants reach an average speed of 35 mph.
While the zipline once gave people the option of riding in a seated or "Superman" position, everyone is now required to sit.
I finally summoned some inner courage and tackled the FlyLINQ Zipline. Below, I'll share my experience to help you determine if it could be a good fit for your itinerary.
FlyLINQ Zipline Cost
"Anytime" FlyLINQ tickets start at around $40 depending on the day when purchasing directly from FlyLINQ, however, savings can also commonly be found at Vegas.com.
I recommend pricing out both options below to ensure you're getting the best deal:
My FlyLINQ Zipline Experience
Arrival and Ride Preparation
I purchased a ticket to FlyLINQ in advance with Vegas.com. At the time of purchase, Vegas.com emailed me a ticket with a QR code that was scanned at the elevators to FlyLINQ found near the sportsbook to gain admission. It was a slick process.
There wasn't a line or crowd, and only 2 other people were at the attraction with me at the time. I assume FlyLINQ is slower during the day vs. at night when the lights of Vegas are shining bright.
After getting scanned in, I took 2 separate elevators up to the "flight deck" where I was strapped into gear, and connected to the line.
Unlike SlotZilla, which blocks your view with a door that opens just before the flight, you can see the drop off right in front of you on FlyLINQ, which amplified my anxiety due to a mild "heights thing" that I suffer from.
Calming my nerves though was the fact that after being strapped in and checked, a second employee double-checked all connections and ensured that I was good to go.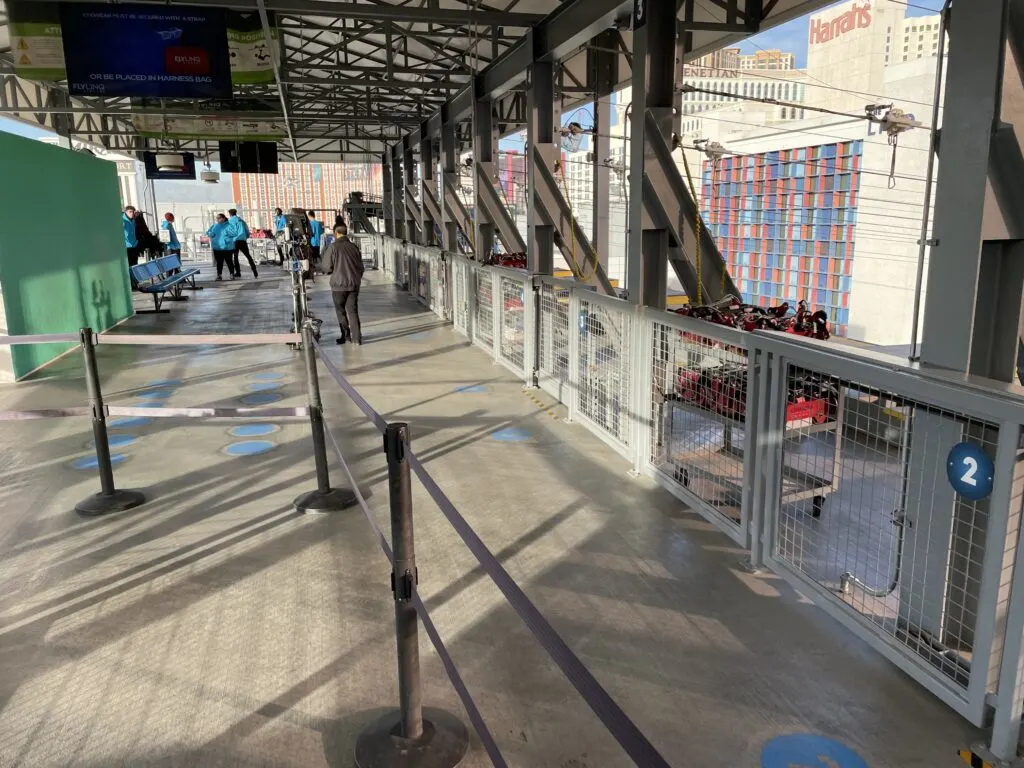 The FlyLINQ Ride
Unlike my ride on SlotZilla, there wasn't an option to bring a GoPro along to document the ride, so I'll do my best to articulate the offering with words.
It's a gentle glide, and not physically taxing at all. FlyLINQ may be considered a thrill ride due to how high riders are from the ground, but rest assured, this is nothing like a violent rollercoaster. There is no stomach-churning drop, fast acceleration, etc.
Scenery during the ride is a mixed bag. On one hand, it's cool to be flying between LINQ and Flamingo, and the view of LINQ's pool deck and the High Roller in front of you are pretty neat. You're also flying over hundreds of people below.
On the other hand, when I looked straight down from my flight line I saw the roof of the LINQ Promenade, which amounts to a shopping mall roof. Kind of bland, unless you find huge Air Conditioning units interesting. I kid, I kid.
The view is cool, but it doesn't hold a candle to the one you get riding the SlotZilla zipline on Fremont Street. Granted, FlyLINQ is also approximately half the price, so I feel as though that's priced in.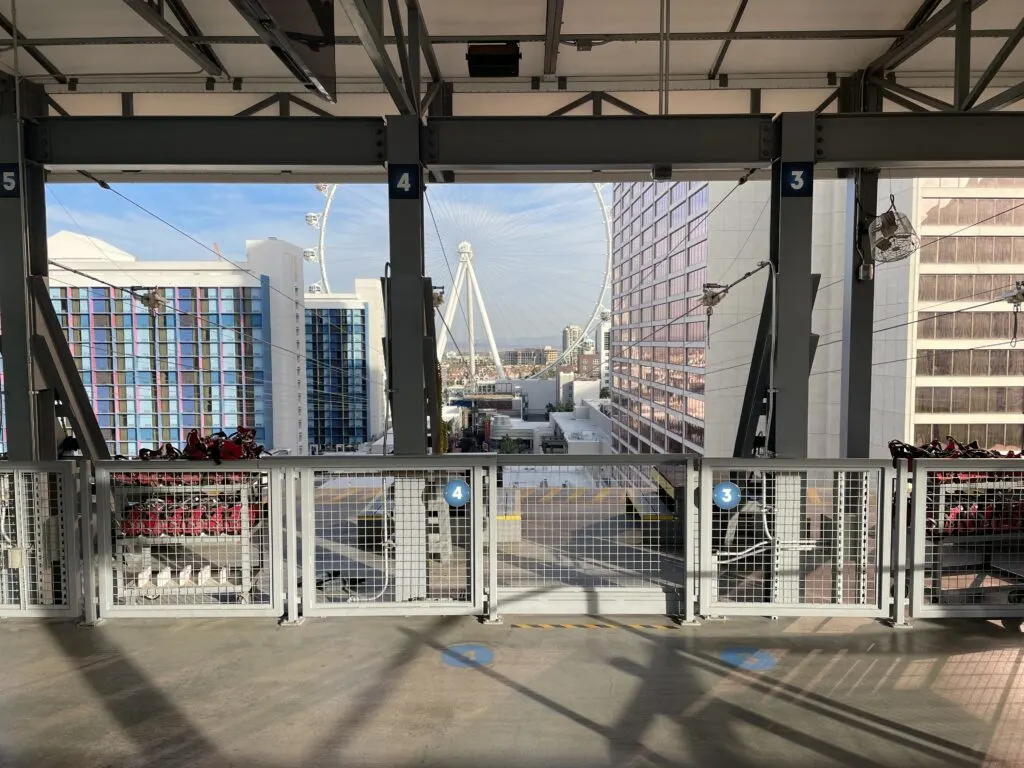 While I had heard feedback on social media that the end of the glide on FlyLINQ is a jarring and abrupt stop, I found it to be a soft landing. They must have made some recent improvements, as it was pretty darn gentile.
As a person afflicted with a mild fear of heights, this is the point of the ride the feeling of sweet relief kicks in, and I felt proud of myself for doing something I'd avoided for years.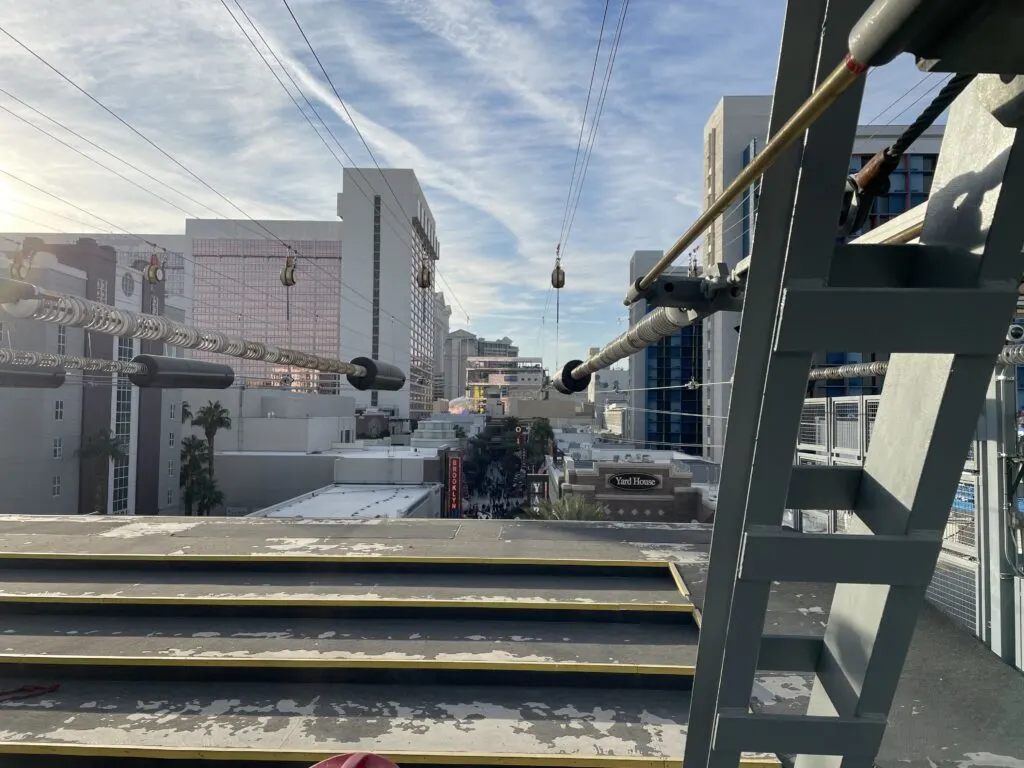 Is Riding FlyLINQ Worth It?
Although FlyLINQ is less scenic than SlotZilla, the zipline downtown that sends riders down the Fremont Street Experience, I found it to be a compelling value at around $35 per rider.
For comparison purposes, FlyLINQ's tower is essentially the exact same height as SlotZilla's upper Zoomline, but can be ridden for about 1/2 the cost.
The pre-ride anticipation, gentle glide over the promenade, and the feeling of relief when I reached the endpoint is a memory I won't forget and well worth the cash outlay.
That being said, If I was only able to ride one zipline while in Vegas, I'd opt to spend up for SlotZilla's "Super-Hero Zoom" Zoomline downtown, if only for the scenery.
With all due respect, flying over the neon facades of historic casinos is cooler than flying over a shopping promenade.
Aside from my personal opinion, the masses tend to agree that FlyLINQ is a good value, awarding 4/5 stars on TripAdvisor after 295+ reviews.
If you're in the area and want a quick burst of adrenaline, give FlyLINQ a go! While it may not be the "best" zipline in Las Vegas, I think it's a compelling value at the price point charged and will give you a memory that'll stick with you for life.
See Also: Las Vegas Ziplines – A comparison of FlyLINQ and SlotZilla.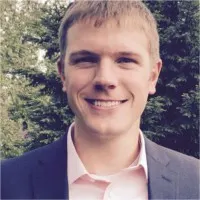 I'm a former software salesman turned Vegas aficionado. While the craps table is my preferred habitat, I pull myself away to explore new attractions, shows, restaurants, and outdoor activities around Las Vegas with the intent of sharing my experiences.
Ultimately, I just want to help folks plan a better trip and save a few bucks in the process.