It's difficult to miss the SlotZilla Zipline if you're on Fremont Street, which has the appearance of a giant slot machine and releases a new batch of screaming thrill-seekers every few minutes.
The zipline offers two distinct ride experiences:
The first option is the lower "Zip-Zilla" zipline, which sends riders flying 2 blocks in a seated position at heights of up to 7 stories.
The second option is SlotZilla's upper "Super-Hero Zoom" zoomline, which sends riders flying in a prone position (laying on their stomach) 5 blocks at heights of up to 11 stories.
As one of the most popular non-gambling things to do on Fremont Street, I thought it would be fun to finally confront my fear of heights and tackle the SlotZilla zipline myself.
Specifically, I decided to spend up to ride the higher "Super-Hero style" zoomline, which sends you flying over Fremont Street laying flat on your stomach. I figured that if I'm going to do it, I might as well do it right.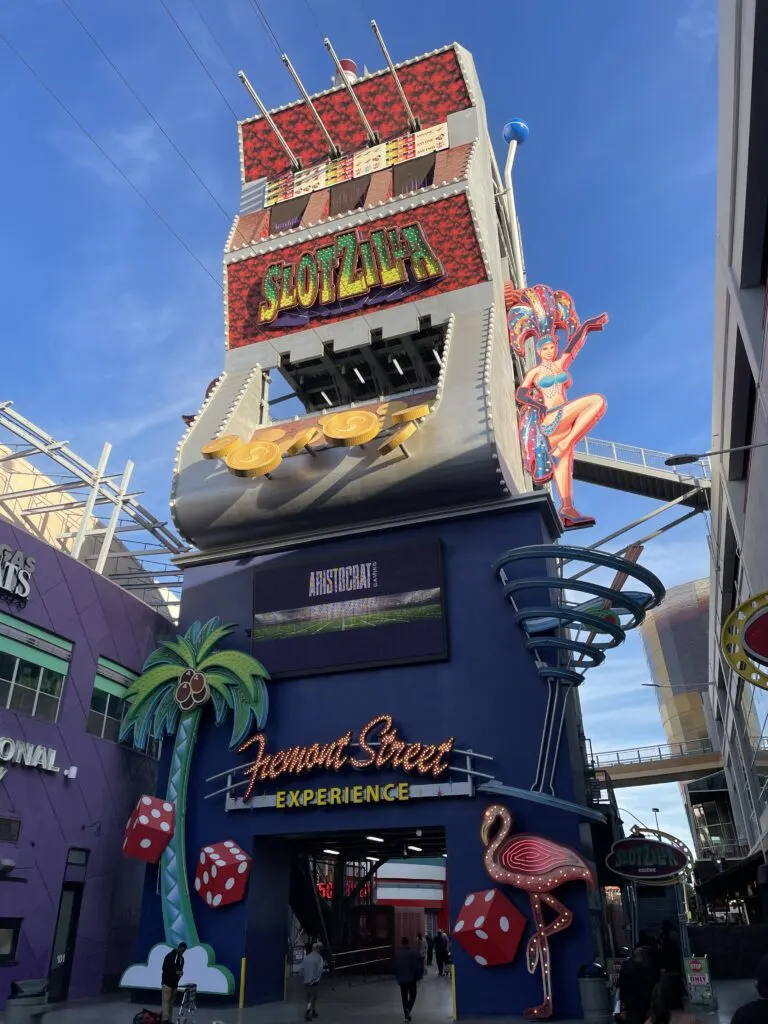 SlotZilla Zipline Cost
Below is the cost of each of SlotZilla's experiences, which is inclusive of taxes and fees. Tickets can only be purchased directly with the attraction, here.
Time slots tend to fill quickly, so I'd recommend booking in advance.
The lower "Zip-Zilla" zipline experience costs $49.
The upper "Super-Hero Zoom" zoomline experience costs $69.
SlotZilla Photo and Video Add-Ons
There's an optional $25 photo and video package that entitles you to some cute green screen photos and a GoPro video of your ride.
Although I'm typically frugal to a fault, I upgraded so that I'd be able to share the GoPro video within this post to better articulate what the ride is like.
The Go Pro is strapped onto your wrist and can be pointed forward, or toward your face, depending on the position of your arm.
My SlotZilla Zoomline Experience
Arrival and Ride Preparation
I booked my ticket in advance for 4:40 pm, as I had tickets to "Brilliant! Jackpot"!" at the Neon Museum that night – otherwise, I totally would've booked my ride for after-dark to see the neon of Fremont Street at its peak.
I arrived early, at around 3:30 pm, and asked the employee at the base of the tower if I could ride early. She stated it wouldn't be a problem and ushered me up a flight of stairs, where I was strapped into my flight suit and had my GoPro affixed to my right arm.
Within 10 minutes of arriving at the SlotZilla zipline, I was strapped in & prepped for my ride and heading up an elevator to the flight deck.
I should point out that I have a bit of a "heights thing" and although I've tackled other thrill rides like those on STRAT's Observation Deck, these things never get easier.
The elevator was a "no frills" version, like a temporary one you'd find at a construction site, that allowed a view of outside as we traversed up.
As someone who suffers from a mild fear of heights, I found myself wishing the ride upward would come to an end as we climbed up, and up, and up in lockstep with my anxiety.
When we reached the top, we stepped out of the elevator and onto a platform with 4 padded accordion-like platforms where riders were instructed to lay on their stomach as the employees strapped us onto the line.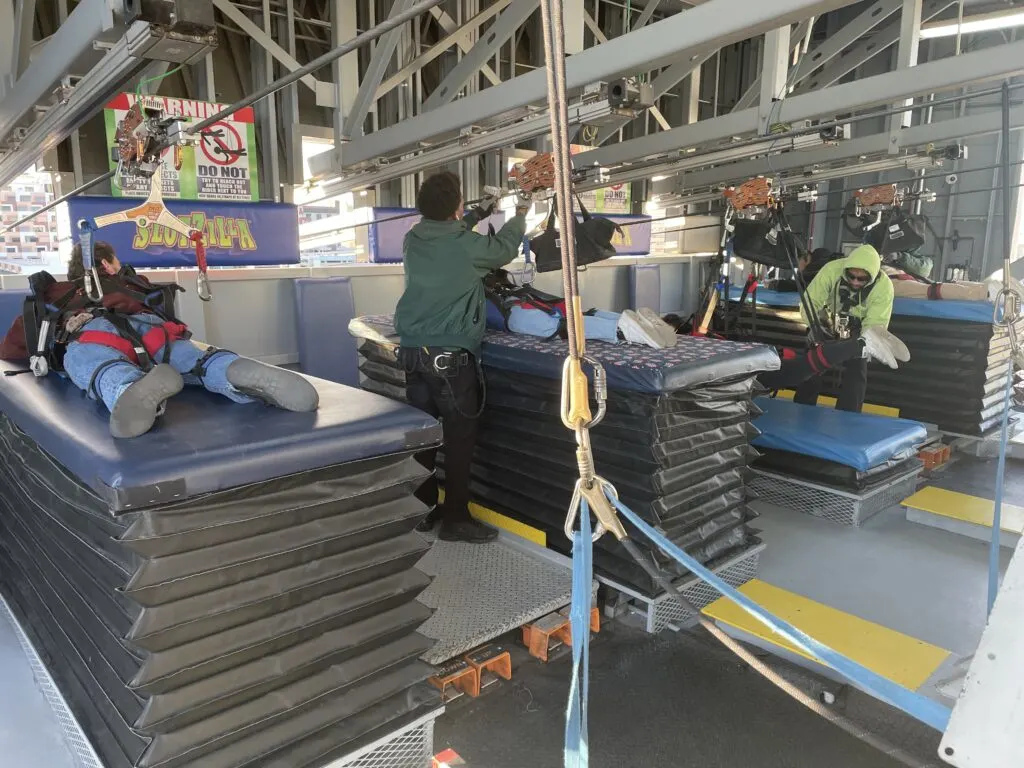 Once hooked up to the zipline, the padded platform below me was retracted back into the floor, leaving me dangling from the zipline.
Having the opportunity to hang from the zipline for a minute as other riders were rigged up was actually soothing in a way, giving me confidence in the equipment, and that I was rigged up correctly.
Fortunately for me, there's a wall in front of you that blocks the view of Fremont Street below, which opens right before you fly.
Perhaps it's my military background and how we'd always joke about equipment being built by "the lowest bidder", but I couldn't keep the thought out of my mind as I lay suspended, ready to emerge from the SlotZilla tower 11 stories from the ground below.
I was placing a lot of faith in "the lowest bidder" in this case.
The SlotZilla Ride
The ride itself is hardly terrifying or physically demanding. Although you're ziplining downhill, there's no taxing drop like one would experience on a rollercoaster.
Honestly, most of the heights-induced anxiety that I felt leading up to the ride melted away the moment we left the tower.
Sure, there was a little adrenaline pumping, but I'd describe the ride as more leisurely and scenic than anything. It was a legitimately cool glide over one of the most iconic and instantly recognizable streets in the world.
The ride itself is quick, lasting a mere 1.5 minutes, but it's a pretty darn cool 1.5 minutes.
Is Riding the SlotZilla Zipline Worth it?
For me, the combination of the pre-ride anticipation, the ride itself, and the post-ride afterglow and the feeling of "I freaking did it" made this an experience well worth $74 + $25 for the video.
In 10 years, I'm unlikely to remember every meal, slot spin, or casino I walked through during this trip -The Zipline, however, is one of those Vegas memories one doesn't just forget, and will likely stick out for years as a core memory.
It may only last 90 seconds, but it's 90 seconds that you're unlikely to forget.
Also impressive was the staff and efficiency of the process. I went from wandering in from the street hoping to ride early, to flying over Fremont Street in under 15 minutes.
You don't even have to take my word for it, as SlotZilla has earned an impressive 4.5/5 stars on TripAdvisor after 2,640+ reviews. The masses agree – SlotZilla's a winner.
"Zip-Zilla Zipline" vs. "Super-Hero Zoom" Zoomline
Comparing the two zipline options offered by SlotZilla, I can't help but think the lower, shorter, and cheaper, "Zip-Zilla" zipline is both lame and a poor value when compared to the higher, longer, and slightly more expensive "Super-Hero Zoom" zoomline line that I tackled.
If you're planning on doing SlotZilla, spend the extra $20 and do it right.
Hopefully, the documentation of my experience on SlotZilla has helped you determine if it's a good fit for your itinerary!
Honestly, if you're on the fence, you won't regret the decision to move forward – It's an experience that won't soon be forgotten.
Related: Ziplines in Las Vegas – FlyLINQ vs. Slotzilla and my Review of the FlyLINQ Zipline on the Strip!
I'm a former software salesman turned Vegas aficionado. While the craps table is my preferred habitat, I pull myself away to explore new attractions, shows, restaurants, and outdoor activities around Las Vegas with the intent of sharing my experiences.
Ultimately, I just want to help folks plan a better trip and save a few bucks in the process.