Las Vegas ziplines are among the most popular non-gaming activities in the city. With options in both major tourist hubs, the Strip and Fremont Street, there's almost always a zipline nearby.
With multiple options for ziplining in Vegas, we thought it would be helpful to lay out your options.
Below, we'll dive into the details of both ziplines in Las Vegas to ensure you have a good feel for the ride, cost, and hours of operation.
Related: 90+ FREE things to do in Vegas.
FlyLINQ Zipline On The Strip
FlyLinq sends riders soaring over the bars, restaurants, and shops that make up the Linq Promenade towards the High Roller observation wheel at speeds of up to 35 MPH.
The zipline is 1,121 feet long and 12-stories above the promenade below. Riders have the option of sitting, flying backward, or going in a superhero position (laying on your stomach).
The FlyLinq Zipline is currently open Thursday – Monday from 2 pm – 10 pm, and is closed on Tuesday and Wednesday.
How much does FlyLINQ cost?
Anytime tickets purchased directly with FlyLinq online start at $35 and offer you the flexibility to choose your ride time.
What are people saying about FlyLINQ?
Reviews are mostly positive and the zipline attraction boasts 4/5 stars on TripAdvisor. Common positive review themes point out that there are rarely lines or a long wait and that the ride itself is pretty thrilling albeit quick. Negative reviews center around how short the ride is (35-45 seconds) and that the stop is pretty sudden at the end.
Slotzilla Zipline On Fremont Street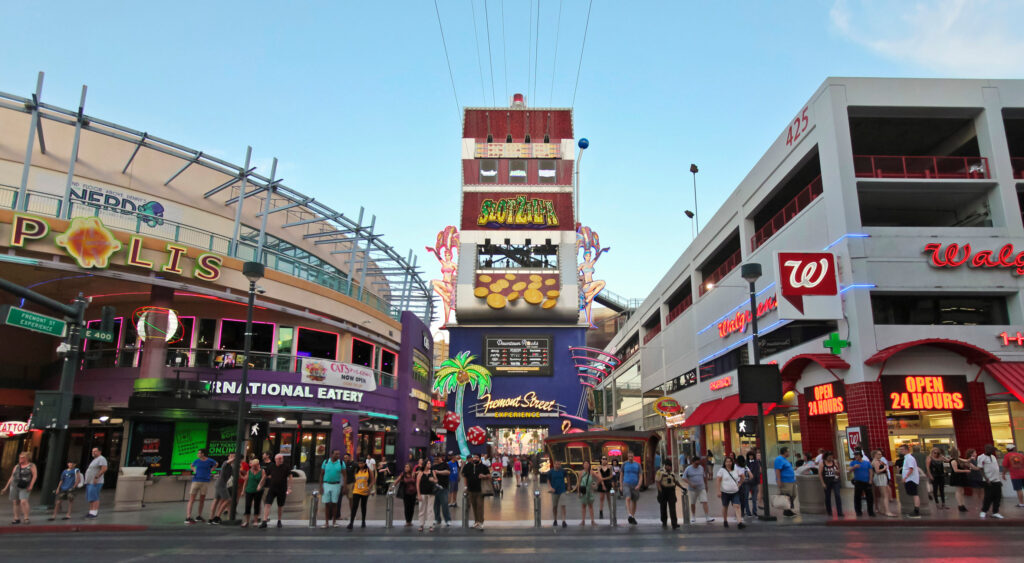 While FlyLINQ sends riders soaring over a newer incarnation of Las Vegas, the Slotzilla zipline downtown sends you flying past the vintage casino facades that make up the Fremont Street Experience.
The zipline attraction offers 2 distinct riding experiences. The first is a 2-story high, 2-blocks long rip in a sitting position which is referred to as the Zipline. The higher Zoomline sends you flying superhero-style on your stomach for 5 blocks at a height of 11 stories.
How much does Slotzilla cost?
Lower/Shorter Zipline: $39 for all dates and times plus a $3.95 processing fee.
Upper Zoomline: $59 for all dates and times plus a $3.95 processing fee.
In addition to the cost of the ride, a digital photo can be purchased for $10 per person, or a photo plus GoPro video for $25. Tickets to Slotzilla can be purchased in advance here. If you have a specific time you wish to ride, purchasing in advance is highly recommended.
What are people saying about the Slotzilla Zipline?
The 4.5/5 stars Slotzilla has earned on TripAdvisor confirm that riders are consistently satisfied with what they are getting for their money.
Positive review themes point out the scenery is fantastic, the ride is thrilling and there tends to be a minimal wait. Most negative reviews focused on poor weather and the cost of commemorative photos at the end of the ride. If you have to choose only one Las Vegas zipline it's tough to top Slotzilla.
When evaluating ziplines in Las Vegas, it's tough to go wrong as both options offer distinct benefits and scenery choices.
Whether you prefer the Strip or Fremont Street there's almost certainly an option that will appeal to all adrenaline junkies.
Related: Thrill Rides and Rollercoasters in Las Vegas – Get your adrenaline rush!
I'm a former software salesman turned Vegas aficionado. While the craps table is my preferred habitat, I pull myself away to explore new attractions, shows, restaurants, and outdoor activities around Las Vegas with the intent of sharing my experiences.
Ultimately, I just want to help folks plan a better trip and save a few bucks in the process.