Las Vegas ziplines rank among the most popular non-gambling things to do in the city. With options in both major tourist hubs, the Strip and Fremont Street, there's almost always a zipline attraction nearby.
Considering that I've personally ridden both, I figured it would be helpful to compare and contrast FlyLINQ vs. SlotZilla to aid in your decision-making process and share my opinions on which is the best.
In addition to the information below, I'll also be sure to link out to my more in-depth reviews of both zipline options.
Before diving in, I think it's important to point out that zipline attractions in Las Vegas are intended to be relaxing and scenic. Neither FlyLINQ nor SlotZilla is physically demanding or a "wild ride", rather they offer a gentle glide.
Even as someone who struggles with heights, I found that the fear melted away the moment I started flying.
If you're on the fence about ziplining because of a "heights thing" or fear that it'll be too extreme, I'd encourage you to reconsider – It's an easy glide, and not frightening at all.
Related: 90+ FREE things to do in Vegas.
FlyLINQ Zipline On The Strip
FlyLinq sends riders soaring over the bars, restaurants, and shops that make up the Linq Promenade towards the High Roller observation wheel at speeds of up to 35 MPH.
The zipline is 1,121 feet long and 12 stories above the promenade below. While riders used to have the option to sit, or lay flat on their stomach, FlyLINQ now requires all participants to sit.
The FlyLinq Zipline is currently open daily from 2 pm – 10 pm.
How much does FlyLINQ cost?
Anytime tickets purchased directly with FlyLinq online start at $35 and offer you the flexibility to choose your ride time.
My Experience on the FlyLINQ Zipline
At just $35, I found FlyLINQ to be a solid value, albeit less scenic than SlotZilla on Fremont Street.
At 12 stories tall, FlyLINQ adequately challenged my fear of heights and got the adrenaline flowing before delivering a leisurely glide atop the promenade below.
The staff was awesome and had me strapped in and taking flight within 10 minutes of arriving at the attraction. There was virtually no wait.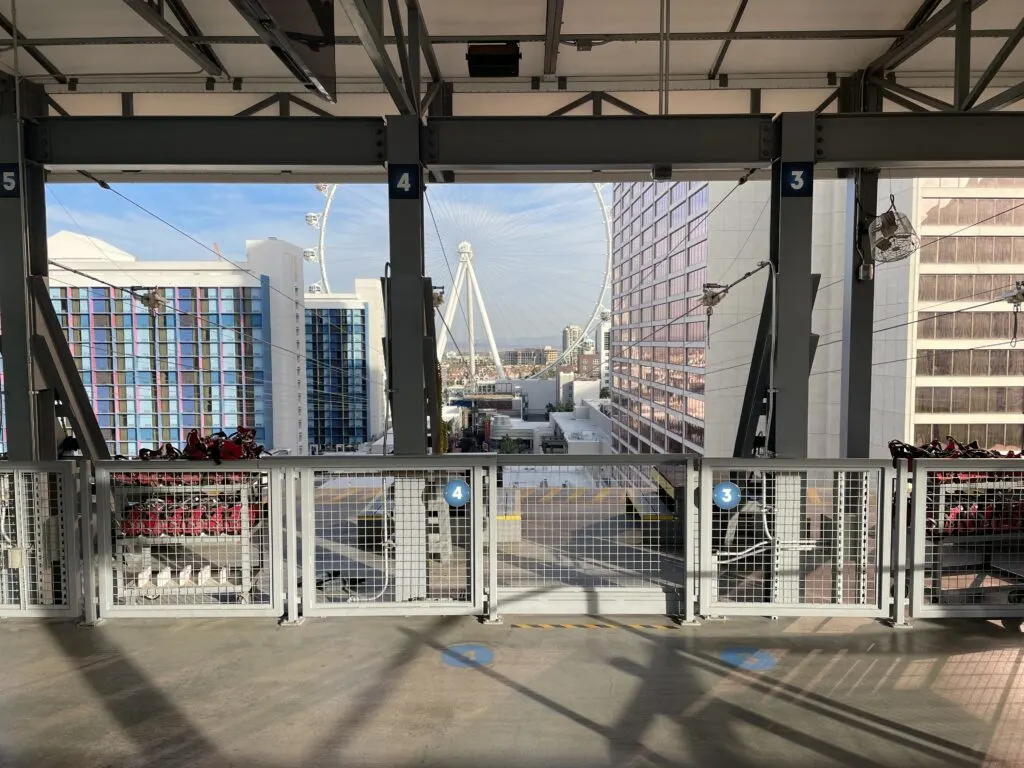 It's certainly worth the money, but if you're only going to do one zipline in Vegas, make it SlotZilla, which I enjoyed slightly more.
You can see my full FlyLINQ Zipline Review, here!
What are people saying about FlyLINQ?
Reviews are mostly positive and the zipline attraction boasts 4/5 stars on TripAdvisor.
Common positive review themes point out that there are rarely lines or a long wait and that the ride itself is pretty thrilling albeit quick.
Negative reviews center around how short the ride is (35-45 seconds) and that the stop is pretty sudden at the end.
SlotZilla Zipline On Fremont Street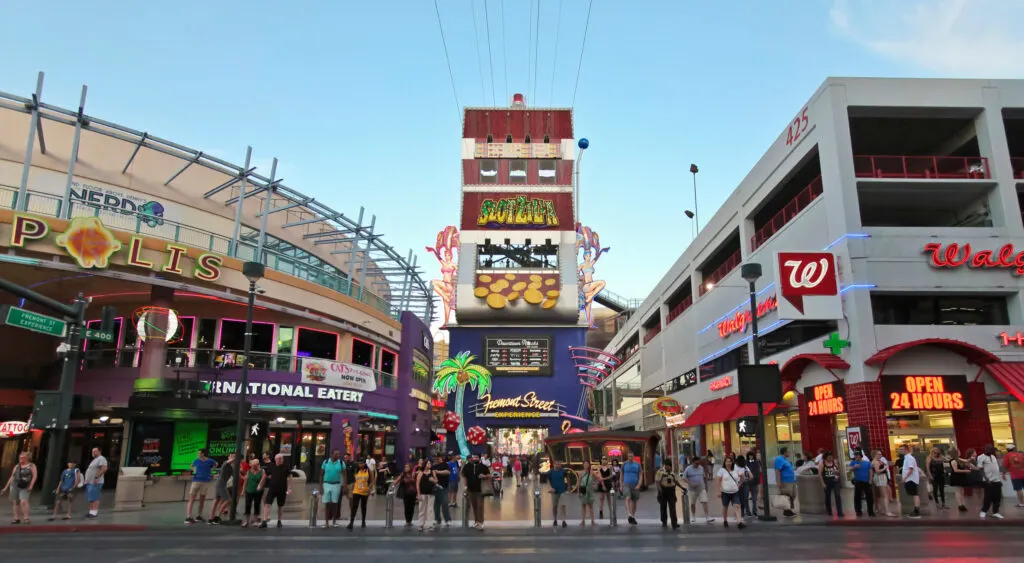 While FlyLINQ sends riders soaring over a newer incarnation of Las Vegas, the SlotZilla zipline downtown sends you flying over the vintage and iconic casino facades that make up the Fremont Street Experience.
The zipline attraction offers 2 distinct riding experiences:
The first is a 5-story high, 2-block long rip in a sitting position which is referred to as the "Zip-Zilla" Zipline.
The higher "Super-Hero Zoom" Zoomline sends you flying Superman-style on your stomach for 5 blocks at a height of 11 stories.
How much does Slotzilla cost?
Lower/Shorter Zipline: $54 for all dates and times plus a $3.95 processing fee.
Upper Zoomline: $74 for all dates and times plus a $3.95 processing fee.
In addition to the cost of the ride, a digital photo package + a GoPro video of your ride can be purchased for $25.
Tickets to Slotzilla can be purchased in advance here. If you have a specific time you wish to ride, purchasing in advance is highly recommended.
My Experience on the SlotZilla Zipline
I recently overcame my mild fear of heights to ride SlotZilla's Upper Zoomline and found the ride to be leisurely, scenic, and not the least bit scary although I had plenty of nerves coming into the experience.
The staff was quick to get me "geared up", and within ten minutes of arriving, I was strapped onto the line ready to fly.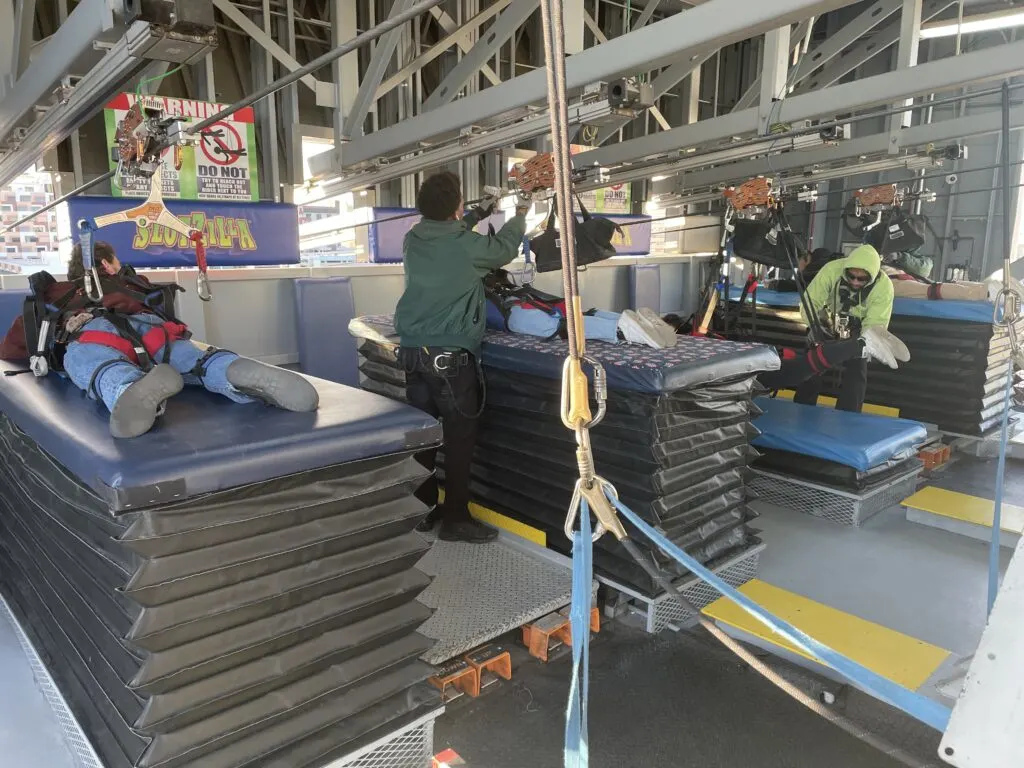 The combination of the pre-flight anticipation, the exhilaration of flying over Fremont Street below, and the post-ride glow made this experience well worth it.
You can see my full SlotZilla Zipline Review, here, but suffice it to say I had a great time and would recommend it.
While I didn't ride the lower & shorter seated zipline at SlotZilla, I can't help but think it's lame in comparison to the higher & longer zoomline. Spend the extra $20 and do it right.
What are people saying about the Slotzilla Zipline?
The 4.5/5 stars Slotzilla has earned on TripAdvisor after 2,600+ reviews confirm that riders are consistently satisfied with what they are getting for their money.
Positive review themes point out the scenery is fantastic, the ride is thrilling and there tends to be a minimal wait.
Most negative reviews focused on poor weather and the cost of commemorative photos at the end of the ride. If you have to choose only one Las Vegas zipline it's tough to top Slotzilla.
SlotZilla vs. FlyLINQ Zipline – Which is Better?
I rode both SlotZilla and FlyLINQ on back-to-back days, and if I was forced to choose between the two, SlotZilla wins due to the scenery. Ultimately, historic neon casino facades are better than storefronts and the roof of a shopping mall.
That isn't to discount FlyLINQ, as the ride is still thrilling, offering slightly more height than SlotZilla's upper Zoomline at about half the cost. If you're in the area and want a rush, then do it!
All I'm saying is, if I was forced to choose one or the other, there really isn't a comparison.
Ultimately, each zipline has pros & cons, and I found both to be worthwhile. No matter which one you pick, I hope you have a great flight. It's a memory that'll stick with you!
Related Articles:
Thrill Rides and Rollercoasters in Las Vegas – Get your adrenaline rush!
Haley's Comet at Area15 Review – A cheaper, less thrilling zipline-like attraction.
I'm a former software salesman turned Vegas aficionado. While the craps table is my preferred habitat, I pull myself away to explore new attractions, shows, restaurants, and outdoor activities around Las Vegas with the intent of sharing my experiences.
Ultimately, I just want to help folks plan a better trip and save a few bucks in the process.