Key Points:
The Count Room's "secret" entrance is a green door located next to Flamingo's food court.
"Elegant" is the best word to describe the prohibition-era cocktail lounge once inside. It's built to impress.
I recently spent a couple of hours at The Count Room being mesmerized by "The Moonshiners", a musical group that puts a 1920's era twist on modern hit songs – Highly recommended.
Speakeasy bars easily rank as one of the hottest trends in town, with options popping up all over Las Vegas.
Not to be outdone, Flamingo has thrown their hat in the ring with The Count Room, which is part of Bugsy & Meyer's Steakhouse and is a glorious throwback to the prohibition era.
Fresh off of renovation work to create a new "secret" entrance, I thought it would be fun to swing by The Count Room, get in, and explore a bit.
Below, I'll detail where to find The Count Room's secret door, and give you a peek inside the clandestine cocktail lounge.
Where is the Entrance to The Count Room?
Once you enter Flamingo, make your way to the fast-casual food court (with options like Bonanno's Pizza, Pan Asian Express, LA Subs, and Johnny Rockets) located just off the casino floor as you make your way toward the rear of the property.
The door to the speakeasy is located on the right side of the food court's entrance.
You're looking for the green door pictured below.
You'll know you're in the right place as it's clearly labeled "The Count Room" both above and to the left of the door, although there's no mention of what The Count Room is.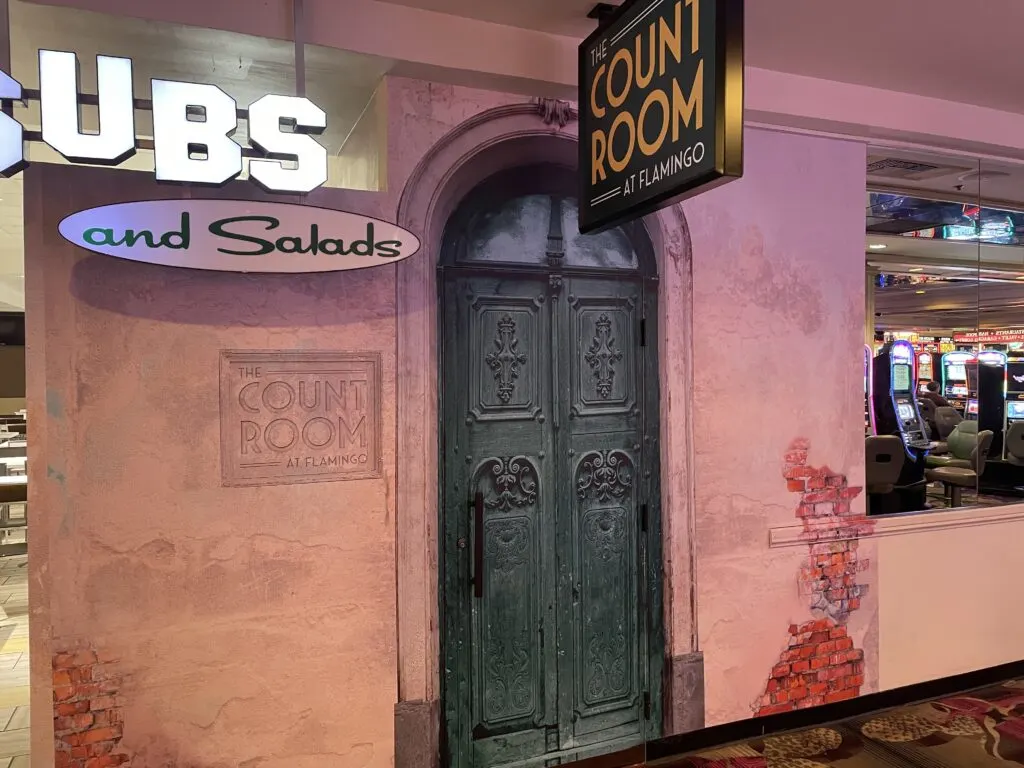 Once inside the green door, you'll follow a winding pathway past pictures of mobsters and mock wooden barrels, setting the tone for what to expect inside.
The Count Room is an extension of a steakhouse named after infamous mobsters Bugsy Siegel and Meyer Lansky, so it makes sense that Siegel's portrait is the first you see when entering the hallway on the other side of the green door.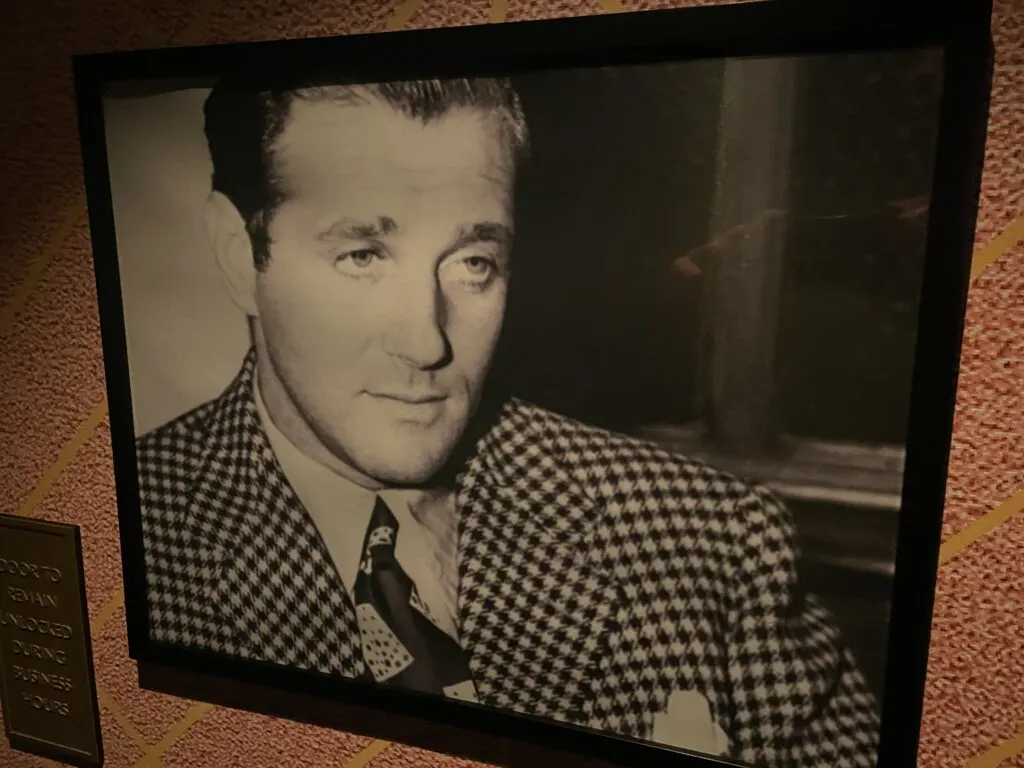 Siegel, of course, was responsible for originally bringing Flamingo to life, and later met an untimely demise.
Bugsy was murdered in his girlfriend Virginia Hill's home in 1947, shortly after the Flamingo opened. While the crime was never solved, it's assumed by many that his mob associates, unhappy with the Flamingo's financial performance, were behind the hit.
While the secret bar used to be accessible from inside Bugsy & Meyer's, a staff member let me know that they now prefer all patrons leverage the new "secret" door they just installed near Flamingo's food court.
There is no password needed to gain access to The Count Room – Just walk right in!
Inside The Count Room at Flamingo
Once inside, you're treated to an elegant environment that features dark wood, leather, and more decor depicting members of the mob and even early Las Vegas resorts.
Here are a few shots from inside the Count Room: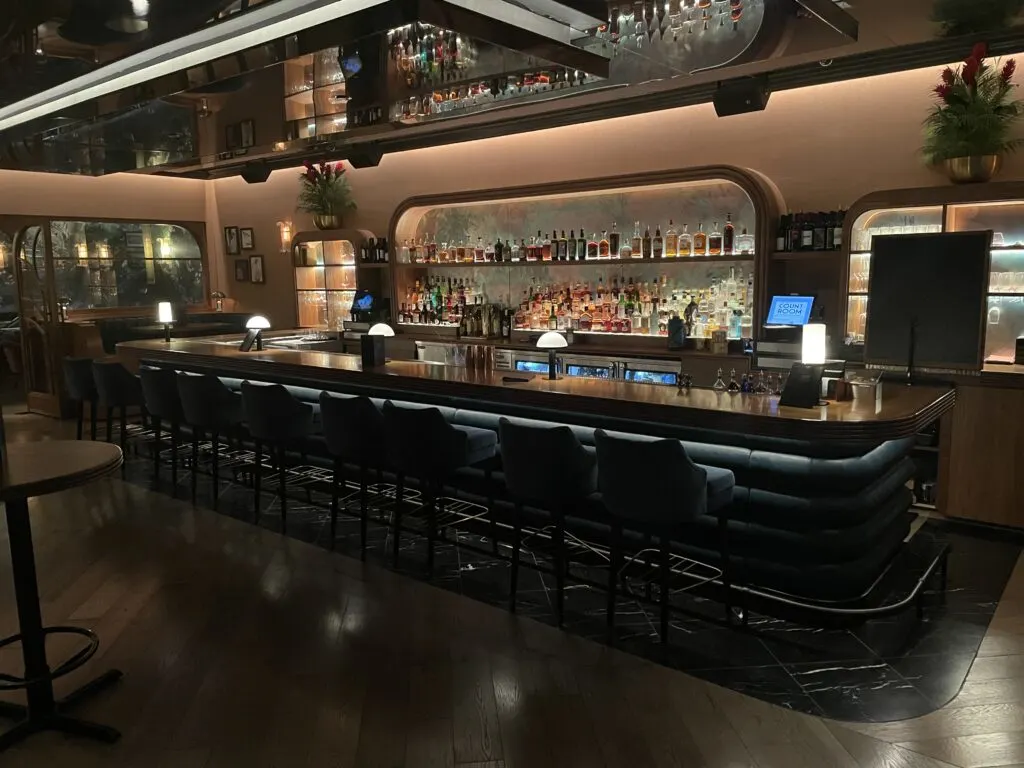 From a cost perspective, you can expect to pay $20-$25 for cocktails, $10-$13 for draft beer, and anywhere from $25 – $40 for their "Old-Fashioned Experience" depending on the options you choose.
Notably, The Count Room is also a live music destination on Friday and Saturday nights, featuring "funky jazz" performed by The Moonshiners.
My wife and I recently stopped into the speakeasy with another couple for a drink on a night that The Moonshiners were performing, and found them to be one of the more impressive lounge acts that we've ever seen.
I'd describe their music as a 1920s take on modern hits, so it definitely has a prohibition-era vibe while also being modern. If you're familiar with Richard Cheese, they're kind of like him (slowing down modern hits), but classier and more elegant.
While we intended to stop in for a single drink, we ended up staying much longer than we originally anticipated.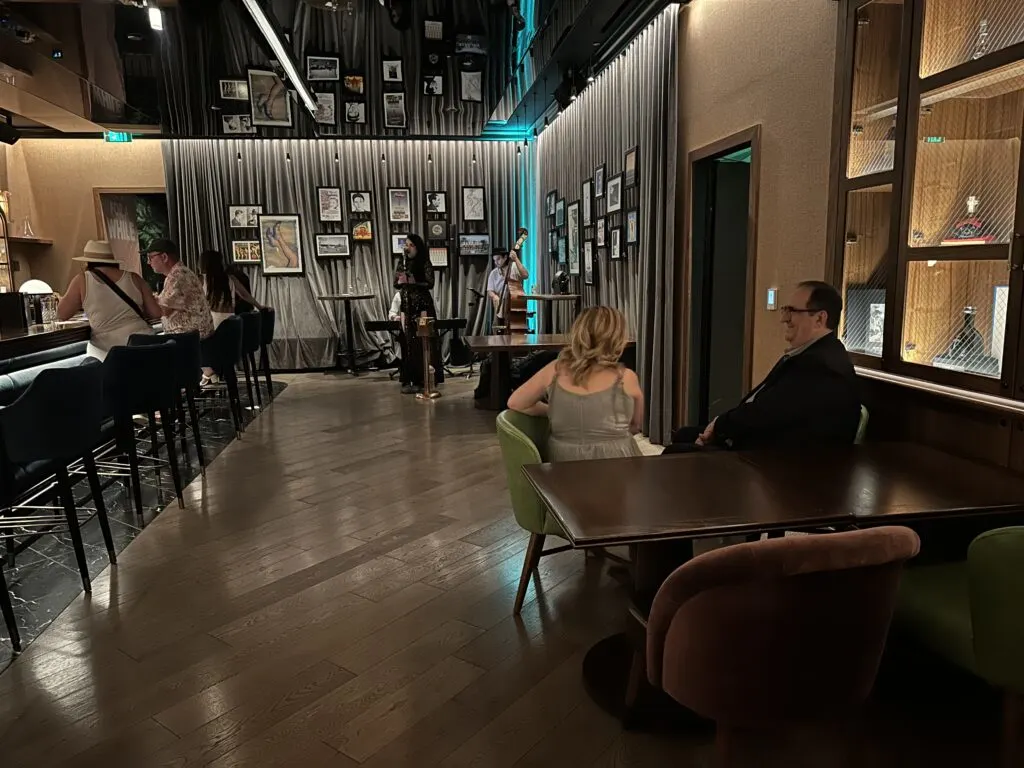 Although we stuck to bottled beer, several other patrons ordered smokey cocktails that filled the room with a hickory aroma that just added to the venue's allure.
While The Count Room isn't the most complicated speakeasy to find or get into, it definitely boasts one of my favorite atmospheres.
Ultimately, we all love the feeling of being an "insider" or "someone in the know", and speakeasy experiences like this allow us to be just that. There's just something special about that exclusive vibe you get slipping into a bar that the masses aren't aware of.
The Count Room at Flamingo exudes a classy, sophisticated, and elegant vibe, while not being overly stuffy or pretentious. It's certainly worthy of consideration as you piece together your itinerary.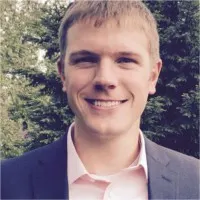 I'm a former software salesman turned Vegas aficionado. While the craps table is my preferred habitat, I pull myself away to explore new attractions, shows, restaurants, and outdoor activities around Las Vegas with the intent of sharing my experiences.
Ultimately, I just want to help folks plan a better trip and save a few bucks in the process.