Key Points:
The Deuce bus connects the Strip & Fremont Street, offering a stop in front of nearly every Strip resort.
A bus pass costs only $6 for a 2-hour pass or $8 for a 24-hour pass.
Although inexpensive, The Deuce is often criticized for being both crowded and slow.
While Las Vegas offers the usual assortment of taxis, rideshare options, and busses, there is one route that stands out among the rest – The Deuce – which runs up and down the Strip and connects to casinos downtown.
The Deuce's main draw is the fact it's inexpensive at just $6 for 2 hours, and it's easy to hop on/hop off at numerous stops up and down The Strip.
Of course, there are also drawbacks to this particular mode of transportation, which I'll touch on as well.
Las Vegas Duece Route & Stops
In addition to stops along The Strip and on Fremont Street, the route also offers stops at tourist hotspots like The Arts District, the Pawn Stars Pawn Shop, the North & South Premium Outlets, and the "Welcome to Fabulous Las Vegas" sign.
Below are a number of notable stops along the Deuce bus route, both northbound and southbound. The full deuce bus route and list of stops is viewable, here.
Notable Northbound Deuce Stops:
Welcome To Las Vegas Sign
Mandalay Bay
Tropicana
MGM Grand
Polo Towers
Planet Hollywood
Paris
Harrah's
Wynn
Circus Circus/Convention Center
Sahara
STRAT
Arts District
Fremont Street Experience
Notable Southbound Deuce Stops:
Fremont Street Experience
Arts District
STRAT
Sahara
Circus Circus/Slots A Fun
Treasure Island
Mirage
Caesars Palace
Bellagio/Cosmopolitan
Park MGM
Excalibur
Luxor
Mandalay Bay
Welcome To Las Vegas Sign
I'd also recommend reviewing the Deuce Bus route map, which provides a more detailed summary of stops along the route.
Las Vegas Deuce Bus Price
A ticket to ride The Deuce starts at $6 for a 2-hour pass, however, there is a 24-hour pass available for $8, and a 3-day pass that can be all yours for $20.
When going from the Strip to Fremont Street or vice versa, I recommend the 24-hour pass (or longer) which provides plenty of time at a steep discount when compared to what a round trip in an Uber/Lyft or taxi would cost (approx. $40-$50 round trip).
Related: Should you buy a bus pass in Vegas? Here are the pros and cons.
How To Buy Deuce Bus Tickets
Buying Tickets to ride the Deuce in Las Vegas is easy. Here are your options:
Vending Machines: The Deuce has ticket vending machines, which are easy to use, at each stop up and down the Strip and downtown. Just select your desired pass, pay, and it spits out your ticket. I've personally found it difficult to see the ordering screen, either because the sun is too bright, or because it's too dark. I avoid the issue by using the rideRTC app discussed below.
rideRTC App: My preferred method for buying Deuce tickets is via the rideRTC phone app, which is available for free in both Android and Apple app stores. Simply select your pass, pay, and your ticket is scannable from your cell phone.
Deuce Bus Route Hours of Operation
The Deuce operates 24/7, although frequency slows from every 10-15 minutes to every 20 minutes after 1 am.
Deuce Bus Schedule
While the Deuce bus schedule isn't clearly defined, you can expect a bus to show up every 15-minutes from 7 am – midnight, and every 20-minutes from midnight to 7 am.
If you're going to the Strip from the airport, take route 109 to the South Strip Transfer Station. There, you'll transfer to the Deuce, which will take you the rest of the way. To get from the Strip to the airport by bus, just reverse those instructions.
Does the SDX Route Still Run?
For those unfamiliar, the SDX or Strip and Downtown Express ran along the same route as the Deuce, however, made fewer stops which made for a quicker ride.
Unfortunately, SDX service was discontinued during the pandemic and has yet to return.
Sounds Great! What's The Catch?
While the Deuce in Las Vegas is a great way to stretch your budget, there are some drawbacks.
It Can Be Crammed…
Specifically, the bus can be extremely crowded during peak times. Like it is with all public transportation, you don't have the luxury of picking who you get crammed in next to either.
I can still vividly recall The Deuce ride my wife and I took back to the Strip from Fremont Street where a gal in the seat behind us was puking. We had to hold our feet off the floor as the puddle of nastiness inched forward toward our feet every time the bus came to a stop.
The Ride Isn't Quick…
The number of stops the bus makes along the route also makes a quick trip much longer than it needs to be. If you're in a rush, you should look at other options.
For those visiting Vegas for the first time, however, the slowness of the Deuce can be positive as you'll be able to really take in the city.
Bottom line, the Deuce in Las Vegas is a great transportation option for those looking to save a few bucks, however, it moves slowly and is commonly crowded.
Personally, I opt to skip it and pony up for an Uber to avoid wasting my vacation time away, but everyone has different priorities.
Hopefully, I was able to help you navigate this simple, inexpensive public transportation option with stops up and down the Strip and Downtown Las Vegas.
Feature Image Credit: ©zhukovsky/123RF.COM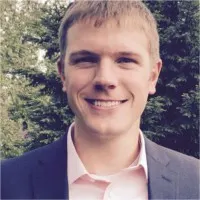 I'm a former software salesman turned Vegas aficionado. While the craps table is my preferred habitat, I pull myself away to explore new attractions, shows, restaurants, and outdoor activities around Las Vegas with the intent of sharing my experiences.
Ultimately, I just want to help folks plan a better trip and save a few bucks in the process.