The Las Vegas Regional Transportation Commission (RTC) sells 2-hour, 24-hour, and 3-day "Strip and All Access" bus passes that allow riders to navigate up and down the Strip and to and from Fremont Street.
While a longer-term bus pass could be a great opportunity to save money, there are some cons you'll want to account for before making a purchase decision.
In this post, I'm going to help you determine whether or not a longer-term bus pass, specifically the 3-day option, is worth buying in Las Vegas.
How Much Does a Bus Pass Cost in Las Vegas?
Before diving into the pros and cons of the bus in Las Vegas, let's define how much a bus pass costs.
Pricing is as follows:
$6 for a 2-hour pass
$8 for a 24-hour pass
$20 for a 3-day pass
With few exceptions, the bus route most Las Vegas tourists look to use with their pass is "The Deuce", which runs up and down the Strip and goes to Fremont Street. There are, however, some pretty distinct "pros" & "cons" to leveraging this particular route.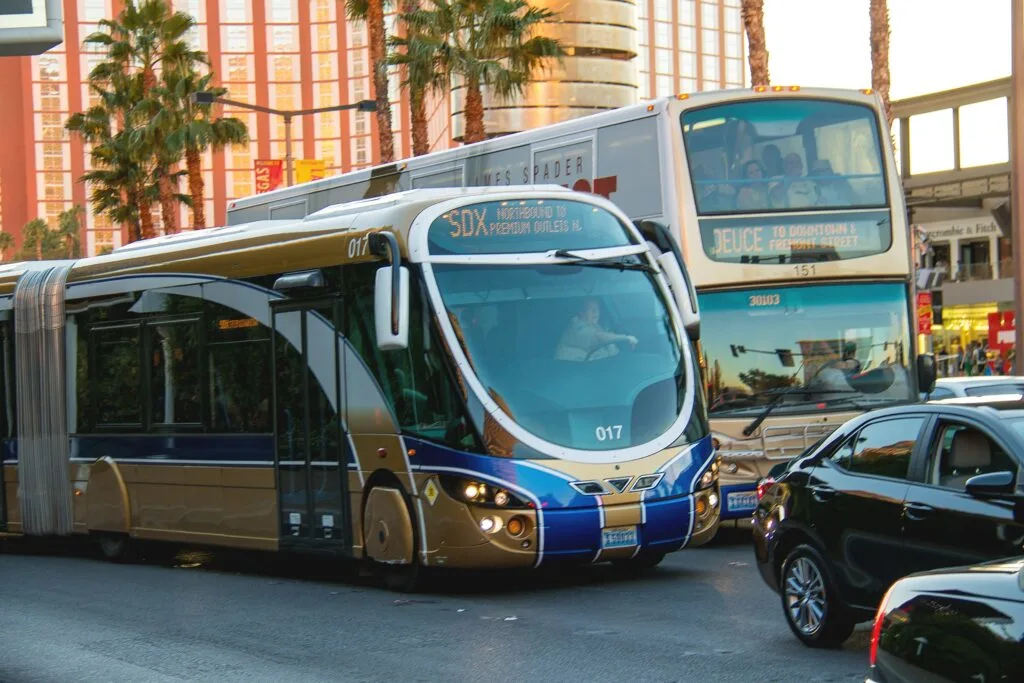 "Pros" Of Buying a Bus Pass in Vegas
You'll save money: Leveraging the bus is easily the cheapest way to get around Las Vegas. Aside from walking, it doesn't get more budget-friendly.
Even a 24-hour pass will save you money if you plan to make a round trip between the Strip and Fremont Street, which costs an average of $30 – $35 via ride share. Obviously, surge pricing can also affect Uber/Lyft pricing – A downfall the bus doesn't have.
Obviously, the 3-day bus pass represents the best value and opportunity to save money, costing just $6.66 per day.
Don't have to overthink transport: When employing the bus, you don't need to waste time pricing out Uber vs. Lyft vs. taxis.
Nor will you need to wander the casino aimlessly in an attempt to find the poorly labeled ride-share pickup location. Instead, you can just head to your closest bus stop.
Stops can be found outside of most casinos on the Strip, and they are well-marked and abundant.
If you want to hop on the bus, just walk to the Strip and start walking north or south and you'll run right into one.
Busses show up every 15-20 minutes depending on what time of the day it is, and they operate 24 hours per day.
"Cons" Of Buying a Bus Pass in Vegas
The Deuce is Crowded: Especially in a post-pandemic world, many cringe at the thought of big crowds in small enclosed spaces. For me, it's more of a general disdain for being shoulder to shoulder with strangers.
I have a personal bubble, and although The Deuce boasts double-decker busses, that bubble is almost guaranteed to be violated.
The Deuce is Slooow: I'm not exaggerating when I say that The Deuce stops at nearly every resort on the Strip to drop off and pick up. A trip from south Strip resorts like Mandalay Bay, Luxor, Excalibur, etc. to Fremont Street is a painful time investment when compared to just hopping in an Uber.
Doesn't usually get you to and from the airport: One of the most absurd and inconvenient aspects of public transportation in Las Vegas is that it doesn't seamlessly connect the airport to resorts on the Strip.
Confusingly, there are exceptions:
Airport -> Fremont Street: This one is straightforward. The CX bus route can take you to and from the airport to Fremont Street for $2. Read more about the CX route, and where to catch it.
Airport -> South Strip Resorts: Although it doesn't serve the entire Strip, the CX bus route mentioned in the bullet point above stops at the intersection of Flamingo and The Strip. That stop is near Caesars Palace, Bellagio, Horseshoe, Cromwell, and Flamingo.
Airport -> All Strip Resorts: Unfortunately, this is messier than it needs to be. To get from the airport to the Strip by bus, you'll need to jump on the route 109 bus at the airport, take it to the South Strip Transfer Station, and then transfer to the Deuce, which runs up and down the Strip. Honestly, this is too inconvenient to be worth it.
Is a Bus Pass in Las Vegas Worth Buying?
The answer could be yes or no, depending on what you value.
The Case For Buying – Money
If you're primarily focused on saving money, and don't mind crowds and some inconvenience, then yes, a bus pass is a no-brainer. You can easily calculate your expected savings by looking at what your itinerary includes.
If you plan to go downtown from the Strip (or vice versa, depending on where you're staying), the 3-day pass will pay for itself when compared to a round-trip Uber or Lyft, which will set you back around $30 – $35 round trip.
The same philosophy rings true if you have plans to move frequently from resort to resort on the Strip. A lot of frequent Uber, Lyft, or taxi rides will add up.
The point is, if you're moving around in Vegas, the 3-day bus pass will save you a good chunk of money.
The Case Against Buying – Time & Comfort
Your time in Las Vegas is limited, do you want to spend it packed into a bus that stops every few blocks? If you don't mind paying up for a more direct, personal form of transportation then skip the pass and go with Uber.
Additionally, if you have firm plans like dinner reservations, show tickets, etc., then other transportation options may be a better alternative as you know you'll get a ride the moment you need it.
As mentioned, folks are really crammed into the deuce during primetime, and you never know who'll be in your personal space.
My wife and I once purchased a bus pass for a weekend trip to Vegas, as we wanted to save a few bucks. While riding back to the Strip from Fremont Street, a gal behind us barfed on the floor. Now, the sound and aroma were disgusting, but it got worse quickly.
Every time the bus stopped, the puddle of puke behind us inched forward towards our shoes. By the end of the ride, our feet had to be elevated to avoid touching the puddle of stomach acid and partially digested food.
Hilarious memory now. Not so much at the time, however.
How to buy a bus pass in Las Vegas
If you decide a bus pass fits your needs, both 2 and 24-hour passes can be purchased as you enter the bus, at select electronic ticketing kiosks, and via the rideRTC phone app.
Note that exact change is needed if purchasing via kiosk or as you enter the bus.
The 3-day bus pass can only be purchased at select vending machines or via the rideRTC app.
Whatever pass best fits your needs, I'd recommend downloading the app and making your purchase there.
Hopefully, I was able to help you weigh the pros and cons of buying a bus pass in Las Vegas. Ultimately, the answer to the question of "Should I buy a bus pass in Vegas?" boils down to whether you're willing to trade convenience and comfort for savings.
See our other transportation topics:
Feature Image Credit: ©nicknick/123RF
I'm a former software salesman turned Vegas aficionado. While the craps table is my preferred habitat, I pull myself away to explore new attractions, shows, restaurants, and outdoor activities around Las Vegas with the intent of sharing my experiences.
Ultimately, I just want to help folks plan a better trip and save a few bucks in the process.