According to a survey conducted by the LVCVA, 42% of Las Vegas visitors made a point to visit downtown during their trip. Many of those visitors likely chose to spend time on Fremont Street to take advantage of less expensive gambling, drinking, and food compared to the Strip.
We put together a directory of cheap places to eat downtown in an effort to aid budget-conscious guests. After all, taking advantage of an inexpensive breakfast, lunch, or dinner can help stretch the budget for more important activities… like gambling.
For restaurants to qualify for the downtown Vegas cheap eats list, meal options must be available at a price point of around $10 or less.
Below, is a property by property list of cheap places to eat on Fremont Street.
See Also: We compiled a list of current Las Vegas Groupon deals, many of which are for food and drink offerings.
Cheap Eats at Plaza
Pop Up Pizza: Ranked by this blog as one of the best pizza by the slice spots in all of Vegas, Pop up Pizza offers numerous inexpensive items that range from a basic slice, to more exotic, high-quality options. View the full menu.
Fresh Mexican Grill: The cheapest item on the menu is the $3 Street Tacos, but Fresh Mexican Grill also offers nachos, burritos, and quesadillas at a cheap $8 price point. View the full menu.
Manchu Wok: Offering grab and go Chinese options like Orange Chicken, General Tso Chicken, and other popular options, Manchu is a popular cheap lunch/dinner option Downtown Las Vegas.
Fast Food Chain Options: Plaza also has a Subway and McDonalds for those looking for a quick, cheap bite to eat.
Cheap Eats at Binion's
Binion's Cafe: Serving up a basic burger for $6.49, a garden salad for $4.99, and numerous other breakfast, sandwich, burger, and salad options for less than $10, Binion's cafe qualifies as a cheap place to grab a bite to eat downtown. View the menu here.
Binion's Deli: Quick, fresh, and most importantly, cheap burgers, salads, sandwiches, and soup are available at Binion's Deli. Of note, guests looking for a cheap snack can score a $5.99 burger, $4.99 soup or salad, or choose from a number of $9.99 hot sandwiches. View the menu here.
Benny's Smokin' BBQ & Brews: Several meals on the menu at Benny's qualify as cheap eats to include their $10.99 BBQ Brisket, $10.99 1/2 Chicken, and Half Rack of Baby Back Ribs for $12.99. Meals come with baked beans, corn on the cob, coleslaw, and jalapeno cheese cornbread. Note that prices are for loyalty club members only. Pricing for non-members is $2 more.
Cheap Eats at Golden Nugget
Chick Fil A: The popular chicken chain has a location at Golden Nugget, however, like other locations nationwide is closed Sundays. Most sandwich options at Chick Fil A cost around $5 and meals can be had for under $10.
The Grille: Offering items like Quesadillas, a Cheeseburger, Street Tacos, Pizza, and Chicken Tenders at a price point of $14 or less, The Grill could be a solid spot to fuel up on a budget. View the menu.
Cheap Eats at The D
American Coney Island: With cheap items like a $3.95 Coney Island Hot Dog, $4.50 Chili Cheese Fries, and a $6.75 Gyro Sandwich, Coney Island has what it takes to satisfy your late-night hunger inexpensively. Check out the menu here.
McDonalds: Albeit familiar, and rather unecxiting, there is also a McDonalds at The D.
Cheap Eats at Fremont
Lanai Express: Offering cuisine on demand from a variety of cultural influences, Lanai Express literally has something for everyone. From hot dogs to Chinese, to oxtail soup, Lanai has it. Of note, they offer the last truly .99 cent Shrimp Cocktail in downtown Las Vegas.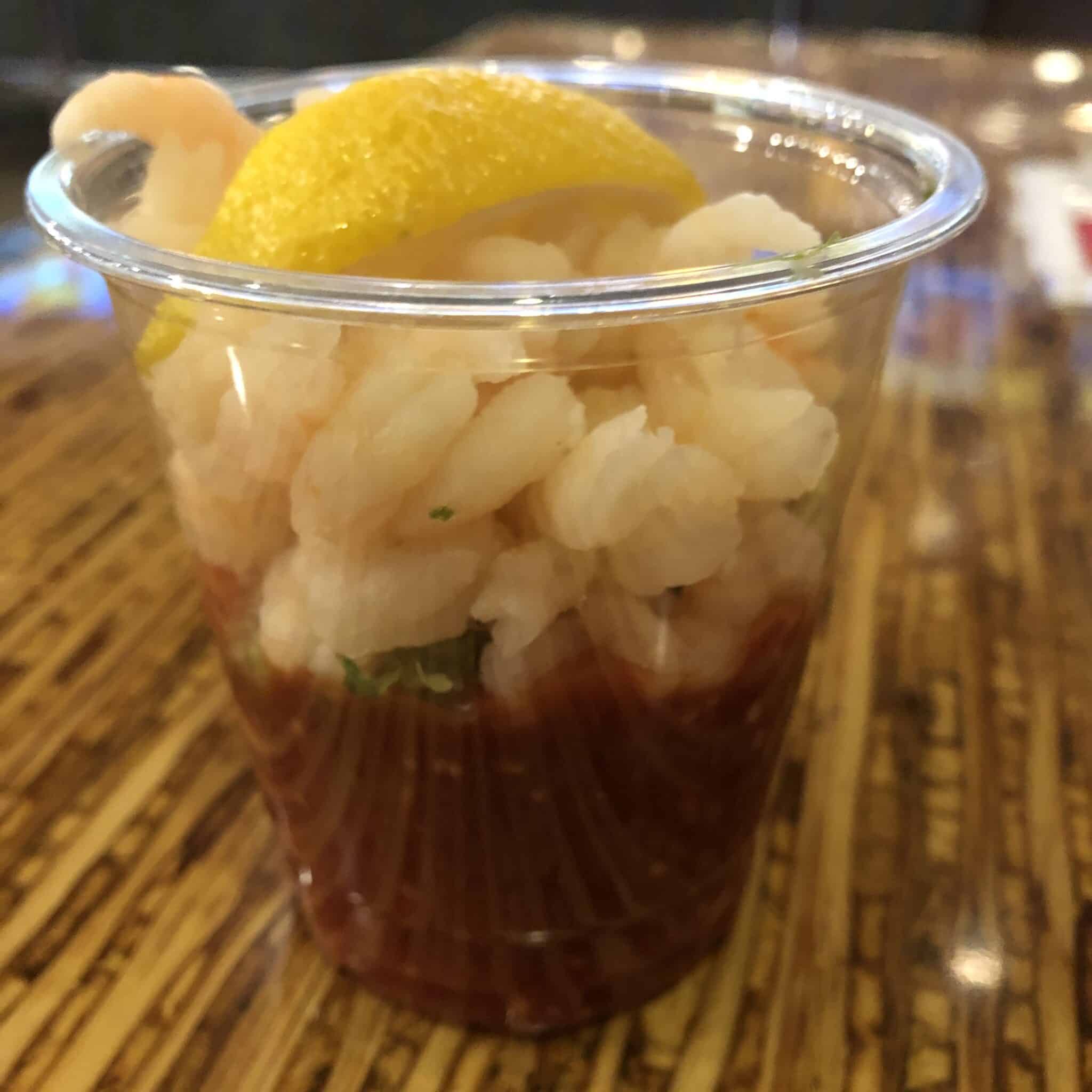 Paradise Cafe: A great spot to grab a cheap breakfast downtown Las Vegas, Paradise Cafe has numerous entrees priced at and below $10. In addition to an affordable breakfast selection, Paradise serves an assortment of burgers, hot sandwiches, and soup for lunch and dinner at a price point that won't break the bank. See the full menu.
Second Street Grill Cheap breakfast items at Second Street Grill include their Two Eggs Any Style for $10.99 that come with breakfast potatoes, toast, and an English muffin or biscuit. They also offer both French Toast and Country Biscuits and Gravy for under $10 in addition to other inexpensive options. For lunch and dinner, the menu is packed full of a selection of sandwiches, burgers, and entrees at a price point under $15. View the menu.
Cheap Eats at 4 Queens
Magnolia's Veranda: Whether looking for a cheap breakfast, lunch, or dinner, Magnolia's at 4 Queens has some nice options. Many breakfast options to include omelets can be had for less than $10. Inexpensive lunch and dinner options include burgers, hot sandwiches, and fresh chopped salads which can all be had for around $10 or less. Check out the full menu here.
Chicago Brewing: Cheap meal options at Chicago brewing include a $7.99 Chicago dog, a $9.99 Brew Burger, and 10″ pizzas that start at $11. Also offered are a selection of salads, appetizers, and sandwiches at a relatively inexpensive price point. See the full menu here.
Cheap Eats at California
Aloha Specialties: Catering to California's Hawaiian clientele, Aloha Specialties has an island feel and theme. Attracting guests though is the chance to snag a cheap lunch, dinner, or snack. Popular chicken or beef bowls will run you $5-$7 bucks, while a hamburger or cheeseburger can be had for under $6. Cheap, and quick!
Market Street Cafe: If you're in the market for a cheap breakfast, don't overlook Market Street which serves an assortment of omelets, waffles, french toast, and other breakfast items for around $10 or less. An assortment of burgers, soups, salads, and island favorites are available for lunch and dinner at a similarly inexpensive price point. View the menu.
Cheap Eats at El Cortez
Subway: The popular sandwich chain can be found behind the real coin video poker machines near the rear entrance to the casino.
Eureka!: Located just across the street from El Cortez, Eureka offers an American Cheeseburger and fries for $12. While we were shooting for a $10 or less price point to qualify for cheap eats, we deemed Eureka's cheap burger worthy of mention. View the menu here.
See Also: Popular things to do at every Fremont Street casino.
Cheap Eats at Downtown Grand
Pizza Rock: Rated by us as the best slice of pizza in Vegas, slices at Pizza Rock are both substantial in size, and low in price. A deadly combination.
Freedom Beat: If you're a gambler, then Freedom Beat could be an outstanding option for a cheap meal, as their "Gambler's Special" entitles you to 50% off the menu price of certain items. To qualify, players need to accumulate 25 loyalty points that day. If on the hunt for a cheap breakfast, the gambler's special entitles you to the Freedom Beat All American Breakfast for only $6. For lunch/dinner, diners can score an $8.50 prime rib dinner, a $7.50 Freedom Beat burger, or an $8.50 Herb-Marinated Grilled Chicken. Not bad! See the full menu.
Other Cheap Places to Eat on Fremont Street
International Eatery: Located in Neonopolis, International Eatery is a quick-serve food court with Mexican, Chinese, Mediterranian, and Italian options. All of the food options are cheap, and pretty darn filling for the price. For our money, there isn't much that beats a Gyro from Doner Kebab.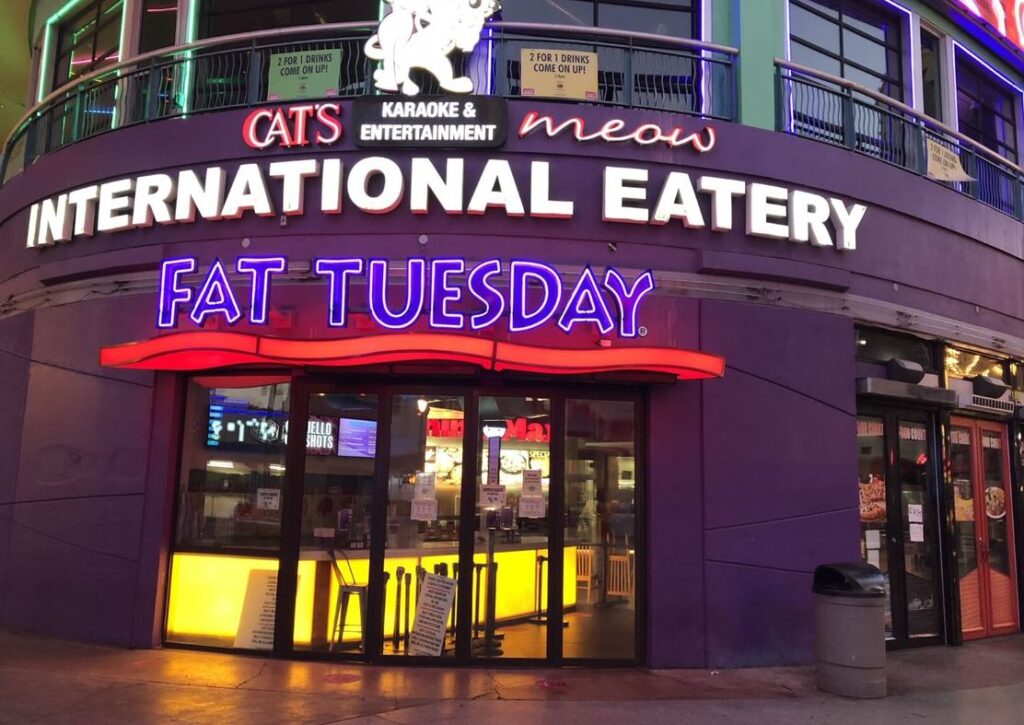 White Castle: You know it, and you either love it or hate it. Just know, it's a cheap meal option available on Fremont Street near Neonopolis.
Denny's: Serving up an assortment of breakfast, lunch, and dinner options, Denny's in Neonopolis is an option for those looking for cheap eats on Fremont Street. With numerous options priced at or less than $15, Denny's is one of the best places to find a cheap breakfast on Fremont Street.
Joy of Hot Dog: A pink food truck which is usually posted up near Evel Pie on Fremont East, Joy of Hot Dog offers an assortment of unique dogs at an inexpensive $8 price point. Options include traditional choices like the "Classic" or "Chi-Town" dog, as well as more adventurous dog offerings. We recommend trying the BLT Dog, which is a bacon wrapped hot dog topped with cheese, diced tomatoes, ranch, and bacon bits. Drinks can be added to any order for $2.
Evel Pie: Slinging some of the best pizza in Las Vegas, guests can order it by the slice for as little as $4 (cheese), or $4.50 (pepperoni). According to us, and we know about this kind of stuff, Evel's pizza by the slice is the second best in Vegas, bested only by Pizza Rock.
Hopefully we were able to aid you in your hunt for a cheap breakfast, lunch, or dinner downtown Las Vegas. Fremont Street is known for providing a stronger value proposition than that of the Strip, and it shines through in its diversity of cheap food options.
See Also: We compiled a guide to finding cheap burgers, cheap steaks, cheap prime rib, cheap Mexican food, and cheap ribs in Las Vegas.