Finding ways to eat cheap in Las Vegas is an effective way to stretch your budget and conserve cash for more exciting activities, like gambling (we kid, we kid… kinda).
One thing we always try to do is find cheap restaurants to eat at for breakfast and lunch and then splurge on something more upscale for dinner.
With prices for nearly everything on the Las Vegas Strip on the rise, where can you find a cheap meal anymore? Fortunately, most Las Vegas Strip resorts offer at least one budget option to cater to those looking to save money on meals.
Below, we'll go property by property and detail restaurants where Las Vegas visitors can still eat cheap. To qualify for the "cheap eats on the Strip" list, there must be meals available for about $15 or less.
We'll also be sure to link out to menus where applicable so that you can easily compare and contrast your options!
See Also: Current Groupon deals in Las Vegas – Many of which are for food & drink!
Pyramid Cafe: While the majority of breakfast items at Pyramid don't qualify as overly cheap, they do serve up waffles, breakfast pizzas, and a bagel sandwich at a price point below $15. For Lunch, they offer a $15.49 "Original Burger" that comes with your choice of french fries or sweet potato fries.
Broadway Burger Bar: Most burgers on Broadway Burger Bar's menu land around, or under, the $15 mark. While adding fries will likely put you over that mark, we felt the option was worth a mention.
Village Street Eateries: A number of cheap meal options are tucked into the elaborately themed city near Times Square Bar on the New York New York gaming floor. Options include Sirrico's pizza by the slice, Greenberg's Deli, and Fulton's Fish Frye which serves fish and chips, clam chowder, shrimp, and chicken.
See Also: Not only is Sirrico's a cheap meal, but we also rated it one of the best slices of pizza you can find in Vegas.
Nathan's Hot Dogs: Offering locations both near the arcade and on the mezzanine level, Nathan's is cheap and quick.
48th and Crepe: For those looking for a cheap breakfast option, 48th and Crepe serves up a number of both sweet and savory crepes at a price point at or below $15.
MGM Grand Food Court: With cheap, efficient meal options like Bonnano's Pizzeria, Pan Asian Express, Tacos N 'Ritas, Johnny Rockets, and Original Chicken Tender, there is bound to be something that is destined to hit the spot.
Subway: It's a known quantity. It'll never surprise you, and can be a great option if looking for a cheap meal on the Strip.
Denny's: Located just north of MGM Grand, the popular chain is a can't miss spot to grab a cheap breakfast on the Strip.
La Salsa Cantina: Among our favorite cheap breakfasts in Vegas, La Salsa serves a $4.79 meal complete with 2 eggs, choice of meat, southwest potatoes, and tortillas until noon daily. If a cheap breakfast on the Las Vegas Strip is what you seek, give this a shot! In addition to breakfast, there is a solid selection of lunch items hovering around a $15 price point.
Blondies: Also home to one of our favorite "all you can drink deals" in Vegas, Blondies also offers a meal in contention for the cheapest breakfast on the Strip. Their 2 Egg Breakfast costs a mere $5.99 and comes with 2 eggs, a choice of sausage or bacon, and country potatoes. Guests can also build their own omelet for under $10!
PBR Rockbar: Another breakfast spot on the Strip that won't break the bank, PBR Rockbar's Classic Breakfast is comprised of 2 eggs, bacon or sausage, toast, and mixed fruit for $7.95. In addition to that deal, PBR also offers numerous other items for less than $15.
Quick and Cheap Options in the Miracle Mile Shops: There is a literal abundance of additional cheap restaurants in the Miracle Mile Shops at Planet Hollywood. Options include Auntie Anne's Pretzels, Chipotle, Earl of Sandwich, Panda Express, Sbarro, Ketchup, and Subway.
Chick-Fil-A: Located right on the Strip (near Pin-Up Pizza), the popular chain could be a solid option for a quick bite.
The Pizzeria: Guests can purchase small (8′) personal pan pizzas and a selection of hot sandwiches at Circus Circus' Pizzeria for under $10.
Slots A Fun: Stop into the small casino just south of Circus Circus for $1 hot dogs. No, it's not gourmet, but it's cheap!
McDonald's: A tried and true go-to cheap, filling meal for many, Circus Circus comes equipped with a Mcdonald's in the Midway, and another out front in between Slots a Fun and Resorts World.
Ellis Island: Although not directly on the Strip, it is within walking distance and offers plenty of cheap meal options. The Villiage Pub & Cafe's menu is packed with sandwiches, burgers, and breakfast options under $10, and the quality you get for the money is strong!
If you're in the market for a cheap breakfast, give their $6.99 Steak and Eggs special a shot. Although not on the menu, it's among their most popular value offerings.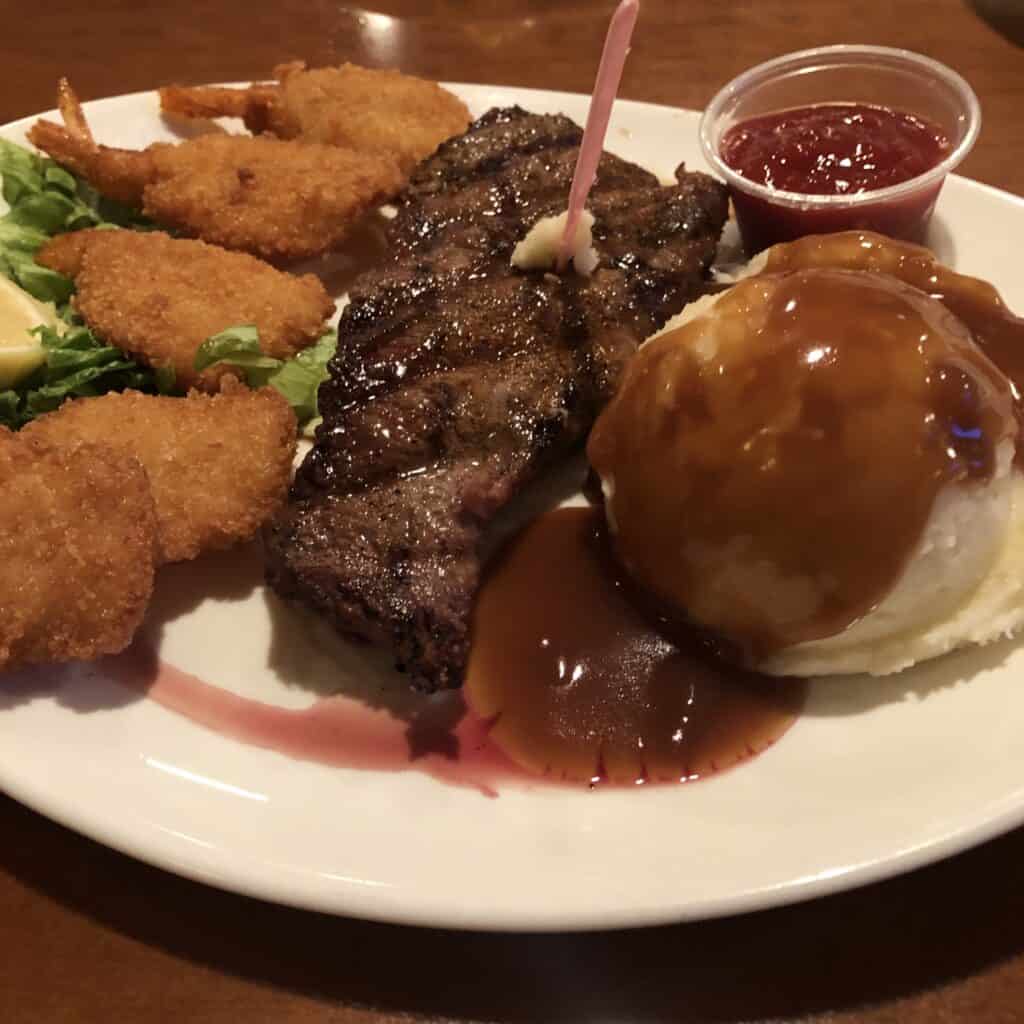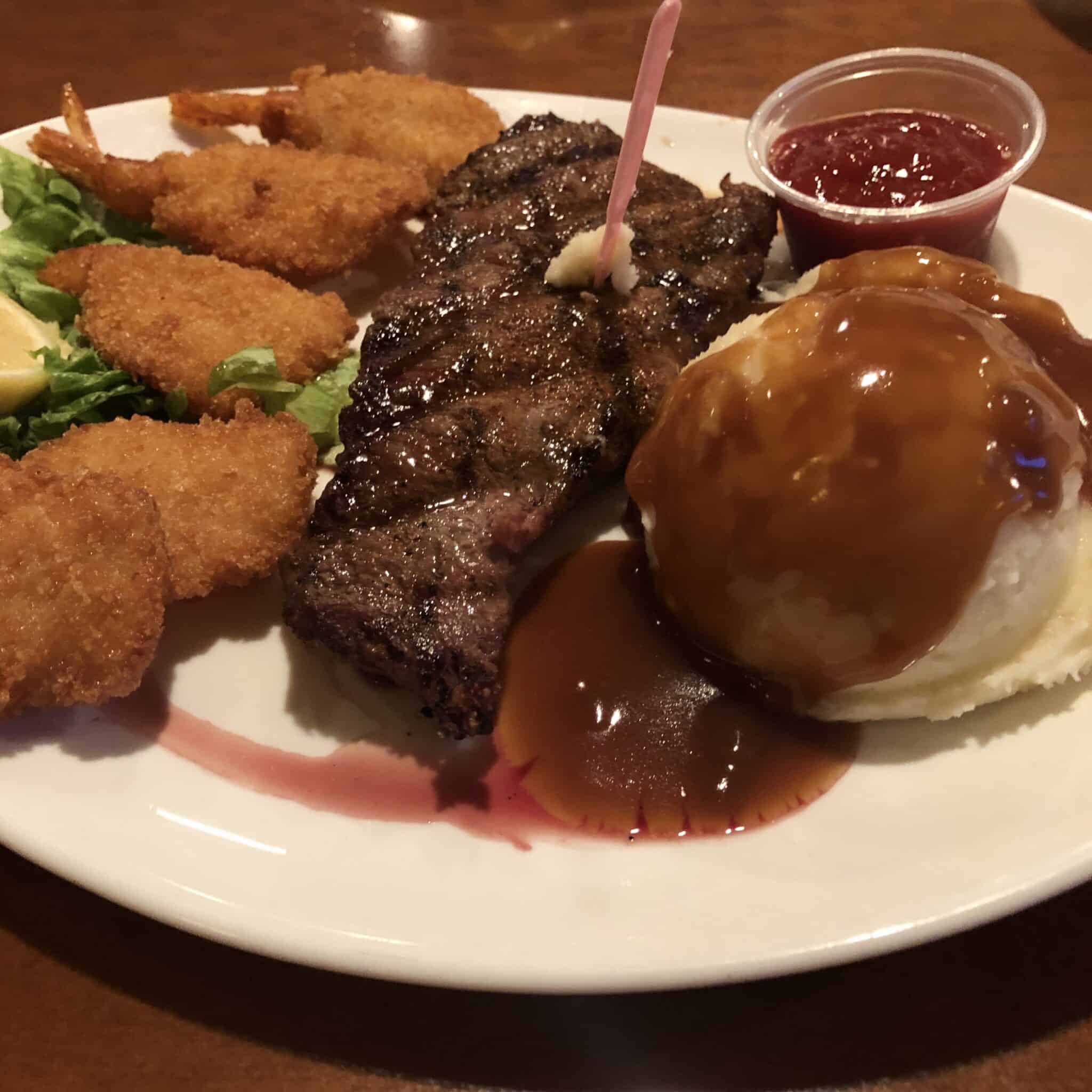 Stage Door Casino: Located steps behind Cromwell, Stage Door serves a 1/4 pound hot dog for $2.50 in addition to offering $1 beer. The bar and casino certainly aren't luxurious, but it can be a great spot to eat cheap while playing video poker.
One last suggestion for eating cheap on the Strip is to stock your room with quick meal options from the many convenience stores like Target, CVS, and Walgreens that now line the Strip. Having sandwich construction materials and snacks at the ready in your room can help you conserve a few bucks to put towards gambling and entertainment, which is clearly more important :).
See also: Check out these 44 easy ways to save money in Las Vegas and these cheap places to eat on Fremont Street!