Finding ways to eat cheap in Las Vegas is an effective way to stretch your budget and conserve cash for more exciting activities, like gambling (we kid, we kid… kinda). One thing we always try to do is find cheap restaurants to eat at for breakfast and lunch and then splurge on something more upscale for dinner.
With prices for nearly everything on the Las Vegas Strip on the rise, where can you find a cheap meal anymore? Fortunately, most Las Vegas Strip resorts offer at least one budget option to cater to those looking to save money on meals.
Below, we'll go property by property and detail restaurants where Las Vegas visitors can still eat cheap. To qualify for the "cheap eats on the Strip" list, there must be meals available for about $10 or less.
See Also: Check out these current Groupon deals in Las Vegas, many of which are for food & drink.
Cheap Eats at Mandalay Bay
Mandalay Bay Food Court: With numerous cheap, quick, meal options, Mandalay's food court has something for everyone. Options include Subway, Nathan's Famous Hotdogs, Pan Asian, Bonnano's Pizzeria, and Johnny Rockets.
Options Near Mandalay Bay: If you don't mind walking, there are a few cheap food options across the street from the resort in a strip mall. Options include a Panda Express, Subway, McDonald's, and Rocco's NY Pizza & Pasta. To access the strip mall, exit Mandalay Bay and head south down the Strip. You can cross Las Vegas Blvd. at Four Season's Drive.
Cheap Eats at Luxor
Luxor Food Court: Cheap quick-serve restaurant options at Luxor's food court include LA Subs, Bonnano's Pizzeria, Nathan's Famous Hotdogs, Original Chicken Tender, and Johnny Rockets.
Backstage Deli: Among the inexpensive assortment of breakfast, lunch, and dinner selections at Backstage Deli is a $10 breakfast sandwich served on a bagel with a fried egg, choice of meat, and cheese. For lunch and dinner, a $10 1/4 lb. burger is offered in addition to a number of other salad and sandwich options. See the menu.
Pyramid Cafe: While the majority of breakfast items at Pyramid don't qualify as overly cheap, they do serve up waffles, breakfast pizzas, and a bagel sandwich at a price point below $15. For Lunch, they offer a $15.49 "Original Burger" that comes with your choice of french fries or sweet potato fries. View the menu.
Cheap Eats at Excalibur
Johnny Rockets: Relatively cheap burgers, fries, and traditional American fare is what Johnny Rockets is known for. Johnny Rockets also offers an affordable breakfast menu.
Vegabond: Serving American fare, Vegabond offers a collection of burgers, sandwiches, brats, and hot dogs at an average price point of about $10. Learn more here.
Excalibur Food Court: Located up the escalator on the second level, the food court is packed with cheap and quick fast food options like Popeyes Chicken, Auntie Anne's Pretzels, Breakfast and Burgers, Cinnabon, Einstein Brother's Bagels, Hot Dog on a Stick, Pick Up Stix (Asian), Krispy Kreme, Pizza Hut Express, and Schlotzsky's Sandwiches.
Cheap Eats at New York New York
Shake Shack: Guests can score a $5.19 burger, $3.25 hot dog, and/or french fries for under $3. Ordering a full meal will get you close to the $10 threshold we previously established to qualify as cheap, but you can get a solid lunch or snack at a relatively low price at Shake Shack. View the menu here.
America: If you're seeking a cheap breakfast on the Strip, America at NYNY offers a selection of eggs, Omelets, and breakfast sandwiches at a price point just a hair over $10. See the menu. Their lunch and dinner menu is similarly inexpensive with many options hovering around that $10 price point as well.
Village Street Eateries: A number of cheap meal options are tucked into the elaborately themed city near Times Square Bar on the New York New York gaming floor. Options include Sirrico's pizza by the slice, Greenberg's Deli, and Fulton's Fish Frye which serves fish and chips, clam chowder, shrimp, and chicken.
See Also: Not only is Sirrico's a cheap meal, but we also rated it one of the best slices of pizza you can find in Vegas.
Nathan's Hot Dogs: Offering locations both near the arcade and on the mezzanine level, Nathan's is cheap and quick.
48th and Crepe: For those looking for a cheap breakfast option, 48th and Crepe serves up a number of both sweet and savory crepes at a price point at or below $10. View the menu.
Cheap Eats at MGM Grand
Pieology Pizzaria: A differentiated offering that allows guests to build their own personal pizza by selecting and any assortment of toppings, all for just over $12. A basic cheese pizza costs only $10.
MGM Grand Food Court: With cheap, efficient meal options like Bonnano's Pizzeria, Pan Asian Express, Tacos N 'Ritas, Johnny Rockets, and Original Chicken Tender, there is bound to be something that is destined to hit the spot.
Subway: It's a known quantity. It'll never surprise you, and can be a great option if looking for a cheap meal on the Strip.
Denny's: Located just north of MGM Grand, the popular chain is a can't miss spot to grab an inexpensive breakfast on the Strip.
Cheap Eats at Planet Hollywood
Pin-Up Pizza: Accessible from the Strip side of the property, Pin-Up pizza serves massive New York style slices. At around $7 per slice, Pin-Up makes for a cheap lunch option.
Ocean One: Located in the Miracle Mile Shops, Ocean One is one of the best spots to hit for a cheap meal on the Strip. Their $4.99 lunch menu has attracted a cult following among Vegas value seekers. For the price, the portions are large and of high quality. Cocktails at Ocean One are always 3 for 1 as well.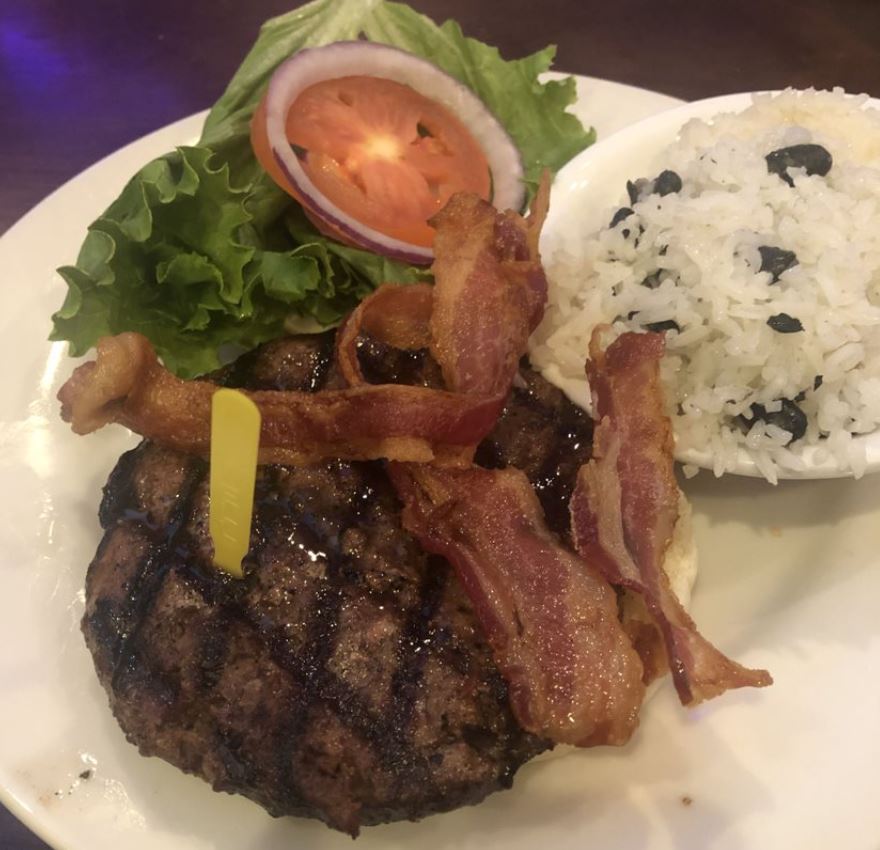 La Salsa Cantina: Among our favorite breakfast specials in Vegas, La Salsa serves a $4.79 meal complete with 2 eggs, choice of meat, southwest potatoes, and tortillas until noon daily. If a cheap breakfast on the Las Vegas Strip is what you seek, give this a shot! See the menu.
Blondies: Also home to one of our favorite "all you can drink deals" in Vegas, Blondies also offers a meal in contention for the cheapest breakfast on the Strip. Their 2 Egg Breakfast costs a mere $5.99 and comes with 2 eggs, choice of sausage or bacon, and country potatoes. Guests can also build their own omelet for under $10! View the menu.
PBR Rockbar: Another breakfast spot on the Strip that won't break the bank, PBR Rockbar's Classic Breakfast is comprised of 2 eggs, bacon or sausage, toast, and mixed fruit for $5.99. In addition to that deal, PBR also offers a breakfast sandwich, omelet, french toast, and a Belgian waffle, all at a $10 price point. See the menu.
Quick and Cheap Options in the Miracle Mile Shops: In addition to Ocean One, there are a plethora of other cheap meal options in the Miracle Mile Shops at Planet Hollywood. Options include Auntie Anne's Pretzels, Chipotle, Earl of Sandwich, Panda Express, Sbarro, and Subway.
Chick-Fil-A Located right on the Strip (near Pin-Up Pizza), the popular chain could be a solid option for a quick bite.
Harmon Corner (Next Door to Planet Hollywood)
Fast Food Options: Harmon Corner is a mall directly on the Las Vegas Strip, and neighbors Planet Hollywood to the south. Inside, there are a number of cheap fast food options to include Panda Express, McDonald's, and Subway.
Taco Bell Cantina: In a departure from their typical restaurant offerings, the Taco Bell located on the Strip serves slushie boozy drinks alongside tacos and an upbeat party atmosphere. . While we are not likely the target audience, we found the restaurant to be so loud that conversation was nearly impossible. Steer clear if loud "Untz music" isn't up your alley.
Cheap Eats at Bally's
Dirt Dog: Located in the Grand Bazaar Shops out front, Dirt Dog serves up an eclectic variety of gourmet hot dogs at a price point under $10. These aren't your typical hot dog. With options ranging from a typical chili cheese dog to the "Pastrami Dog", there are plenty of unique options.
Blue Ribbon Fried Chicken: Although piecing together a full meal will get you close to, if not putting you slightly over $10, guests can purchase chicken by the piece for $3.35 (drumstick), $2.55 (wing), or $6.25 (breast). Also offered are a number of chicken dogs (think hotdogs but with chicken) for under $6.
Istanbul Mediterranean: Serving gyros, shawarma sandwiches, and bowls in the Grand Bazaar Shops, most items on the menu are right at a $10 price point. A cheap meal option considering the amount of food you get for the money.
Pisa Pizza: Also located in the colorful Grand Bazaar Shops in front of Bally's, Pisa Pizza serves whole pizzas, pizza by the slice, nachos, and churros at an inexpensive price point.
Cheap Eats at Cosmopolitan
Eggslut: Cosmo is not always associated with cheap meal options, but when looking for a cheap breakfast on the Strip, Eggslut is tough to beat. With Breakfast sandwiches starting at under $10, it's a high quality option for value seekers.
Secret Pizza: Rated as the 4th best pizza by the slice in Vegas by this blog, Secret Pizza is located down an unlabled hallway on level 3 of the property. More on where to find secret pizza here.
BĀNG BAR by Momofuku: Take your pick of a wrap, fold up, or a rice bowl with your choice of spicy pork, teriyaki chicken, or spicy eggplant for prices ranging from $9 – $11. While sides are extra, the new addition to Cosmo's Block 16 Urban Food Hall certainly offers inexpensive and unique flavors.
Cheap Eats at Caesars Palace
Forum Food Court: One of my favorite spots to grab a cheap lunch on the Strip, the food court at Caesars offers a diverse set of options to include The Halal Guys, DiFara Pizza, Smashburger, Tiger Wok and Ramen, Earl of Sandwich, and TaCo. Of the options in the food court, our favorite is The Halal Guys. We always get the Gyro Bowl, and it is consistently delicious in addition to being more than enough food for one person.
Cheap Eats at Linq
In-N-Out Burger: A fast-food burger chain with a cult following, fans can snag their inexpensive, yet delicious, burgers and fries on the Linq Promenade.
Haute Doggery: Another specialty hot dog joint with unique options, Haute Doggery's dogs start at a $5 price point, with most specialty dogs costing around $7-$8. Haute Doggery can be found on the Linq Promenade as well.
Cheap Eats at Flamingo
Flamingo Food Court: With options like Bonanno's New York Syle Pizzeria, Johnny Rockets, LA Subs, and Pan Asian, you are bound to find a low cost option to satisfy your hunger.
Cafe Express: Located in the back hallway of the resort near the wildlife habitat, Cafe Express serves cheap grab and go options like $9 breakfast sandwiches, $11 salads, and pizza by the slice which costs $7 (cheese), or $8 (1 topping). The pizza by the slice is 1/4 of the pizza, so not only is it cheap, but it's filling. A great late-night bite.
Cheap Eats at Cromwell
Eatwell: A small food stand located near the front entrance to the property nearest Flamingo, Eatwell offers a number of breakfast sandwiches at a $10 price point making for a quick, cheap breakfast.
Cheap Eats at Harrah's
Fulton Street Food Hall: Complete with a noodle bar, pizza by the slice, a live-action burger/taco station, as well as a selection of soups and salads, Harrah's food hall has numerous cheap meal options.
Fast Food Nextdoor: Just outside the north entrance on the Strip in between Harrah's and Casino Royale is a food court with a McDonald's on the upper level. The bottom level offers a Chipotle in addition to Chinese and pizza by the slice options.
Cheap Eats at Casino Royale
Food Court: Casino Royale is known for cheap gambling, cheap rooms, and cheap food right on the Las Vegas Strip. Near the back of the property is a few quick, inexpensive food options to include a Subway, a Pizza Hut, and a stand that sells foot-long hot dogs for $2.89.
White Castle: A newer addition to the property, White Castle slings sliders around the clock.
Denny's: A popular and inexpensive chain, Denny's at Casino Royale can offer a cheap breakfast, lunch, or dinner.
Cheap Eats at Venetian
Venetian Food Court: Located right off of Venetian's casino floor, the food court has a number of cheap options to include Earl's Italian, Tacos N 'Ritas, Bonnano's Pizzeria, and San Gennaro Burger.
Grand Canal Shoppes Food Court: Anchored by Johnny Rockets, the food court in the Grand Canal Shops at Venetian has a number of inexpensive dining options to include a Subway, Panda Express, Chicken Now, and Chipotle.
Related: Although not super cheap, Lobster Me offers a solid Lobster Mac & Cheese for about $16. Check it out!
Cheap Eats at TI
Pizzeria Francesco's: Selling pizza by the slice for as little as $5.95 (cheese) and up for additional toppings, a cheap lunch or snack can easily be had at TI.
Related: We compiled a rundown of cheap burgers, cheap steaks, cheap prime rib, cheap Mexican, and cheap ribs on the Strip and downtown Las Vegas!
Cheap Eats at Circus Circus
Westside Deli: A selection of deli sandwiches, soups, burgers, and even breakfast items, Westside Deli's fare is almost all priced below $10.
The Pizzeria: Guests can purchase small (8′) personal pan pizzas and a selection of hot sandwiches at Circus Circus' Pizzeria for under $10.
McDonald's: A tried and true go-to cheap, filling meal for many, Circus Circus comes equipped with a McDonalds in the Midway, and out front.
Slots A Fun: Stop into the small casino just south of Circus Circus for $1 hot dogs. No, it's not gourmet, but it's cheap!
Other Cheap Places to Eat on the Strip
Tacos El Gordo: Even if you have yet to try it, you've likely seen people proclaiming Tacos El Gordo's quality eats at a low price on social media. Located north of Wynn/Encore and across the street from Resorts World, a meal at Tacos el Gordo can easily be constructed for $10 or under. More on Tacos El Gordo, and how to order can be found here.
Ellis Island: Although not directly on the Strip, it is within walking distance and offers plenty of cheap meal options. The Villiage Pub & Cafe's menu is packed with sandwiches, burgers, and breakfast options under $10, and the quality you get for the money is strong!
If you're in the market for a cheap breakfast, give their $6.99 Steak and Eggs special a shot. Although not on the menu, it's among their most popular value offerings.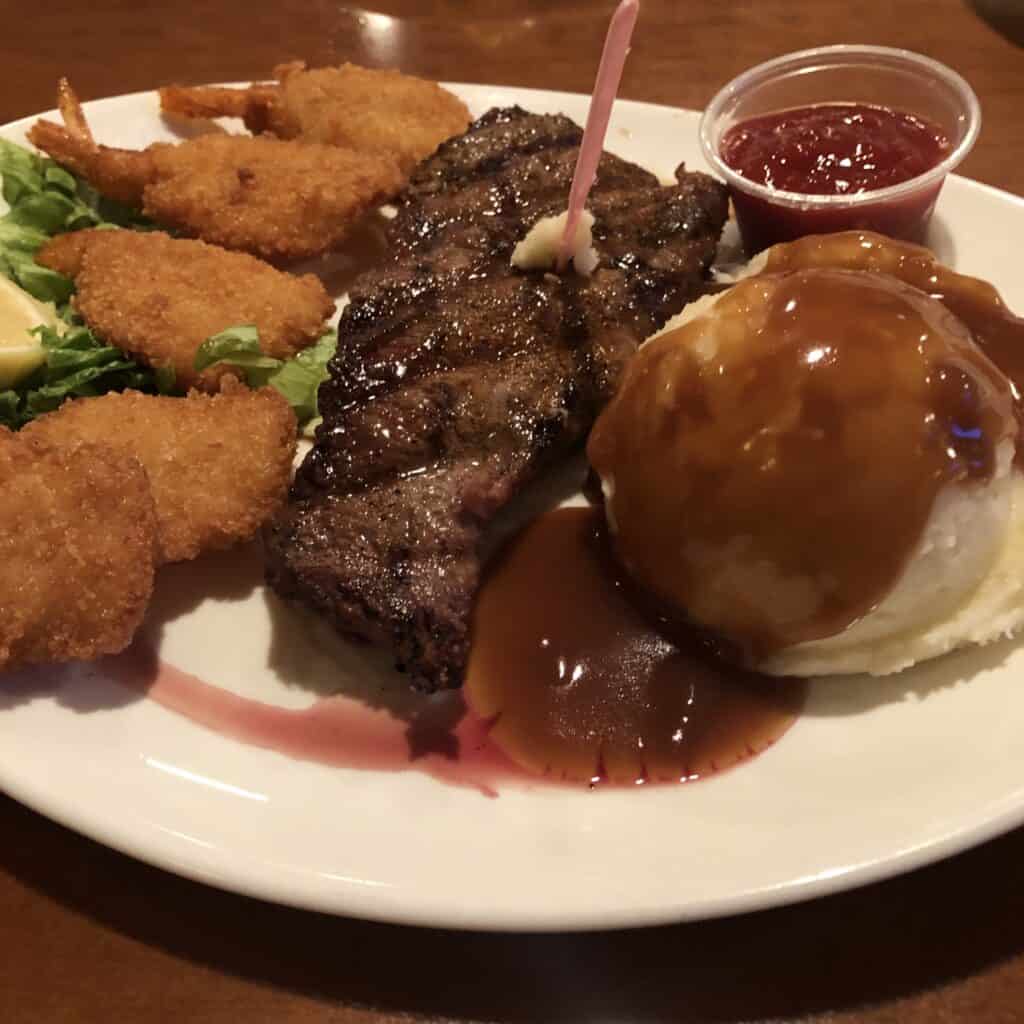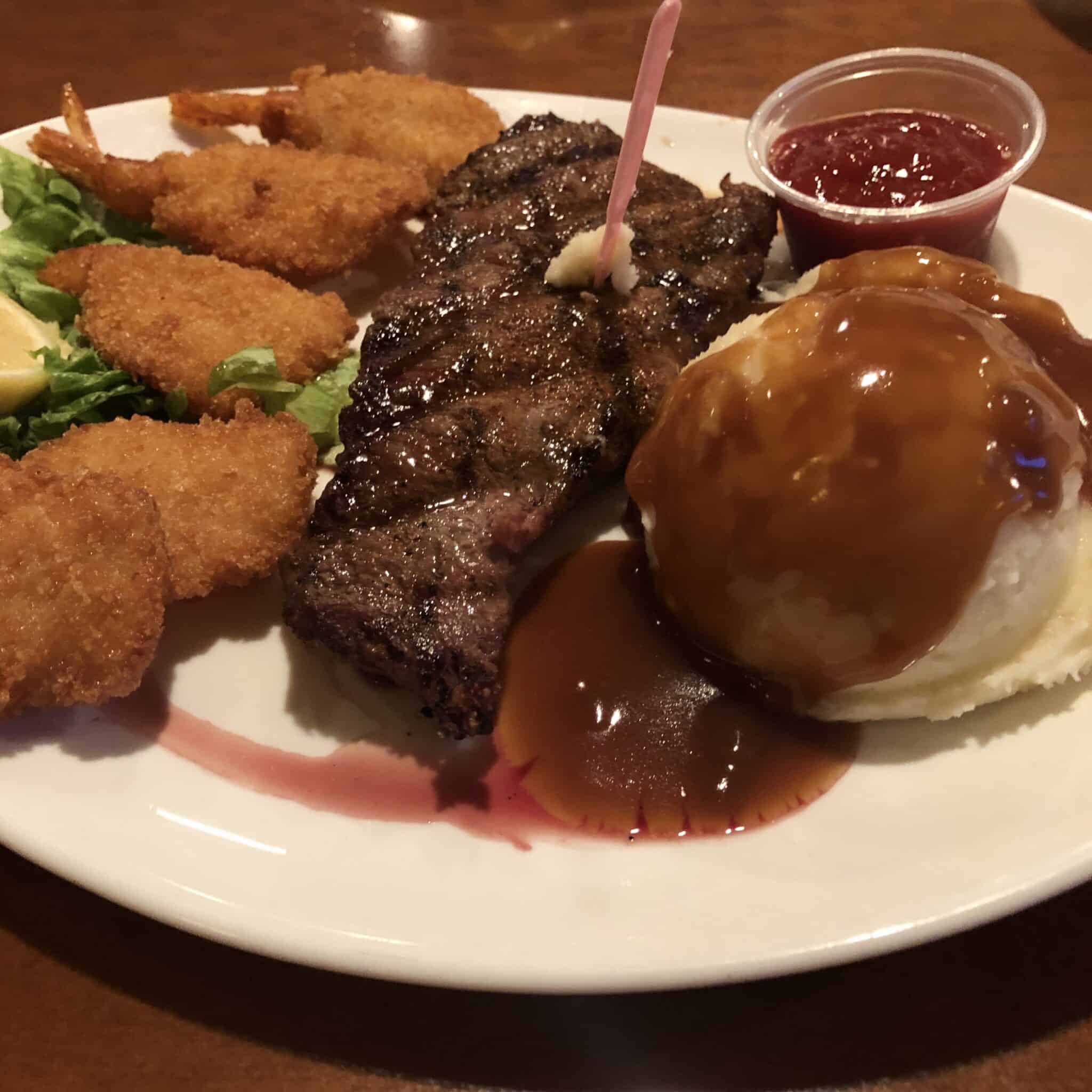 Stage Door Casino: Located steps behind Cromwell, Stage Door serves a 1/4 pound hot dog for $2.50 in addition to offering $1 beer. The bar and casino certainly aren't luxurious, but it can be a great spot to eat cheap while playing video poker.
One last suggestion for eating cheap on the Strip is to stock your room with quick meal options from the many convenience stores like Target, CVS, and Walgreens that now line the Strip. Having sandwich construction materials and snacks at the ready in your room can help you conserve a few bucks to put towards gambling and entertainment, which is clearly more important :).