While the Las Vegas pool scene is known as one of the best in the world, not everyone is looking to cram into a body of water with hundreds, if not thousands, of strangers. A possible solution for someone sharing concerns such as these is to book a Las Vegas hotel suite with a private pool. A room with its own pool could also be a great lodging option for a bachelor party or bachelorette party in Vegas as many suites come with more than one bedroom.
Below, we'll detail hotel rooms in Las Vegas that have a private pool so that you can shop around and compare your options. As you'll see, most suites listed aren't exactly cheap, with the most decadent room options costing $10,000+ per night (although there are cheaper options). We'll be sure to link to each specific room type so you can get a feel for amenities, pricing, and how to book.
Related: Check out these Las Vegas hotel rooms with more than one bedroom.
Hotel Rooms and Suites in Las Vegas With a Private Pool
Rio's VooDoo Collection: Although Rio has deteriorated slightly from its golden era, the VooDoo Collection Suites are still pretty surreal and land closer to the price range of the average traveler. Suites part of Rio's VooDoo collection are all over 2,400 square feet and come with a private balcony, some of which with a private pool. Best yet, because of Rio's location just off the Strip these rank at some of the most affordable suites with a private pool in Vegas, starting at around $1,500 a night. Learn more and book here.
Caesars Palace's Marc Antony Villa: The list of accolades the Marc Antony Suite at Caesars boasts is insane. Three bedrooms, butler service, a grand piano, airport limo transportation, 10,000 square feet of space, and of course, a private pool. How much does all that luxury cost? Upwards of $15,000 per night. Check here for more details.
Caesars Palace's Marcus Aurelius Villa: This suite is defined by over the top luxury. Amenities include a billiard room, small theatre, exotic fish tank, fireplace, and a terrace complete with a spa tub. Details on this 9,420 square foot villa, along with the phone number to book can be found here.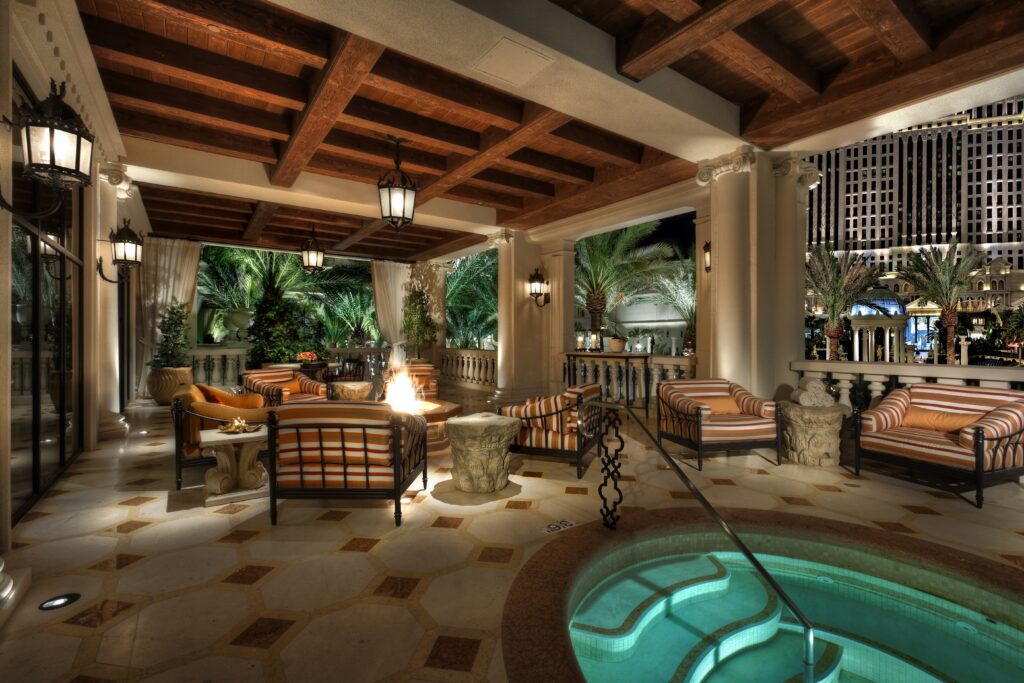 One Bedroom Lanai at Mirage: The price tag which starts at about $1,500 per night may shock some, but 24-hour butler service, a private entrance, 2,650 square feet of space in addition to a private pool may just be worth the cash outlay. View the One Bedroom Lanai Suite here.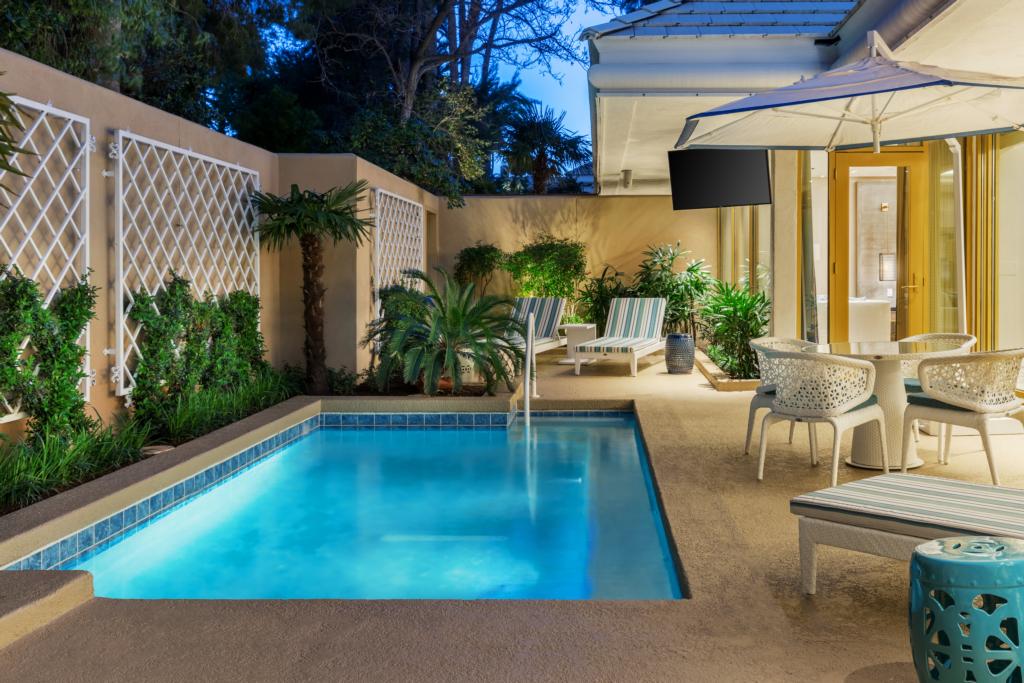 Two Bedroom Villa at Mirage: Equipped with nearly 7,000 square feet, a private pool, gated entrance, and 24-hour chef and butler staff, you'll have no problems finding relaxation in this villa. Check it out here.
Three Bedroom Villa at Mirage: Sure, it's a luxury hotel room with its own pool, but this villa also comes with over 8,500 square feet of room, a 24-hour private butler, and a limo to and from the airport. Pricing for this particular Villa at Mirage starts at around $2,500 per night and go up from there. Yep, this one is built to impress – see it here.
Two Bedroom Villa at Bellagio: Stacked with amenities you don't expect to see in Vegas hotels, Bellagio's 2 bedroom Villa comes with a private kitchen, in-suite workout facility, a dry sauna, a full bar stocked with your favorites, a dual fireplace, and of course, a private pool. Pricing for Villas at the Mirage starts at around $2,500 per night. View this suite here.
Chairman Suites at Palazzo: Complete with a steam room and sauna, massage parlor, workout room, piano, wet bar, and private pool, Palazzo's Chairman's Suites are spectacular. Options include a 2 and 3 bedroom suite, with both offering more than 6,000 square feet. See the details here.
Villas at MGM Grand: Three and Four bedroom villas at MGM Grand's Mansion offer a private indoor swimming pool. These suites also come complete with a sauna, dining room, exercise room, and massage room. You can learn more about Villas with a private pool at MGM Grand here.
One-Story Sky Villa at Palms: Located off the Strip, Palms 5,000 square foot Sky Villa comes with 2 king beds, a massage room, a personal sauna, a 24-hour butler, and a private pool outdoors overlooking the Las Vegas Strip. Pricing starts at around $25,000 per night for both this villa and the two-story option below. Learn more about Palm's Sky Suite here.
Two-Story Sky Villa at Palms: In case the one-story option isn't sufficient, check out the Two-Story Sky Villa at Palms that also comes with a private pool on a terrace overlooking the Strip. In addition to your own personal pool, the villa offers a massage room, gaming area, 24-hour butler, and 17 seat bar. Check it out here.
As you can see, scoring a hotel room in Vegas with a private pool isn't an inexpensive endeavor, but there are some spectacular options for those with the funds to make it happen!
See Also: What pools are the best in Las Vegas? We have answers.