Whether traveling with family or a group of friends, many look to book Vegas hotel accommodations with multiple bedrooms. For special events like March Madness, the Super Bowl, or even bachelor/bachelorette parties, a 2 or 3 bedroom suite in Vegas that can sleep your whole party is often preferable to splitting the crew up into their own separate rooms.
Suites with more than one bedroom are obviously more expensive than a standard guest room as they offer more space and tend to be on the luxurious end of the quality spectrum. Multi bedroom suites at lower and mid-tier properties like Flamingo, Harrah's, Excalibur, etc. are typically more affordable than exorbitant options at hotels known for luxuries like Wynn and Aria.
Below, we'll cover your options for booking a hotel room in Vegas with 2 or 3 bedrooms. We will also link out to that room's booking page so you can quickly compare room options and pricing.
Related: Check out our suggestions for things to do during your Vegas bachelorette party or bachelor party.
Strip Hotels Offering 2 and 3 Bedroom Suites
Caesars Palace: The Octavius Petite Suite at Caesars offers guests one bedroom with a king bed and the option to add a connecting room to their reservation which offers 2 queens. In addition to more than one bedroom, this 2 bedroom suite offers guests easy access to the Garden of the Gods pool complex.
Note that a number of traditional one-bedroom suites at Caesars also allow you to book an adjoining room on the Caesars Suites page, transforming it to a 2 bedroom suite.
Flamingo: The Metropolitan Two Bedroom Suite at Flamingo offers up to 1,600 square feet of space, a sectional couch, and marble bathrooms, and 3 entertainment centers in addition to two bedrooms. One bedroom has a king while the other contains 2 queens.
Planet Hollywood: The Ultra 2 Bedroom Panorama Suite offers guests two separate bedrooms with king beds in addition to 180-degree views of the Las Vegas Strip.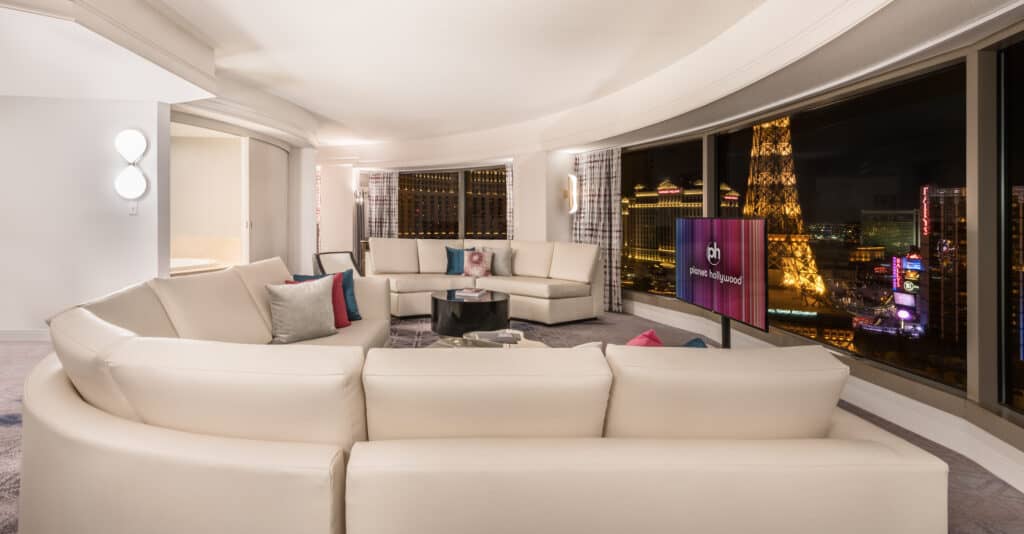 Harrah's: The Presidential Suite at Harrah's provides guests with 2 bedrooms, one with a king and one with 2 queens. In addition to multiple rooms, the suite at Harrah's has a wet bar, dining room, living room, and 1,500+ square feet of space.
Bally's: The Penthouse Suite at Bally's is larger than your average single-family home at 2,550 – 3,425 square feet of space. In addition to two separate living areas, a wet bar, and whirlpool tubs, this suite offers 2 bedrooms both with a king bed.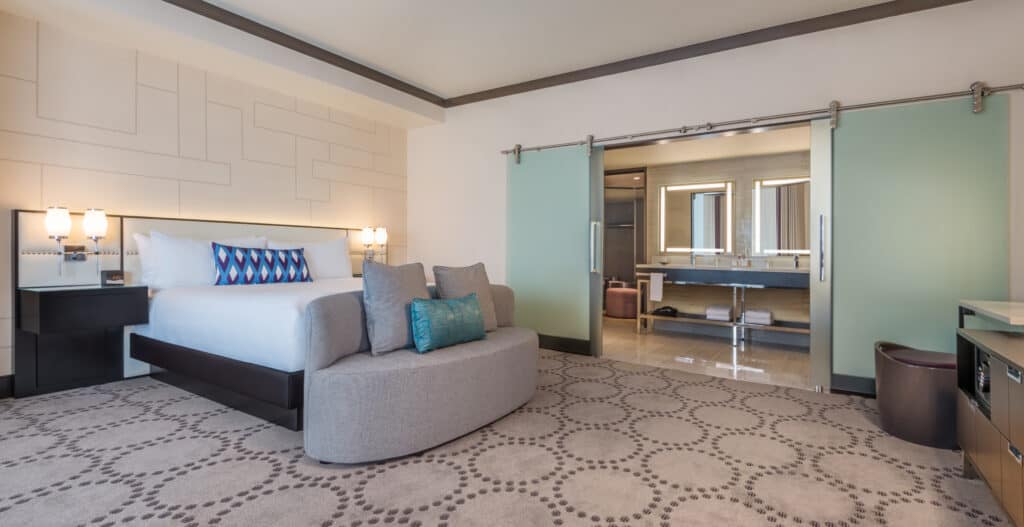 Bellagio: Offering a number of multi-bedroom options, both Bellagio's Two Bedroom Grand Lakeview Suites and Two Bedroom Bellagio Suite offer 2 king beds, separate living, and dining areas, in addition to 1,530 – 3,001 square feet of space depending on the room.
Bellagio also offers a 2 Bedroom Penthouse Suite which comes with 2 king beds, 2,052 square feet of square feet, and separate living/dining areas.
Lastly, Bellagio offers a 2 Bedroom Tower Suite that comes equipped with one king and two queen beds in addition to a separate living and dining area spread over 2,046 square feet.
Excalibur: Representing one of the more affordable 2 bedroom suites in Vegas, Excalibur's 2 Bedroom Luxury Suite comes with either 2 kings or 1 king and 2 queens. Additionally, the suite offers a wet bar with a fridge, a separate living area, and a deep soaking tub.
Aria: Two Bedroom Sky Suites at Aria offer guests 2 king beds in separate bedrooms and between 1,600 square feet of space. Sky Suites also come equipped with their own private sky pool.
Sky Villas at Aria are also 2 bedrooms both with king beds, however, the Villa boasts 3,370 square feet of space and airport limo transportation.
MGM Grand: The Three Bedroom Skylofts at MGM Grand offers guests 6,000 square feet spread out over 2 floors. The 3 bedroom suite contains 2 king beds and 2 queens.
In addition to a 3 bedroom option, MGM grand also boasts a 2 Bedroom Marquee Suite that provides guests 2 king beds, a whirlpool bath, a wet bar, and a living area.
MGM also offers a 2 Bedroom Loft which comes equipped with 1 king bed and 2 queens as well as 3,000 square feet of space. The 2 level accommodation also has an espresso machine and a personal butler service.
Mirage: The Three-Bedroom Villa at Mirage is massive at 8,554 square feet and offers 3 king beds. In addition to other luxuries you would expect, this room option also has its own private backyard pool. Otherworldly.
Mirage's Two Bedroom Villa is simply a slightly scaled-back version of the 3 bedroom option above, but still has 6,955 square feet of space and it's own private pool.
Additionally, Mirage offers a Two Bedroom Tower Suite which comes complete with 2 king beds, floor-to-ceiling windows, a large living area, and 1,628 total square feet of space.
2 and 3 Bedroom Lanai Suites are also offered which provide a more "residential feel". 2 Bedroom variants come with 2 king beds and 3,635 square feet while the 3 bedroom option is larger at 4,640 square feet. The 3 bedroom unit also has a private pool.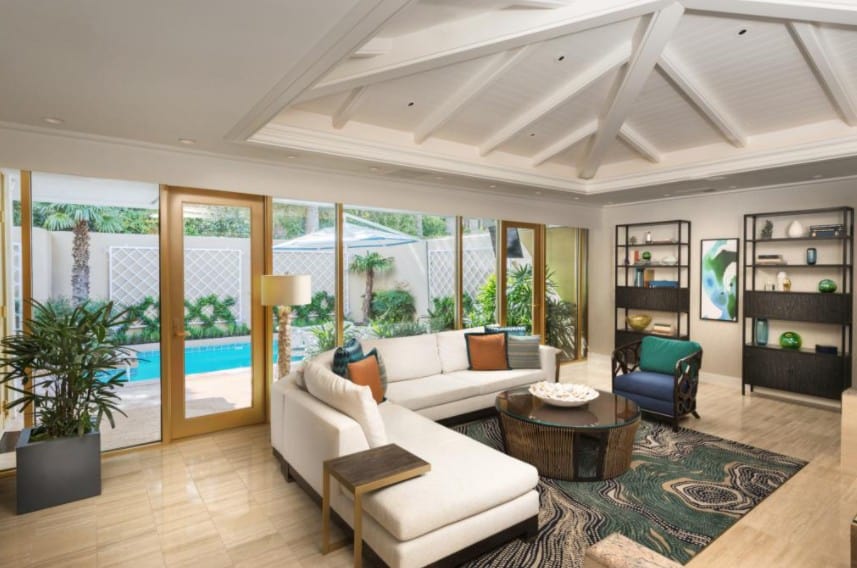 Mandalay Bay: Offering two room types with more than one bedroom, the first at Mandalay Bay is the Panoramic Two Bedroom Suite which 1,450 square feet and living space to entertain up to 11 guests. Both bedrooms are equipped with a king bed.
Additionally, Mandalay offers a Panoramic 2 Bedroom Suite with a king and 2 queen beds. This multi-bedroom option also offers 1,450 square feet of space and seating for up to 11 people.
Delano: The LOFT at Delano is stunning. Complete with a 75 inch LED TV, 2.5 bathrooms, and two bedrooms both with king beds, the LOFT is 4,500 square feet of luxury. A full-sized kitchen with a stove, fridge, and microwave is also part of the deal.
A step below the LOFT is Delano's 2 Bedroom Suite which is a more modest 1,142 square feet and comes with 1 king and 2 queen beds.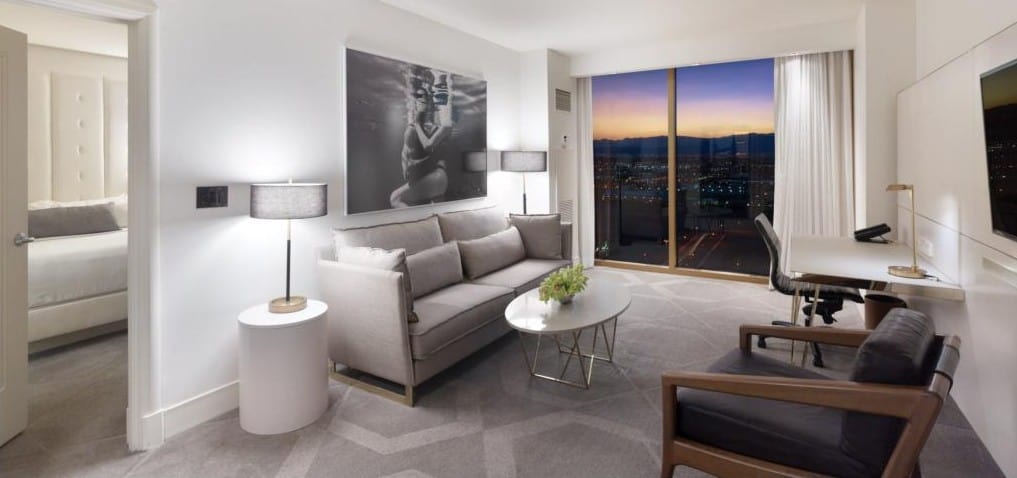 Vdara: Offering 2 tiers of multi-bedroom options, the first is Vdara's Two Bedroom Hospitality Suite which comes furnished with 2 king beds and 1,600 square feet of space. Hospitality suites also come with a wine fridge, full-sized refrigerator, and a washer/dryer.
Additionally, Vdara offers a Two Bedroom Loft which provides 2 stories of space and offers stunning views from the top of Vdara's hotel tower. The loft also comes with a washer/dryer, media hub, and 4 burners electric stove.
TI: The Penthouse Suite at TI on the north end of the Strip is located on the 36th floor of the tower and has 2 bedrooms with king beds in addition to 1,800 square feet of space.
Wynn/Encore: On the higher end of the quality spectrum, Wynn and Encore offer both 2 and 3 bedroom suites which start at around $2,000 – $5,000 nightly. Suite options with multiple bedrooms are clearly labeled as such when checking room availability for your intended travel dates.
Venetian: Weighing in at 2,600 square feet, Venetian's 2 bedroom Penthouse Suite is built to impress. In addition to having more than one bedroom, this suite provides unique amenities like a fireplace, airport limo service, 4 bathrooms, and VIP check-in.
Cosmopolitan: The Two Bedroom City Suite at Cosmopolitan comes equipped with 2 bedrooms, one with a king and the other with two queens. Each bedroom has its own private bathroom. Cosmo's option is among the nicest 2 bedroom suites in Las Vegas.
See Also: A complete rundown of free things to do and see in Las Vegas.
Multi Bedroom Suites Off the Strip
Green Valley Ranch: The Mediterranean 2-Bedroom Suite at GVR offers 2,500 square feet of space in addition to enough space to comfortably sleep 4. Among other amenities, this suite boasts an outdoor courtyard complete with a pergola and fireplace. Equally as impressive, the 2 bedroom Tuscany Suite offers a luxurious Italian vibe with 1.5 bathrooms, a dining table, and a wet bar.
Red Rock: Complete with 2,060 square feet of space, two bedrooms, and living space with a large sectional couch, Red Rock's Two Bedroom Luxury Suite will serve as the perfect home base for your family or group just off the Strip. If you want to go big, Red Rock also offers a selection of Penthouses and Villas with more than one bedroom.
Hotels With Multiple Bedrooms Downtown Las Vegas
Plaza: One of the few room offerings downtown Las Vegas that offer rooms with more than one bedroom, Plaza's Two Bedroom Suite is typically more affordable than it's counterparts on the Strip. The typical 2 bedroom suite is 1,000 square feet, has a wet bar, and offers 2.5 bathrooms.
The D: Located on The D's 17th floor, the Two Bedroom Suite comes with 2 king-sized beds. Each room has its own private bathroom. Additionally, the suite has a dining space with room for 6 guests.
Circa: The Founder's Suite at Circa isn't cheap, but is built to impress. With 2.5 bathrooms, living space, and two bedrooms, Circa offers the most luxurious offering downtown. As an added perk, the entire resort is 21+.
Whether a family getaway, a bachelor/bachelorette party, or a guys trip to catch a sporting event, we hope we helped you find the perfect 3 or 2 bedroom suite in Las Vegas that will meet your needs! While a touch more expensive, multi-bedroom suites in Vegas keep the group together and can allow for a more enjoyable trip.