In addition to gambling, Las Vegas is known for its opulent hotels, many of which boast a vibrant pool scene. Unfortunately, due to the size of resorts on the Strip, getting to the pool from your guest room can be quite a hassle and has many hoping to book a poolside hotel room. After all, what could be better than walking out a sliding door from your room and immediately be at the pool?
While most Las Vegas resorts don't offer rooms poolside, there are a number that do! Below, we'll identify hotels in Las Vegas with poolside rooms and link out to them so you can compare, contrast, and book your best fit.
See Also: Check out these cheap suites in Las Vegas, both on the Strip and on Fremont Street.
Poolside Hotel Rooms on the Strip
LINQ's Deluxe Poolside Cabana Room: Sitting adjacent to LINQ's 21+ Influence Pool scene, you'll be mere steps away from the party in the Deluxe Poolside Cabana room. The room's patio cabana comes equipped with couches, an umbrella, stools, and a TV in addition to poolside food and drink service. As you can imagine, LINQ's poolside rooms are in high demand. We would recommend booking well in advance here. As poolside room options on the Strip go, LINQ's is among the least expensive.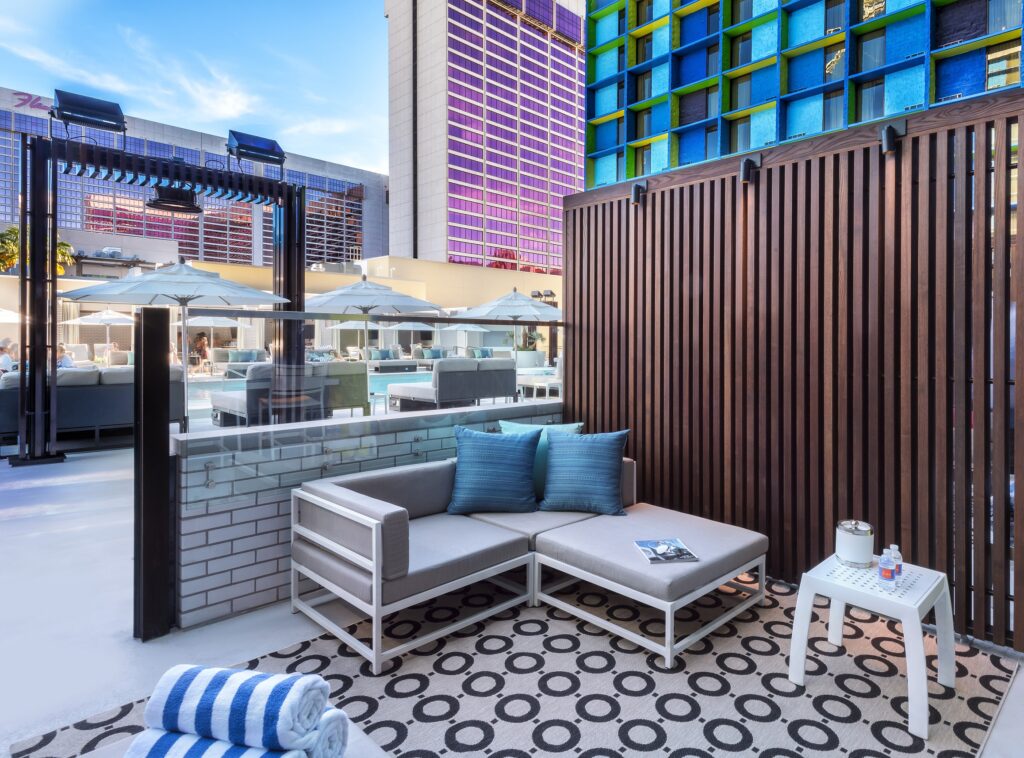 Lanai Suite at Cosmopolitan: A luxurious, 2-story suite with 800 square feet of space, 9 out of 11 Lanai Suites offer poolside terraces with access to Cosmo's Chelsea pool. A nice perk, all Lanai Suites offer a private outdoor jacuzzi tub on the terrace. See the room and price your stay here.
Pool Villas at Tropicana: Tropicana's Pool Villas offer an outdoor private balcony and lawn area that open up to the adjacent tropical pool complex. With one king, 730 square feet of space, and a marble wet bar, this Villa certainly qualifies as a hidden gem. See more here.
See Also: Check out these common Las Vegas hotel discounts, and what resorts offer them.
Poolside Hotel Rooms Downtown Las Vegas
Plaza's Poolside Patio Room: Plaza's Pool Patio Room offers guests a shaded outdoor patio with access to the resort's recently renovated rooftop pool deck overlooking the Fremont Street Experience. In addition to being a great poolside option, this recently refurbished room also offers guests a coffee maker and mini-fridge, a rarity in Las Vegas these days. See the room here.
Oasis at Gold Spike: Although Gold Spike doesn't have a casino, the hotel could be an option for those seeking a poolside hotel room in Vegas. Among other options on this list, Gold Spike is by far the cheapest, yet still sports modern decor and amenities. Although there isn't a casino on-site, establishments that line the Fremont Street Experience are steps away. See your poolside room options here.
Although options are limited, we're hopeful you're able to find a poolside hotel room in Vegas that works for you and your party! Have a great time, and don't forget to pack sunscreen!
See Also: The best pools in Las Vegas both on the Strip and Downtown.