If you've been to Las Vegas, then you've likely driven past the Bonanza Gift Shop which is located on the north end of the Strip and boasts 99-cent souvenirs, 3 for $10 T-shirts, and other outrageous deals.
Not only do they claim to be the largest gift shop in Las Vegas, but Bonanza claims the crown of "World's Largest" on their exterior signage.
I personally had driven past Bonanza's weathered exterior and massive sign countless times over the years, but never made much of an effort to make a stop in – Until now.
Curiosity finally got the best of me.
I thought it would be fun to visit the sprawling, somewhat disjointed, souvenir shop with the intent of giving you a peek inside to determine if it's worth slotting into your itinerary.
Where is the Bonanza Gift Shop in Las Vegas?
Certainly not centrally located, the Bonanza Gift & Souvenir shop is located on the Strip at the intersection of Sahara and Las Vegas Blvd. kitty-corner from Sahara and across the street from the Las Vegas Festival Grounds.
Other notable landmarks nearby include Ahern (formerly Lucky Dragon) and Golden Steer, both about a block west on Sahara, and STRAT visible to the north on the Strip.
My Experience at the Bonanza Souvenir Shop
I stopped in at around 10 am with the intent of finding a couple of inexpensive souvenirs for my daughters.
There's plenty of free parking out front, but the area isn't all that glamorous. Even at that early hour, there was a steady flow of "rougher" transient folks moving through and hanging out in the parking lot in front of the store. Pretty typical for Vegas, however, and I never felt unsafe.
The inside of the store is a meandering, scattershot, unfocused monstrosity – and I say that in the most positive way possible.
When they say they have everything, they mean everything.
It's a really enjoyable souvenir shop to explore as there is something completely different around every corner.
As I expected, Bonanza offered the predictable assortment of hats, shirts, keychains, magnates, jewelry, shot glasses, flasks, casino memorabilia, and trinkets emblazoned with the iconic "Welcome to Fabulous Las Vegas" sign on it.
In addition to standard souvenirs, unique oddities were also on the shelves like moccasins, "Davey Crockett" styled raccoon hats, dreamcatchers, suitcases, pipes, dog clothing, toys, cups shaped like *coughs*… body parts, candy, and even an entire section of toy slot machines.
I snapped a bunch of pictures to help you visualize what the Bonanza Gift Shop is all about and think you'll know at a glance whether this store is for you.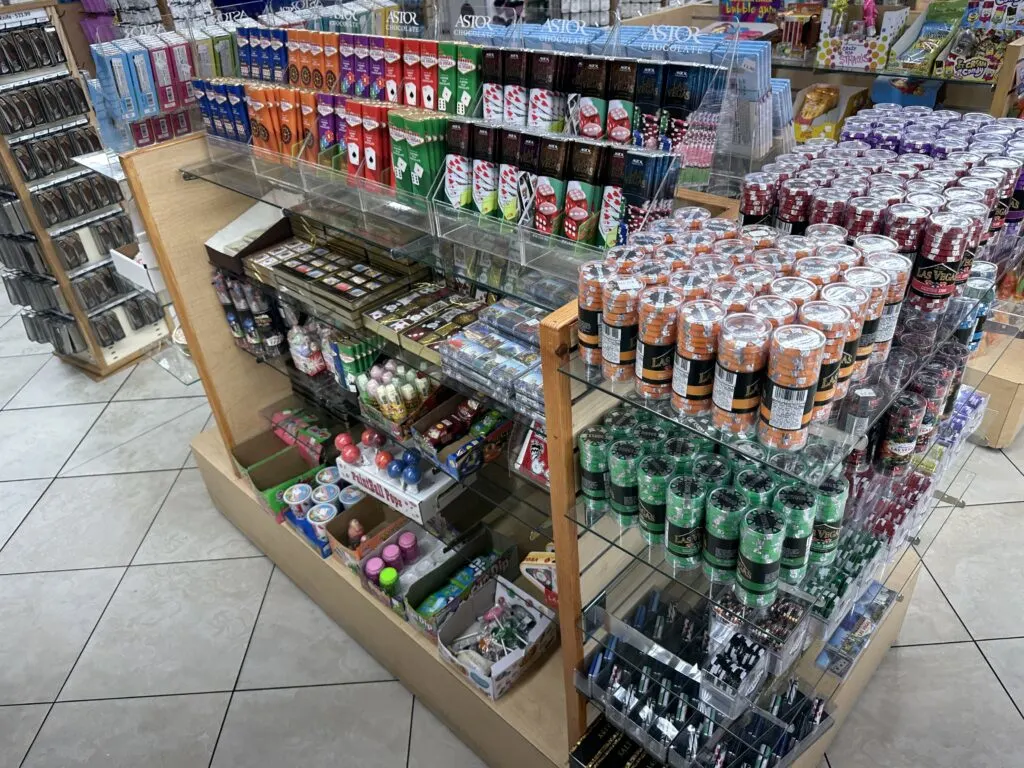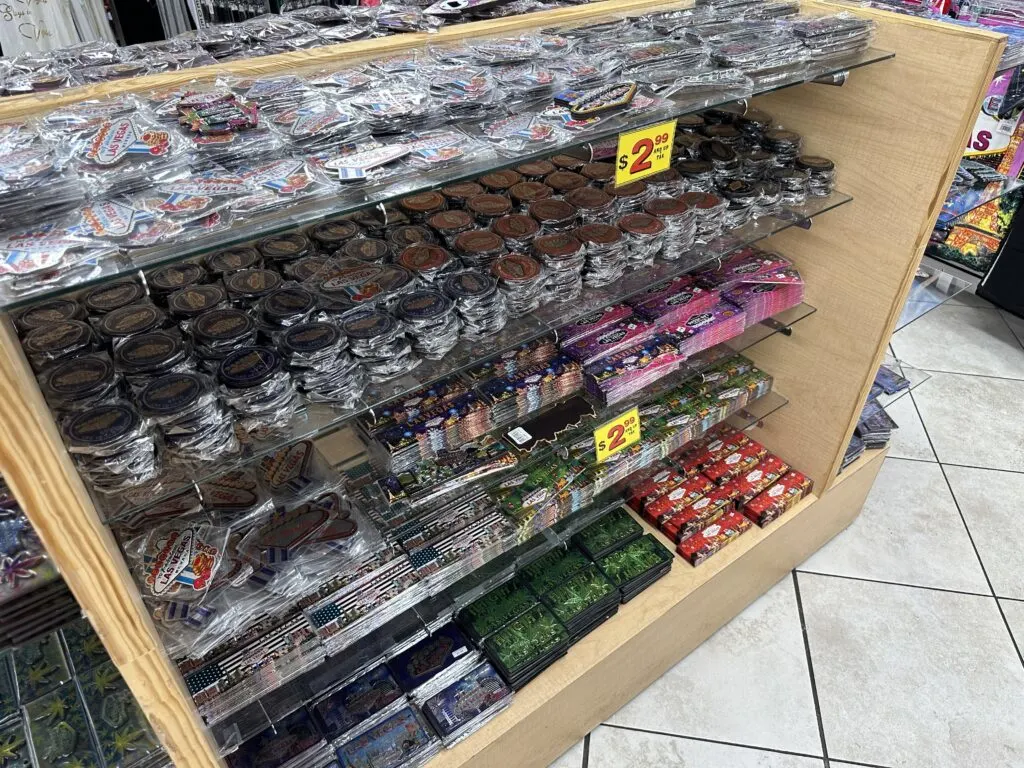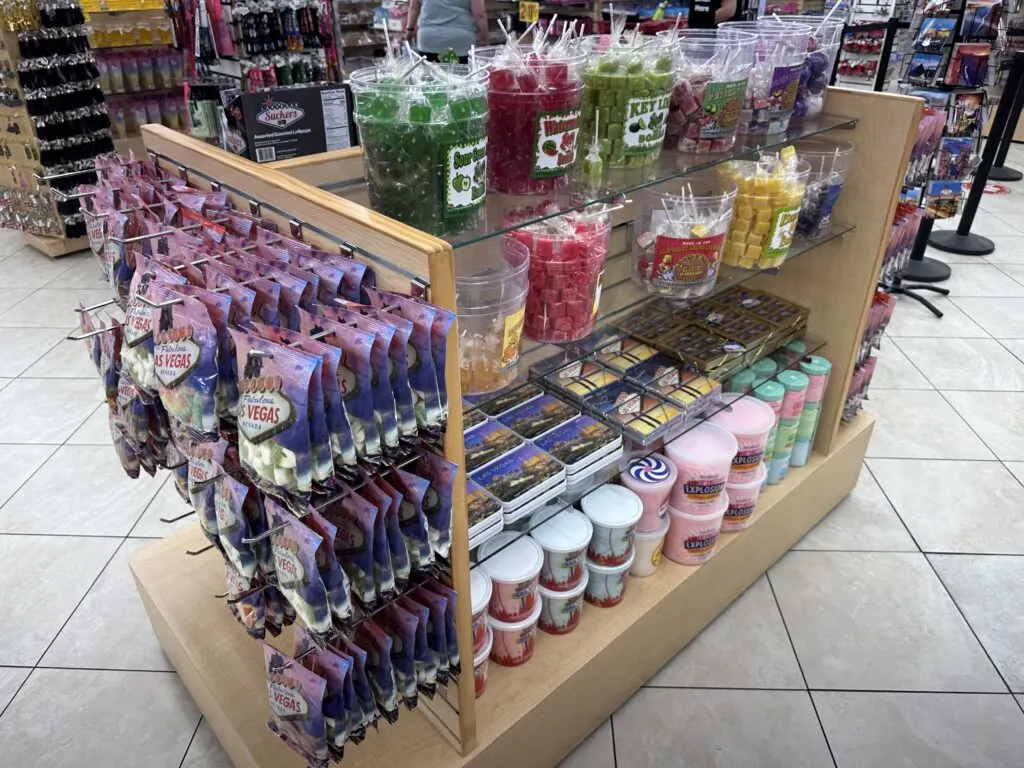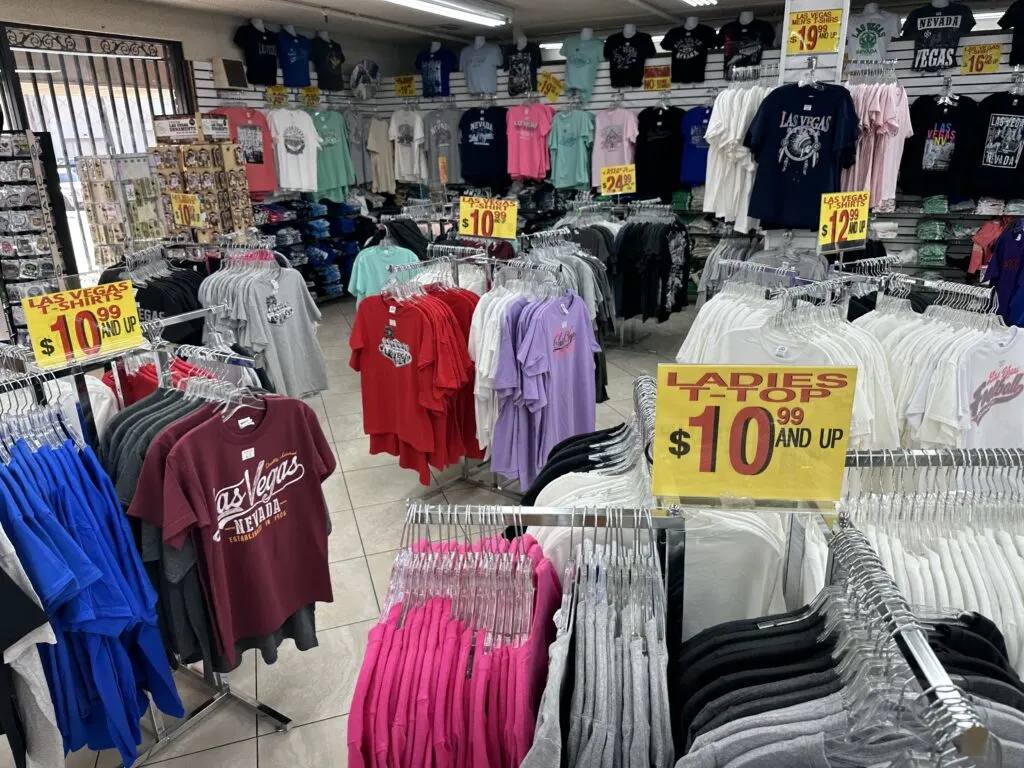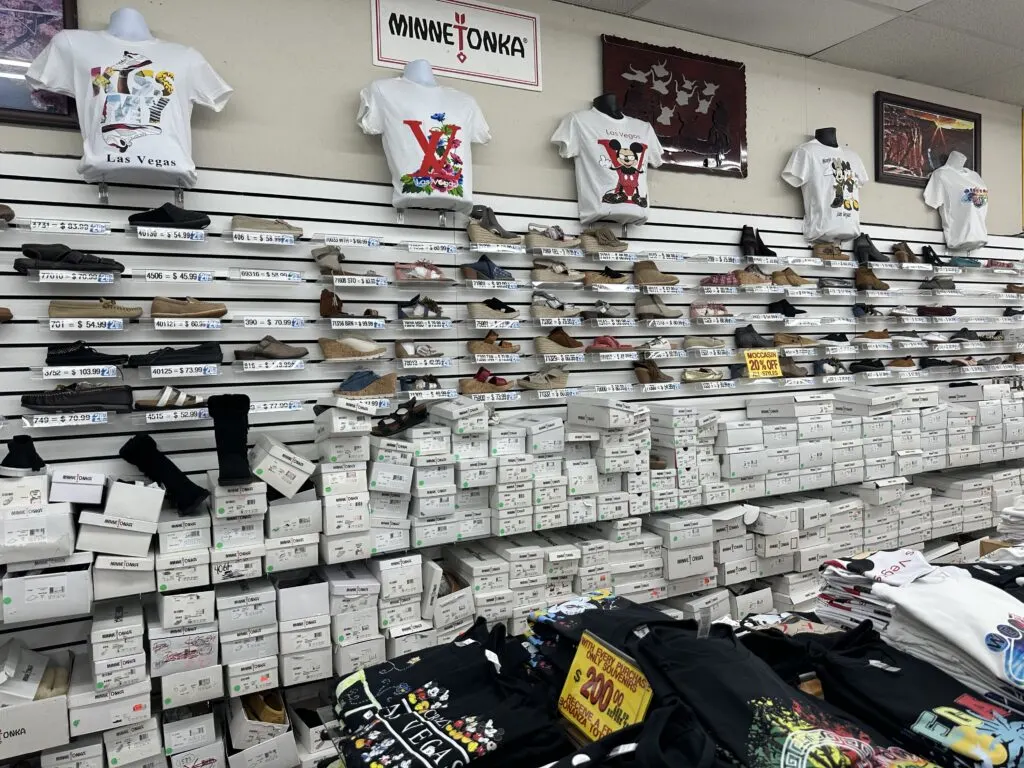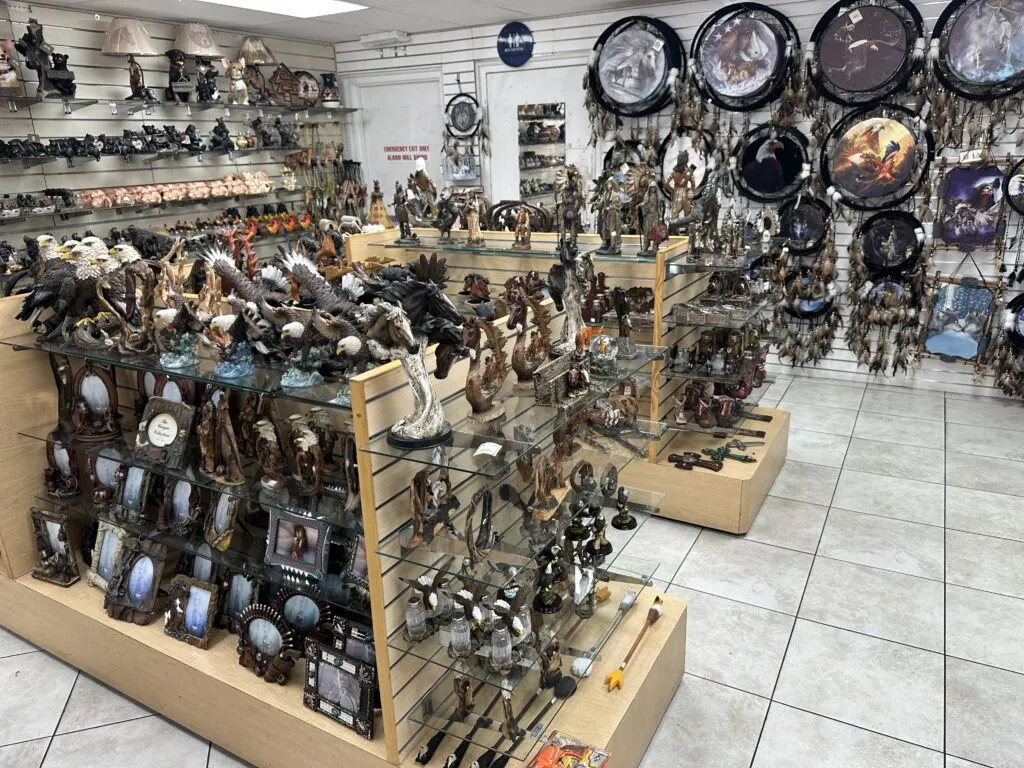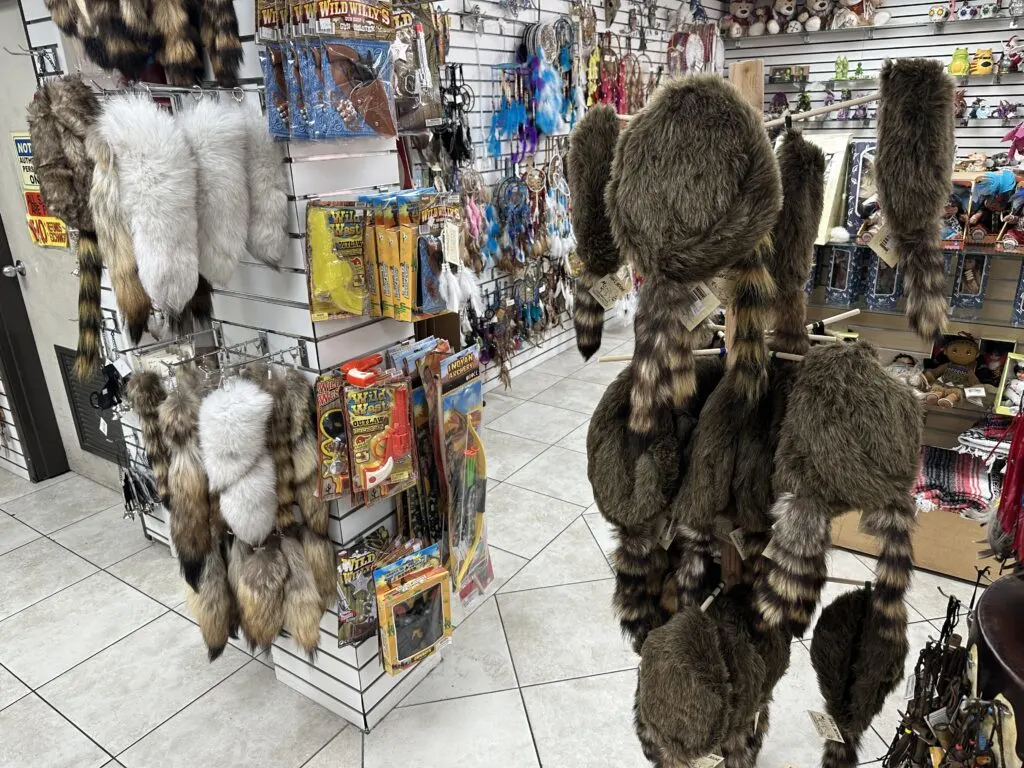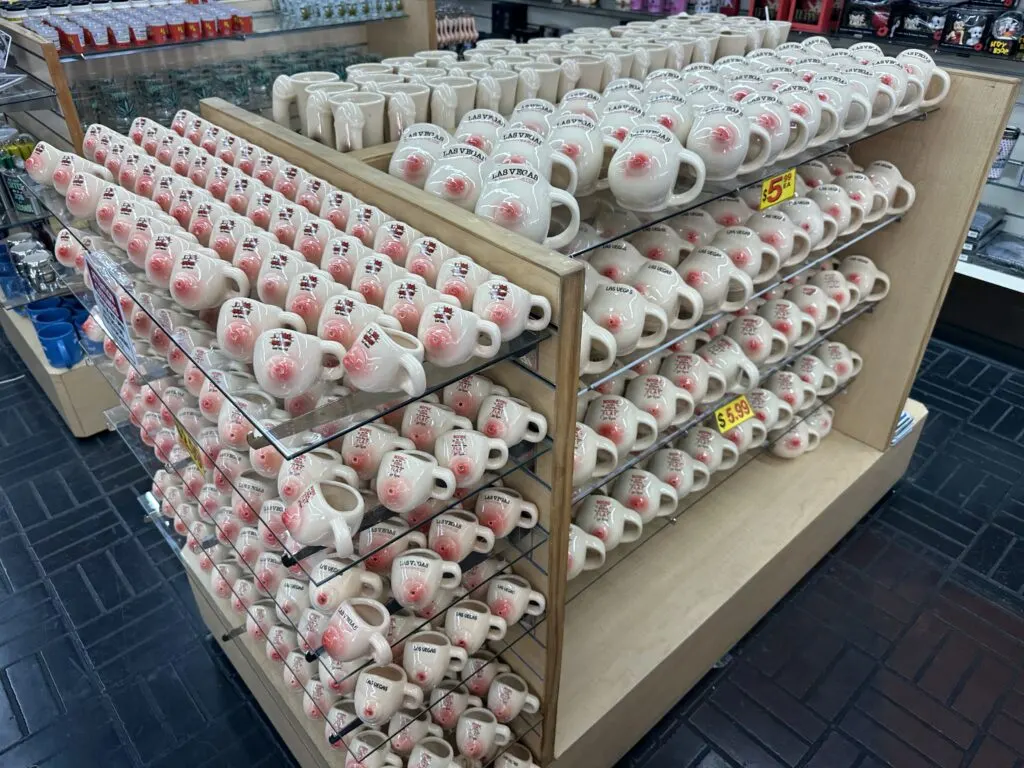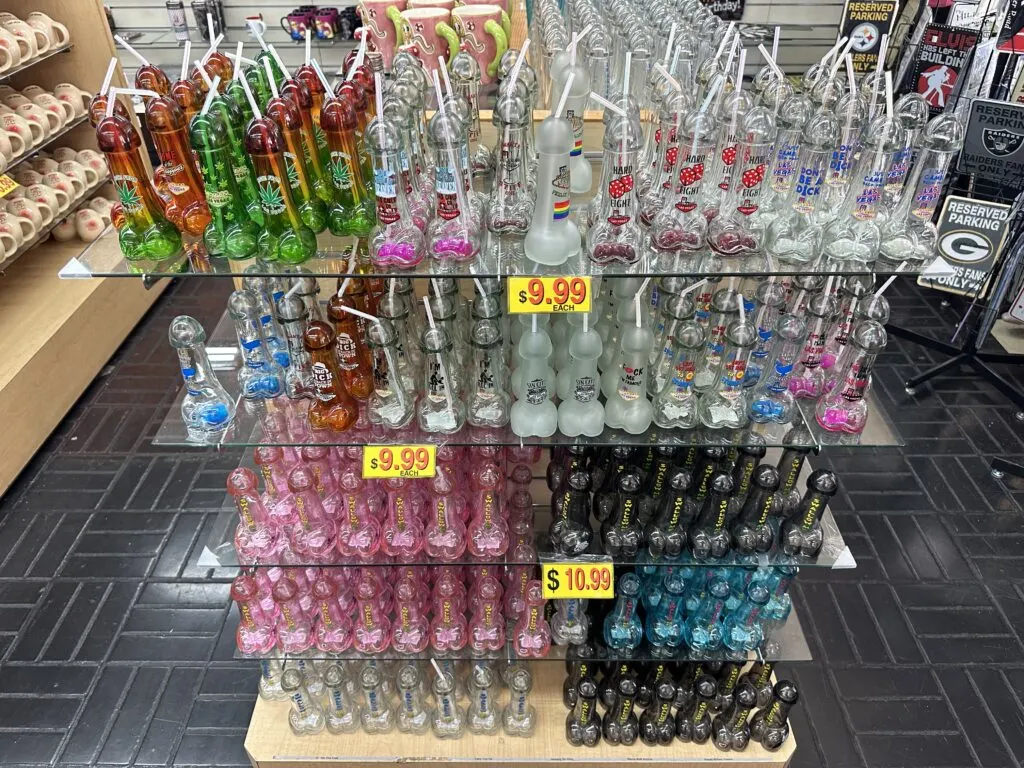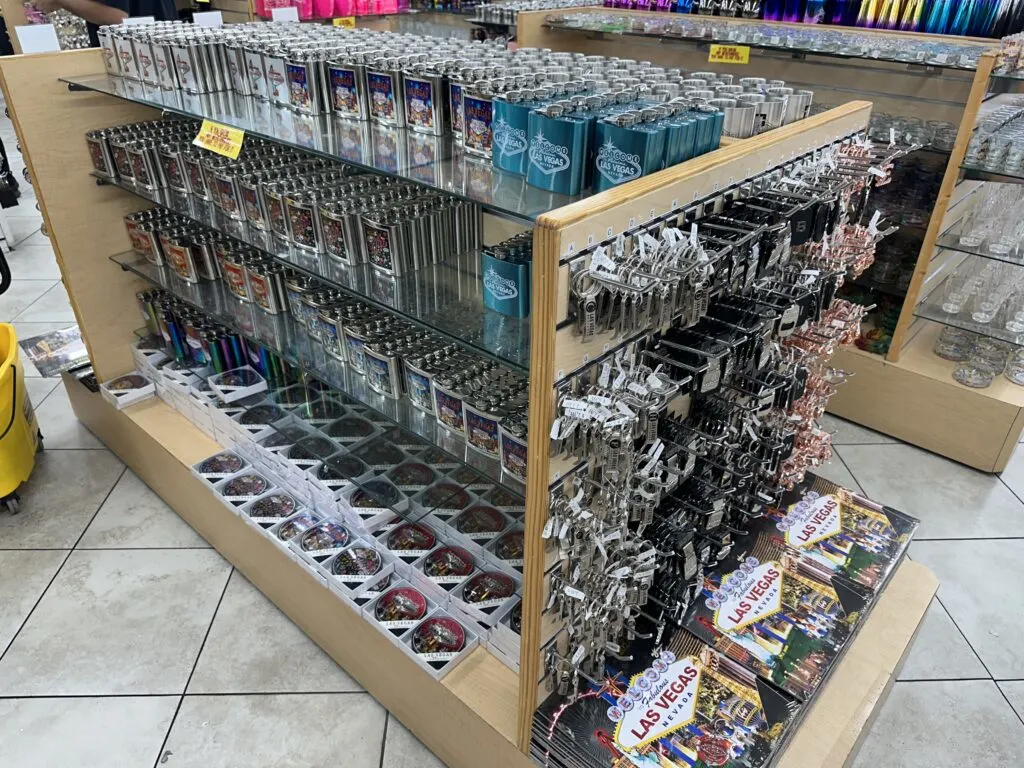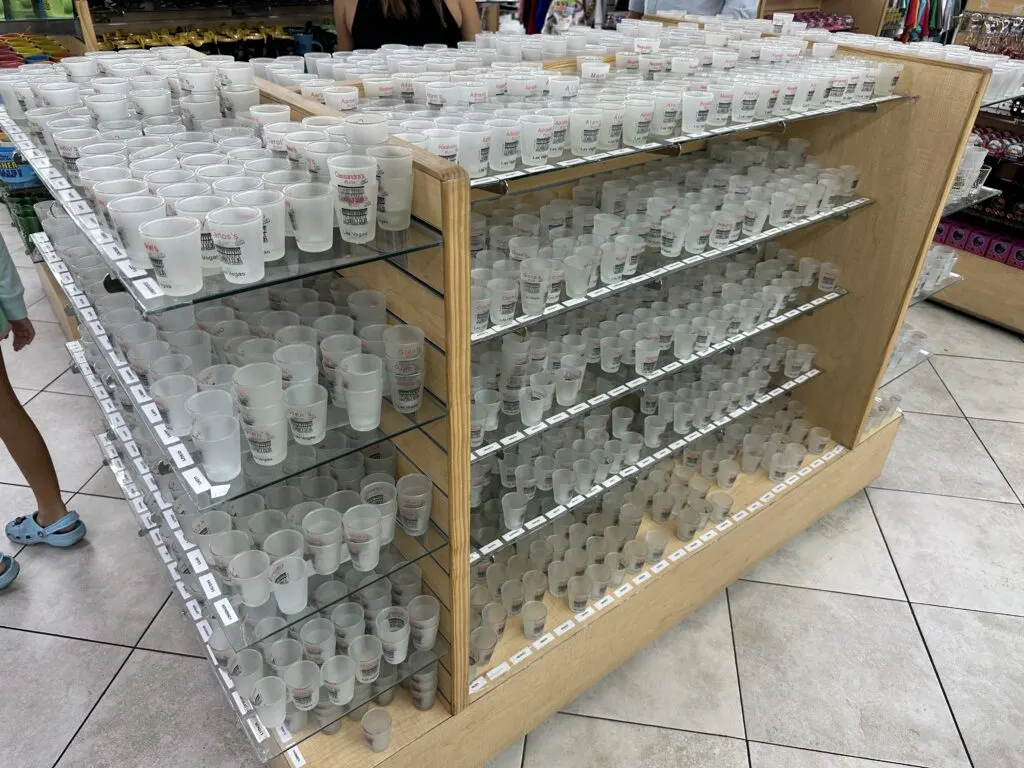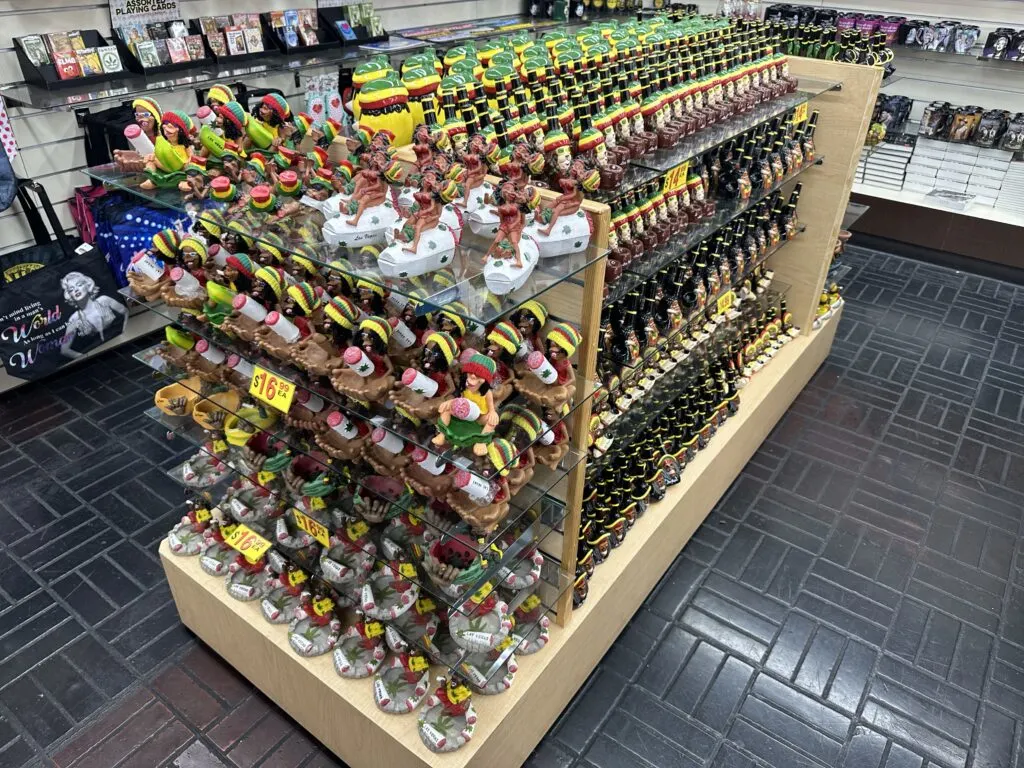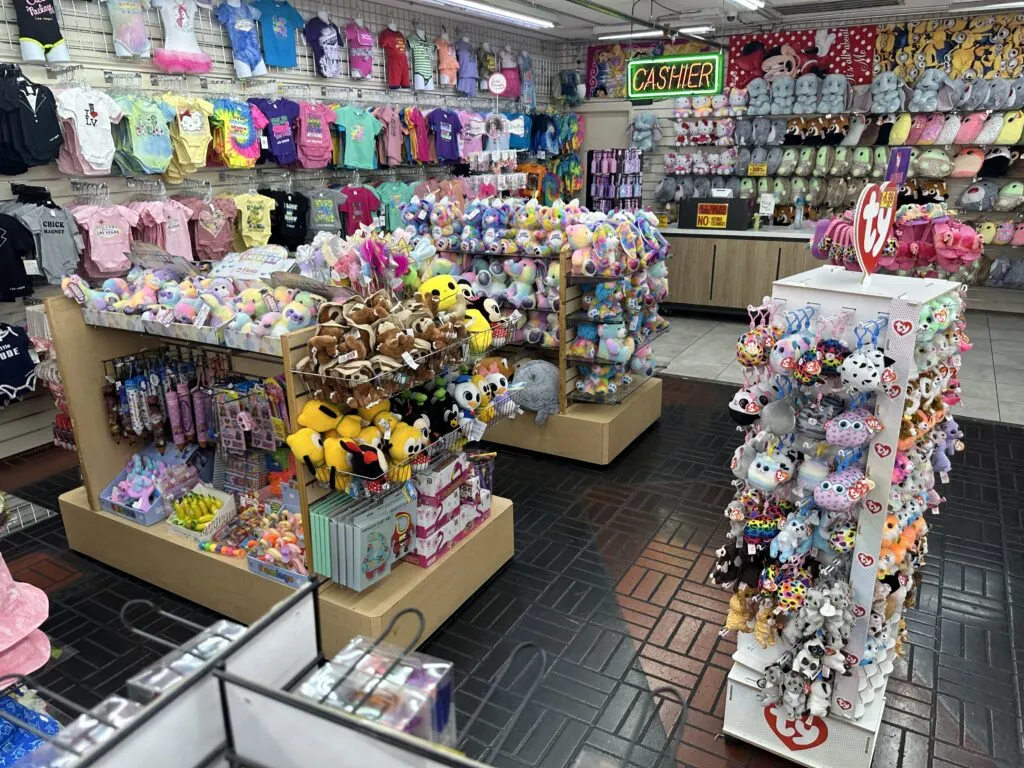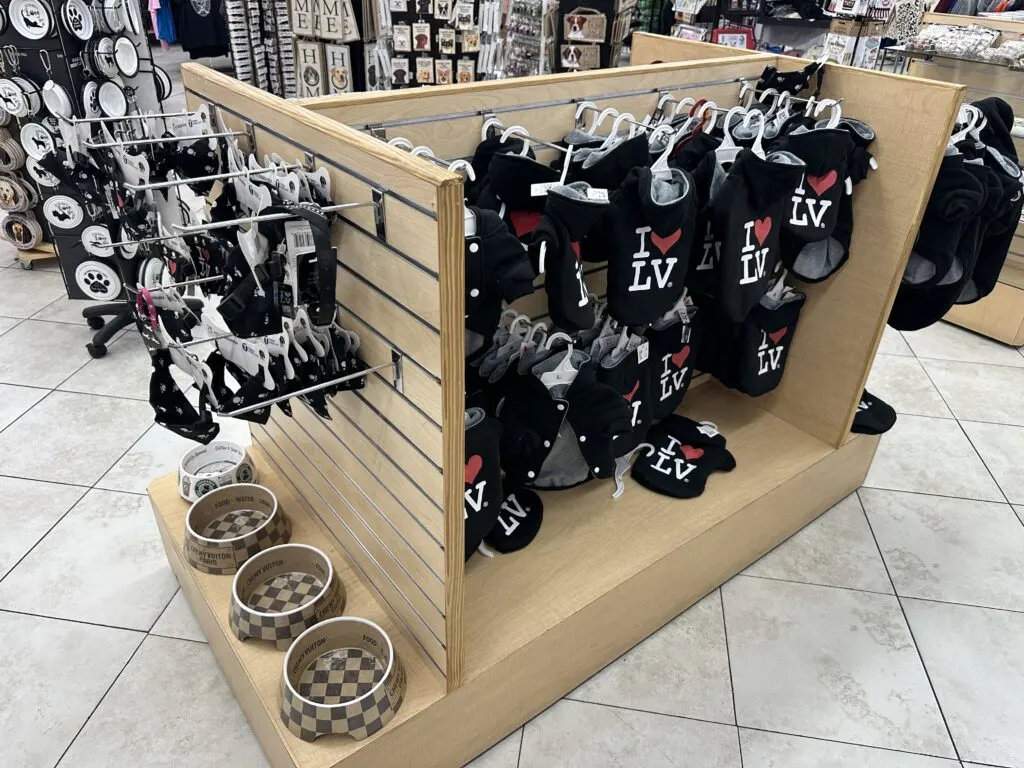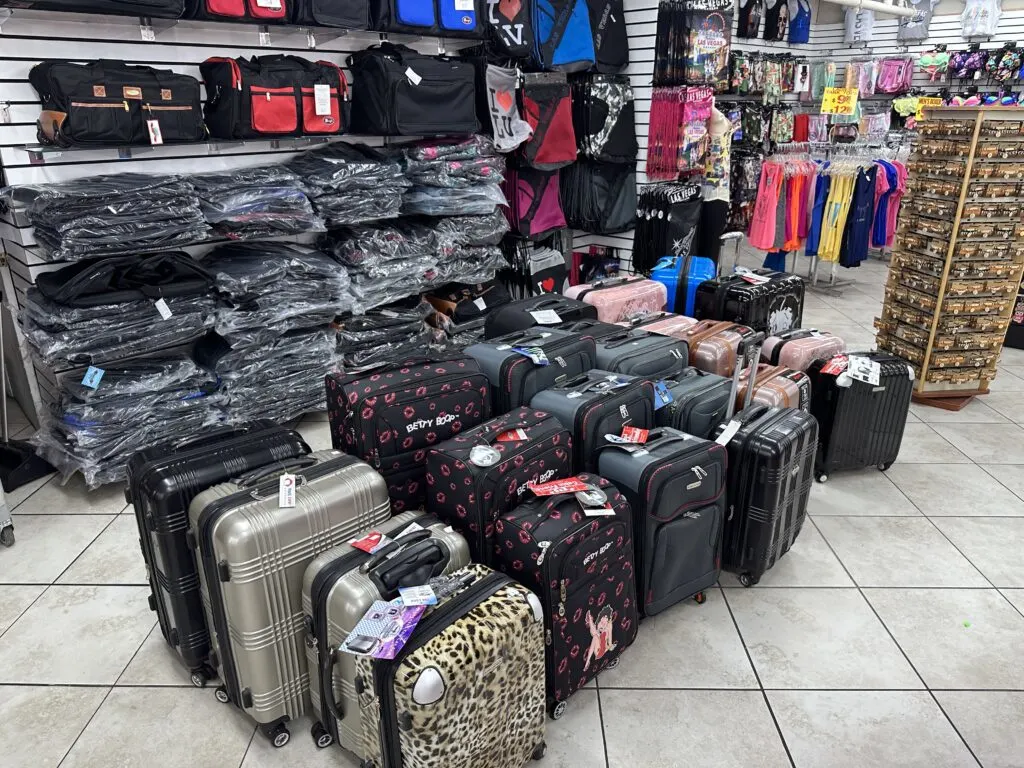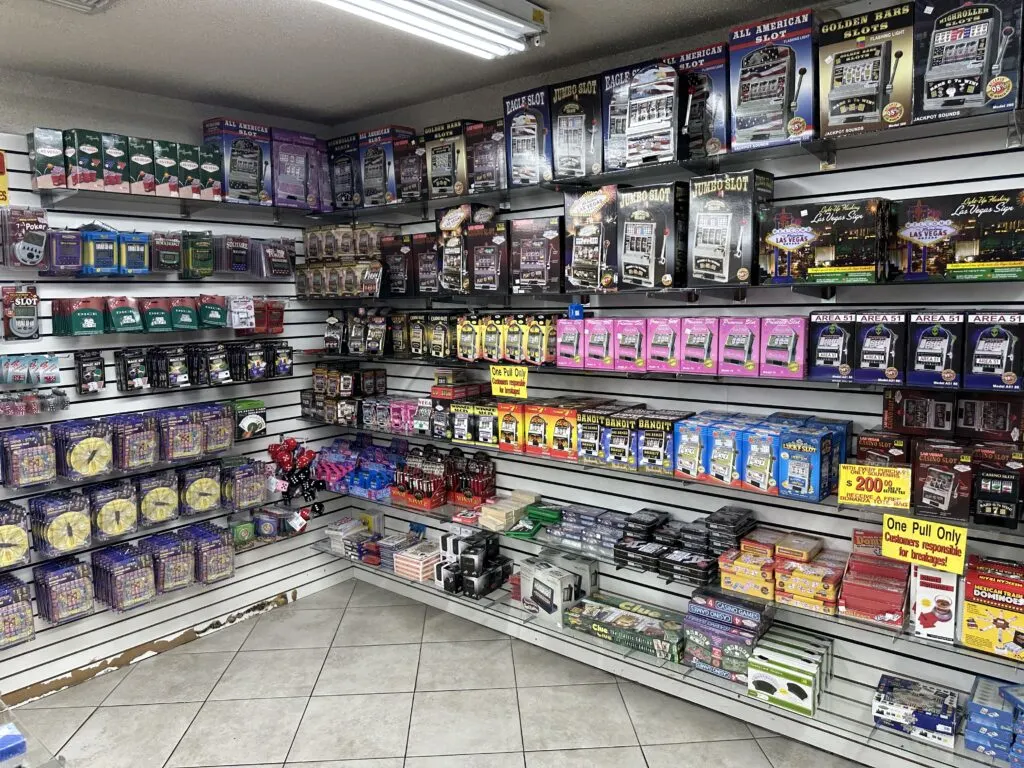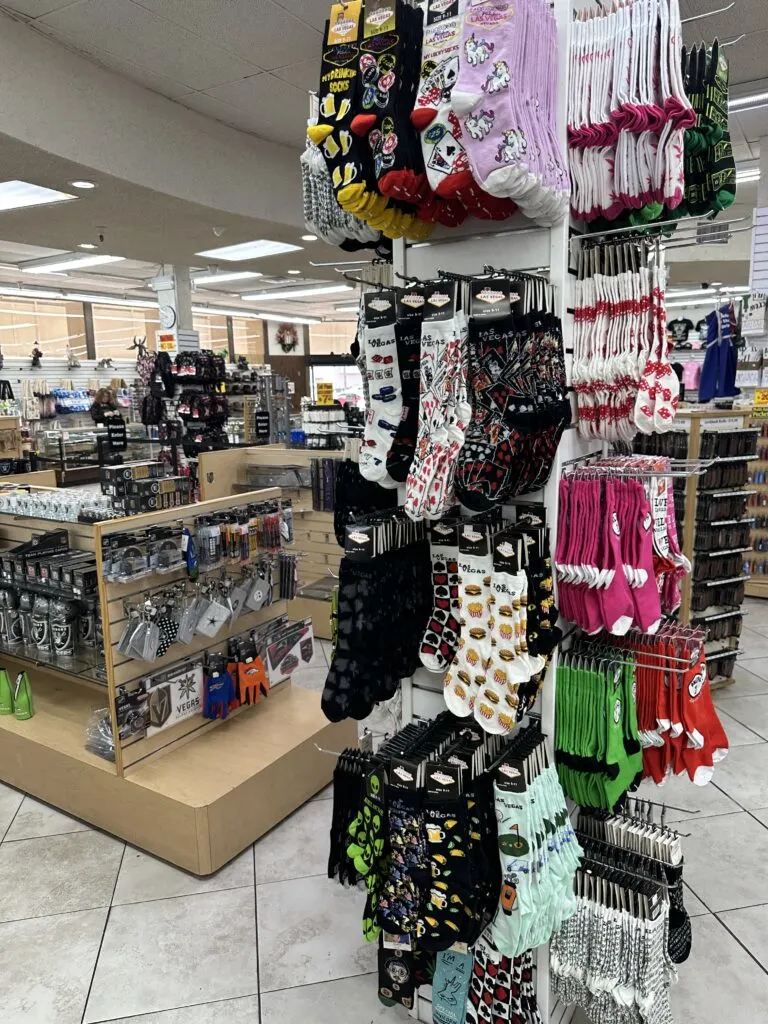 As you're likely able to surmise from the pictures that you just scrolled through – There's a lot to see, and the selection is wide-ranging.
What really caught my attention, however, were the prices. If you're looking to snag a few cheap souvenirs for family and friends, then Bonanza could be a great option.
There was an abundance of items priced under $10 in addition to proclamations of "3 for $10" and "Everything 99-Cents!" nearly everywhere I looked.
The Verdict: Is the Bonanza Gift Shop in Las Vegas Worth Visiting?
Think of the Bonanza Gift & Souvenir Shop as the mother of all souvenir shops in Las Vegas.
The draw, in my opinion, is the size and selection as opposed to the quality of the items. This isn't a ritzy shopping experience, but most people shopping for magnets, shot glasses, and keychains aren't exactly looking for that anyway.
Visiting Bonanza could be a great alternative to hopping from divey shop to divey shop on the Strip and Fremont Street, allowing you to instead make one single stop to satisfy your souvenir needs.
The eclectic sales floor is loaded with deals, oddities, and the standard Las Vegas souvenir assortment you'd expect. It's a fun store to explore.
While stores like this aren't my personal cup of tea (I much prefer throwing dice), I think folks looking for cheap souvenirs in Las Vegas should find time to visit.
If you've decided to make a stop, I'd recommend working it into your visit to downtown from the Strip or vice versa as it's situated between the two tourist corridors.
If you don't mind taking a few extra steps, you can even access the gift shop via The Deuce bus route which offers a northbound stop at Sahara (across the street) and a southbound stop at Hilton Grand Vacations (a 10-minute walk to the south).
I'm a former software salesman turned Vegas aficionado. While the craps table is my preferred habitat, I pull myself away to explore new attractions, shows, restaurants, and outdoor activities around Las Vegas with the intent of sharing my experiences.
Ultimately, I just want to help folks plan a better trip and save a few bucks in the process.