With prices on the rise across the country, travelers are being forced to re-evaluate how they spend their travel budgets to stretch their money. Visitors to Las Vegas are no different.
According to a 2019 survey conducted by the Las Vegas Convention and Visitor's Authority (LVCVA), the average visitor spent $91.21 on entertainment over their 4.4-day-long trip. Our goal is to help you fit as much as you can into that amount (or your own personal budget).
With that in mind, we figured it would be helpful to keep and maintain, an updated list of cheap things to do in Las Vegas. To qualify for our list of affordable activities, an adult ticket must cost less than $25.
NOTE: While this article focuses on cheap things to do in Vegas, everything summarized below does have a cost. We've also constructed the most comprehensive list of Free Things To Do in Las Vegas on the internet (90+ ideas!). Ensure you check that out too!
Let's get on with it, shall we?
Cheap Things To Do On The Strip
Pinball Hall of Fame: Located just south of Mandalay Bay, the Pinball Hall of Fame is a shrine to the game. Inside, you'll find an impressive collection of pinball games that date as far back as the 1930s. While admission is free, you'll need money to play (.25 – .50 per game). Change machines are available!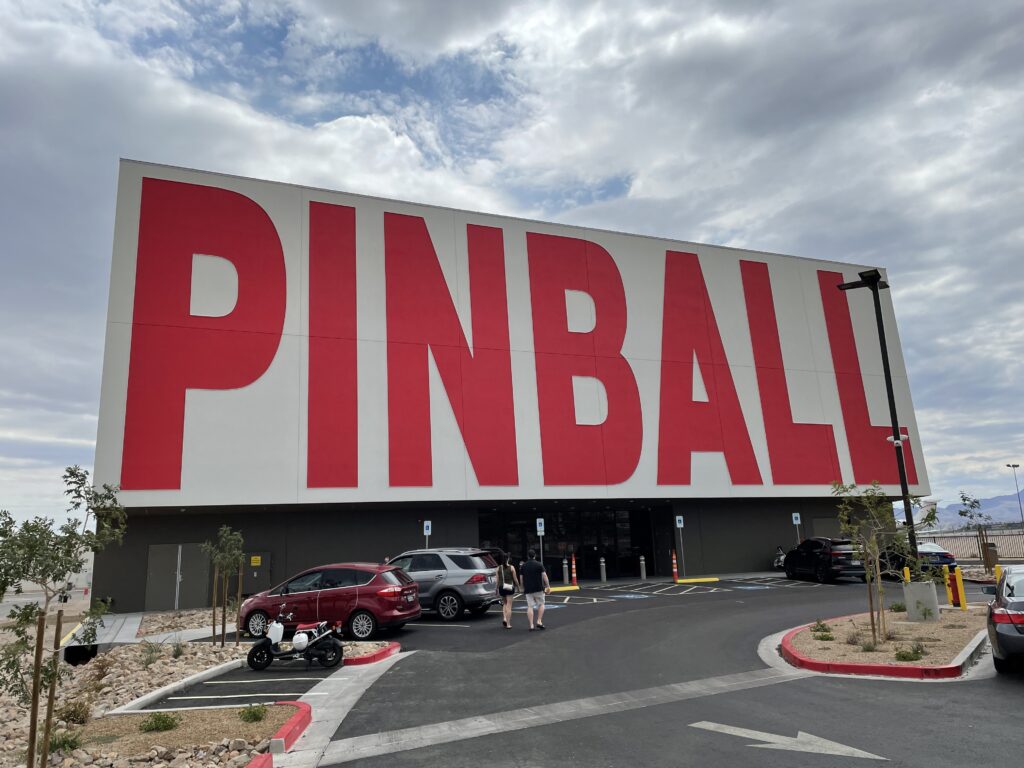 See a Bar Made of Ice: Looking to beat the heat? Check out one of Minus 5 Ice Bar's 3 locations on the Strip (Mandalay Bay, LINQ, and Venetian). Constructed completely of ice, this one-of-a-kind bar costs a hair under $25 to visit. While the price includes entry, gloves, and a parka, drinks are extra.
Drink Your Fill at Blondies: One of our favorite bottomless drink deals in Vegas, Blondies serves as much draft beer and well drinks as you can handle from 3 pm – 6 pm, Monday – Friday, for a mere $20. Blondies can be found in the Miracle Mile Shops at Planet Hollywood.
Play Video Games: The HyperX Esports Arena at Luxor offers 1-hour gaming passes for $15 and 2-hour packages for $25. Whether you're looking to channel your inner child, or are looking for something to do with kids in Vegas, this could be the perfect option.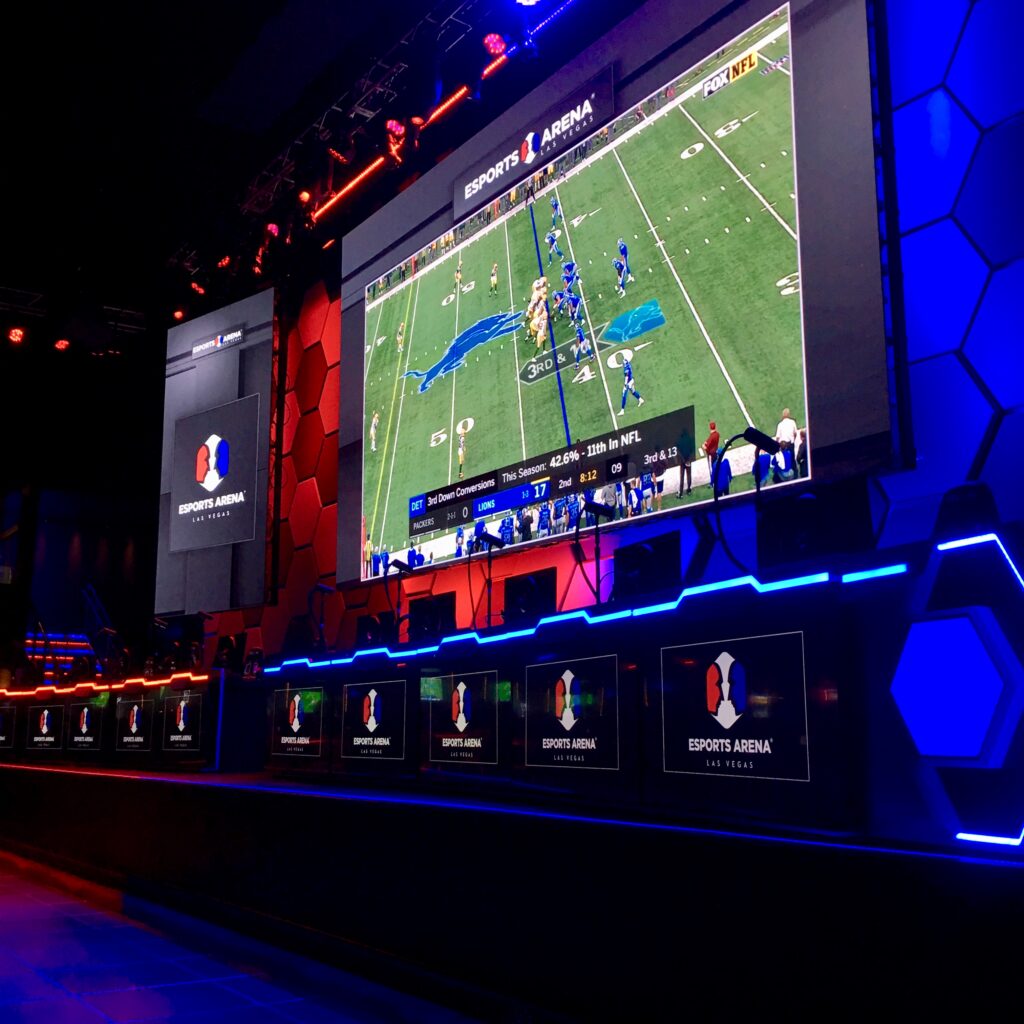 Play at an Arcade: On the topic of channeling your inner child, Arcades in Las Vegas are an inexpensive way to pass the time and can be found right on the Strip at several kid-friendly resorts that include Excalibur, NYNY, and Circus Circus.
In addition to a traditional arcade, Circus Circus also has a carnival-style midway.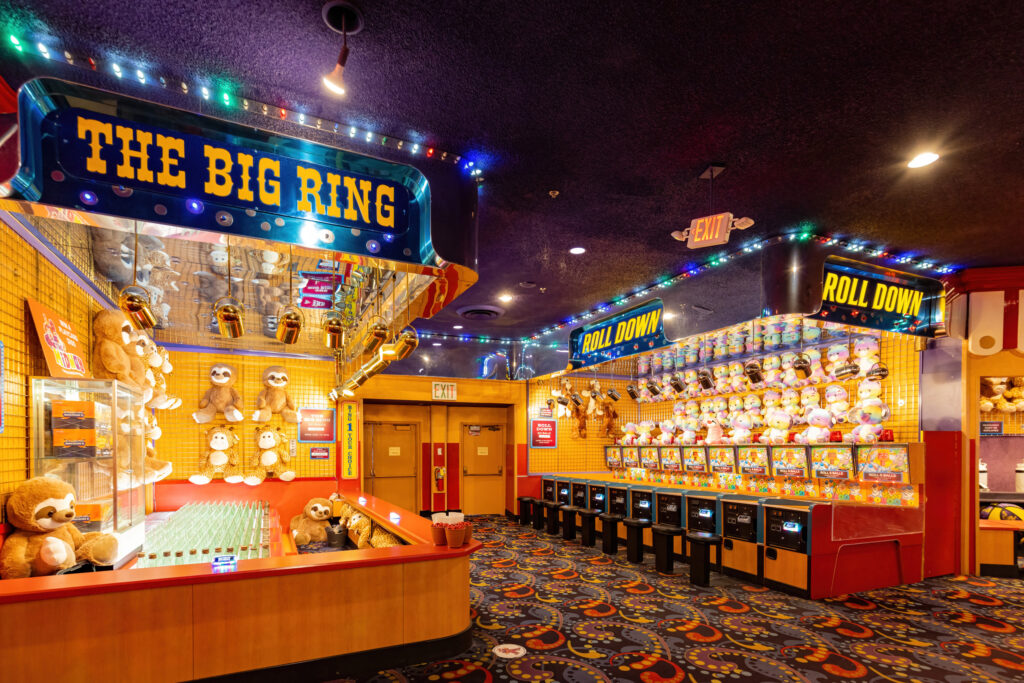 Big Apple Coaster: Sitting atop NYNY, the Big Apple Coaster is a wild ride that sends riders upside down several times. In addition to being thrilling, it also surprisingly ranks as one of the cheapest things to do in Vegas, with tickets costing $19. Worth. Every. Penny.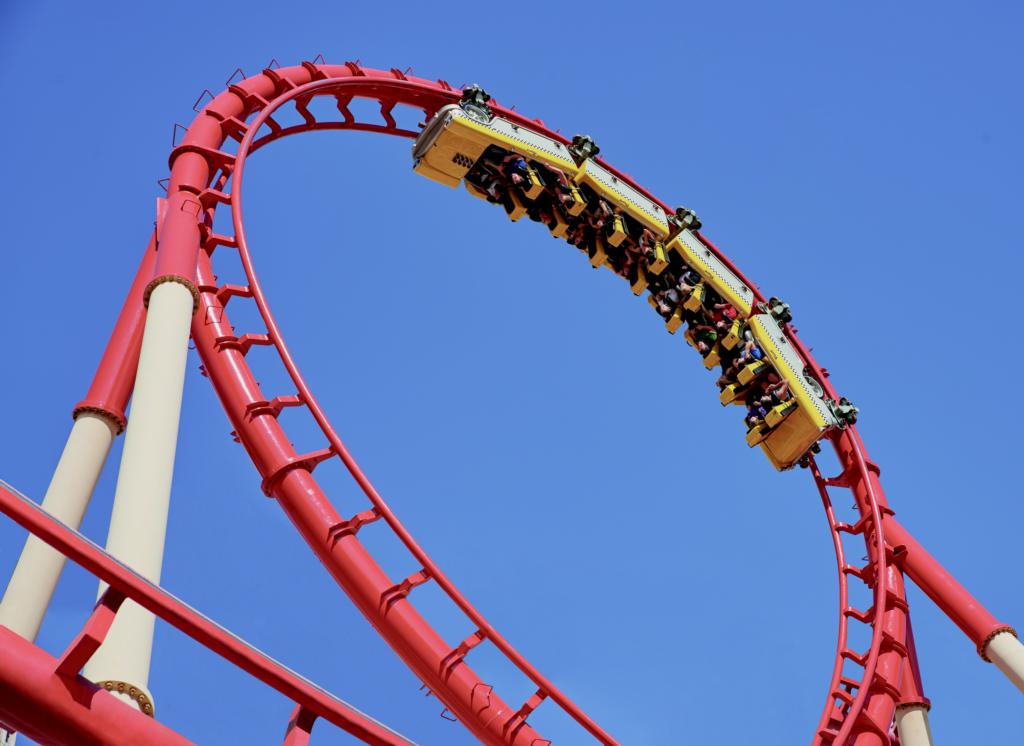 Rent a Pool Cabana: If you're visiting with a group, a pool cabana could be a great splurge. Acting as a home base with guaranteed seating and shade, a cabana could easily cost less than $25 per person and keep you busy all day!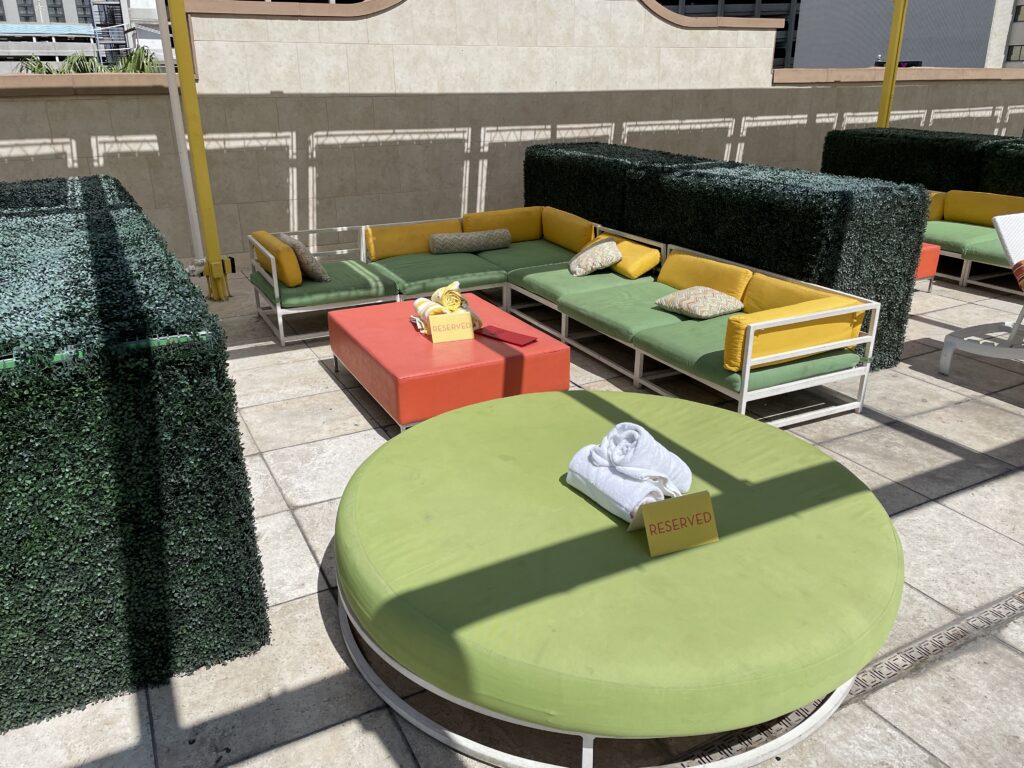 See a Movie atop Cosmopolitan: During the summer, Cosmopolitan plays movies on their Boulevard Pool deck as part of their "Dive-in Movie" series. Examples of movies they screen on their marquee include "Encanto", "Men in Black", "Black Panther", and more.
Better yet, you can get in for $15 per person.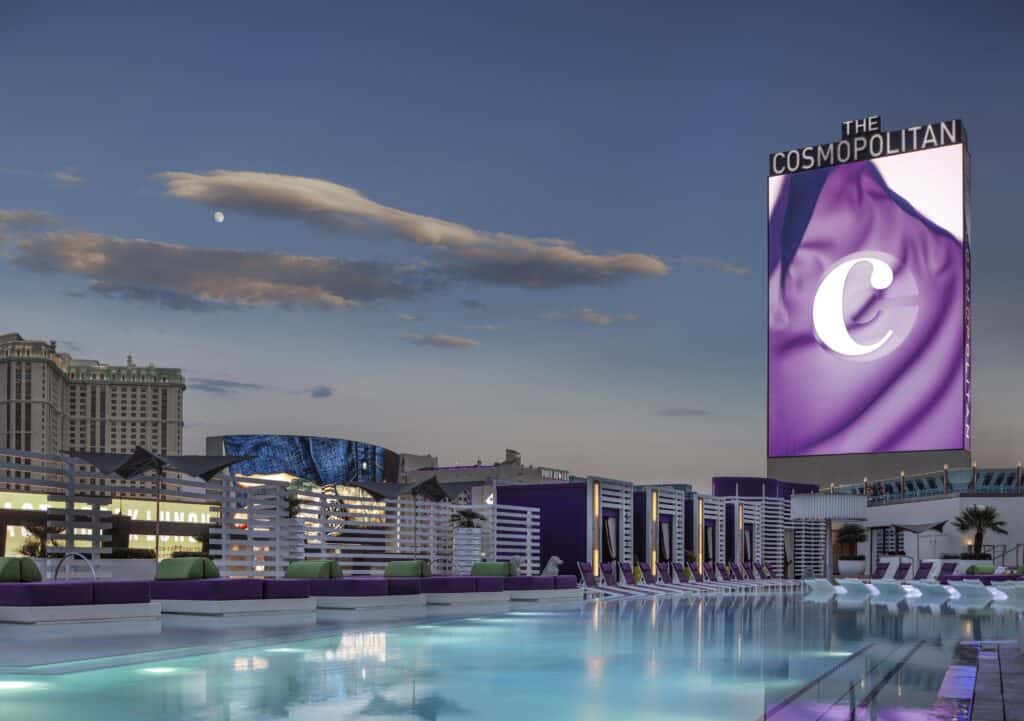 Skate at Cosmopolitan: In the winter months, the Boulevard Pool deck transforms into an ice rink overlooking the Strip. Skate rentals are available, as are smores! Don't miss one of the more unique things to do in Vegas during the winter!
Bellagio Gallery of Fine Art: Showcasing a rotating assortment of work from artists that have included Picasso, Van Gogh, Warhol, and more, Bellagio's Fine Art Gallery is also affordable, with tickets landing well shy of our $25 threshold.
Ride the High Roller: Weighing in at 550 feet tall, the High Roller provides some of the best views of the Strip available. An iconic part of the skyline, it's surprising that it also qualifies as one of the cheapest things to do in Vegas, with adult tickets starting at just under $25.
Adding to the value proposition, you can also commonly save a few bucks by booking your ride with Vegas.com, here.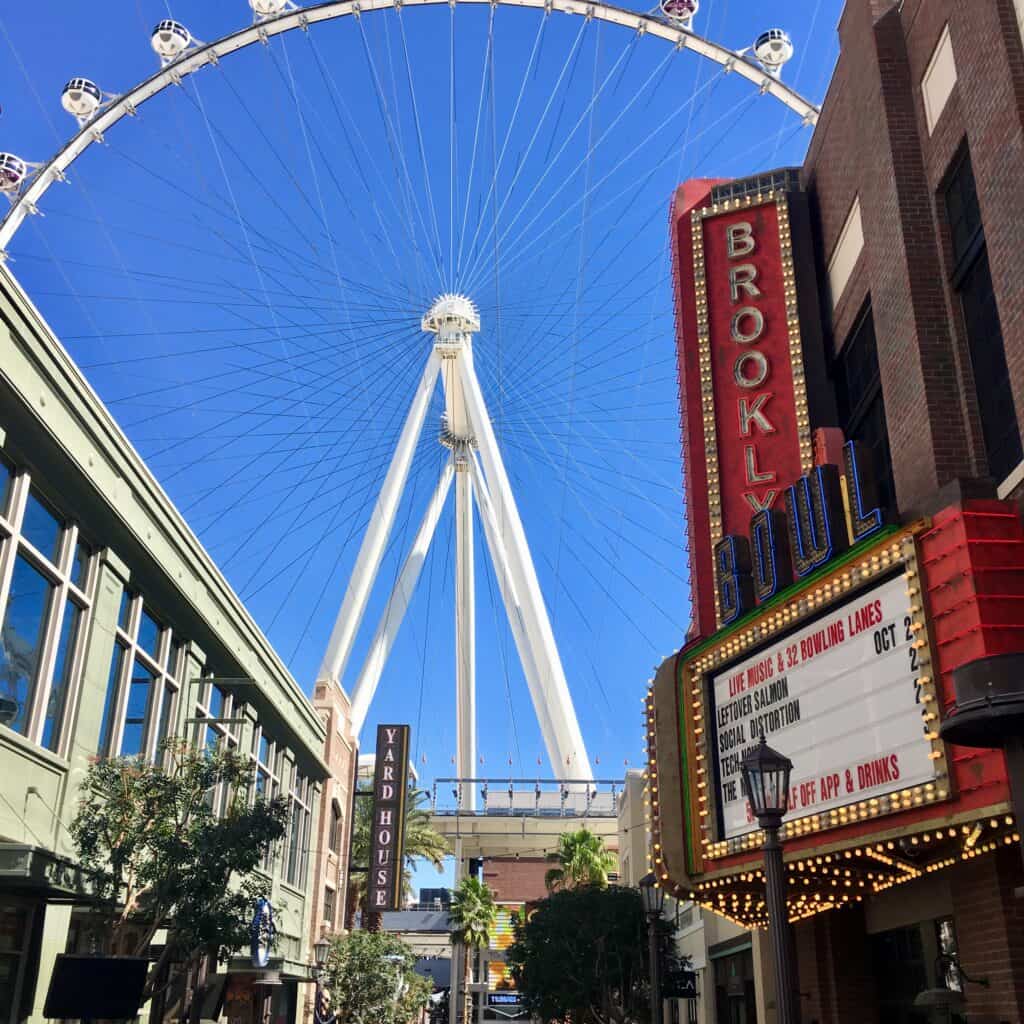 VR Adventures on the LINQ Promenade: VR Adventures offers a number of experiences for $25 that include a jungle river raft ride, rollercoaster ride, a haunted elevator, and even a trip around the world.
Topgolf at MGM Grand: If you're looking for cheap group activities in Vegas, Topgolf could be a great option. Hitting bays can accommodate up to 6 guests and pricing starts at as little as $40/hr – That's total, not per person. If you split that tab up, you have yourself one of the least expensive things to do in Las Vegas.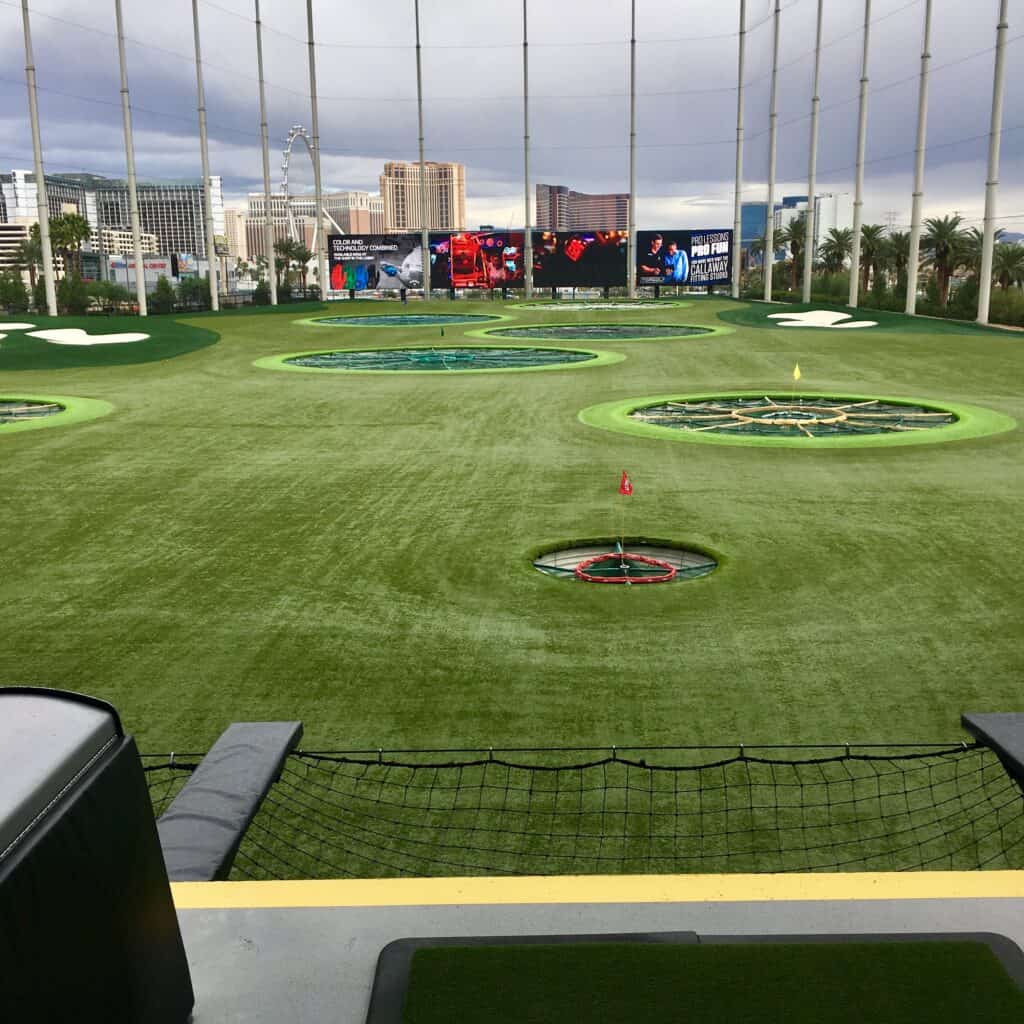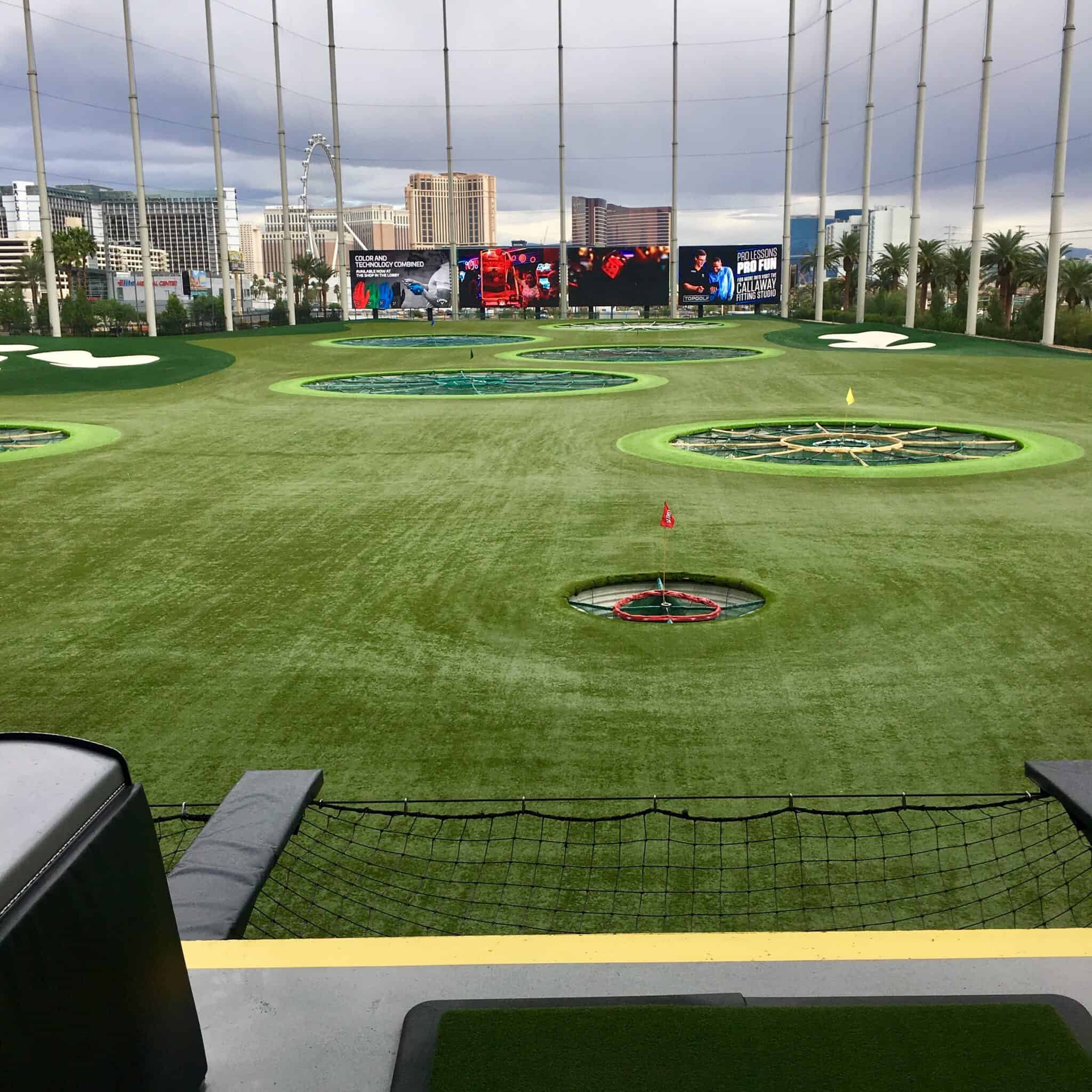 STRAT's Observation Deck: STRAT ranks among our favorite places to visit due to their cheap and unique attractions. Their SkyPod observation deck is over 1,140 feet above the Strip and costs $20 per person to access.
Check out my recent visit to STRAT's SkyPod and Observation Deck!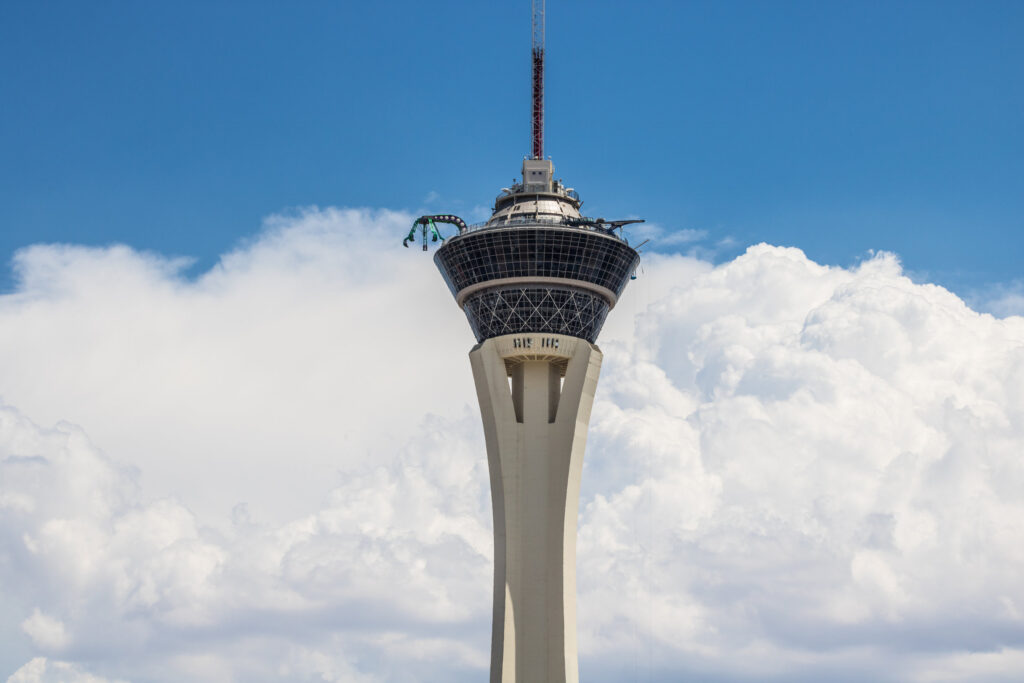 There are also 3 rides atop STRAT's tower that are equal parts amazing and inexpensive. For $5 you can add one ride to your observation deck purchase… but we'd recommend that thrill-seekers add all 3.
Notably, you can save a few bucks on your observation deck + rides purchase by leveraging this deal on Groupon.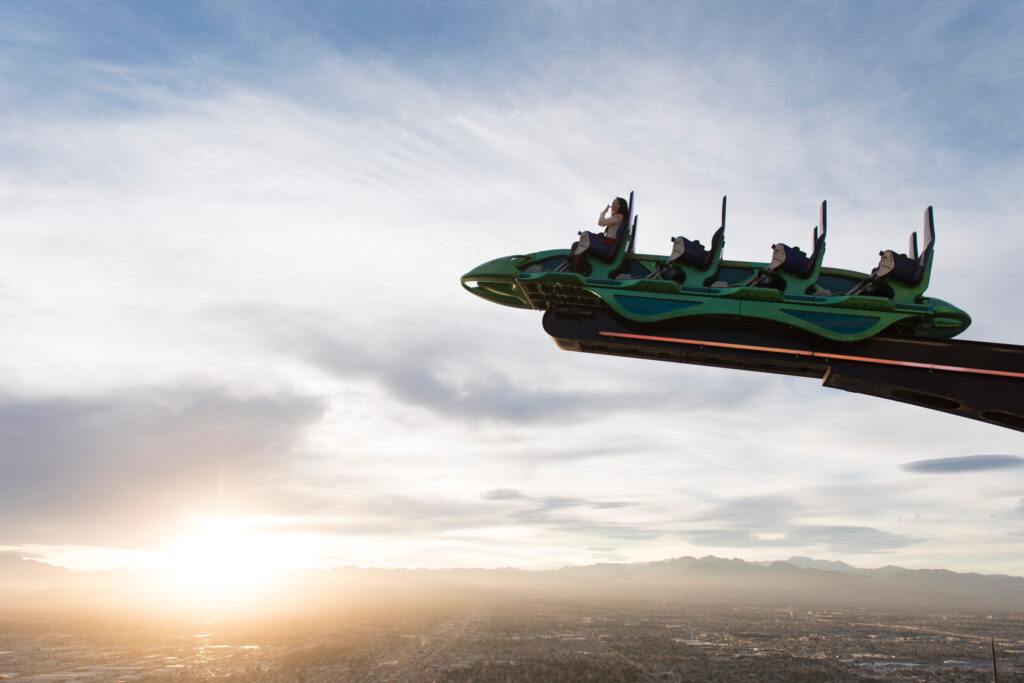 Cheap Things To Do Downtown
Neon Museum: During the day, adults can buy a general admission ticket to the Neon Museum for $20. For those unfamiliar, the Neon Museum is a 2.25-acre outdoor space packed with 250+ neon signs that once hung proudly around Las Vegas. It's amazing.
We've personally taken a daytime guided tour, which is slightly more expensive and would recommend the additional expense. Our guide was a wealth of knowledge.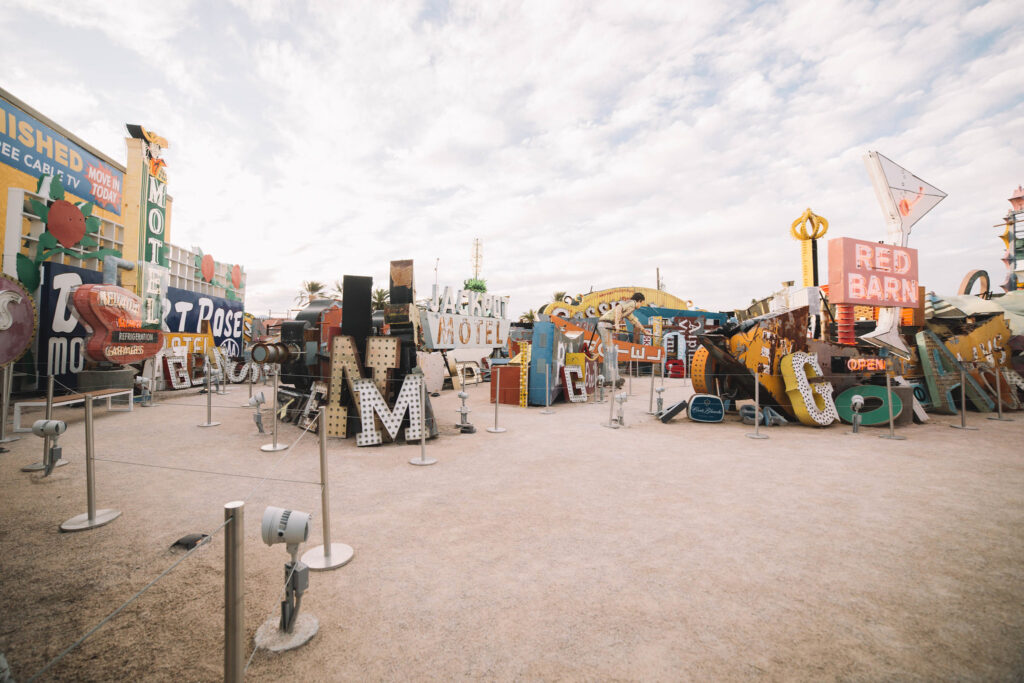 At night, check out "Brilliant! Jackpot", a show that brings signs in their north gallery to life with projection technology. Tickets start at $23.
See a Show at 4 Queens: While shows rarely qualify as one of the cheapest things to do in Vegas, two well-received options can be found at 4 Queens. Tickets to both can commonly be found for around, or just a hair above $25 on Vegas.com (linked below).
The first, Mike Hammer Comedy Magic has earned an impressive 5/5 stars on Vegas.com after 225+ customer reviews.
The other, Hypnosis Unleashed is one of the only hypnosis shows in all of Vegas and has earned 4.5/5 stars on Vegas.com.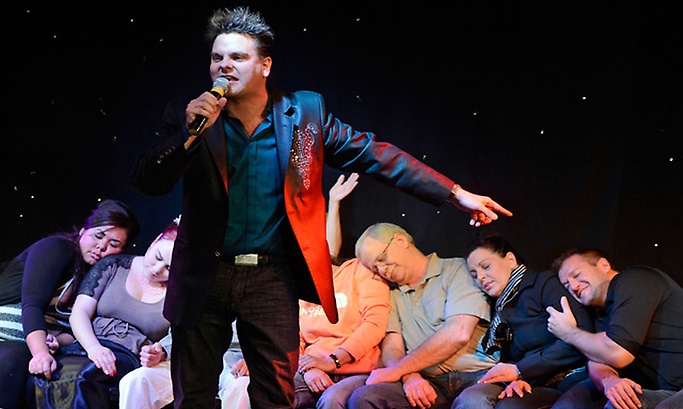 Other Notable Cheap Things To Do in Vegas
Catch a Karaoke Show: Whether you sing yourself, or you prefer to sit back and watch others make a fool of themselves, karaoke can be an inexpensive way to enjoy Sin City. While the drinks will set you back some money, admission is completely free at most of these karaoke bars.
Dueling Pianos: On that same note, there are a number of dueling piano bars in Las Vegas that are free to enter – Just pay for drinks!
Eat Cheap: While everyone else overpays to eat at a restaurant with a celebrity chef's name on it, you can conserve cash by taking advantage of these cheap eats on the Strip, and these inexpensive dining options downtown.
Drink Cheap: No, don't pay $10 for a bottled domestic beer at the casino bar. Instead, leverage our guide to find happy hours on Fremont Street and cheap drink deals on the Strip and create your own money-saving pub crawl!
Visit a Speakeasy: Speakeasies in Las Vegas are gaining popularity, and are relatively cheap. Free to enter, cocktails usually cost $10-$15 each. A speakeasy is much more than a bar – It's truly an experience.
Groupon Deals: There are numerous cheap activities, shows, and even dining opportunities on Groupon, here. We also keep a breakdown of the most applicable Vegas Groupon deals, so that you don't have to wade through the junk to find the gems.
Take advantage of Freebies: Lastly, we'd also urge you to scope out our rundown of 90+ FREE activities in Vegas. After all, free is cheaper than cheap!
While it's getting harder and harder to find affordable things to do in Vegas, hopefully, we were able to help you find an item or two for your itinerary. Despite the bad wrap, Vegas can still be a value destination if you know where to look!
See Also: Ways to Save Money in Las Vegas.
I'm a former software salesman turned Vegas aficionado. While the craps table is my preferred habitat, I pull myself away to explore new attractions, shows, restaurants, and outdoor activities around Las Vegas with the intent of sharing my experiences.
Ultimately, I just want to help folks plan a better trip and save a few bucks in the process.