Key Points:
"Cluster" is a light show choreographed to music that takes place in a mirrored room at Area15.
The room in question was surprisingly small – The mirrored walls and pillars give it the illusion of being much bigger than it is.
I found the show to be mesmerizing, legitimately cool, and worth the money.
An audio/visual experience within Area15, Museum Fiasco's "Cluster" uses light, sound, mirrors, and even fog to create a sensory experience unlike any other.
"An immersive audiovisual installation that explores relationships between space, time, and perception", "Cluster" is intended to make you feel as though you're trapped inside a glitching computer server.
I've been interested in seeing "Cluster" since its debut in 2020, and I finally was able to swing by to experience the show.
Below, I'll give you a look inside Museum Fiasco's attraction, which is part of the Area15 complex, along with my opinion as to whether or not the show should make your itinerary.
My Experience at Museum Fiasco's "Cluster"
An adult ticket set me back $18, and I was able to select a 3-hour window to visit, which I was able to select on the Area15 website in advance.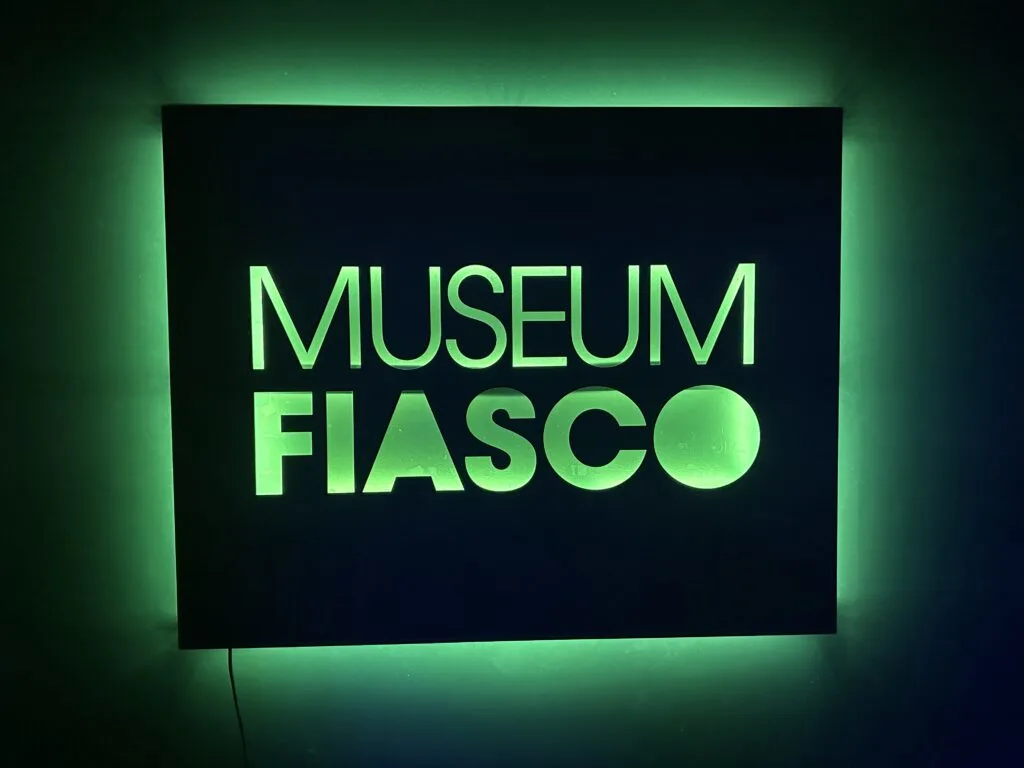 Upon arrival, I was surprised to have the place to myself, which was the case until the very tail end of my visit.
"Cluster" runs in a loop and was already mid-show when I walked in. The room is small, but lined with mirrors, which makes it appear much larger than it is in reality.
Pillars in the middle of the room have light strips on them that are expertly choreographed to the music playing, and I don't use the term expertly lightly. It's an impressive display.
The music offers a number of paces that range from slow and meandering to chaotic, and it's nearly impossible to predict what's coming next.
It's mesmerizing. A sincerely incredible display.
This was an insanely difficult attraction to photograph, due to the constantly changing lighting situation, but here are a few photos I shot.
Pictures also don't do the attraction justice, however, as it's the combination of lights and sound that makes it truly special. I'd recommend playing the video I embedded at the tail end of this post to get a true feel for what it's all about.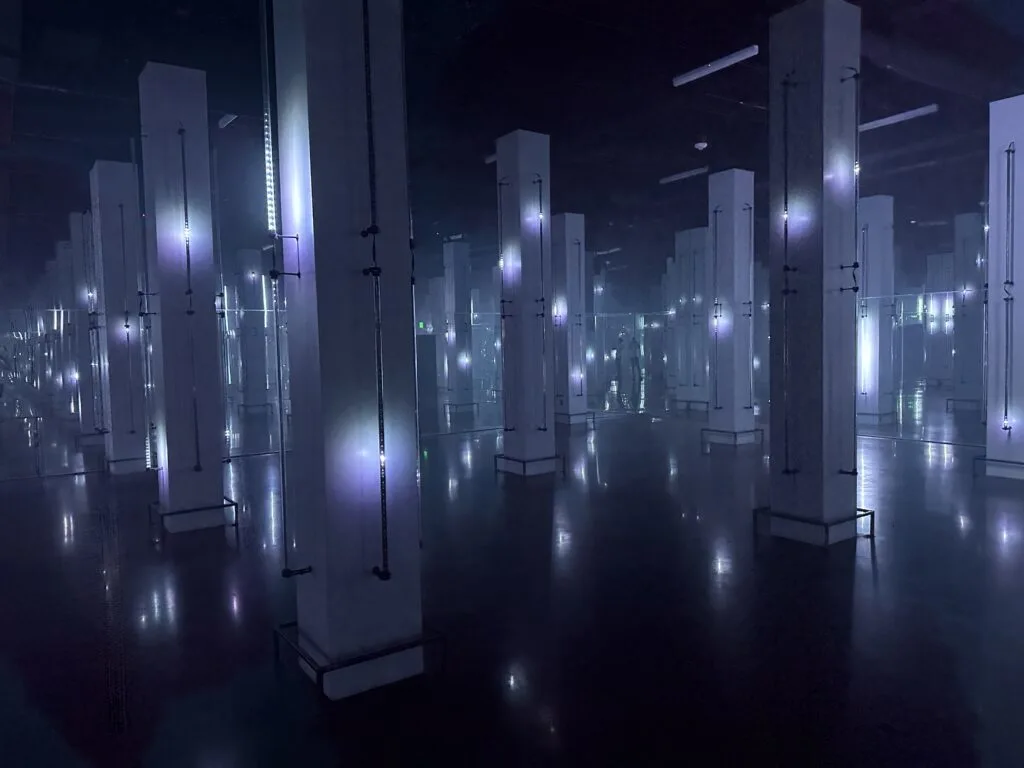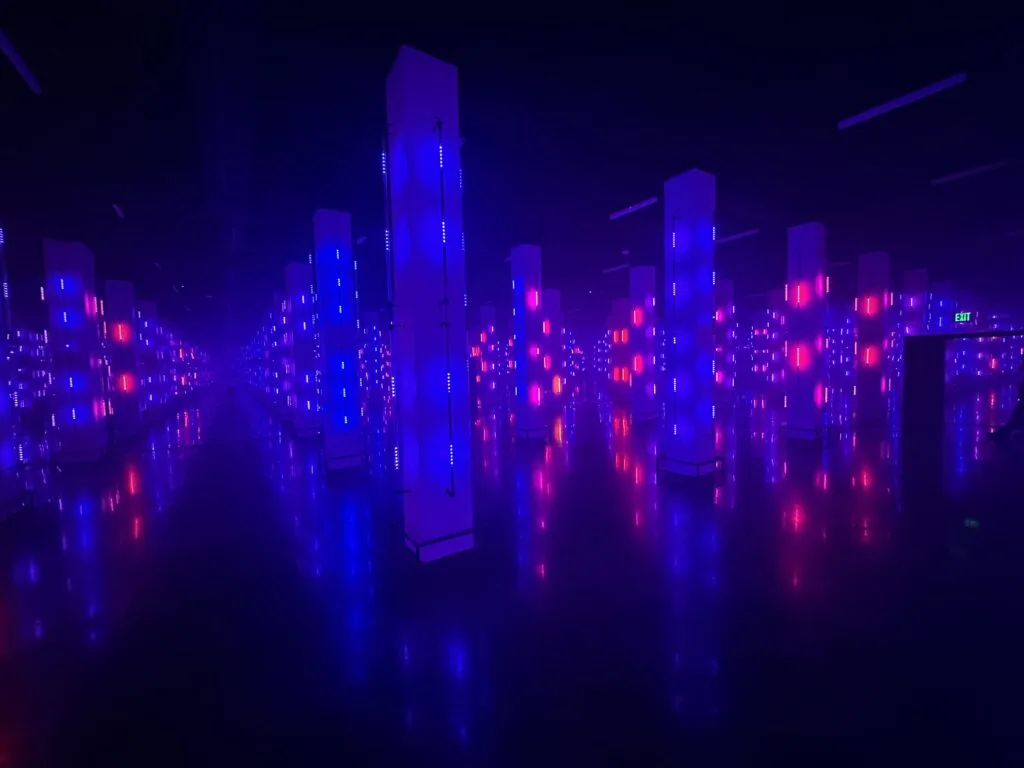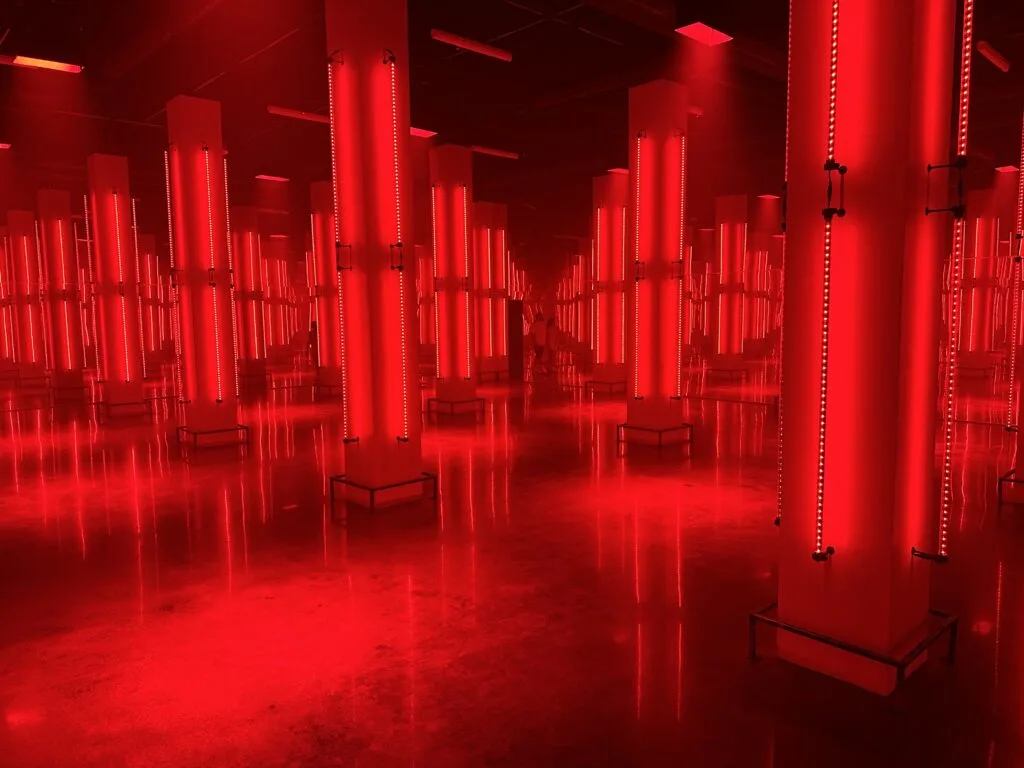 The Verdict: Is Museum Fiasco's "Cluster" Worth Seeing?
I thought it was awesome, and I'm not necessarily an "art guy".
The combination of pumping music that I could physically feel with lights choreographed to it was a unique experience that I really enjoyed.
The mirrors lining the room made the production feel bigger than it was in reality, enhancing the show and giving it an "infinite" feel.
I spent about 15 minutes inside the attraction and felt that it was worth both my time and money.
Full disclosure: As I was researching Museum Fiasco on social media prior to my visit, there were a good number of folks disappointed with what they got for their money. Most critics stated the show did nothing to them and echoed a common "It's just lights blinking to music" line.
With that being said, I think the images above and the video I embedded below of "Cluster" should give you a really good idea as to whether something like this is your cup of tea or not.
There shouldn't be much doubt – You're either into lights flashing to music, or you're not.
As for me, I dug it.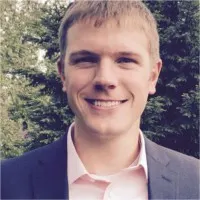 I'm a former software salesman turned Vegas aficionado. While the craps table is my preferred habitat, I pull myself away to explore new attractions, shows, restaurants, and outdoor activities around Las Vegas with the intent of sharing my experiences.
Ultimately, I just want to help folks plan a better trip and save a few bucks in the process.