Much to the chagrin of tourists and Las Vegas locals alike, Palms closed in the early days of the pandemic and stayed shuttered until early 2022.
Considering how many buffets have been lost forever over the past couple of years, many feared that Palms' A.Y.C.E (pronounced ACE) buffet would also be a candidate for the chopping block when the resort finally reopened.
Fortunately, Palms' new owners, the San Manuel Tribe, have brought the buffet back to life and it appears to be popular as ever.
I thought it would be fun to stop by for brunch to give you a look inside the buffet. Of course, I'll share plenty of images to aid your dining decision!
First, some housekeeping.
Palms A.Y.C.E Hours and Pricing
Buffet pricing and hours are somewhat all over the map depending on the day and menu.
Brunch is Served Saturday & Sunday from 9 am – 4 pm for $32.99.
Dinner is served nightly, and costs vary by day:

Saturday (5 pm – 10 pm) – $36.99
Sunday (5 pm – 9 pm) – $36.99
Monday & Tuesday (4 pm – 9 pm) – $36.99
Wednesday & Thursday Lobster Dinner (2 pm – 9 pm) – $64.99
Friday Prime Rib Dinner (4 pm – 10 pm) – $42.99
There is also a 1.5-hour time limit, and they were pretty clear about that as I entered the buffet.
Discounted rates are also available for kids between 3-11 years old.
See up-to-the-minute pricing and hours on Palms' website, here.
Palms Brunch Buffet Menu Items
Before diving into what there is to eat, I should point out that bottomless mimosas and champagne are included with the price of admission to their weekend brunch buffet. I didn't realize that going in and it was a pleasant surprise, to say the least.
Unlimited mimosas and champagne are one heck of a value proposition. A rarity in Las Vegas nowadays.
While this bottomless deal is included with weekend brunch, it's typically an add-on purchase that costs extra.
Now, onto what there is to eat!
Breakfast Items Offered During Brunch
The variety and quality of breakfast items offered were impressive and included scrambled eggs, bacon, sausage, eggs benedict, country gravy benedict, breakfast potatoes, oatmeal, a yogurt bar, pancakes (in various forms), waffles, banana almond butter toast, breakfast pizza, breakfast stromboli, and roasted pineapple.
Even meatless options like tofu scrambles and vegetable potato hash were available.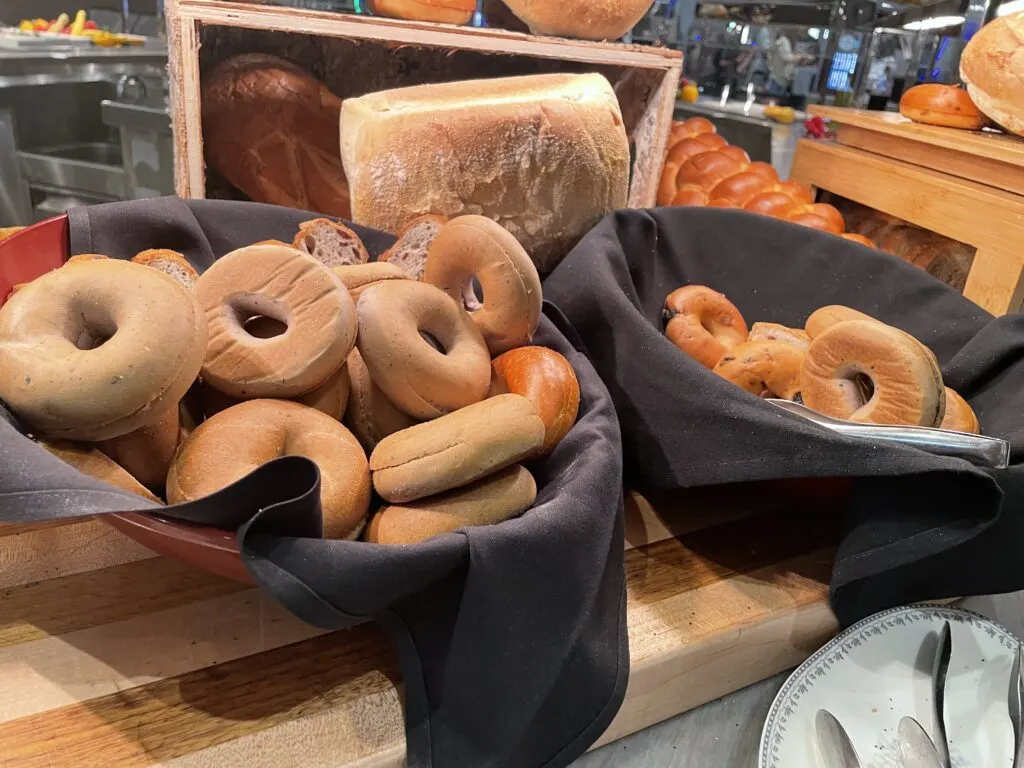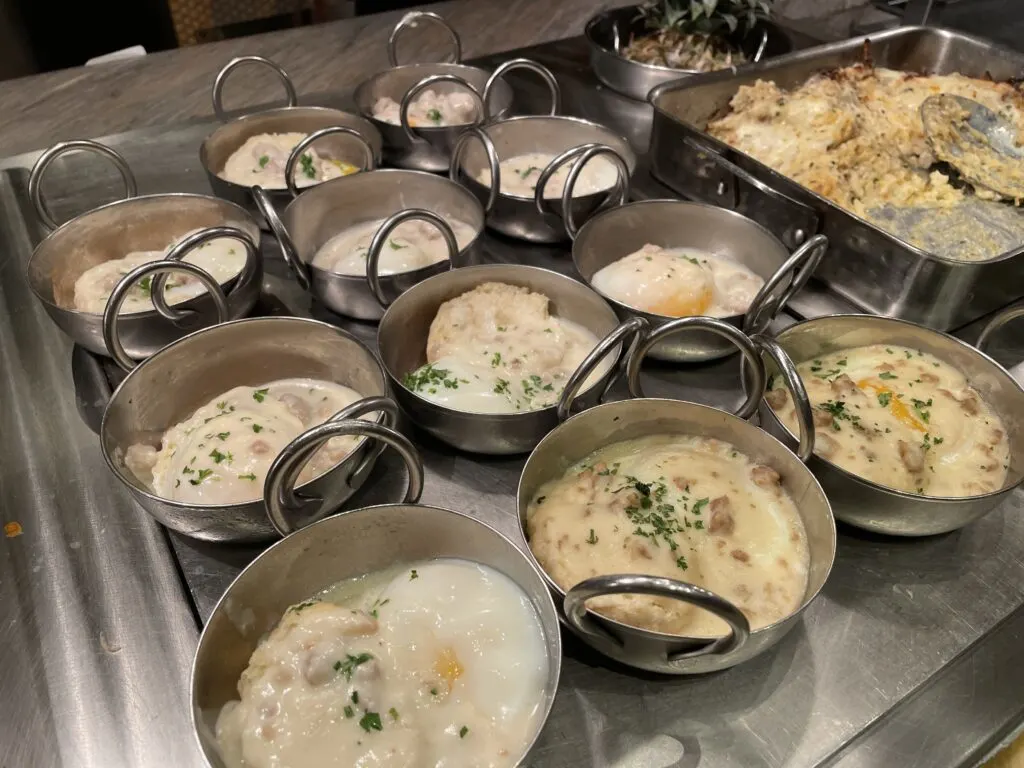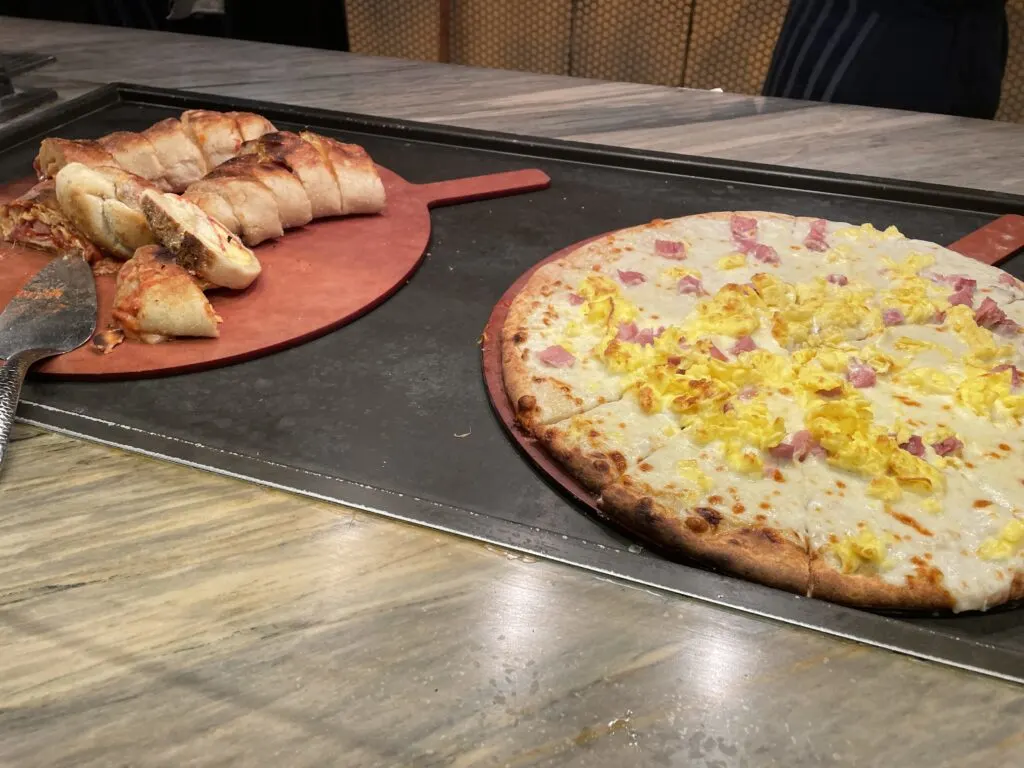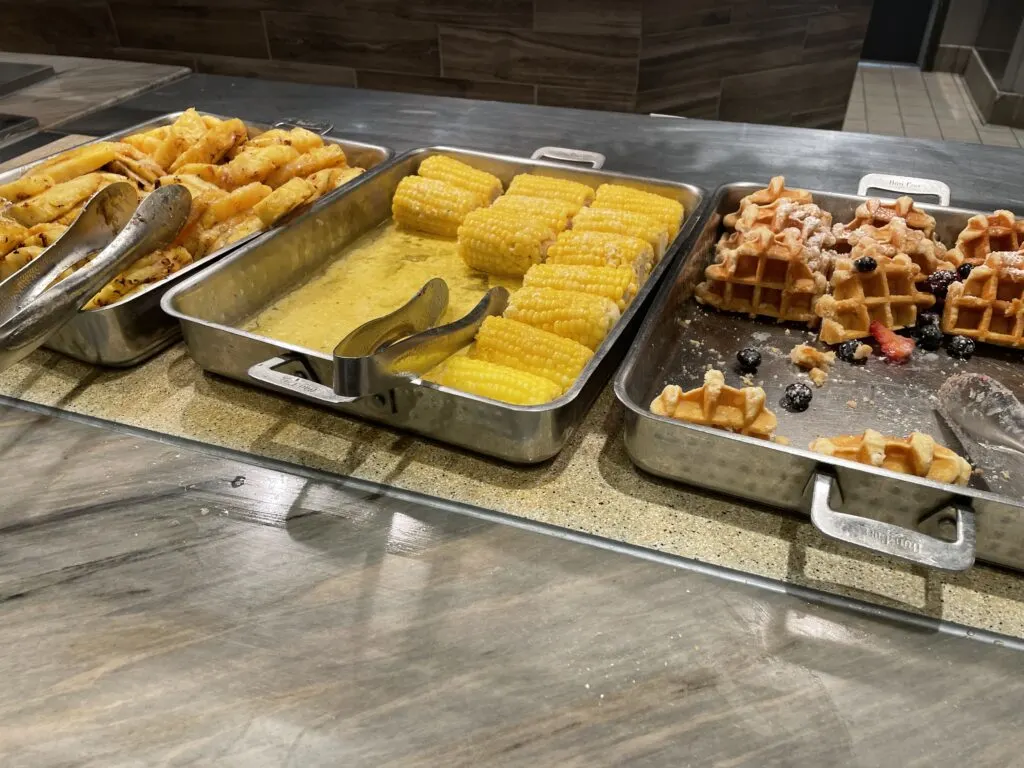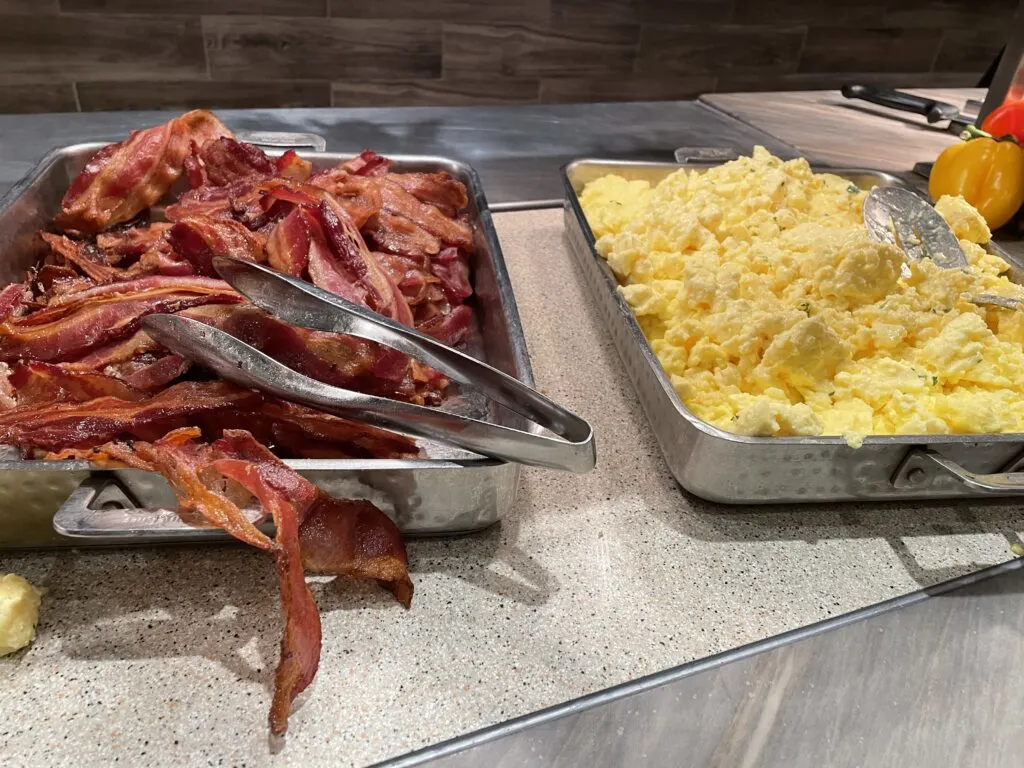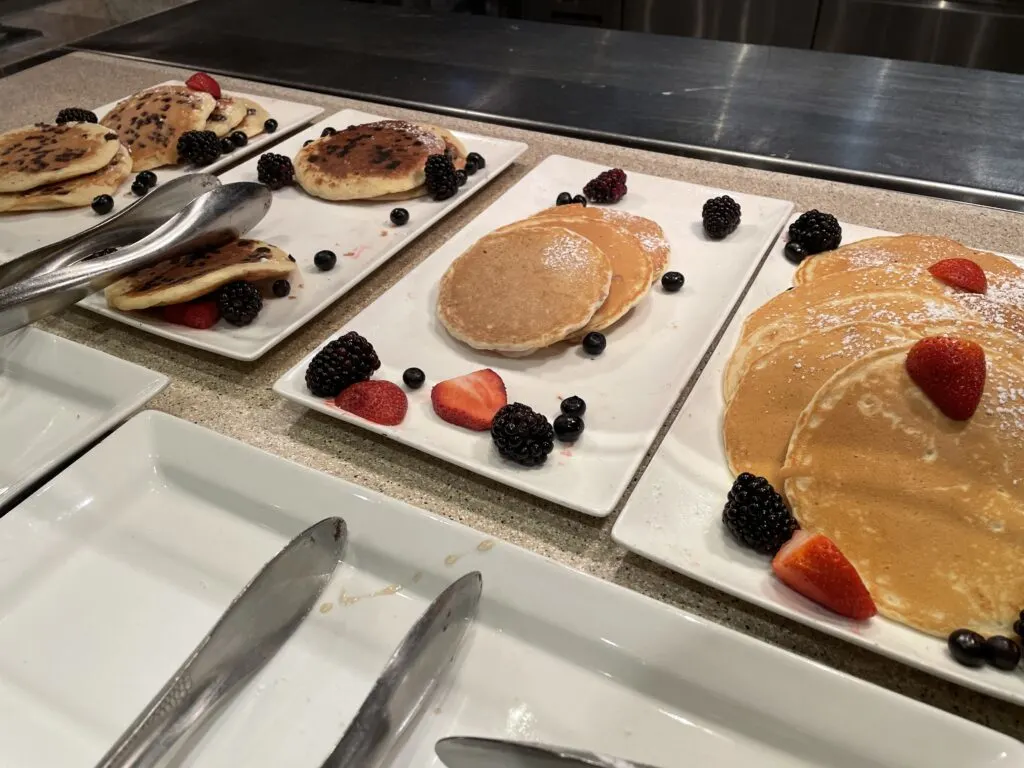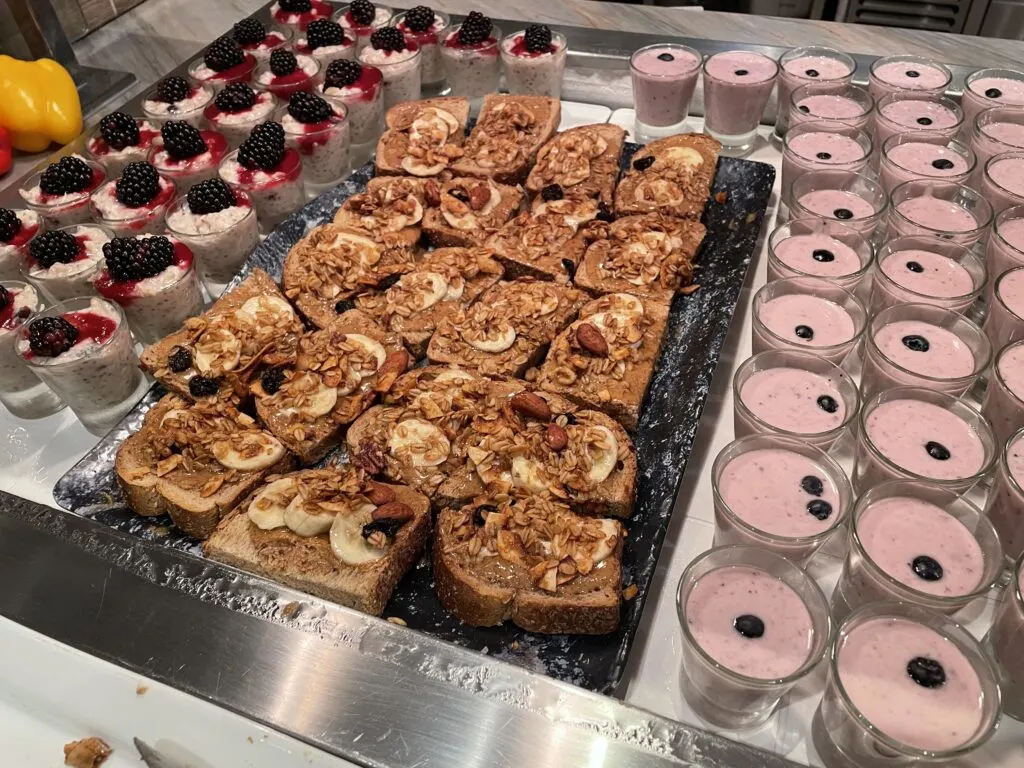 One of the more popular offerings was a build-your-own egg and omelet station that offered numerous meat and veggie ingredient options.
Lunch Items Offered During Brunch
Lunch items offered as part of Palms' brunch buffet included assorted sushi, a salad bar with an assortment of toppings, charcuterie, lox, soup (vegetable & tomato bisque), fried rice, vegetable chow mein, pizza with various toppings, teriyaki chicken wings, Maduro plantains, Filipino longanisa, spam musubi, roasted salmon, and truffle potato casserole.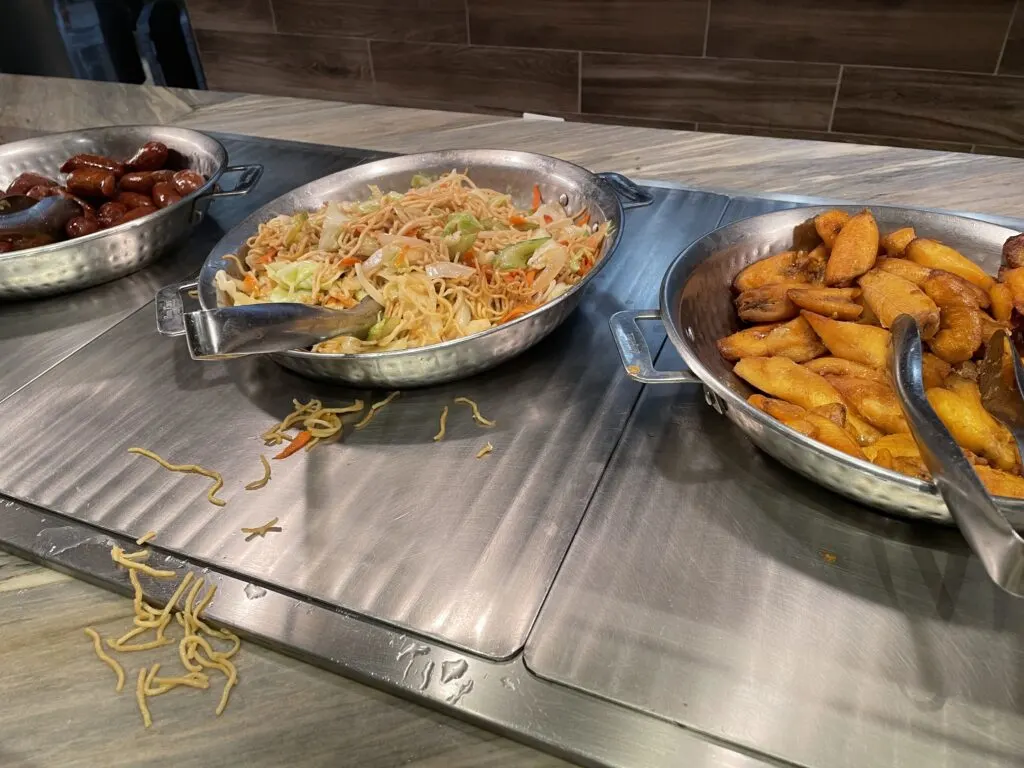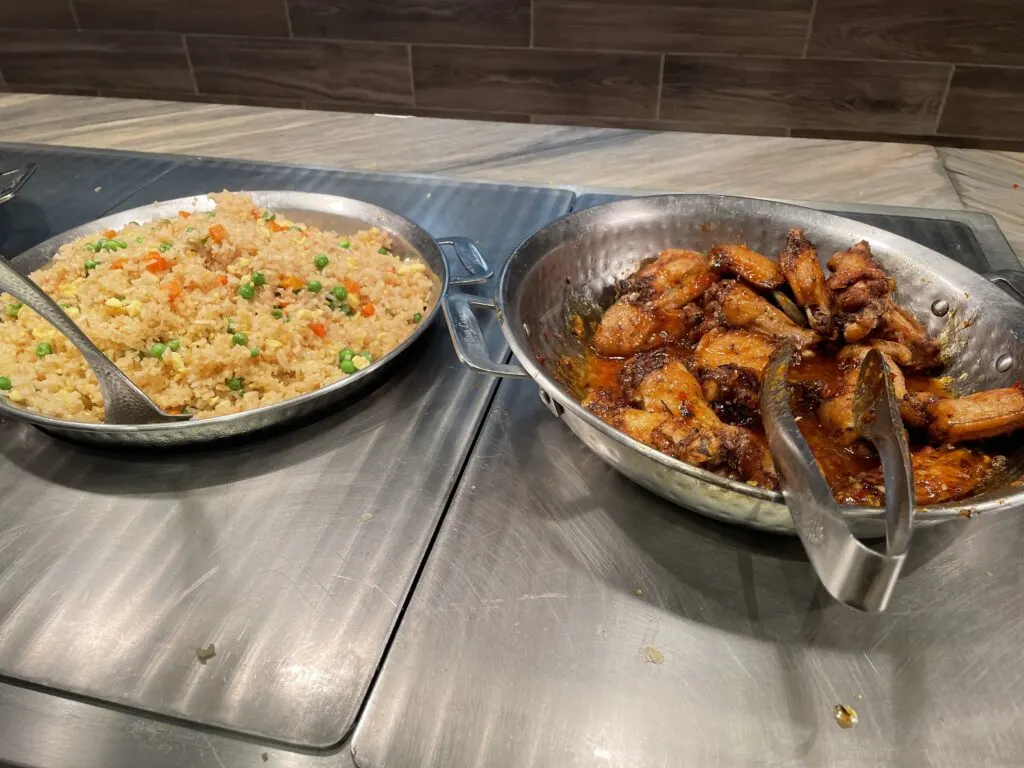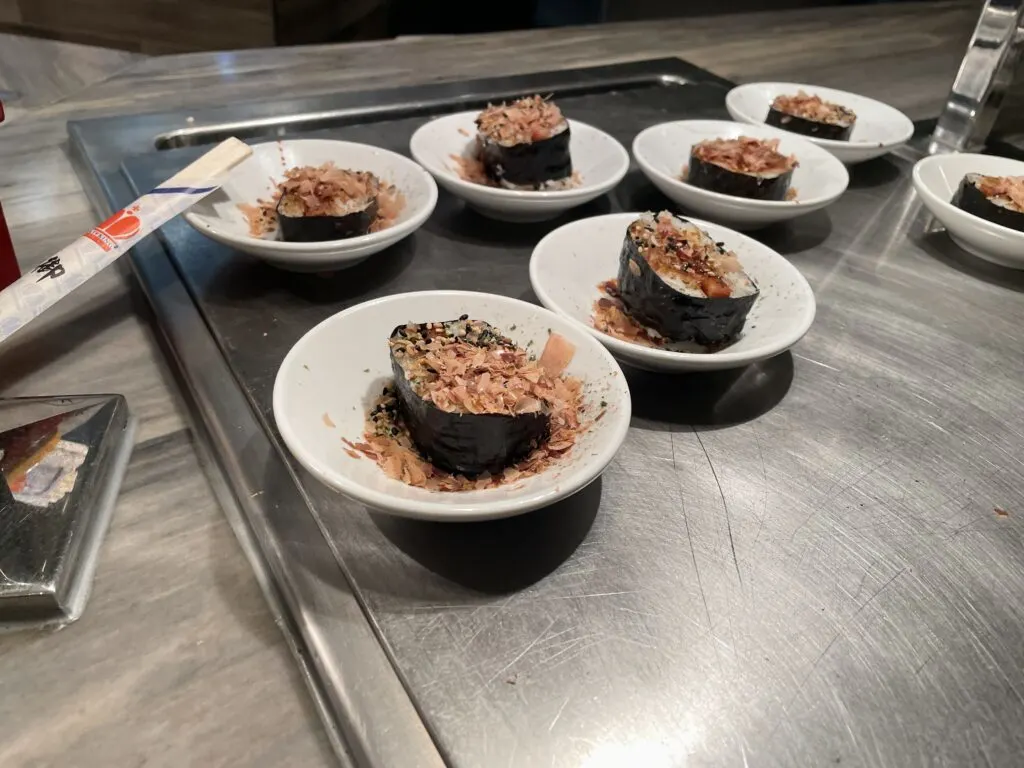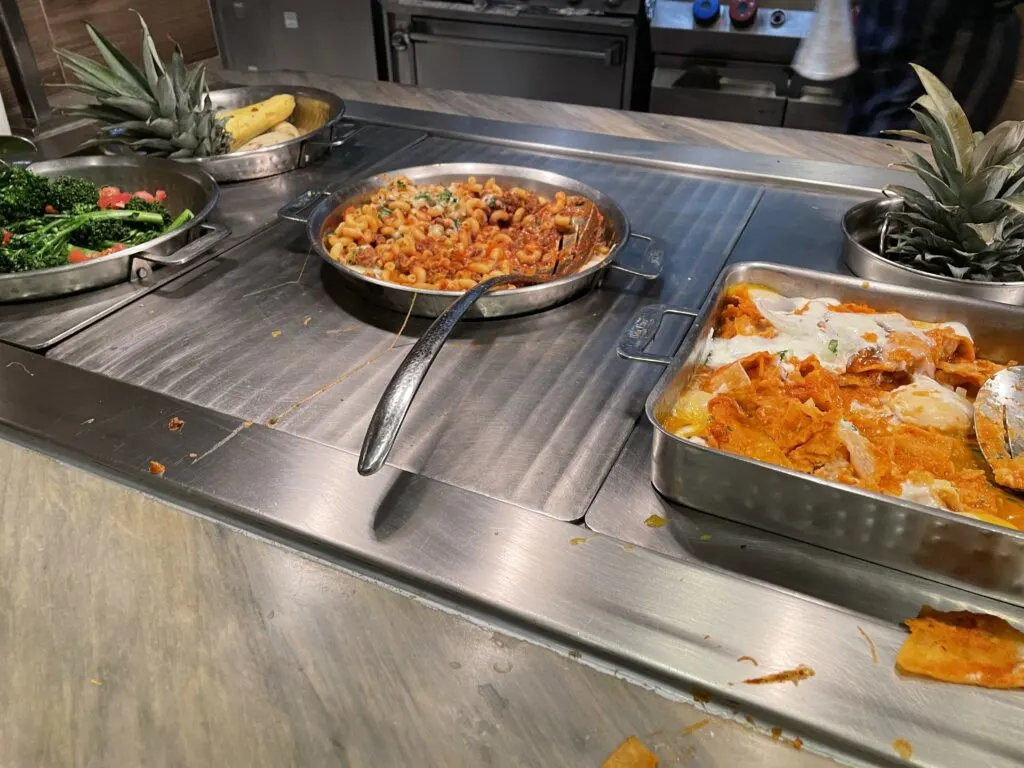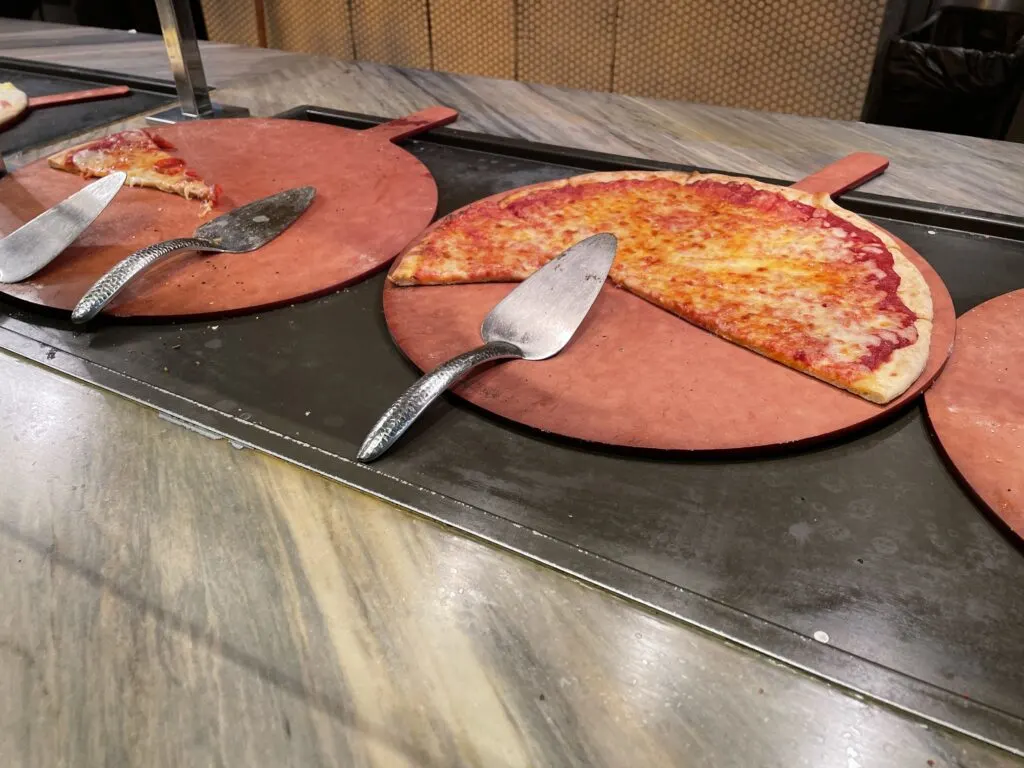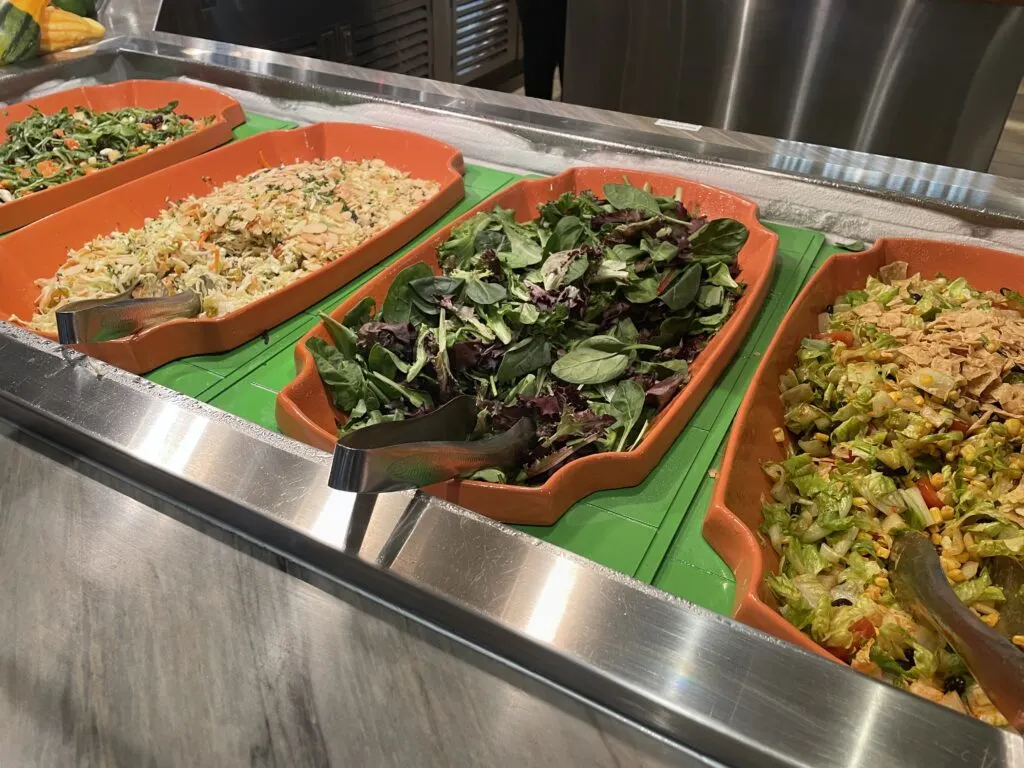 The carving stations served andouille sausage, honey-glazed bone-in ham, top round steak, and beef brisket, which was by far the most popular option. The brunch buffet doesn't serve prime rib, unfortunately.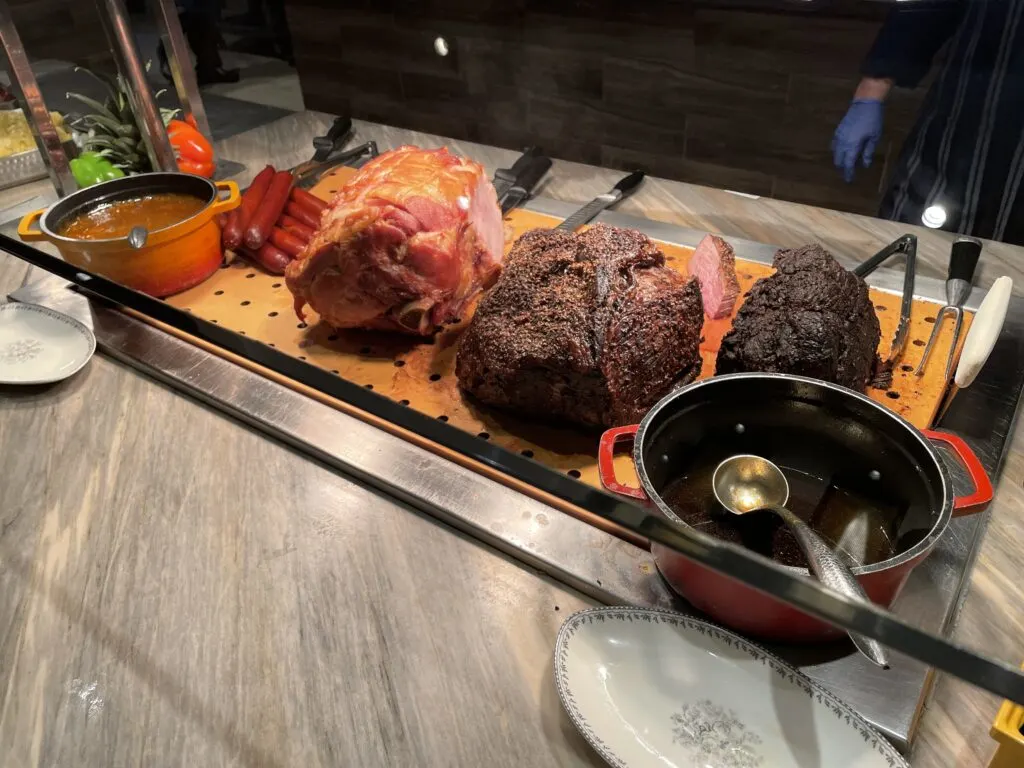 The most popular lunch items, however, were the mountain of both crab legs and shrimp, which both attracted a consistent stream of people.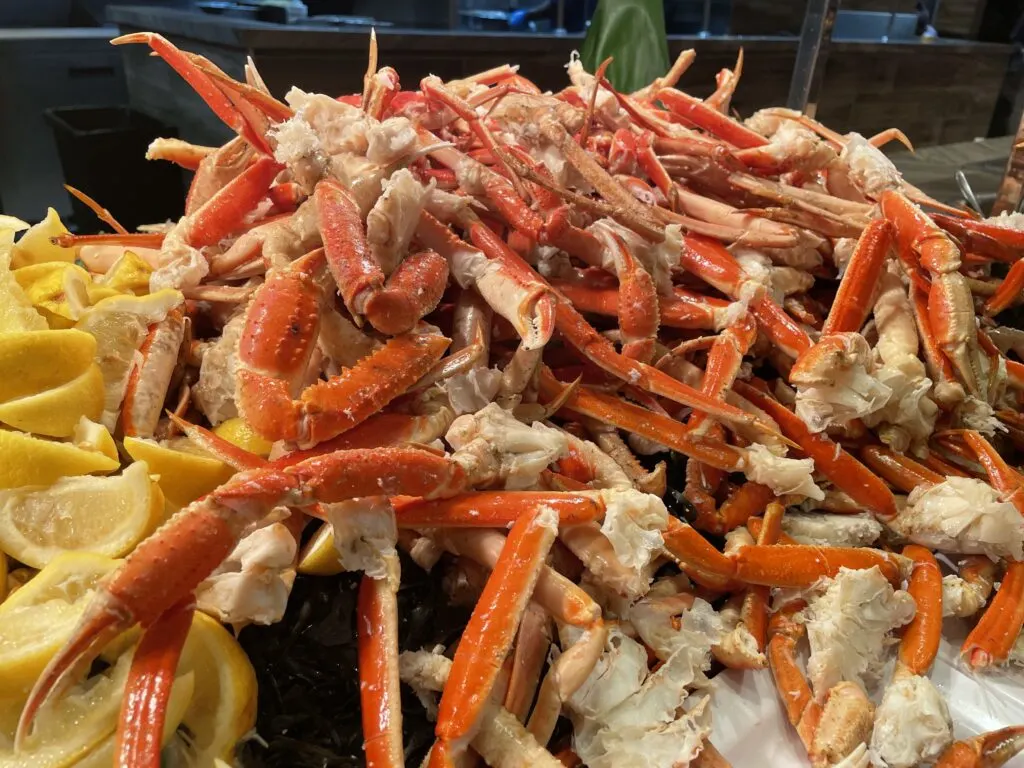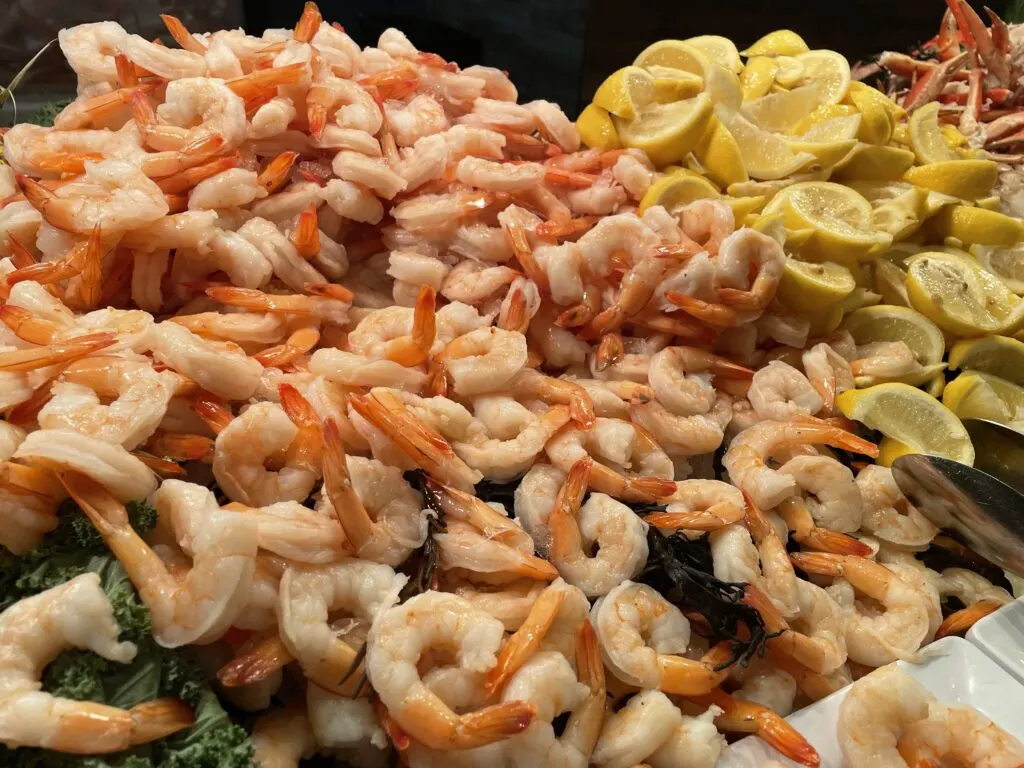 While the dessert table was a bit picked over and lacked the visual "wow factor" that other buffets in Vegas have, there was ample variety.
Options included gelato, toppings, cake, cookies, and cupcakes.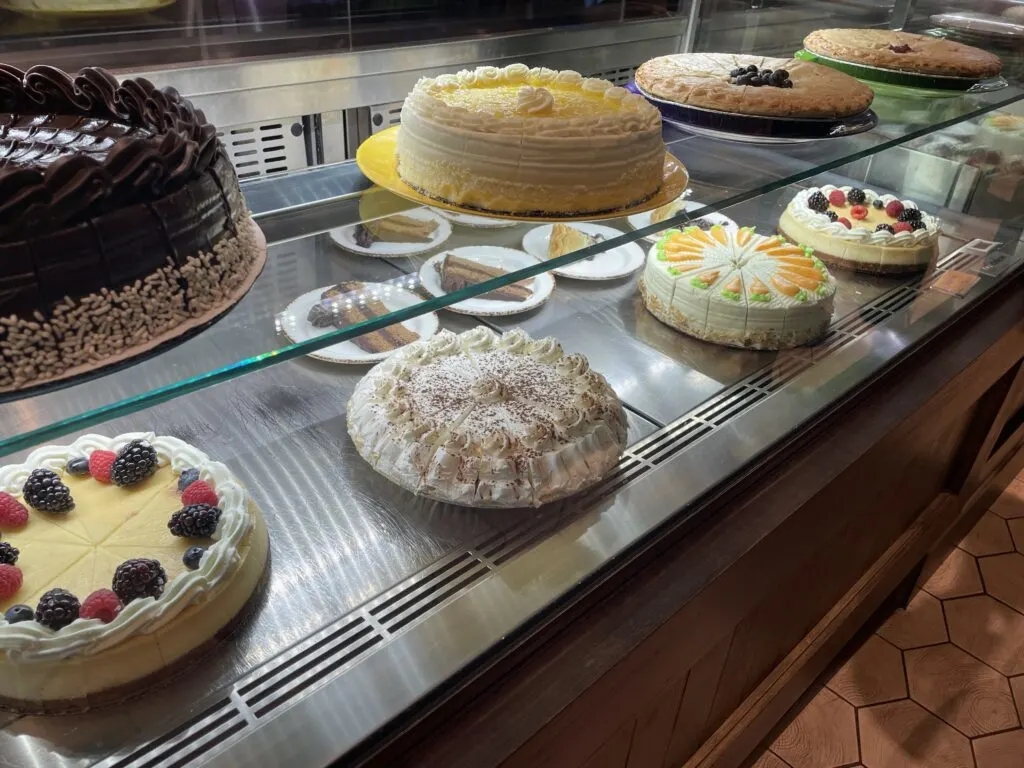 There were also baked items that included peach cobbler, apple pie, smores brownie, and bread pudding.
Dole soft-serve ice cream in both vanilla and pineapple flavors was also available.
What I Liked About the Brunch Buffet
Value: I felt as though I got a lot for my money. Both crab legs and bottomless mimosa/champagne are unheard-of offerings at other similarly priced brunch buffets in Las Vegas. I especially enjoyed the bottomless mimosa, which I didn't realize was part of the deal going in.
Food Quality: Simply put, this was a high-quality buffet. Food items I particularly enjoyed were the beef brisket (which substituted nicely for my beloved prime rib), California rolls, and teriyaki chicken wings (which were unbelievably tasty). Of course, I took the opportunity to eat my weight in crab legs.
Service: Although the buffet was busy, the server was absurdly efficient and had a new cocktail in front of me the moment I finished the previous one. Seriously impressive.
What's Not to Like?
I'm nitpicking here, as my experience was very positive overall.
Picked Over Options: Some buffet items were a bit picked over and were slow to be replenished. Especially on the dessert table, there were plenty of nearly empty trays. Not a huge deal, but nobody ever wants the last of anything.
Some Sloppy Food Stations: Almost unavoidable at a popular and busy buffet, but there were a number of sloppy stations where previous guests had spilled while serving themselves, which is visible in the pictures above.
Location: For folks staying on the Strip, having to take a $10-$15 Uber lessens the value proposition a bit. I'd still recommend making the trip, as Palms is fresh off of a recent (very expensive) renovation project – The property shines and there's more to see than A.Y.C.E.
Wait Times: While I personally didn't experience it, mostly because I visited at an odd time (2 pm), the wait to get into the buffet can be long. While long lines often mean the product is worth waiting for, it's something to be aware of.
Is The Buffet at Palms Worth The Money?
Absolutely.
Not only is the A.Y.C.E Buffet at Palms worth the money, but I'd pretty confidently declare it to be the best buffet value in Las Vegas, and I've eaten at them all.
While Bacchanal at Caesars, The Buffet at Wynn, and Wicked Spoon at Cosmo are better buffets in general, they can't touch Palms when it comes to what you get for your money.
The brunch buffet at Palms was fantastic, and I can't wait to get back to experience their dinner buffet in the near future.
Take the Uber and enjoy a day or evening at Palms. You won't regret visiting this buffet.
Related: What Buffets are Open in Las Vegas Right Now?
I'm a former software salesman turned Vegas aficionado. While the craps table is my preferred habitat, I pull myself away to explore new attractions, shows, restaurants, and outdoor activities around Las Vegas with the intent of sharing my experiences.
Ultimately, I just want to help folks plan a better trip and save a few bucks in the process.