Key Points:
Put bluntly, Bacchanal is the best buffet in Las Vegas, and it isn't particularly close.
What makes it great is the assortment of high-end food with various cultural influences and signature items like seafood and prime rib.
Items I enjoyed most included quesabirria tacos, lamb gyros, and roasted bone marrow.
Buffets have been a staple of the Las Vegas experience for decades.
While some visitors still equate buffets with the nightmarish one featured on "Vegas Vacation", high-end options like the Bacchanal Buffet at Caesars Palace have turned that perception on its head.
Although the price point is no joke (more on that below), Bacchanal consistently delivers a high-quality and diverse culinary experience.
The buffet's main draw (for me at least) is the ability to experience multiple upscale meals for a price that's comparable to dinner at a nice traditional restaurant.
As a fan of upscale buffets, I've personally made several trips to Bacchanal, never leaving unsatisfied.
In fact, I've never even left uncomfortably full, as gorging yourself to the point of discomfort isn't necessary to get your money's worth.
As it had been a while since my last visit, I figured it'd be fun to swing back into the Bacchanal Buffet to see what's new with the intent of sharing my experience, alongside plenty of pictures!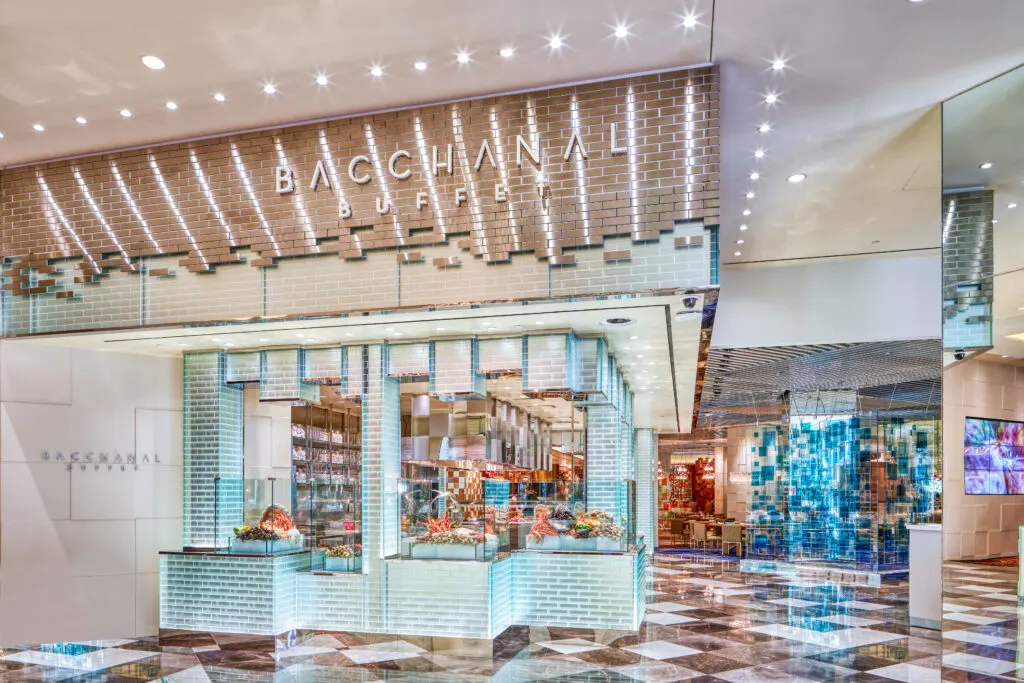 Bacchanal Buffet Pricing and Hours
Bacchanal Buffet at Caesars Palace is open nightly for dinner, and over the weekends for brunch service. Pricing and hours are as follows:
Dinner is served nightly from 3:30 pm – 10 pm and costs $84.99.
Brunch is served Thursday – Monday from 9 am – 1 pm and costs $64.99.
Crab Brunch is served Thursday – Monday from 1 pm – 3 pm and costs $79.99.
Related: Sticker Shock? Check out the most affordable buffets in Las Vegas.
How to Make Reservations at Bacchanal Buffet
While walk-up customers are accepted, reservations are highly recommended due to the buffet's popularity. Trust me – You don't want to be a walk-up customer. The line is egregious.
Bacchanal Buffet Menu Items
As an upper-echelon Las Vegas buffet, Bacchanal at Caesars Palace is a far departure from cheaper options that offer value in the form of a massive meal at a low price point.
Instead, Bacchanal delivers by giving guests the opportunity to sample high-quality cuisine options that span the culinary spectrum.
Global influences represented at the buffet included Asian, Filipino, Italian, American, Mexican, French, and Mediterranian, among others.
Unlike lesser buffets, most of Bacchanal's food options are served individually vs. in "Vegas Vacation" style troughs.
Another feature that set this buffet apart from its peers are the abundance of live-action stations which include:
Asian soup station
Pasta & risotto station
Crepe station
Quesabirria Tacos (My favorite – pictured below)
I ate no less than 5 of those tasty little sons of guns.
Of course, the "heavy hitters" like prime rib and crab legs drew the most fanfare.
The main carving table was stocked with prime rib, grilled tri-tip, espresso-rubbed striplin, beef steamship, and smoked brisket.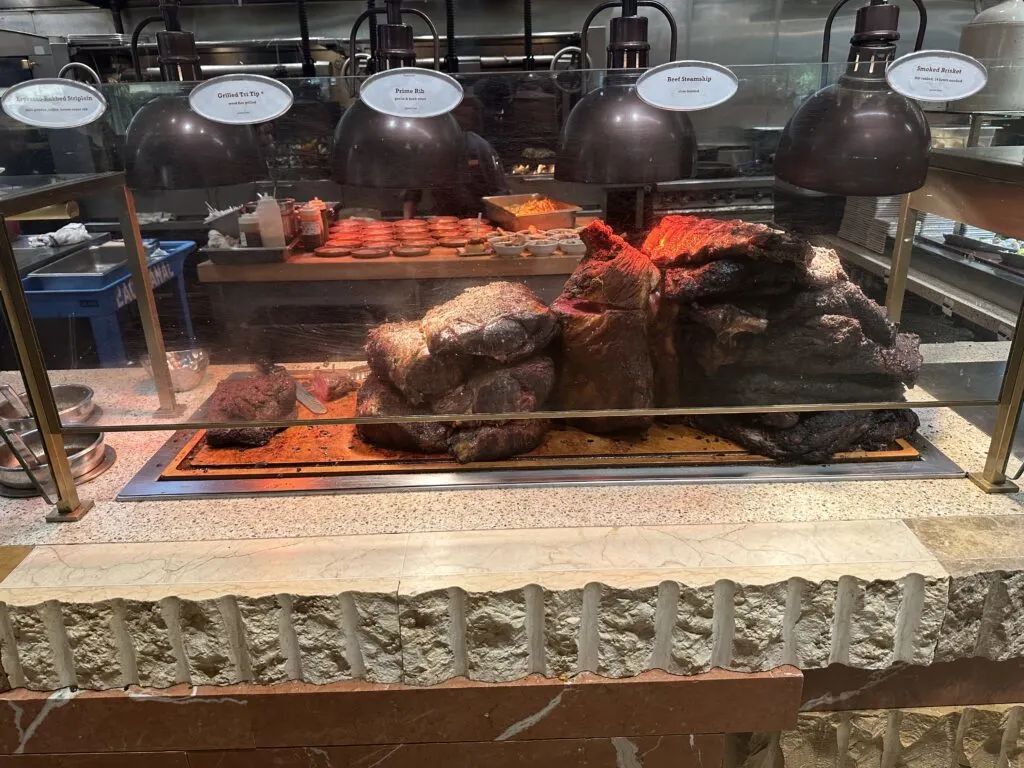 A selection of pork, chicken, turkey, and grilled quail were also available.
In a separate area of the buffet, there was even an entire roasted pig which was cubed for easy consumption.
Seafood options were impressively presented, of high quality, and included clams, Jonah crab claws, mussels, whelks, lobster claws, shrimp, and crab legs among others.
The steamed crab legs were fat, in great condition, and in demand.
The dessert counter was a work of art, almost evoking guilt for disturbing the display. With options including donuts, cheesecake, brownies, cookies, and cupcakes, there's something for all.
Here are a bunch more photos I snapped of unique food options throughout the buffet!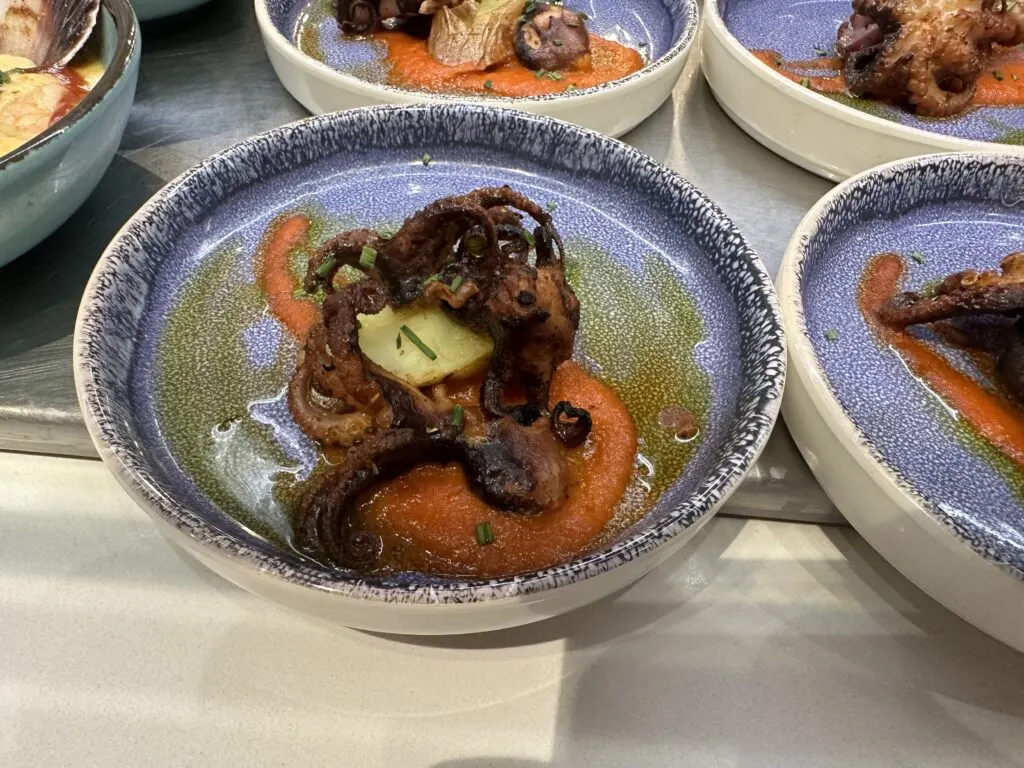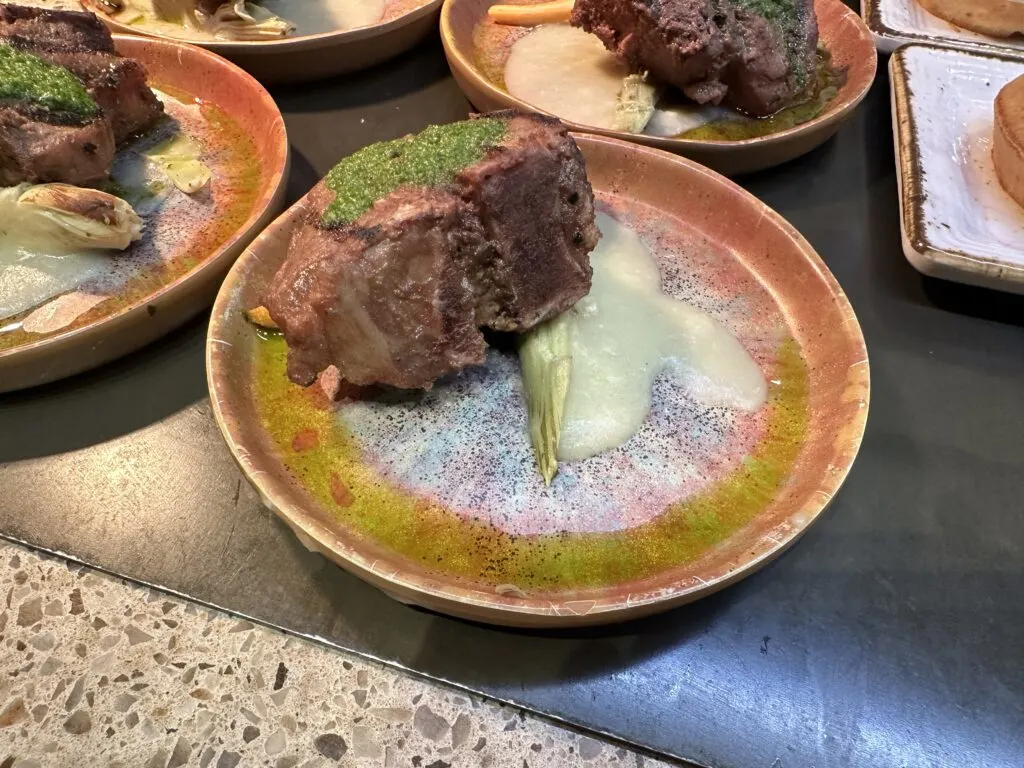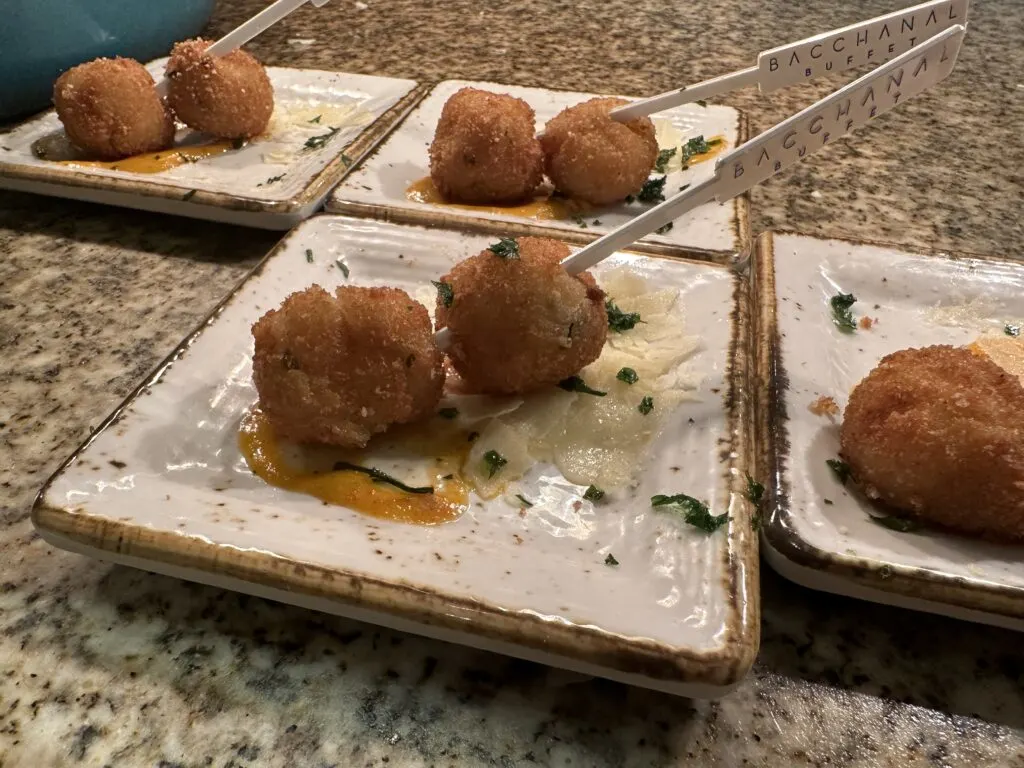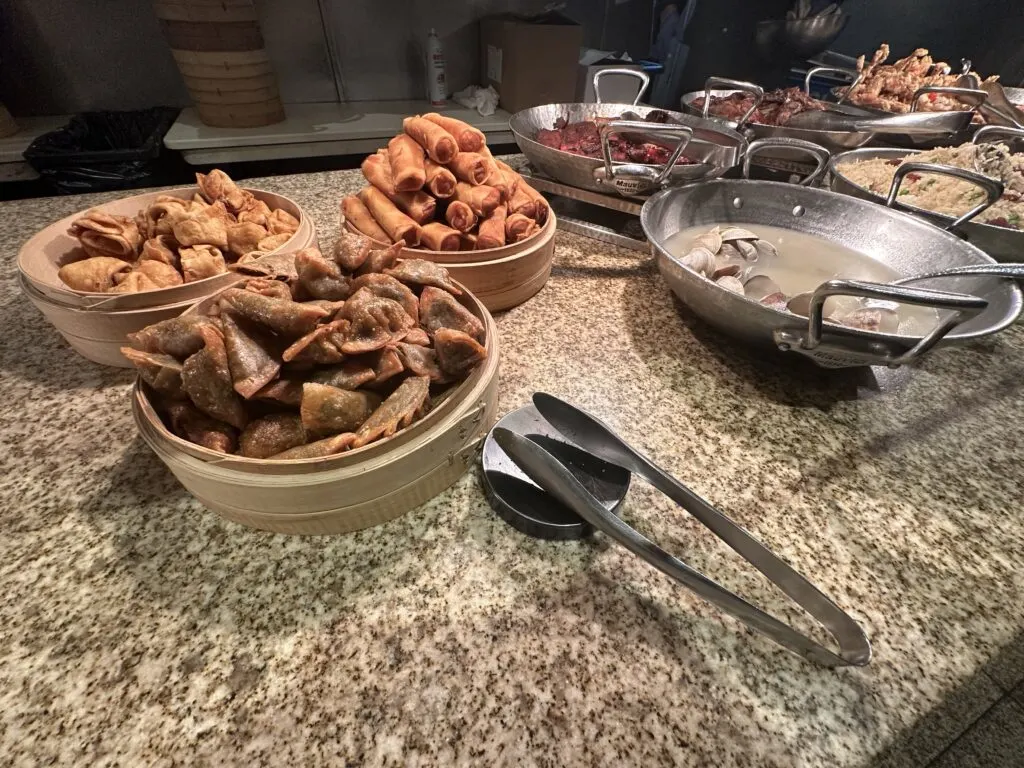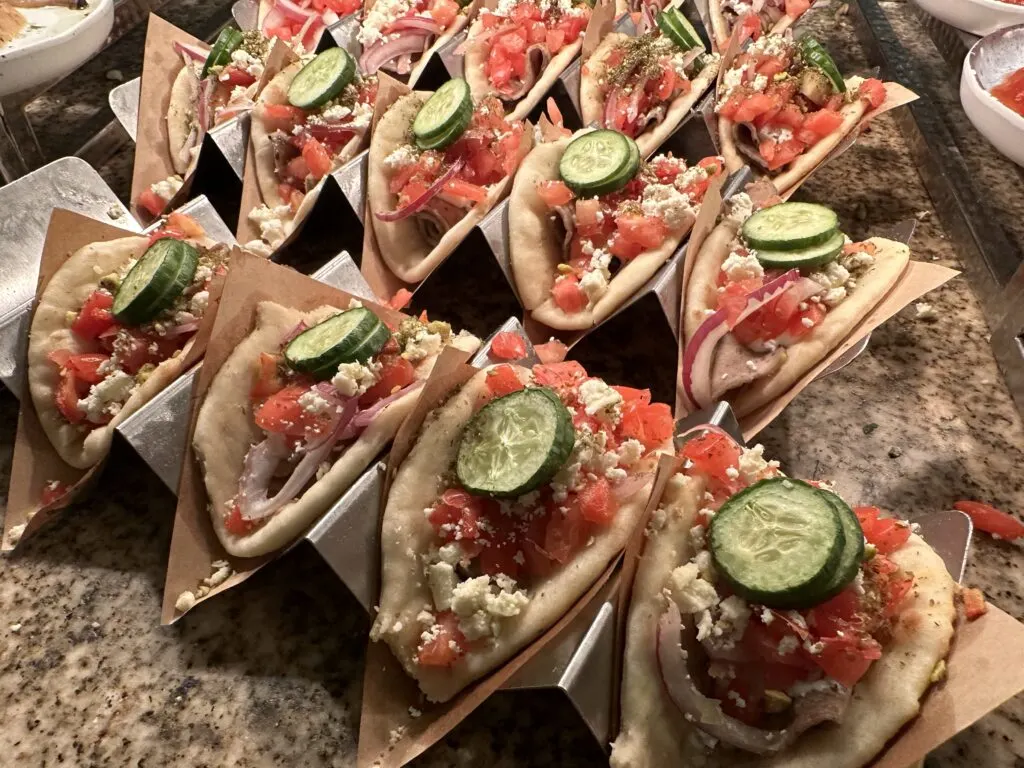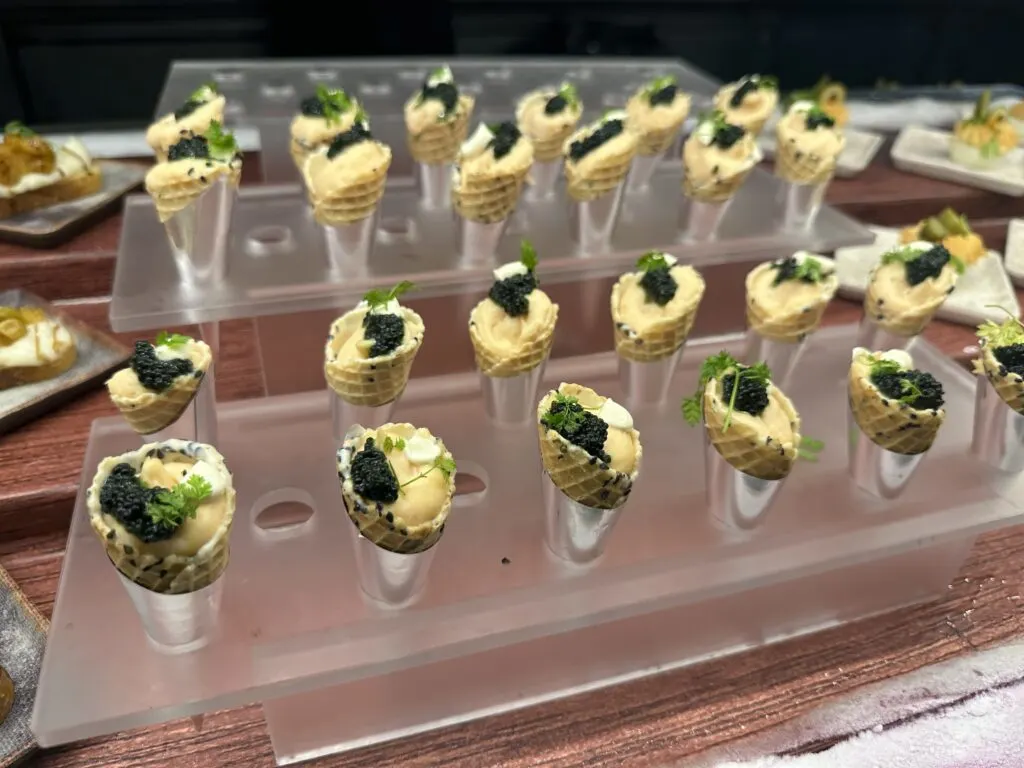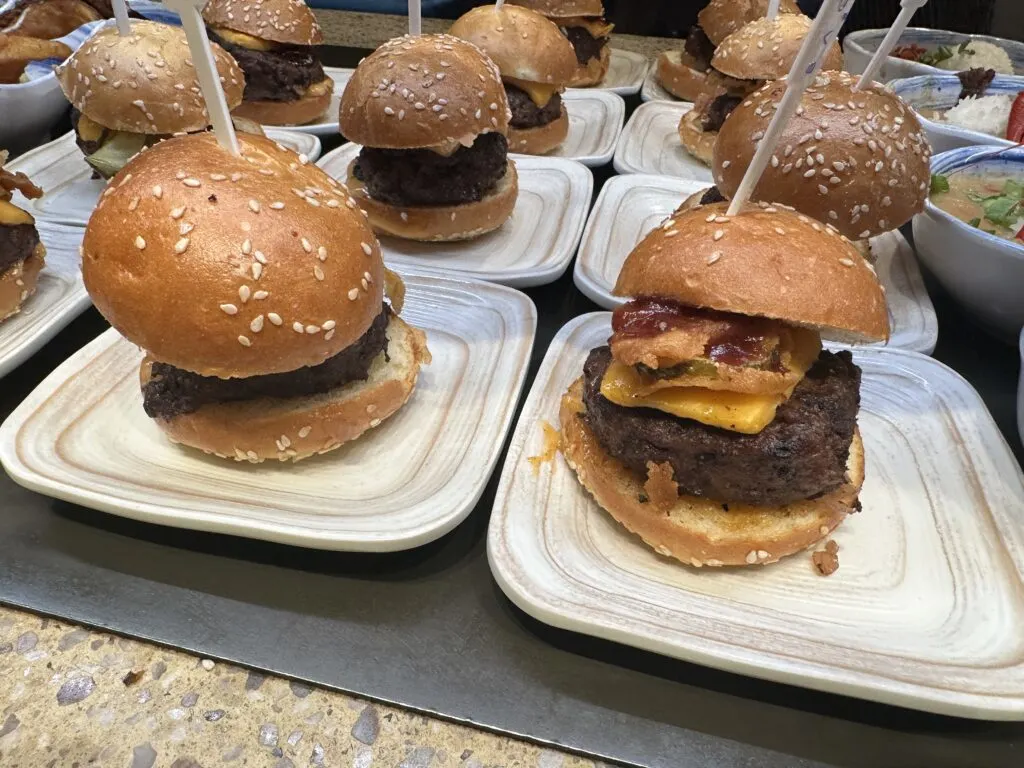 Is Bacchanal Buffet Worth the Money?
Even at the buffet's elevated price point, Bacchanal is worth spending up for.
From a quality perspective, the buffet ranks as the best in Las Vegas, a hair ahead of other top options like The Buffet at Wynn, The Buffet at Bellagio, and Wicked Spoon at Cosmopolitan.
The buffet's sheer variety is unmatched – Dishes are available from around the globe and range from basic (pizza, pasta, etc.) to adventurous and hard to find (fried octopus, bone marrow, lamb t-bone, etc).
The live-action stations are truly special, and I found myself eating way too many of the Quesabirria Tacos, which were made with braised beef, a corn tortilla, Oaxaca cheese, cilantro, and onion.
Ultimately though, the answer to whether or not Bacchanal is worth it boils down to what you're looking for. If you're seeking a meal that offers a wide range of high-quality options, then this could certainly be for you.
While I tend to be a buffet eater who focuses on the "heavy hitters" like prime rib and crab legs, Bacchanal's other dishes are so compelling that I found myself branching out much more than normal.
I wholeheartedly endorse the Bacchanal Buffet at Caesars Palace to anyone looking for an upscale all-you-can-eat option while in Las Vegas. Yes, the price tag may be on the high side, but there's a darn good reason for it.
On the flip side, if quality isn't as important to you, and you're content with decent, less original food options, I'd consider cheaper options like the Buffet at Luxor, Buffet at Excalibur, or Buffet at MGM Grand where you can save $20 – $30 per person when compared to Bacchanal – They won't blow you away, but they'll do the trick.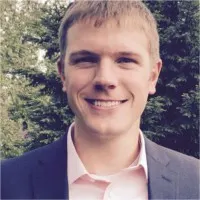 I'm a former software salesman turned Vegas aficionado. While the craps table is my preferred habitat, I pull myself away to explore new attractions, shows, restaurants, and outdoor activities around Las Vegas with the intent of sharing my experiences.
Ultimately, I just want to help folks plan a better trip and save a few bucks in the process.