Key Points:
Park MGM's hotel isn't one that blew me away, however, it's become one of my favorite budget-friendly options in Vegas.
The room was stylish, clean, and comfortable while lacking the "bell & whistle" amenities you'd find at upscale properties.
The only smoke-free property on the Strip, Park MGM also offers a wide variety of dining options – Eataly being my favorite.
Formerly Monte Carlo, Park MGM metamorphosized into its current form as part of a $550 million rebranding project that wrapped up in 2019.
In addition to renovating and refreshing guestrooms and common areas, Park MGM added an exciting lineup of dining options that include Bavette's Steakhouse, Best Friend, and Eataly, which has the feel of an Italian street market.
Notably, Park MGM is currently the only smoke-free casino in Las Vegas, which either adds to its appeal… or dissuades you from staying there, depending on your perspective.
Park MGM has always intrigued me as a mid-tier hotel option that's nicer than the likes of Excalibur and Luxor, but not quite at the level of resorts like Bellagio, Aria, and Vdara.
I recently had a chance to stay in one of Park MGM's baseline King Rooms for the first time since the resort's rebranding and look forward to sharing my experience along with plenty of pictures!
The room was complimentary due to my gaming activity within the MGM Rewards program, however, I was still on the hook for the $39 resort fee + tax.
Park MGM Las Vegas Check-In Experience
As I always espouse, the check-in process at resorts under the MGM umbrella is a thing of beauty.
I was able to check-in a day early via the MGM Resorts phone application and was told that I'd be alerted when my room was ready the next day.
Fast forward to the next day – Park MGM emailed me at about 1 pm, letting me know that my room was ready and that my room key was now accessible from within the phone app.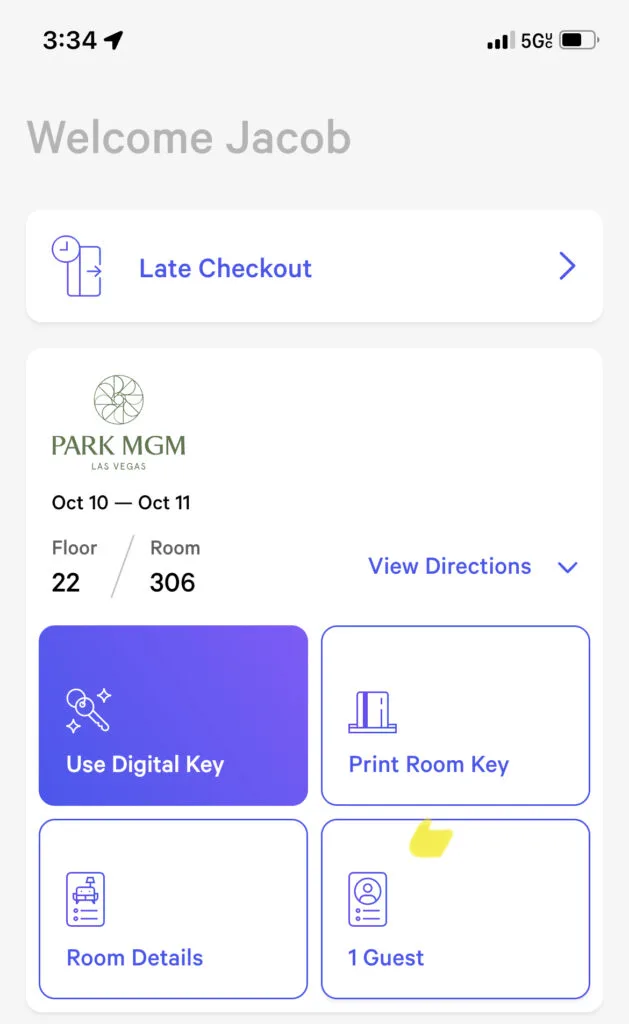 I was able to walk right up to my room without ever waiting in a line, interacting with a person, or punching information into a kiosk.
Seriously, seamless.
Park MGM Common Areas
I always like to take note of the condition of common areas before getting to my room as they usually hint at what I can expect to find inside.
As you'd expect, Park MGM's common areas still shined following the renovation work. The hotel lobby (below) is a stunner, and is certainly unique.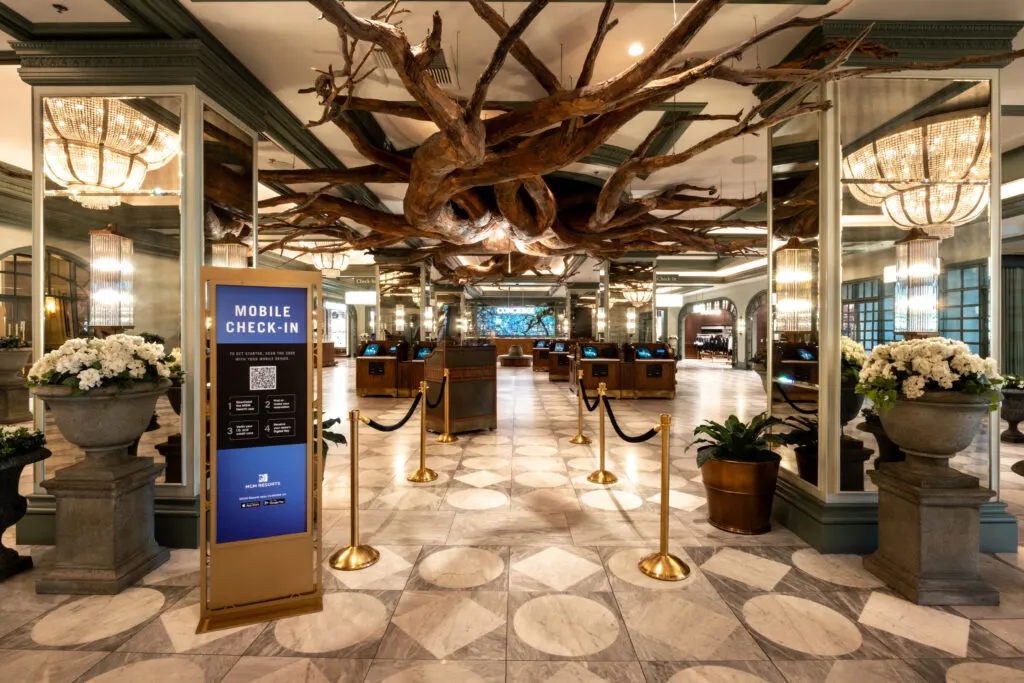 The elevator lobby and hotel hallways were a bit of a letdown on the "bells and whistles" front compared to the lobby, but were in great condition and felt classy enough. No real "wow factor", however.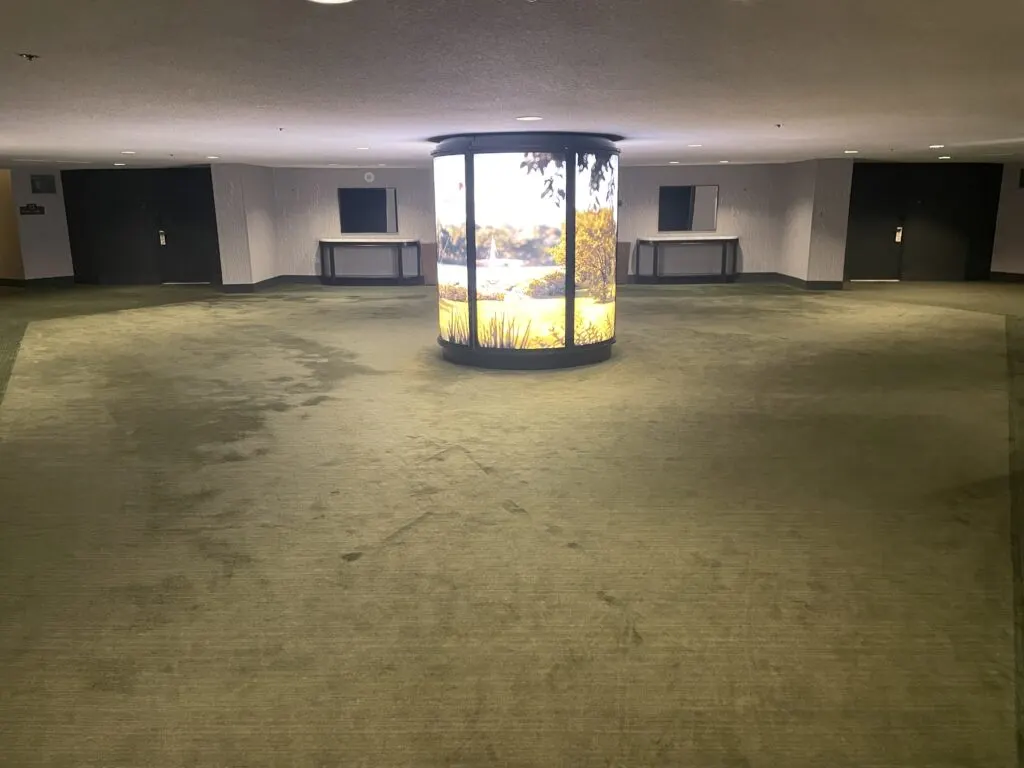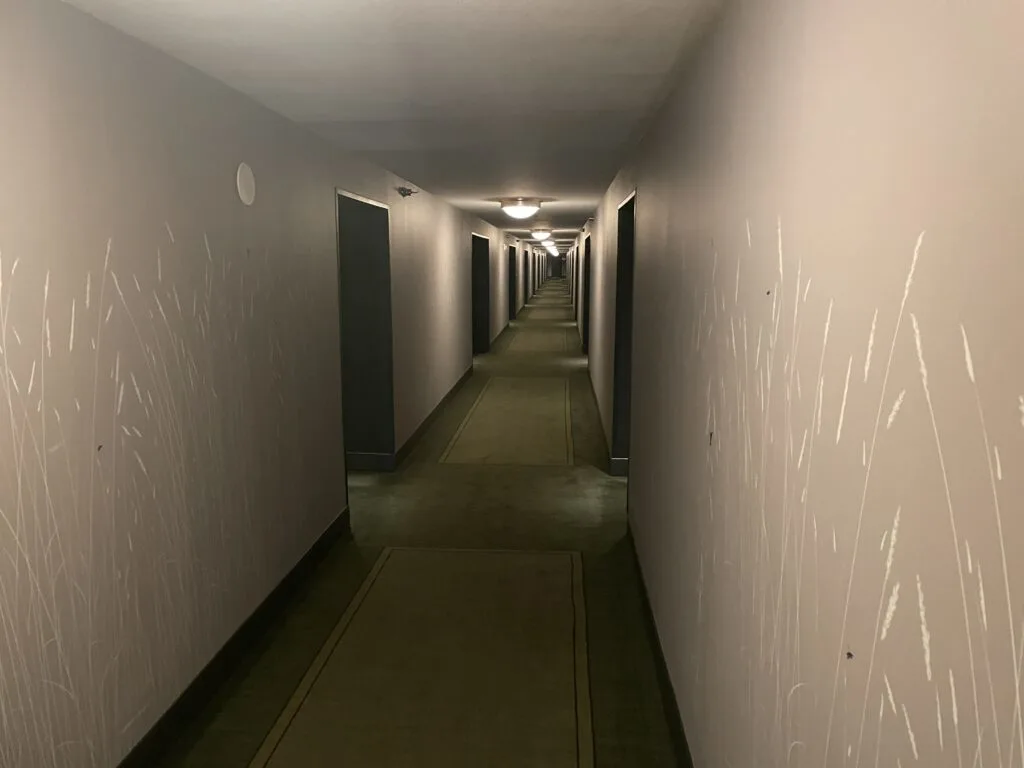 Inside My Park MGM Las Vegas King Room
I know there are competing schools of thought and plenty of opinions regarding the rooms at Park MGM, but I was immediately impressed by the decor and overall "vibe" of the room.
The red accent walls popped and random photos lined the walls. I found the wall art to be interesting, different, and a departure from the bland pictures you find at so many Las Vegas resorts.
The room didn't exactly feel spacious although it weighs in at a pretty standard 406 square feet, and the layout was certainly… unique…
Here are a few first-impression pictures: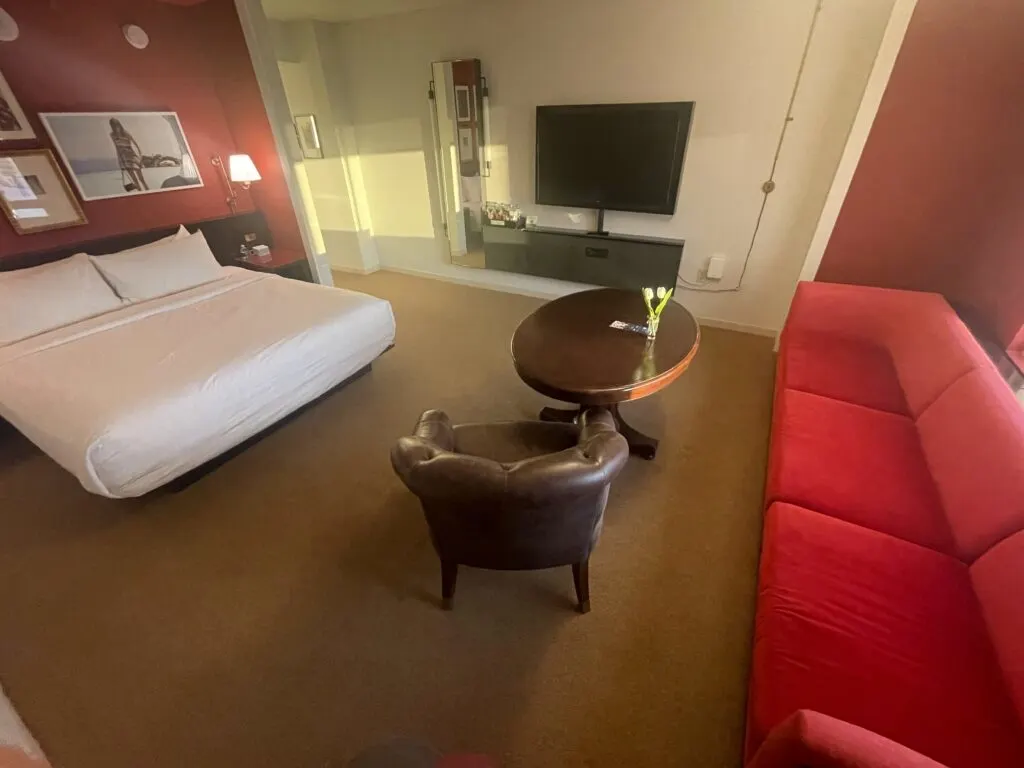 An immediately noticeable quirk of the room was the viewing angle of the TV from both the bed and the couch.
While the TV could swivel back and forth, it wasn't able to get to an ideal angle for people sitting on either, unless you were laying on the couch facing the TV, or sitting in the brown chair pictured below.
It's almost as though the room designers ran out of space for the TV and had to punt by sticking it all on the one wall that was open.
I don't mean to say that the TV is unwatchable, it's just not in an ideal position.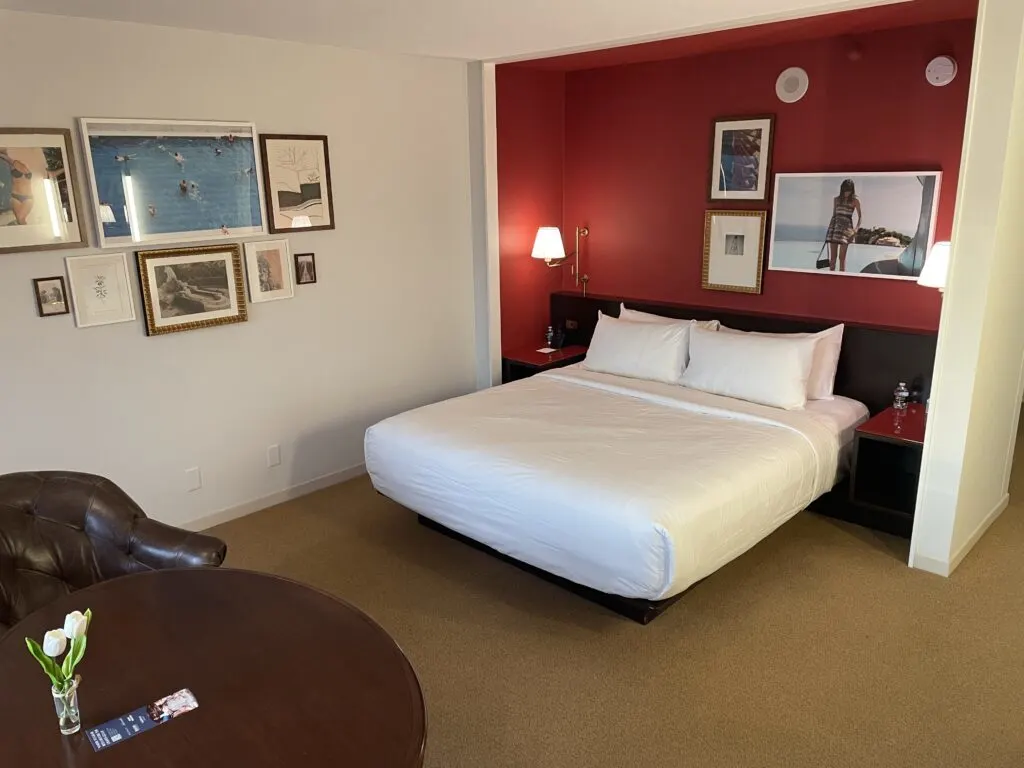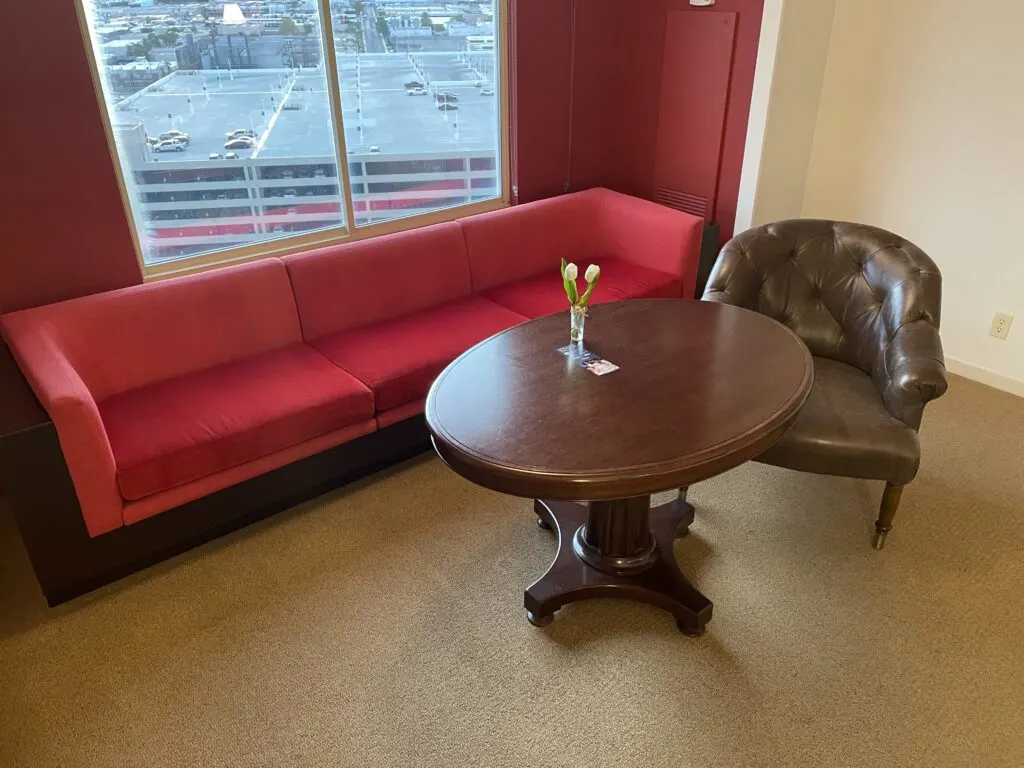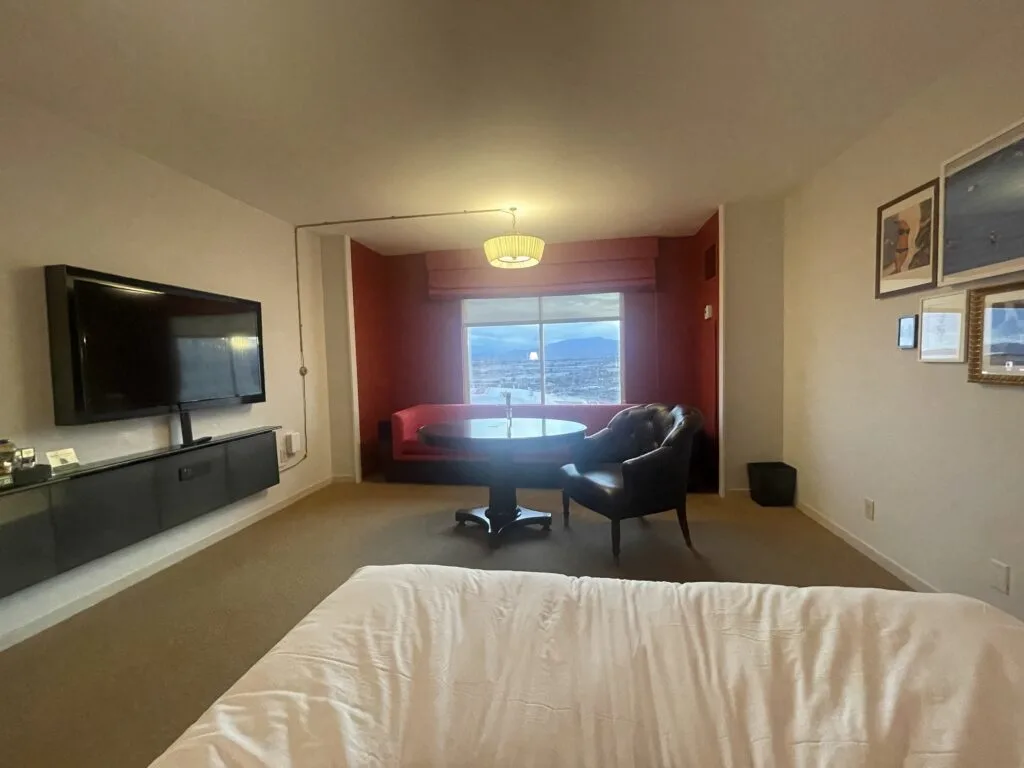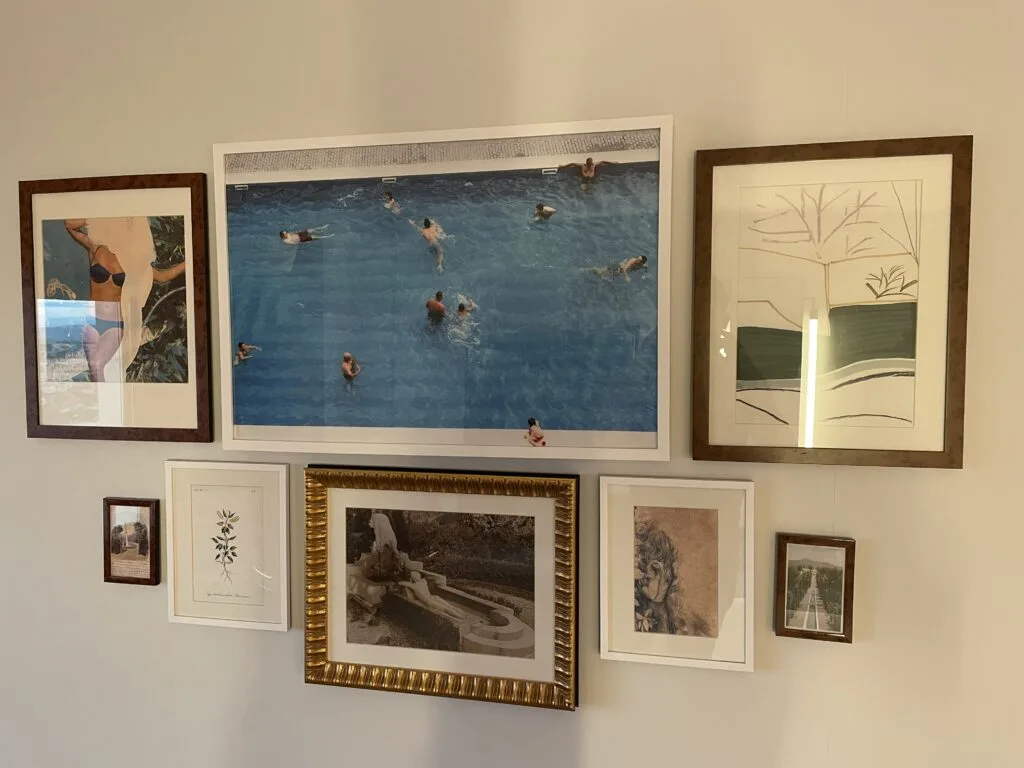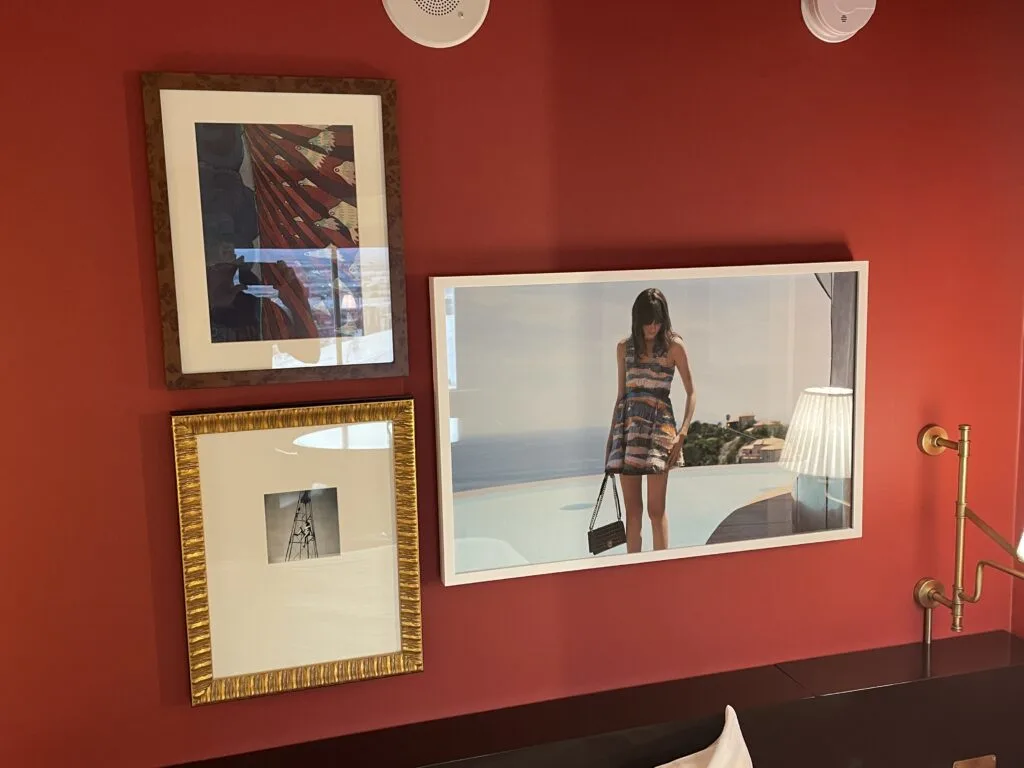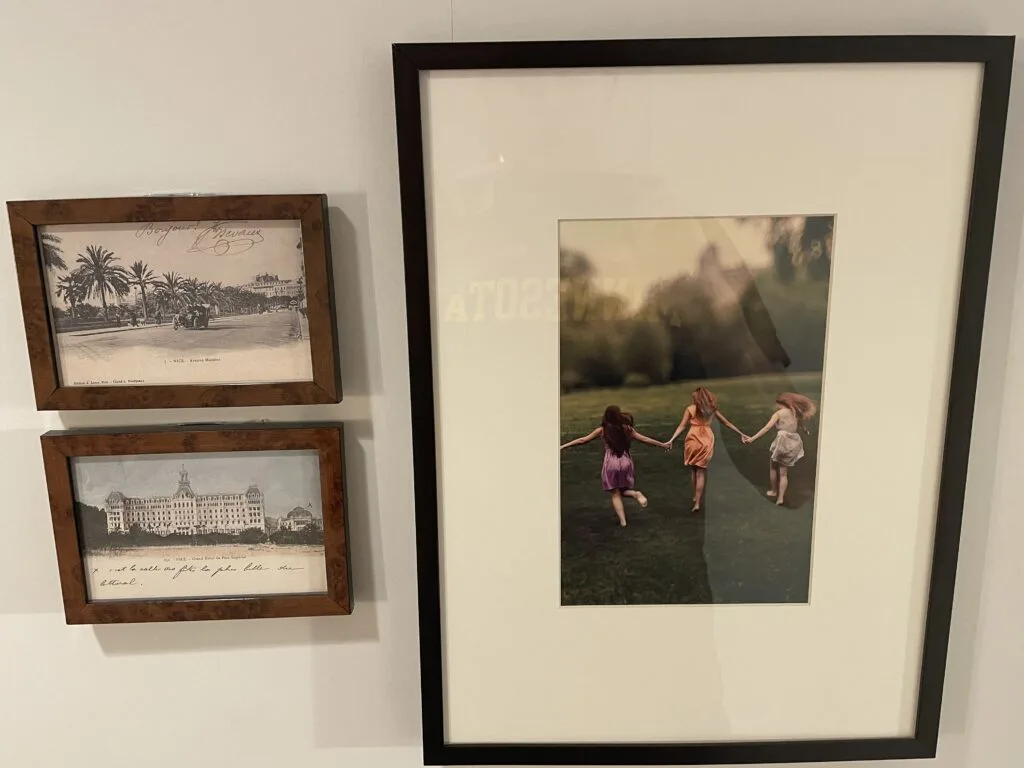 Storage was limited to a few hangers and a skinny dresser with 4 drawers in the closet.
Also found in the closet was also an iron, ironing board, safe, ice buckets, and 2 drinking glasses.
The dark brown leather chair found in the living area was a nice decor touch and exuded an upscale vibe. As mentioned, it was also the only chair in the room that gave you a straight-on view of the TV.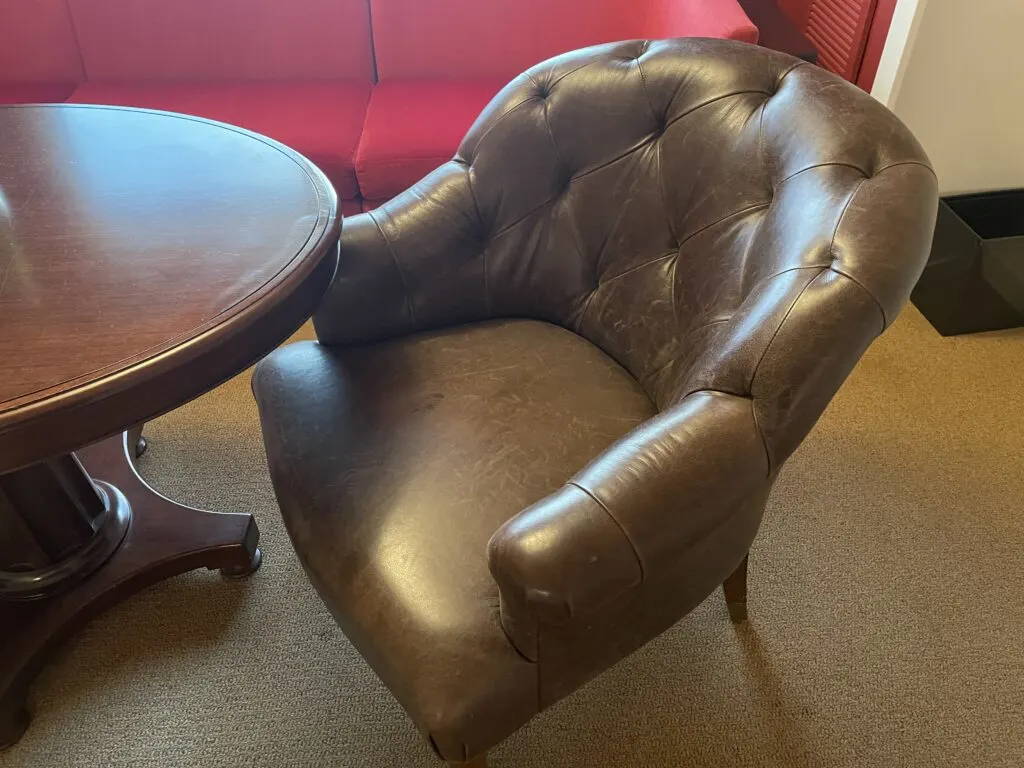 Flanking the bed were two accent tables that had both traditional power outlets and USB charge ports.
Atop one of the tables was a white noise machine that could play the sounds of rain, a brook, thunder, an ocean, a summer night, or static.
Atop both bedside tables were small reading lights.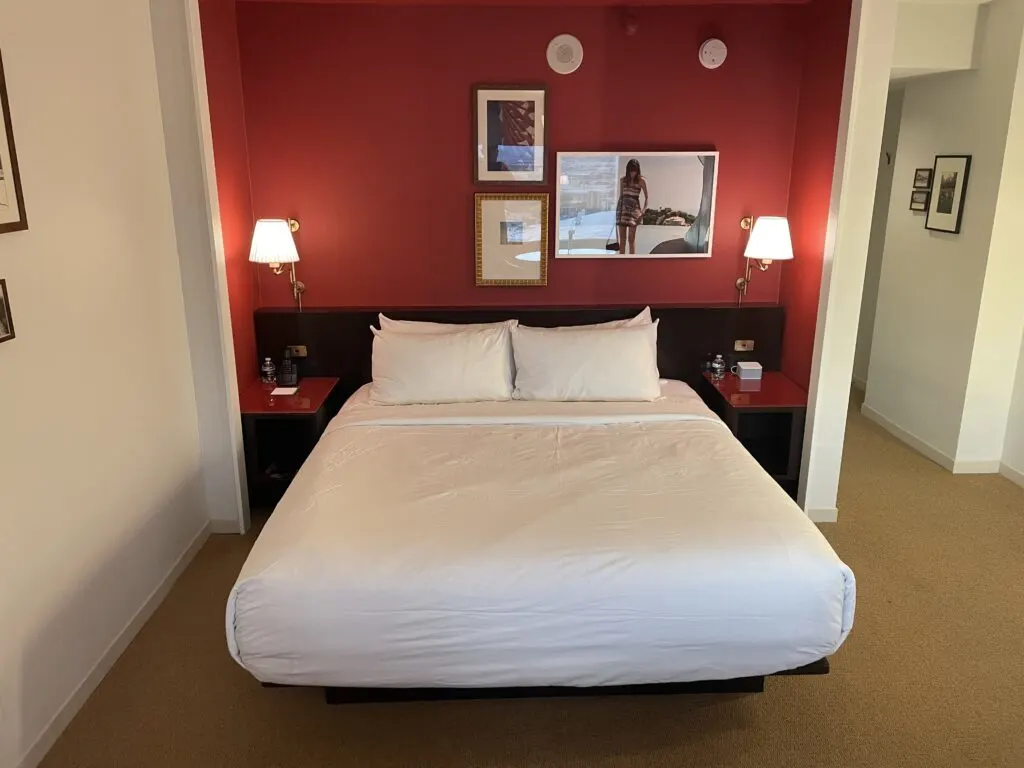 Aside from the white noise machine, there weren't any other unique amenities or advanced technology that you sometimes find in modern hotel rooms.
Although the room lacked any "above and beyond" amenities, it felt clean, modern, and of good quality. Honestly, this is a budget hotel room done right.
The bathroom's focal point was a red tile shower contrasted with white grout that had a really unique look.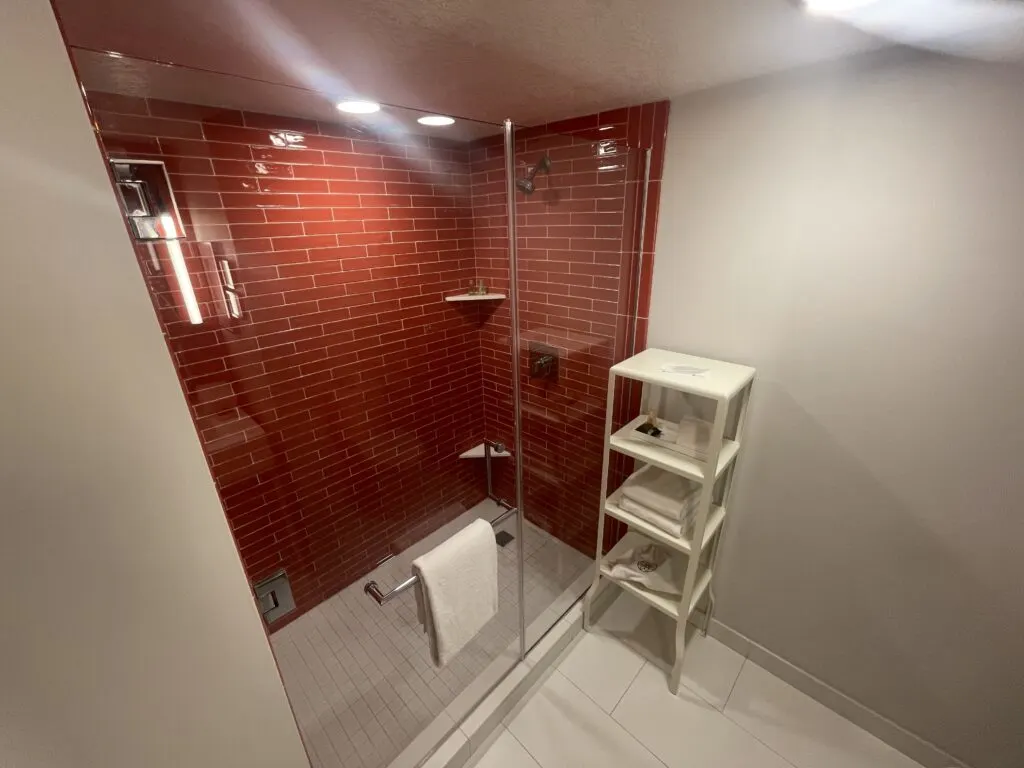 Across from the shower was a single sink vanity, a backlit mirror, and a towel rack.
In addition to the standard soap, shampoo, conditioner, and lotion typically found in hotel bathrooms, I was surprised to find a travel toothbrush, toothpaste, scope mouthwash, shaving cream, and a razor on the counter. A nice touch, and a first that I've seen in Las Vegas.
Like the room, the bathroom felt basic, but nice, and of good quality.
Dining at Park MGM
I ate one meal at La Macelleria during my stay, and I feel the experience is worth sharing.
La Macelleria is a butcher shop & kitchen within Eataly. There, I selected a raw ribeye steak (which cost $39), and let them know how I wanted it cooked, and they grilled her up right in front of me.
Within ten minutes, I was chowing down on the masterpiece pictured below along with that massive cheesy baked potato (which was an additional $19).
Both were great, although the chunks of bacon on the potato were so hard I almost cracked a tooth.
If you're looking for an affordable, quick, and really good steak, check it out!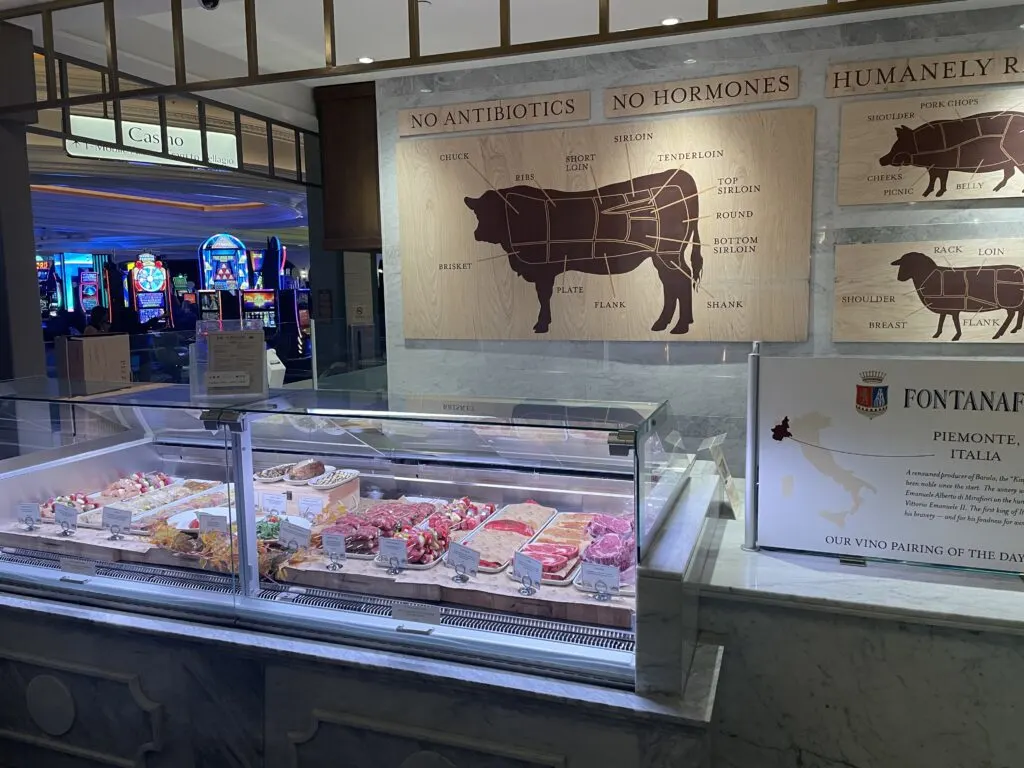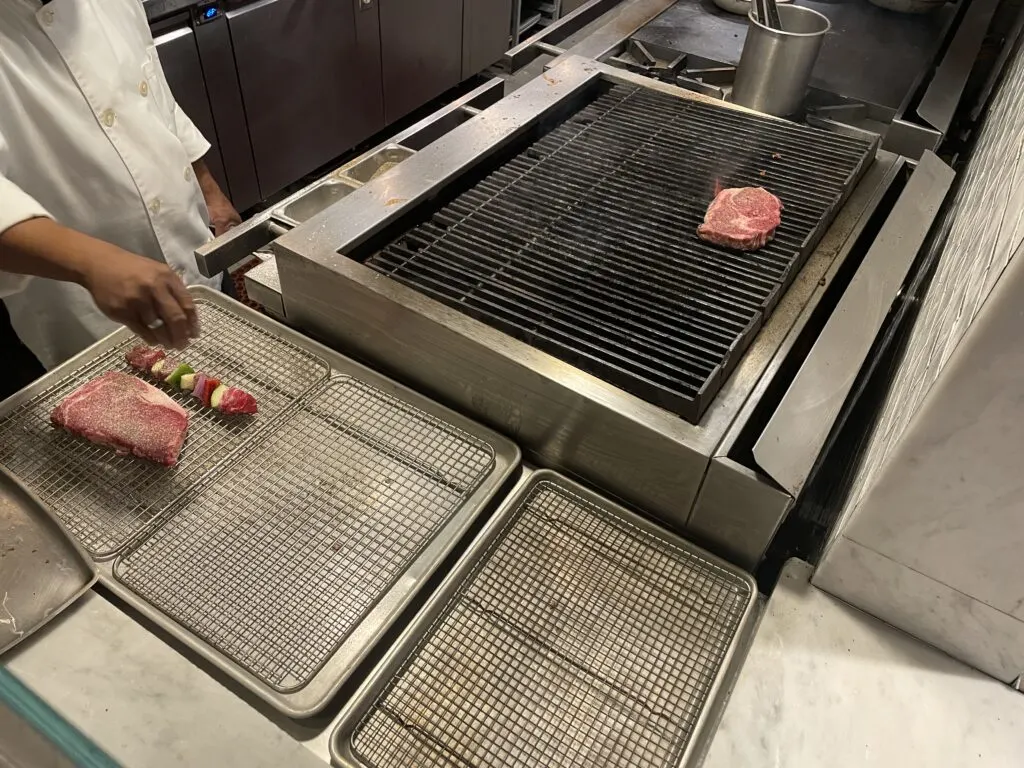 Free Transportation
Uniquely, Park MGM offers a free tram that connects the resort to Aria, Bellagio, and the upscale Crystals shopping mall.
While limited in scope, the free tram certainly helps you save a few steps!
It's easy to use, just hop on and off 7 days per week.
What's Not to Like?
Dusty Table: When I review hotel rooms, I scour the place, hunting for hairs, stains, scuffs, etc. Although this was an exceptionally clean room, I did notice that the coffee table hadn't been dusted in some time.
Fortunately for the clean freaks among us, this was the room's only real cleanliness infraction.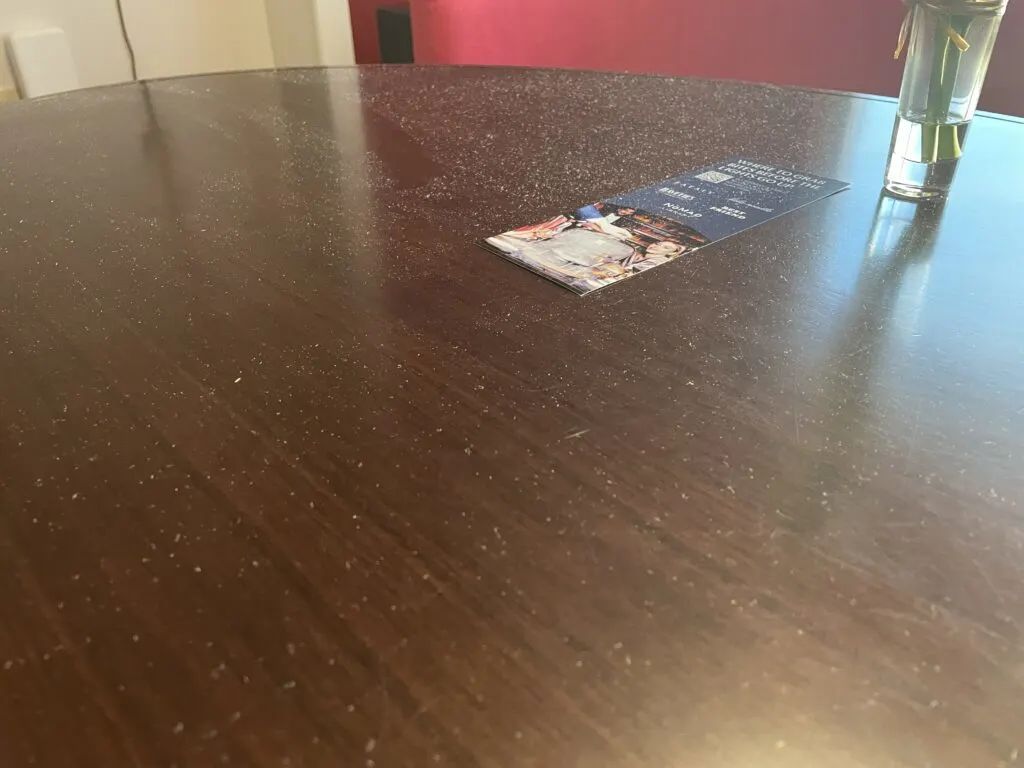 No personal fridge: The absence of a fridge with space for personal items is always a bummer for those that like to stock the room with cheap cocktails (slowly raises hand) purchased at CVS or Walgreens.
No real bells & whistles: Aside from a white noise machine and USB ports near the bed, the room didn't have any real signature amenities beyond stylish decor.
Odd bed to TV angle: As I mentioned, the TV was in an odd spot on the wall and didn't offer quite enough swivel to be easily viewed while sitting on the bed or from the couch.
Is the Park MGM King Room Worth the Money?
Although it's not a room that'll blow your socks off with luxury and unique amenities, I think Park MGM is my favorite budget-friendly hotel in the MGM Resorts family.
The room simply felt nice, classy, polished, and clean. The red accents were unique, and the shower was impressive.
While some argue that Park's hotel decor gives rooms a "blah" or "non-Vegas" feel, I found the room to be unique and visually appealing.
The room layout was less than ideal for TV watchers, but it's not something I minded.
The couch, table, and leather chair in the small living area made for a decent spot to hang out and chat or have a drink before heading out for the night, even if the couch didn't face the TV.
Commonly priced just a tad higher than lower-tier resorts like Luxor or Excalibur, Park MGM is a no-brainer in comparison and worth spending a few extra bucks for.
Park MGM is a far cry from high-end options like Aria and Bellagio, but it does a nice job of finding the middle ground between those upper-echelon resorts and those in the lowest tier.
Ultimately, this is the perfect room for those that want to book a fresh, stylish, clean, and quality hotel room without breaking the bank. If that's you, then book with confidence.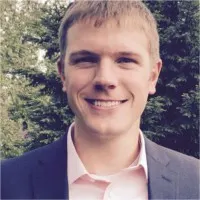 I'm a former software salesman turned Vegas aficionado. While the craps table is my preferred habitat, I pull myself away to explore new attractions, shows, restaurants, and outdoor activities around Las Vegas with the intent of sharing my experiences.
Ultimately, I just want to help folks plan a better trip and save a few bucks in the process.