Located right in the middle of the Strip, Caesars Palace is an ideal "home base" for any trip to Las Vegas.
Not only is the resort within walking distance of countless attractions, dining destinations, and other resorts, but there's an abundance of things to do at the property.
At Caesars, you're able to see one of the best shows in Las Vegas – "Absinthe", catch a concert at the Colosseum, stroll through the themed Forum Shops, catch the big game in one of the best sportsbooks in Vegas, eat at the outstanding Bacchanal Buffet, swim in the sprawling Garden of the Gods pool complex, or try your luck in their sprawling casino.
I've stayed at Caesars on numerous occasions, most recently in a Julius Tower Studio Suite, and I appreciate how many different "flavors" of hotel experiences they offer depending on which of their 6 hotel towers you stay in.
On this trip, I intended to stay in one of their baseline Forum Classic Rooms, which is their cheapest accommodation but was automatically upgraded at check-in to an Octavius Premium Room instead. I'll take it!
The room was complimentary due to my casino play within the Caesars Rewards program, however, I was still on the hook for the $45 nightly resort fee + tax.
Let's take a peek inside the room, shall we?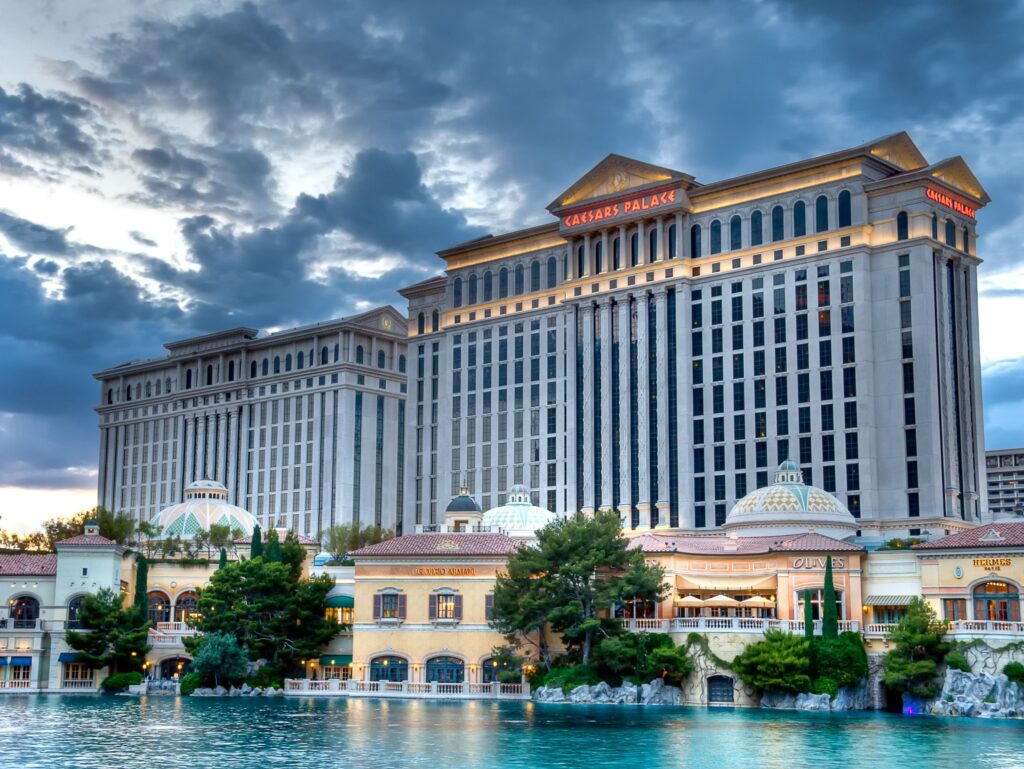 Caesars Palace Check-In Experience
I arrived at the resort well in advance of their standard 4 pm check-in time and attempted to check-in.
Although a room was available, Caesars charges an early check-in fee of $55. I chose to wait until the standard check-in time.
This is one area where Caesars as a chain comes up short of its main competition on the Strip, MGM Resorts.
Not only does MGM allow you to check-in remotely from your phone, but you're also alerted via email if your room is ready for you before the standard check-in time, even if you didn't pay in advance for guaranteed early check-in.
While I have never paid for guaranteed early check-in with MGM properties, I seem to get my digital room key assigned early more often than not, once as early as 7 am!
In this case, I did get an email from Caesars Palace at 3 pm, an hour before their standard check-in time letting me know that my room was available. I'll take the free hour.
At the resort, Caesars gives you the option of waiting in line to chat with a human representative or using an automated kiosk, which were numerous and had no wait.
I hopped on a kiosk and had my room keys printed in under 5 minutes.
Although this process was pretty seamless, I yearn for the day that Caesars offers mobile check-in and allows you to use your phone as the room key like resorts under the MGM umbrella do.
Caesars Palace Octavius Tower Common Areas
On the way up to the room, I always like to survey the condition of common areas like elevator lobbies and hotel hallways as they usually "set the tone" for your stay, hinting at what to expect.
In this case, I found the common areas to be well-lit, decorated, and in great condition.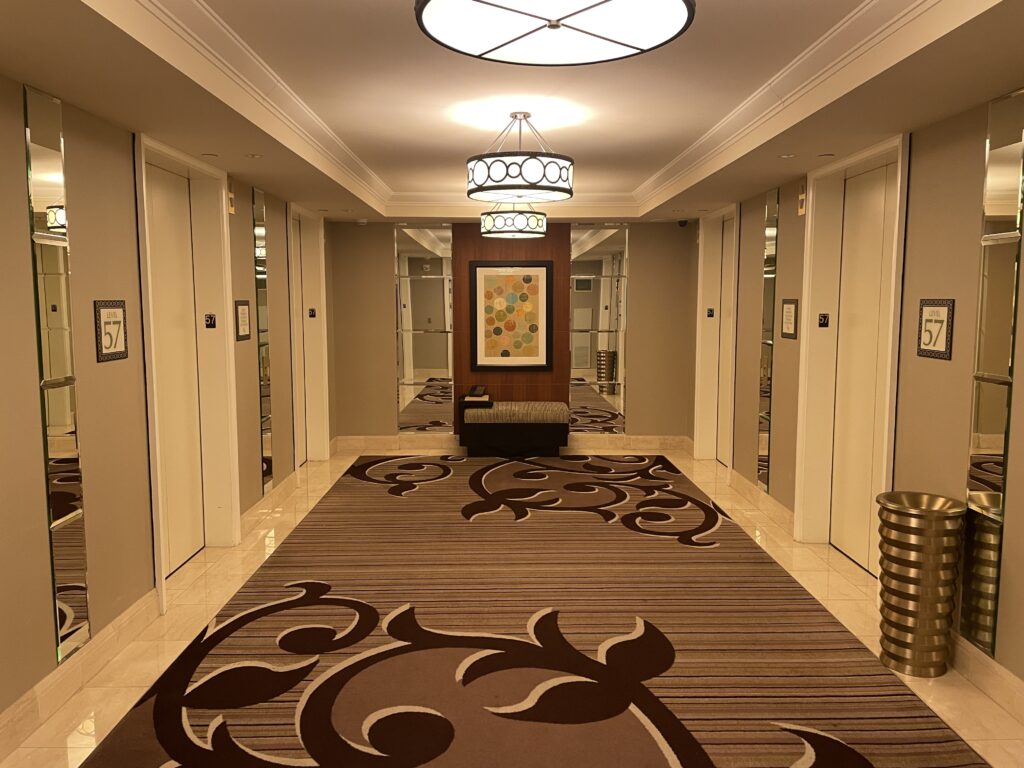 Inside the Palace Octavius Premium Room at Caesars Palace
Upon entering, my first impressions of the Octavius Premium room were solid.
While your typical hotel room in Las Vegas lands around 350-ish square feet in size, the Octavius Premium room offers significantly more at 550 square feet.
That additional space was put to use to accommodate a small living area, which offered a small sectional couch, table, and chair.
Here are a few images of the bedroom area: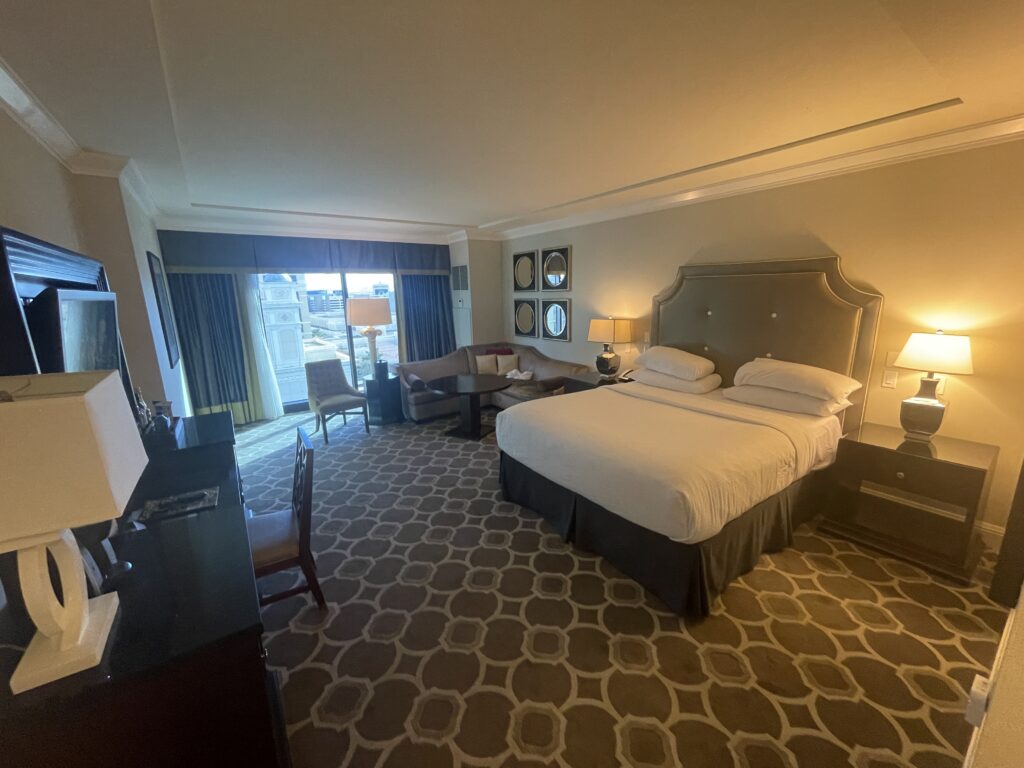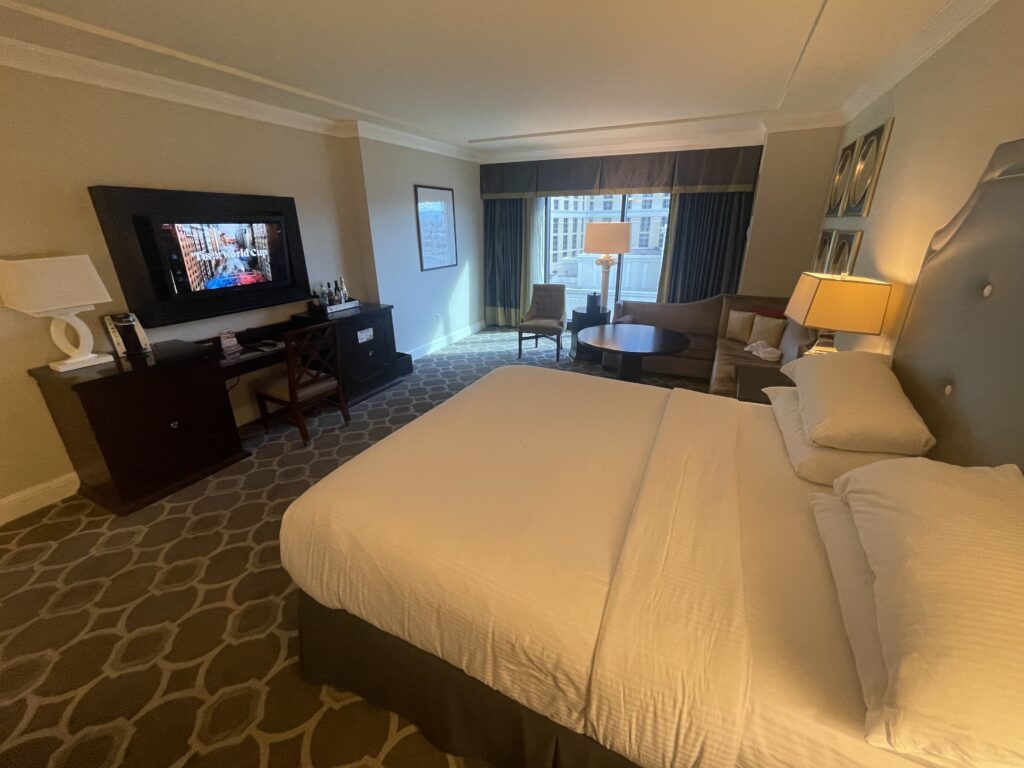 Amenity-wise, there was a wall-mounted TV atop a small work desk that was flanked by storage drawers on the left, and a small mini-bar fridge to the right.
Although purely aesthetic in nature, I appreciate the look of a wall-mounted TV that's framed in by trim that matches the furniture in the room. Classy touch.
Unfortunately, there was no personal fridge space available.
The room was both spacious and functional. The living area was a nice space to have and would be the perfect spot to kick back and watch the game you just bet, or settle in to relax after a long day on your feet.
The bathroom also felt roomy and boasted a dual vanity, good sized shower, a separate water closet, and a jetted tub – A rare amenity in Las Vegas hotels.
I found the bathroom to be impressive from a design perspective, with unique striped tile work, black granite countertops, and plenty of mirrors. It just looked nice.
What I enjoyed most about the bathroom was the shower pressure. Now, I've stayed in a LOT of hotel rooms in Las Vegas, but this one easily qualifies as having the best water pressure.
Take a look: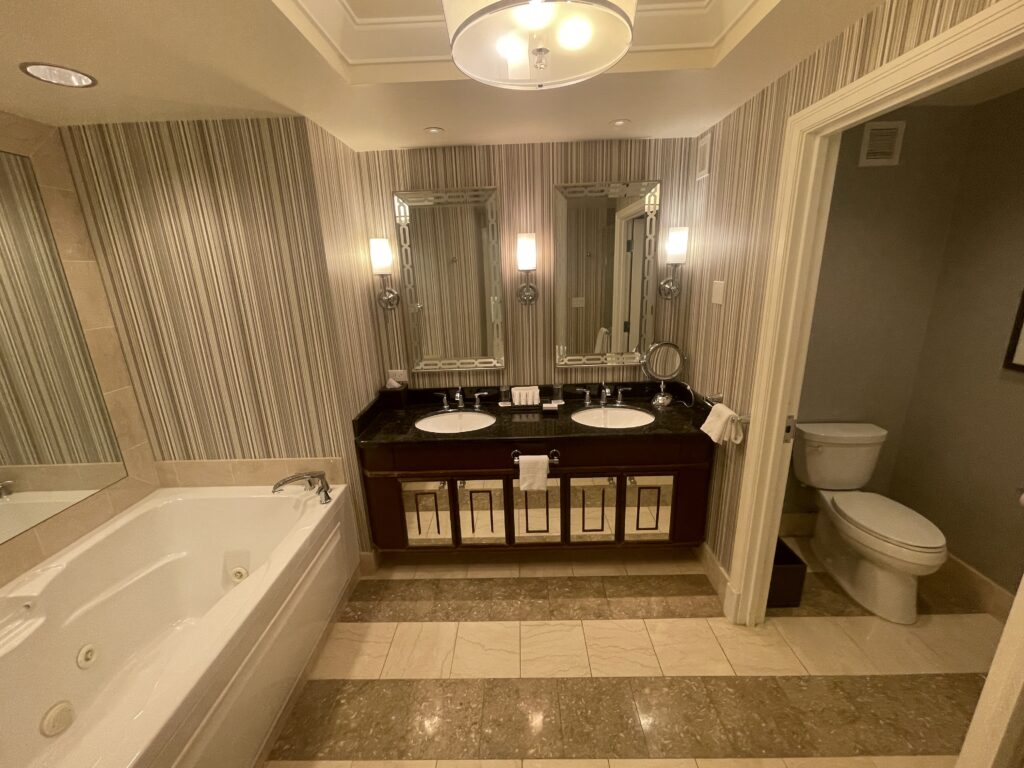 What's Not To Like?
It can't be all roses, can it? Here are a few deficiencies that I stumbled across.
A K-Cupless Keurig: While I was excited to find the room appointed with a Keurig machine, I was disappointed to learn there were no K-Cups provided… They weren't even offered in the mini bar oddly.
It's still a nice perk, even if you need to trek to CVS to get K-Cups, but would be a homerun if they offered a few per day.
A random pillowcase: This made zero difference in my stay, but when I first arrived I found this random pillowcase sitting bunched up on the couch. Kind of strange. The rest of the room was impeccably clean, however.
Beat-up bathroom vanity & furniture: From a distance, the room looks great, but as you got closer to certain furniture items, flaws became pretty apparent.
The bathroom vanity was really scuffed up and water damaged. Additionally, wooden strips on the mirrors that once made a rectangle were missing and never replaced.
Scuffs were also pretty prevalent on the base of the work desk below the TV in the room.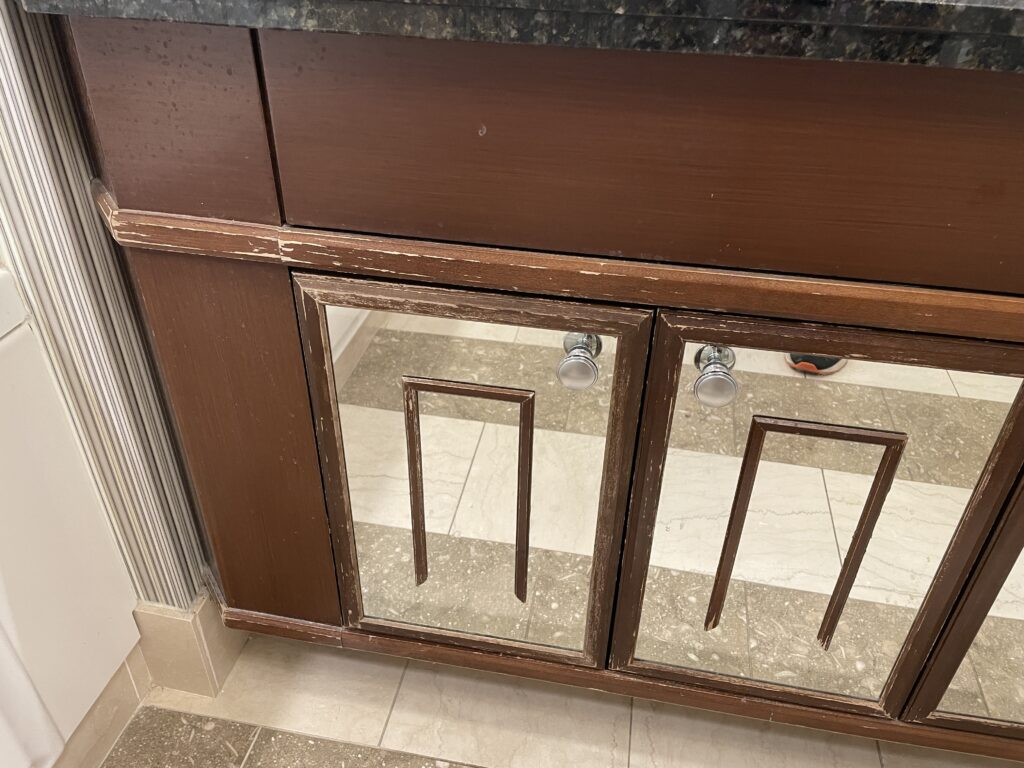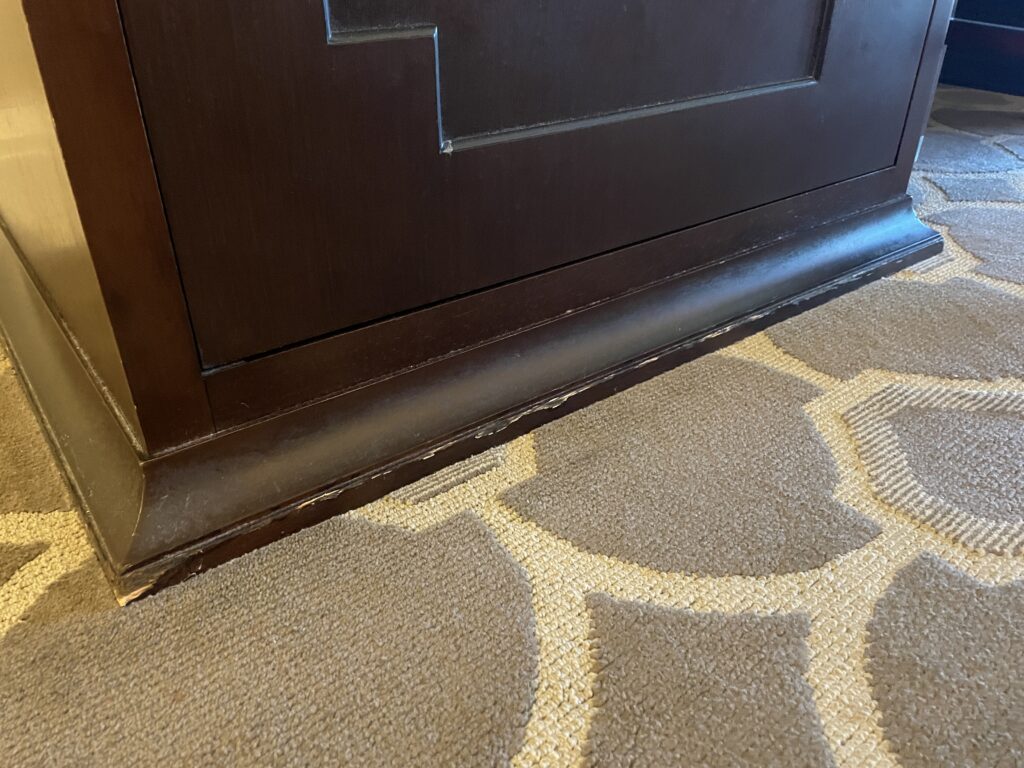 A few wall scuffs & stains: Although this was a clean hotel room, there were a few visible stains and marks that clean freaks may want to be aware of, pictured below.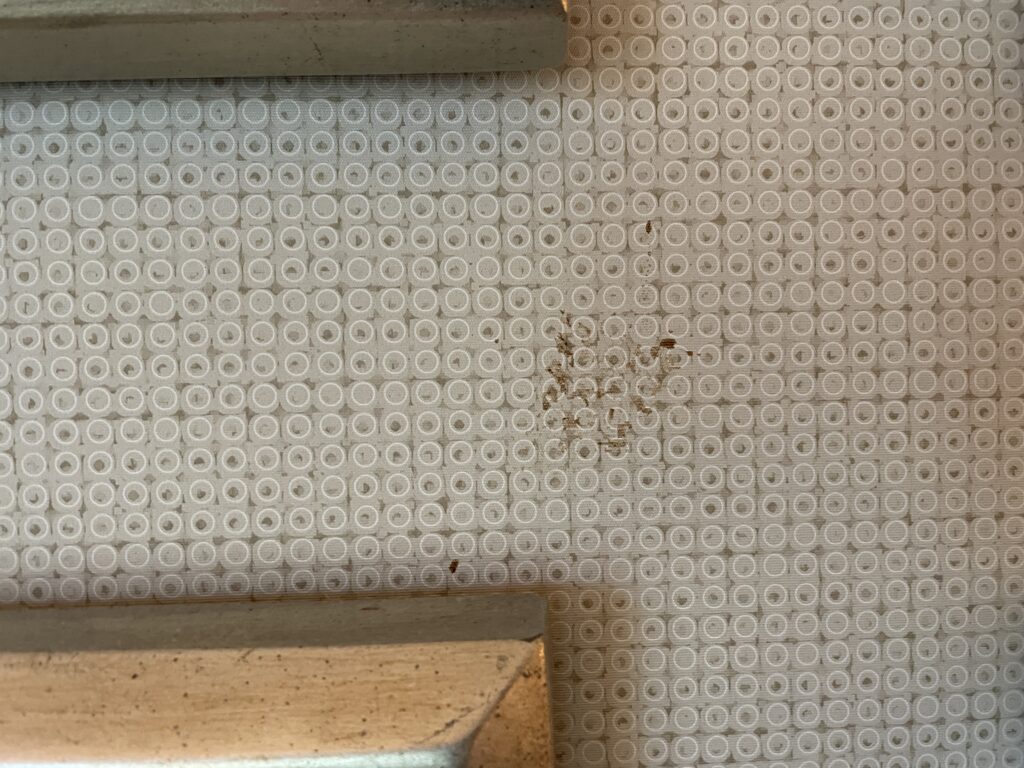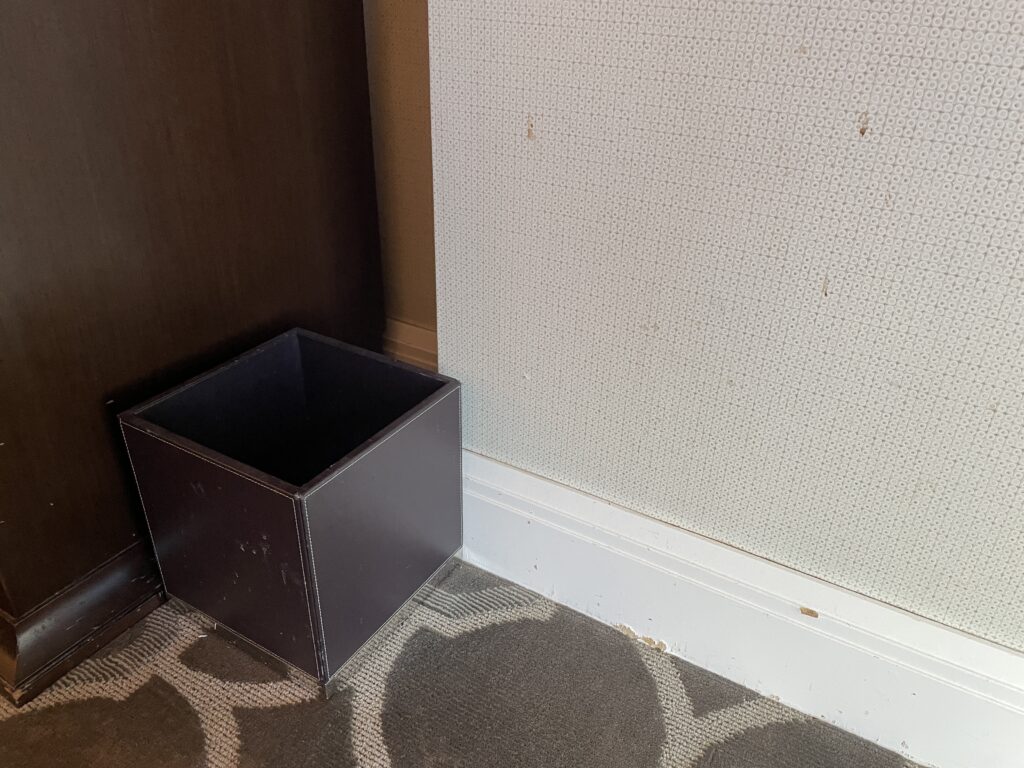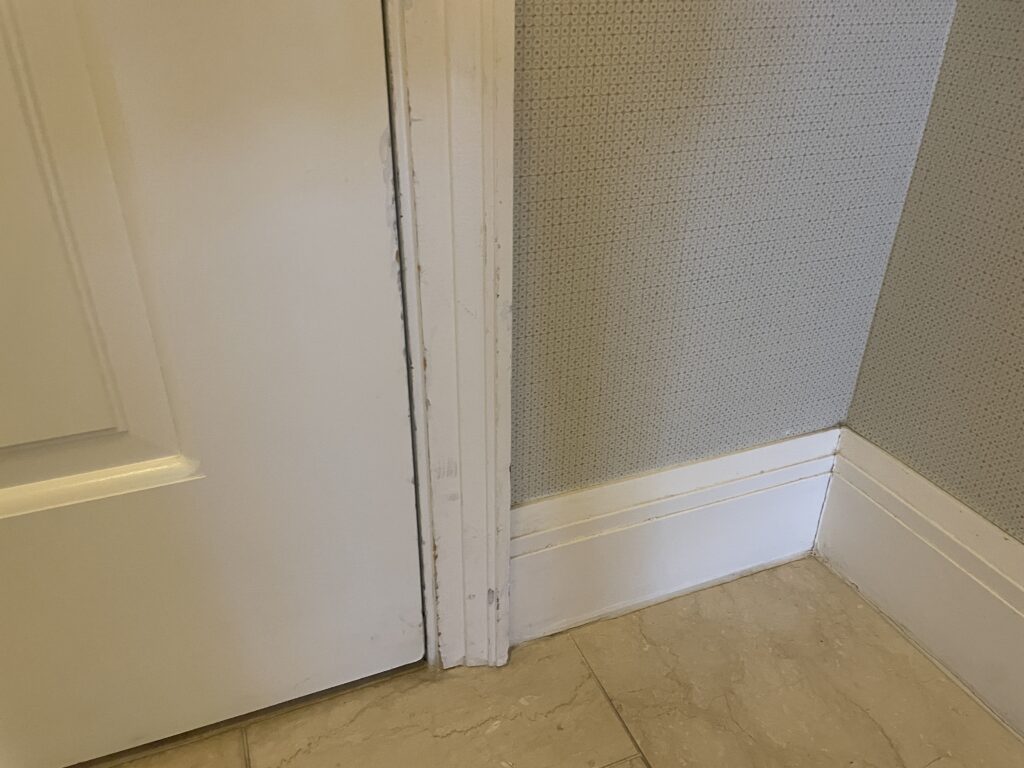 Is an Upgrade to an Octavius Room Worth It?
I found this to be a spacious and visually appealing room. First impressions were strong and it just had a classy look.
The additional square footage and small living area were a nice touch that makes the room more functional for folks that enjoy kicking back and relaxing in the room from time to time.
At first glance, the bathroom was impressive. The striped tile work popped and a jetted tub is a rarity in Las Vegas. The shower was spacious and offered ample water pressure.
All things considered, I was happy with the room and my experience.
With that being said, wear and tear have taken a toll on furnishings and trim around the room, which was pretty dinged up and/or water damaged. To be honest, I expected better upkeep from an elevated room experience at an upscale resort.
Of course, it's entirely possible that the furniture and trim damage was limited to the room I was assigned, and not indicative of the rest of the tower.
While some dings on trim, etc. certainly didn't ruin my experience, it's likely enough to dissuade me from upgrading to this specific tower in the future, as I view other options at Caesars to be more appealing.
For instance, I'd personally opt for a room in Caesars' Agustus or Palace towers as they've been renovated more recently, offer similar amenities, and are priced comparatively on most nights.
Another option could be rooms in the Julius Tower, which I've found to be in great shape albeit smaller at 360 square feet.
I think it's important to point out that the Octavius Tower opened in 2012 and has yet to be renovated. I'd expect to see some action on that front in the near future as it's been over 10 years.
Overall, I'd consider my stay in an Octavius Premium room a success, but look forward to exploring other options at Caesars Palace in the future.
I'm a former software salesman turned Vegas aficionado. While the craps table is my preferred habitat, I pull myself away to explore new attractions, shows, restaurants, and outdoor activities around Las Vegas with the intent of sharing my experiences.
Ultimately, I just want to help folks plan a better trip and save a few bucks in the process.