When it comes to vacationing in Las Vegas, most shudder at the thought of a hotel without a casino on the first level. Honestly, that's one of the main reasons I've avoided the all-suite Vdara until my most recent trip. Essentially, I'm a degenerate that needs easy access to vices, and I perceived Vdara to be lame, boring, and bland.
Upon further review, however, I came to the realization that my concerns may be unfounded.
First off, Vdara is steps away, a 3-minute walk, from both Aria and Bellagio. You can be pecking a slot in no time if the urge hits.
Furthering my newfound interest in Vdara is the fact that their suites are among the few hotel rooms on the Strip that have a kitchenette.
I booked their Studio Parlor room specifically vs. their standard Studio because there's a partition in the upgraded room that separates the bed from the living area. A unique touch.
The room cost me $105.44 plus fees for a mid-week stay via MGM's booking portal.
It's important to note that I've always been a Caesars Rewards loyalist, and am only now building my relationship with MGM Rewards, MGM's loyalty program. If you've done any gambling at MGM Rewards properties, your rates would likely have been more advantageous.
I look forward to sharing my experience in the room below, with plenty of pictures and video.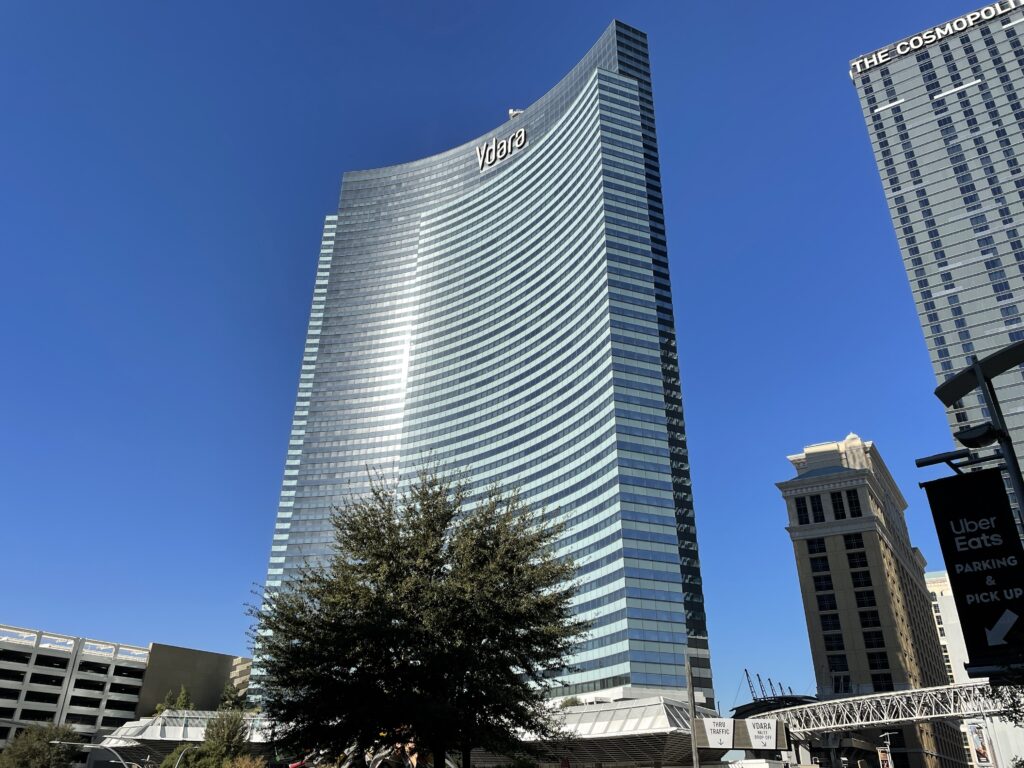 Vdara Check-In Experience
Seamless. Seriously.
MGM emailed me the day before my stay, encouraging me to check-in via their phone app. I did so, and they let me know that they'd alert me when my room was ready the next day. Once ready a digital key would be made available in the app.
Surprisingly, I was alerted at 10 am the day of my stay that my room was ready and that my digital key and room assignment could be found in the MGM phone app. I was able to head right up to my room without waiting in a line, talking to a person, or wasting a minute of my trip.
As I didn't pay for the privilege to check in early, granting access to my room that early in the day was a nice gesture.
Inside Vdara's Studio Parlor Room
My room was located on the 6th floor of the resort with an unimpressive view of Bellagio's back end, part of the High Roller, and the free tram station which ferries guests between properties.
I always like to evaluate a hotel's common areas prior to getting into my room as their condition is often reflective of what you'll find inside.
Studio Parlor Kitchenette
Upon stepping into the room, you're in the kitchenette which is made up of a microwave, mini bar fridge, empty fridge, stovetop, and sink with built-in garbage disposal. A kitchen like this is a rare amenity in Las Vegas, and an awesome perk if you have a desire to cook, or even heat up leftovers in your room.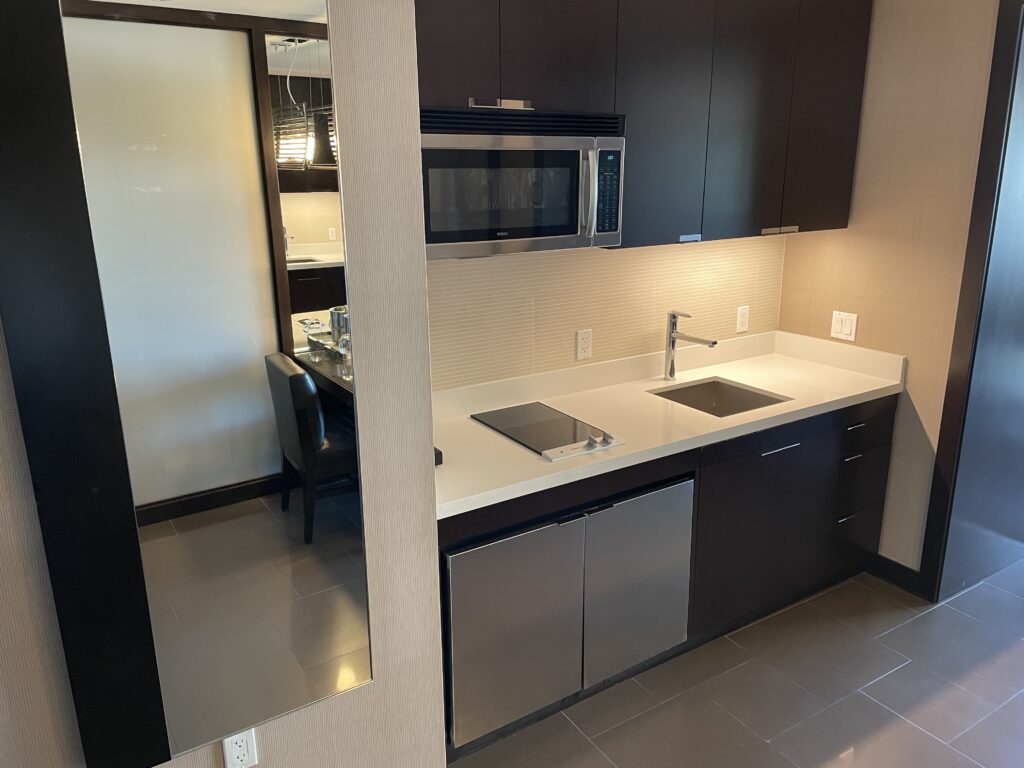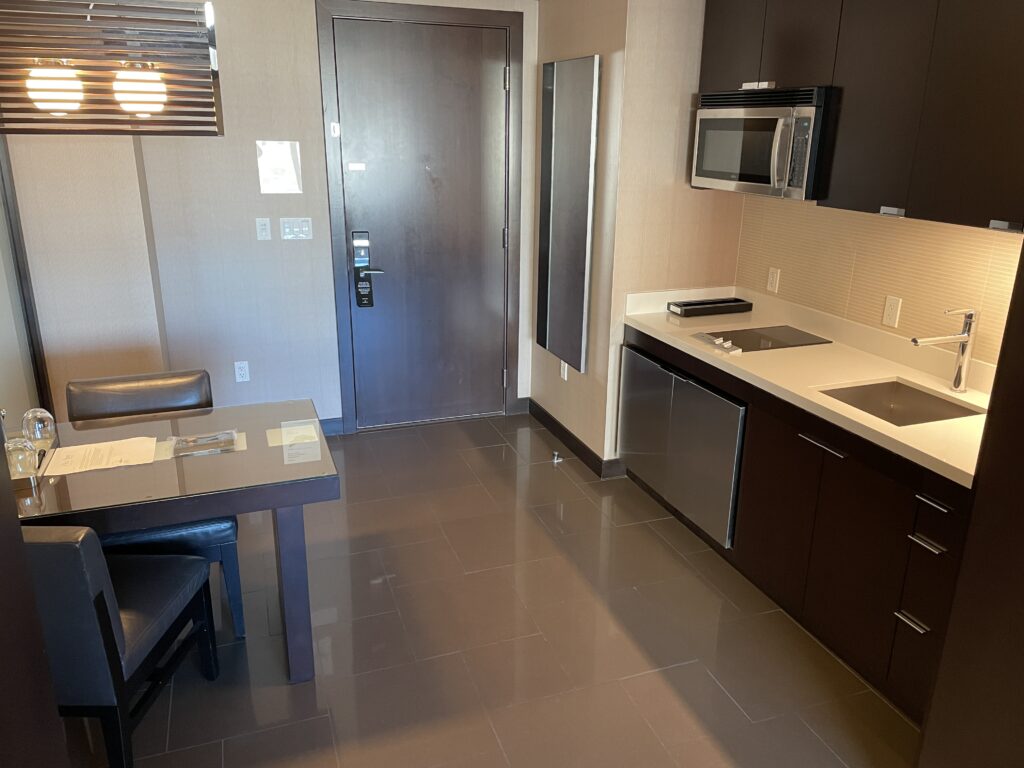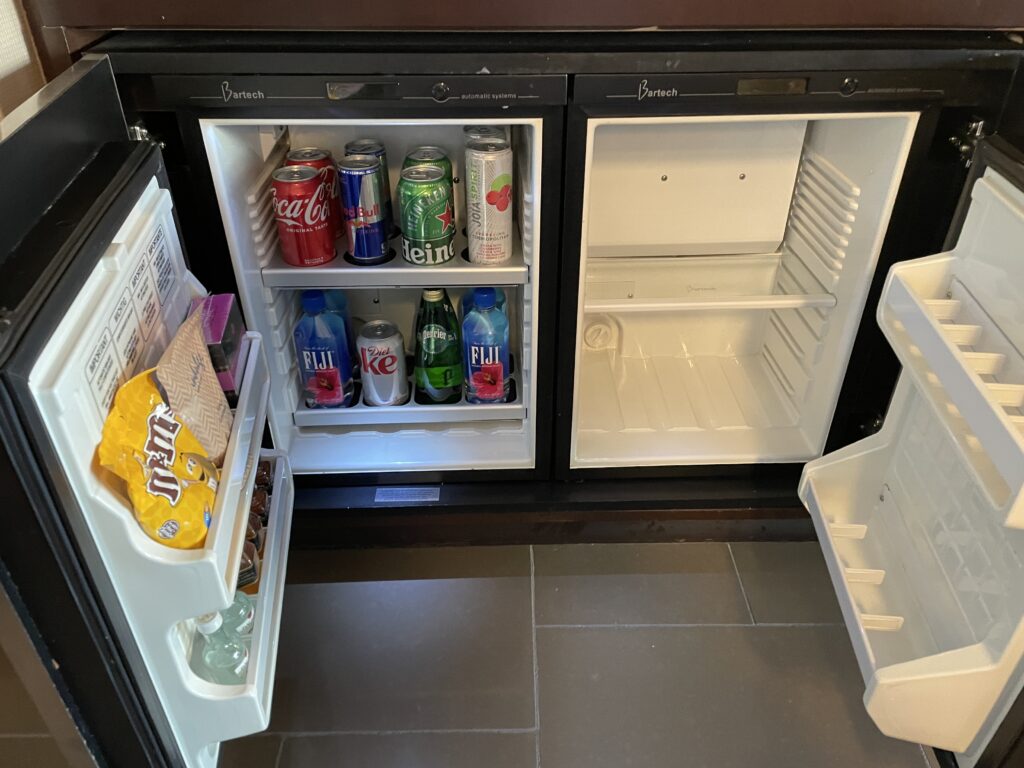 Also in the kitchen area is a small dining room table with a couple of chairs.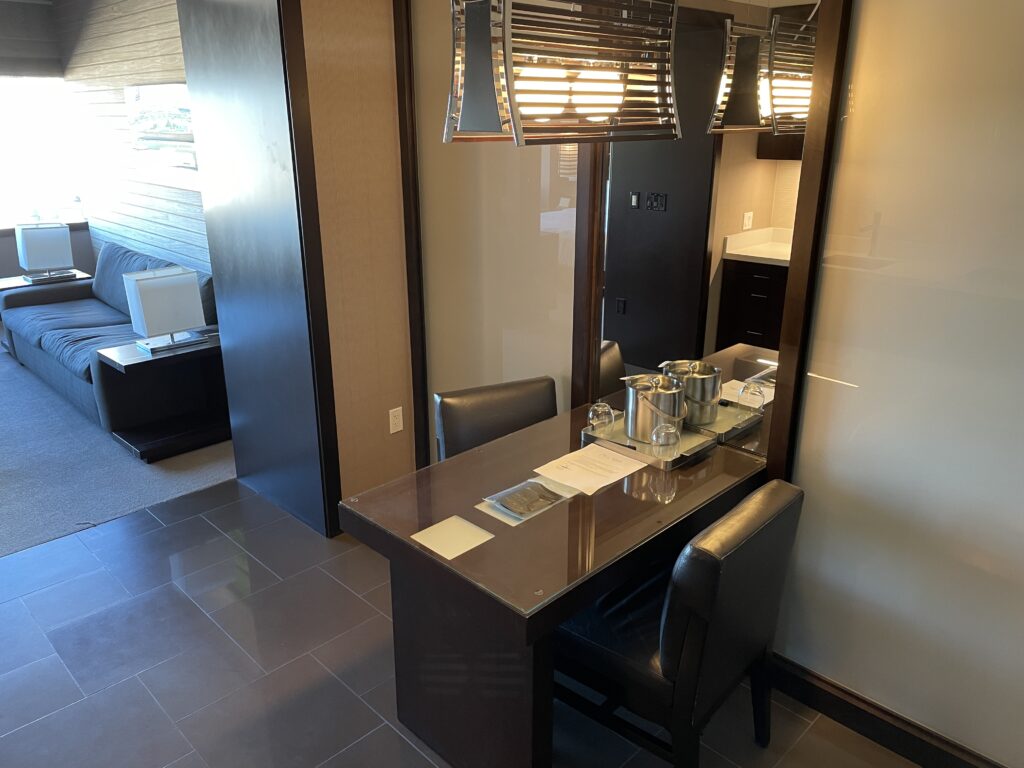 The Living Area
Once you walk through the kitchenette, you find yourself in the living area which is separated from the bed by a wooden partition that is used to mount both of the room's TVs, one facing the living area, and one facing the king bed. To the side of the partition is a work desk.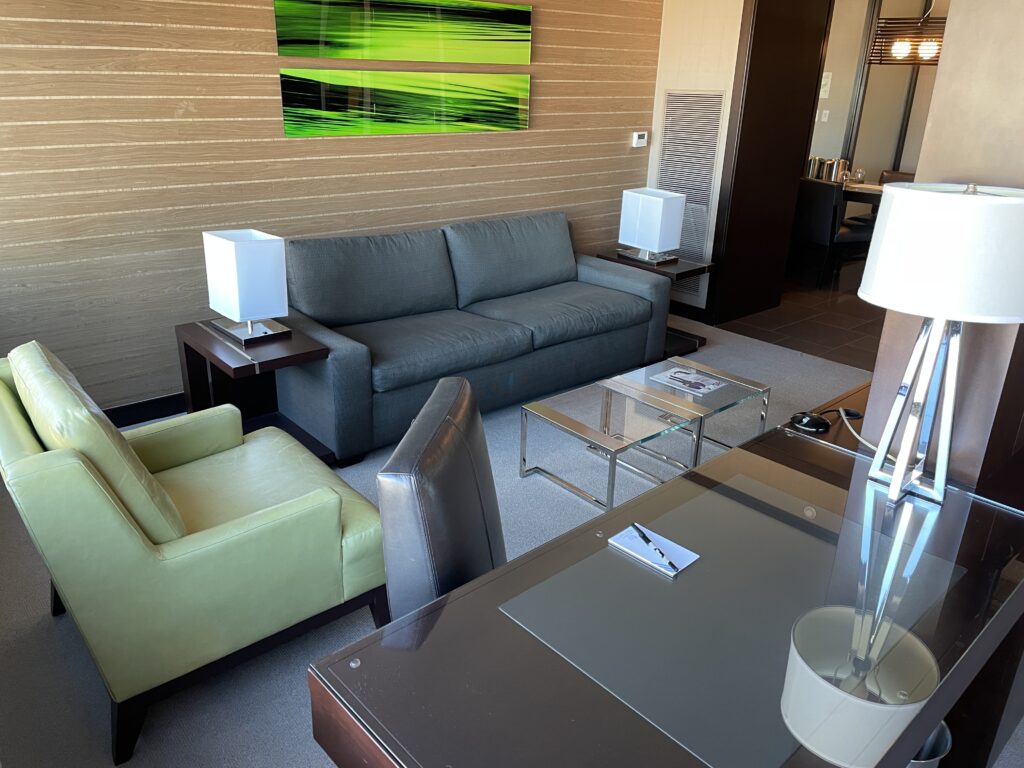 The living area has a couch, chair, and coffee table facing a TV.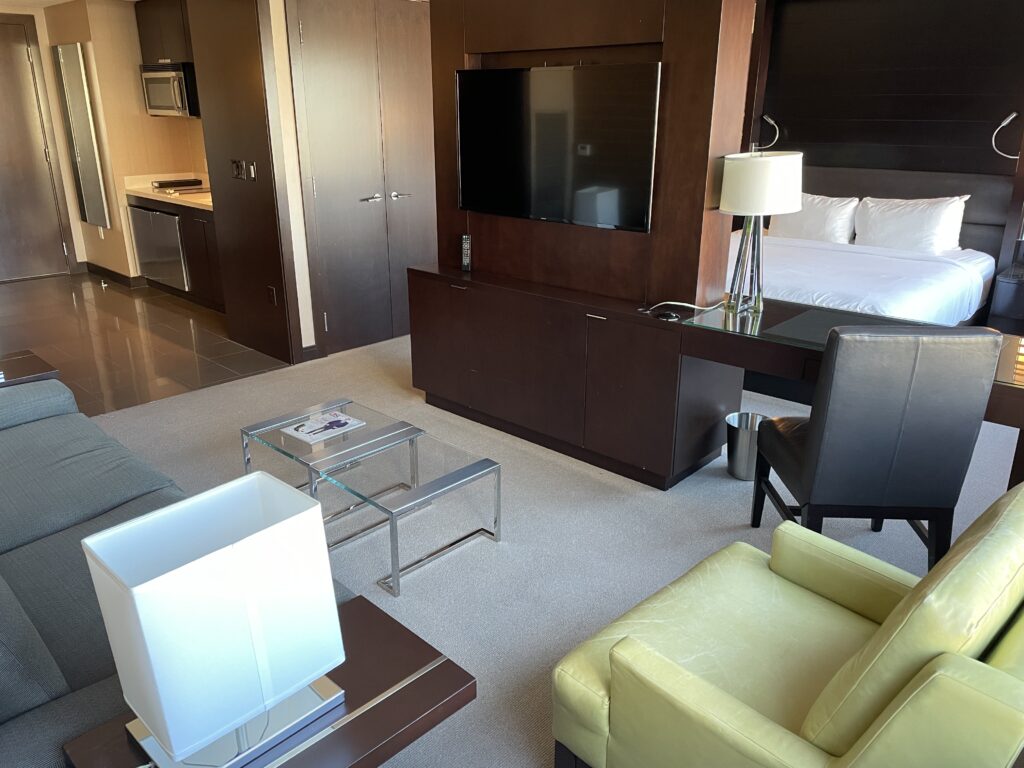 The Bedroom
On the other side of the partition was another flat-screen TV facing the king bed that was flanked by mirrors and decorative light fixtures. Uniquely, there were adjustable reading lights on both sides of the bed for those that like to dig into a good novel while in Vegas.
I'm no bed aficionado but can tell you I slept great. Very comfortable experience.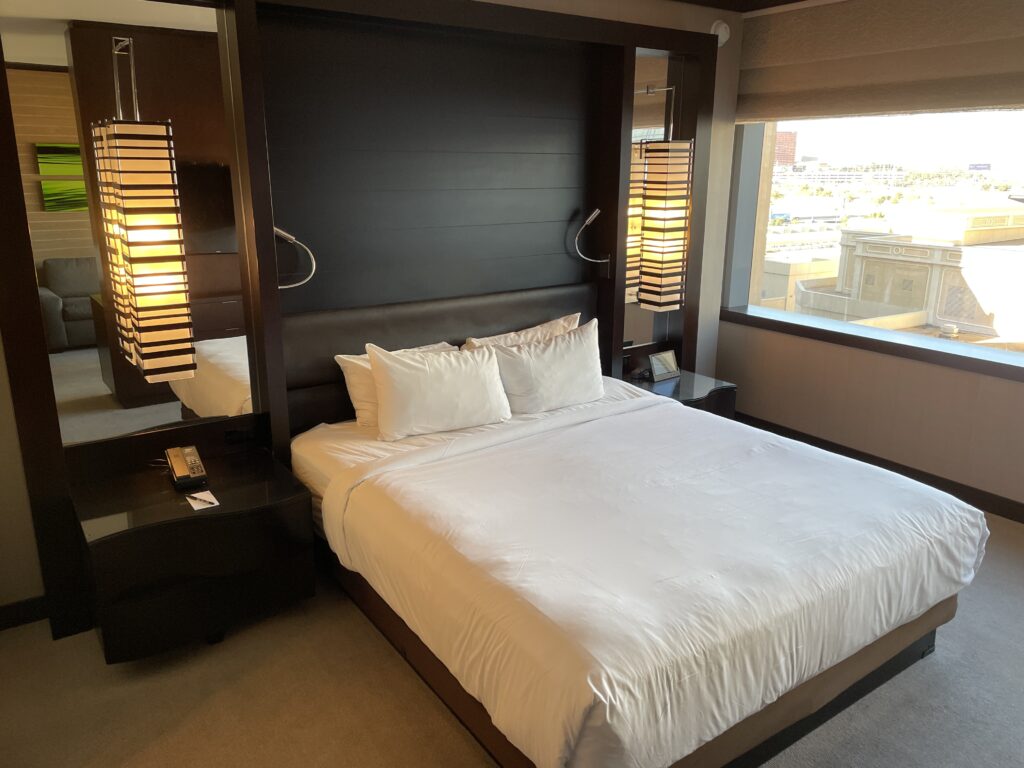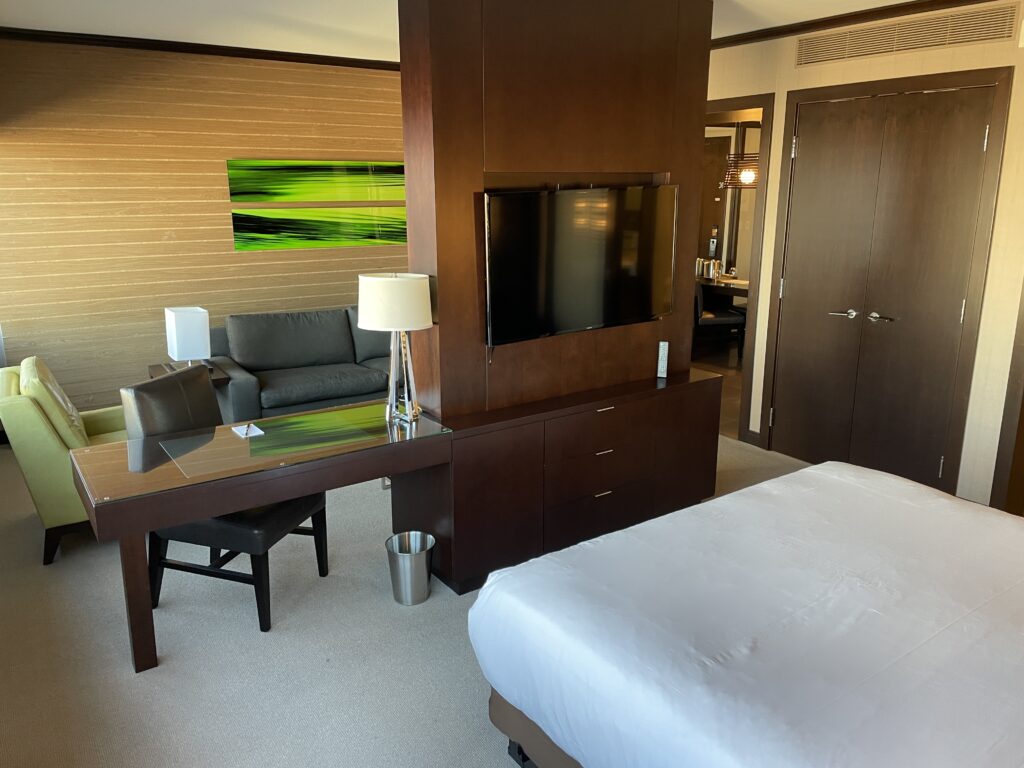 I was initially concerned about noise as my room was directly across the hallway from the elevator well, but I never heard a nose from the hall. No elevator dings, no conversations, no slamming doors, nothing. Admittedly, however, that may have had more to do with low occupancy on a Monday night than actual noise insulation.
The Bathroom
In the Parlor Suite's bathroom was a single sink vanity equipped with a personal magnified mirror, a deep soaking tub, and a glass-enclosed shower.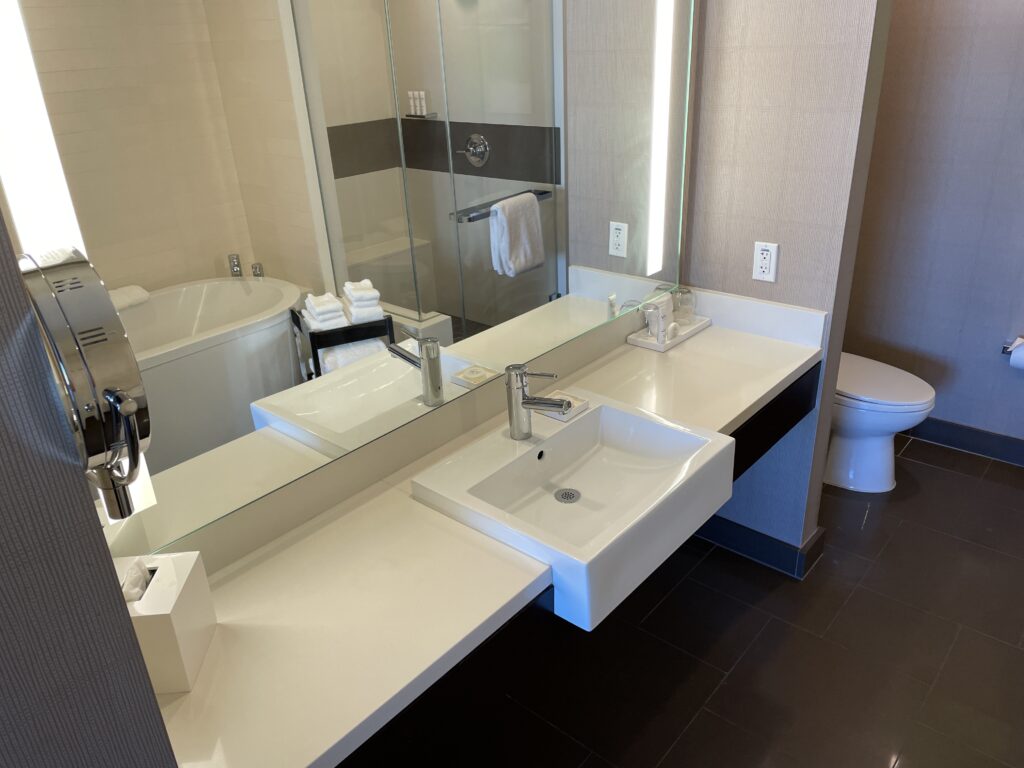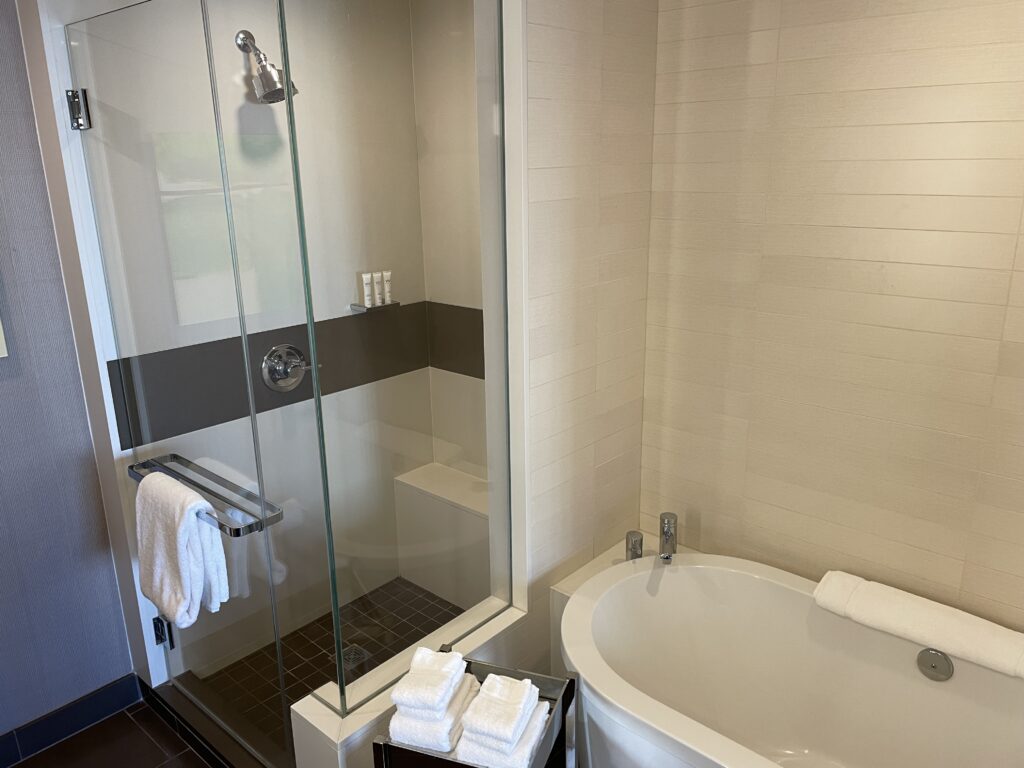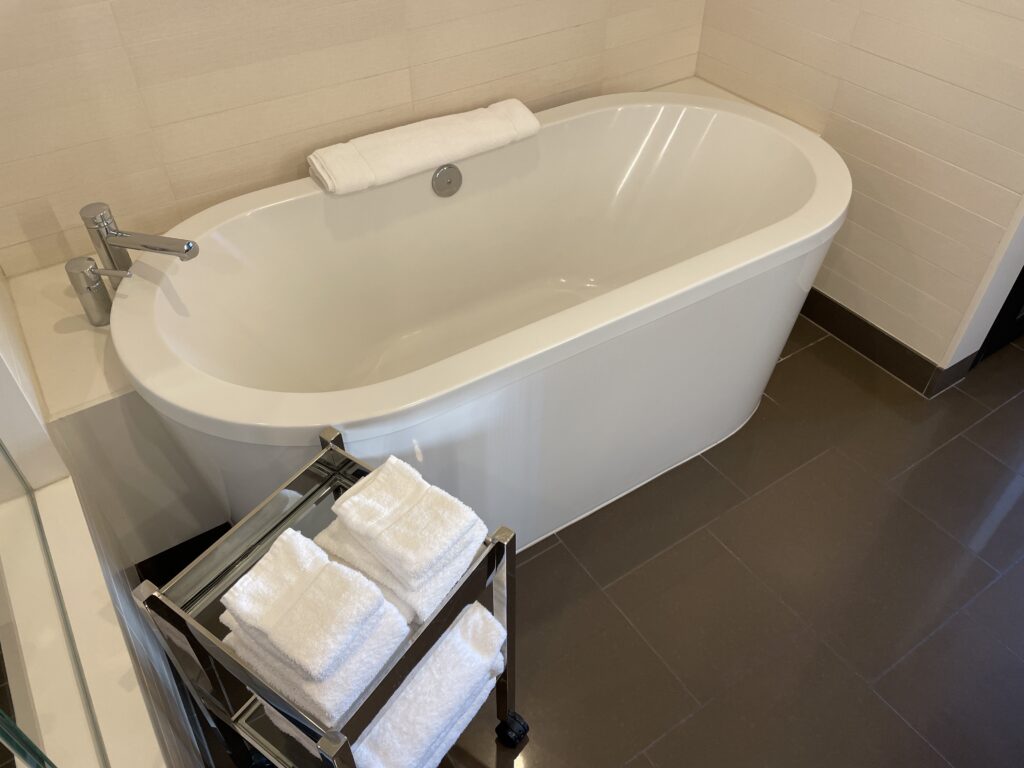 In the shower were personal hygiene products from VIVE.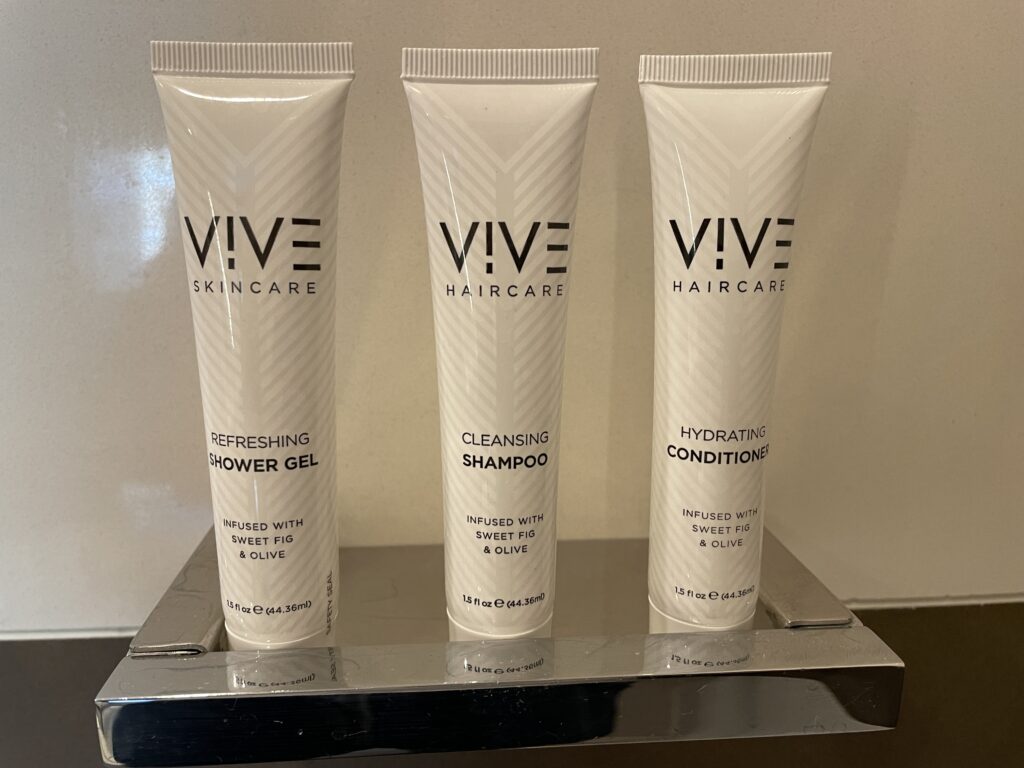 What's Not to Like?
While I was extremely satisfied with the room experience overall, there were some minor deficiencies that I'd be remiss to not call out.
By no means would I deem this a "dirty room", but it was pretty obvious that it's not getting the attention it should. While I personally could care less about the smudges, frays, and dust pictured below, I know room cleanliness can be a sticking point for many. As Vdara is marketed as a higher-end property within the MGM portfolio, I expected better. I'm also empathetic to the fact this could be caused by the ongoing labor shortage.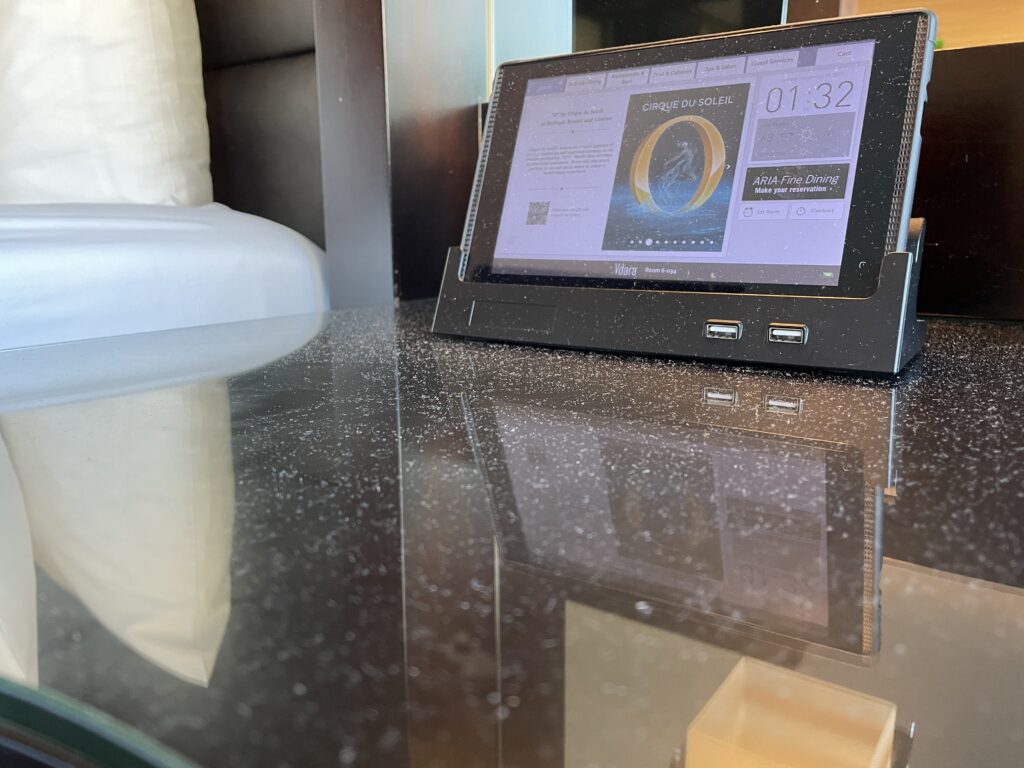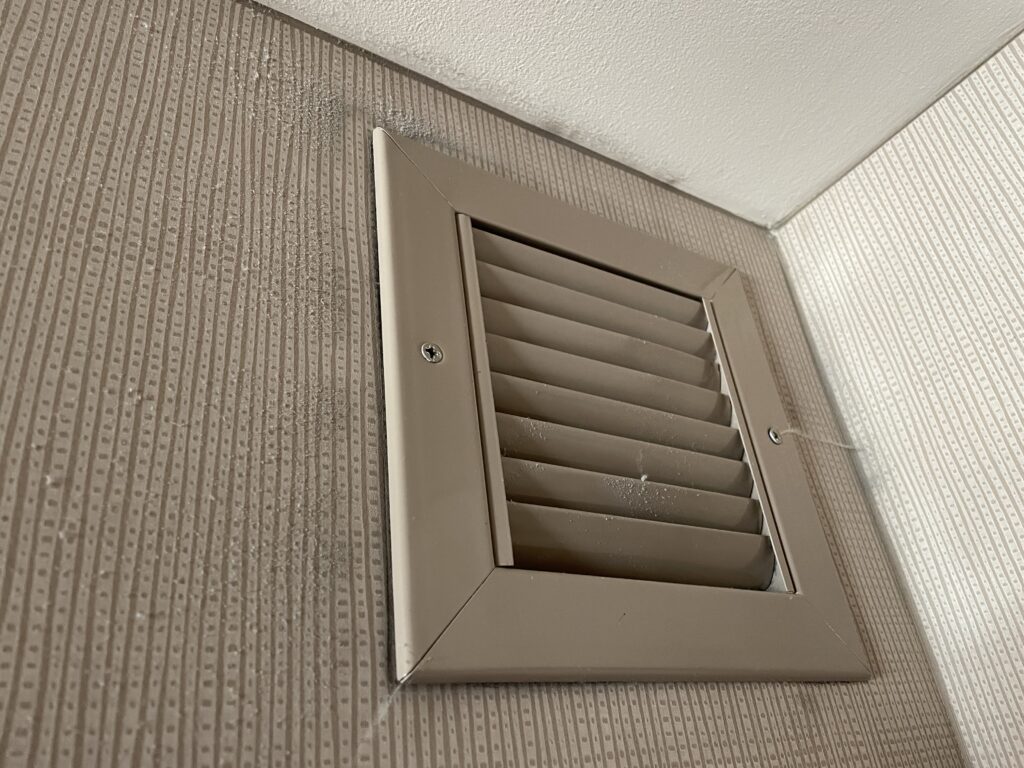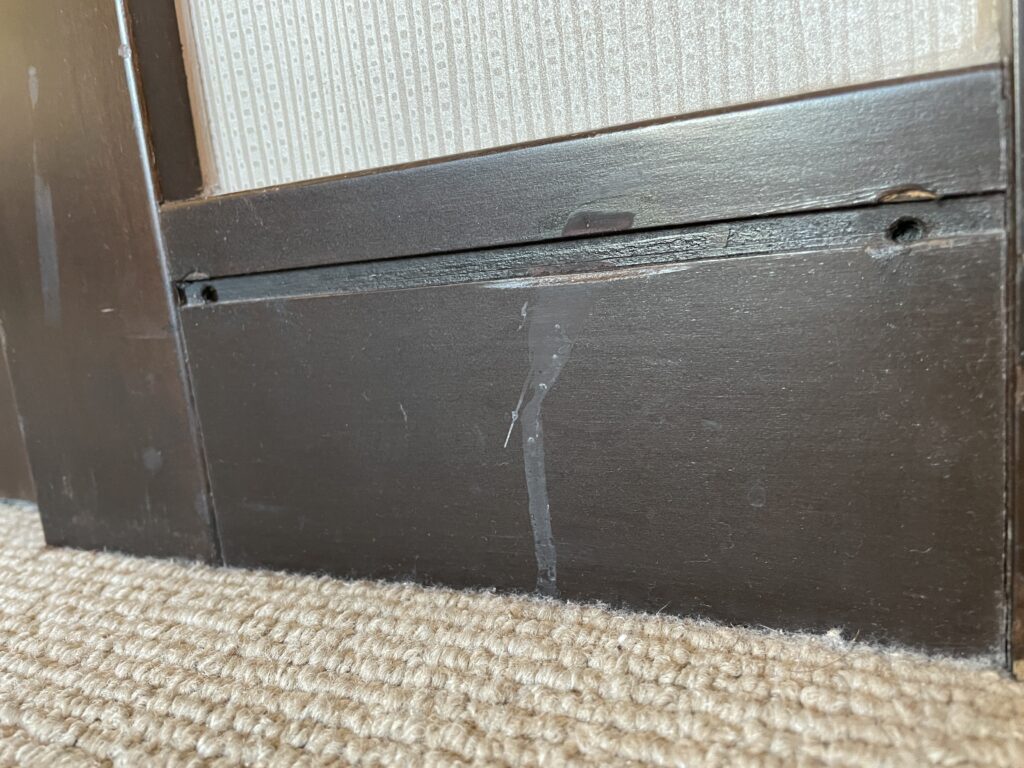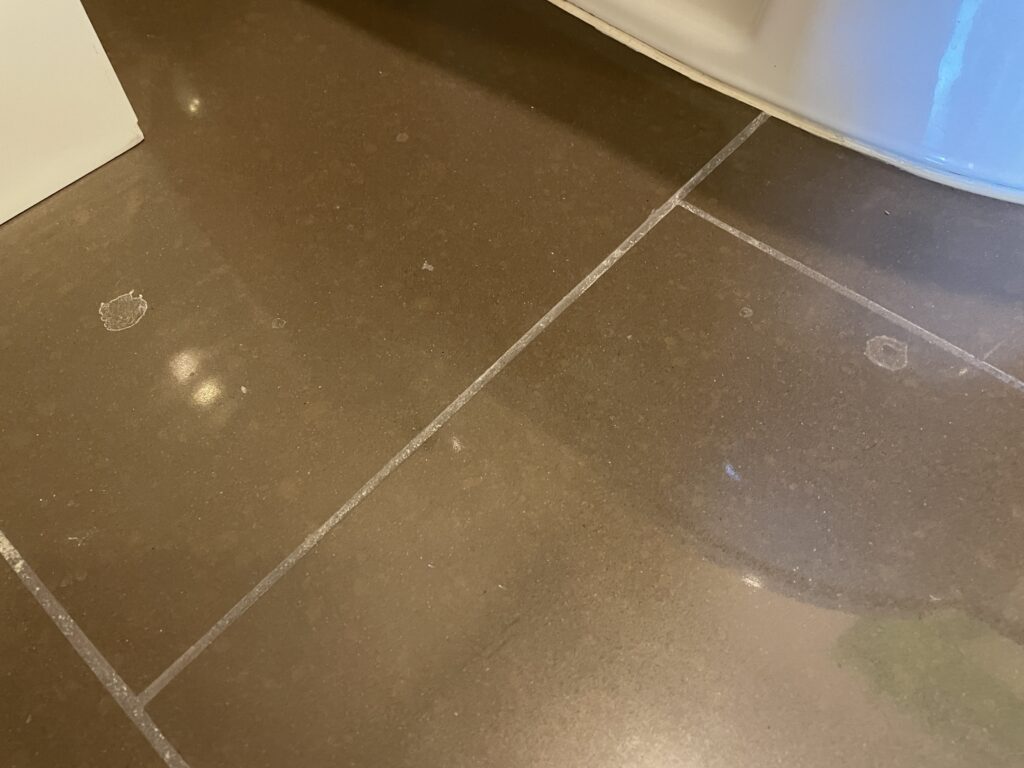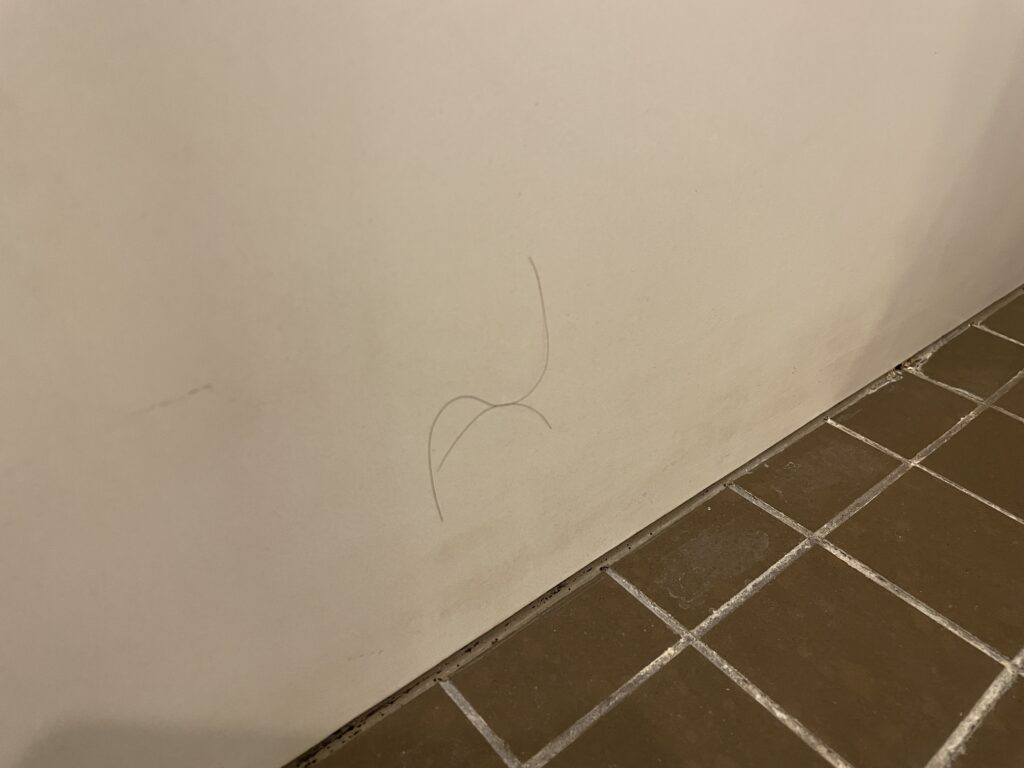 Is Vdara's Studio Parlor Worth the Money?
Trivial Issues (for me at least) aside, I was extremely satisfied with my experience at Vdara and their room product. In fact, I plan to visit the Strip with my wife in a couple of months and I'm likely going to reserve the same room.
The lack of a casino in the hotel is non-issue. Seriously, Aria and Bellagio are both so close that you can almost hear the machines dinging from Vdara. Additionally, the absence of cigarette smoke and crowds are a welcome relief.
The Studio Parlor room itself is differentiated from your typical suite in Las Vegas, offering a kitchen with a fridge, microwave, and stovetop. The partition between the living and bedroom gives the suite the feel of having a separate bedroom, making this a good option for people that want to entertain a small group before heading out for the night.
While my particular room was a bit "smudged up", the decor and overall vibe felt modern and upscale. Even with the minor cleanliness issues, I found the room to be well worth the $105.44 plus fees I paid.
I'm treating the issues as a one-off occurrence and look forward to staying again in the near future.
I'm a former software salesman turned Vegas aficionado. While the craps table is my preferred habitat, I pull myself away to explore new attractions, shows, restaurants, and outdoor activities around Las Vegas with the intent of sharing my experiences.
Ultimately, I just want to help folks plan a better trip and save a few bucks in the process.