New York New York is a staple of the Las Vegas skyline, bringing New York City to the Nevada desert.
In all, New York New York's facade is comprised of twelve 1/3rd-scale replica structures including The Empire State Building, The Chrysler Building, The Liberty Plaza, and The New Yorker Hotel.
Out front of the casino is a 150-foot tall replica Statue of Liberty, and a 300-foot long replica of the Brooklyn Bridge.
While taking in the unique theming elements is the main draw, there are plenty of other things to do at New York New York, and nearby on the Strip.
Related: Things to do with kids in Vegas – We've got you covered.
Things To Do at New York New York Las Vegas
Ride the Big Apple Coaster: I say this in the most positive, loving way possible: It's a rough, wild, ride.
With a maximum height of over 200 feet and max speeds of 67 miles per hour, the rollercoaster at New York New York is of theme park quality and sends riders upside down multiple times.
A single ride costs $19, re-rides are $10, and all-day ride passes are $30. Especially if traveling with kids, put this ride atop your list of things to do at New York New York.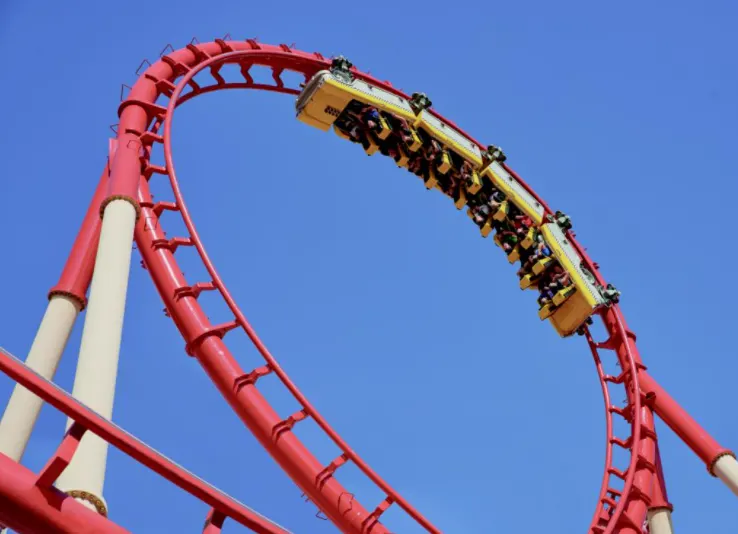 Hit the Arcade: If you have kids in your crew, or simply ran out of gambling money, check out the Big Apple Arcade. There, you'll find game options that range from classic Skee Ball to modern arcade concepts.
Dueling Pianos: The Bar at Times Square transforms into a dueling piano bar nightly, and it's a blast. My wife and I typically grab a seat at a video poker machine outside the bar facing in which allows us to take in the show while sipping complimentary drinks.
Of course, you need to be actively playing video poker to score free drinks, and seats in the bar are great as well if you prefer not to play VP.
Stroll through Greenwich Village: Tucked behind the Bar at Times Square, this intricately themed portion of the property will give you the feel of being in NYC, complete with actual steam rising from manhole covers.
Active restaurants and a coffee shop occupy the street level of the mock city giving it an even more authentic feel. Walking through this part of the resort is among my favorite things to do at New York New York in Vegas, and it's free!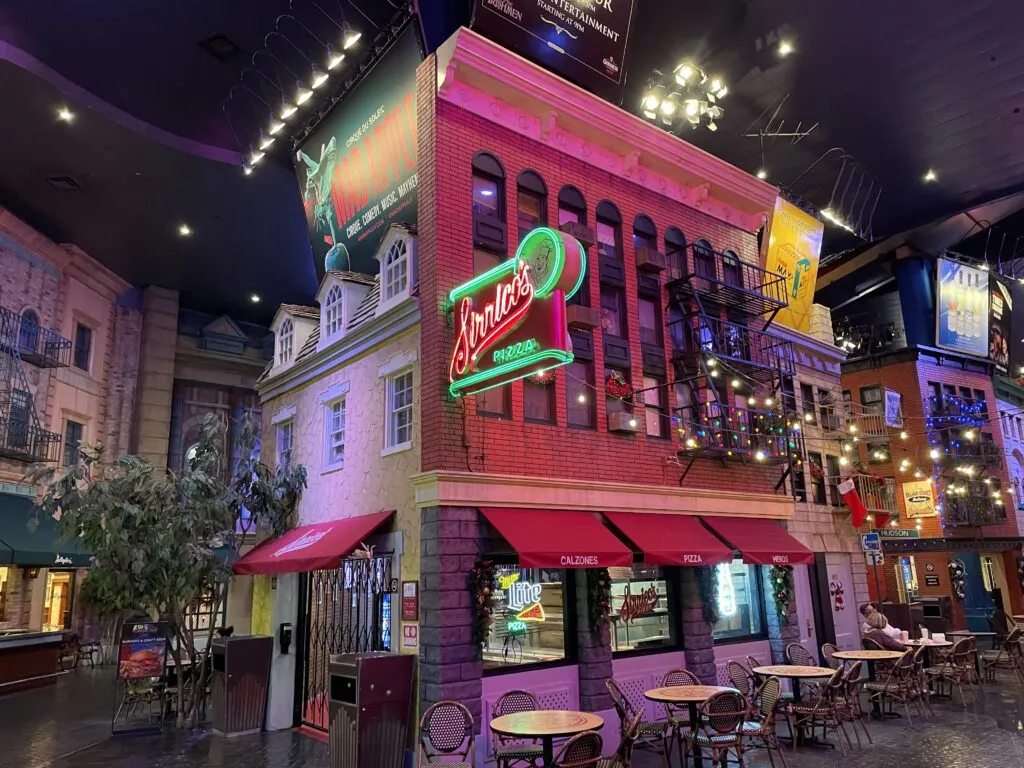 Grab a Cheap Slice: Among my favorite food options found in the themed Greenwich Village section of NYNY, Sirrico's Pizza serves cheap, quick slices. Rated by this blog as one of the best pizza by the slice options in Vegas, you won't be disappointed.
Catch a Live Music Show: Free live music performances are commonly held in front of New York New York on their replica Brooklyn Bridge. Shows typically take place on the weekends, from 8 pm – midnight, but the full entertainment calendar can be viewed here.
See Terry Fator: Made famous by his second season win of "America's Got Talent", Terry Fator recently made the move from Mirage to New York New York where he performs his "Who's the Dummy Now?" show. Fator, a ventriloquist, singer, and comedian teams up with an assortment of puppets to impersonate over 200 celebrities including Elton John, David Bowie, Stevie Wonder, Paul McCartney, and Donald Trump. Tickets can be purchased in advance:
Mad Apple by Cirque du Soleil: Calling the former Zumanity Theater home, Mad Apple will combine comedy, music, street performers, and acrobatics. Intended to "Fuse the spirit and creativity of the two cities that never sleep", Mad Apple offers a bit of something for everyone.
Tickets start at $49, and can be purchased in advance with:
Snag a Cheap Breakfast at America: When it comes to cheap sit-down restaurants on the Strip, it's tough to beat America, which serves breakfast around the clock. While it isn't the fanciest meal you'll eat, most items on the menu land in the $15-$20 range.
I recently stopped in for a massive breakfast (pictured below) and thought it was a solid meal for the price.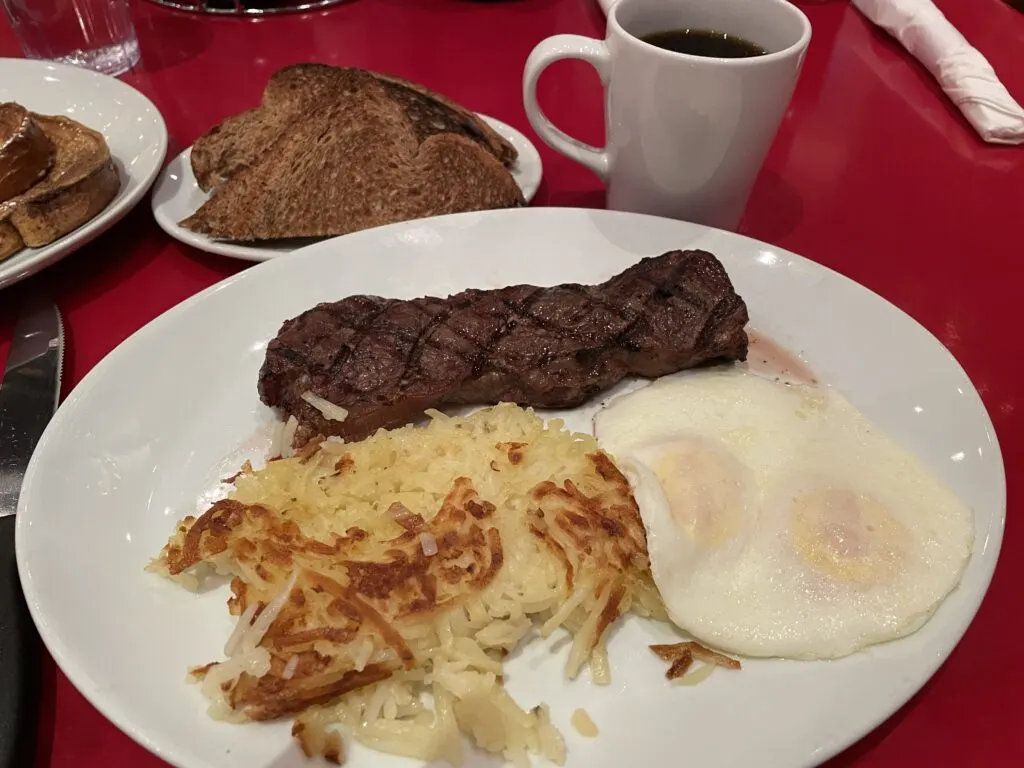 Things To Do Near New York New York
See the Pyramids: Head across the street to Excalibur and take the free tram that runs to both Luxor and Mandalay Bay. Make the stop at Luxor if only to check out the awe-inspiring theming and architecture.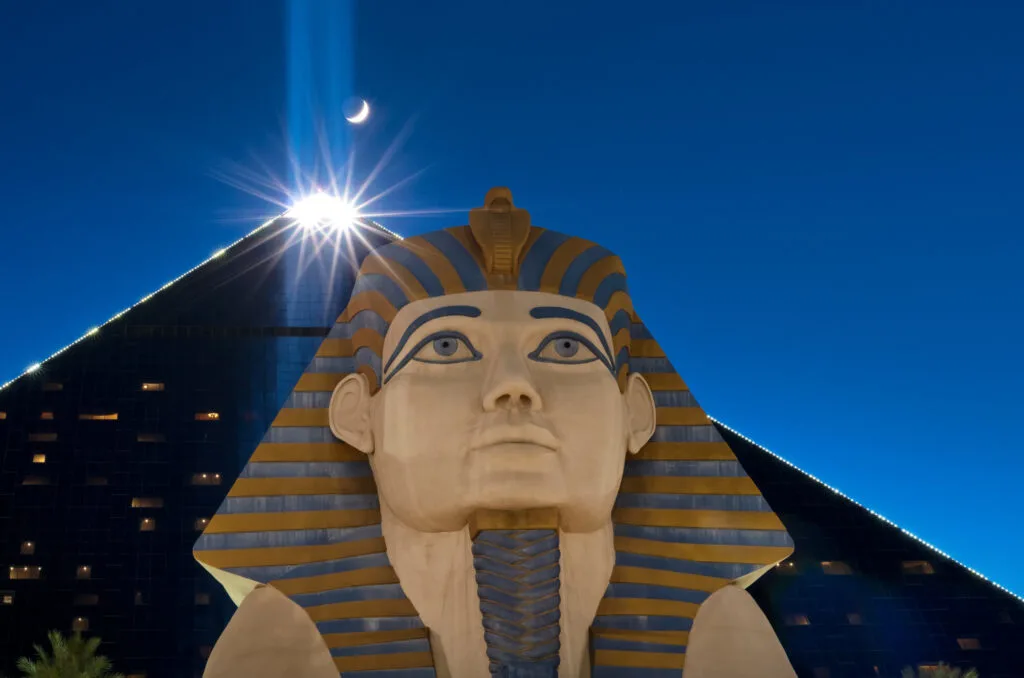 Gamble Smoke-Free: Neighboring New York New York to the north, Park MGM is the only smoke-free casino on the Strip. Check it out if you prefer to gamble without being exposed to carcinogens.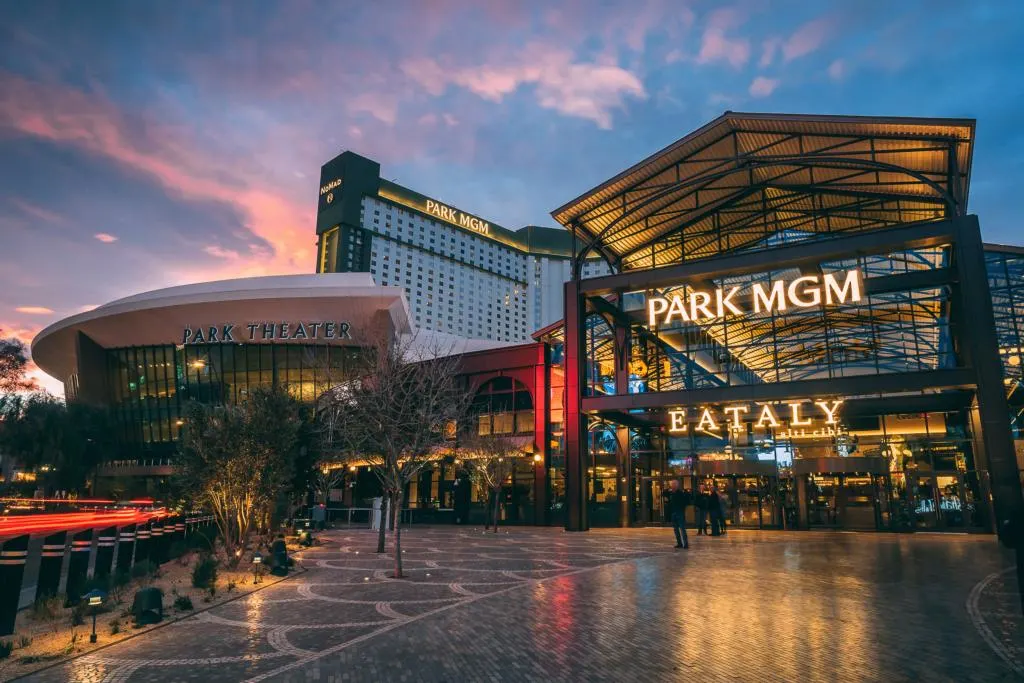 Upgrade your Pool: Here's the deal. The pool at New York New York is functional, but it's not the signature amenity of the property.
If spending time at the pool is on your list of things to do, I recommend paying for a cabana/daybed (required for non-guest entry) at either the pool at MGM Grand across the street which has a lazy river, or Mandalay Bay's Beach which offers a wave pool, lazy river, and real sand beach.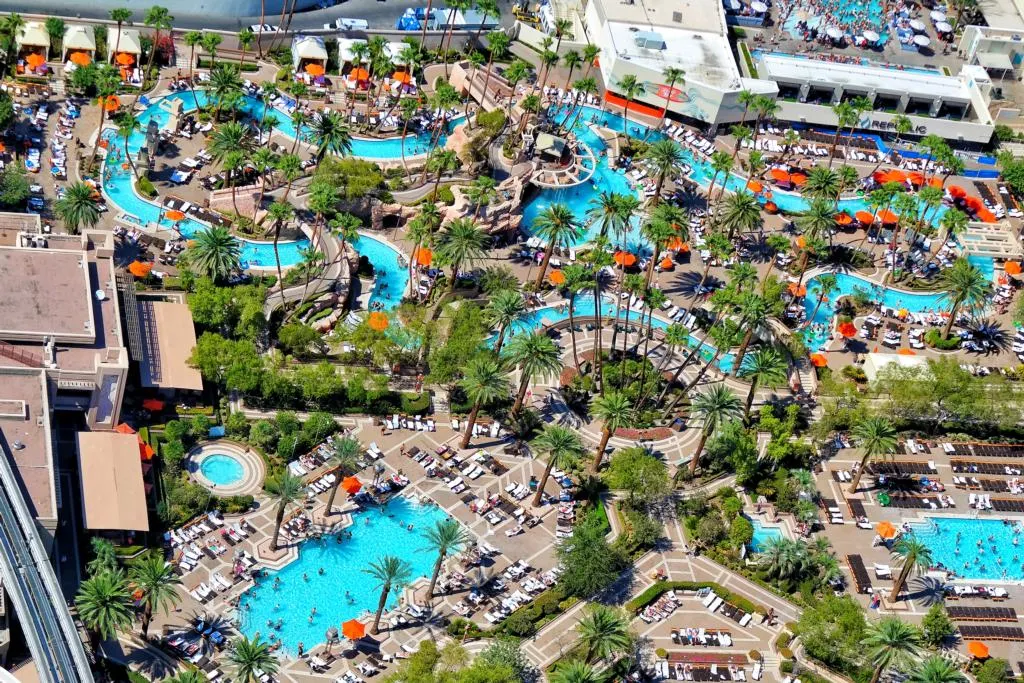 Find Cheap Eats/Drinks: Walk north to Planet Hollywood and explore the Miracle Mile Shops. Inside is an abundance of cheap drink and happy hour deals. Additionally, one of my favorite places to eat cheap on the Strip, Ocean One, can be found inside which offers a full $5.99 lunch menu.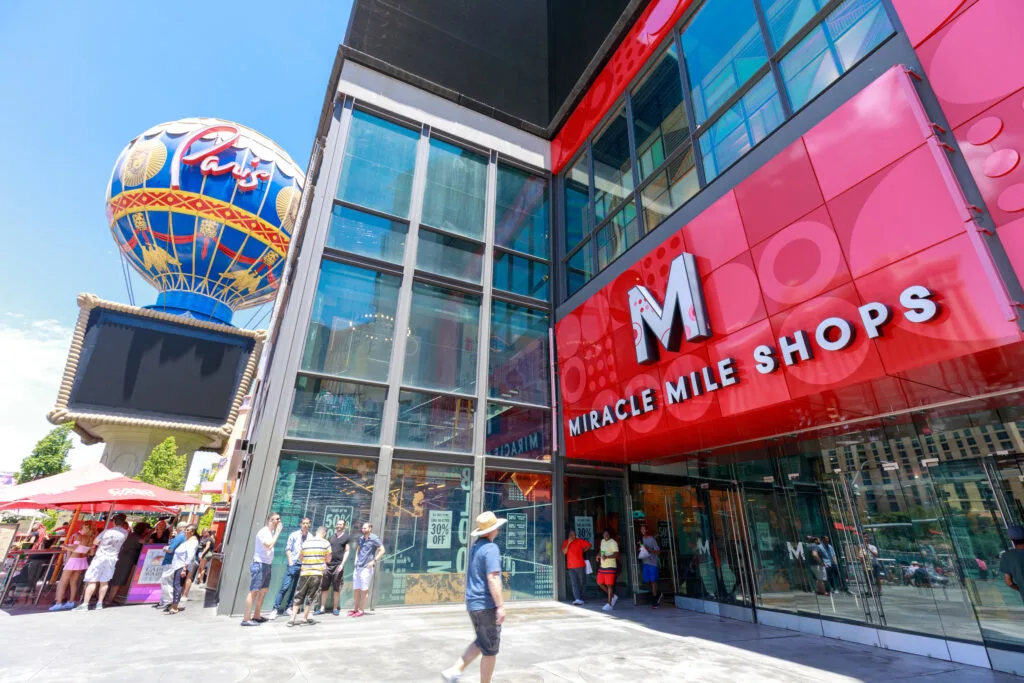 Hopefully, my suggestions for things to do at New York New York Las Vegas and nearby were able to help you add a thing or two to your Las Vegas itinerary! If you need additional inspiration, check out our property by property rundown of things to do on the Strip.
Given the resort's location on the Las Vegas Strip, you shouldn't have any trouble staying busy!
See Also: A complete list of FREE things to do in Las Vegas.
Feature Image: ©photo7/123RF.COM
I'm a former software salesman turned Vegas aficionado. While the craps table is my preferred habitat, I pull myself away to explore new attractions, shows, restaurants, and outdoor activities around Las Vegas with the intent of sharing my experiences.
Ultimately, I just want to help folks plan a better trip and save a few bucks in the process.