Celebrating the opening weekend of March Madness in Las Vegas ranks among my favorite annual traditions.
For the first time in 2 years, my group of high school friends continued the annual ritual of flying in from around the country to hang our financial hopes on the skill of amateur athletes.
This year, I reserved one of LINQ's Poolside Cabana rooms to watch the action as opposed to buying a seat at one of the numerous March Madness watch parties around town that we typically frequent.
My thought process was that the room's 3 separate TVs, one of which being outdoors on the cabana, would give us the perfect vantage point to catch every minute of the action while also providing us instant access to LINQ's lively pool scene.
As this room type tends to sell out quickly, I reserved a Poolside Cabana room nearly a year prior at a total cost of $1,234 for 3 nights ($411/night) which is inclusive of taxes and fees.
While I usually receive a hefty discount on baseline rooms with Caesars due to my paltry casino play, that level of discounting wasn't offered for this specific room.
Below, I'll recap the room's amenities and my thoughts on the experience.
LINQ Check-In Experience
LINQ has moved to a completely self-serve kiosk check-in experience, which I typically prefer, but ran into problems this go around.
Because I booked the room SO long ago, my current credit card didn't match the one I originally booked with. As such, I was unable to check-in via the kiosk and had to wait for the lone human employee that was scrambling from kiosk to kiosk helping other guests with their issues.
I eventually got checked in, but it took 15-20 minutes longer than it could have.
No big deal – On to the room!
Inside the Poolside Cabana Room at LINQ
The room itself is a slightly better variant than LINQ's normal guestroom. Although only 350 square feet, the room has 2 queen beds, a living area with a sofa, a small work desk, and 2 TVs indoors.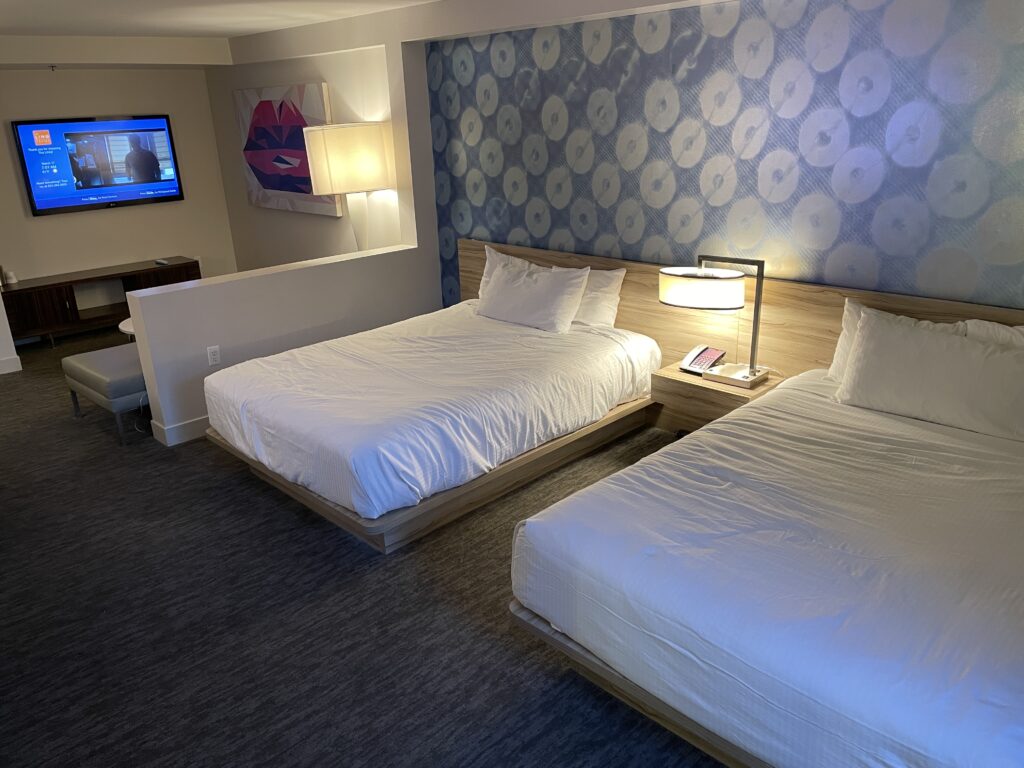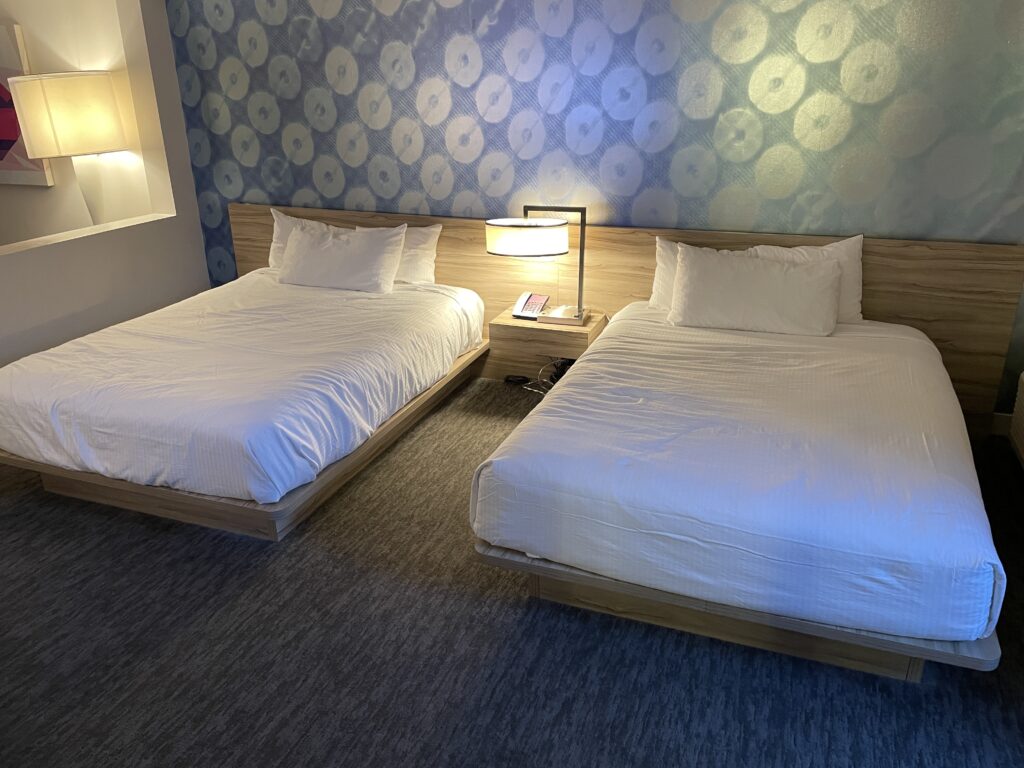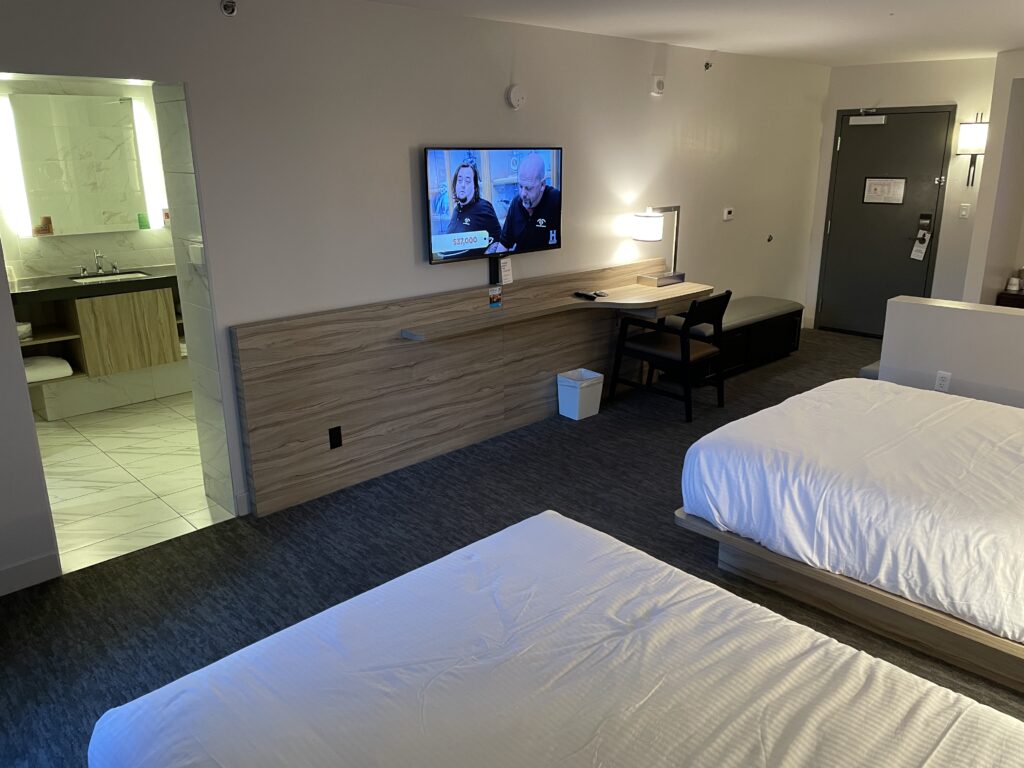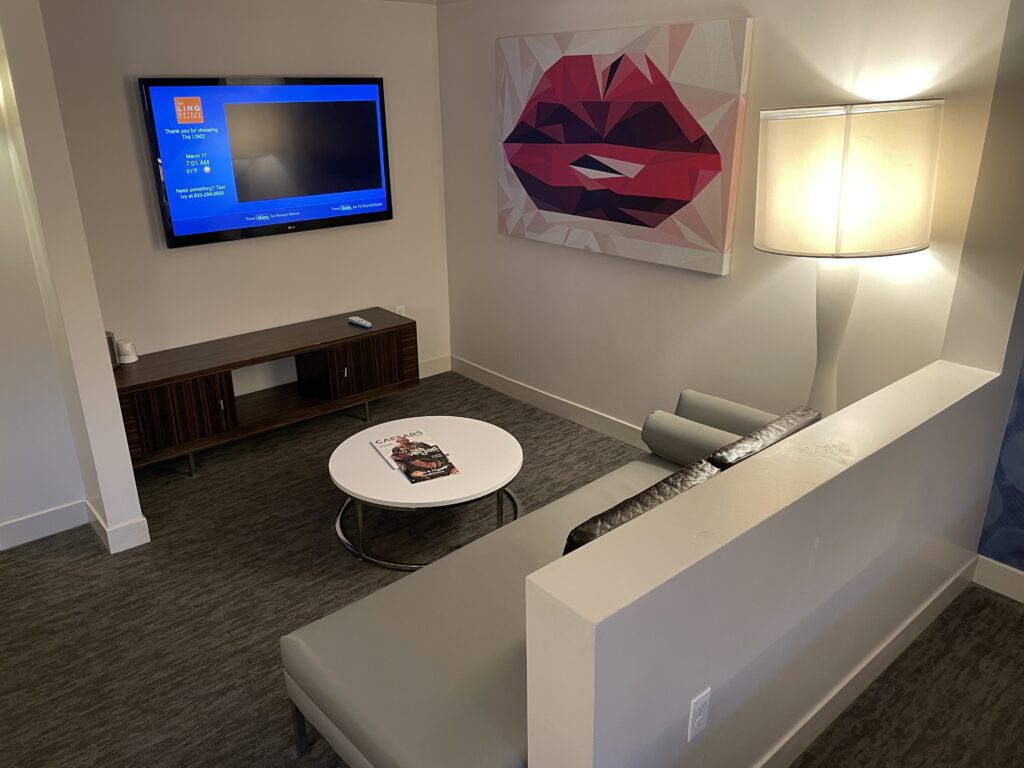 In the bathroom was a small empty fridge, a safe, closet space, and a single sink vanity with soap & lotion dispensers on the wall.
A separate room off the bathroom housed the toilet and shower.
In the shower were dispensers stocked with shampoo, conditioner, and body wash.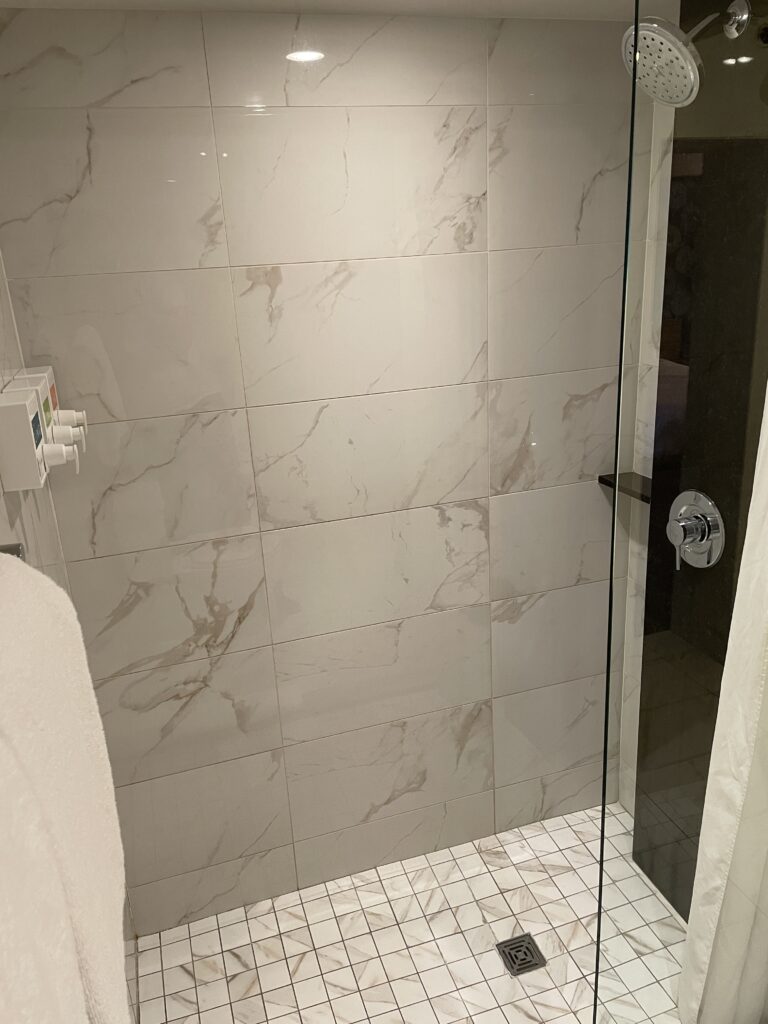 I was in love with the Poolside Cabana room's location on the second floor of LINQ's District 3 hotel tower.
Instead of cramming into, and waiting for an elevator, you can access the room by climbing a short set of stairs and then taking an escalator to the hallway that this specific room type calls home.
You're mere steps away from the casino floor (and a Dunkin' Donuts) which is pretty darn convenient.
The Cabana Patio
While I'd describe the hotel room itself as nothing special, you don't rent this room for the interior.
It's a real estate transaction where you're paying up for a sun-drenched patio with instant access to the raucous Influence Pool scene.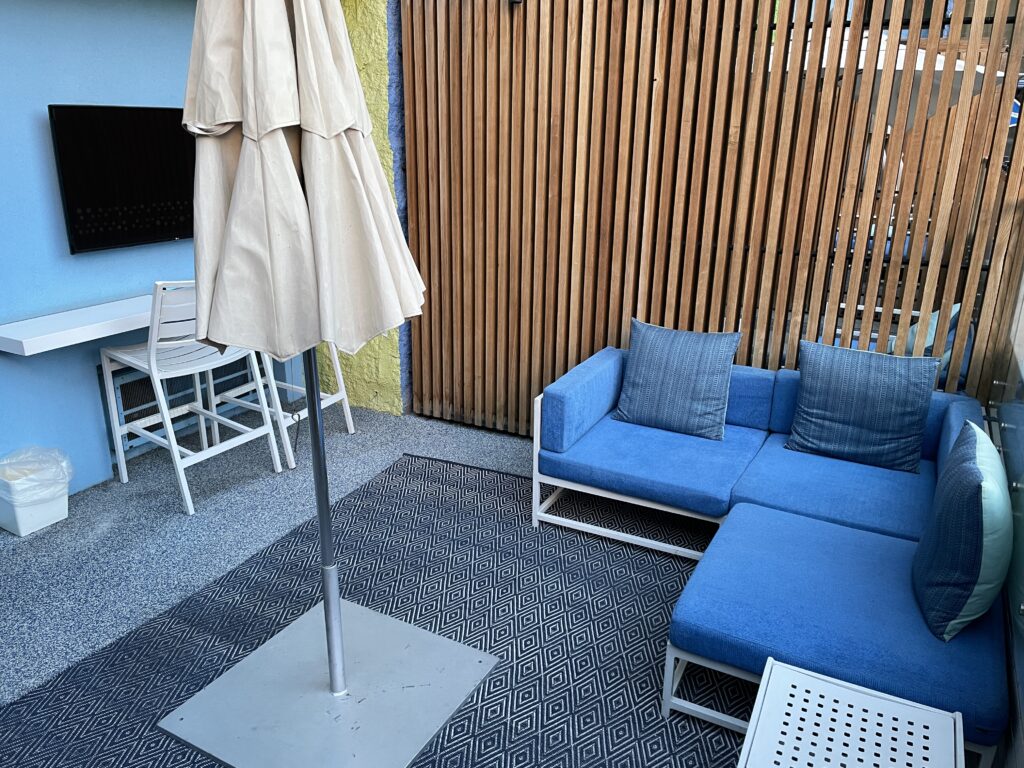 The outdoor poolside cabana came equipped with a sofa, a small bar top table with two chairs, an umbrella, and an unwatchable TV (more on that below).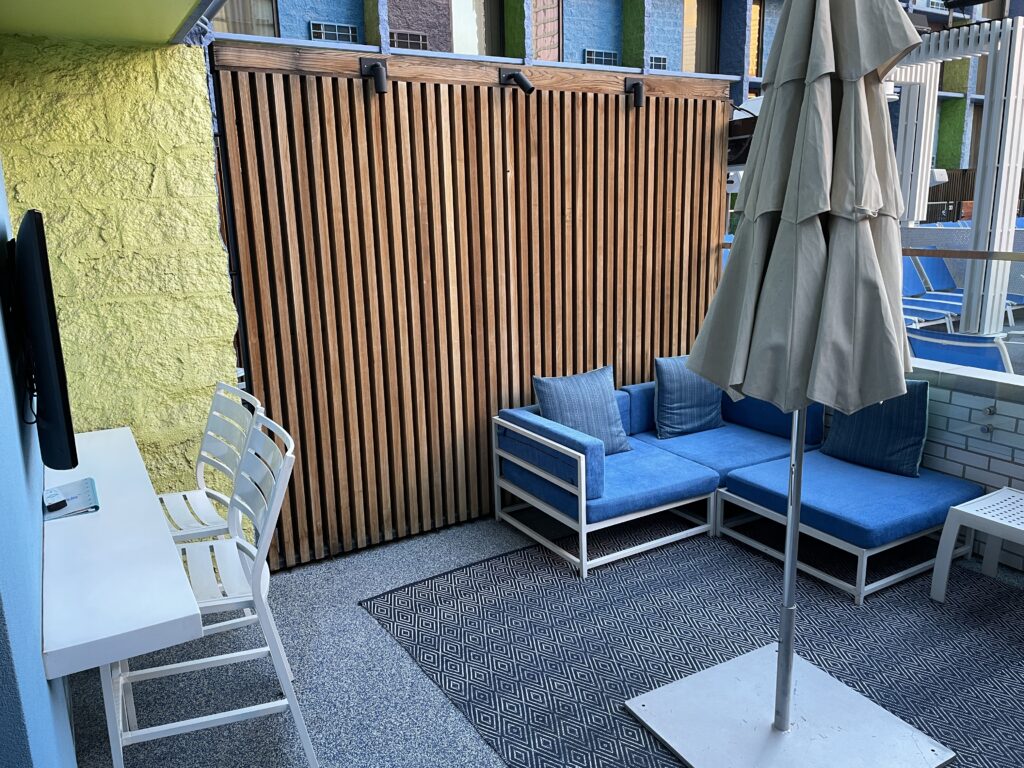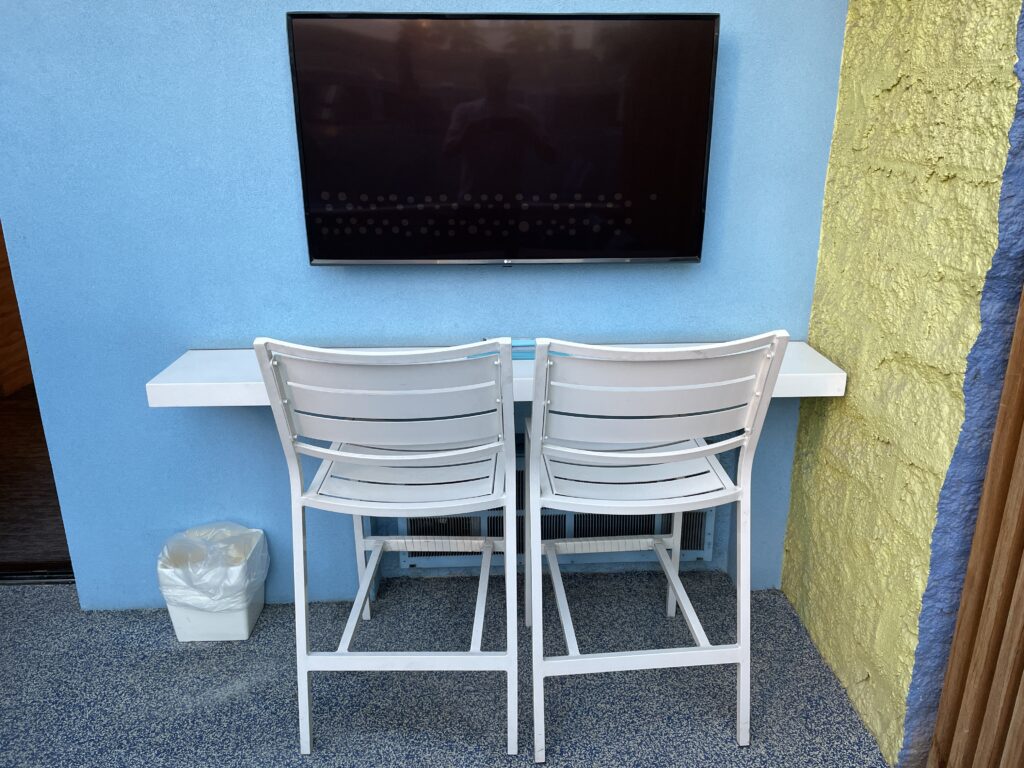 The door separating your cabana patio from the pool is unlocked in the morning when the pool complex opens and is locked at night to prevent after-hours swimming.
Although you can't get out to the pool after hours, your outdoor patio space is available to you around the clock.
Each cabana comes with a flag that you can raise to indicate you'd like to order food or drink.
The outdoor space really shines at night.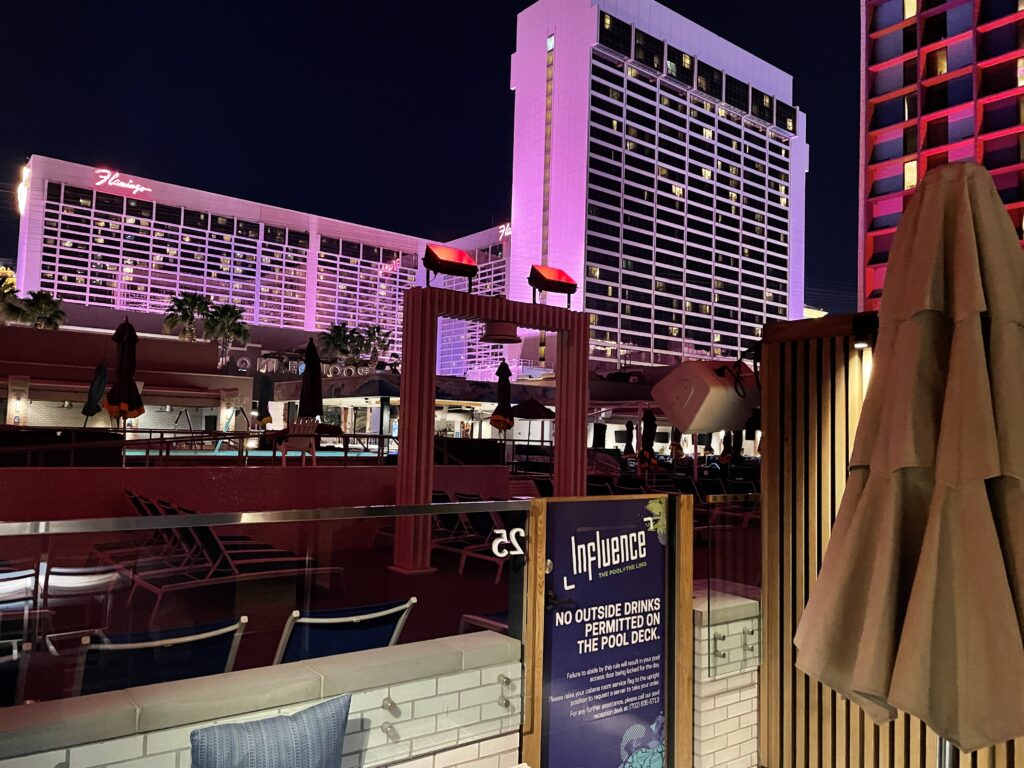 What's Not to Like?
TV's Were a Disaster
Keep in mind, the reason I booked this room to begin with was to watch NCAA hoops on 3 screens, one of which being outdoors.
On the first day of the tournament, I realized that none of the TVs could play TruTV, one of the 4 channels basketball was being broadcast on although it was available in the "guide".
I called the front desk and was informed that "We probably don't offer that channel in the rooms".
After explaining that it's offered on the on-screen TV guide, a technician was sent up to help.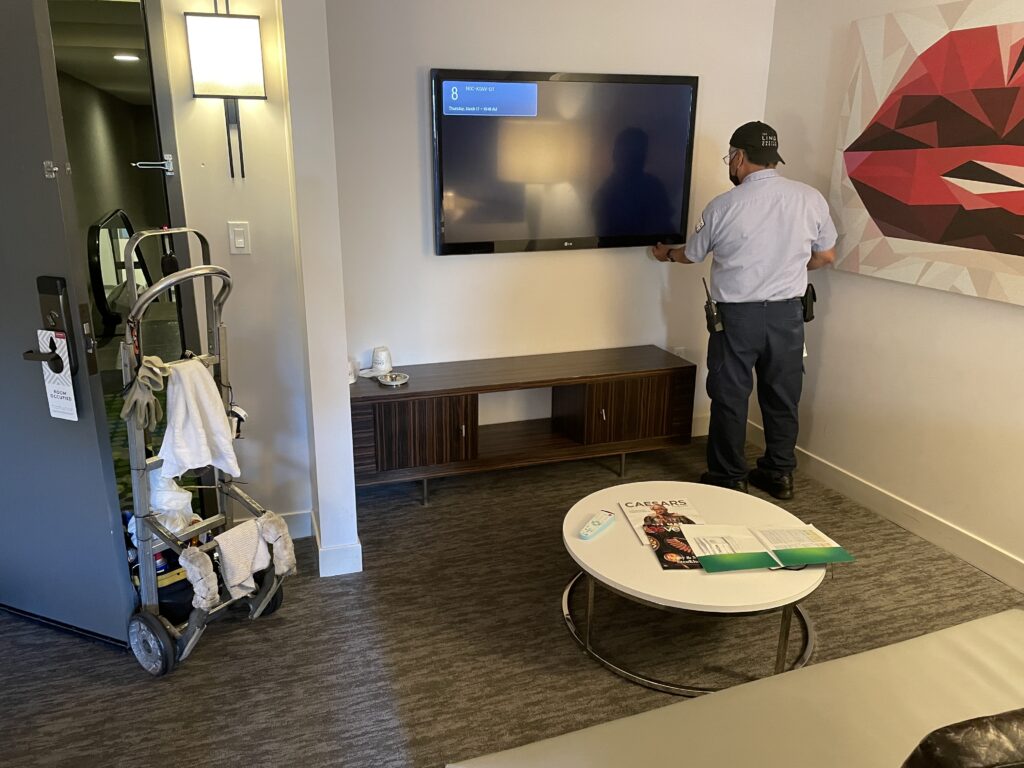 After some re-programming, TruTV was available to us. Disaster averted right? Not so much.
The TVs would constantly freeze up, go dark, stop playing certain channels, etc. Below are pictures of what I mean by the "scrambled freezes" that we experienced.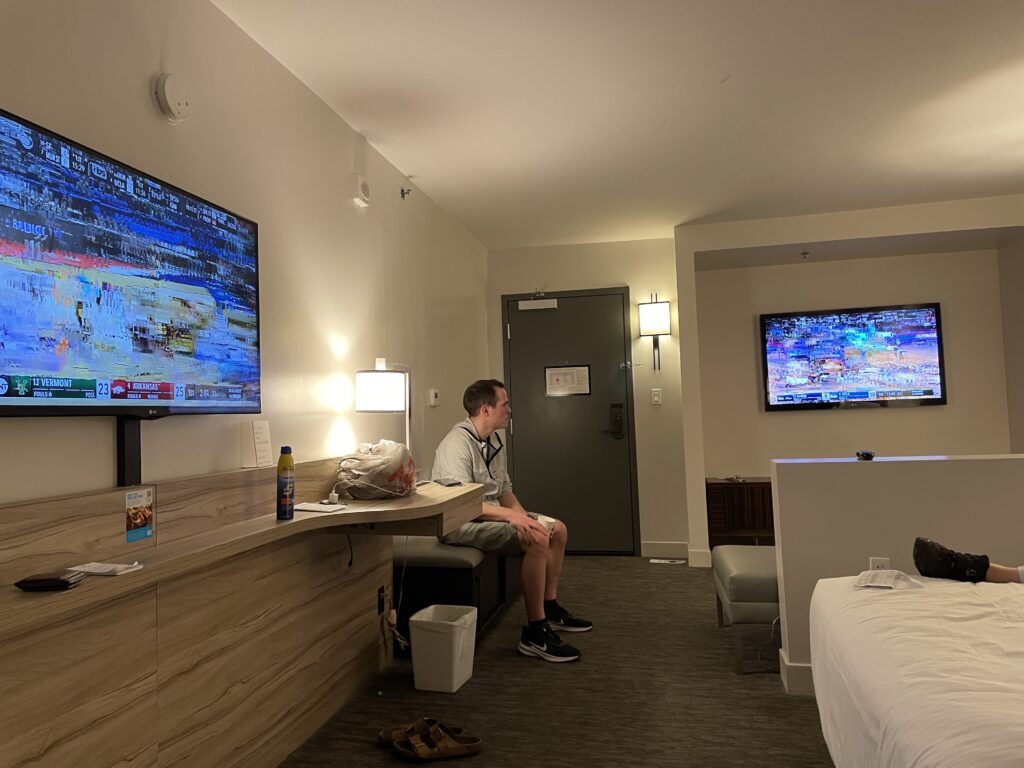 I needed to call the front desk numerous times to "open a ticket" but no other technician ever showed up.
Usually, we would leave the room to watch games in the sportsbook and the TV would be working again upon our return. No idea what the issue was, but it made the room unusable as a watch party.
In addition to the TV's constantly freezing and cutting out, the remote had a ridiculous delay. Once you pushed a button, you needed to wait 10-15 seconds before the TV would register the press, making entering a channel or scrolling the TV guide a tedious experience.
Now, on to the outdoor TV, which was unusable for another reason. Built into the TV, were about 25 black dots of differing sizes. The dots were visible on all channels and even when the TV was off.
The first technician that showed up couldn't explain what the dots were besides saying "It's probably a sun protection screen of some sort" and said he would refer the issue to another TV specialist that would either fix the issue or replace the TV.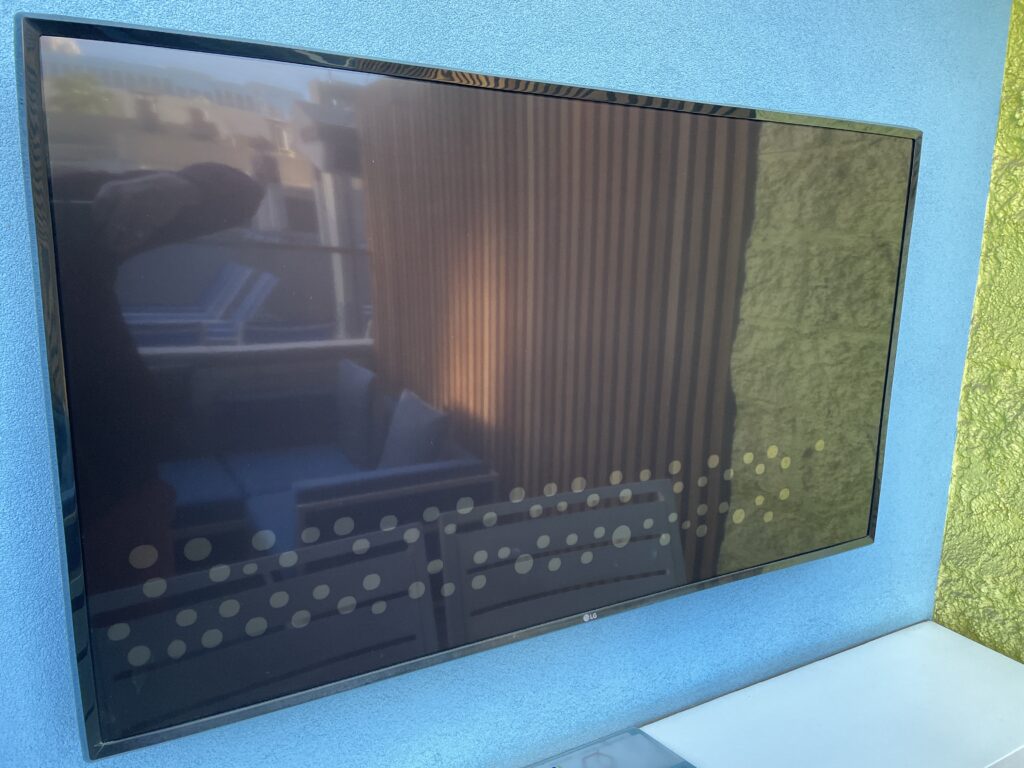 We never heard from another technician, and the TV was never addressed despite additional calls to the front desk.
Ultimately, the TV issues meant the room was virtually unusable for my intended purpose.
In hindsight, I wish I would have booked a comped baseline room and paid to attend a watch party instead of paying over $400/night for an "elevated experience".
While not LINQ's fault, the sun made the outdoor TV difficult to watch for the majority of the day as it was shining directly on it.
Cleanliness
I'm not a clean freak by any stretch, but for those that are, note that this wasn't exactly a spotless room.
There was random tape on the walls, scuffs and scratches everywhere, and a mystery brown substance on our lone TV remote (which was replaced by the 1st technician).
While I understand that the poolside rooms attract a "party crowd" I expected more at the price point.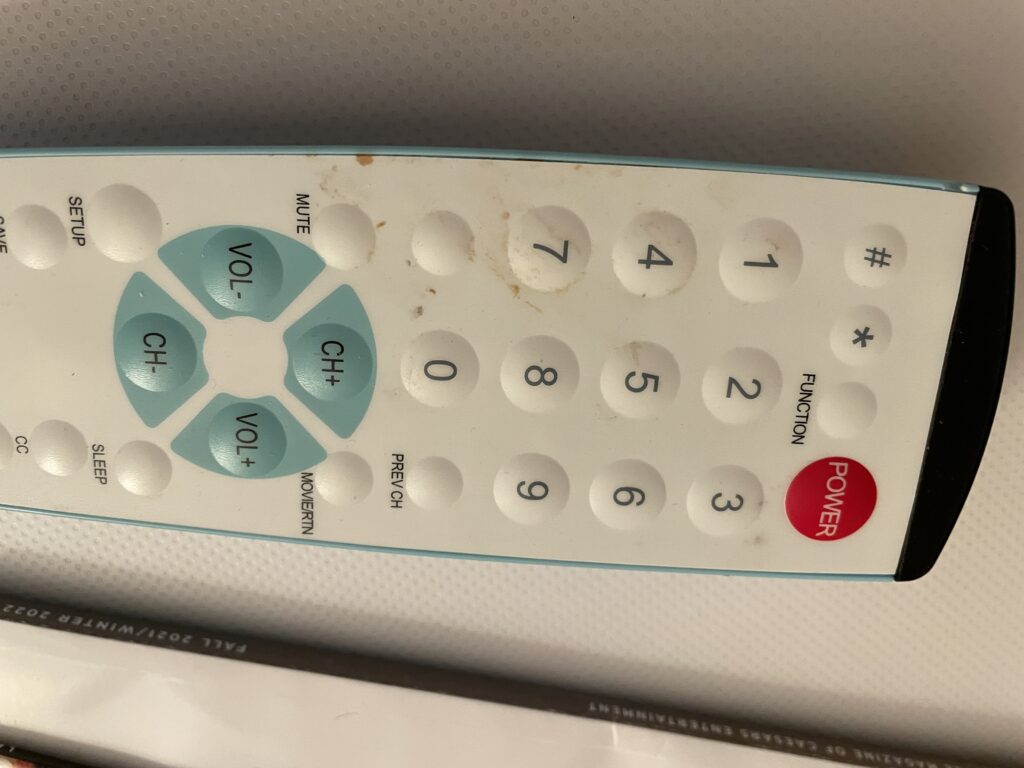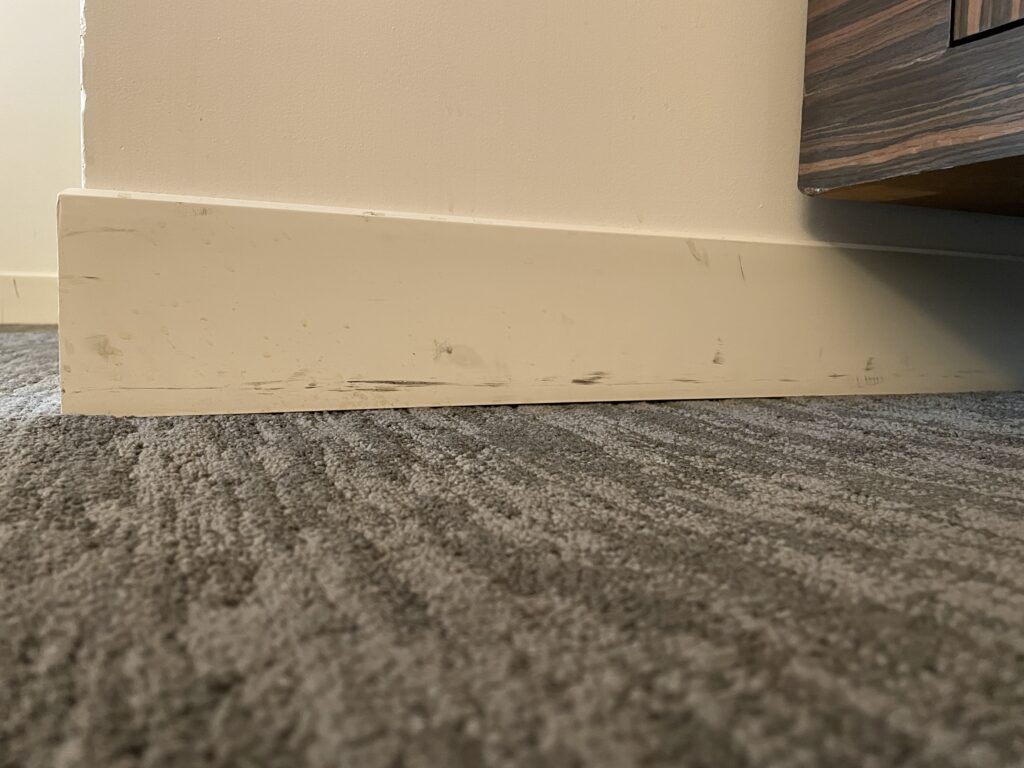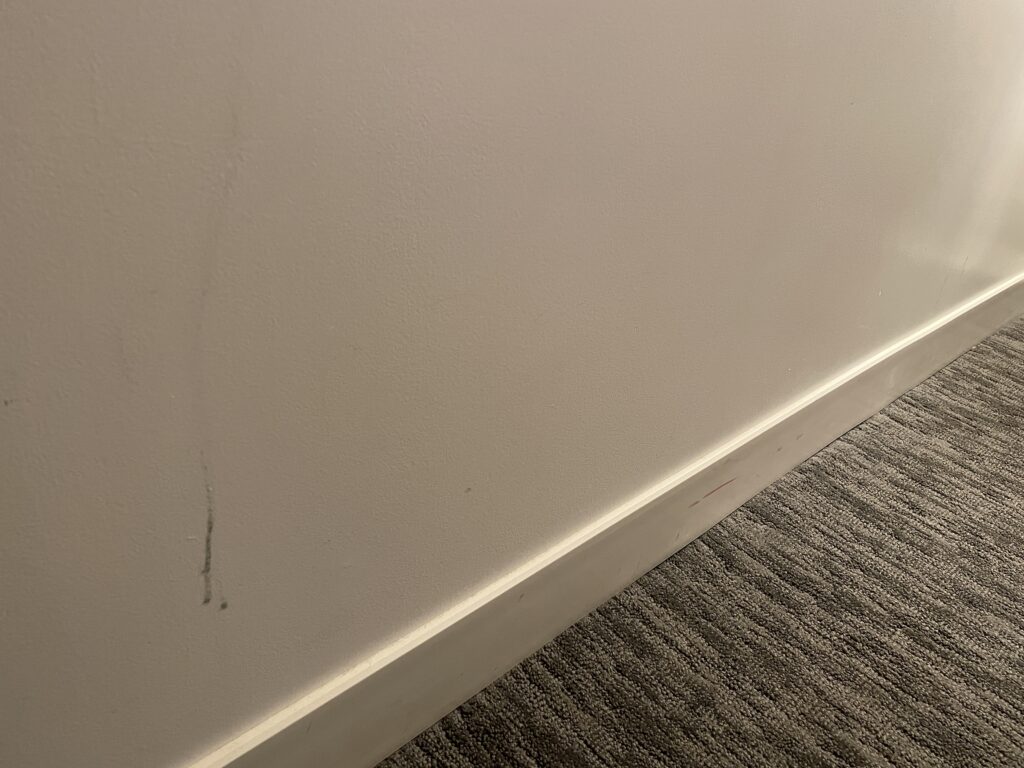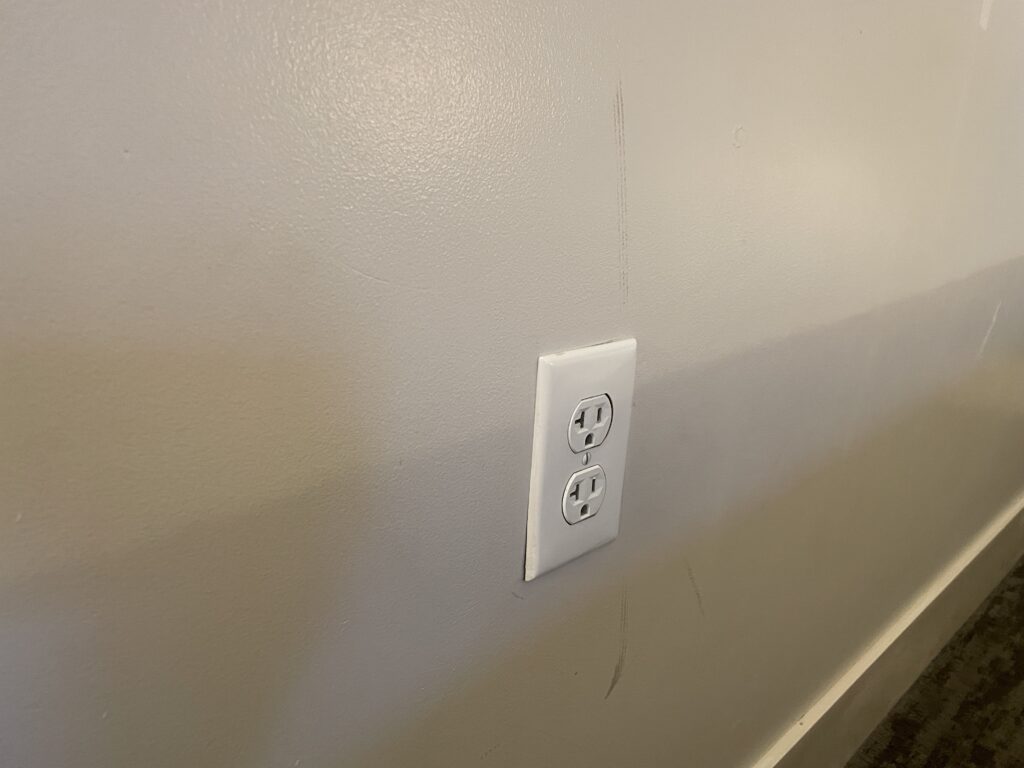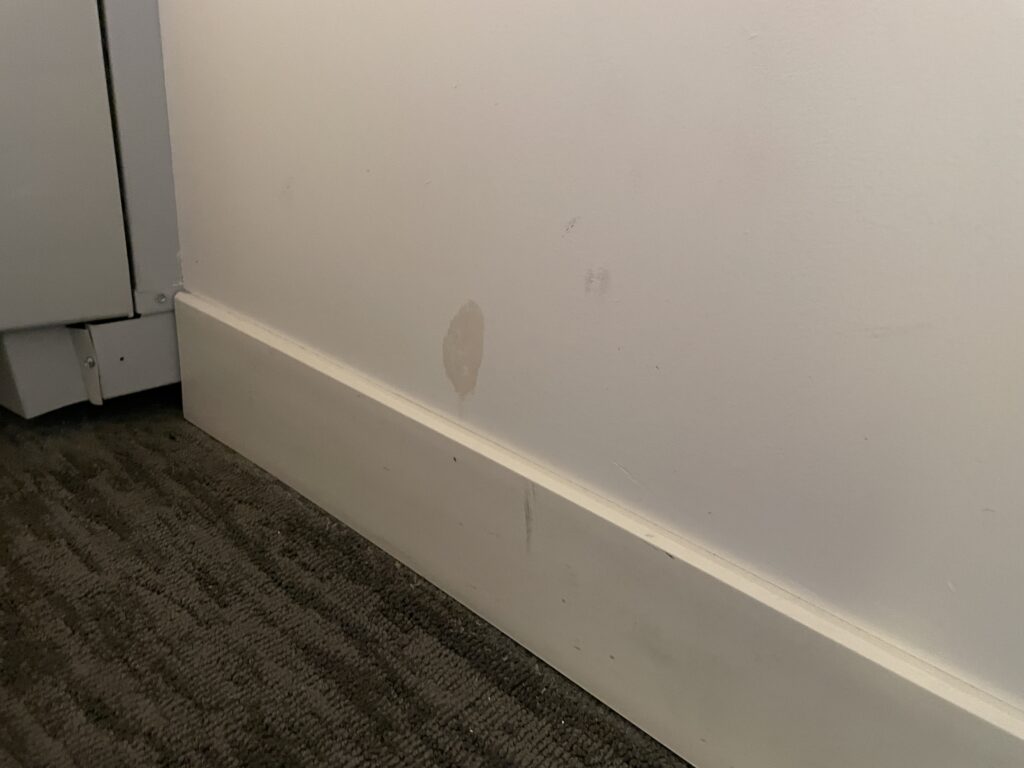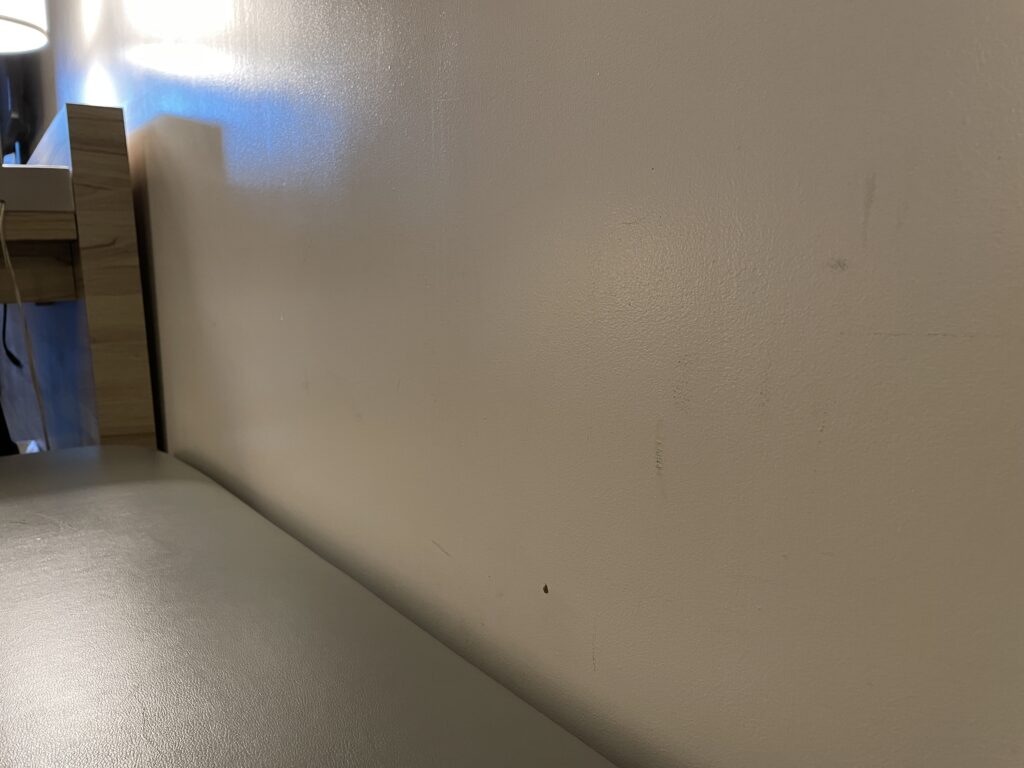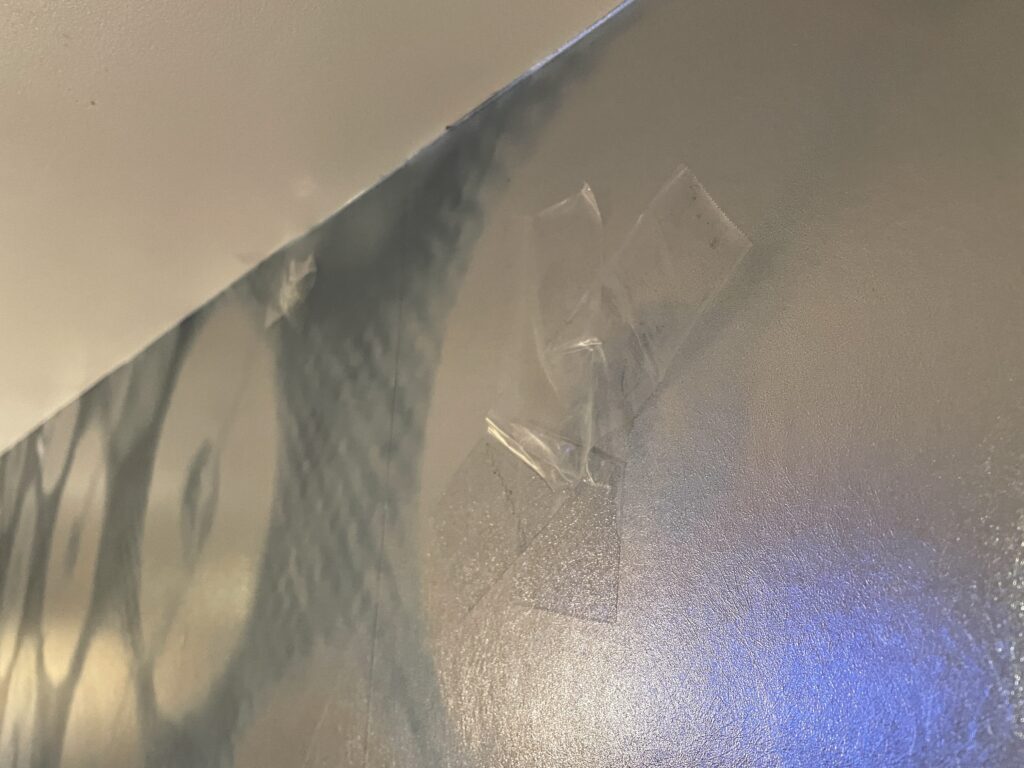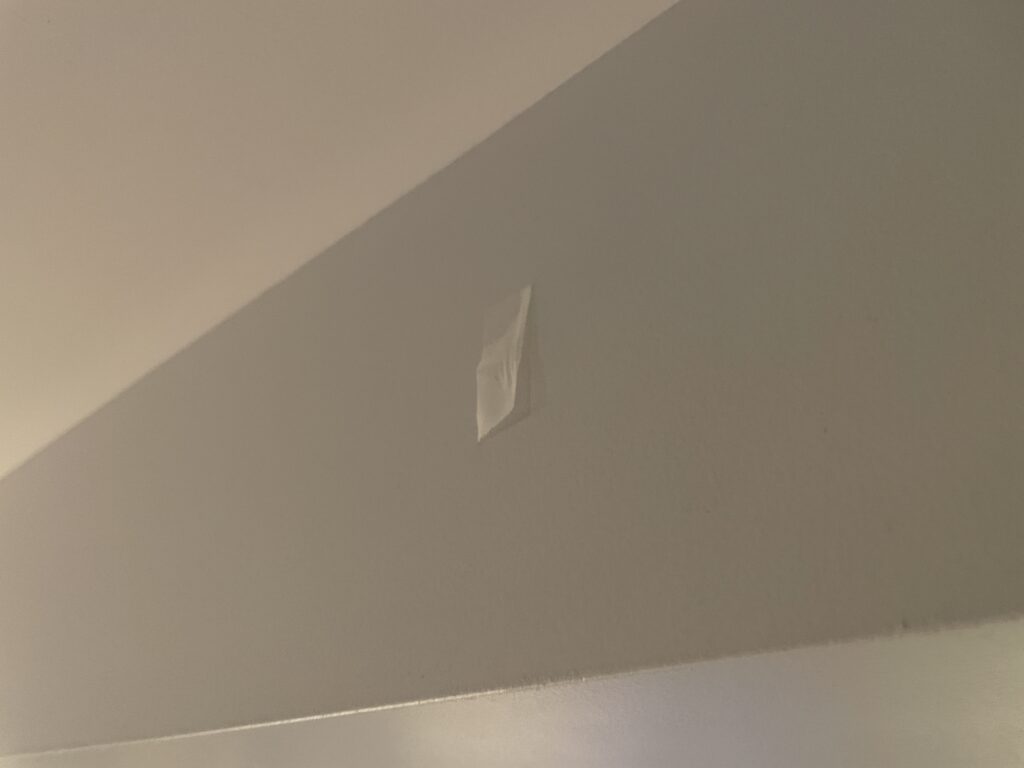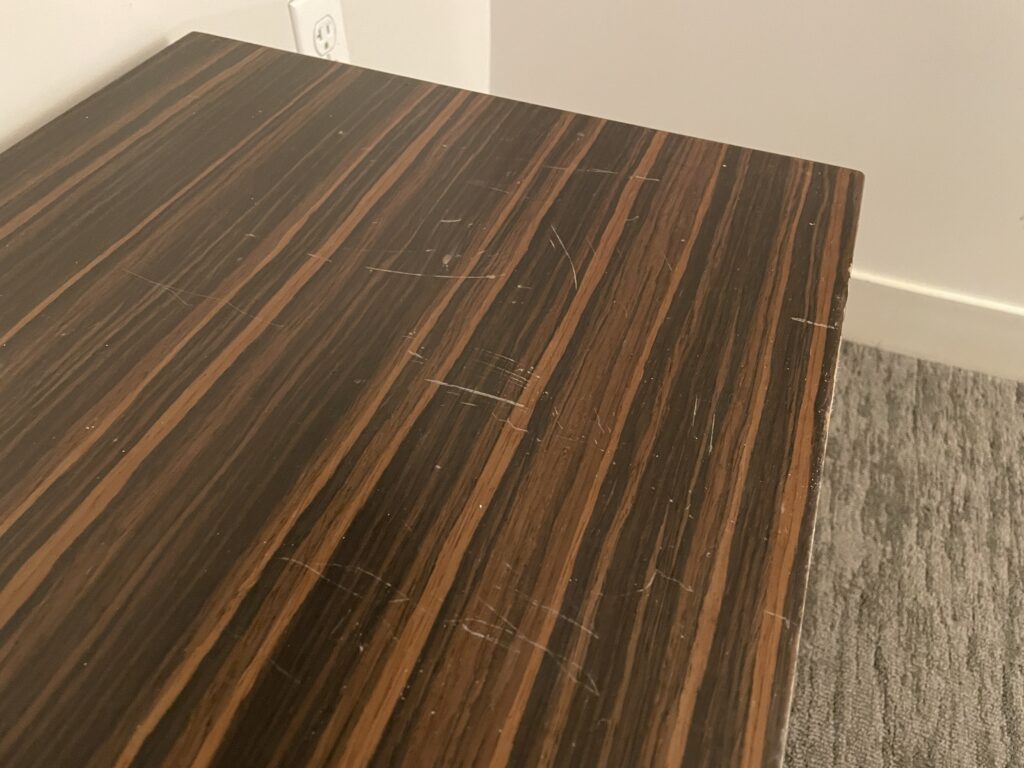 Noise
The music at the pool starts at around 10 am and is pretty loud. If you're not an "Untz person", this probably isn't the room for you. The sliding glass door did do a pretty darn good job of blunting the noise, however.
Considering the "party crowd" that the Poolside Cabana rooms attract, you can expect a healthy amount of loud conversations, "Wooos!", and general debauchery in the hotel hallway into the wee hours of the morning.
Mobile Food Orders
In the room was an advertisement that featured a QR code that allowed you to place an order with a number of LINQ's restaurants. Food could either be picked up, or delivered for an additional fee
Taking advantage of this convenience, I ordered up a Mac & Cheese Burger and fries from Guy Fieri's for takeout.
Once ordered, there's a progress bar (like the Domino's pizza tracker), that tells you when your order is received, and when it's ready for pickup. They'll also text you when the order is ready to rock. Convenient, right!?
After an hour of waiting, I realized that I had yet to be notified my meal was complete. I visited the progress bar only to see my order hadn't even been "received" yet.
At this point, I walked down to Guy Fieri's to investigate and was told by the hostess to inquire into my meal's status at the bar. The bartender let me know that they weren't accepting online orders that day as their "to-go guy wasn't there".
Thanks for the heads up! LOL. Come on.
He also let me know that the whopping $35 I paid for the burger wouldn't be charged to my room as they never completed the order.
Wrong.
Of course, the $35 phantom burger was listed on my folio at check-out. That forced me to skip the convenience of mobile check-out and instead, wait to speak to the lone human working the check-in/out kiosks.
She was able to remove the charge, but the whole experience was frustrating.
UPDATE (5-days after check out): The $35 burger was charged to my credit card separately for some reason. I had to call in to billing support to once removed once again.
Related: Poolside Hotel Rooms in Las Vegas.
The Influence Pool Deck
On the bright side, this is a great room if you're coming to spend the day at the pool. The outdoor cabana space gets plenty of sun and has a door that opens right up to the action.
LINQ's influence pool featured a DJ daily and is situated on the party end of the "relaxing/party" spectrum.
The main pool is small, but perfect for lounging and enjoying a cocktail. A large, glass-walled hot tub is also available.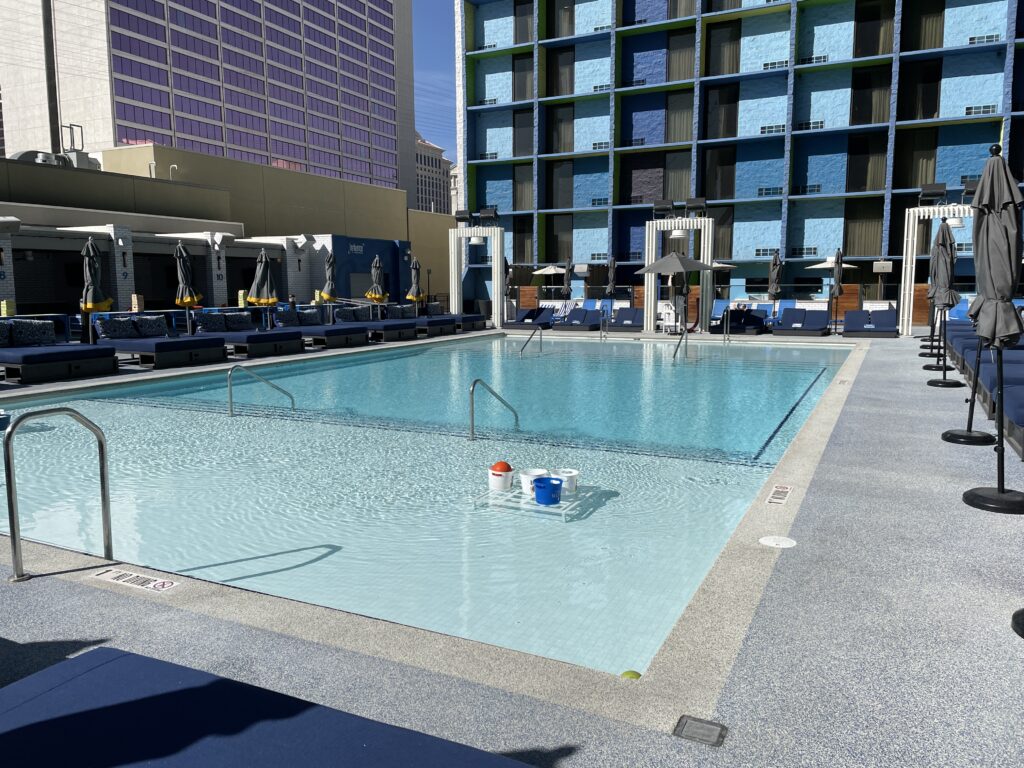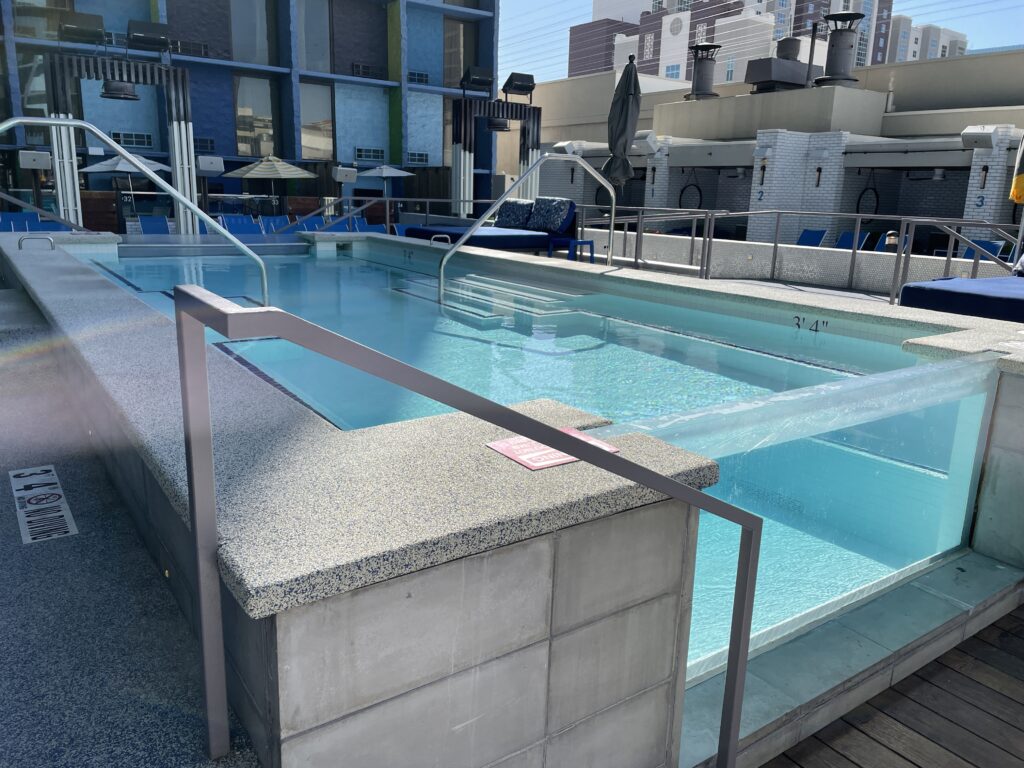 Yard games like cornhole were also offered near the pool.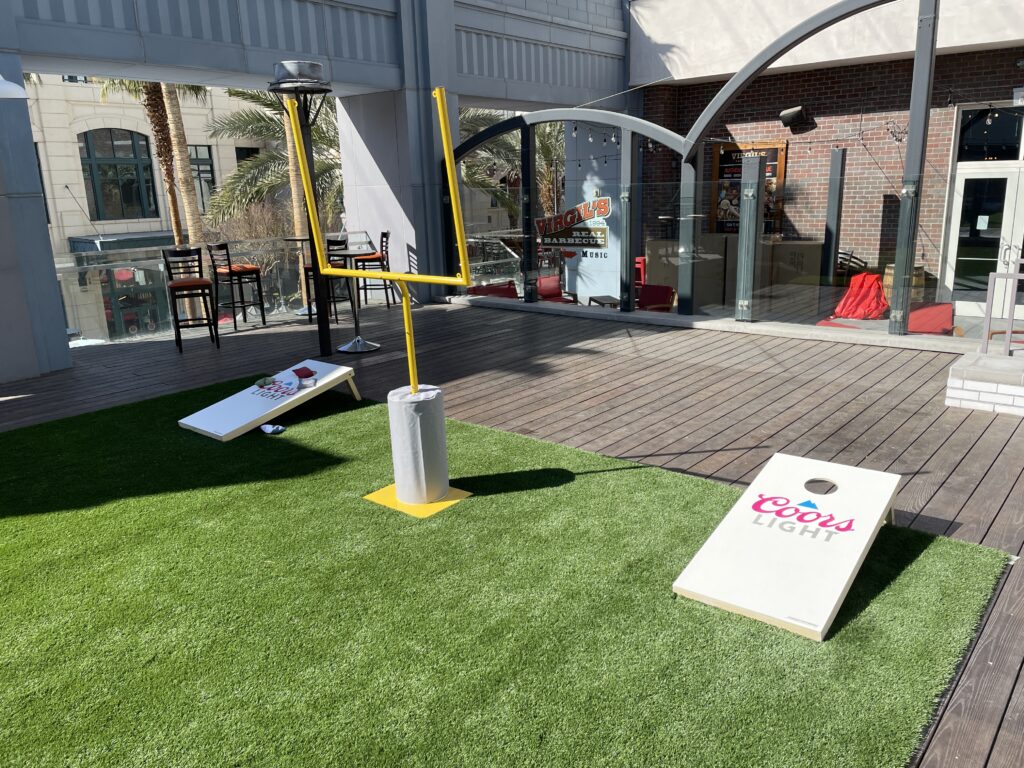 Uniquely, there was a living room-like space with TVs on the pool deck that we resorted to using several times when our room's TVs did the "freeze and scramble" thing.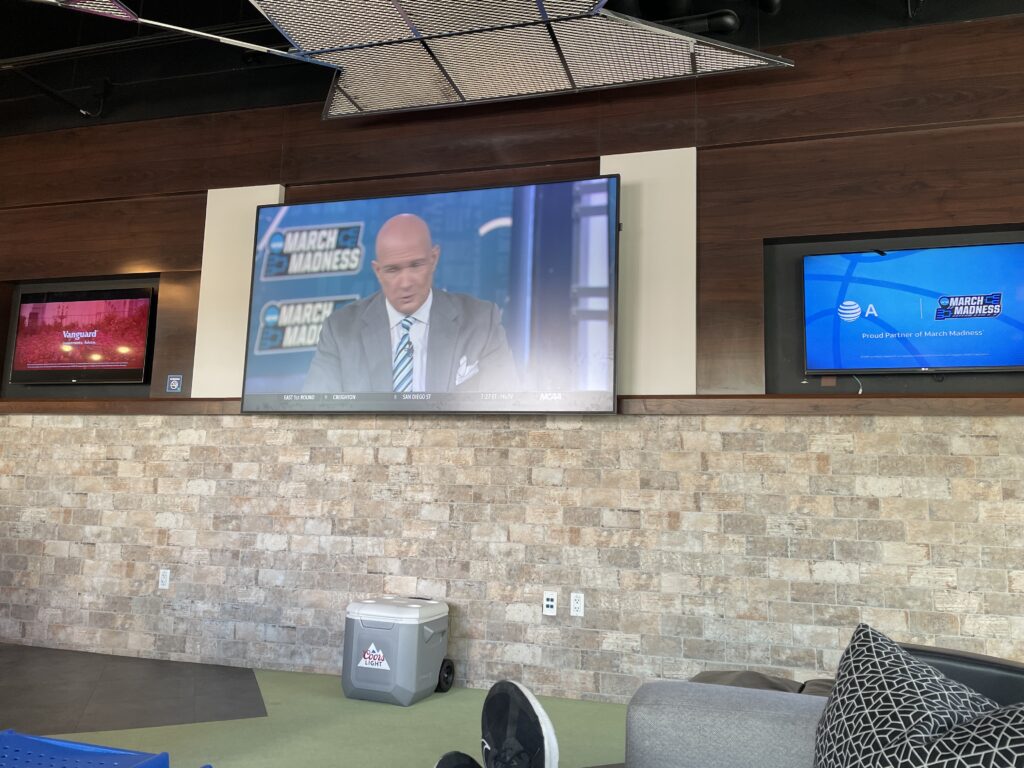 Is LINQ's Poolside Cabana Room worth the money?
I would describe the room as underwhelming and disappointing for the price I paid.
Perhaps, part of my problem was that I built up unrealistic expectations in my mind and oversold how awesome the experience would be to my friends. To say they poked a fair amount of fun at me throughout the weekend for pushing for this specific room type would be an understatement.
I reserved the Poolside Cabana room 9+ months in advance, thinking it would make the perfect home base for my crew's first return to Las Vegas for the opening weekend of March Madness after 2 COVID-interrupted years. Lesson learned.
In hindsight, spending less money to snag a quality room at Wynn, Venetian, Aria, Vdara, Bellagio, or Resorts World and tickets to a March Madness watch party as opposed to the Poolside Cabana room is a no-brainer.
While a case could be made for avid pool-goers, it's not a room I anticipate booking again.
See More Room Reviews!
I'm a former software salesman turned Vegas aficionado. While the craps table is my preferred habitat, I pull myself away to explore new attractions, shows, restaurants, and outdoor activities around Las Vegas with the intent of sharing my experiences.
Ultimately, I just want to help folks plan a better trip and save a few bucks in the process.