For many visiting Las Vegas, the hotel pool is a crucial amenity, oftentimes more important than the casino, guestrooms, dining options, or bars on site.
While many come to Las Vegas to primarily gamble, others look to relax and soak in the desert sun. It leaves many wondering, "What pool is the best in Las Vegas?". After all, booking a resort with a tiny, shaded, or low-quality pool scene could be catastrophic.
Although there isn't a "best" pool in Vegas per se, there are a number that are solid contenders for that distinction.
Below, I'll shed some light on the pools considered to be among the best in Vegas, both on the Strip and Downtown.
See Also: Las Vegas Pools Open to the Public – For Free or a fee.
Best Pools On The Las Vegas Strip
Mandalay Bay's Beach
Mandalay Bay's pool complex has a firmly entrenched position in the upper echelon among the best pools in Las Vegas. Why? How much time do you have?
Among my favorite features of Mandalay's pool is the differentiation of offerings. The 11-acre complex boasts a 1.6 million gallon wave pool that churns out 6-foot tall waves, a real sand beach, a jogging path, a lazy river, and 4 swimming pools.
Nothing beats a relaxing float on a lazy river the day after you "overindulged". Check out this oasis in the desert below.
MGM Grand
Like Mandalay Bay, MGM Grand ranks among the top pools in Las Vegas due to the diversity of amenities spread out over a sprawling 6.5-acre complex.
Encompassed within MGM Grand's pool deck are a 1,000-foot-long lazy river, 3 whirlpools, and 4 pools complete with waterfalls.
The environment has a tropical feel due to the abundance of palm trees and plant life, which also serve as a privacy barrier segmenting the pool deck into smaller sections.
The best way to get a feel for the size and scope of the pool at MGM grand is from above.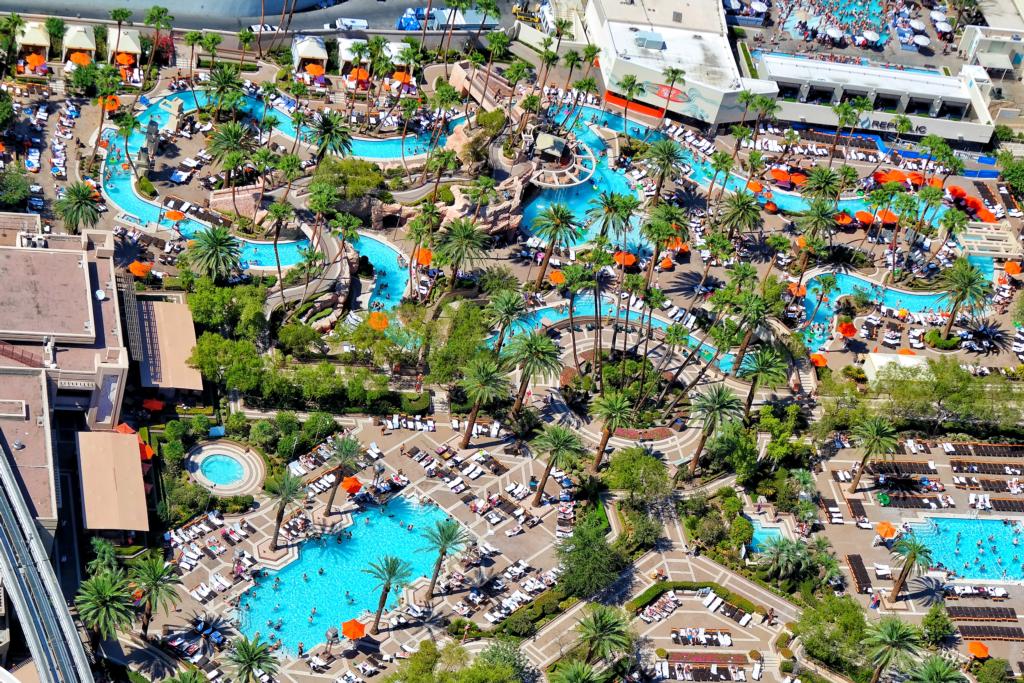 Caesars Palace Garden of the Gods
The Garden of the Gods Pool Oasis at Caesars Palace spans 5-acres with pools on 3 levels.
Comprised of 8 total pools spread across the complex, you're sure to find space to stretch out and absorb some rays.
Like others on the list of top pools, Caesars earns mention not only for the expansive nature of its pool deck but for the sights your eyes feast on while lounging.
Nestled between hotel towers, Caesars' does a fantastic job extending the resort's Roman theme and decor to the pool creating a unique and differentiated experience.
Another unique aspect I love is the opportunity to play swim-up blackjack in the shaded Fortuna Pool. Yes, it's 6:5, but being able to play while submerged is worth the trade-off.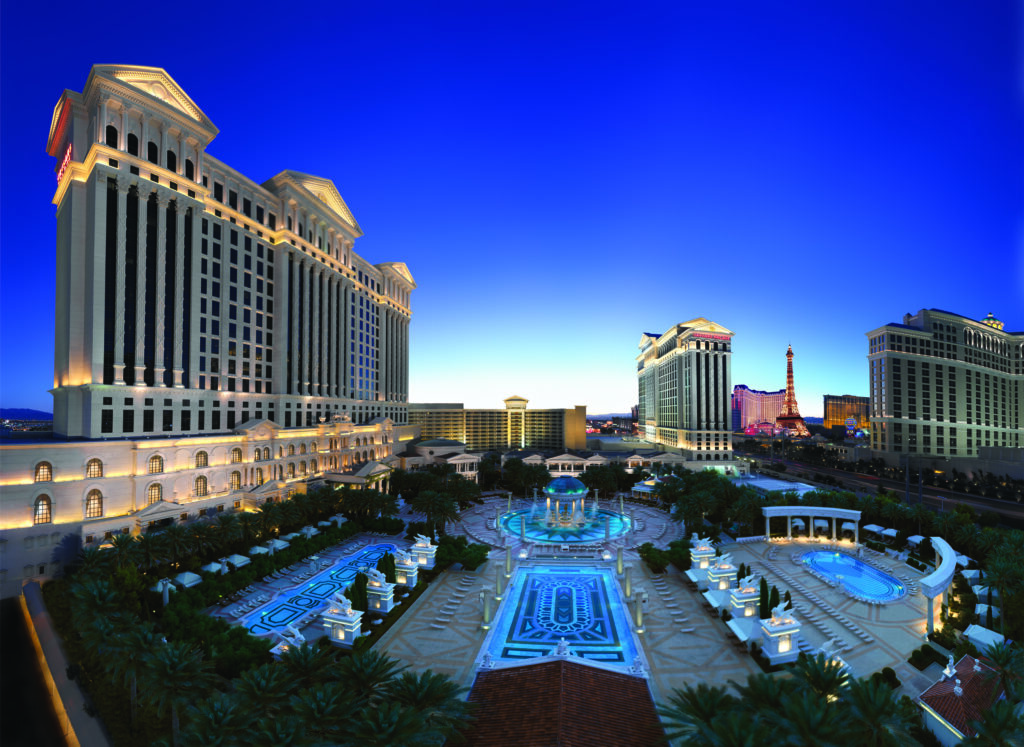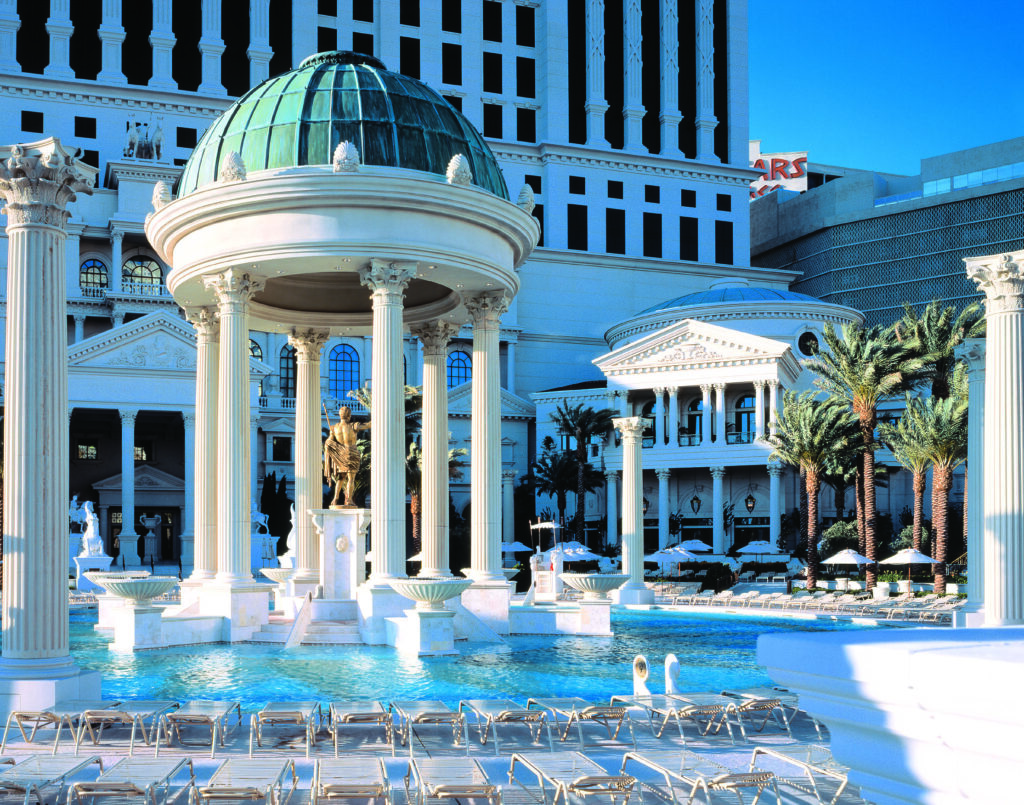 Bellagio
Consistently recognized as one of the top resorts in Vegas, it won't surprise you that Bellagio's pool is also highly regarded.
Incorporating 5 pools and 4 hot tubs into a Mediterranean-themed pool deck, Bellagio provides a relaxing environment to rest and rejuvenate before tackling the day ahead.
Although expansive, the pool deck is divided into several separate courtyards creating a more intimate vibe.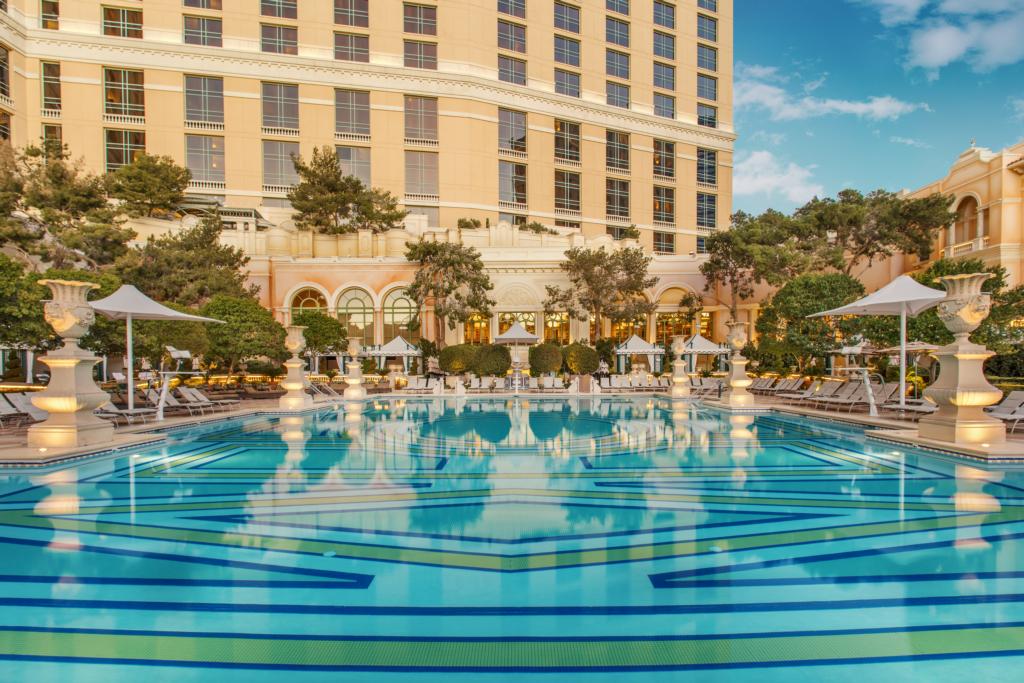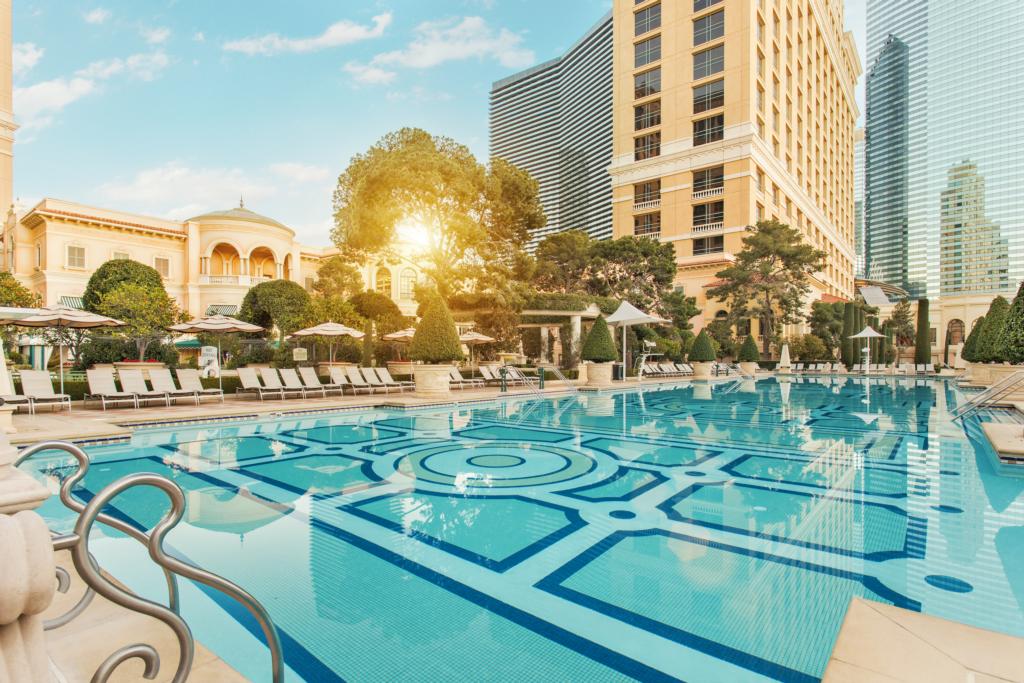 Flamingo's GoPool
Another pool in Vegas with a tropical vibe, Flamingo's GoPool incorporates a waterfall and lagoons into a visually appealing complex that resides on the louder side of the "relaxation/party spectrum".
While "untz seekers" are sure to enjoy the GoPool, those that prefer a quiet, relaxing experience may want to look at other options.
Among my favorite features of Flamingo's design is the incorporation of palm trees in the middle of the pool.
A 21+ experience, guests can check the calendar of events at Flamingo's GoPool in advance here.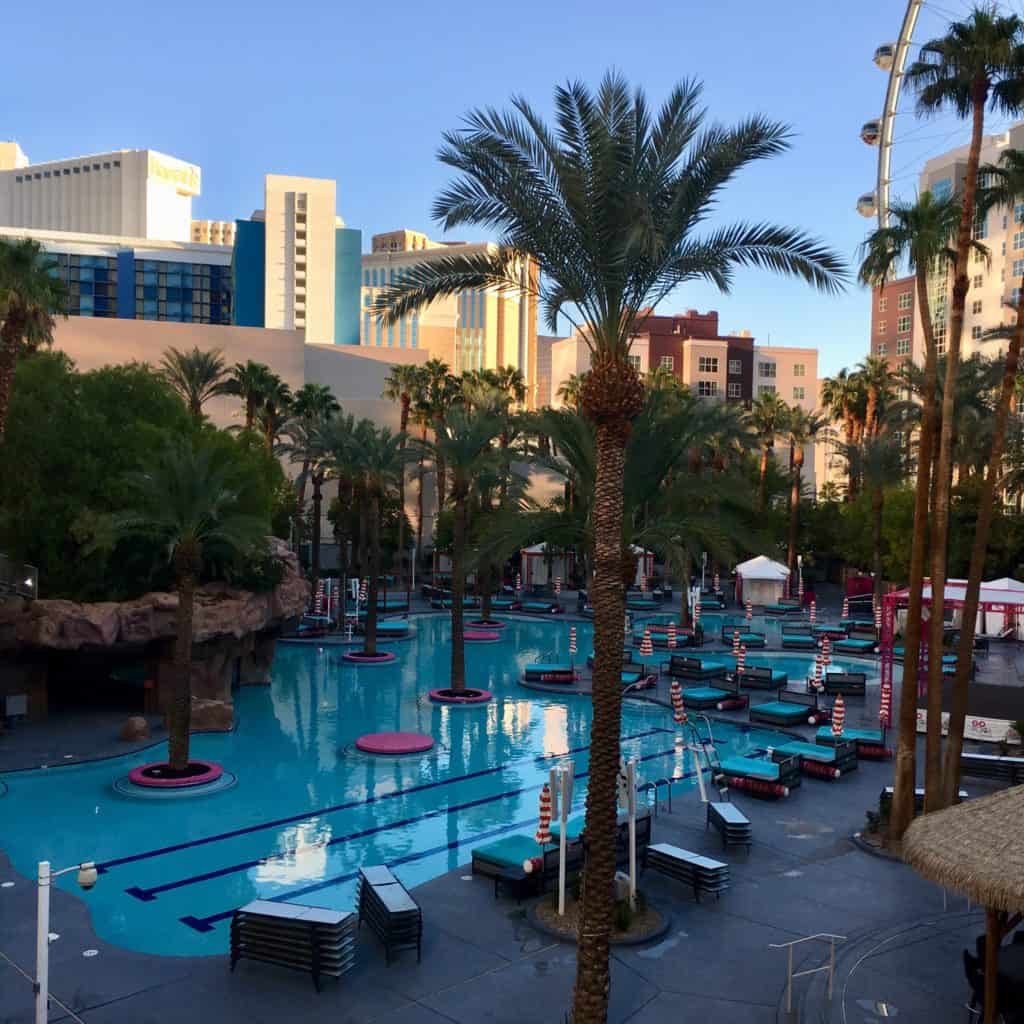 See Also: Check out these Las Vegas hotel rooms with their own private pool.
Cosmopolitan
As one of the nicest hotel properties in Las Vegas, a top-tier pool experience is expected and Cosmopolitan delivers with two distinct pool scenes.
Cosmo's Boulevard Pool is perched on the rooftop near the front of the property providing stunning views of the surrounding Las Vegas Strip. Boulevard is billed as being Cosmopolitan's "upbeat" pool with music and a festive atmosphere.
Adding to the uniqueness of the Boulevard Pool is that loungers can be found on various levels surrounding the pool, allowing guests to find the perfect amount of seclusion, sun, or shade.
Complete with a poolside bar, and jacuzzi big enough to fit about 25 people, Cosmo's Boulevard Pool is among my favorites in Vegas.
Uniquely, the pool deck also transforms into both a movie viewing venue on select summer evenings and an ice skating rink during the winter months.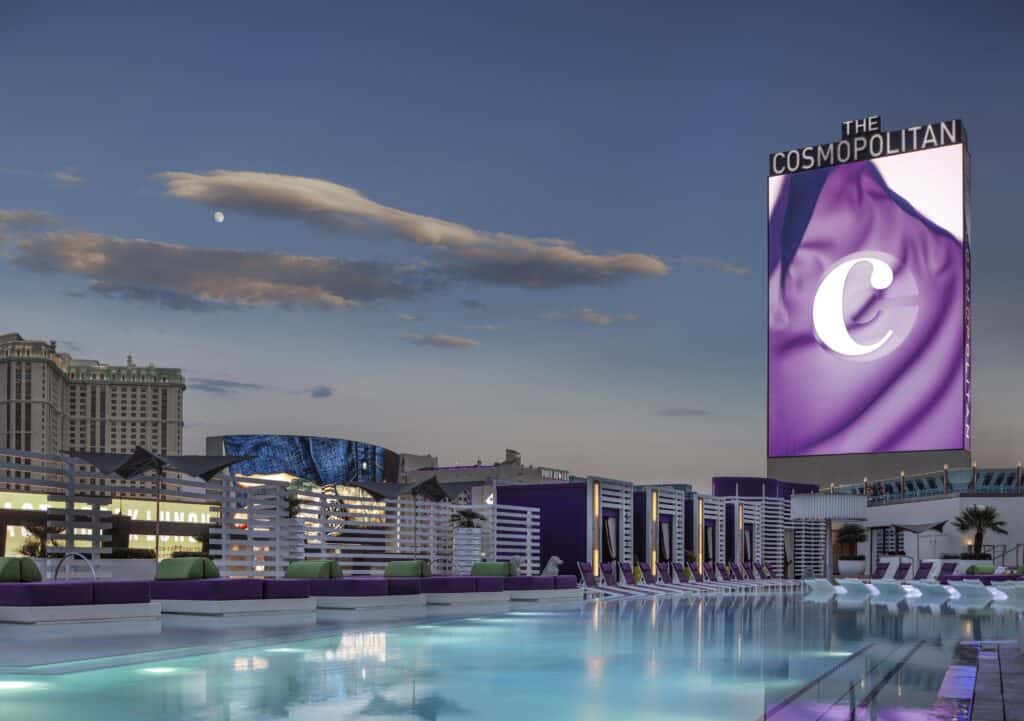 Cosmopolitan's Chelsea Pool is a separate pool experience located on the south side of the property and is designed to be a quiet place to relax without the constant thumping of bass. "Chill" is the best way to describe Chelsea which remains open year-round.
Wynn
As you would expect, one of the most luxurious properties in Las Vegas has one of the best pools on the Strip.
While absent are the wave pools, lazy rivers, and sand beaches that draw the masses to other top pools in Vegas, Wynn excels at quiet, relaxing, decadence.
Their main pool is shaped like a long barbell and is surrounded by privacy producing greenery and plant life. Wynn's pool is in the top echelon due to the beauty and class that the complex exudes.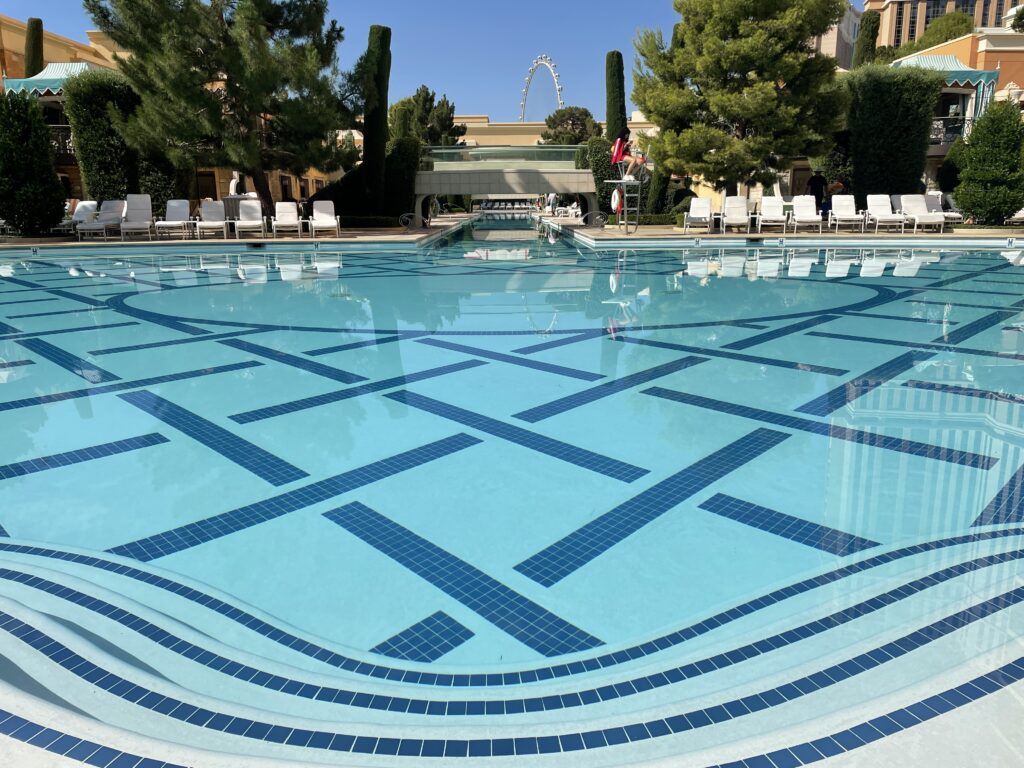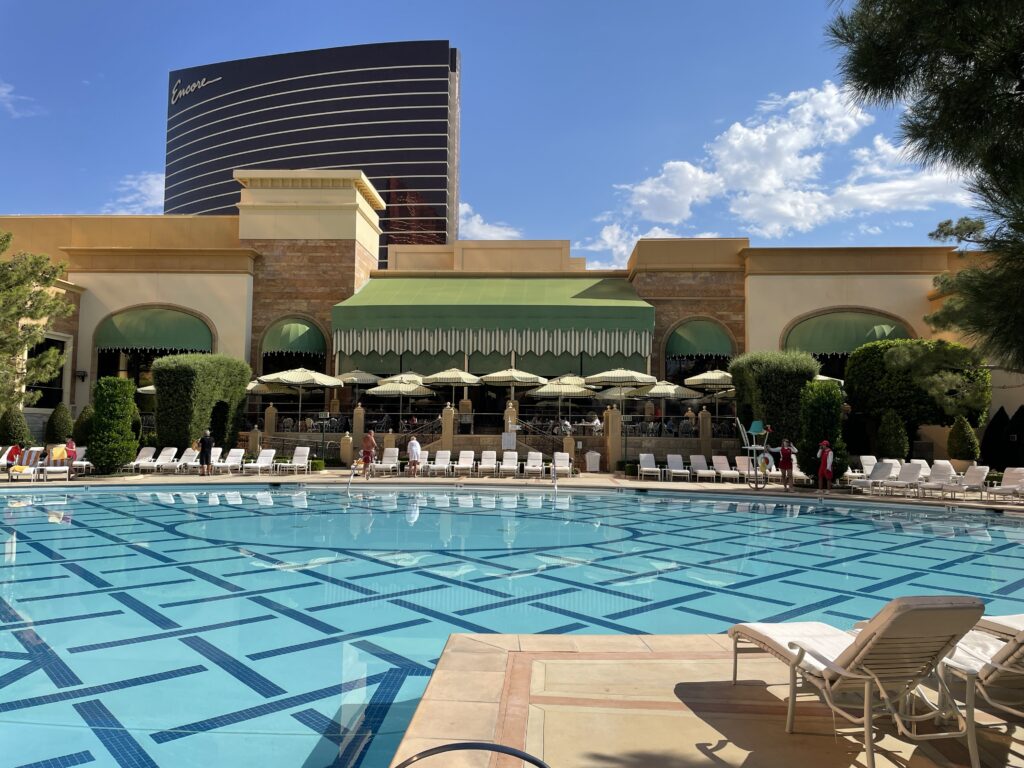 Mirage
One common characteristic that the best pools in Las Vegas share is uniqueness. They stand out from the pack in some way. Mirage accomplishes this by surrounding its pool complex with palm trees and tropical plant life that provides the illusion of being closer to the equator than the desert.
Adding to the appeal, Mirage's 2 pools and 2 whirlpools are filled with salt water, allowing guests to avoid that distinctive chlorine smell and eye irritation that come with the use of the chemical.
The pool's signature feature though is the waterfall that guests can swim underneath to find reprieve from the desert sun.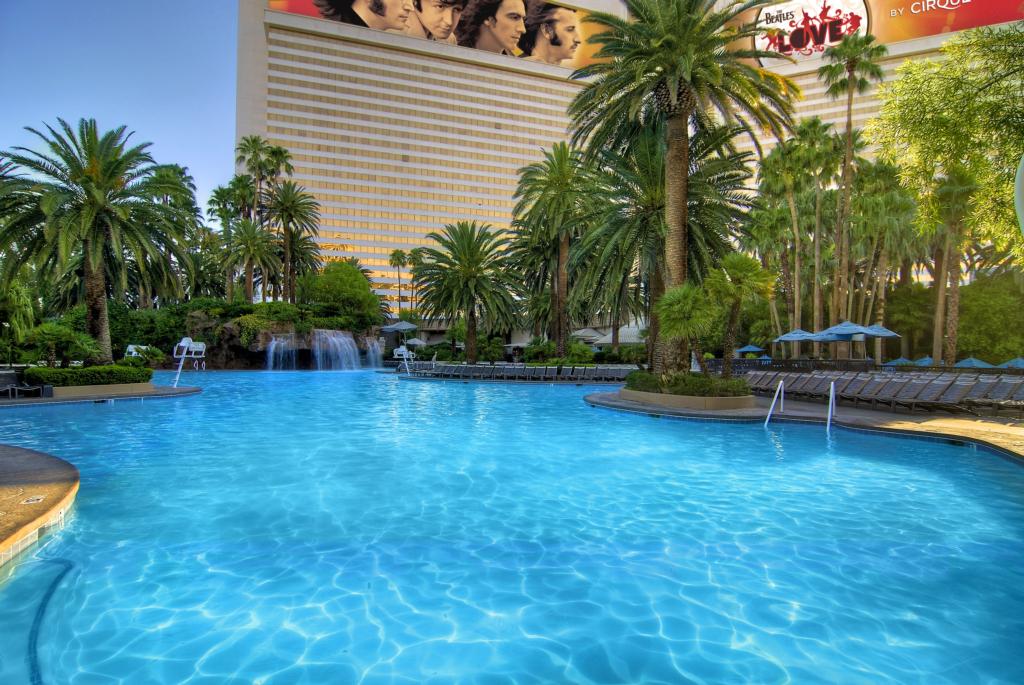 Venetian & Palazzo
With a combined 7 pools that match the level of quality guests have come to expect at Venetian and Palazzo, this combined rooftop pool deck is among the best in Vegas.
In addition to your "run-of-the-mill" pools, Venetian has 3 infinity pools and a splash pad, while Palazzo offers a 1-foot deep lounge pool. Both pools offer a number of hot tubs and their own bar.
With a variety of available seating options, you are destined to find the perfect amount of sun and privacy.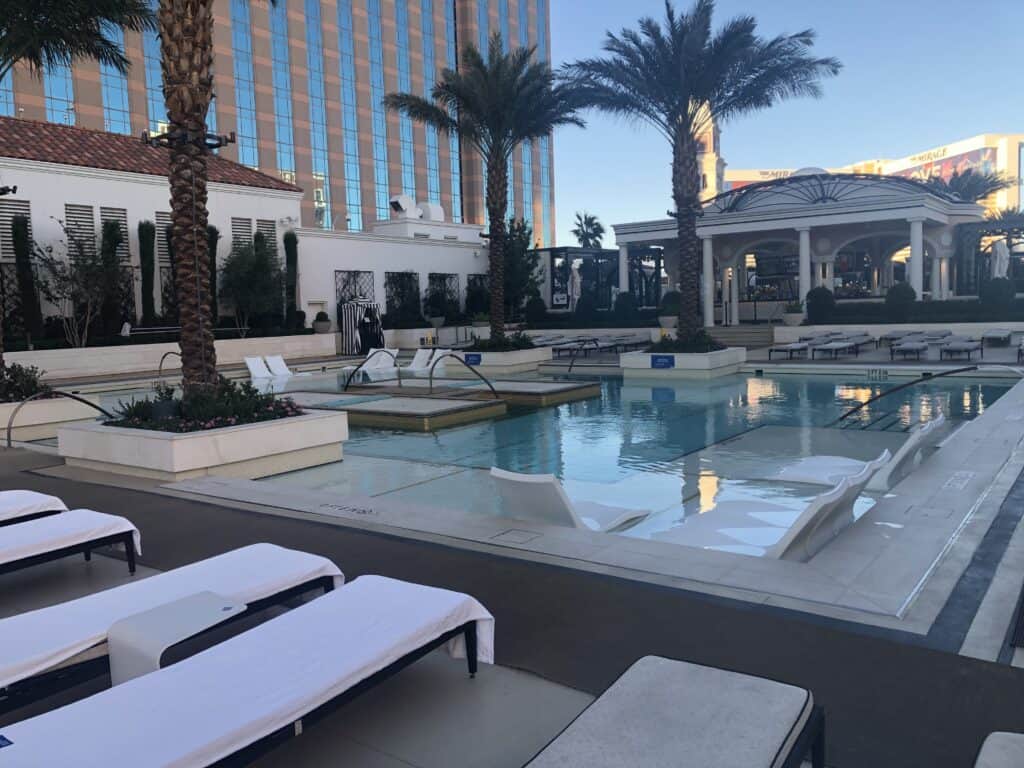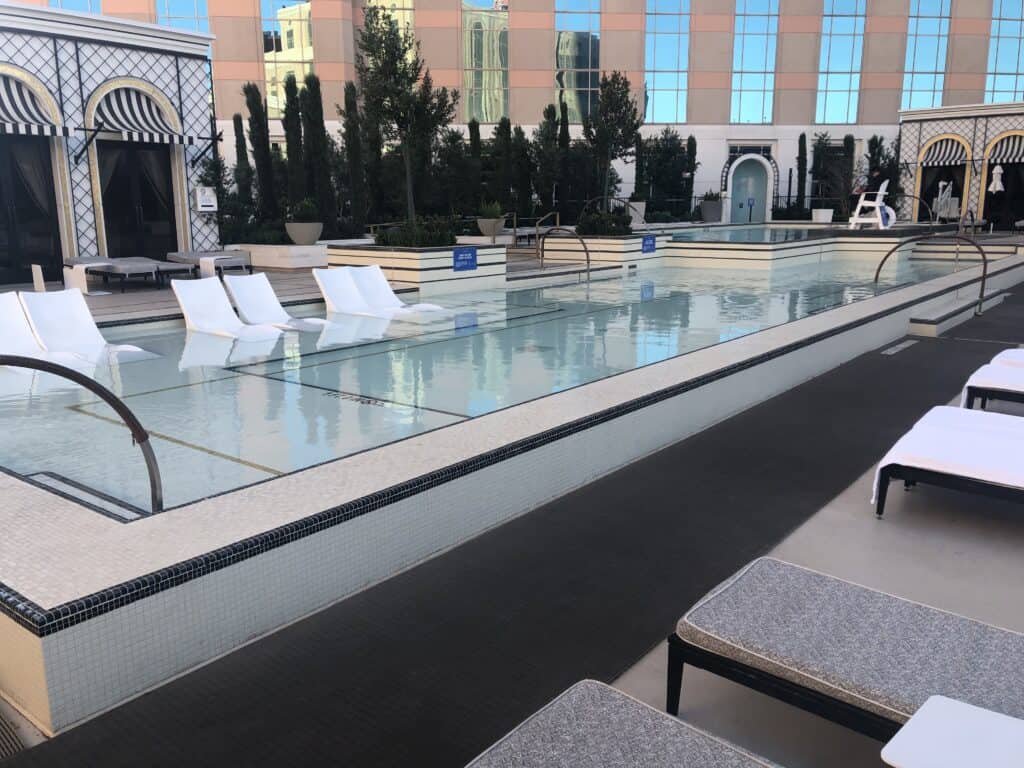 Resorts World
The newest resort in Las Vegas offers an impressive pool experience.
Perched atop Resorts World's roof, the pool deck provides spectacular views of resorts to the south like Wynn, Encore, TI, Palazzo, Venetian, and Mirage.
The 5.5-acre complex is comprised of 9 different pools that range from shallow options designed for families to an infinity pool that overlooks the Strip.
Like other top pools in Vegas, Resorts World's pool area is spread out and separated by trees and cabanas, providing a more private and intimate experience.
Unique amenities available to guests include yard games like cornhole and even hammocks.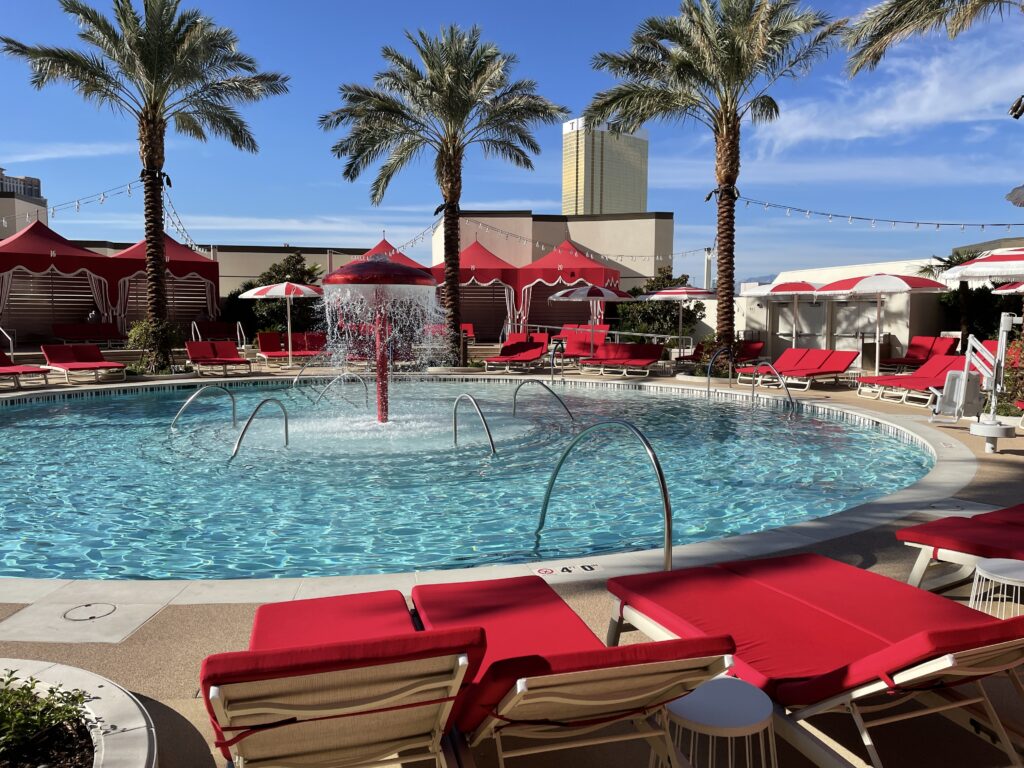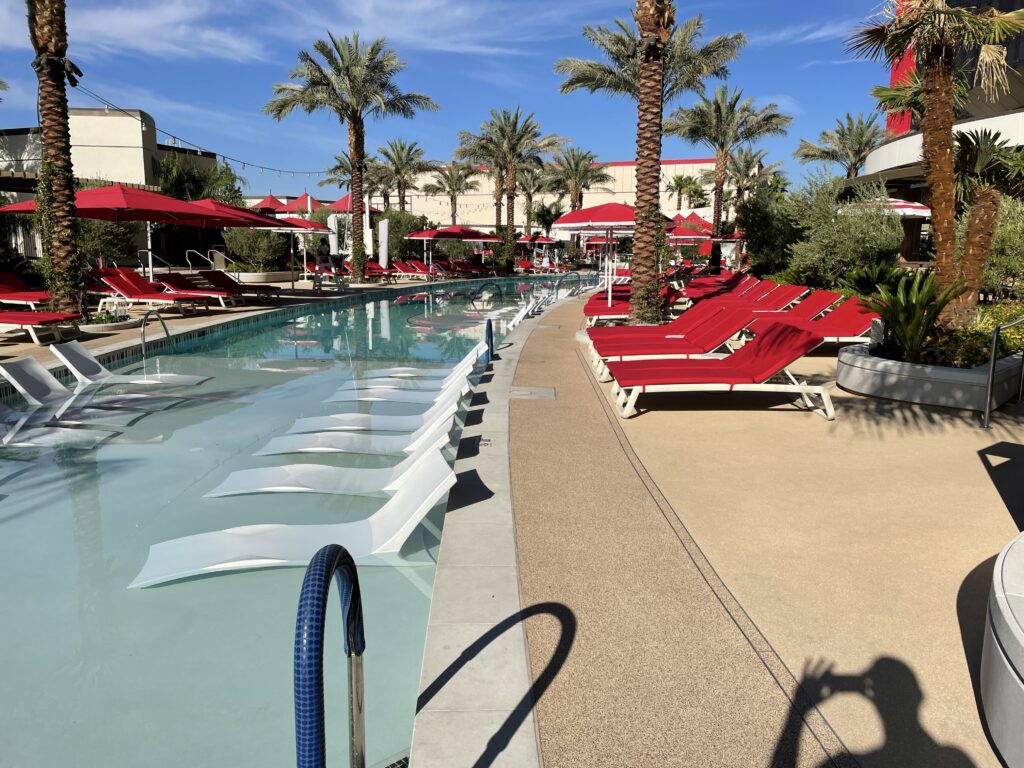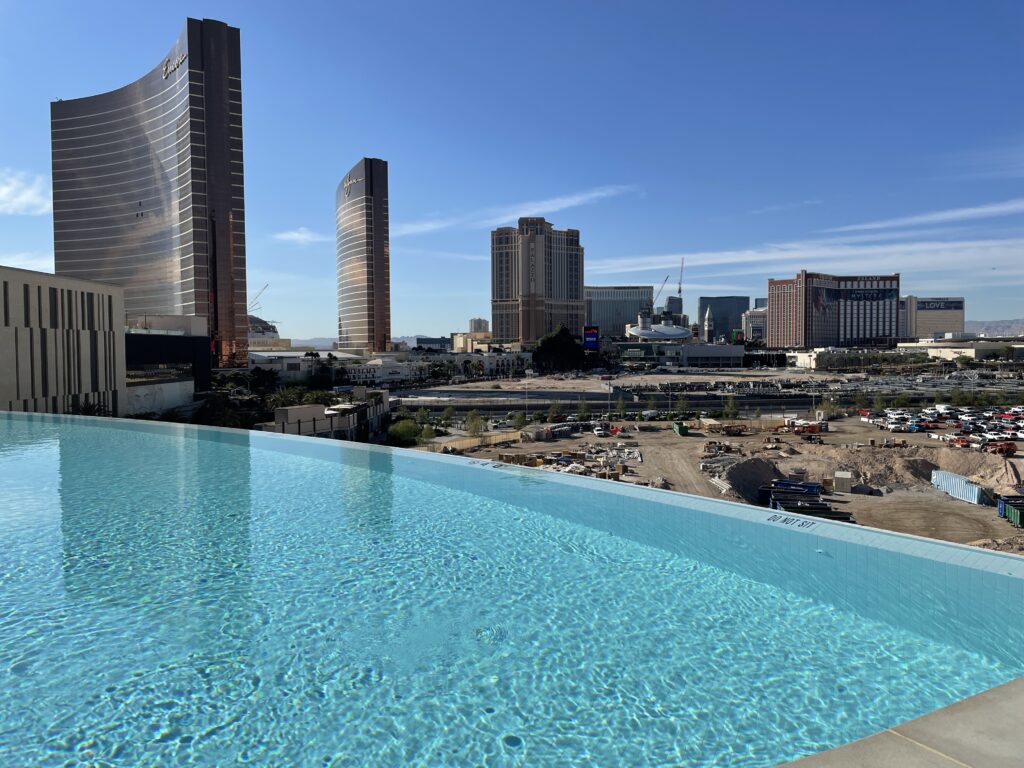 Honorable Mention
Paris' Soleil Pool
While the circular rooftop pool won't blow you away, the Soleil pool deck's location on Paris' rooftop sandwiched between the hotel tower and the replica Eiffel Tower is pretty darn unique.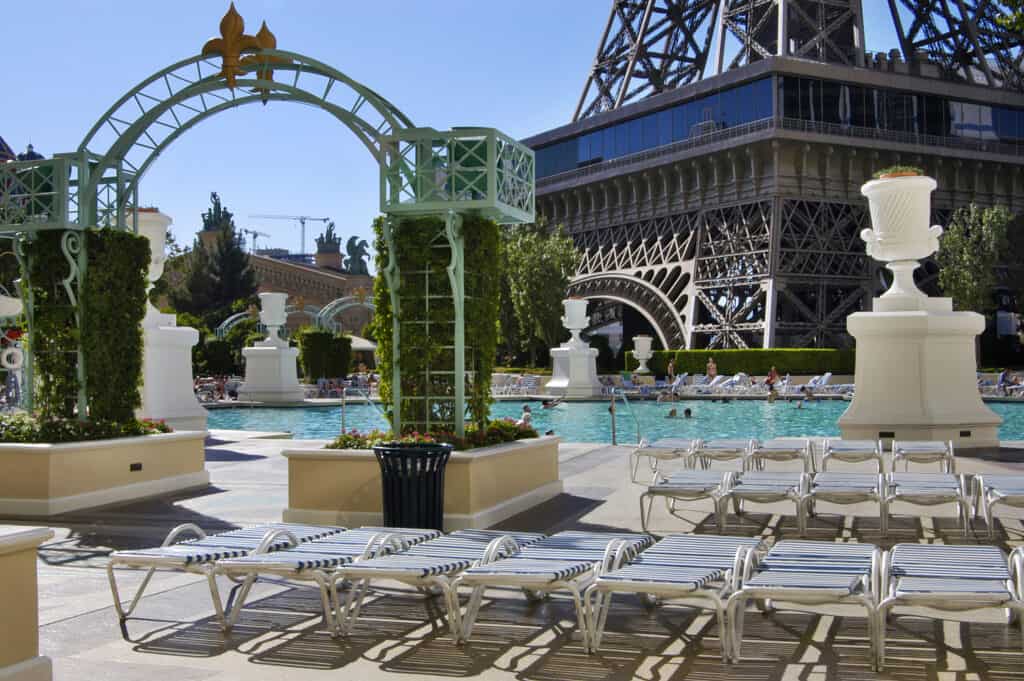 See Also: Pool Parties in Las Vegas – Here are your options.
Best Pools in Downtown Las Vegas
Circa's Stadium Swim
Circa's Stadium Swim easily earns the title of being the best pool on Fremont Street, boasting a 143-foot screen that displays live betting lines and sporting events.
Although the screen steals the show, the pool itself is no slouch with 6 separate pools, 2 jacuzzis, and 2 swim-up bars.
Every one of Circa's 330+ loungers, 30 cabanas, and 38 daybeds all point toward the screen so you'll never miss a minute of the action.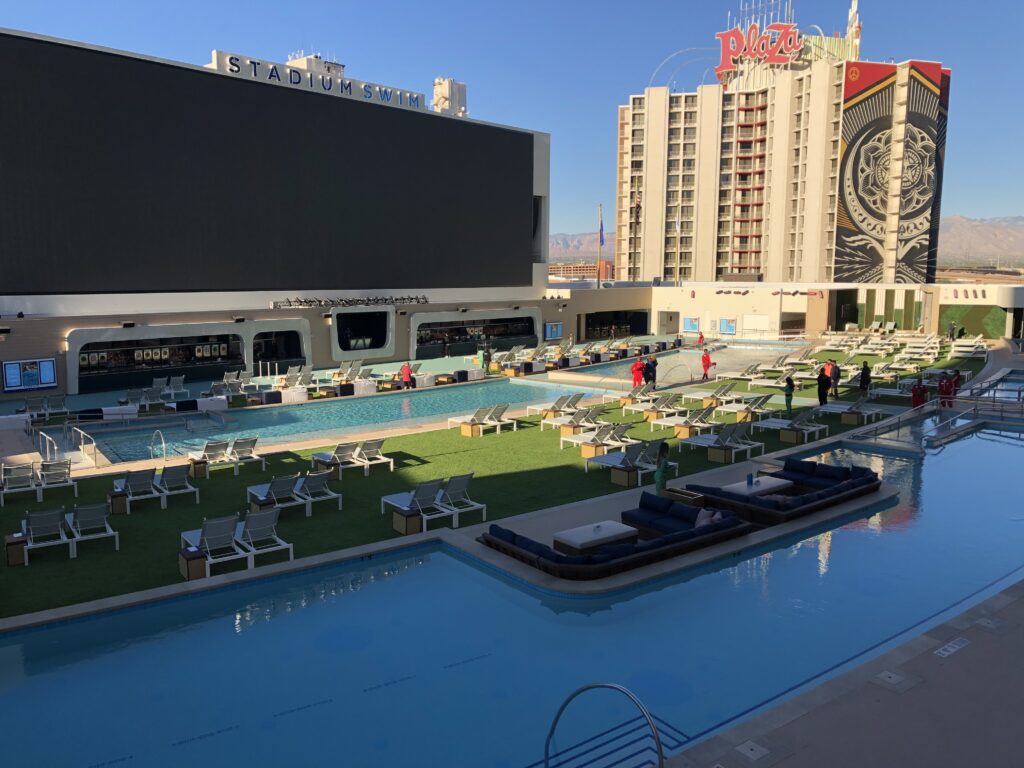 Circa keeps the water heated to a balmy 98 degrees all winter long, meaning you can take advantage of this haven while most resorts have their pools shuttered.
Although guests of Circa, The D, and Golden Gate have complimentary access to the pool deck, non-guests can access Stadium Swim for a small cover (typically $20, but it can be more during peak times/special events).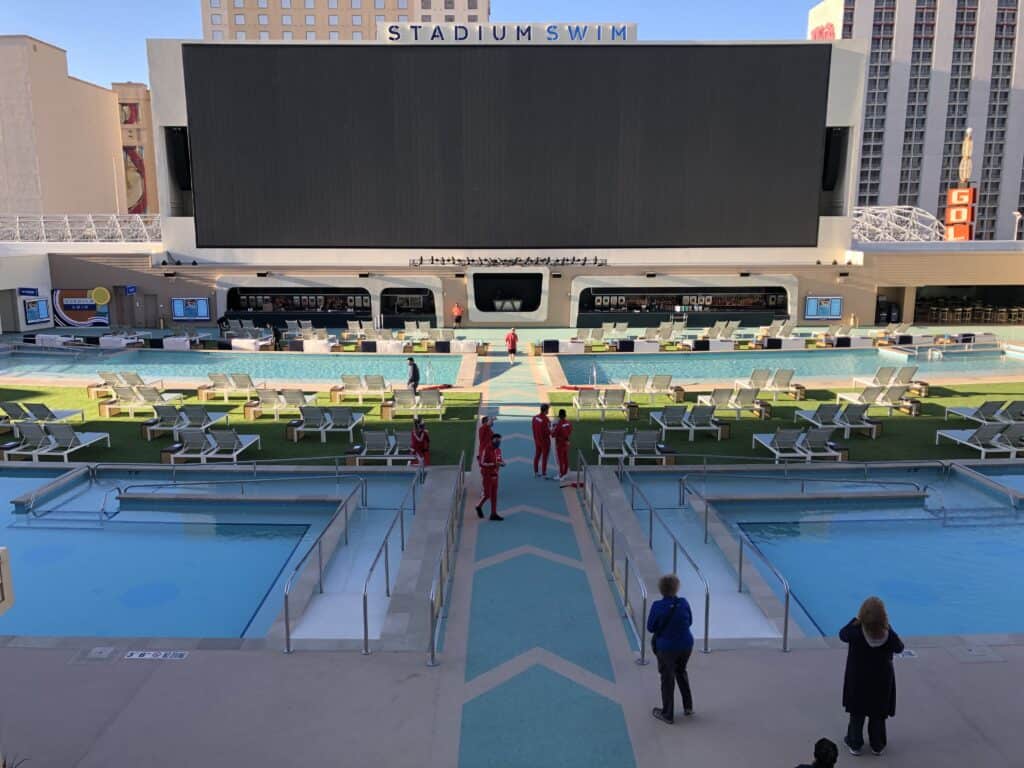 The Tank at Golden Nugget
Although recently dethroned as the best pool on Fremont Street by Circa, Golden Nugget's Tank still packs a punch.
The pool itself is built around a 200,000-gallon aquarium that houses an array of tropical aquatic life including sharks. Jutting through the middle of the aquarium is a clear tub waterslide that allows riders to get up close and personal with the sharks.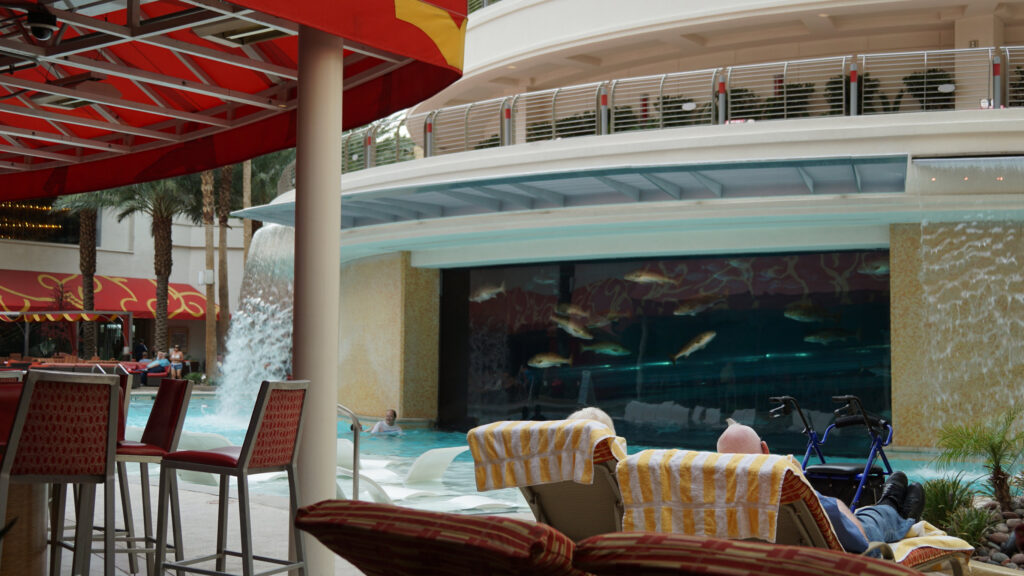 If booking a hotel with one of the best pools in Las Vegas is a priority, you will have a tough time going wrong with any of the above resort options. Have a great time in Vegas, and enjoy your poolside relaxation!
Related: Check out these Las vegas pool tips and tricks!
I'm a former software salesman turned Vegas aficionado. While the craps table is my preferred habitat, I pull myself away to explore new attractions, shows, restaurants, and outdoor activities around Las Vegas with the intent of sharing my experiences.
Ultimately, I just want to help folks plan a better trip and save a few bucks in the process.