Las Vegas is constantly reinventing the status quo and never growing stagnant. Resorts in Vegas have a notoriously short lifespan, frequently suffering the fate of implosion and rebirth as new, re-imagined mega-resorts.
Even iconic properties like Tropicana, Flamingo, and Caesars Palace have seen their footprint grow and change significantly over the years, almost as if everyone is jockeying for the title of newest resort in Las Vegas.
As a result of the 2008 financial crisis, several new resort projects hit snags, leaving the carcasses of what could have been to wither away in the desert sun. The Drew, Echelon, and Alon are all names that once generated excitement but never materialized or were left to die before reaching completion.
Fortunately, several new Las Vegas casino projects are coming to fruition, or have already opened giving visitors fresh new resorts to explore. Below, we'll dive into the newest casino & hotels in Las Vegas that have either recently opened, or plan to open soon.
See Also: Buy the fragrances used in Vegas casinos like Caesars, Mirage, and Flamingo.
New Resorts Coming Soon to Las Vegas
The following Las Vegas resort projects are at various stages of development and range from mere renderings, to nearly complete. Of course, it's never a given that a planned resort property will cross the finish line. Rarely is getting too attached to a concept advisable until meaningful progress is observed.
Hard Rock Las Vegas
Hard Rock International purchased the operations of Mirage from MGM Resorts for $1.075 billion, bringing the well-known brand to the Las Vegas Strip. The deal is expected to close in the second half of 2022.
Details about what Hard Rock International has planned for the resort are still murky, but we do know they plan to erect a guitar-shaped hotel tower right on the Strip where Mirage's volcano currently sits.
In a recent press release, Hard Rock International indicated their Las Vegas property would open in 2025 and many are hypothesizing that the resort could temporarily close during the metamorphosis.
While there was once a Hard Rock Hotel & Casino in Las Vegas away from the Strip (now Virgin Las Vegas), Hard Rock International wasn't involved with the property in any way.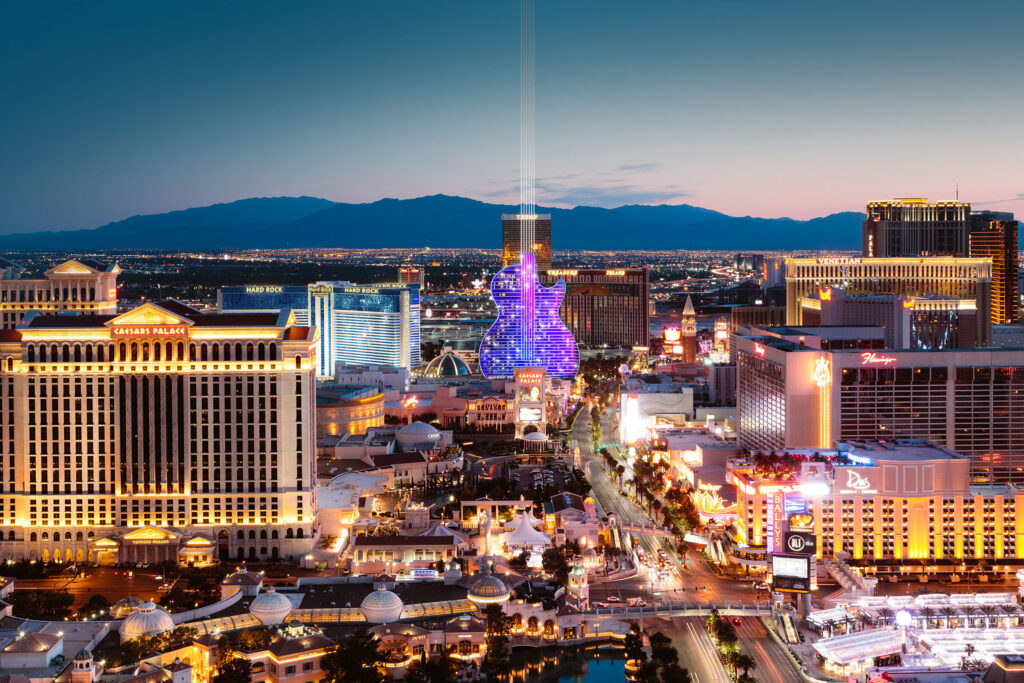 Fontainebleau Las Vegas
An eyesore remnant of the great recession, the empty, partially completed resort has sat watch over the Strip for a decade-plus and hardly qualifies as a "new" project. Located just north of the former Riviera site, and across the street from Circus Circus, the blue behemoth was originally slated to open as Fontainebleau Las Vegas in 2009. Unfortunately, funding ran dry as a result of the 2008 financial crisis, bringing construction to a grinding halt.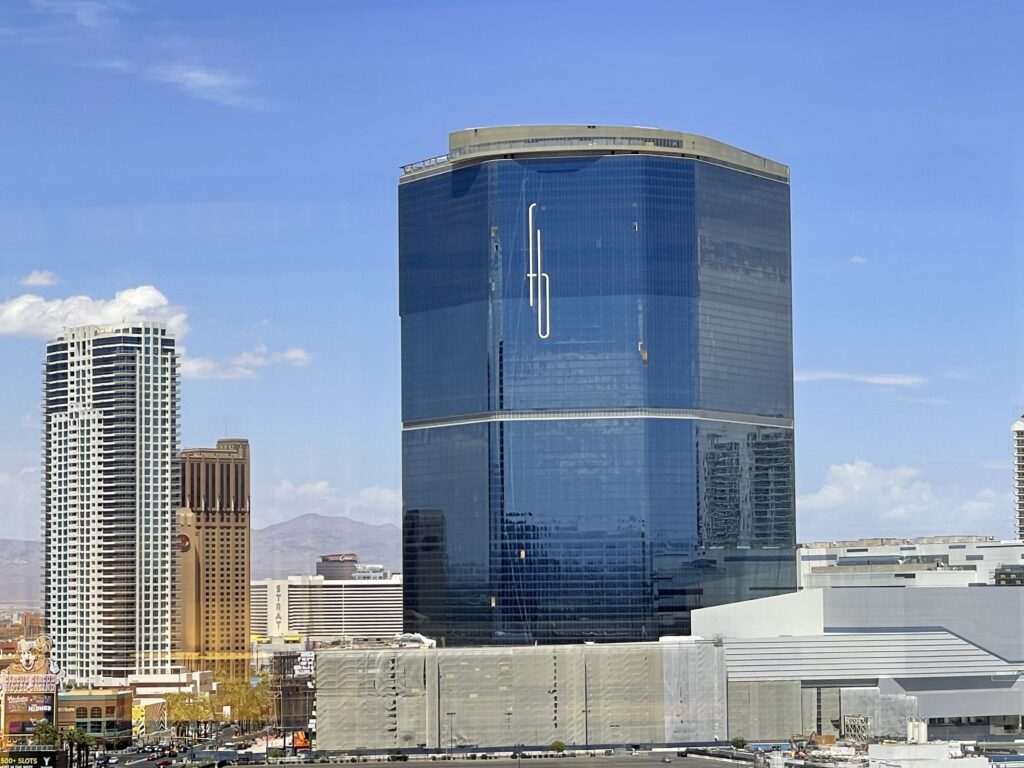 During the depths of the great recession, Carl Icahn stepped up and purchased the stalled Fontainebleau project for a meager $148 million dollars, liquidated the furniture, and sat on the property in anticipation of better times.
Fast forward to 2017 and the stalled resort project was purchased by The Witkoff Group from Carl Ichan for $600 million. Witkoff renamed the project "The Drew" after his late son.
The resort again changed hands in 2021 when Witkoff sold the unfinished project to Koch Real Estate Investments in partnership with Fontainebleau Development. Interestingly, the project has come full circle as Fontainebleau Development was involved in the original design. For those keeping score at home, this resort project is back to being called Fontainebleau Las Vegas. Will the second go-around be the one that gets some traction?
A groundbreaking ceremony was held on November 9th, 2021 with many notable guests in attendance, including Governor Sisolak. While very little new information of substance was shared, the intent to open the property in Q4 of 2023 was communicated in a subsequent press release. They also stated in the press release that the structure is in "Mint condition" and that construction work has already started.
If Fontainebleau comes to fruition, the resort will offer 3,700 rooms, 550,000 square feet of convention space, a rooftop pool deck, and a casino. Minimal information has been shared about what the re-imagined project could look like under Koch Real Estate Investments, but design renderings should start trickling out soon.
While this project has hit snag after snag, we're starting to feel a dangerous feeling: Hope.
We're hopeful that completion of the Las Vegas Convention Center expansion and the nearby Resorts World project will help grease the wheels and get this across the finish line.
Dream Hotels Las Vegas
Dream Hotels has commenced construction on what was once a vacant parcel of land located at the south end of the Strip. Notable attractions nearby include the Pinball Hall of Fame and the iconic "Welcome to Fabulous Las Vegas" sign.
Dream plans to offer a 20,000 square foot casino, 531 rooms & suites, 12,000 square feet of meeting space, a fitness center, and a spa.
There will be 7 dining and nightlife options that include a 24-hour diner, coffee shop, day club, lobby bar, and a nightclub.
Dream's pool will be 12,000 square feet and be found atop their roof on the 3rd floor.
The official groundbreaking took place in July of 2022 and Dream intends to welcome their first guests in late 2024.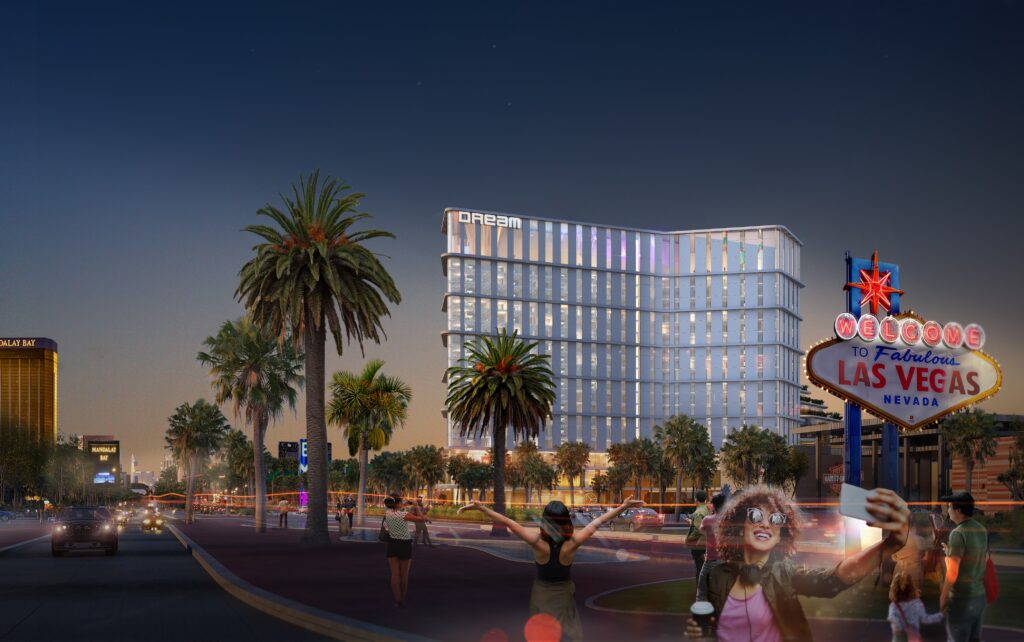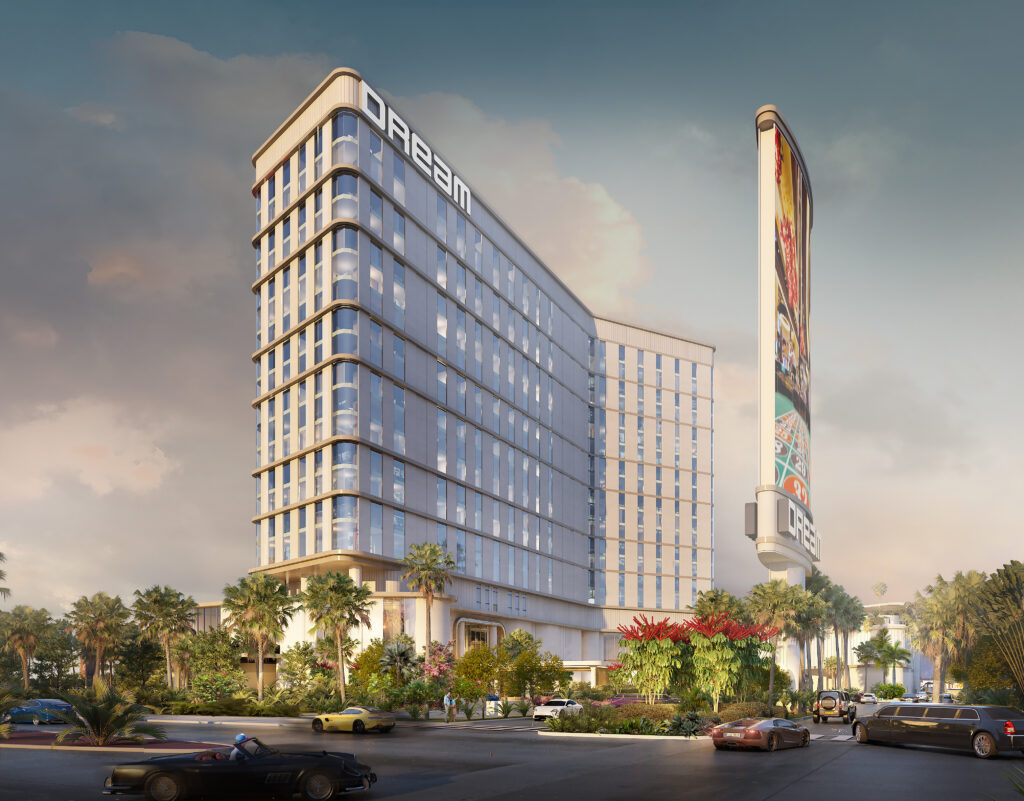 Horseshoe Las Vegas
Work to transition Bally's into Horseshoe Las Vegas has officially begun as of spring 2022.
While many details about what we can expect are still unavailable, we are aware of a couple new dining and entertainment options.
Ole Red will be a live country music venue located in the Grand Bazaar Shops along the Las Vegas Blvd. The live music destination is the ideation of Blake Shelton and will feature up-and-coming performers.
Jack Binion's Steakhouse will also be part of the culinary lineup. Jack, of course, is the son of the legendary Benny Binion.
The gaming floor will also get an upgrade, and will feature "tooled leather, dramatic colors, and the brand's signature gold horseshoe iconography".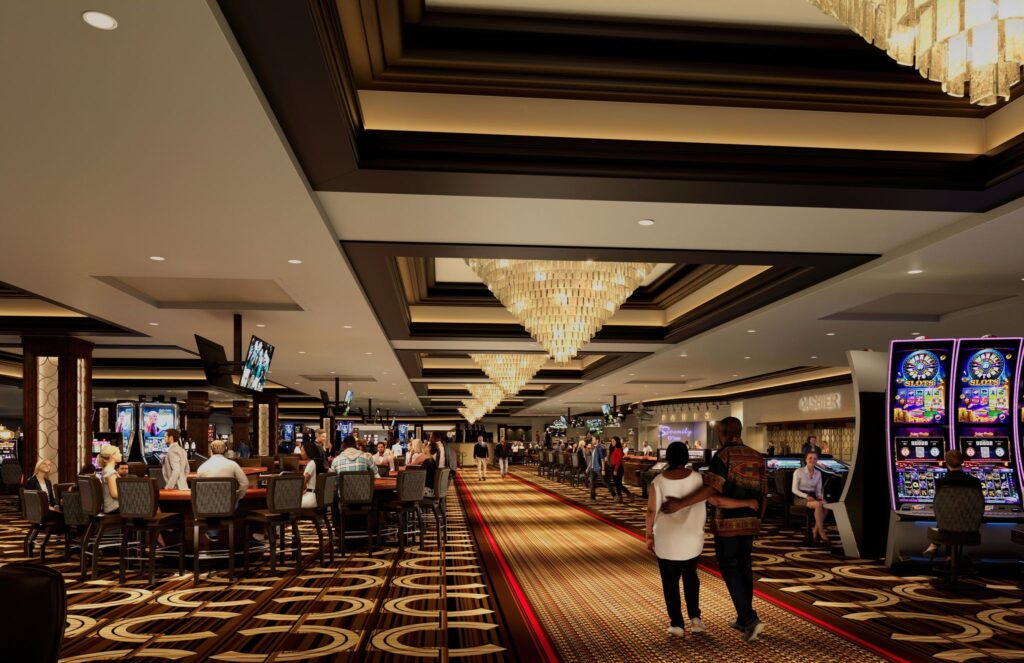 As part of the press release, an executive was quoted as saying "At Horseshoe, it's all about the gambler. Since 1951 Horseshoe Casinos have been home to the best odds, highest limits, and biggest jackpots.".
While we'd love to believe that this means the constant deterioration of gambling odds on the Strip will be reversed, we're not holding our breath.
Regardless, Bally's was in desperate need of some attention, and we're looking forward to seeing what the re-imagined Horseshoe brings to the table when completed in late 2022.
Durango
Station Casinos has broken ground on a new casino property focused on the locals market southwest of the Stip. The new resort will have an 83,000+ square foot casino, meeting space, and a 200+ room hotel. Dining options will include 4 sit-down restaurants and a food hall with fast-casual options. Current projections see Durango opening in late 2023.
The property will be similar to other higher-end properties in the Station portfolio like Red Rock and Green Valley Ranch.
Oak View Group Casino/Hotel/Arena
The Oak View Group recently announced a 25-acre land acquisition south of the Strip at the intersection of I-15 and I-215 to build a $3 billion entertainment complex. The yet-to-be-named project will have a casino, hotel, and "NBA Ready" arena.
Groundbreaking is anticipated to occur in 2023, and we'll be sure to share more details as they emerge.
Recently Completed Las Vegas Resorts
The following resorts on the Strip, Fremont Street, and just off the Strip have recently opened for business and are ready to greet you.
Resorts World Las Vegas
Located just south of Circus Circus and across the street from Encore, Resorts World opened on June 24th, 2021 making it the newest resort in Las Vegas.
The $4.3 billion resort boasts 3,500 guest rooms, a 5,000-seat theater, 110,000 square feet of gaming, and 270,000 square feet of dining/shopping.
While the casino accepts cash, the Resorts World Phone App allows guests to go completely cashless if that is their preference. Everything from slot machines and table games, to retail and restaurant purchases, can be funded via your phone.
Attracting plenty of attention on opening night was Resorts World's Famous Foods Street Eats food hall, which offers a wide-ranging collection of cuisine from around the world including a speakeasy bar.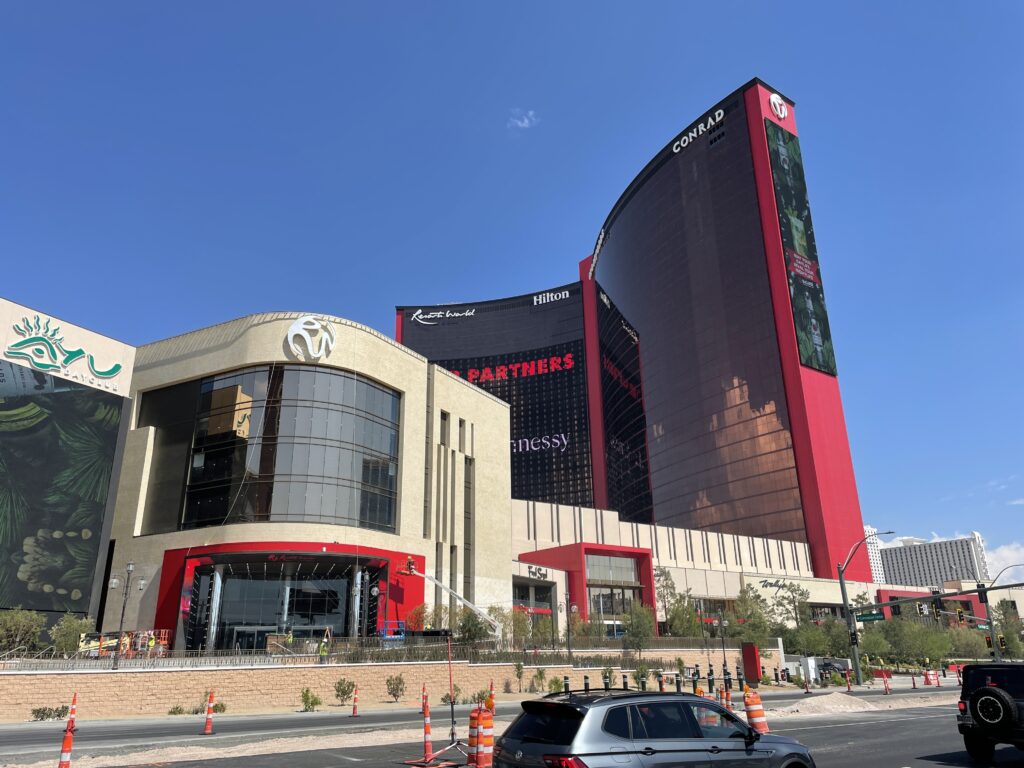 Resorts World's rooftop pool deck incorporates 7 unique pool experiences overlooking resorts on the Strip to the south.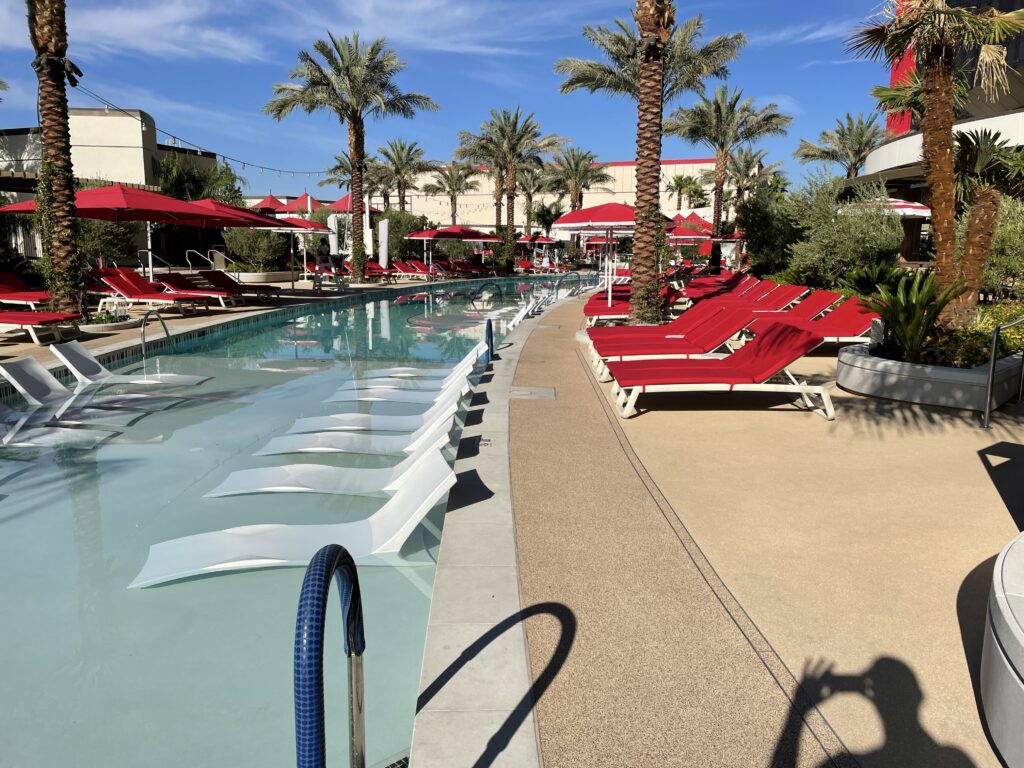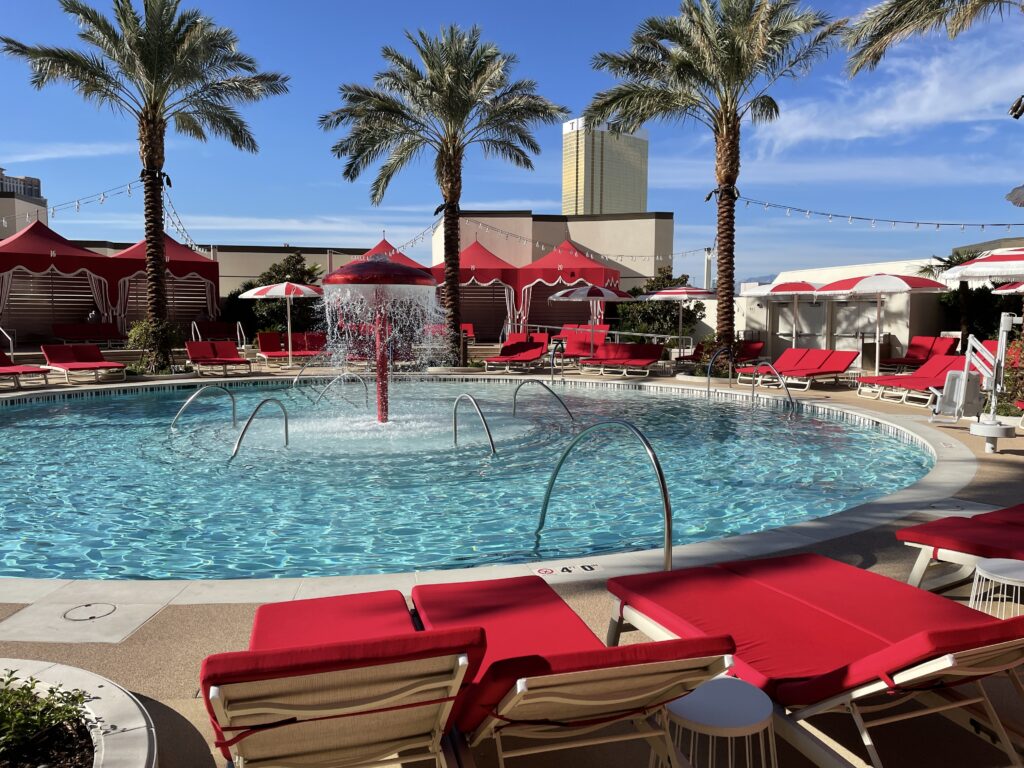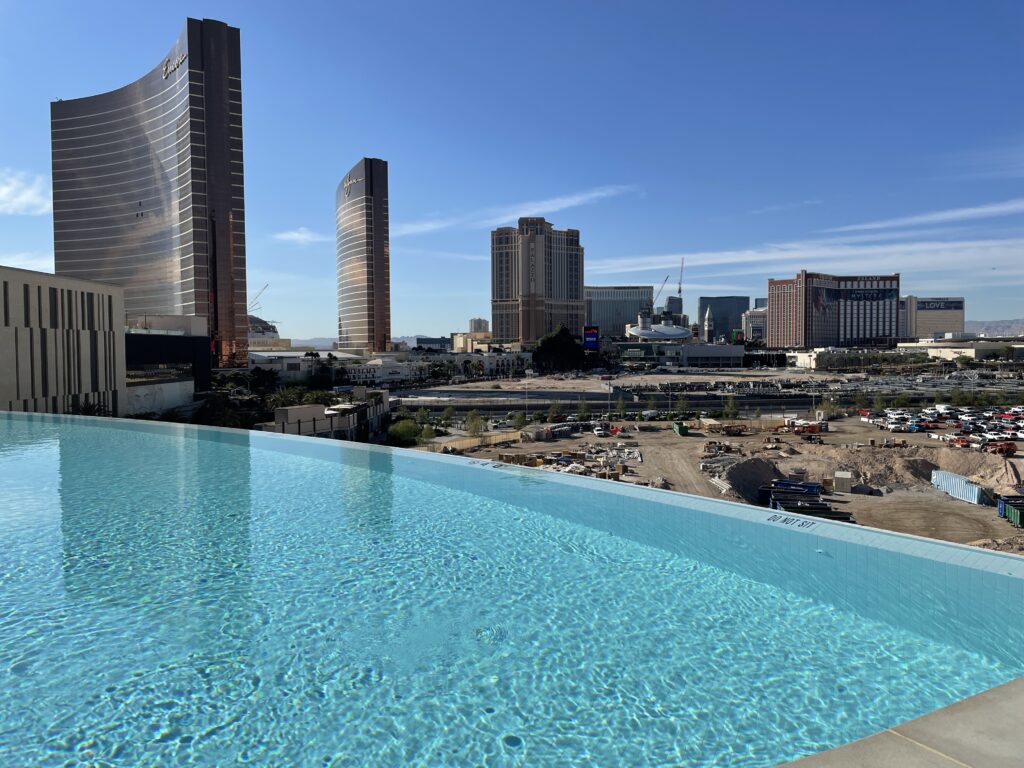 In the spirit of going big, Resorts World has also incorporated an enormous 100,000 square foot LED screen into the hotel's west hotel tower. The screen has been used for advertising, broadcasting sporting events, and welcoming VIPs.
We look forward to this new resort project injecting some life into the stagnant north end of the Las Vegas Strip.
Related: See our Resorts World Las Vegas Conrad Room Review.
Circa Las Vegas
The first new construction resort to be built downtown Las Vegas in decades, Circa has changed the status quo on Fremont Street. Sitting on the footprint of the old Las Vegas Club, Mermaids, and the Glitter Gulch gentlemen's club, Circa is already wowing with unique, differentiated features.
Of note, Circa offers a two-level casino complete with over 1,300 slot machines and 55 table games. While the gaming floor is beautiful, the crown jewel is the sportsbook screen, which measures in at 3-stories tall and 78 million pixels. The biggest in the world, the screen is almost omnipresent as you navigate either level of the casino.
Stadium Swim, the resort's rooftop pool deck, is comprised of six pools, 2 swim-up bars, and a 125-foot TV screen. Table games are also available poolside.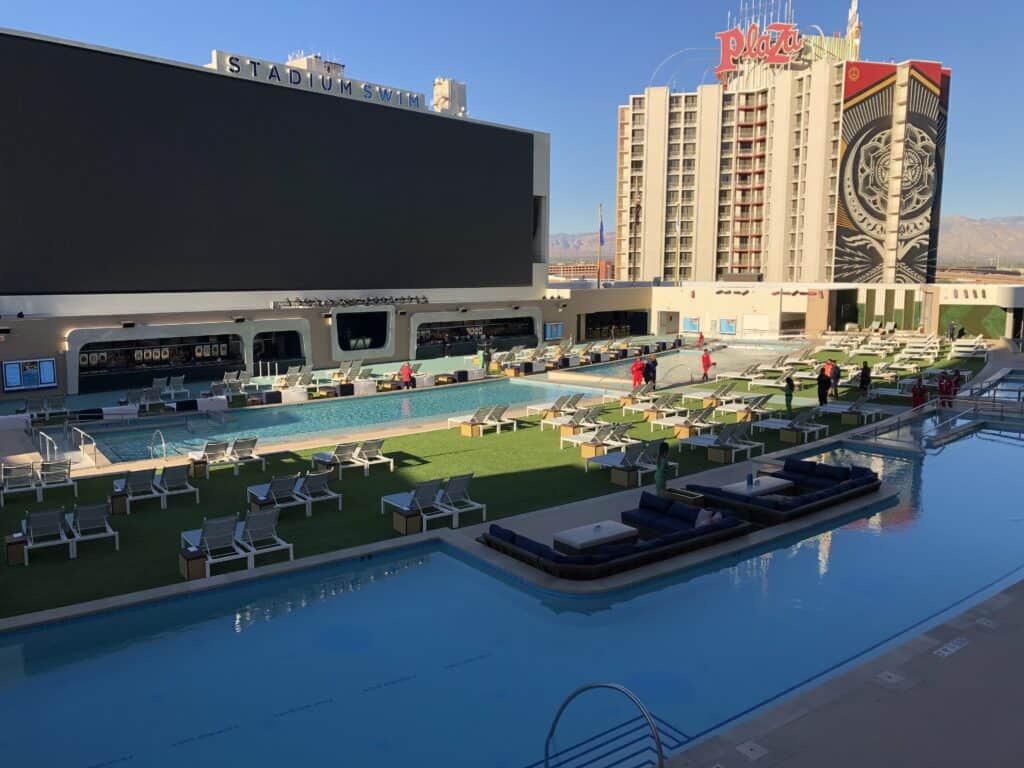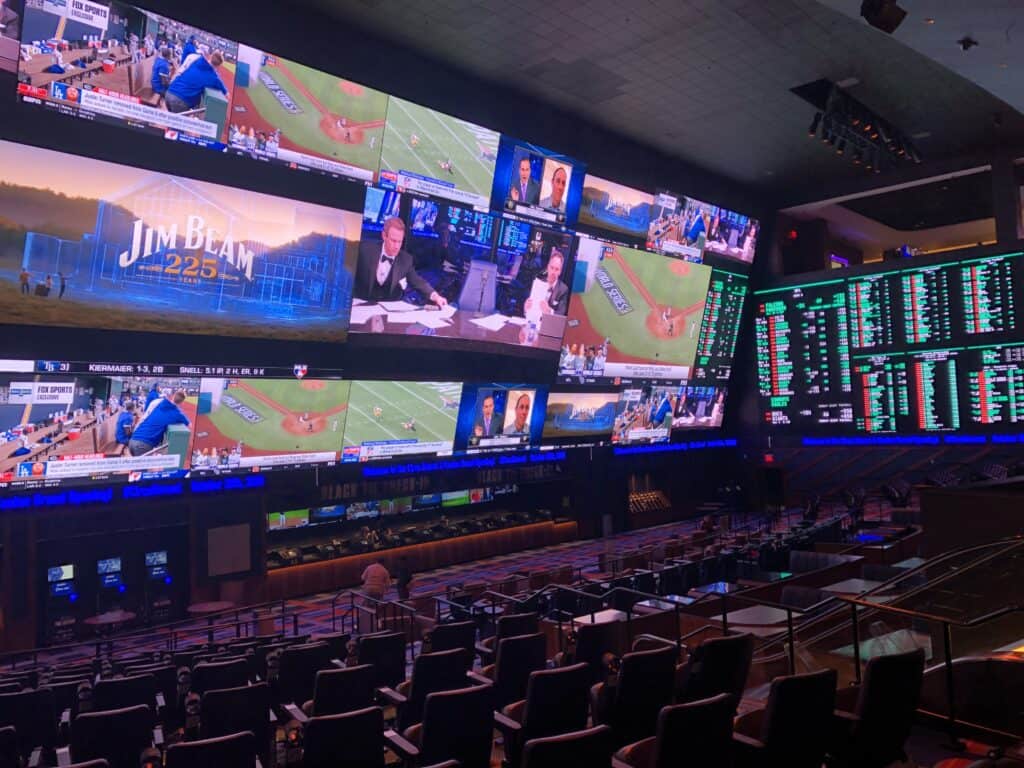 Circa has also incorporated the freshly refurbished Vegas Vickie (who previously sat above Glitter Gulch) prominently in the new resort.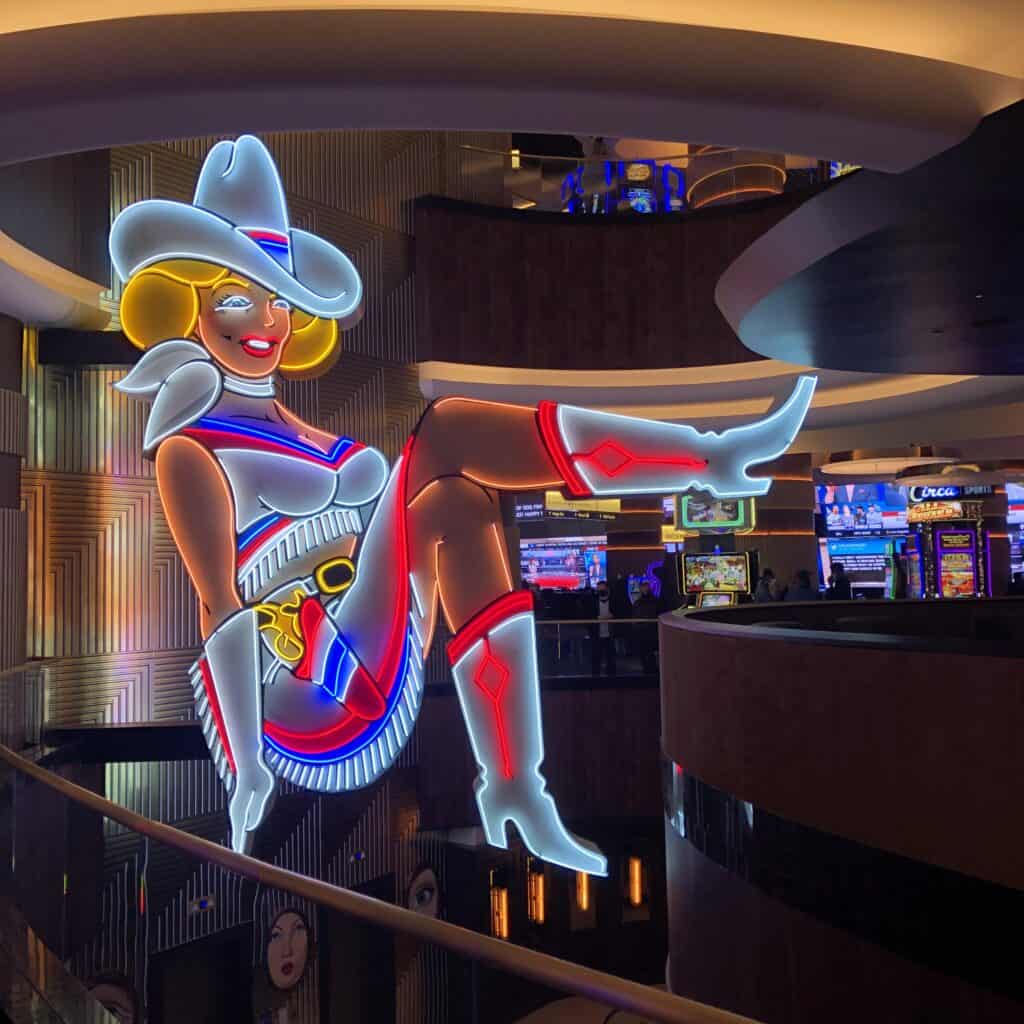 In response to shifting transportation trends, Circa is the first Las Vegas resort to offer a dedicated rideshare pickup location in their parking garage dubbed "Garage Mahal".
Circa is also an adult-only property. You heard that right, only patrons aged 21+ will be allowed entry.
I recently stayed in one of Circa's Single King rooms with a Stadium Swim View – Check out the full review!
Palms
What's old is new again at Palms, which has been shuttered since March of 2020. During the time Palms was closed, the San Manuel Band of Mission Indians purchased the property for $650 million from Station Casinos.
Palms recently announced that they're reopening on April 27th.
We personally are excited to see what a new operator brings to a city that will benefit from a more competitive environment.
Prior to the pandemic, Station Casinos invested a whopping $690 million to completely overhaul the property with the intent of returning it to its early 2000s popularity.
While the investment didn't pencil out for Station Casinos, the public stands to benefit as Palms sill boasts some serious luster.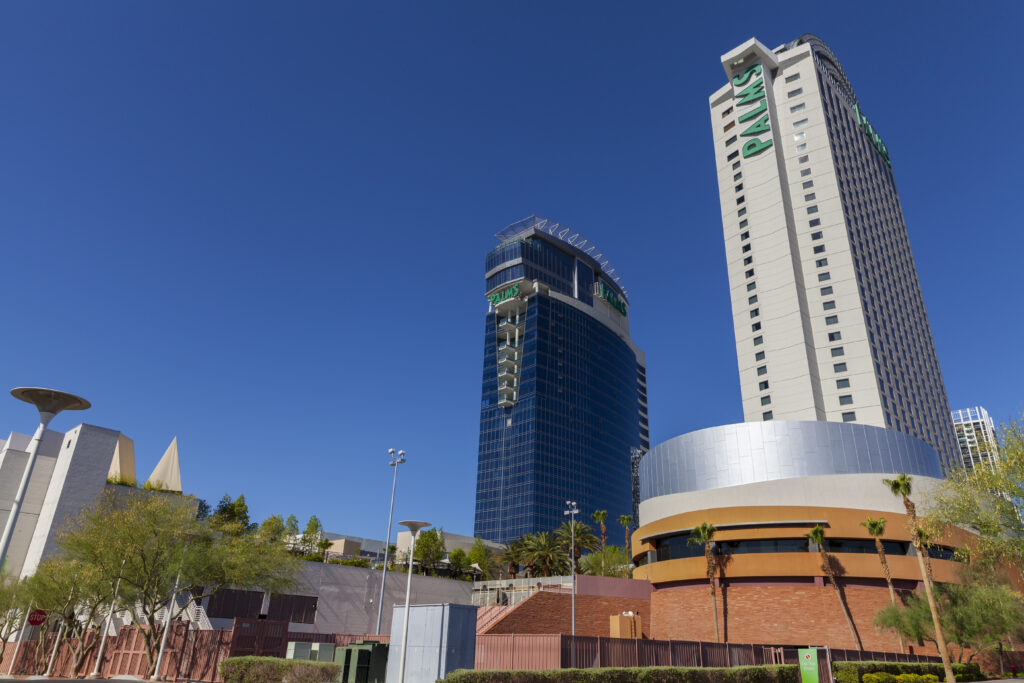 Resort projects in Las Vegas have a history of going broke and stalling for an extended period of time, however, the recent openings of Circa, Virgin, and Resorts World have us cautiously optimistic that the future is bright.
Related: 44 ways to save money on your next trip to Las Vegas.
I'm a former software salesman turned Vegas aficionado. While the craps table is my preferred habitat, I pull myself away to explore new attractions, shows, restaurants, and outdoor activities around Las Vegas with the intent of sharing my experiences.
Ultimately, I just want to help folks plan a better trip and save a few bucks in the process.